Strap in folks, because Emma Seligman's new film Bottoms is one wild ride. This raucous teen sex comedy puts a fresh queer spin on the coming-of-age genre, following social outcasts PJ and Josie as they hatch a ridiculous plan to lose their virginity before graduation. Chaos, carnage, and tons of below-the-belt humor ensue.
Centered around two lesbian BFFs just trying to get laid, Bottoms plays like a Girls Gone Wild version of Superbad or Booksmart. The tone is gleefully crass and unfiltered, pushing boundaries and buttons with reckless abandon. Leads Rachel Sennott and Ayo Edebiri have electric chemistry as the titular bottoms, creating a dynamic duo audiences will love watching stir up trouble.
When their moonshot scheme to seduce cheerleader crushes via an underground fight club backfires in spectacular fashion, the punches and punchlines fly fast and furious. Think Mean Girls meets Fight Club at a high school lock-in, with some Heathers-esque satire and slapstick sprinkled in.
Prepare to clutch your pearls, because Bottoms goes there – joking about teen sex, bodily functions, queerness, and other risqué topics many films shy away from. It's an utterly audacious, weirdly heartfelt riot that announces Seligman as a fresh comedic voice and cements Sennott as the next great deadpan diva.
Stick around as we dive deeper into the bottoms – and bottoms – of this raucous, taboo-busting instant cult classic. It's sure to leave viewers sore from laughing, gasping, and just maybe cheering at the unbridled debauchery.
Fight Club Follies
Bottoms follows PJ and Josie, two proudly lesbian BFFs navigating their senior year as social zeroes. Despite their wit and charm, the rest of the student body treats them like trash, disgusted not by their sexuality but by their supposed ugliness and lack of talent. Even the teachers get in on the bullying, like Mr. G, who creeps on his female students when he's not passing out hungover in class.
In this twisted high school landscape dominated by jocks, popularity is everything. Star quarterback and human Ken doll Jeff reigns supreme, his smoldering portraits wallpapering the halls like propaganda. The mindless football worship has everyone acting nuts, treating players like gods and equating pep rallies with bloodsport.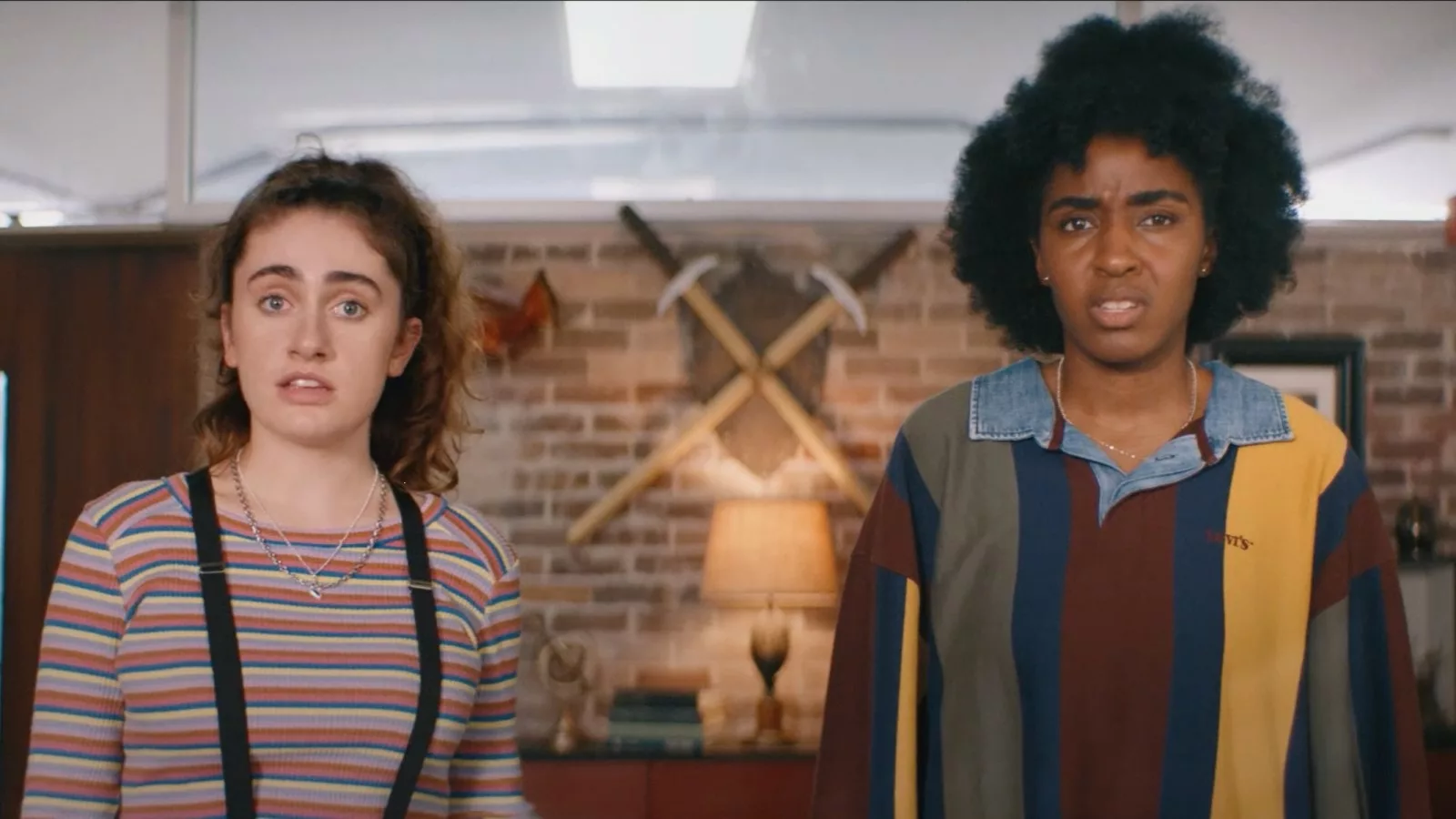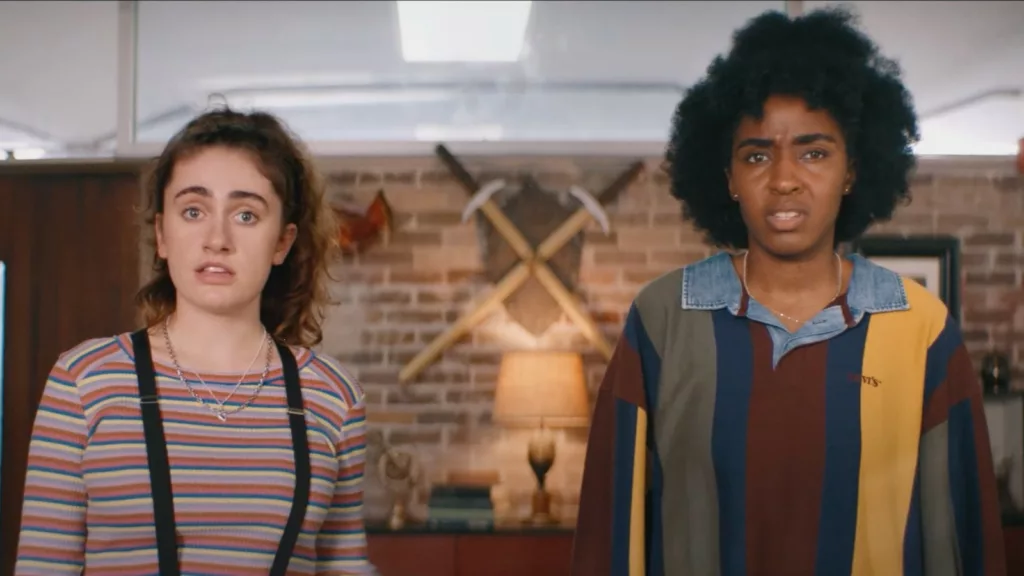 Desperate to shed their virginity and uncool rep, PJ and Josie hatch a ridiculous scheme: seducing their crushes by starting a fight club. See, PJ has the hots for snotty cheer captain Brittany, while Josie pines for Brittany's spacey tag-along Isabel. By launching an after-school brawl club disguised as self-defense lessons, the scheming BFFs hope to get closer to their love interests through sweaty, shirtless grappling.
Their Twisted Sisters-style con quickly spins out of control, drawing in misfits and weirdos of all stripes. Set to a soundtrack of Y2K pop punk jams, the fight sequences escalate from playful to savage. Soon girls are beating each other bloody to work out their angst and aggression.
Amidst the carnage, Josie actually bonds with Isabel, realizing she's more than just a dumb blonde. But PJ's pursuit of Brittany proves more complicated, especially when a blackmail plot comes into play.
As half-baked schemes collide with teenage hormones, anything could happen. Can PJ and Josie get lucky in love while exposing the toxic masculinity plaguing their school? Or will their quest for carnal pleasure leave them – and everyone else – battered and bruised?
Meet the Players
The electric cast of Bottoms elevates the zany source material, with sharp performances that provide laughs, heart, and charisma. Let's break down the key players bringing this wild ride to life.
Leading the pack are Rachel Sennott as PJ and Ayo Edebiri as Josie, the comedic cores of the film. Sennott brings signature deadpan attitude to outsider PJ, delivering outrageous one-liners with anarchic glee. She makes hilariously bad decisions feel believable thanks to her sharp timing and self-assured presence.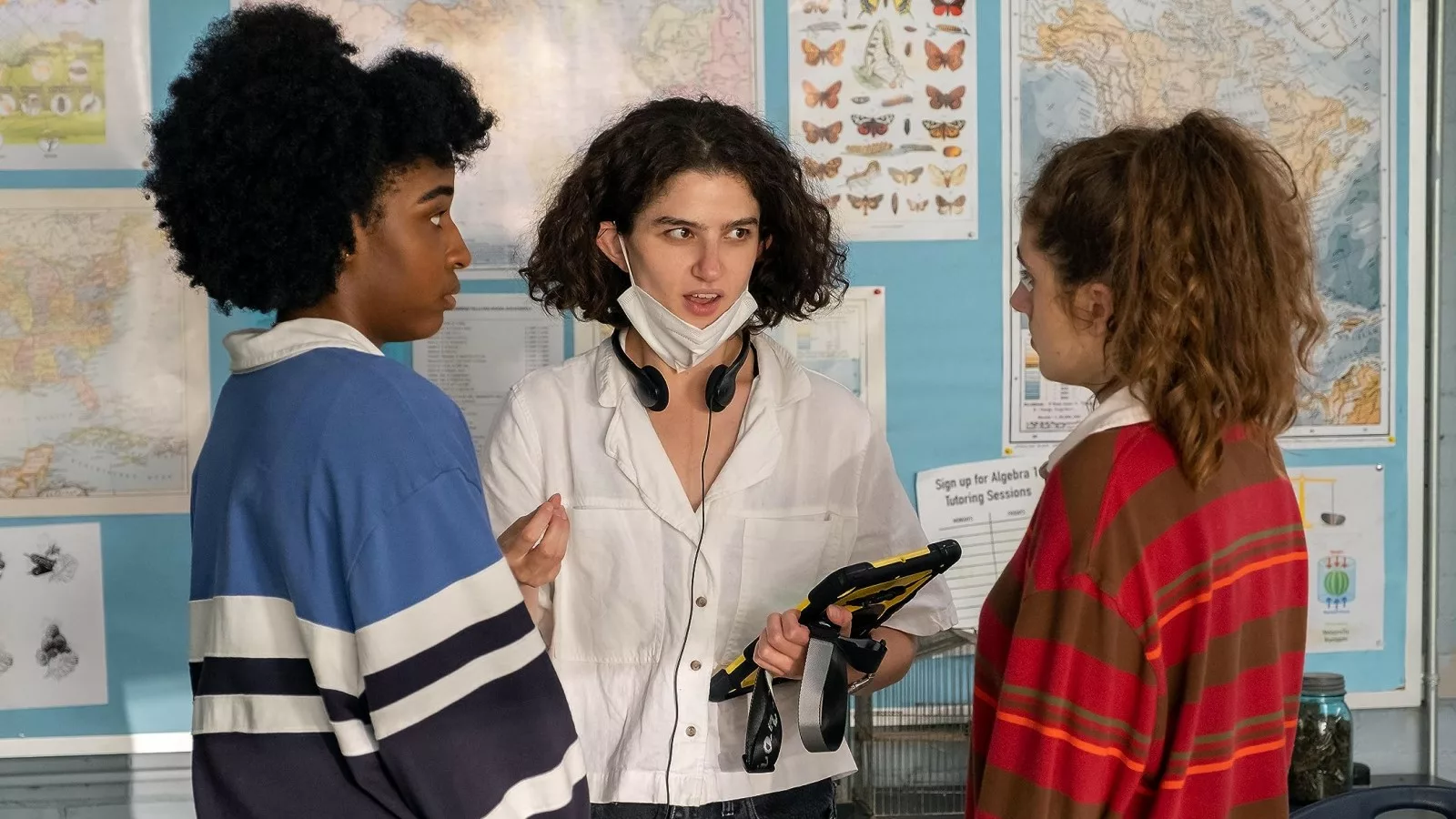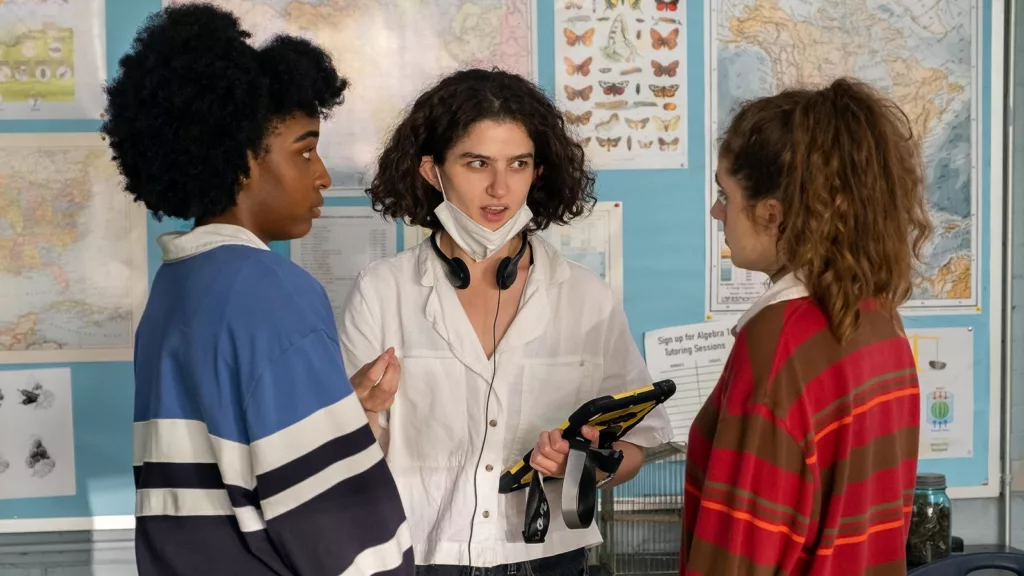 Meanwhile, Edebiri mines humor from Josie's understated awkwardness, softly muttering punchlines that creep up and zing viewers. She provides the perfect counterbalance to Sennott's loudmouthed swagger. Together, they have an easygoing and hilarious rapport that makes you root for their unconventional friendship.
The supporting cast keeps pace with the dynamic leads. Kaia Gerber effortlessly skewers mean girl cliches as cruel queen bee Brittany. Her cuttingPopulated with oddballs ripped straight from a fever dream, the ensemble creates characters you won't soon forget.
Take Marshawn Lynch as Mr. G, the fight club's washed-up sponsor. A rare non-creepy male authority figure, his hangdog vibe and lowkey life advice add heartwarming nuance. Plus he looks fly in a fanny pack.
The football players especially lean into broad stereotypes, amplifying masculine toxicity to absurd heights. Nicholas Galitzine swoons as dreamy yet dumb jock Jeff, a walking perfume ad come to life. Seeing his alpha male persona unravel is darkly satisfying.
While the satire scores laughs, the cast also finds pinpricks of honesty amidst the lunacy. Liu makes space cadet Isabel not just a punchline but a person, with subtle depth. These glimmers of humanity make the wild ride more affecting.
By committing fully to the chaotic material, the actors ensure Bottoms is more than just a raunchy romp. Their bold comedic choices give this rebel teen movie the soul and chemistry to become an instant cult sensation.
Pushing Buttons and Boundaries
With its irreverent humor and willingness to push boundaries, Bottoms reimagines the teen sex comedy through a queer feminist lens. The film proudly flips the script on tired tropes, putting girls in the driver's seat and celebrating their irrepressible horniness.
While borrowing raunchy hijinks from classics like American Pie, Bottoms upends their heteronormative perspective. PJ and Josie's lusty quest to get laid shows young women claiming sexual agency in an empowering light.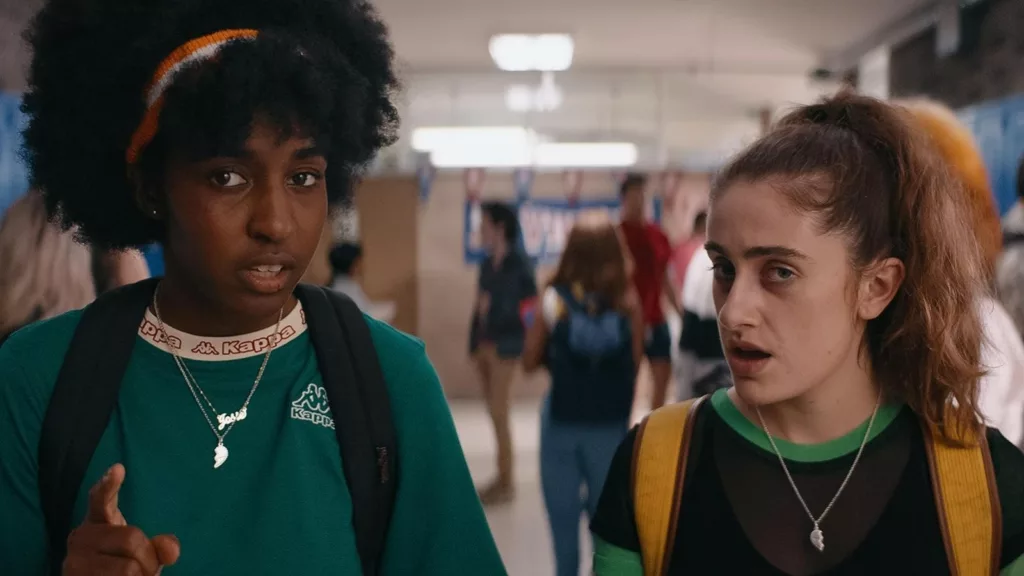 And the movie pulls no punches skewering toxic masculinity. By satirizing high school football culture and turning players into exaggerated goons, it exposes the absurdity of deifying teen boys. Bottoms argues girls can be just as vulgarly funny as the guys, rebuking double standards around sex and humor.
To drive home its chaotic, taboo-busting ethos, Bottoms employs an over-the-top style juiced up with adrenaline. The pace mirrors the characters' reckless abandon, barely pausing for viewers to catch their breath between belly laughs.
Visually, the film mirrors this anarchic energy with fast editing, kitschy graphics, and palette of hyper-saturated neon. The camerawork captures gross-out moments and sight gags in cringeworthy detail. Matching the characters' ID-fueled antics, the aesthetic is immature yet artsy – like a TikTok fever dream.
And the dialogue pulls no punches, lobbing boundary-pushing jokes about everything from bulimia and menstrual mishaps to racism and sexual assault. The film's willingness to "go there" makes it deliciously controversial yet rightfully cathartic for anyone who survived high school.
By embracing bad taste and irrationality, Bottoms encapsulates the untamed mindset of being a horny, confused teen. Is it tactful? No. Is it realistic? Shockingly so.
Some may blanch at its loose morals and lewd humor. But by holding a funhouse mirror up to high school's most awkward phases, Bottoms creates a refreshing oasis of uncensored laughter.
Crafting Chaos: Emma Seligman's Zany Directorial Vision
At the helm of Bottoms is director Emma Seligman, who co-wrote the anarchic script with star Rachel Sennott. Having previously collaborated on the cringe-comedy Shiva Baby, this creative duo clearly have a knack for crafting squirm-inducing hilarity.
Their off-kilter sensibilities are on full display here, crafting an absurd parody of high school life. The tone mixes dark humor with slapstick raunch, crafting a world unbound by logic or good taste.
Seligman's direction leans into the chaos, with rapid-fire editing to match the characters' reckless energy. She strings together shocking sight gags and one-liners like a DIY punchline mix-tape, deliberately trying to catch viewers off-guard. This calculated button-pushing mostly pays off, wringing laughs from even the most twisted scenarios.
But at times, the eagerness to shock sacrifices character development. By avoiding sentimentality and always going for the joke, the story can feel emotionally hollow. More room to breathe between outrageous set pieces may have allowed weightier themes to resonate.
The script by Seligman and Sennott excels at crafting absurd scenarios and punchy dialogue. It captures the anarchic id run rampant in a way that's cathartic yet unsettling. But the characters themselves sometimes get lost amidst the parody and potty humor.
Making up for any narrative shortcomings, Sennott's performance grounds the zaniness with hilarious deadpan delivery. She's clearly the muse Seligman's madcap vision needs. Together, their willingness to make viewers squirm makes for an utterly irreverent experience.
While the storytelling could benefit from more polish, Seligman succeeds in creating a singularly warped comedic universe. For better or worse, Bottoms commits fully to its own chaotic logic.
The result may be an acquired taste, but Seligman's deranged directorial vision announces her as a delightfully weird new voice in comedy. Get ready – it's going to be a bumpy, profane, and uproarious ride.
Capturing the Carnage
On a technical level, Bottoms employs its slick aesthetics to punctuate the script's humor and chaos. The cinematography, editing, and sound design work in sync to heighten the outlandish tone.
Visually, Bottoms pops with slick lighting and an electric color palette of neon pinks, greens, and purples. The camera glides through saturated hallways, complementing the campy vibe. Match cuts and snap zooms accentuate sight gags, with fast editing that barely lets you catch your breath between laughs.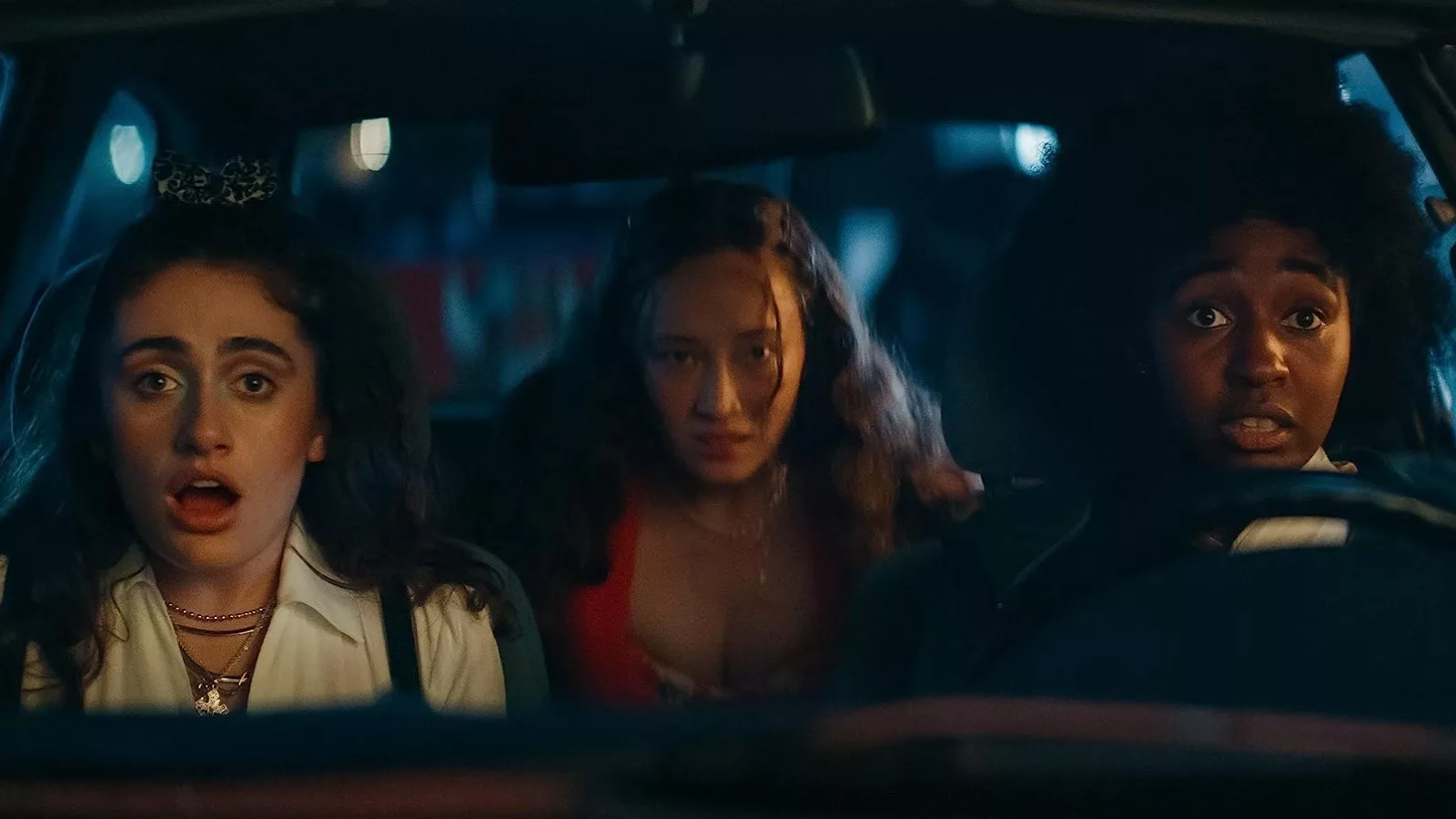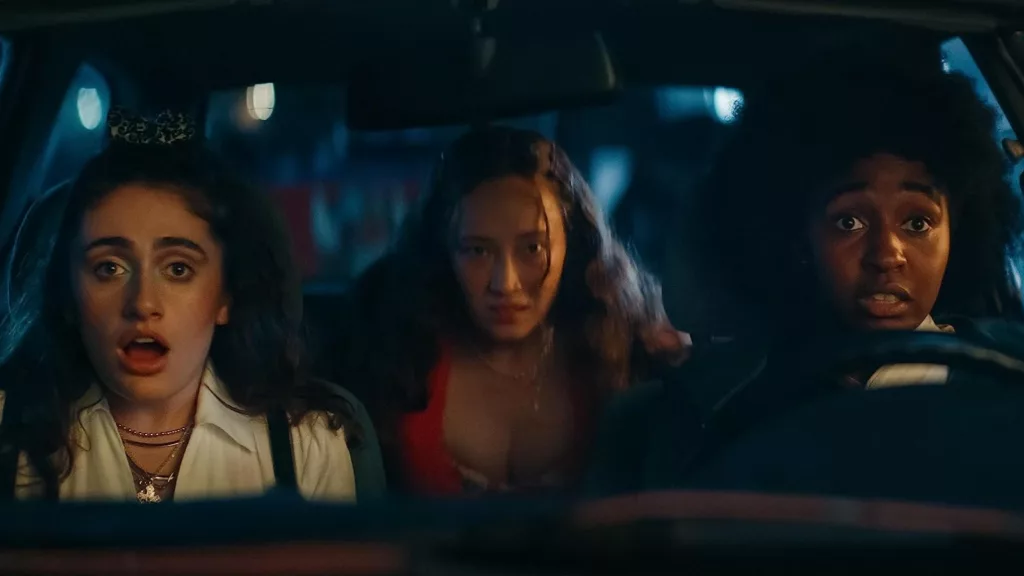 The lighting shifts from ethereal naturalism to harsh fluorescents depending on the scene's mood. Shadowy atmospherics underscore tense fight club gatherings, while cheerfully lit exterior shots underline the camp factor.
Art direction also enhances the absurdity. Pep rallies burst with exaggerated school spirit paraphernalia, making the football worship intentionally laughable. Fight sequences deliver brute force and blood, with crunching sound design adding visceral impact.
Montages set to 00s pop punk classics like Avril Lavigne underscore the movie's anarchic youthful energy. The soundtrack of rebel girl anthems aligns with the leads' underdog mentality.
By using stylish aesthetics and editing to mirror the unpredictable storytelling, Bottoms creates an immersive atmosphere. The technical polish grounds the wackiness enough to draw viewers into its surreal high school landscape.
The slick package backs up the script's risk-taking spirit, creating a teen comedy experience that's equally visceral and hilarious. Bottoms may be wild, but it's no sloppy amateur production – this perfect teen flick knows exactly what it's doing.
Closing Thoughts
For audiences craving an audacious twist on the teen comedy genre, Bottoms delivers a rowdy ride. It reimagines familiar tropes through a queer feminist lens, subverting expectations with its unfiltered humor.
While far from a perfect film, the spirited performances and willingness to push boundaries makes Bottoms a refreshing antidote to tired high school clichés. It carves out a new space for R-rated humor led by young women, refusing to mute itself for mass appeal.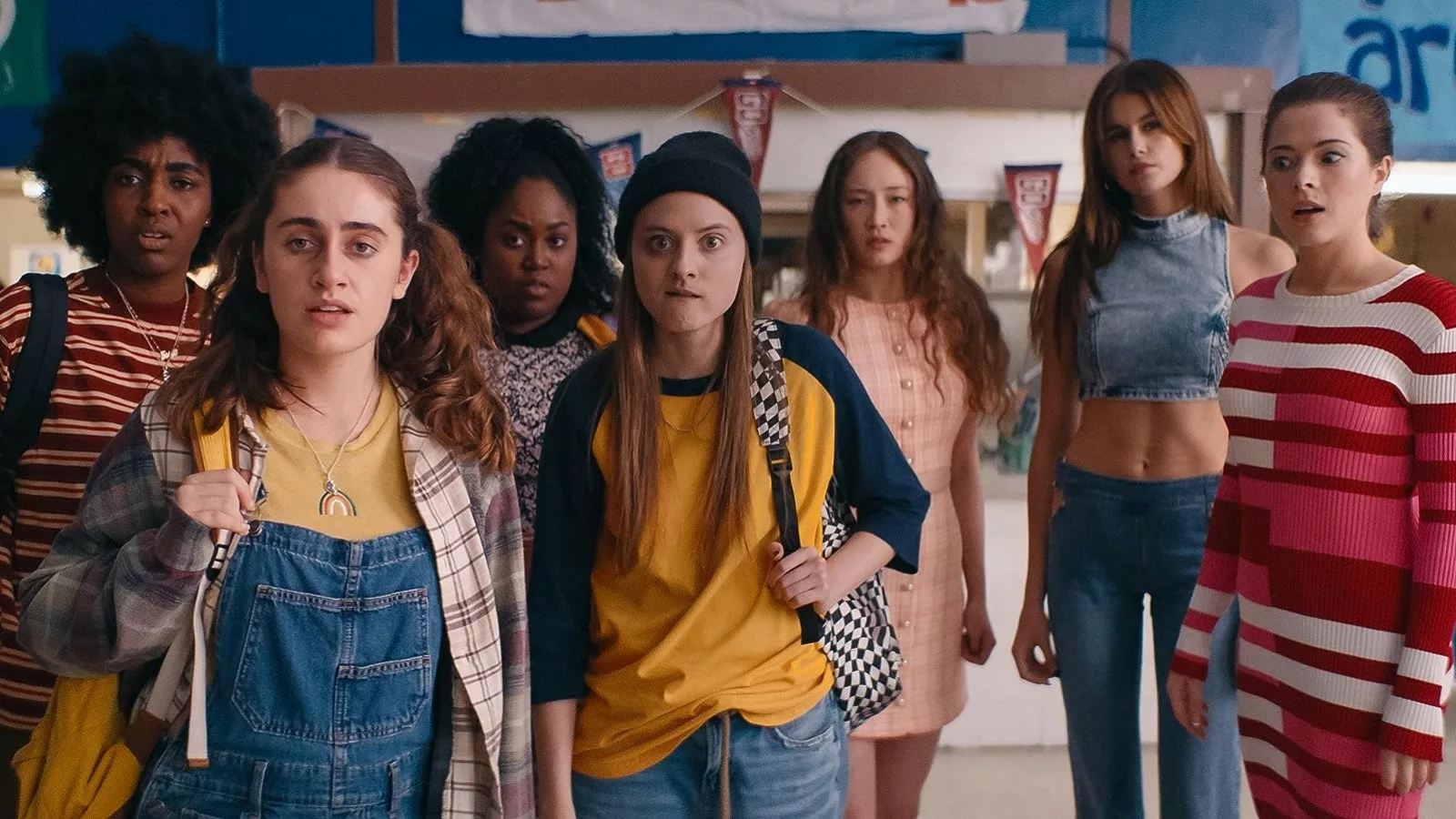 Of course, this let-it-all-hang-out approach also makes the film wildly uneven. The chaotic tone, pace, and jokes may overwhelm or alienate some viewers. And the story arguably veers too far into parody, underserving characters amidst all the provocation.
But for those on its specific wild wavelength, Bottoms offers cathartic laughs and a certain anarchic joy. It may lack the refined wit and finesse of teen comedy benchmarks like Clueless or Mean Girls. Yet its loose, DIY aesthetic has an infectious charm all its own.
Much of the credit goes to the cast, especially riotous leads Rachel Sennott and Ayo Edebiri. Their presence keeps the zaniness grounded in endearing humanity. With supporting turns as sharp as the leads, the ensemble provides laughs even when jokes misfire.
Behind the camera, Emma Seligman proves her directorial bravado, clearly relishing the chance to push boundaries. That unrestrained creative vision doesn't always gel, but it announces Seligman as a bold new comedic voice.
For better and worse, Bottoms stays fiercely true to its own messy spirit. While far from flawless, it's an audacious tribute to the anarchy of youth, and an encouraging new direction for the teen comedy genre. Bottoms up – it's one wild ride.
The Review
Bottoms
With its fresh perspective and fearless humor, Bottoms brings a delightfully profane twist to the tired teen comedy formula. Led by the hilarious duo of Rachel Sennott and Ayo Edebiri, the film pushes boundaries and buttons with reckless abandon, unafraid to court controversy. While the chaotic storytelling doesn't always work, the utterly irreverent tone and taboo-busting spirit make Bottoms a refreshing oasis of unfiltered laughs. Director Emma Seligman announces herself as an exciting new voice, crafting a perfectly imperfect rebel yell for the ages. For those craving a teen movie unafraid to go there, Bottoms delivers the raunchy goods.
PROS
Hilarious lead performances by Rachel Sennott and Ayo Edebiri
Fearless humor that pushes boundaries
Refreshing queer perspective on teen sex comedy genre
Emma Seligman announces herself as exciting new directorial talent
Killer soundtrack and slick visual style
CONS
Uneven tone and chaotic pacing
Over-reliance on shock value and parody
Underdeveloped themes and shallow character growth
Won't work for viewers turned off by non-PC humor
Plot falls apart in third act