Moving Out 2 is back with a truckload of chaotic furniture flinging action! This whacky physics-based moving simulator sequel comes to us from the creative minds at SMG Studio and DEV Games, brought to life by famous indie publisher Team17. Set to release on September 6th, 2022 for PlayStation, Xbox, Nintendo Switch and Steam, Moving Out 2 is poised to cause a ruckus.
In this action-packed sequel, players step into the shoes of new Furniture Arrangement & Relocation Technicians (F.A.R.T) ready to take on some wild and wacky moving jobs. If you thought lugging couches and tossing televisions was just tedious manual labor, think again! Moving Out 2 brings furniture moving to life in the most chaotic, slapstick way imaginable.
Strap yourself in for a review of Moving Out 2 that covers all the need-to-know details. We'll dive into the delightfully silly gameplay, check out the creative level designs, and detail the co-op focused experience that's best enjoyed with friends by your side. While not without some frustrations, Moving Out 2 delivers an overall refreshingly fun and innovative take on local multiplayer. So let's get moving into this review! The trucks are gassed up and boxes packed, it's time to fling some furniture like never before!
Fling Furniture Like A Pro F.A.R.T
The core gameplay in Moving Out 2 will feel familiar to fans of the original. Players take on the role of Furniture Arrangement & Relocation Technicians (F.A.R.T's for short) whose job is to transport various items and furniture from houses into a moving truck within a set time limit.
It's a simple premise, but Moving Out 2 turns it into chaotic fun. Up to 4 players can team up locally or online to grab, drag, throw, and even drop kick everything from couches and TVs to pianos and chickens into the truck. The physics-based controls mean you really feel the weight of each item as you lug it around and collisions send items flying in ridiculous ways.
While centered on moving items out, many levels also task you with delivering and arranging furniture inside homes in puzzle-like challenges. This twist keeps the game feeling fresh, testing your furniture flinging skills in new ways.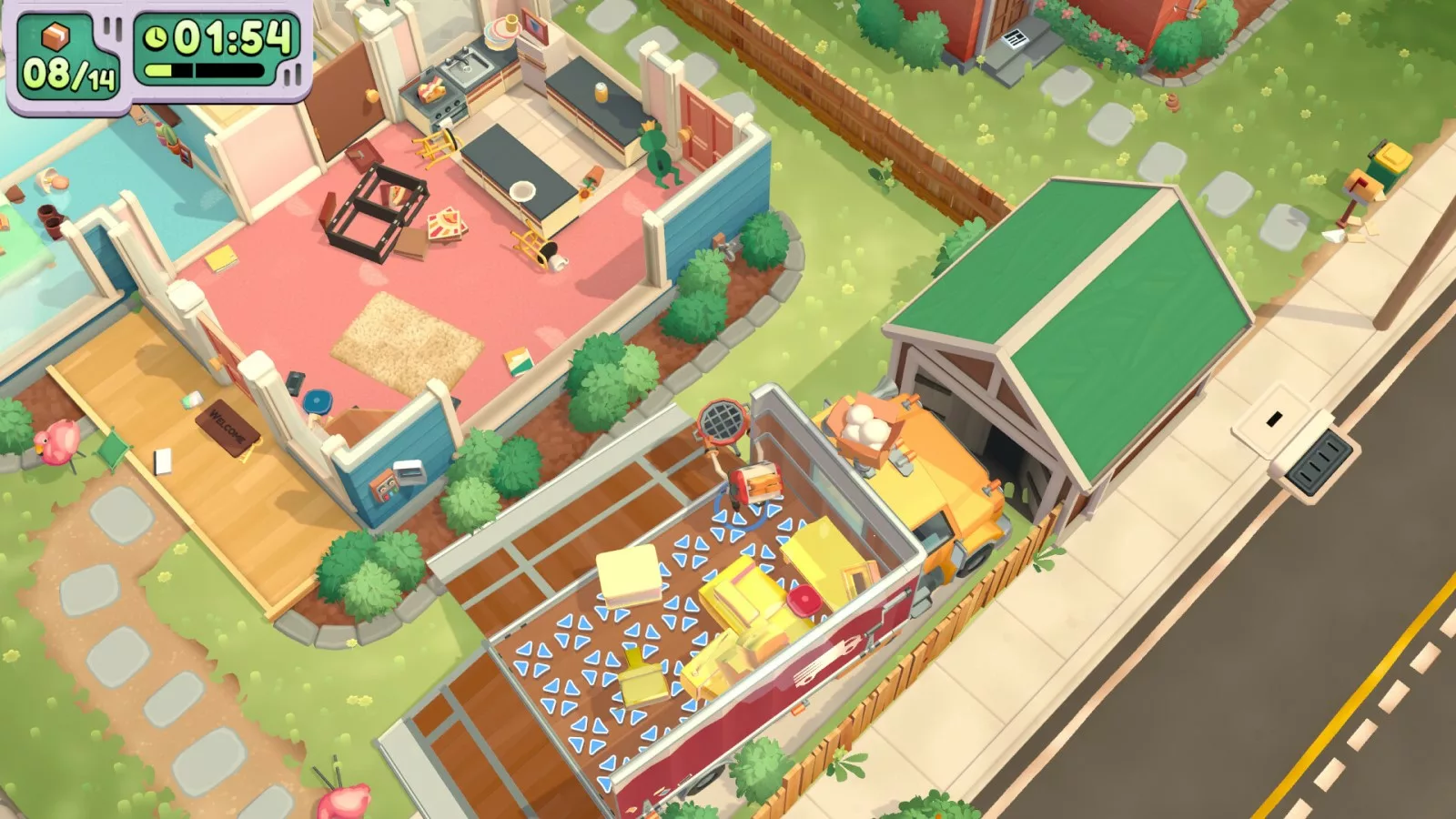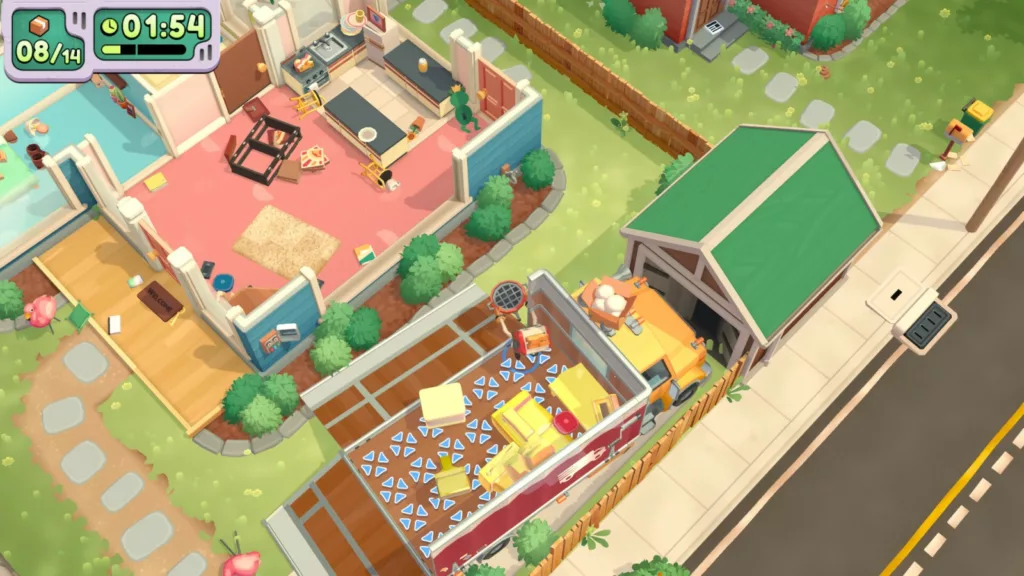 Moving Out 2 builds on the original with the addition of new environmental mechanics to spice up the levels. Giant fans might blow you or objects away, bubble clouds obscure your vision, and color-coded portals teleport you around the map. There are also wrecking ball drones to swing, candy cannons to launch yourself with and more wacky contraptions to master.
Each level becomes a true teamwork test to overcome obstacles, utilize tools, and get every item loaded up in time. Players will need to communicate and coordinate carefully…or just start yelling when things inevitability descend into delightful chaos!
When you need a quick break from the mayhem, Arcade levels let you take on rapid fire score challenges and mini-games. This provides some fast-paced variety to the otherwise strategic level designs.
For players who find the later levels too challenging, Moving Out 2 provides an Assist Mode with granular options to tweak the experience. Make items lighter, skip levels, or turn on auto item pickup to ease frustrations. Veterans can leave it off for hardcore mode!
Moving Out 2 crucially builds on its simple yet wildly fun core mechanic in smart ways. The addition of environmental interactions and puzzles combined with the co-op focused chaos creates an absolute blast of fresh gameplay. Work with friends to fling furniture like pros…even if you end up screaming and dropping that 500 pound sofa down three flights of stairs!
Endless Moving Mayhem Across Multiple Play Modes
Moving Out 2 comes packed with a plethora of modes and levels to keep the chaotic moving action fresh and fun across countless hours of play. The main Story mode features over 50 levels spread across 4 whimsically themed worlds. From the candy coated Snackmore to the medieval fantasy of Middle Folkmore, each world presents creatively designed houses and challenges to overload your truck in.
Completing levels earns you stars based on finishing under the target time and completing optional side objectives. These side tasks like avoiding damage or using specific items first add replayability as you return to collect more stars and unlock later levels.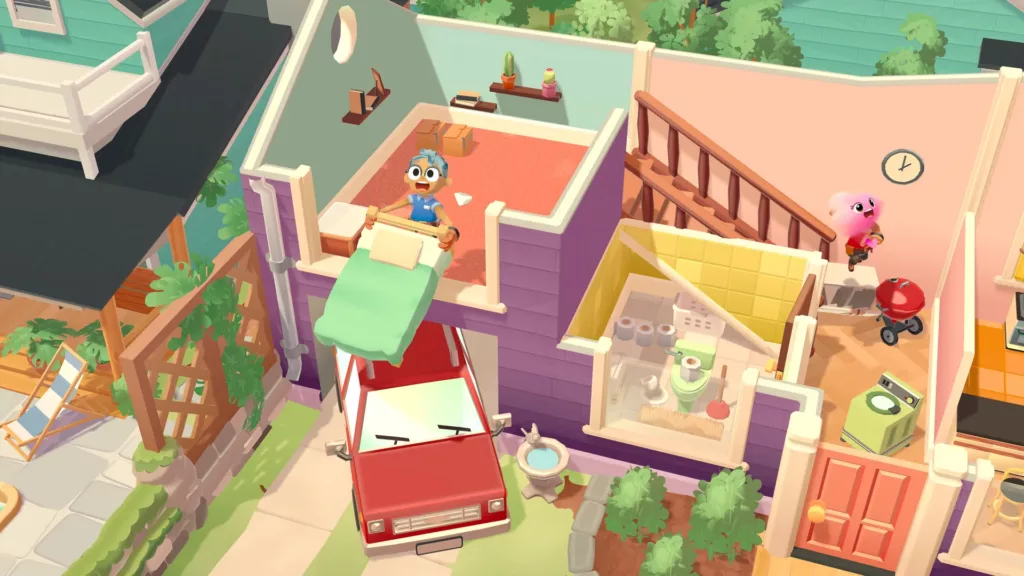 For a change of pace from the story, players can take on Arcade levels unlocked through collecting cartridges scattered in levels. These rapid fire score challenges distill the gameplay into quick and addictive bursts.
While Moving Out 2 is best played cooperatively with friends in the room or online, you can also play solo. However, coordinating with partners provides the most laughs, screams and fun. The addition of online multiplayer now enables remote cooperative play too, complete with full cross-platform support.
With dozens of levels, unlockable challenges per stage, playable characters to find, and high score tasks, Moving Out 2 is stuffed with replayable content. There are literally hundreds of stages that can be completed when accounting for the varied modes and objectives.
It's easy to lose hours upon hours flinging furniture, unlocking new costumes, and routing paths through elaborate stages. And the inclusion of online co-op means there's always a chance to tackle levels again with new partners and creative strategies.
Moving Out 2 excels at providing accessible pick up and play action that can be enjoyed in quick bursts or lengthy competitive sessions. The Story mode unlocks at a steady pace, arcade levels provide bite-sized fun, and the range of challenges per stage give veterans reason to revisit and master levels. This is a moving game built to stay fresh and fun across endless hours.
Chaotic Moving Across Creative Dimensional Worlds
While the core furniture flinging action sticks to the basics, Moving Out 2 throws in tons of variety when it comes to level locations and designs. Across 4 diverse worlds, players encounter all manner of creative challenges. The game eases you in with the starting town of Packmore. These tutorial stages teach you the ropes in typical suburban homes and streets. But soon enough portals transport you to fantastical realms.
Middle Folkmore offers a fun medieval fantasy world packed with magic and quests. Instead of couches, you'll be moving mystical artifacts like potions and crystals. Dodging fire traps and guiding objects through twisting magical hallways amps up the challenge. My favorite Middle Folkmore stage had my team directing objects down flowing aqueducts into a moving truck-turned-riverboat.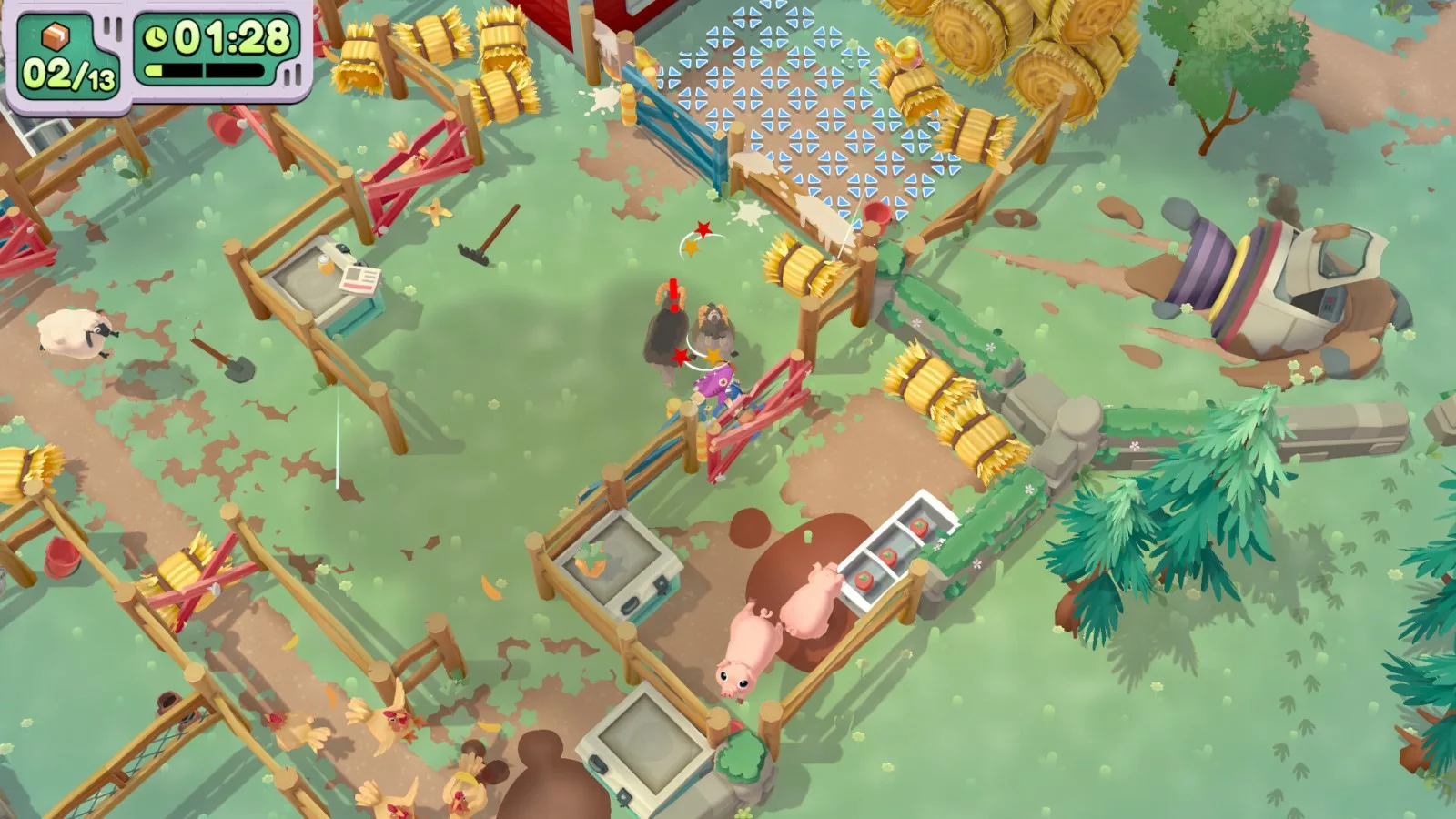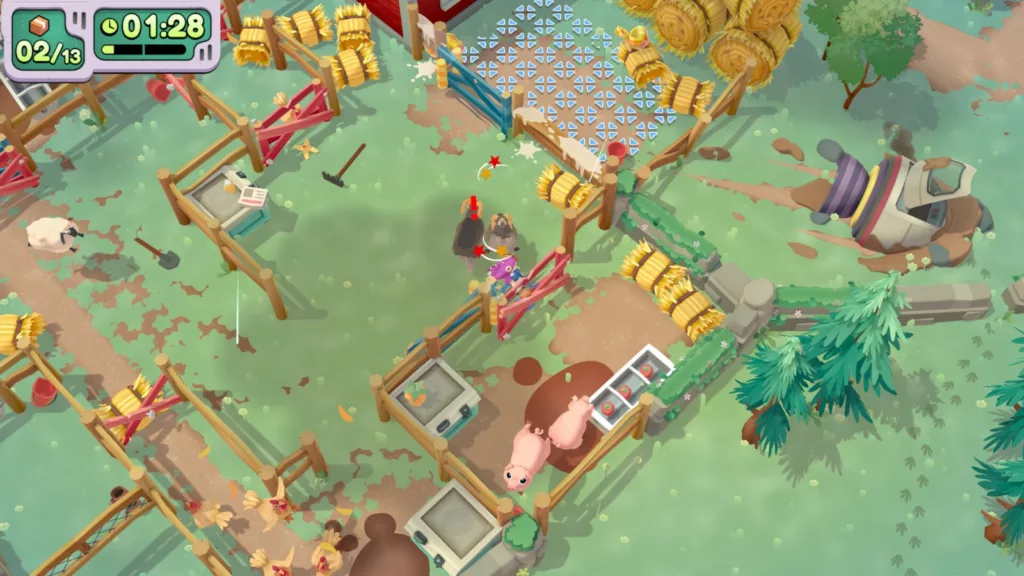 For pure wacky fun, Snackmore serves up a candy coated paradise. Chocolate rivers, gingerbread houses, and even food items like huge blueberries become your moving cargo. One memorable level had us demolishing cookie walls with a massive gumball wrecking ball. Sweet treats have never been so destructive!
In the future floaty city of Pactropolis, expect slick hovering furniture and appliances that are tricky to balance. Vacuuming obscuring clouds, dodging laser grids, and moving batteries to open doors are just some of the sci-fi twists that keep you hopping. Let's just say trying to angle a sofa through a swirling portal tunnel tests even the best F.A.R.T skills.
I'd be remiss not to mention the Super Sequel World that mashes up elements from all the previous worlds into ultimate challenges. Moving chickens through candy chaos or medieval fantasies gone sci-fi ensure the game ends on seriously amped up note!
With portals linking worlds, Moving Out 2 handily avoids repetitive backdrops. One minute you're beekeeping on a floating sky island and the next you're watersliding through a tiki lounge. Every new level brought fresh concepts that forced our team to form new strategies on the fly.
Even when relying on familiar mechanics like swinging giant objects as wrecking balls, the level designs kept things feeling fresh and challenging. Moving Out 2 really flexes the creativity of its developers across 50+ unique stages. Each world adds special touches that spices up objectives so veterans will be entertained long after the credits roll.
Slapstick Moving Mania Delivered With Polished Polish
Moving Out 2 retains the charming presentation and polish that made its predecessor such a delight to play. The bright, cheery visuals and upbeat audio make even the most chaotic levels a pleasure. The cartoony art style pops with color across the diverse worlds and environments. Levels burst with little animated details, from fluttering butterflies to dancing flames, that bring each area to life. Things stay consistently pretty and smooth in both handheld and docked modes on Switch.
Character models are simple but brimming with personality thanks to goofy vocal exclamations and exaggerated animations. Unlocking new bobblehead looks like corn cob and ice cream cone heads for your movers adds variety. Seeing a giant taco try to hoist a piano is worth a chuckle every time.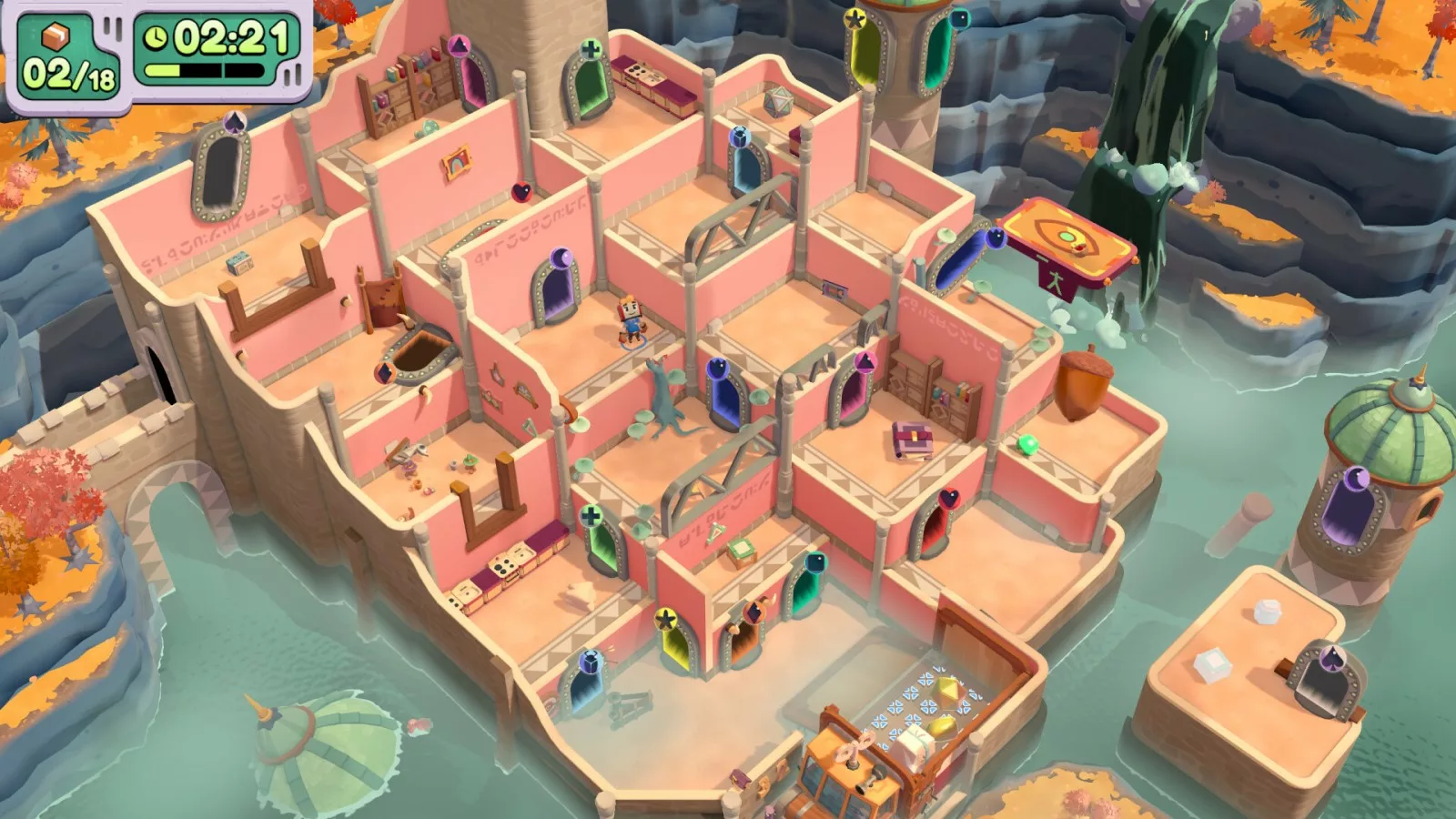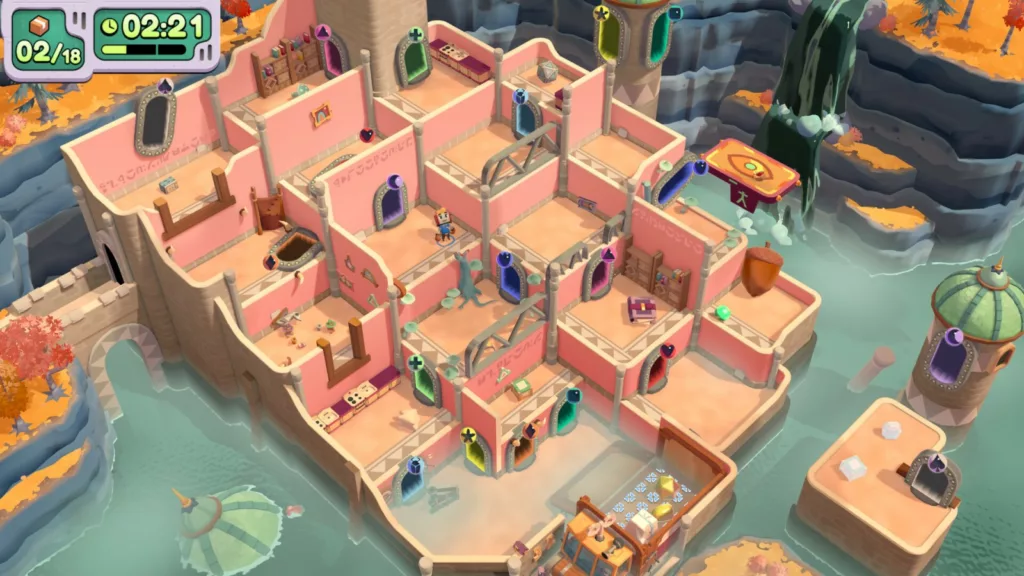 Slapstick humor and witty dialogue shine through environmental signage, narrator quips, and level start skits. The tone walks a line between childish and mature, with plenty of cheeky puns and banter that will have adults chortling.
Peppy tunes match the action during intense moving sessions. Things turn tranquil during planning breaks before launching back into upbeat instrumentals once items start flying. The audio strikes a synergy with gameplay that feels perfectly in tune.
From the rambunctious candy lands of Snackmore to the sterile skyscrapers of Pactropolis City, every new backdrop delights with small interactive touches that bring levels to life with personality. It's clear each world was thoughtfully crafted for both form and function.
Moving Out 2 delivers its ridiculous premise with a level of polish usually reserved for more serious games. The delightful presentation elements unite to create a cohesive experience that looks, sounds, and feels just right. Amidst the civil disorder of flinging furniture, it's the little artistic touches that Moving Out 2 gets right which make its manic world so consistently captivating.
Cooperative Chaos Creates Commotion and Camaraderie
While Moving Out 2 can be played solo, the game shines brightest as a local co-op experience. Round up some friends or family and enjoy hours of chaotic furniture flinging mayhem! Having up to 4 players run amok trying to efficiently clear levels ratchets up the madness in all the right ways. The physics-based gameplay means things rapidly descend into joyful unpredictability. One wrong throw can send items careening wildly off course. You never know when an errant couch will come flying across the room.
The coordination required between players also breeds equal parts frustration and satisfaction. Having to communicate clearly, divide tasks, and work together under pressure tests a group's synergy. Expect lots of accidental collisions, miscommunications, and full blown arguments to erupt amidst the chaos. But finally nailing a puzzle-like room clear with perfect teamwork provides a real sense of communal achievement.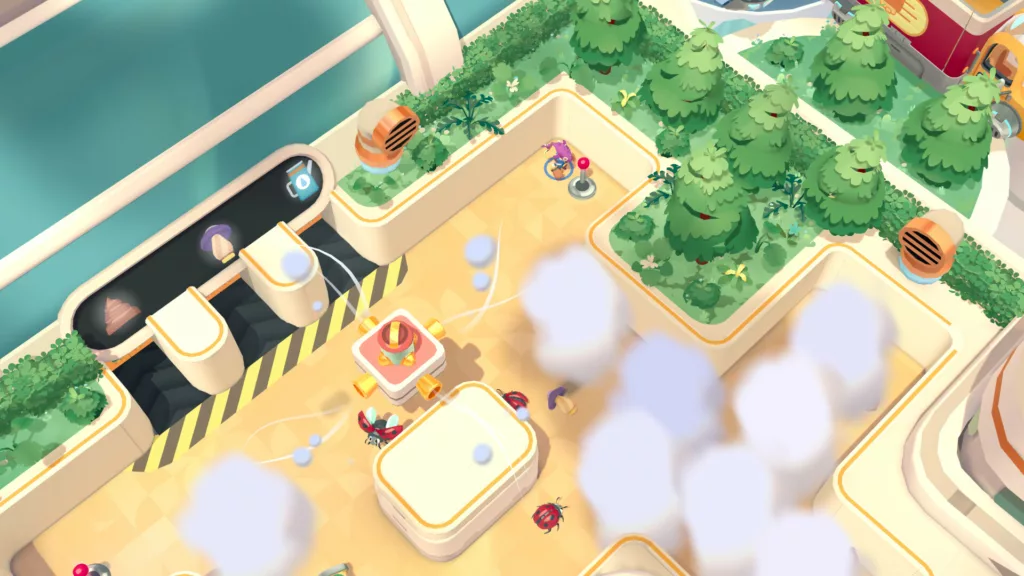 Of course, playing with randoms online can also be a recipe for disaster if you get uncooperative partners. Some levels require carefully swapping items or operating mechanisms together, so having a stubborn player ignore objectives can ruin the fun. Try to stick with people you know, but don't be afraid to boot selfish teammates.
Experimenting with different character combinations is part of the appeal. Try an all unicorn head group or mix oddball duos like cupcake head and cassette tape head for aesthetic fun. Different player's skills will also complement each other across levels, so don't be afraid to switch up partners.
Playing co-op consistently tests your patience, communication, and teamwork skills. Assessing what went right or wrong after a messy session helps to improve dynamics for next time. Don't forget to laugh together about your most hilarious in-game disputes after tempers cool down!
With the addition of full online multiplayer, even geographically distant friends can enjoy Moving Out 2 together. Cross platform support means PC, Xbox, PlayStation, and Switch players can all collaborate. Online co-op does remove some direct spontaneity, but using voice chat still enables lively teamwork.
Moving Out 2 delivers an addictive and accessible local co-op experience that anyone can enjoy. Just be ready for some ridiculous arguments, unintended chaos, and hysterical mishaps. As long as you embrace the mayhem and keep communication open, you'll have an absolute blast working together…or just endlessly bickering while spectacularly failing each objective. Hey, as long as you're laughing!
Moving Out 2 Delivers A Smashing Co-Op Good Time
When it comes to creative couch co-op experiences, Moving Out 2 hits all the right notes. Developer SMG Studio has crafted an incredibly fun and refreshing take on a tired concept. Who knew virtually moving furniture could lead to such chaos and camaraderie?
The accessible physics-based gameplay lends itself perfectly to unpredictable and hilarious moments. Throwing caution to the wind and just launching items around leads to some absurdly good slapstick when things collide mid-air. And trying to coordinate calmly with friends under pressure results in lots of unintended mayhem.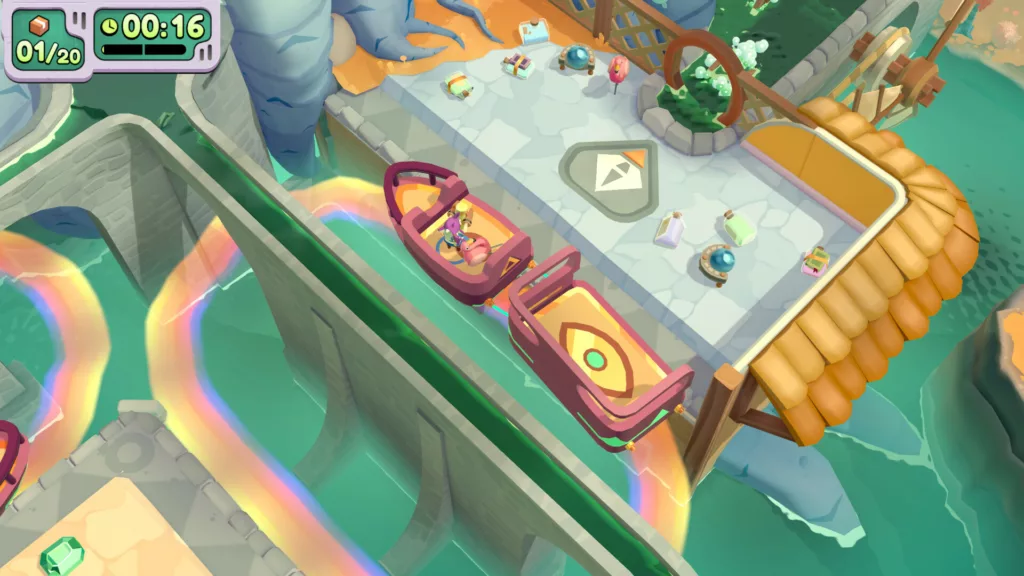 Moving Out 2 doubles down on the chaotic formula with impressively varied mechanics, environments, and objectives across its 50+ levels. Just when you've settled into a groove, portals whisk you away to new worlds brimming with creative concepts that force you to rethink strategies on the fly. It never grows stale.
Filled with vibrant personality and goofy humor, Moving Out 2 is an absolute joy to experience. The visuals pop with color, characters ooze silliness, and it's all tied together by plenty of cheeky puns and wit. This is a game that refuses to take itself seriously, and that lighthearted charm shines through.
Of course a few minor gripes hold Moving Out 2 back from furniture moving perfection. The physics occasionally feel a bit more slippery and finicky compared to the original game. And while local co-op is a riot, solo players will still find Moving Out 2 rather mundane without extra hands.
Yet beyond these small complaints, Moving Out 2 succeeds admirably as a follow-up. The core formula has been expanded upon in so many creative ways. New environmental mechanics, multiplayer online, secrets to uncover, varied level goals…the list goes on. Simply put, Moving Out 2 takes an already great couch co-op experience and makes it even better.
For those seeking an accessible and hilarious local multiplayer game, Moving Out 2 is easily recommended. Gather some friends, embrace the chaos, and get ready for some seriously good co-op times. Moving homes has never been so fun! So leave your back braces behind and leap wholeheartedly into the absurdly entertaining moving madness of Moving Out 2. Just try not to break anything…real or virtual!
The Review
Moving Out 2
Moving Out 2 smashes expectations with its outrageously fun couch co-op gameplay. Despite a few minor quibbles, this is an easy recommendation for fans of chaotic local multiplayer experiences. Overall, Moving Out 2 delivers an excellent, expanded take on the creative co-op formula of the original. Gather some friends and enjoy hours of raucous furniture flinging madness!
PROS
Hilarious local co-op focused gameplay
Great physics-based moving mechanics
Tons of variety in objectives, environments, and mechanics
Goofy personality and charm throughout
Accessible gameplay for all skill levels
CONS
Still mundane as solo experience
Some finicky physics and controls
Can be frustrating with uncooperative partners
Loses some minor features from original