The iPhone 15 is Apple's newest addition to their iconic smartphone lineup. Released in September 2023, the iPhone 15 looks to build upon the success of previous models with some incremental upgrades and a couple major changes. In this review, we will take an in-depth look at the iPhone 15 to see how it stacks up to both its predecessor, the iPhone 14, and to the ever-improving competition in the Android space.
At first glance, the iPhone 15 sports a very similar design to the iPhone 14. The display is the same 6.1-inches with a notch at the top for the front-facing camera. However, Apple has added their powerful new A16 Bionic chip inside, bringing performance improvements. The rear-facing camera system now has a 48MP main sensor, up from 12MP, enabling more detailed photos. And in a long overdue move, Apple has switched to a USB-C charging port instead of their proprietary Lightning port.
Beyond these upgrades, the iPhone 15 offers more subtle improvements to the display brightness, battery life, and build quality. It runs Apple's latest iOS 17 software out of the box. As always, Apple focuses on optimizing the software and hardware together for a seamless user experience.
With a starting price of $799, the iPhone 15 is positioned as a mainstream device compared to the more expensive Pro models. In this review, we will dig into the design, display quality, performance, camera capabilities, software features, and overall value proposition. After conducting hands-on testing, we will determine how the iPhone 15 compares to last year's model and the latest flagships from Samsung, Google, and other rivals. Our goal is to provide a comprehensive assessment to help consumers decide if the iPhone 15 is the right upgrade for them in late 2023.
A Refined and Durable Design
In terms of physical dimensions, the iPhone 15 measures 5.78 x 2.82 x 0.31 inches and weighs 6.07 ounces. This makes it almost identical in size and weight compared to last year's iPhone 14 model. Apple continues to use aerospace-grade aluminum for the body along with hand-polished stainless steel for accents around the edges and camera bump. The front and back are made of the Ceramic Shield material that Apple claims offers 4x better drop protection versus regular glass.
New for this year is the color-infused back glass which has the color integrated directly into the glass instead of just on the surface. This is meant to prevent scratches from showing up obviously over time. The iPhone 15 comes in more muted, pastel shades including new blue, pink, midnight, starlight, and Product RED hues. The blue and pink colors look especially premium with their subtle metallic sheen.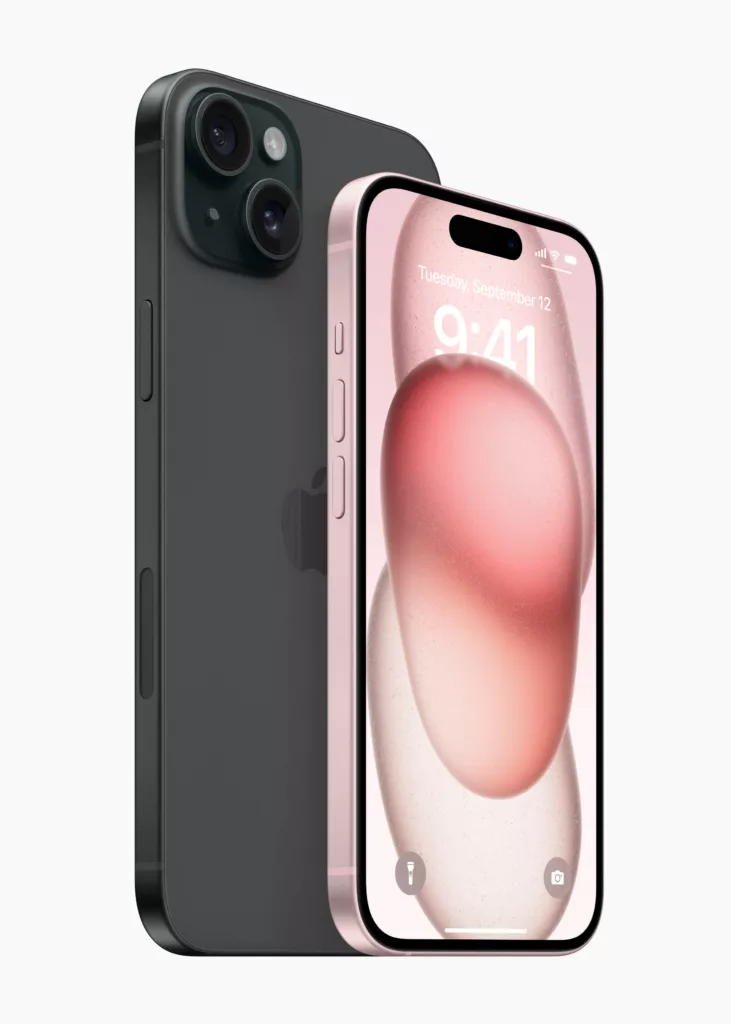 In daily use, the iPhone 15 feels extremely solid and durable in hand. The flat sides provide a good grip compared to rounder or tapered edges. Apple says it has the highest water resistance rating ever on an iPhone at IP68 for submersion up to 6 meters for 30 minutes. So you can confidently use it in wet conditions without worry.
The physical buttons remain tactile and responsive, typical of Apple's precision with these details. There is still the familiar power button on the right side and volume buttons on the left. The mute switch has also been retained to quickly silence the phone when needed.
Of course the biggest design change is the switch to a USB-C charging port on the bottom, replacing Apple's proprietary Lightning port used for the past decade. This allows the iPhone 15 to work with common USB-C cables and chargers used by other devices. However, data transfers are limited to USB 2.0 speeds versus the faster USB 3.0 standard.
Overall, while not a major overhaul, the iPhone 15 refines the already appealing design of previous models. The new colors look great, build quality is top-notch as expected, and little touches like the redesigned camera bump integrate smoothly into the whole package. Apple has iterated while retaining all the good design elements that users expect from the iPhone.
A Vibrant and Immersive Display
The iPhone 15 is equipped with a 6.1-inch OLED display, same as the previous generation. It has a resolution of 2532 x 1170 pixels, which results in a sharp 460 pixels per inch. This Super Retina XDR display uses OLED technology to deliver deep blacks and vivid, accurate colors.
One of the most impressive aspects is the high brightness levels. Apple claims the iPhone 15 can reach up to 1200 nits of typical brightness and 1600 nits of peak HDR brightness when viewing compatible content. In real-world usage, the screen is easily visible even in bright daylight thanks to this stellar brightness. Blacks also look perfectly inky thanks to the pixel-perfect dimming control of OLED.
Color accuracy is also excellent out of the box, as expected from iPhone displays. The default calibration has a warmer tone compared to many OLED Android phones which skew cooler in their color temperature. Apple provides tools to fine tune the color balance and saturation to suit user preference. But most users will be very pleased with the vibrant yet realistic colors of photos, videos, and apps on the iPhone 15.
The max 60Hz screen refresh rate remains unchanged from the iPhone 14 series. Competing Android flagships are pushing refresh rates up to 120Hz or higher for smoother scrolling and animations. While a higher refresh would be welcome, the iPhone 15's display still looks great in most usage. Fast screen response and Apple's tight software optimization provides a very responsive feel despite the 60Hz limit.
Instead of a notch cutout, the iPhone 15 utilizes the Dynamic Island housing for the front camera and Face ID sensors. This pill-shaped area blends seamlessly into the display and animates in fun ways to show alerts, notifications, music controls, and other activities. It provides glancing information without being distracting or intrusive. Overall a novel implementation and big improvement over the regular notch.
HDR content looks fantastic on the wide P3 color gamut display. Dolby Vision playback from sources like Netflix and Apple TV+ reveals refined details in shadows and highlights for a truly cinematic viewing experience. The 1600 nits of peak brightness really make HDR pop. Gamers will also appreciate the vibrant graphics and quick response time, even if the 60Hz refresh rate limits how smooth fast-paced action appears.
While the lack of ProMotion high refresh rate is disappointing for an expensive flagship phone in 2023, the iPhone 15's display still impresses in most other aspects. It showcases the strengths of OLED technology with inky blacks and a stunning brightness range. Vibrant colors and crisp details make using the phone a visual treat, whether gaming, streaming videos, or browsing photos.
Impressive Photo and Video Performance
The iPhone 15 features a dual camera system on the rear, consisting of a new 48MP wide angle lens and a 12MP ultra wide angle lens. The primary 48MP sensor represents a big leap over the 12MP sensor used in previous models. It uses pixel binning to produce sharp 12MP images in default mode. The ultra wide camera provides a 120-degree field of view, enabling more creative framing and shots.
On the front is a 12MP TrueDepth camera for selfies, FaceTime calls, and unlocking the phone with Face ID. It can record video in 4K quality. For most users, this front camera will capture social media-ready self-portraits with accurate skin tones and a pleasant background blur in Portrait mode.
In ideal lighting conditions, the iPhone 15 captures outstanding photos with plenty of detail, accurate colors, and a natural depth of field. The larger 48MP sensor enables excellent dynamic range without losing highlight or shadow details. Images have a neutral color profile that can be adjusted to taste.
Low light photos also impress with minimal noise, thanks to advanced processing and pixel binning. Night mode can be used in very dim scenes to combine multiple exposures for a bright, clean image. The results beat what the smaller sensor on the iPhone 14 could produce.
The ultra wide camera excels at fitting more of a scene into the frame, like expansive landscapes or large group shots. Barrel distortion is corrected effectively. But quality understandably degrades more noticeably in low light compared to the primary lens. Still, it serves its purpose well.
2x optical zoom is now possible by using just the central 12MP portion of the main camera. This provides a nice portrait-friendly focal length. Digital zoom up to 5x is decent, while 10x zoom is best avoided. So the iPhone 15 offers useful flexibility while maintaining quality.
Portrait mode continues to impress with accurate depth mapping and background blur. Skin tones and fine details like hair look great. Pet portraits are now supported in addition to people, leveraging machine learning. Users can adjust the bokeh effect after taking the shot, which is a fun feature.
Video recording is possible in resolutions up to 4K 60fps with extended dynamic range. Quality is excellent with reliable autofocus and stabilization that looks natural. Cinematic mode offers focus racking for a dramatic look. Overall, video recording lives up to high expectations.
The iPhone 15 delivers class-leading image quality for a smartphone, capturing portraits, landscapes, and everyday life with beautiful color and clarity. Flexible zoom options, stellar low light and HDR performance, plus creative video recording and editing round out the versatile camera system.
Blazing Speed and All-Day Battery
The iPhone 15 is powered by Apple's latest A16 Bionic chip. This 6-core CPU and 5-core GPU deliver excellent performance whether crunching photos, playing games, or zipping through the iOS interface.
There are 128GB, 256GB, and 512GB storage options to choose from. Having more RAM would be nice, but the 4GB in the iPhone 15 is sufficient thanks to Apple's tight hardware and software integration. Apps resume instantly when multitasking.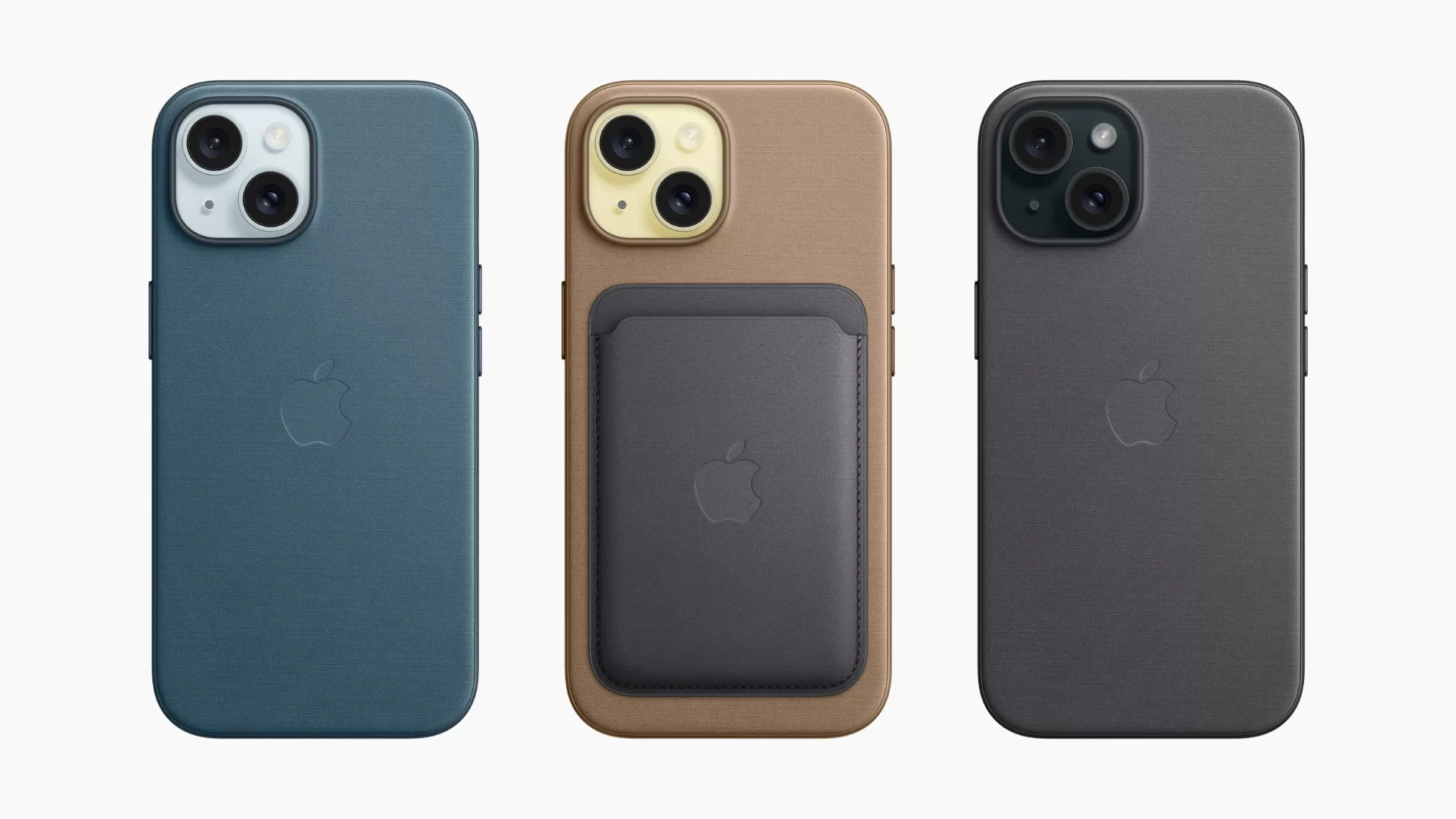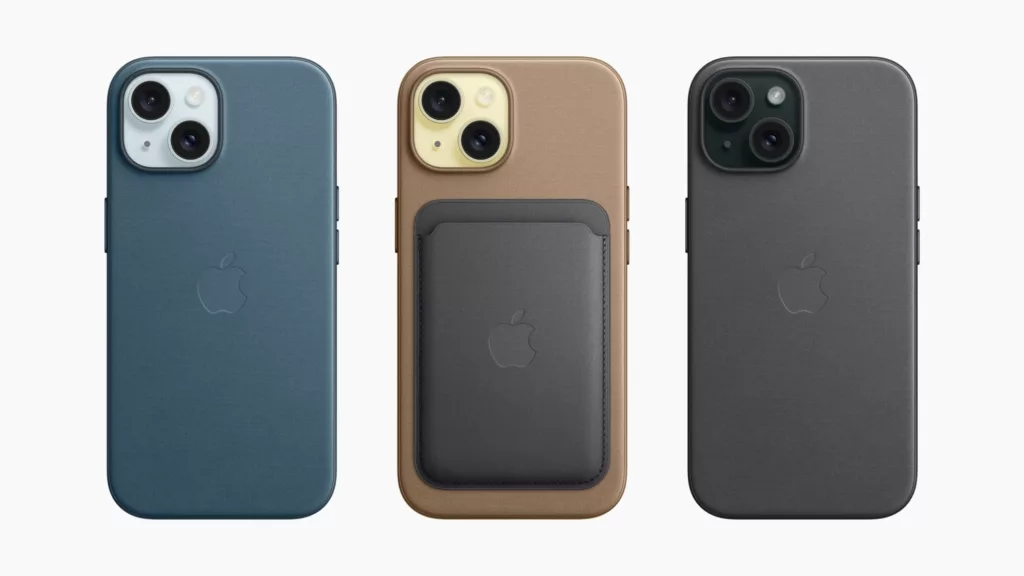 Benchmark tests like Geekbench 5 put the iPhone 15 on par with last year's iPhone 14 Pro models, with single and multi-core scores around 1700 and 4500 respectively. This translates to real-world speed that is noticeably snappier than the iPhone 14 and easily keeps up with Android rivals.
Gaming performance is also great thanks to the capable A16 chip. Graphics-intensive titles like Genshin Impact run smoothly while looking fantastic on the OLED display. The iPhone 15 handles mobile games with ease. And Apple Arcade offers 100+ titles perfectly optimized for the hardware.
Battery life is rated at up to 20 hours of video playback, matching Apple's all-day battery claims. Most users should have no problem getting through a full day of regular use including web browsing, messaging, social media, and taking photos.
Charging speed has improved this year, with the iPhone 15 reaching around 50% battery in 30 minutes with the included 20W USB-C power adapter. Faster charging would still be welcome, but this is adequate. Wireless charging through MagSafe or Qi pads is supported as well for added flexibility.
In addition to great speed and stamina, the iPhone 15 delivers strong cellular and WiFi connectivity. Support for 5G enables super fast downloads and streaming while on the go. And Bluetooth 5.3 provides reliable connections to wireless earbuds and accessories.
Between the efficient A16 Bionic chip and software optimizations, the iPhone 15 offers excellent performance. Apps open instantly, games play smoothly, and the phone easily lasts all day on a charge. For a flagship in 2023, the speed and battery life meet high expectations through a combination of capable hardware and refined software integration.
Refined iOS 17 and Convenient Features
The iPhone 15 comes pre-installed with iOS 17, the latest version of Apple's intuitive mobile operating system. iOS 17 refines the already slick interface with customizable lock screens, spatial audio support, intelligent dictation, and major updates to core apps
The lock screen gained new depth effects, widget support, and extensive personalization options. Beautiful wallpapers and artfully arranged lock screen elements make glancing at notifications a pleasure. Widgets offer at-a-glance info like weather, activity rings, and calendar events.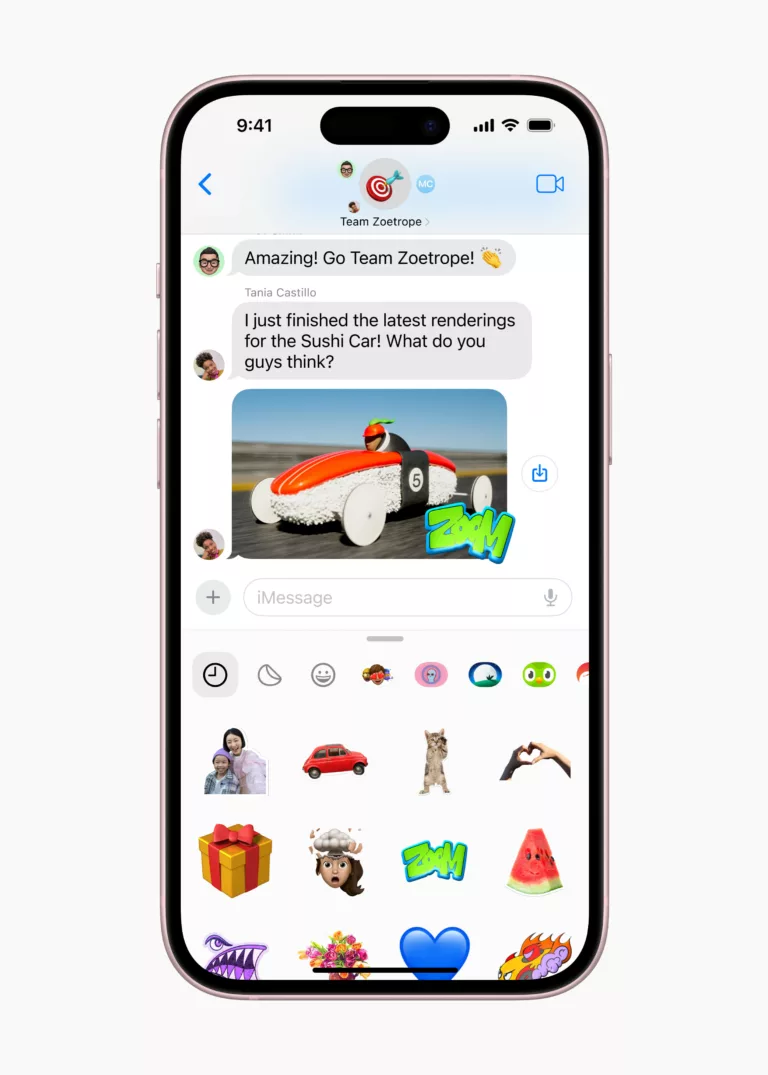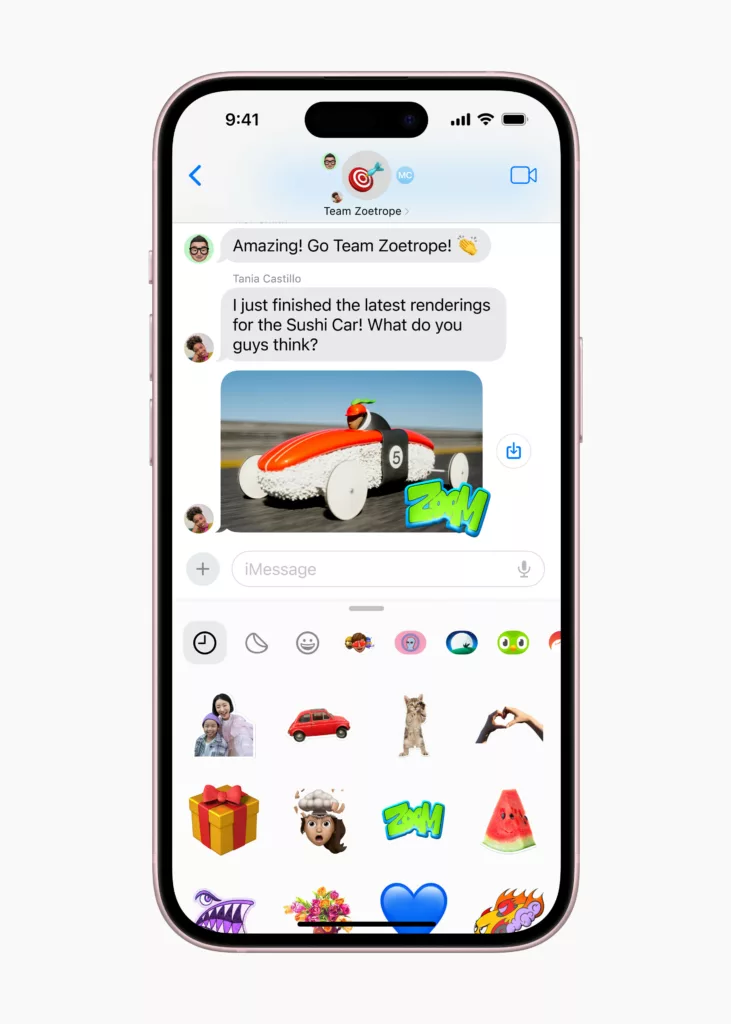 Messages and Mail gain the ability to edit or recall recently sent messages, schedule emails to send later, and automatically surface relevant info based on context. These thoughtful enhancements streamline communication and cut down on mistakes.
Maps adds multi-stop routing and transit fare cards in supported cities like New York and London, taking the hassle out of planning trips. Apple Wallet now supports digital ID cards and keys, boarding passes, and more.
Face ID biometric authentication remains super fast and reliable thanks to the TrueDepth camera system. This also enables fun effects like personalized Memoji avatars. For an added layer of security, iOS 17 adds lockdown mode to limit access and block most message attachments when traveling or facing digital threats.
Photographic Styles allow customizing the look of photos based on preferences like vibrant, contrasty, or warm. Intelligent cropping suggests attractive crops when editing photos.
Low power mode can extend battery life by restricting background activity, reducing display brightness, and limiting performance. This provides hours of extra usage when battery is running low and you're far from a charger.
Siri voice commands are smoothly integrated to control music playback, set reminders, search for information on the web, and automate workflows through Shortcuts. Dictating messages or notes with Siri is extremely quick and accurate thanks to on-device processing.
Overall, iOS 17 demonstrates Apple's relentless focus on refining the user experience. Updates both big and small make the iPhone 15 highly customizable, intuitive, delightful to use, and secure. Seamless hardware and software integration enables unique capabilities like Face ID and extended battery savings. For iOS users, the iPhone 15 provides the best implementation of the platform's strengths.
Crisp Stereo Sound and Cutting-Edge Wireless
The iPhone 15 features stereo speakers that provide surprisingly full, clear audio. Music, videos, games, and voice calls come through loud and detailed, thanks to carefully tuned drivers that minimize distortion even at high volumes.
There is no headphone jack, with audio output relying on the built-in speakers, wireless Bluetooth audio, or the Lightning to 3.5mm headphone jack adapter. But the onboard stereo speakers negate the need for headphones in many casual listening scenarios.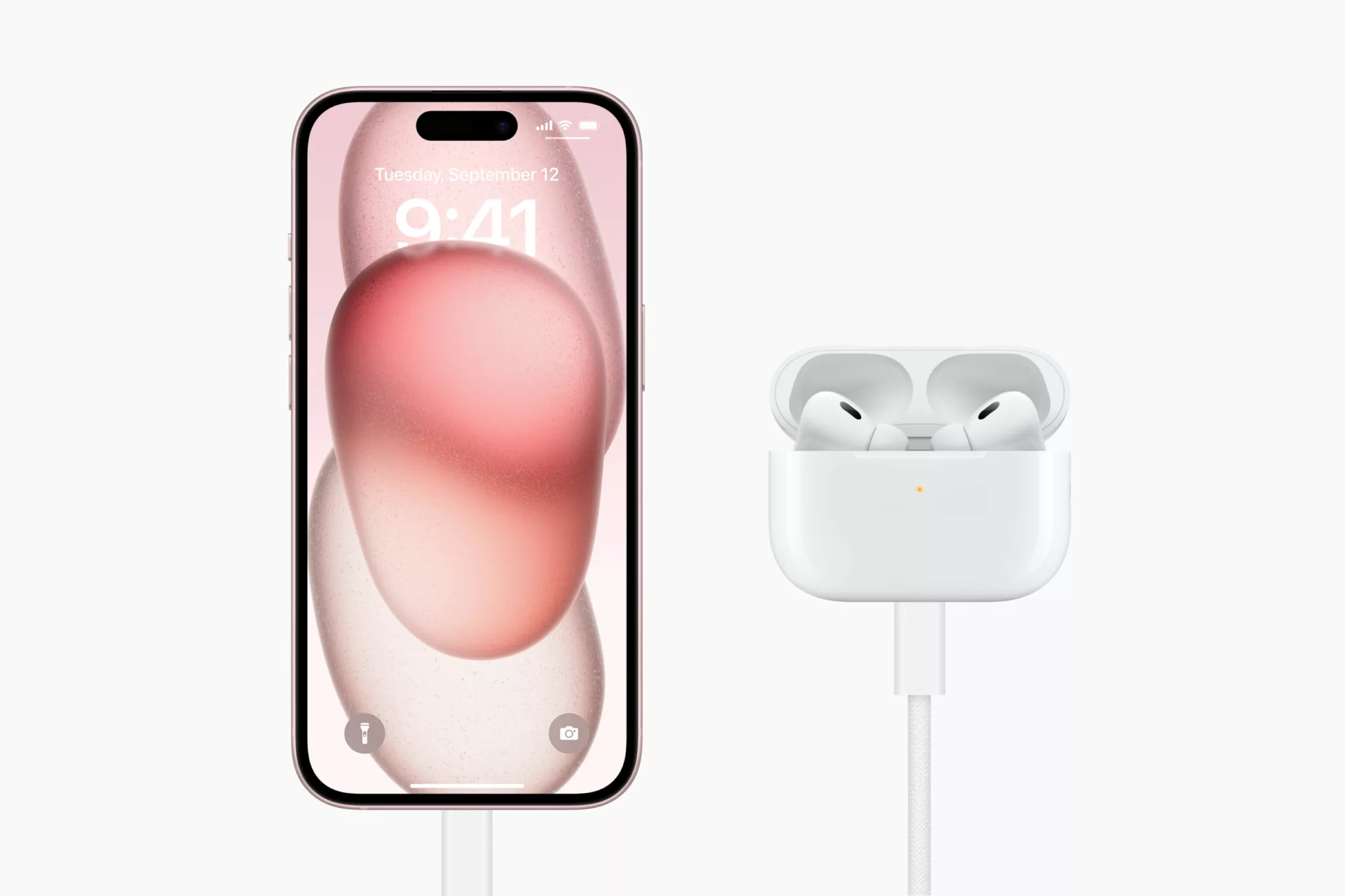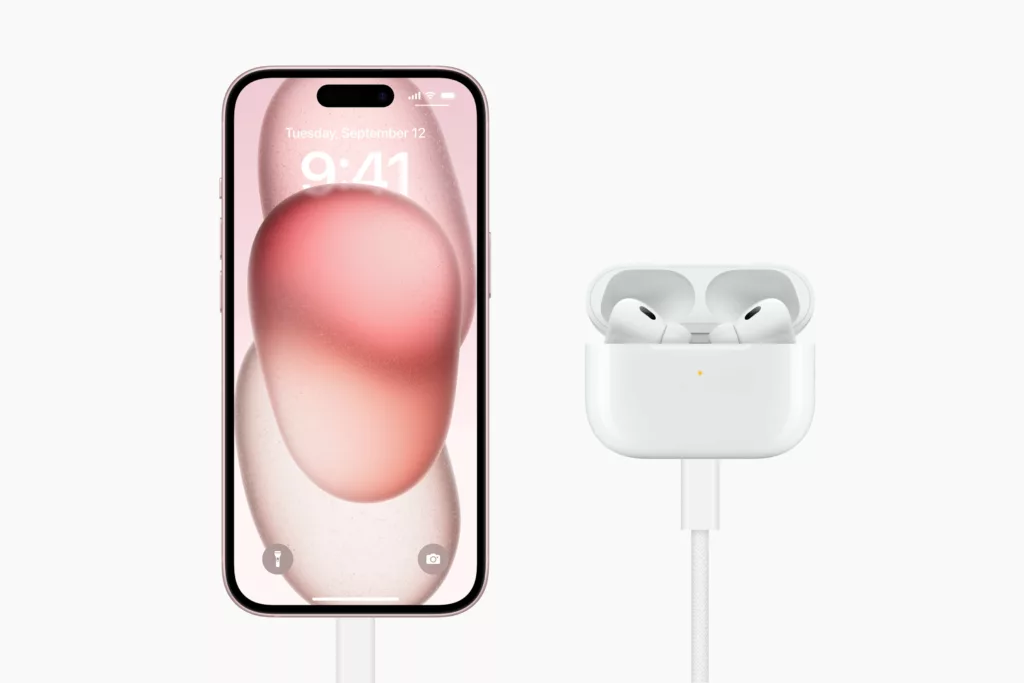 For wireless audio, Bluetooth 5.3 ensures stable connections to accessories like AirPods. Supported Bluetooth audio codecs include AAC and SBC. Apple's proprietary Lossless Audio is only available through wired headphones.
Cellular connectivity is provided by a Snapdragon X65 5G modem supporting both sub-6GHz and mmWave frequencies. This enables lightning fast 5G download speeds where the networks are available. The iPhone 15 also has WiFi 6 for up to 1.2 Gbps wireless networking speeds.
NFC allows using the iPhone for Apple Pay contactless payments through supported payment terminals. Simply hold the top of the phone near the reader to pay securely and conveniently.
MagSafe on the back of the phone enables magnetic attachment of wireless chargers and other accessories. Qi standard wireless charging pads can be used as well at up to 15W speeds. Charging remains limited to wireless and the new USB-C port.
Range and stability of Bluetooth and WiFi connections are excellent, thanks to Apple's antenna design and continuous improvements. Call quality through the earpiece and built-in mics is crisp and natural.
The iPhone 15 checks all the boxes for modern wireless connectivity from 5G mobile data to WiFi 6, MagSafe accessories, and rock-solid Bluetooth integration. Audio output flexibly covers internal speakers, wired headphones, and wireless audio with room-filling sound. For a 2023 flagship smartphone, users should be very pleased with the communication and entertainment capabilities.
A Premium Price for a Premium Experience
The iPhone 15 starts at $799 for the 128GB model, with 256GB and 512GB configurations costing $899 and $1099 respectively. This positions it firmly in the ultra premium tier for smartphones. However, Apple's brand cachet andoptimized user experience have proven widely popular at this price point.
Compared to Android rivals like the Samsung Galaxy S22, Google Pixel 7, and OnePlus 10T that can be purchased new for $600-800, the iPhone 15 commands a premium. But for iOS ecosystem users invested in apps, services, and accessories, it represents the best Apple currently offers without stepping up to the higher-priced Pro.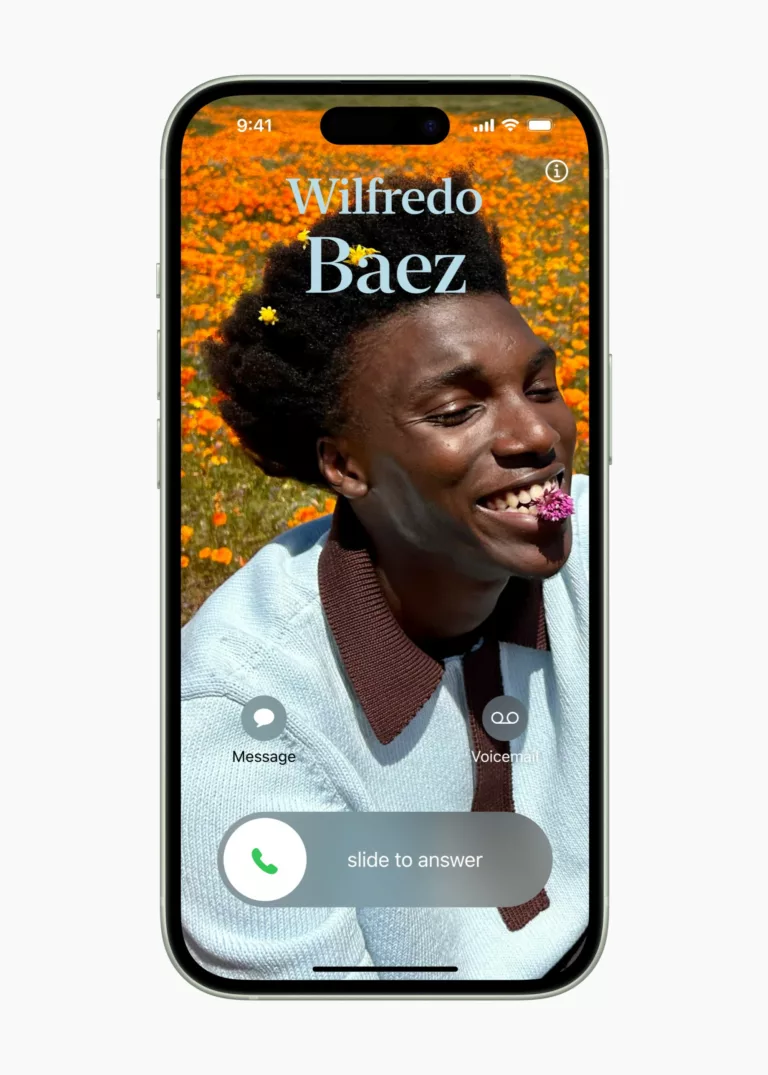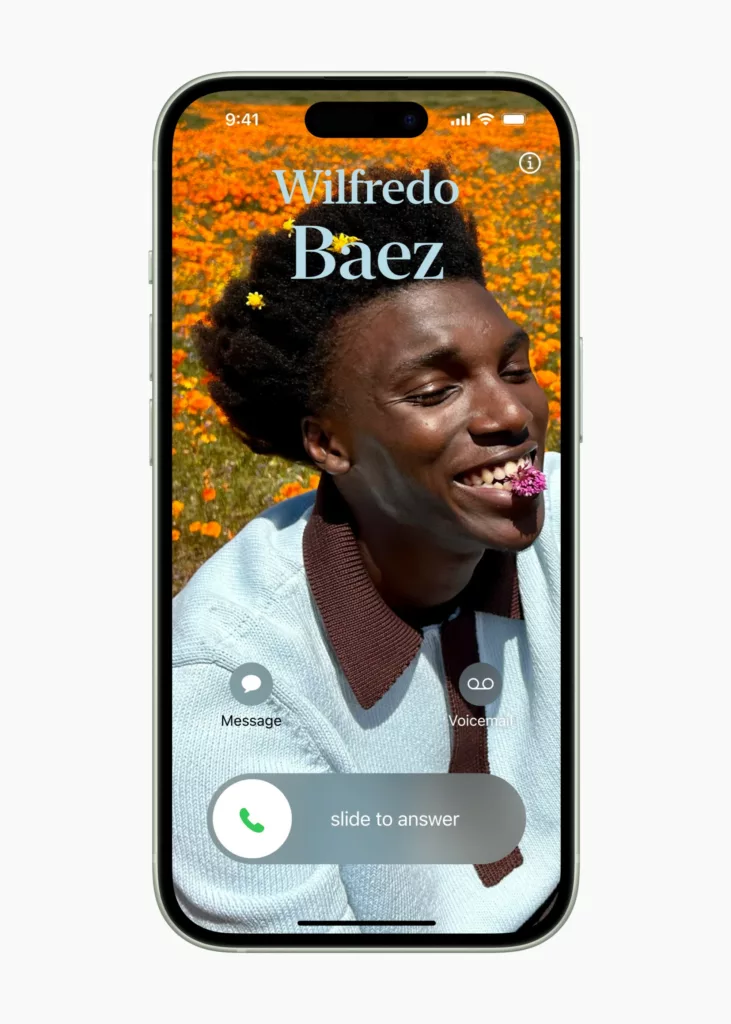 Trade-in deals from Apple and carriers can sweeten the deal, sometimes by several hundred dollars. And the iPhone 15 is sure to have strong resale value after 1-2 years, recouping more value than comparably priced Androids.
For Android users enticed by iOS, the iPhone 15 makes switching easier than ever. Key features like the dynamic island, always-on display, USB-C charging, and a big camera upgrade close the gap with top Androids.
The bigger iPhone 15 Plus costs $100 more starting at $899 for its larger display and improved battery life. Power users may wish to consider spending $200 more on the iPhone 15 Pro which adds a telephoto camera, stainless steel design, A17 Bionic chip, and 120Hz display.
Overall, the iPhone 15 demands the usual Apple premium. But it delivers a best-in-class software experience backed by powerful hardware and years of ecosystem investment. For iOS loyalists not requiring the utmost cutting edge features, it hits a sweet spot between price and capabilities.
Still a Top Contender in the Smartphone Race
The iPhone 15 delivers meaningful upgrades over last year's iPhone 14, making it a compelling upgrade for iOS users. Pros include excellent cameras that capture rich detail and vibrant colors, a gorgeous OLED display with high brightness, sleek refined design, blazing A16 Bionic speed, and convenience of USB-C charging.
Downsides are limited compared to premium Android competition. The 60Hz screen refresh rate trails behind latest 120Hz phones. Battery life remains good but faster charging would be welcome. And the price tag sits at the very top of the market. But these are small tradeoffs for Apple's optimized software and services.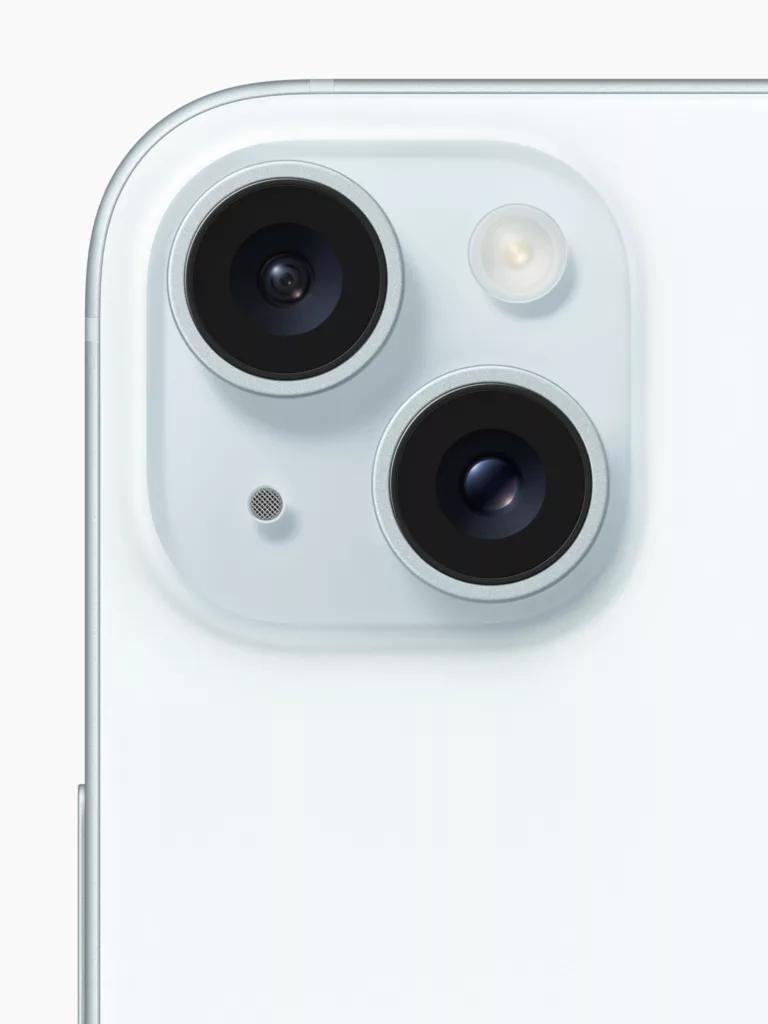 Power users wanting next-level features like an always-on display, telephoto camera, and 120Hz scrolling should consider spending more on the iPhone 15 Pro. But most buyers will be extremely well served by the iPhone 15.
It is ideal for iOS ecosystem users who want strong cameras, robust processors for gaming and apps, 5G connectivity, and a premium build. Upgrading from older models like the iPhone 11 or earlier will feel like a huge leap. Even iPhone 13 owners will appreciate the improved image quality.
For Android switchers, the iPhone 15 makes the transition easier than ever between its new USB-C port, Dynamic Island, and iOS 17 software additions. You still need to be comfortable leaving Android's greater openness and customization behind though.
Overall, the iPhone 15 earns a strong recommendation for shoppers who want the Apple iPhone experience in a well-rounded package without going all-out on the Pro. Existing iPhone owners looking to upgrade should seriously consider it for the camera and everyday user experience improvements. While not radically different from the iPhone 14, the changes Apple made specifically address pain points and keep the iPhone fresh versus surging competition.
The Review
iPhone 15
The iPhone 15 delivers an array of thoughtful improvements that make it a compelling upgrade for iOS users. The new 48MP camera captures images with incredible clarity, color fidelity, and low light performance. The Dynamic Island is a clever integration of hardware and software that looks fresh while enabling convenient notification glancing. Performance, battery life, display quality, and design all meet Apple's impeccably high standards. And the switch to USB-C finally brings ubiquitous charging and connectivity. There is still room for improvement, as always. Faster charging, a 120Hz display, and periscope telephoto camera would be welcome upgrades. But considering the polish of iOS and how well the hardware and software work in harmony, the iPhone 15 provides one of the best overall user experiences you can get in a smartphone today. For loyal iPhone users due for an upgrade, the iPhone 15 is a reliable choice that improves photography and everyday usage. Android switchers get the closest thing yet to a unified platform experience.
PROS
Powerful A16 Bionic chip for excellent performance.
Improved 48MP rear camera for high-quality photos.
Switched to USB-C charging port for convenience.
Durable design with IP68 water resistance.
Vibrant and bright OLED display.
iOS 17 with customizable lock screens and useful features.
All-day battery life and faster charging.
Strong wireless connectivity with 5G and WiFi 6 support.
Crisp stereo sound and versatile wireless capabilities.
CONS
Limited to a 60Hz screen refresh rate.
Relatively high starting price compared to some Android competitors.
Faster charging could be improved.
Lack of periscope telephoto camera and 120Hz display found in Pro models.