Diablo 4, the latest installment in the acclaimed Diablo series, is set to introduce the Abbatoir of Zir, a new pinnacle dungeon, in its Season 2 update. Scheduled for release in early December, this addition aims to significantly enrich the endgame experience for players.
To unlock the Abbatoir of Zir, players must first complete all seven tiers of the Season Journey. This achievement allows players to craft special Bloodforged Sigils at the Occultist. Using one of these sigils, players can access the Abbatoir of Zir through a blood-themed portal located in Ked Bardu.
A Multi-Tier Challenge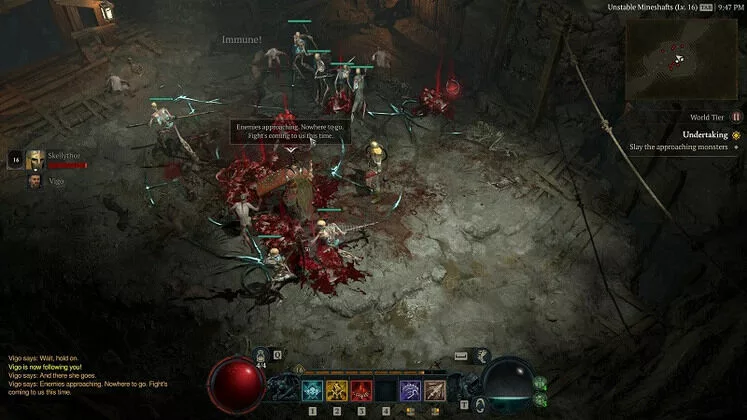 The dungeon, which features 25 tiers of escalating difficulty, offers a formidable challenge to fully-leveled characters. Echoing the popular Greater Rifts from Diablo 3, the Abbatoir of Zir requires players to eliminate enough enemies within a 10-minute timeframe to fill a progress bar. Upon reaching the threshold, a boss spawns, and defeating it completes the dungeon, rewarding players with various items.
A novel feature in the Abbatoir of Zir is the introduction of a new Paragon glyph called Tears of Blood. This glyph enhances Rare nodes within its range and provides a significant damage boost to players. Its level cap is also ten times higher than regular Paragon glyphs, offering a new layer of progression for endgame players.
Addressing the Leveling Grind
The dungeon also addresses the often grindy nature of leveling standard Paragon glyphs, especially at higher levels. Players can expect to earn significantly higher amounts of experience towards leveling these glyphs within the Abbatoir.
Set to arrive alongside patch 1.2.3 on December 5, 2023, both the Abbatoir of Zir and the Tears of Blood glyph are seasonal features. They will be available only during Season 2, making their presence in the game temporary but highly anticipated.
As the release date approaches, more details about Diablo 4's Abbatoir of Zir and its intricacies are expected to be shared, raising excitement among the Diablo community.