The beautiful game meets spreadsheet simulation in Football Manager 2024, the latest entry in Sports Interactive's long-running football (soccer) management series. Having origins dating back to the early 90s as Championship Manager, Football Manager has steadily evolved into the premier armchair sporting franchise over multiple decades.
With Football Manager 2024, developers Sports Interactive are aiming to build upon the strong foundations of previous iterations while striving for meaningful improvements. At its core, Football Manager 2024 offers the same meticulously detailed and addictive experience the series is known for across PC and Mac. Aspiring managers once again take the reins of real-world clubs big and small, with the goal of leading them to glory through tactics, transfers, and training.
Matches unfold through the familiar 3D match engine or via text commentary for those who prefer to imagine the on-pitch action. Away from matchdays, you'll live the day-to-day life of a football manager, from dealing with the media to balancing the books. Spreadsheets and menus prevail as you micromanage each aspect of running a football club.
For long-time fans debating whether to pick up this year's version, we'll be reviewing Football Manager 2024 in depth to determine if the changes highlighted in early reviews are enough to warrant an annual purchase. Does it push the franchise forward in meaningful ways or simply play as a small iterative update? Let's step into the manager's office and find out.
More Ways Than Ever to Live the Management Dream
Football Manager 2024 doesn't drastically alter the variety of game modes on offer, but it does provide players with more options for customizing their management experience. The classic Career mode returns, letting you take control of any club in Football Manager's vast database of leagues and teams. This main mode is highly customizable – choose your starting club, transfer budget, experience level, and more. Hardcore players can toggle on all leagues and nations for a truly global experience.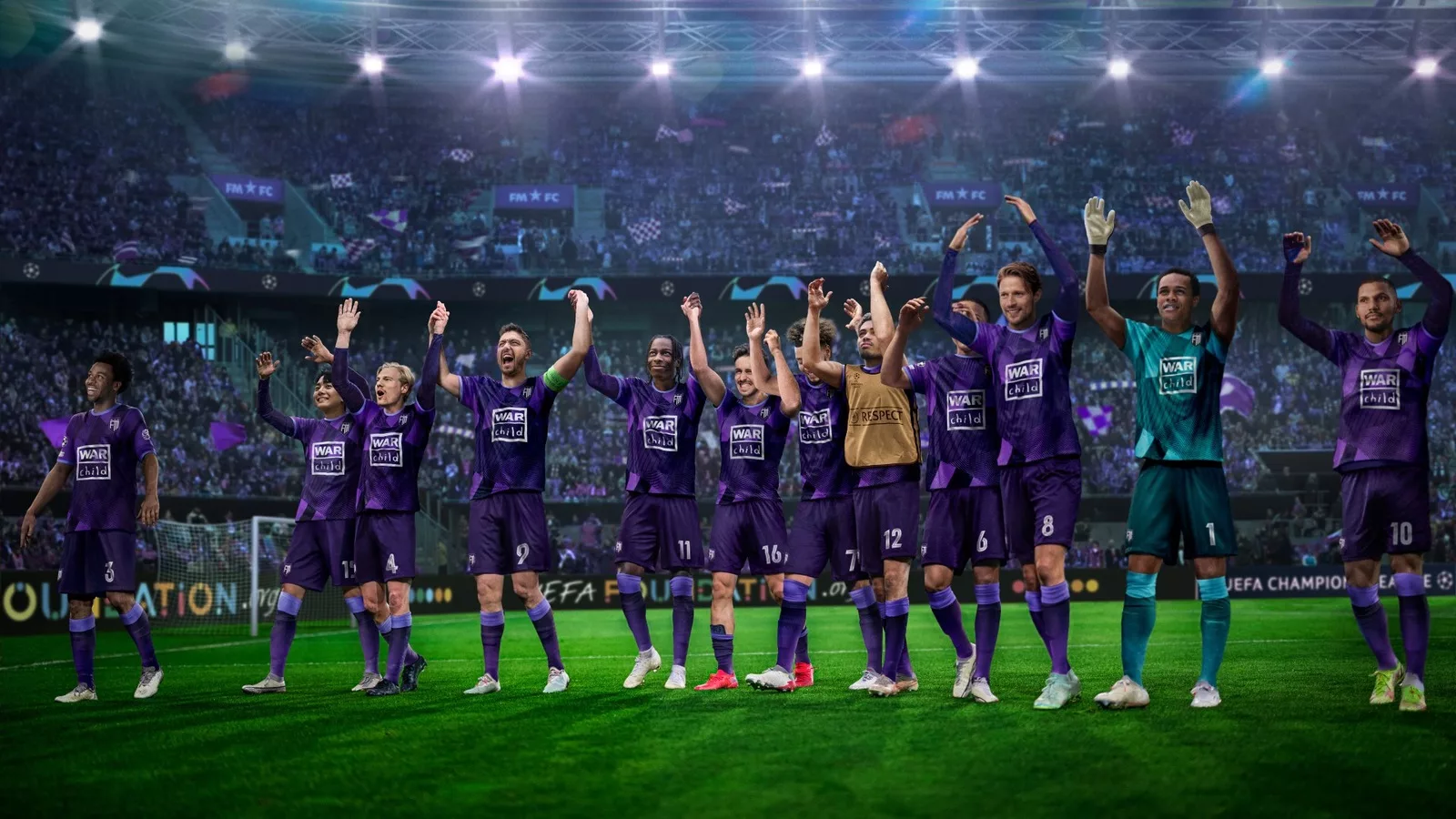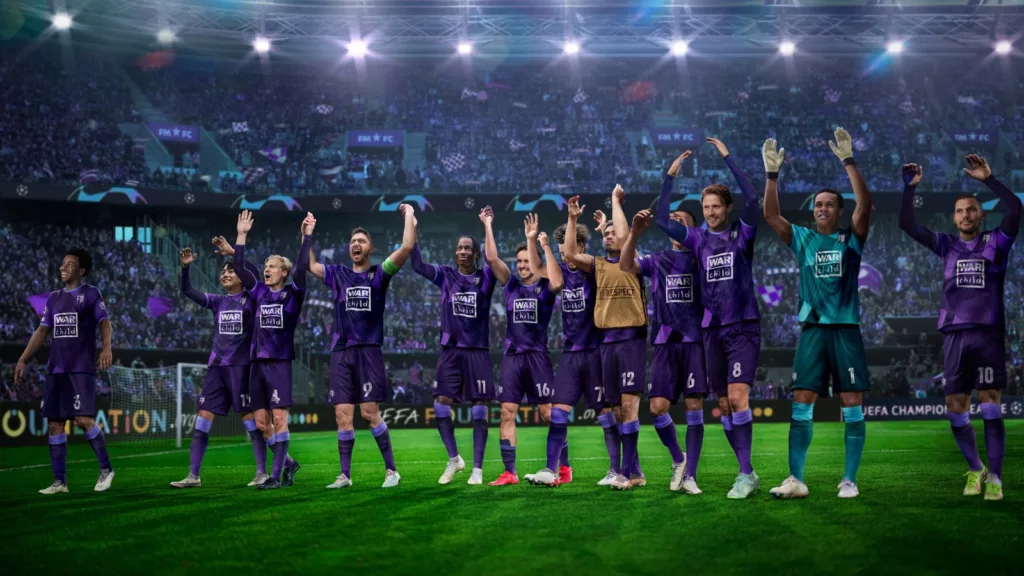 The Fantasy Draft mode also makes a comeback, allowing for total customization when building a fantasy squad from the ground up. Draft the best players in the world to your club and steer this all-star team to glory. For those seeking online competition, the Online mode pits your managerial skills against others.
While the above modes offer familiar territory for veterans, Football Manager 2024 introduces some clever new options for fine-tuning your career. Real-World mode mirrors the real-life transfer window more closely, with in-game transfers matching those occurring in the actual sport. Your star signings may not join until later in your save, forcing you to be more adaptive.
Alternatively, Your World mode gives you freedom to reshape the sport's reality. Rewrite history by blocking major transfers or signing superstars who moved clubs in real life. This sandbox approach amplifies the wish fulfillment a management sim offers. Why watch Kane leave Spurs again when you could create a world where he stayed loyal?
The most game-changing addition, however, is enabling starting saves from earlier points in the past season. Previously limited to kicking off at the current date, you can now go back to the summer 2022 transfer window and alter events from there. This earlier start allows you to truly put your stamp on a club by reshaping the roster before the season gets underway.
While not revolutionary changes, the flexibility added in how you set up your management career results in an experience catered closer to your personal wishes. Football Manager thrives on giving you the tools to live out your wildest visions, and the new modes offer players more control than ever in crafting their ideal alternate reality.
Master Tactics and Transfers for Glory
At its core, Football Manager 2024 sticks to the acclaimed gameplay formula the series has steadily refined over the past three decades. The relentless season-to-season loop drives you to take a club from nobody to champions through shrewd management, strategic planning, and passionate coaching.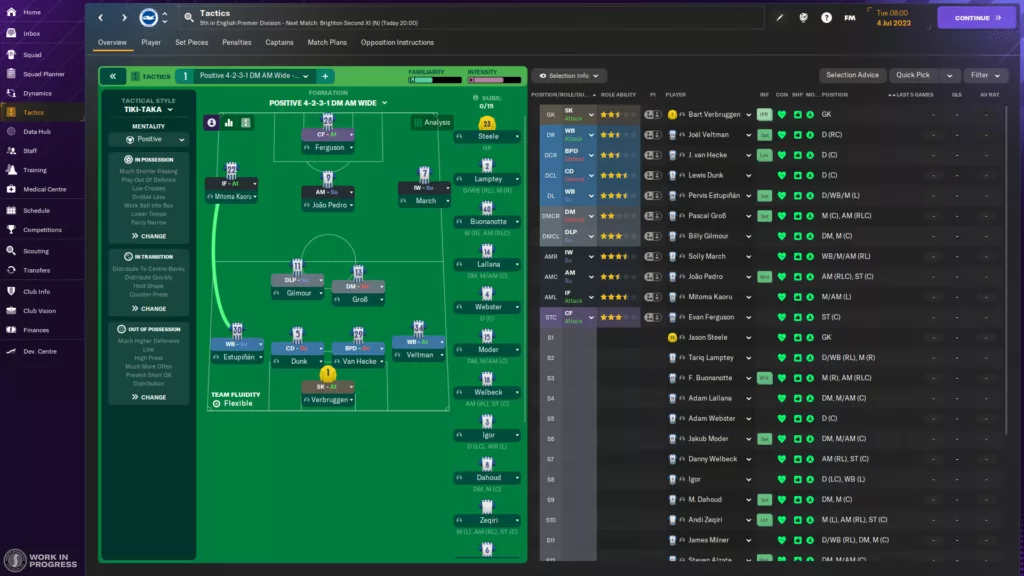 A typical matchday experience provides the highs and lows of being a football manager. Tweaking your custom tactic, panicking on the touchline, celebrating goals or ruing missed chances – it's an emotional rollercoaster. The smooth match engine makes the tactical battles between your XI and the opposition come alive. Players move more realistically than ever, facilitating your instructions and game plan.
Away from matchdays, you truly live the day-to-day existence of a football manager. The inbox fills up with feedback, requests, and complaints requiring your attention. From contract negotiations to press conferences, every decision carries weight in shaping the club's narrative. Scouring the transfer market for that crucial missing piece of the puzzle is always a thrill.
For returning fans, how do Football Manager 2024's gameplay enhancements stack up? At first glance, the core on-pitch action remains familiar and faithful to the series' roots. The menus, while slickly presented, offer iterative refinements rather than sweeping changes. Yet dig deeper and meaningful improvements become clear that enhance realism and involvement.
The overhauled transfer system adds welcome layers of depth and authenticity. Dealing with agents is now more critical to get transfers over the line, reflecting modern wheeling and dealing. The reworked scouting system serves up more extensive reports on targets. AI clubs now negotiate more logically based on needs and budget.
Creating set pieces has also improved via the new creator flow. While still allowing meticulous control, the step-by-step guidance makes establishing dead ball routines more intuitive. Your backroom will suggest appropriate roles for players, opening this key tactical area up to novices.
On the pitch, players behave even more true-to-life thanks to hundreds of new animations. Lighting enhancements across weather and times of day bolster the matchday atmosphere. Your custom tactics now translate seamlessly into the on-pitch action.
Overall, while the core experience remains true to the franchise, noticeable improvements across transfers, set pieces, and match action add new layers. Is this a revolutionary overhaul? No. But Football Manager 2024 proves the gameplay foundation built over generations remains incredibly strong. For any aspiring armchair manager, it's hard to match the addictive loops of tactics, training, and progression at the heart of Football Manager.
Welcome Improvements Big and Small
While not reinventing its long-standing formula, Football Manager 2024 introduces incremental changes and features that enhance realism and involvement across the board. Let's look at some of the most notable additions highlighted in early reviews. Do they provide that extra dose of depth and immersion to revitalize the management experience?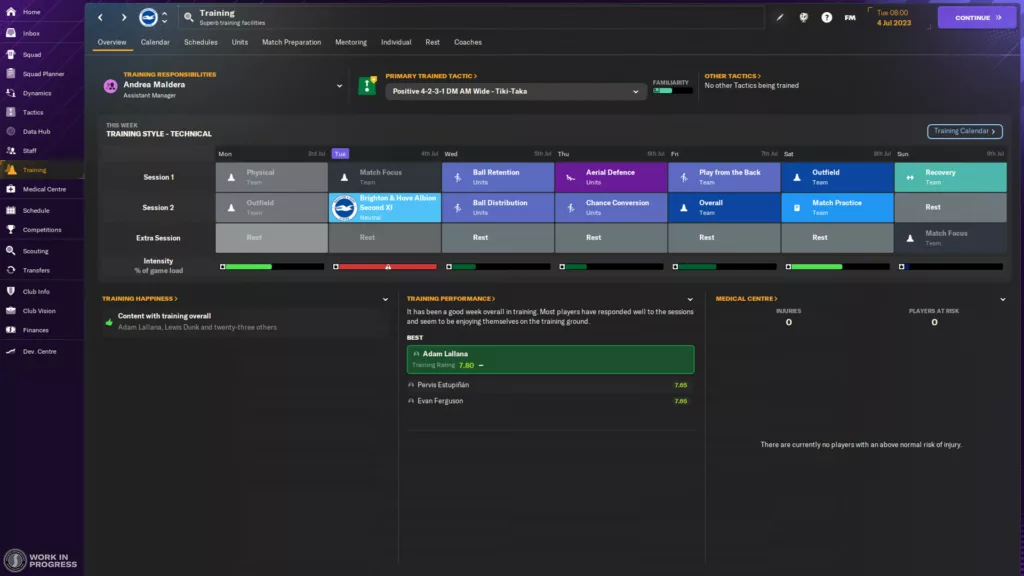 The overhauled set piece creator proves one of the most useful introductions in recent editions. Football increasingly sees goals stem from dead ball situations, so your ability to choreograph routines is pivotal. The new creator holds your hand through establishing corner and free kick plays tailored to your squad. Step-by-step guidance combined with smart player suggestions takes the hassle out of a historically intricate part of tactics. The result is scoring more goals from these key moments.
Elsewhere, transfers and contracts have been reworked to better reflect the modern football world. The wheeling and dealing doesn't stop with the player, as you now have deeper interactions with agents to broker the best deal. Hiring intermediaries can also facilitate sales of unwanted squad members. This increased role of middlemen brings Football Manager more in line with how actual clubs operate. Budgets feel tighter too, forcing you to be shrewder in the market.
Enhanced player interactions are noticeable when managing your squad. Setting individual targets provides incentives and focus, boosting progression. How you handle player criticisms also influences morale broader than before. Keep individuals happy off the pitch and they'll perform on it. You feel more personally invested in nurturing each career.
Matchdays also receive an injection of realism through hundreds of new animations and player models. Whilst still stylized in its presentation, the football action flows more smoothly. Your custom tactics translate to the pitch in tighter fashion as players behave more realistically. It might lack next-gen gloss, but Football Manager's match engine remains best-in-class for tactical fidelity and immersion.
While not every new feature shakes up the game to its foundations, they undoubtedly deepen involvement in key areas. The improvements to set pieces, transfers, player interactions and match action provide meaningful evolution of an already stellar simulation. Football Manager 2024 proves you don't always need revolution to take an excellent base and polish it further.
Familiar Visuals With Extra Polish
Given its foundations stretching back decades, Football Manager's visual presentation remains function over flashiness. The match engine prioritizes clearly communicating your tactical game plan rather than rivaling AAA sports titles for photorealism. Similarly, the reams of menus and data channels Football Manager's spreadsheet heart, rather than stylish flair.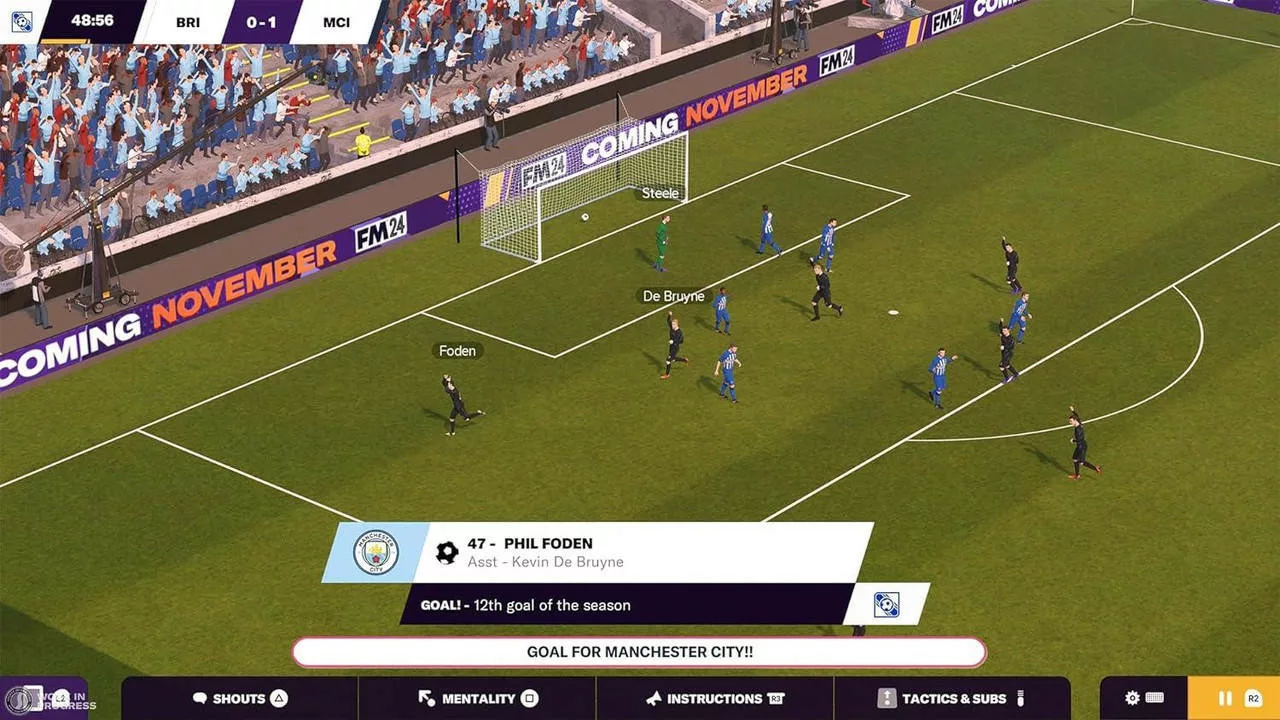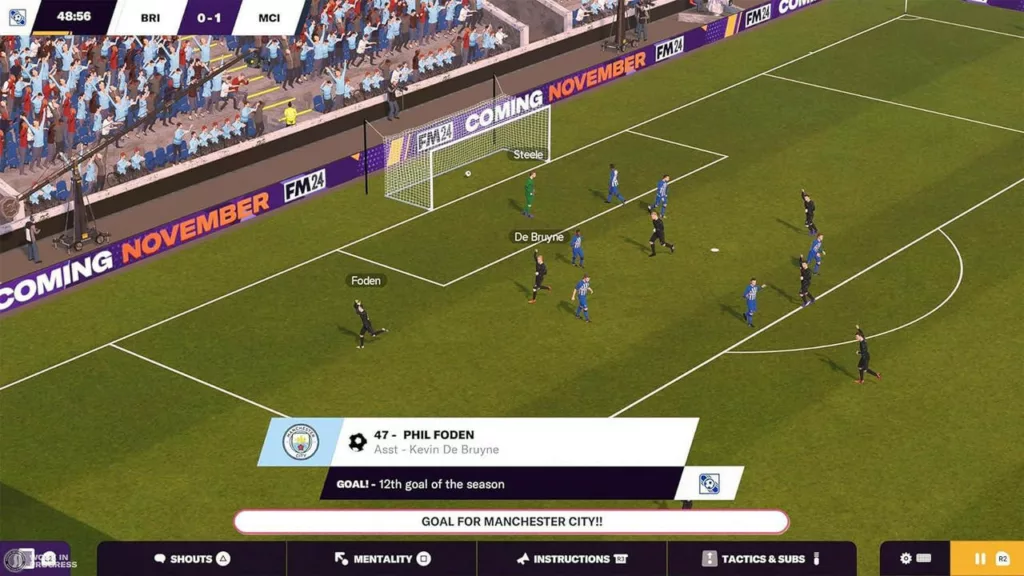 Yet within its pragmatic design approach, Football Manager 2024 introduces visual tweaks that enhance immersion. The smoothing of animations for actions like jogging, tackling and shooting adds more realism to the on-pitch action. Hundreds of new animations eradicate repetition, with players behaving more individually. Lighting improvements across weather and times of day also increase matchday atmosphere.
Upgraded player models look marginally sharper, while improved crowds and stadium detail provide more ambiance. The football on show won't be confused with FIFA any time soon, but its visual leap over last year is noticeable. Your tactical battles play out with greater fluidity.
Away from matches, Football Manager's interface remains densely packed but logically organized. Tabs and subscreens ensure player profiles, team data, schedule, tactics, transfers and more are only ever a click away. You'll spend many an hour poring over this data, so its presentation is key. Improvements like color-coding for positive and negative traits on scout reports increase readability. The UI offers iterative refinements rather than a revamp, but long-time fans will appreciate additions like a tideline view showing your current streak.
Cutscenes before matches and at halftime provide welcome bursts of visual flair amidst the numbers and menus. Customization options let you tailor the UI to your preference across skins, fonts, themes and more. While not flashy, the presentation effectively relays the sheer wealth of data the game entrusts you with.
Overall, Football Manager 2024 doesn't radically alter its visual formula but benefits from the gradual iterative improvements of a series refined over generations. Aesthetics remain true to its simulation roots rather than chasing AAA gloss. But with its polished animations, UI upgrades and cutscene flair, this is the best-looking and most cohesive Football Manager yet from a presentational standpoint.
Sounds of the Sport
Football Manager's audio design focuses on amplifying immersion during the key moments of a match rather than flashy presentation. Reflecting its spreadsheet roots, commentary is text-based during gameplay, allowing you to imagine the match unfolding.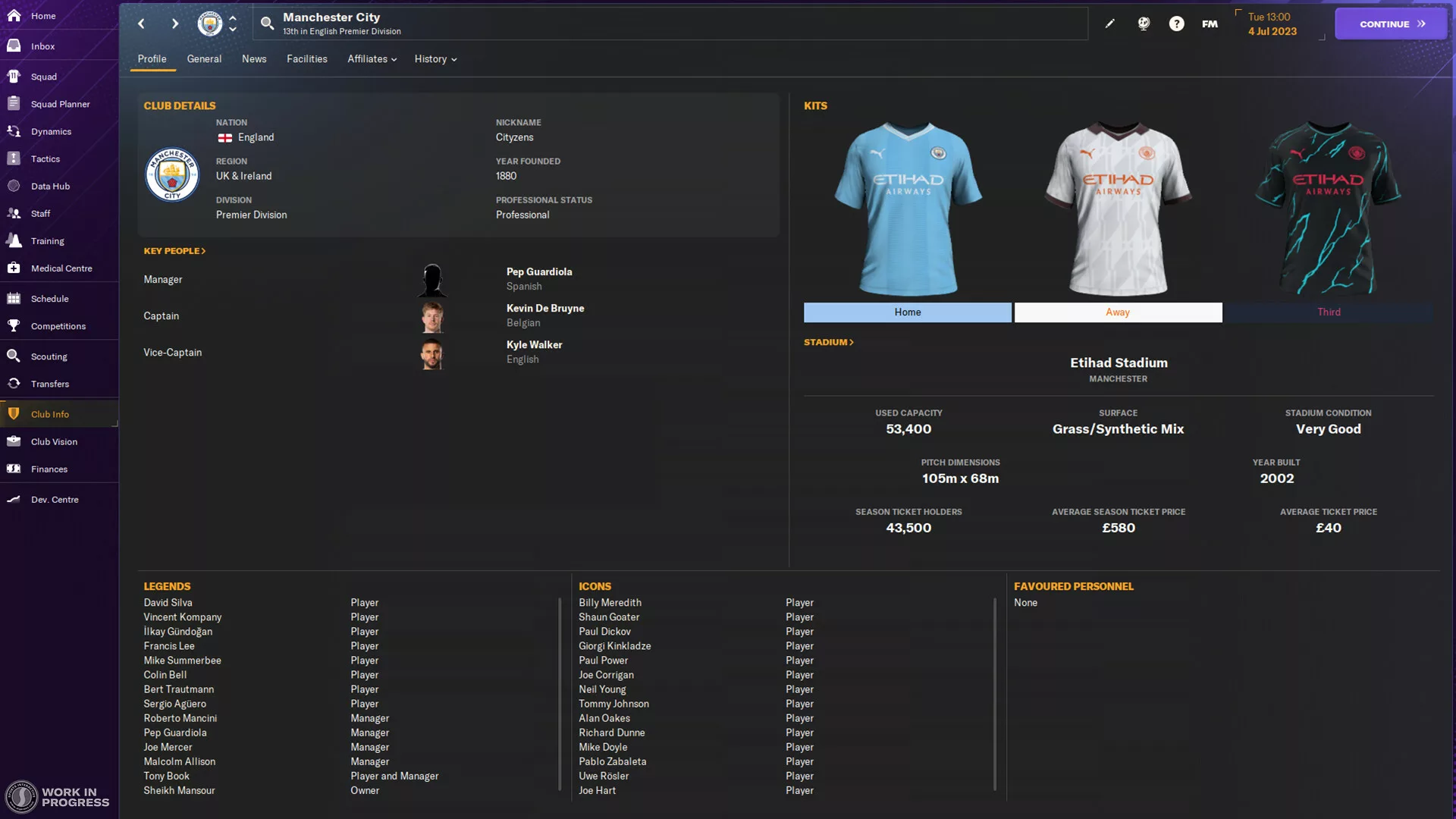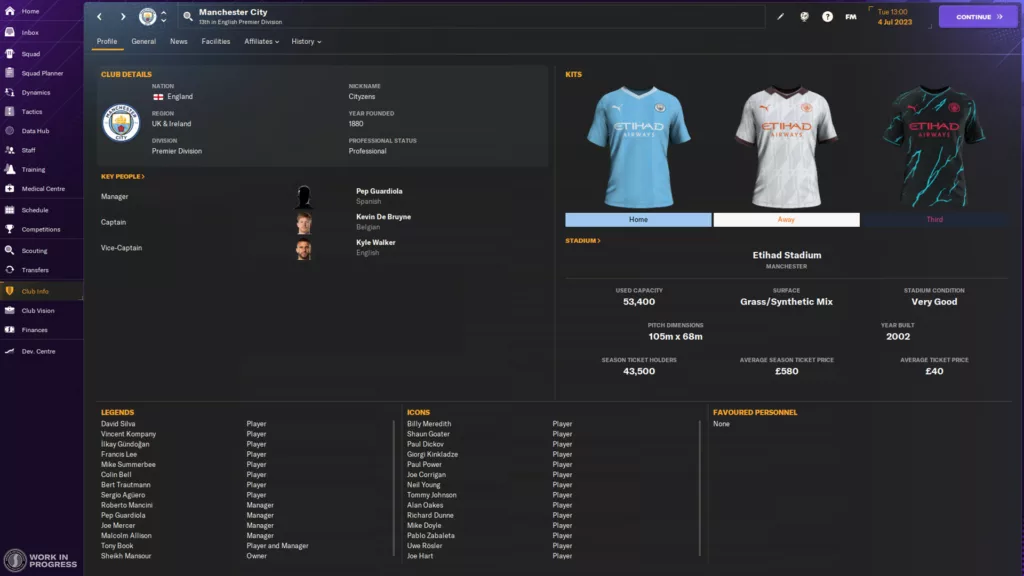 Where audio delivers is adding vibrancy before kickoff and when goals hit the net. The renditions of popular football chants by club supporters let you hear the scale of the match ahead. The satisfying swish of a ball hitting the top corner of the goal always raises a smile. Moody piano melodies even set the tone during transfer windows as you desperately seek new talent.
Away from matches, audio is used smartly to notify you of key events or feedback requiring your attention. The pop-up alerts with accompanying sound effects ensure you never miss an important update amidst the sprawling menus and data. While not flashy, Football Manager employs audio effectively to punctuate the major happenings in a management career.
In keeping with the game's meticulously realistic approach, there is no fake commentary or radio station fluff throughout. The focus is kept on authentic audio elements like crowds and chants that amplify the spirit of matchdays. For some, the lack of persistent audio or commentary may feel overly dry. Yet in directing its efforts only where needed, Football Manager 2024's sparse but thoughtful audio work enhances key moments of progression and tension.
Endless Seasons of Nuanced Play
Football Manager 2024's sheer depth of content and possibilities provide potentially endless replay value to take your managerial instincts into new directions. The number of worldwide leagues, clubs and human-feeling players offers years' worth of variety to craft your ideal career. Tens of countries, thousands of clubs, and over a million playable characters ensure no two careers need ever be the same.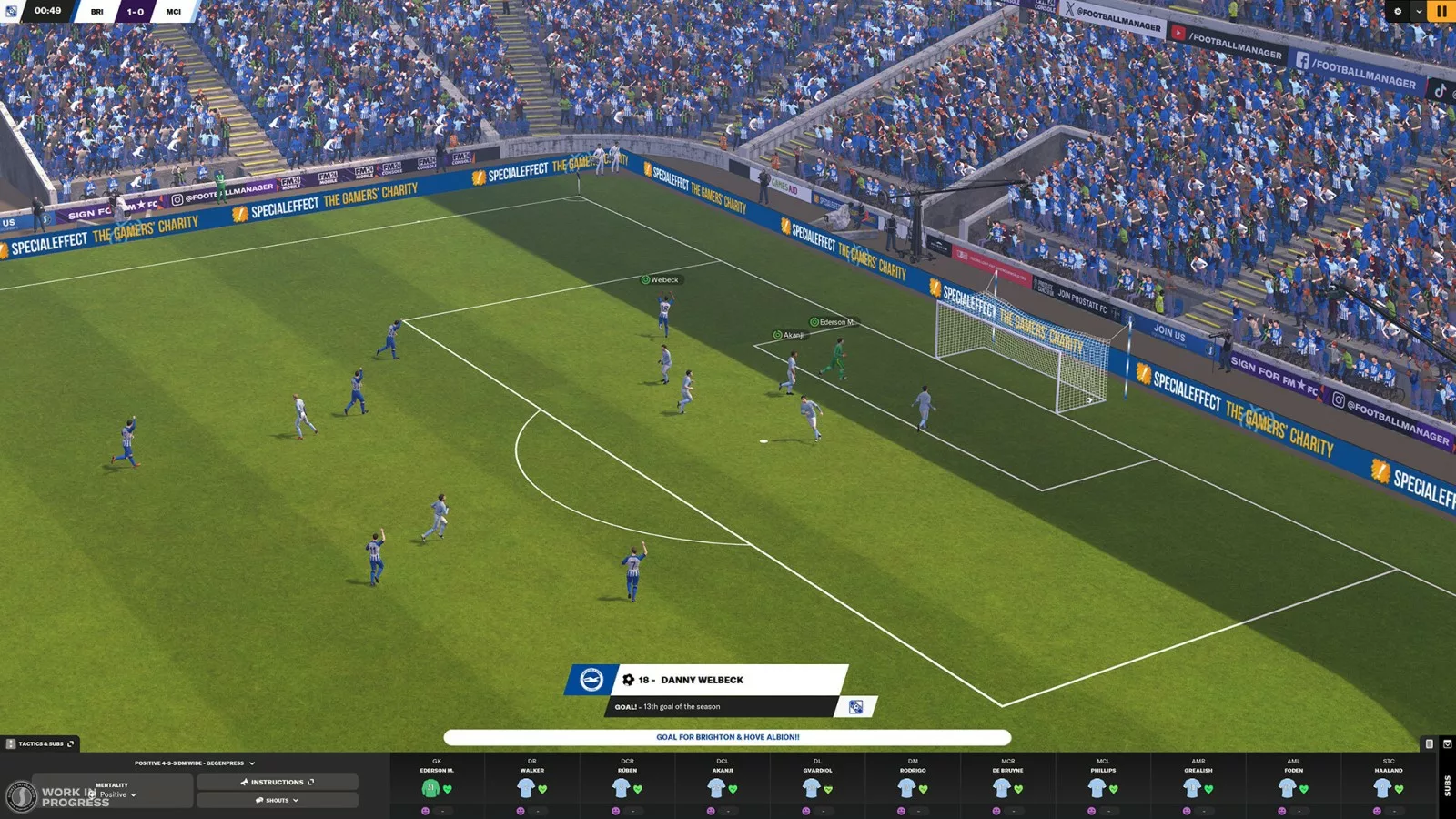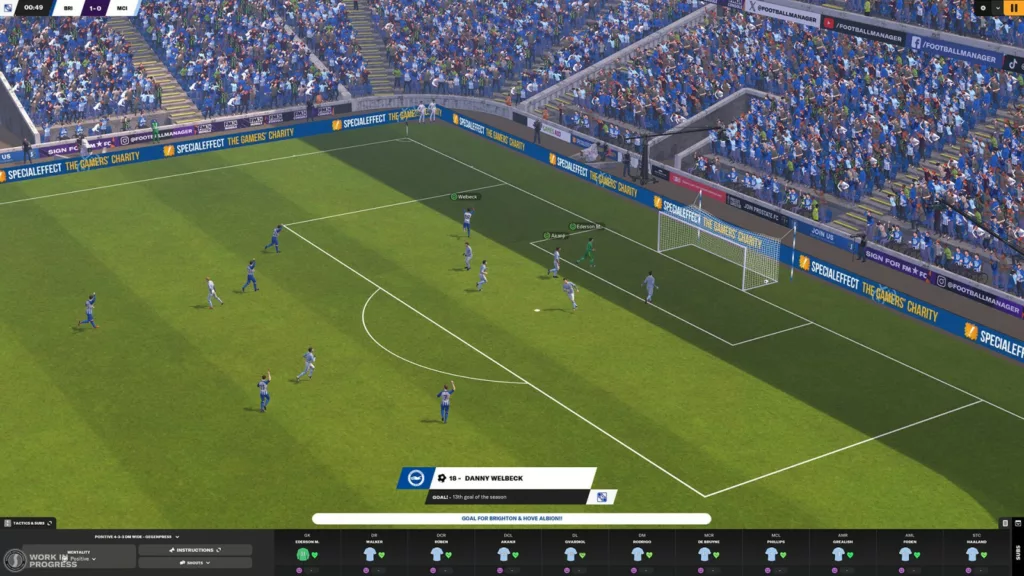 The extensive customization options allow you to tailor the experience as you see fit across interfaces, match presentation, leagues active and more. Options like selecting modern or old-school skins let you find your perfect balance between depth and accessibility.
You can approach progression from all angles – take a storied club and dominate further, or a minnow and pull off a miracle. Focus on youth development or world-beating tactics. Become a transfer guru or man manager extraordinaire. Achievement-hunt for that elusive continental glory. Go all-in on a single save for decades of in-game time, or flit between jobs for variety.
Online modes add extra replayability through testing your management chops against others globally in a battle of wits. The regularly updated database means the players and clubs stay current with the real-life sport for years to come.
Ultimately, Football Manager's uniquely personal brand of simulated storytelling means no two tales of glory need unfold the same way. The extensive customization paired with unrivaled attention to detail in its world crafting leads to endless paths to soccer immortality. Just one more season quickly becomes ten when living the management dream.
The Beautiful Game Gets Even More Beautiful
Football Manager 2024 enhances the strongest football management series going through clever iterative improvements rather than revolution. Across the board, thoughtful upgrades make an addictive formula even more immersive.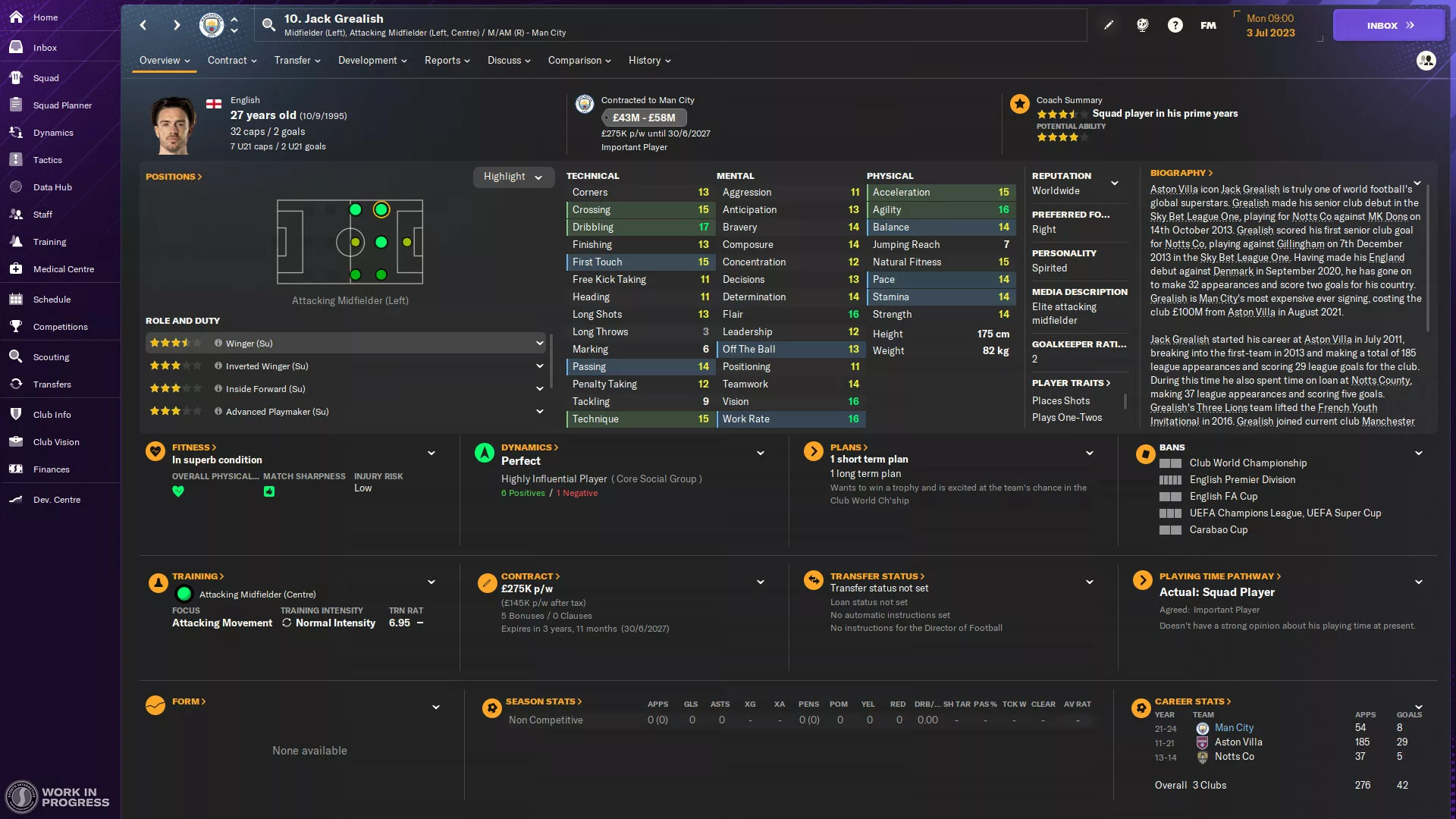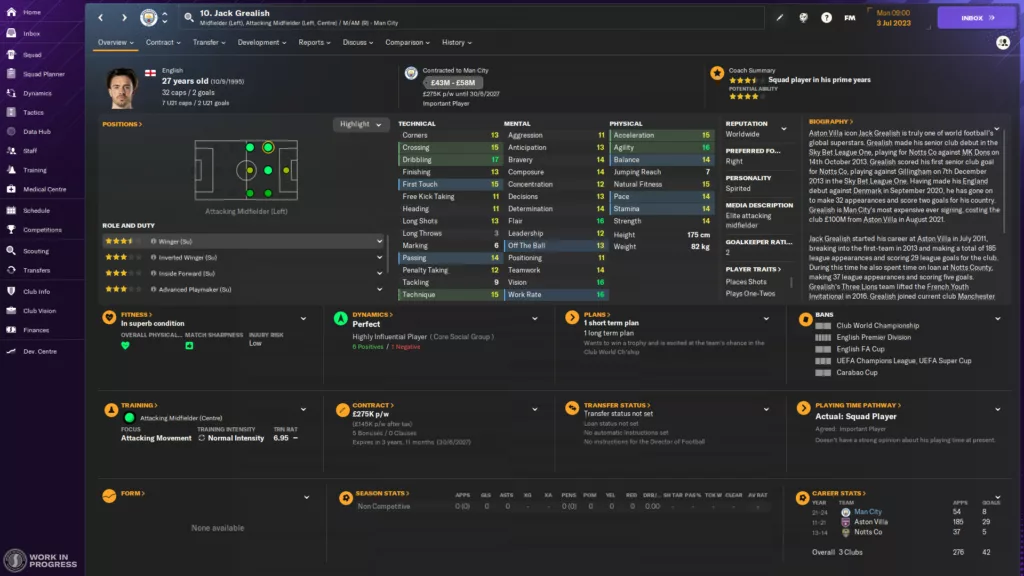 The overhauled transfer dynamics and set piece creator add new layers of depth and satisfaction. Enhanced animations and match fluidity reinforce your tactical decisions with greater reality on the pitch. While FM veterans may expect more radical shake-ups, the changes present provide meaningful evolution.
That said, long-time fans may feel this plays too safe, relying on the sheer depth of Football Manager's simulation to carry improvements subtle individually but collectively noticeable. With larger engine and presentation changes slated for FM 2025, some may prefer waiting for that potentially seismic generational shift.
Yet take FM 2024 on its own merits, and the smart additions make tangible differences across transfers, set pieces and matchday action. Pitch-side cutscenes provide visual variety lacking in prior entries too. The new era and world creation options allow for fresh career starting points.
While not an overhaul, Football Manager 2024 is undoubtedly the most polished, immersive and customizable entry yet in a storied franchise. For any football fanatic yet to live the management dream, this represents the pinnacle of the genre. Returning veterans may want to wait until next year's overhaul, but make no mistake – this is a superbly crafted and improved football simulation that continues to live up to its billing as king of the armchair dugout.
The final whistle blows with Football Manager 2024 as a convincing victory worthy of a fist-pump celebration. The skipper has led his team to glory again.
The Review
Football Manager 2024
Football Manager 2024 delivers iterative but meaningful improvements that enhance an already stellar football management simulation. While not radically transforming the established formula, upgraded mechanics like transfers and set pieces paired with slick new animations increase immersion across the board. Long-time Football Manager veterans may want to hold out for the anticipated generational leap next year, but this remains the most well-rounded and polished entry yet for living the armchair manager dream.
PROS
Smoother animations and enhanced match engine increase realism
Overhauled set piece creator simplifies dead ball routine creation
Transfer improvements like intermediaries add authenticity
Clever additions enhance depth without overhauling formula
Slick UI upgrades make navigating data feel more intuitive
New era starts allow reshaping club from earlier point
Wealth of customization options to tailor experience
Incredible attention to detail with huge database
CONS
Veterans may want larger shake-up before FM 2025
Menu-heavy management remains dry for some
Might be too similar year-on-year for casual players
Pre-match cutscenes get repetitive over time
Match engine, while improved, lacks next-gen visuals
Steep learning curve for first-time players