Woody Allen is a figure who most likely needs no introduction to anyone. He belongs to the classics of world cinema as well as being one of the most fruitful directors and screenwriters. Woody Allen produces a new film with unflagging regularity, thanks to which there are already 54 films in his collection. One can get lost in this plethora, which is why we have selected 14 of best Woody Allen movies.
Woody Allen undoubtedly is among the most influential filmmakers of all time. In fact, his style imprinted generations of filmmakers. He began as a comedian and musician prior to entering the film industry. He soon established himself as a brilliant and intelligent director possessing a distinctive style. Comedies became Woody Allen's trademark. "Zelig" or "Sleeper" are some of the most famous in the comedian's early period.
He shot his first drama in the 1970s and from then on started playing with genres. Crime movies, black comedies and comedy-dramas followed as well. Asking which of these films are the best in his career is not at all easy. Before getting to the answer, let's first get to know Allen himself.
Who is Woody Allen?
Woody was born in 1935 in New York to a Jewish family as Allan Stewart Konigsberg. One can safely say that he loves his hometown and hardly ever leaves it. Indeed, he defines himself not as an American, but as a New Yorker. This is a resounding testimony to his attachment to the city, which, incidentally, he portrayed in many of his productions.
He approached education reluctantly. As early as the age of 16 he was already imitating various jobs, such as playing the clarinet in a bar or writing jokes for newspapers. You could say that these were the early days of his career. He may have already sensed at that time that he was in for fame, since at 17 he legally changed his name to what we know it as today.
He began making his first films at the age of 30. Initially they were parodies and remakes of foreign productions. To Woody Allen, they were rather exercises and first adaptations. They strengthened him, however, in the conviction that he was in the right place. From that moment on, he started making film after film. His career apogee comes in the second half of the 1970s, when "Annie Hall" and "Manhattan" are made.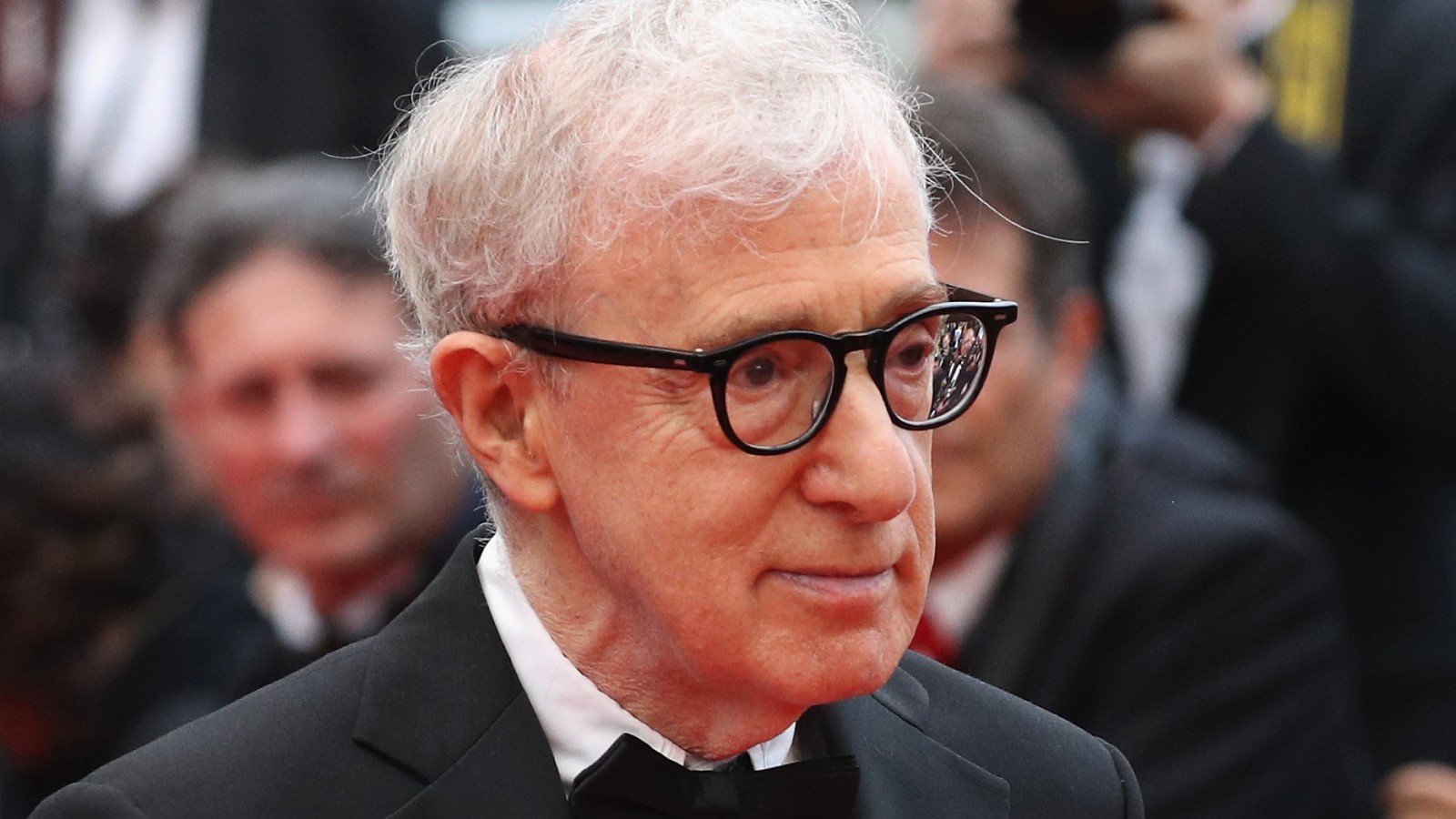 At that time, the press began to write not only about Woody Allen's films, as well as, and perhaps even more importantly, about his emotional relationships. He was already through two divorces and was having an affair with Diane Keaton, so he provided the press with attractive fodder. Meanwhile, in the early 1980s, he was involved with Mia Farrow.
Their relationship caused a stir of sensation, as the couple adopted several children together, but they never lived with each other. As if this were not enough, Allen got into a relationship with one of his adopted daughters.
While the director's private life can be considered tumultuous, he never puts himself in the limelight. His work is his main driving force. Beyond films, he also plays the clarinet, touring with his band, and writes books. Indeed, he is an extremely prolific author, and whatever he touches has his authorial stamp. Woody Allen has made a name for himself as a brilliant filmmaker, full of irony, but also keen insights into human nature.
Best Woody Allen Movies of All Time
He has been repeatedly recognized for his skill as a filmmaker, and has won as many as 137 film awards, including four Oscars – including one for directing and three for screenwriting. From his considerable filmography, it was not easy to choose the 14 best Woody Allen movies, but finally we succeeded. The following is a list of films that everybody should watch.
14- Hannah and Her Sisters (1986)
The Writers Guild of America has included this film's screenplay in its list of the best screenplays of all time. A number of critics recognized the picture as Allen's greatest artistic achievement. And Woody received the second Academy Award in his career for Best Original Screenplay. The statuettes were also given to the supporting actors: the excellent Dianne Wiest and the superb Michael Caine.
Hannah and Her Sisters is a multifaceted story. The protagonists seek answers to questions that a lot of us ask ourselves, but not everyone has the guts to look for answers. Among the protagonists is the titular Hannah – a supportive sister, dedicated daughter and ideal wife, mother and keeper of the home, who is also very successful on Broadway.
We also become better acquainted with Holly and Lee – Hannah's sisters, who are still searching for their place. Among the most interesting characters is Mickey Sachs, who is played by Allen himself – Hannah's ex-husband and a hypochondriac, who, following a breakthrough event, determines to become better acquainted with himself and understand the essence of life.
Hannah and Her Sisters is a remarkable film with the perfect dose of philosophy, poetry, anxiety and hope and is undoubtedly one of the best Woody Allen movies. There is Manhattan in the background, classical music and jazz reflecting the atmosphere of New York. To write this unique script, Allen was inspired by Anton Chekhov's drama Three Sisters.
13- Love and Death (1975)
While from today's perspective this is definitely not a film that would be safe to recommend, it may indeed be, however, among Allen's best comedies, as pointed out by many experts on his work. Most often it is described as a vision of old Russia, as viewed through the eyes of a New Yorker. After all, the main character of this picture is the cowardly scientist Boris Grushenko, who falls in love with the beautiful Sonia (Diane Keaton).
While Boris feels an instant aversion to military service, the prospect of marrying his sweetheart to a herring salesman causes him to embark on a war with Napoleon, which of course provides an opportunity to create a bizarre comedy of errors with this filmmaker's typical sense of humor.
12- Husbands and Wives (1992)
The last of Allen's thirteen films starring Mia Farrow. It was premiered shortly following the couple's spectacular breakup. Woody and Mia were in a relationship since 1979, and separated in the midst of a scandal when, in 1992, Farrow discovered photos of a naked Soon-Yi Previn, his adopted daughter, in Allen's home.
At the time, the director was 56, the girl was 22, and the affair was going on for several weeks. In the film Husbands and Wives, Woody Allen and Mia Farrow play a married couple who choose to separate. The character of Woody has been involved in an affair with a much younger girl for some time…
The scenario turned out to be prophetic. Apart from the scandal surrounding the release, the film was well received. The picture was appreciated as an interesting psychological study of two married couples. Woody proved once again to be an insightful observer, who can depict in his films the complexities of the human psyche, but also the anxieties, concerns and feelings we all know.
Excellent performances were made in this comedy-drama by Allen, Farrow, Sydney Pollack and Oscar nominee Judy Davis. The American Academy of Motion Picture Arts and Sciences noted the excellent script, but this time Woody did not receive the award. Although it failed to win the Oscar, but it remains as one of the best Woody Allen movies of all time.
11- Interiors (1978)
An excellent drama of manners, this film, being one of the best Woody Allen movies was inspired by the biography of Ingmar Bergman, whom Woody Allen acknowledges as one of the greatest (next to Federico Fellini) directors in the history of cinema. The movie received five Academy Award nominations, such as for best director, original screenplay and production design. Also nominated were lead actress Geraldine Page and supporting actress Maureen Stapleton.
The protagonists of the film are the three daughters of a narcissistic lawyer, Arthur, and his wife Eve, who is an interior decorator. Suddenly Arthur tells his daughters that he has chosen to separate from their mother. From a trip to Greece, he comes back accompanied by his fiancée, who appears to be the complete opposite of Eve.
The Interiors is an acting showcase for Geraldine Page, Maureen Stapleton, Diane Keaton, Kristin Griffith and debuting Mary Beth Hurt. Vincent Canby at The New York Times described the film as "beautiful." Penelope Gilliatt of The New Yorker magazine wrote: "This is Allen's most majestic picture to date. The theme, presented through the characters, is reminiscent of Chekhov. He shows that the hardest and most admirable thing to do is to do the right thing throughout life."
10- Deconstructing Harry (1997)
The film is one of Woody Allen's most personal works. The protagonist of this bitter comedy is Harry Block (played by Woody), a New York-based neurotic intellectual, a writer who faces a creative crisis. Up to now, he has employed autobiographical themes in his novels, presenting details of his relationships with the women of his life. The protagonist soon begins to notice that all the ladies are holding a grudge and turning away from him.
A black prostitute, whom Harry is paying to accompany him during public appearances, is the only woman by his side. In Deconstructing Harry, the film characters play alongside characters from each of Block's novels. Some interesting performances were created here by Billy Crystal, Kirstie Alley, Demi Moore and Judy Davis.
When watching this film, you get the impression that writing the script and playing the lead role was a sort of self-therapy for Allen, his attempt at introspection. Woody never hid that Harry was his porte-parole, just as Guido Anselmi, played by Marcello Mastroianni, a porte-parole of Federico Fellini (one of Allen's favorite European films and directors) in 8 ½. Deconstructing Harry remains as one of the best Woody Allen movies.
9-Match Point (2005)
This 2005 film, being amongst the best Woody Allen movies, caused quite a stir in its time, largely because it was the first in a series of Allen pictures starring Scarlett Johansson, whom the director's vitality surely owes to the huge interest in his subsequent films in the first decade of the 21st century.
For this picture, he paired her with Jonathan Rhys Myers, known among other things for his role as Henry VIII in the TV series "The Tudors," who plays here former tennis player Chris Wilton, as he decides to get hired as an instructor of the sport for the rich, marrying the daughter of the owner of a prestigious company, while simultaneously romancing Nola, played by the aforementioned artist. Not coincidentally, this deft combination of thriller, romance is often compared to this director's earlier work, Crimes and Misdemeanors.
8- Radio Days (1987)
The movie is Allen's cinematic tribute to radio, old music and old times and one of the best Woody Allen movies. Also it's a musical journey to America of the 1930s and 1940s. In this film Woody plays the role of Joe – the narrator of the story of the life of a large Jewish family, which members spend their free time listening to the radio. The music of Glen Miller, Benny Goodman, Duke Ellington and other great musicians of the "golden age of radio" echoes in the background. Music is of special importance in this Allen film.
Woody's co-stars include Danny Aiello, Jeff Daniels, Mia Farrow, Diane Keaton, Julie Kavner and Dianne Wiest. This film was well received, particularly at the 1987 Cannes Film Festival. Its screenplay was nominated for an Academy Award. Famous critic Roger Ebert wrote in the Chicago Sun-Times that Radio Days was Woody Allen's answer to Federico Fellini's Amarcord. According to Ebert, Allen's film is , "ambitious and daring." Radio Days is one of Stanley Kubrick's favorite films.
7- Manhattan Murder Mystery (1993)
This is a hilarious crime comedy with strengths not only in its clever plotting, as well as in its dialogue at the peak of Allen's genius. From Manhattan Murder Mystery many quotes come, which are entertaining even during the next viewing of this unique comedy, and are real gems for many admirers of Woody Allen's humor.
The Manhattan Murder Mystery is, however, more than just a brilliant, funny detective story. This is also a story of marriage and the need to break away from monotony. Leading a quiet life, Larry and Carol Lipton live in Manhattan. When unexpectedly their neighbor dies, Carol pays attention to the widower's rather unusual behavior. She gets suspicious and soon starts an investigation on her own. She invites Larry to join her on a criminal adventure. This is an opportunity for the couple to act together, and the adrenaline rush turns out to be especially beneficial to their relationship.
The film is the first created by Allen after his breakup with Mia Farrow. The role originally intended for Mia was played by Diane Keaton – Woody's former muse and former partner. Having not worked together for years, Keaton and Allen created a sensational duo, and the ongoing chemistry between them made the film more powerful. On Newsweek, Davin Ansen wrote: "On screen, Keaton and Allen always seemed made for each other. It still sparks wonderfully between them".
In USA Today, critics assured that, it's worth forgetting about the scandal in Woody's private life and instead of reading the tabloid press, it's better to go see his new film, which is simply hilarious." Diane was also nominated for a Golden Globe for her role. Alan Alda and Anjelica Huston starred in interesting supporting roles of one of the best Woody Allen movies.
6- Crimes and Misdemeanors (1989)
Definitely one of the best Woody Allen movies, in which the filmmaker demonstrated a sense for superbly weaving together several threads. Indeed, here we have a respected ophthalmologist, superbly played by Martin Landau, who is being blackmailed into revealing the truth about an affair to his wife.
In turn, Allen himself plays here the usual slightly gamine intellectual, who tries to win the heart of a film producer by shooting a picture on a certain philosopher, who strongly surprises in this film. The important themes here are several more, and they all combine grim existentialism with Allen's traditional black humor, making one of those films that can definitely be said to be able to make you laugh and scare you, oftentimes at the same time.
5- Midnight in Paris (2011)
It might come as a bit of a surprise to find out that of the American's most recent films, this one has been the best rated by audiences. It is not at all "Match Point," a notable start to an extremely fruitful collaboration with Scarlett Johansson, nor the subsequent "Vicky Cristina Barcelona," nor the successful "Blue Jasmine" with Cate Blanchett. More recently, Allen became associated with non-committal and more and more inferior picture-postcards from sojourns to various corners of the world.
However, in this case we are dealing with a trip to the past, namely to the 1920s in France, recreated in quite a colorful way in this production, which combines features of a typical romantic comedy with fantasy, dealing with the world of daydreams, realized with the participation of many great actors. Midnight in Paris is the most recent film in Gazettely's list of best Woody Allen movies.
4- Zelig (1983)
Without a doubt, this is one of Woody Allen's most original films. It is not only the story itself that attracts attention, but the convention of mockumentary (fiction pretending to be a documentary) and the involvement of famous intellectuals: American writer and philosopher Susan Sontag, American literary critic Irving Howe or psychologist Bruno Bettelheim. They acted under their own names, providing commentary on the life and behavior of the titular Zelig, a fictional character.
Leonard Zelig, who is played by Allen, is a man who lives in 1920s New York and has a rare affliction. While in a particular group, he takes on the characteristics of its representatives, becoming physically similar to them, and behaving in a certain way. He ends up in the care of a psychiatrist fascinated by him, Dr. Eudora Fletcher. The doctor's role was played by Woody's mistress at the time, Mia Farrow.
Allen kept dialogue to a minimum in this film, which makes the picture more believable as a "documentary production". Moving on, Woody used fragments of real recordings, perfectly capturing the atmosphere of those years. Zelig deals with the problem of lost identity, the conscious and subconscious urge to fit into a group, to uncritically follow generally accepted standards. This film is thought-provoking and remains long in the memory. There is no denying that this is one of the best Woody Allen movies.
3- The Purple Rose of Cairo (1985)
It is an interesting romantic comedy and a tribute to American cinema of the 1930s. This time, Woody will take us on a journey to New Jersey during the Great Depression. The protagonist is Cecilia, who is played by Mia Farrow. The woman is working as a waitress, while her jobless and simple-minded husband waits for her at home. Cecilia's only salvation for her sad life is cinema.
The woman comes to see the film Purple Rose of Cairo repeatedly. It does not escape the attention of one of the characters…Tom Baxter (played by Jeff Daniels) comes out of the screen to get to know Cecilia more closely. Shortly thereafter, he confesses his love for her. But the whole situation displeases the other film characters, the producers and, most importantly, the actor playing the role of Baxter.
The film was among Allen's best-received films. Its screenplay was nominated for an Academy Award. Allen won a BAFTA, a Golden Globe and a host of other awards for best original screenplay. Critics lauded the masterful direction and the acting chemistry between Mia Farrow and Jeff Daniels.
The Purple Rose of Cairo is considerably more than a romantic comedy with a remarkable plot. Instead, it's a thought-provoking story and an ode to cinema as another world – where we can find hope, inspiration, and an antidote to the bitterness of everyday life. This is one of the best Woody Allen movies and among his own favorite ones.
2- Manhattan (1979)
This was Allen's tribute to New York, which has been a source of inspiration for the filmmaker over the years and it might seem that it was (perhaps still is) Woody's greatest love. Manhattan was a huge hit and is still regarded today as an outstanding work of filmmaking. In fact, the film won two Academy Award nominations: one for Best Supporting Actress and the other for Best Original Screenplay. This could be a good proof to why it deserves a place in the list of best Woody Allen movies.
A truly New York mood is introduced to viewers by George Gershwin's music, which is heard already in the opening scene. The movie is in black and white, adding to its uniqueness, a touch of sentimentality, drawing our attention and letting us focus on both the dialogues and the excellent acting.
The wonderful cinematography, depicting New York City in all its uniqueness, is a memorable one – for example, the scene depicting the Queensboro Bridge lit up. Usually the lights on the bridge are turned off at dawn, but especially for Woody Allen and his crew the bridge was left lit up in the early morning hours. The result was an unforgettable scene.
But is Manhattan just a portrait of the city? The film's protagonist is a forty-two-year-old divorcee, Isaac Davis (played by Woody Allen), working for television and in love with New York. This man is in a relationship with teenage Tracy. He is attracted to his colleague's lover, the intelligent Mary. Two exceptional actresses partner Woody: the Oscar-nominated young Mariel Hemingway (granddaughter of Ernest Hemingway) and the filmmaker's mistress at the time, the charismatic Diane Keaton. Meryl Streep is also making an appearance.
Manhattan is a reflective, thought-provoking romantic comedy featuring the beauty of New York City and Gershwin's music in the background. This picture made it to the list of films that form an American cultural heritage.
1- Annie Hall (1977)
The only film that brought Allen two Oscars – not just for screenplay, but also for directing. Also winning the Academy Award was Diane Keaton, who Allen gave the leading female role to. In addition, the picture also won the Oscar for Best Picture. In the opinion of critics and cinema goers, Annie Hall is among Woody Allen's greatest artistic achievements. The work has occupied the highest positions in prestigious film rankings for years. The US Library of Congress recognized Annie Hall as a "culturally, historically and aesthetically significant" film in 1992.
Before that, Woody had been making parodies or uncomplicated comedies that were based on thematic gags. The hero of the first intellectual comedy is played by Allen Alvy Singer – the neurotic and brilliant comedian. This film is something of a study of Alvy's relationship with the scatterbrained and charming Annie. The extraordinary structure of the script is formed by numerous flashbacks. The film's power lies in its intelligent dialogues and excellent acting.
Annie Hall is the first film where Allen asked questions that are important to himself and to many of us: regarding the meaning of life, the essence of love, the variability of feelings, the complexity of relationships. He pointed out the petty superficiality and snobbery native to Manhattan.
The movie is characterized by originality (which is influenced, in part, by the disrupted chronology), brilliance and a good dose of irony and deserves a place in this list of best Woody Allen movies. Speaking in the first scene, Singer's monologue is a foreshadowing of an unusual story and a sign that here is the beginning of an interesting, important, different picture.
These films, along with many others, have contributed to Woody Allen's reputation as a master of storytelling and have helped to establish him as one of the great directors of his time. What do you think about Allen and his movies? What are best Woody Allen movies in your opinion? Let us know in the comments section below.