The intriguing idea that the upcoming release of Grand Theft Auto 6 might feature a cryptocurrency-based play-to-earn system is nothing new to the ears of eager gamers.
This model, which integrates blockchain technology – the foundation of cryptocurrencies – into the game's mechanics, compensates players with cryptocurrency or exchangeable Non-Fungible Tokens (NFTs) for the time they spend playing.
The concept of a 'GTA 6 play-to-earn' initially gained traction in June 2021, following a provocative tweet from Tom Henderson, a respected figure in the video game industry.
Henderson wrote, "I heard recently that in GTA 6, some missions will reward you with bitcoins instead of cash for completing certain missions. The stock market feature will return, with the addition of a broker for different cryptocurrencies." Henderson stated this on June 3, 2021, claiming his information came from trustworthy sources.
This particular tweet implied that completing specific missions in the next Rockstar title could result in players earning Bitcoin (BTC) or other cryptocurrencies.
While these rumors were not directly addressed by the franchise, they gradually fell into obscurity, like many other speculations surrounding the highly anticipated game of the decade.
Resurgence of the Cryptocurrency Reward Rumor
However, recent interest in this rumor has been rekindled, primarily due to a single tweet on May 25th. There is no new evidence supporting the introduction of this feature in the forthcoming Rockstar title. The tweet merely rehashed the same rumors that circulated years prior, a fact acknowledged by the author in the comments section.
The tweet was also widely shared on the platform with the added disclaimer: "Neither 'GTA 6' nor Rockstar said that. Play-to-earn is also an old rumour, not a fact."
Possible Alternative Interpretation of Cryptocurrency in GTA 6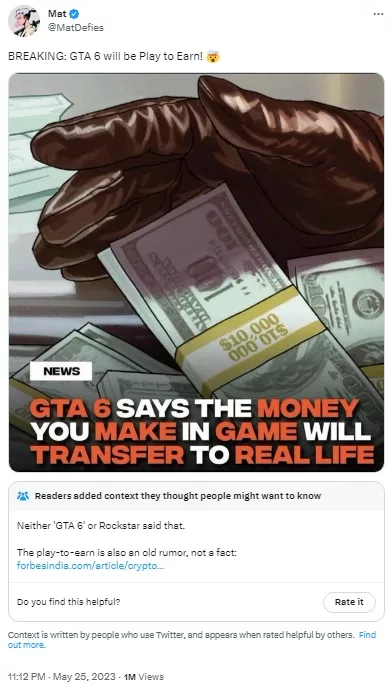 The incorporation of cryptocurrency and NFTs in the form of a play-to-earn system seems improbable, particularly since Rockstar has previously prohibited the use of such currencies in GTA 5.
The company updated its policy in November 2022, explicitly banning "the use of active cryptocurrencies or cryptocurrencies (e.g., NFTs)" on Role-Playing (RP) servers.
However, the possibility of featuring cryptocurrencies and NFTs within the storyline of GTA 6 should not be ruled out entirely.
This suggestion could provide a rationale for the rumors, as reported by Cointelegraph. Renowned for its satirical take on various topics, the franchise could potentially draw from the evolving world of cryptocurrency to enrich a character's narrative in the game.