Diablo 4 enthusiasts have a reason to rejoice as a comprehensive character builder has emerged for the game, providing players with an in-depth tool to plan and customize their characters to perfection.
Recently, on June 13th, the first-ever build guide for Diablo 4 went live, offering players from all corners of the internet the ability to access this invaluable resource. With a single click, you can dive into the character builder, enabling you to customize your Barbarian, Druid, Rogue, Necromancer, or Sorcerer according to your preferences, equipped with any class-appropriate gear available in the game.
Unleash Your Inner Strategist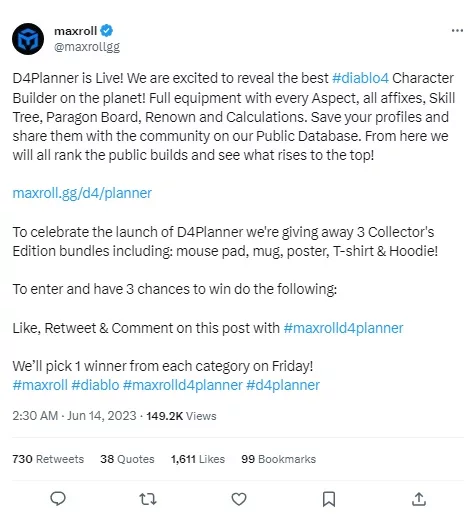 This character builder is a game-changer for dedicated and hardcore Diablo 4 players, allowing them to intricately plan and fine-tune their characters to match their desired playstyle. Moreover, the build guide allows you to adjust the level of your character, empowering you to strategize and optimize your Rogue at level 50 or create the ultimate Necromancer build at just level 20.
One of the standout features of the new build guide is its robust community aspect. Within its public database, you can save and share your customized characters with the vast Diablo 4 community.
By doing so, you can compare your creation with others, discover new ideas, and gain insights into enhancing and refining your character with fresh gear and innovative approaches.
The creator of this character builder deserves immense credit for its impressive scope. Boasting every Aspect, Skill Tree, Paragon Board, and Renown in the game, the guide's comprehensive nature speaks volumes about the effort invested to bring this tool to life. It is remarkable to witness the unveiling of such a comprehensive character builder merely weeks after Diablo 4's release.
Preparing for a Future of Possibilities
As we anticipate Blizzard's plans for Diablo 4's post-launch content, including seasons and expansions, this character builder will undoubtedly prove invaluable. Keeping a close eye on this guide will enable players to adapt and optimize their characters as new gear and classes are introduced, ensuring they stay at the forefront of the Diablo 4 experience.
The arrival of Diablo 4's first build guide has brought a new level of excitement and opportunity to the game's community. With its exceptional depth and customization options, this character builder empowers players to refine their strategies, explore various playstyles, and connect with fellow Diablo 4 enthusiasts.
As the game continues to evolve, this invaluable resource will serve as an indispensable tool, enabling players to embark on thrilling adventures and dominate the ever-evolving world of Diablo 4.