As the wait for official news on GTA 6 continues, rumors have been circulating about Bryan Zampella being cast as one of the game's co-protagonists. While fans eagerly anticipate the GTA 6 release date and any glimpses of gameplay, Zampella has been dropping a series of teases that range from vague and speculative to potentially revealing.
With GTA 5 still going strong, it often feels like the day may never come. However, Zampella's recent hints, including his choice of attire and connections to a former Rockstar developer, have sparked excitement among the Grand Theft Auto community.
Cryptic Teases and a Connection to Vice City
In 2016, Zampella shared a picture of himself with Joseph L. Rubino, who was working at Rockstar as a camera artist at the time. This was followed by another intriguing hint in 2017 when Zampella stated, "I know my way around a parking lot," accompanied by an image of the actor wearing a Vice City-themed shirt with the hashtag "#vicecity."
Since then, Zampella, rumored to be playing the role of Jason, one of GTA 6's co-protagonists, has been posting pictures of himself wearing Hawaiian shirts reminiscent of Vice City's aesthetic. Additionally, he has been seen sporting Jason's trademark backwards cap. It's worth noting that Vice City, a fictionalized version of Miami, is believed to be the setting for GTA 6.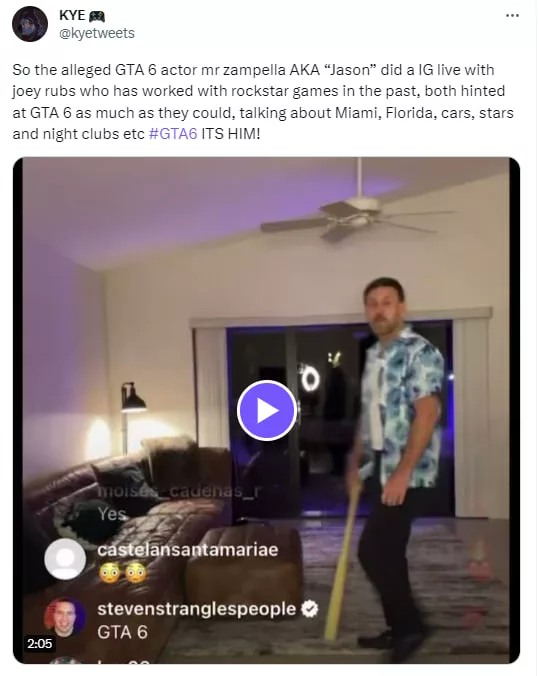 The Latest Tease: A Familiar Hawaiian Shirt and a Chat with a Former Developer
Zampella recently appeared on Instagram wearing a blue-colored Hawaiian shirt that bears a striking resemblance to the attire of Tommy Vercetti, the iconic anti-hero from Grand Theft Auto: Vice City.
Holding a baseball bat, he engaged in a conversation with Joseph Rubino, who is now a former Rockstar developer and currently serves as the head of cinematics and storytelling at Netease North America. The discussion, captured by Twitter user 'Kyetweets,' unveiled some substantial hints about GTA 6.
Zampella cryptically mentioned, "The community has started a bonfire where the flames have gone up to the stars. Let me get acquainted with them. And they should get acquainted with me because we're going to be together for a very long time." This statement, combined with Zampella's mention of having several projects in the works, some of which he couldn't disclose, suggests an exciting future ahead.
The actor also expressed his intention to be more accessible and hinted at the possibility of doing weekly live video casts. This has ignited speculation that an official GTA 6 reveal could be on the horizon.
The Secret Message and Rockstar's Imminent Plans
Adding to the anticipation, the latest GTA 5 update includes a hidden message within a new cosmetic item. This enigmatic inclusion hints at something significant coming from Rockstar in the near future, further fueling speculation about an impending GTA 6 announcement.
As fans eagerly decode the teases and analyze every detail, the excitement surrounding GTA 6 continues to grow. Bryan Zampella's hints and connections, combined with Rockstar's secretive messages, have set the stage for an eagerly anticipated chapter in the iconic Grand Theft Auto series.