The Teenage Mutant Ninja Turtles have been a staple of pop culture since debuting as comic book characters in 1984. Since then, they've spawned multiple animated series, toy lines, video games and of course, live-action and animated films. Now, the heroes in a half-shell return to the big screen once again in Teenage Mutant Ninja Turtles: Mutant Mayhem, the seventh theatrical film in the TMNT franchise.
While some long-running franchises start to feel tired after so many iterations, Mutant Mayhem manages to breathe new life into the Turtles with a funny, energetic take that taps into the "teenage" spirit more than past films. At its core, it's a story about outsiders who just want to fit in, which gives it a surprising emotional resonance.
The film follows Leonardo, Donatello, Raphael and Michelangelo, four mutant turtle brothers who were transformed by a mysterious ooze as infants, then raised in the sewers of New York City by their adoptive father, a mutant rat named Splinter. The Turtles have ninja skills thanks to Splinter's training, and they want to use those abilities to help people and gain acceptance into society.
Of course, various mutant villains and other forces stand in their way, including a plot by the evil Superfly to transform all animals into mutants. While the story treads some familiar ground, the script by Seth Rogen and Evan Goldberg succeeds in bringing humor and heart to the well-worn franchise. With dynamic animation, witty banter between the Turtles, and standout voice performances, Mutant Mayhem injects new energy into the 7th big-screen TMNT adventure.
Sketchy Yet Vibrant: The Scrappy Aesthetic of Mutant Mayhem
The unique visual style of Teenage Mutant Ninja Turtles: Mutant Mayhem is one of its most striking elements. Following in the footsteps of the groundbreaking Into the Spider-Verse, this film adopts an eye-catching hand-drawn aesthetic that feels like a living comic book. However, while clearly influenced by Spider-Verse, Mutant Mayhem forges its own scrappy, handcrafted identity that perfectly captures the spirit of the Turtles.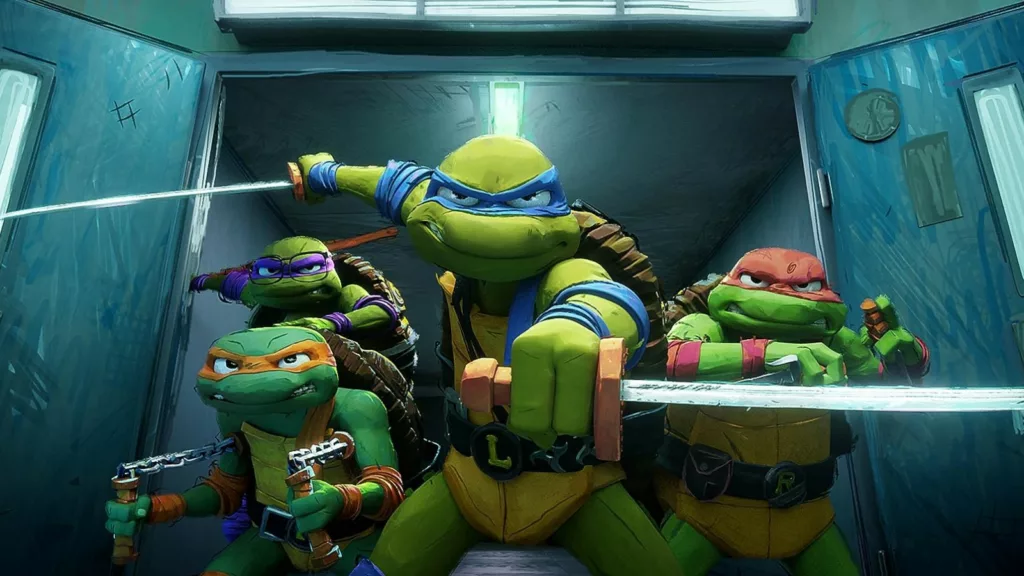 Whereas Spider-Verse wowed audiences with its dimensional rifts and sleek, cutting-edge computer animation, Mutant Mayhem takes a different approach. The characters and environments have a more roughly hewn, hand-painted texture, with visible brush strokes, stray lines, and other imperfections that give the film its unique personality. It's almost like flipping through a teenager's sketchbook, with doodles that practically leap off the page. This scribbled, unfinished style embraces the raw vitality of adolescence that pulses through the film.
The slightly ugly look is a bold and fitting choice for the Turtles, who live in New York's gritty sewers and back alleys. The grimy green and brown hues capture the dank, subterranean setting. Meanwhile, the action scenes explode with dynamic energy, using multi-panel layouts and bold lines to convey the frenzy and fluidity of the Turtles' skateboarding and martial arts. The rough edges add to the homemade, DIY ethos of scrappy outsiders cobbling together a life in the shadows.
Whereas the ultra-slick sheen of most CGI animated films feels sterile and generic, the imperfections and painterly style of Mutant Mayhem give it an endearing uniqueness. The visuals match the rough-and-tumble personalities of the four Turtles, who are rambunctious, exuberant and overflowing with teenage spirit. Their squat, round character designs burst with vivacity and fun. Even when they're just hanging out, their animated antics and exaggerated movements are a joy to behold.
By embracing flaws and favoring vitality over perfection, the filmmakers behind Mutant Mayhem have created a dynamic visual experience that pops on the screen. The images may not be as technically proficient as Spider-Verse, but they have oodles more heart and soul. This scrappy aesthetic gives the Turtles the loving, handcrafted treatment they deserve.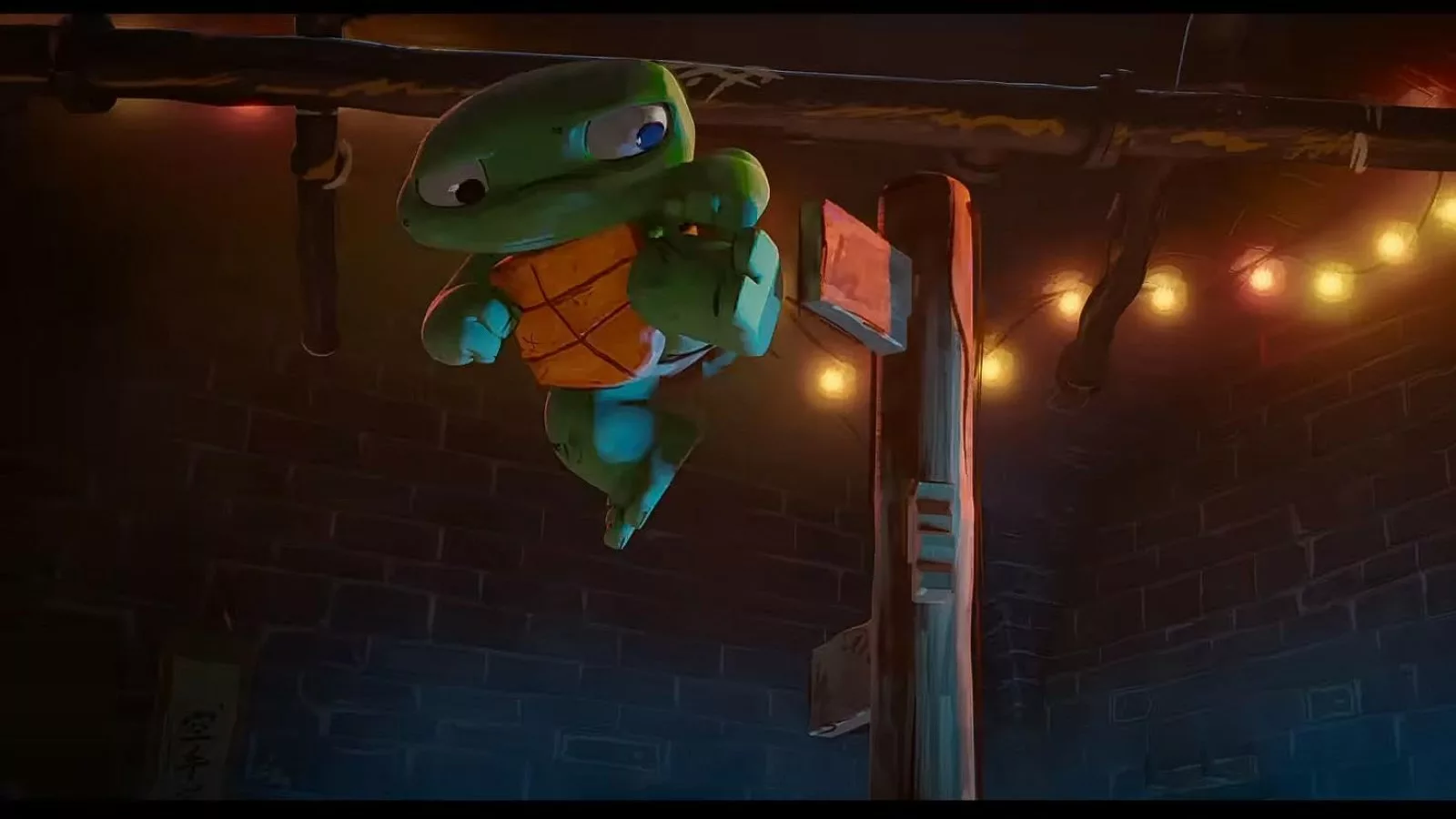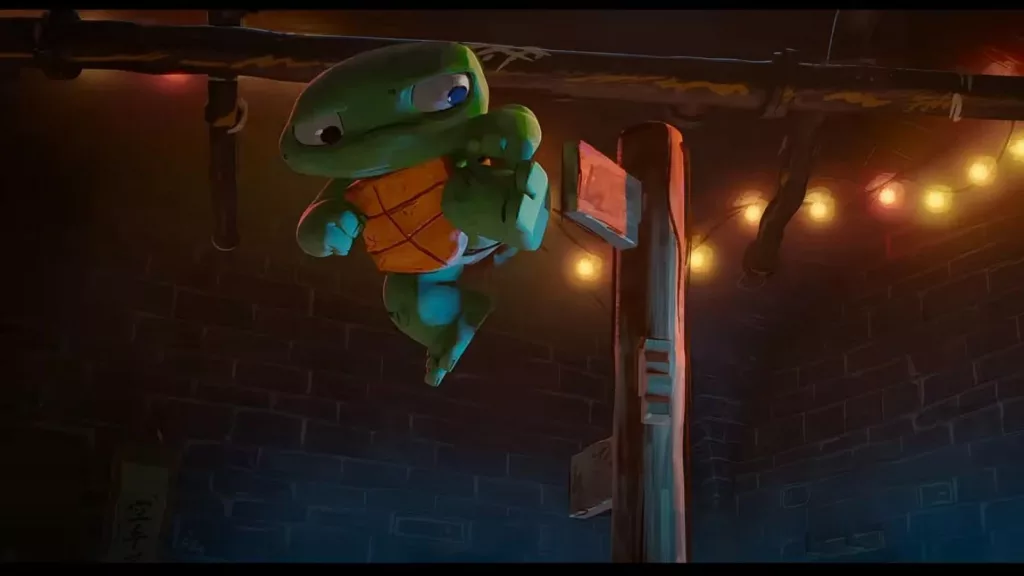 The Teenage Charms of the Turtles
The stars of any Teenage Mutant Ninja Turtles movie will always be the titular heroes in a half shell. In Mutant Mayhem, Leonardo, Donatello, Raphael and Michelangelo are brought to life with contagious exuberance thanks to both the animation and the cast of talented young voice actors. By focusing on the "teenage" element more than past films, Mutant Mayhem makes the Turtles feel like genuine adolescents.
A brilliant decision was casting relatively unknown youthful talents as the voices of the four brothers. Nicolas Cantu, Brady Noon, Micah Abbey and Shamon Brown Jr. have a natural rapport that makes the Turtles' fraternal chemistry pop. Their banter is loose and lively, overlapping energetic dialogue filled with the kind of silly jokes real teenagers would make. The fast-paced back-and-forth quips help define each Turtle – Leonardo's cautious optimism, Raphael's snark, Donatello's nerdy ramblings, Michelangelo's surfer dude vibes.
The Turtles' designs also emphasize their youth, with squat bodies, wide eyes and baby faces that are distinctly adolescent. Their desire to do normal teen activities like attending high school may seem laughable for giant reptiles, but the animation makes their awkward earnestness endearing. During an amusing fantasy sequence, we see the Turtles attending prom, going on dates, and participating in football practice, all rendered in the film's scrappy hand-drawn style.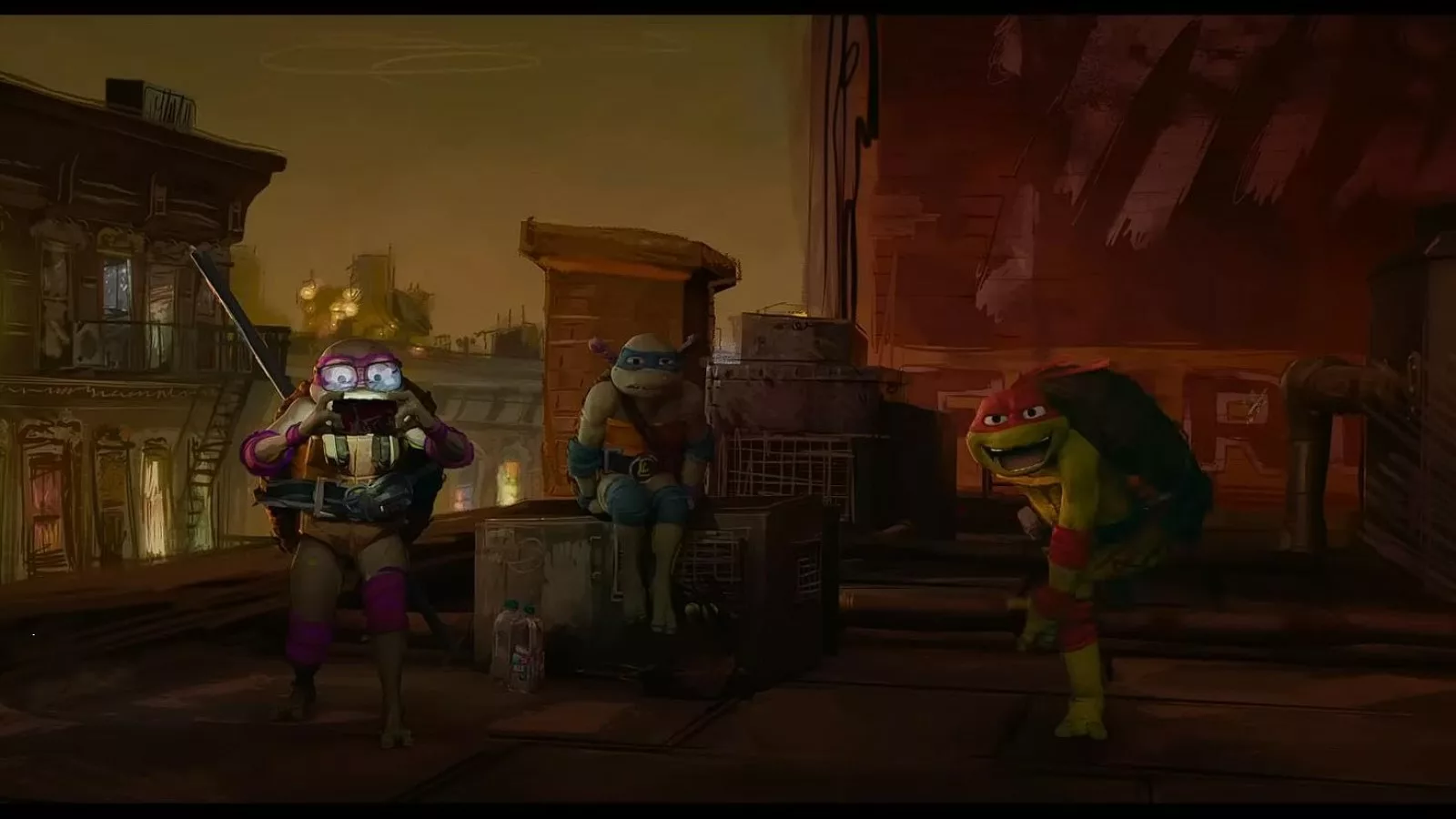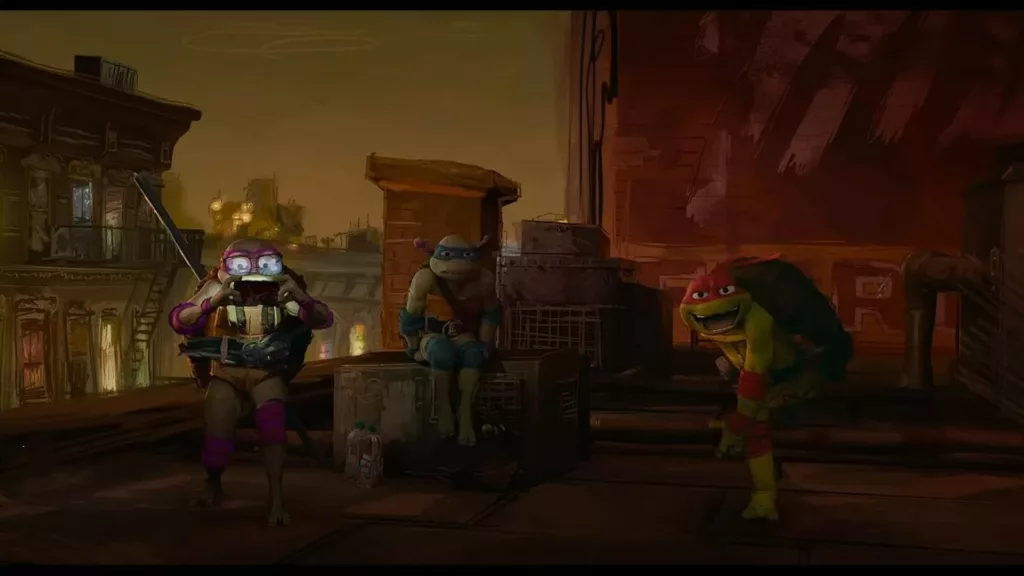 Befitting their rough-and-tumble life in the sewers, the Turtles engage in plenty of gross-out humor, burping, picking noses, and indulging in other boorish teenage boy behavior. They shove pizza into their mouths with abandon. It's juvenile for sure, but feels true to how many 15-year-old boys would act. The occasional potty or sex joke further cements their teen mentality. But there's also sensitivity there when they talk about feeling like freaks.
Michelangelo is an affable goofball, Donatello an endearing nerd. Leonardo shows maturity but also insecurity about his leadership. Raphael simmers with angst and a volatile temper. The rich characterization makes their brotherly interactions bounce with energy and personality. By the end, we feel their longing to be accepted in a world that sees them as monsters. Their teenage struggles may be heightened for comic effect, but are rooted in genuine emotion.
Mutant Mayhem could easily rely on the Turtles brand and familiar banter. But the fresh voice cast, expressive designs, and focus on youthful spirit make the four brothers feel like fully-realized characters rather than interchangeable knockabout goofballs. Their teen persona may be mutant, but it rings true.
Unleash the Power of Nanomachines: Are you ready for a gaming experience like no other? SYNCED offers a unique twist to the looter-shooter genre, blending intense action with strategic gameplay. Learn how you can sync with nanomachines and turn the tide of battle in our detailed review. Check out our SYNCED game analysis and get ready to dominate the battlefield!
Standout Stars Among the Voice Cast
While the Turtles themselves are undoubtedly the main attraction, the supporting voice cast of Teenage Mutant Ninja Turtles: Mutant Mayhem makes every character shine. In particular, the unlikely casting choices of Ice Cube as Superfly and Jackie Chan as Splinter add unique depth and humor to these roles.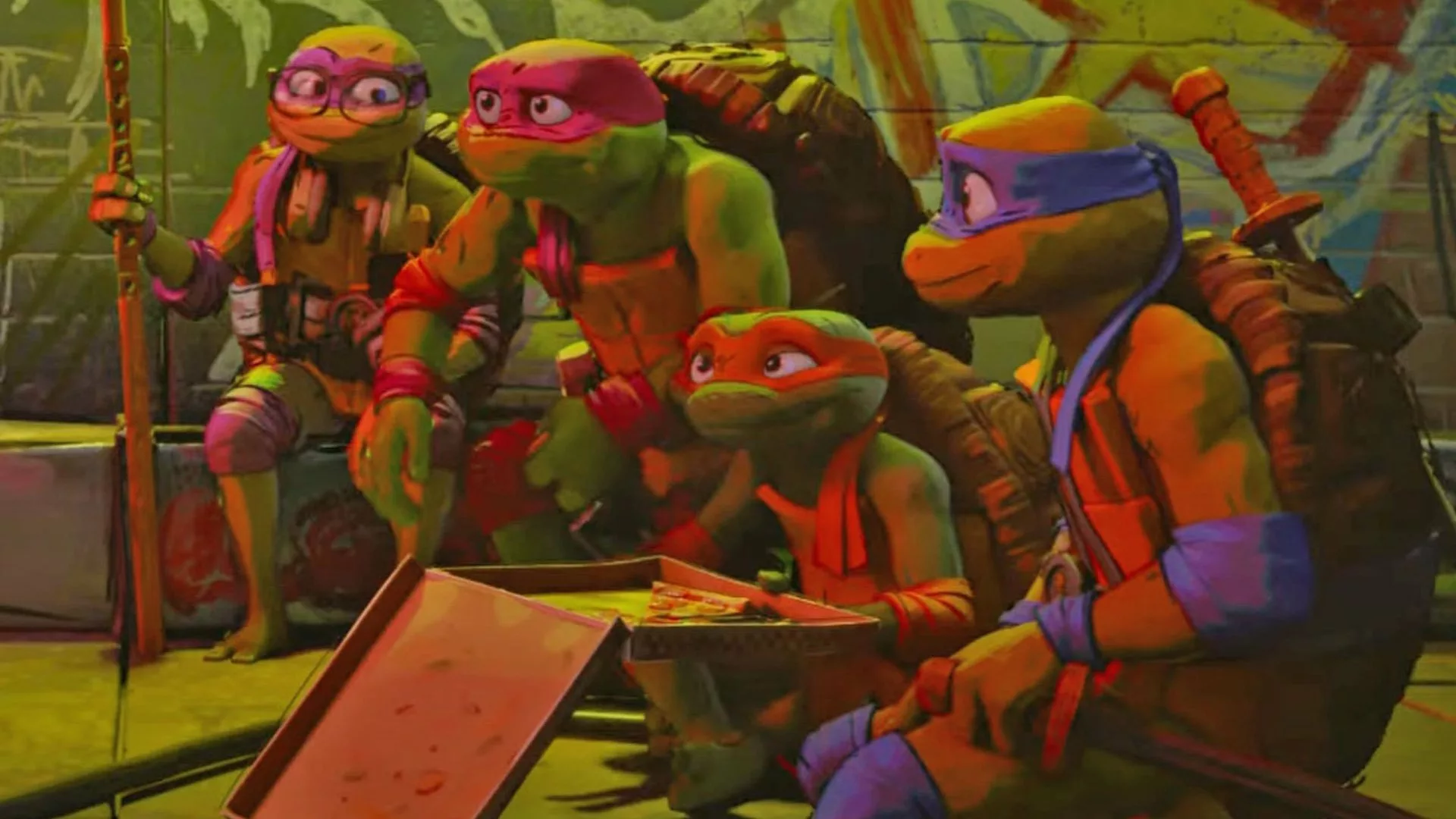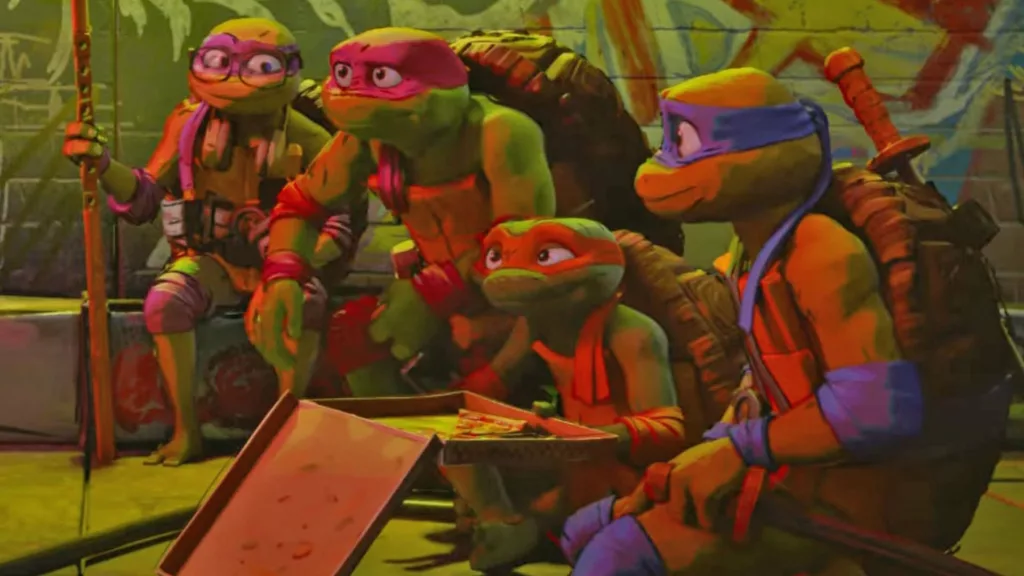 Ice Cube seems born to voice the menacing mutant fly Superfly. With his commanding baritone, Cube brings frosty machismo and slick urban attitude to the villain. Lines like "Ya'll best step off" sound tailor-made for the rapper-turned-actor. And when Superfly breaks into song with hip hop classics like "Rapper's Delight", Cube's musical chops get to shine. It's a very on-the-nose bit of casting, but one that can't help but bring a smile.
Meanwhile, Jackie Chan stretches his talents in new directions as the Turtles' father figure Splinter. Chan trades in his trademark martial arts high jinks for a warmer, more grounded performance. As the rat who adopted four turtle sons, he's the heart of the film, and Chan's empathetic voice work makes Splinter's love feel tangible. We believe him when he says the Turtles are his whole world. And when Splinter eventually battles, Chan brings all his signature smooth moves to the aged ninja master.
The cast is rounded out by an array of comedy stars who make the most of their supporting roles. John Cena gets to flex his funny bones as the bumbling villain Rocksteady, while Paul Rudd is laugh-out-loud hilarious as the burnt-out mutant gecko Mondo. Even with limited screen time, Rudd makes Mondo a scene-stealing stoner goofball. Other standouts include SNL's Maya Rudolph as the Turtles' news reporter ally April, and Giancarlo Esposito bringing icy menace to his mad scientist role.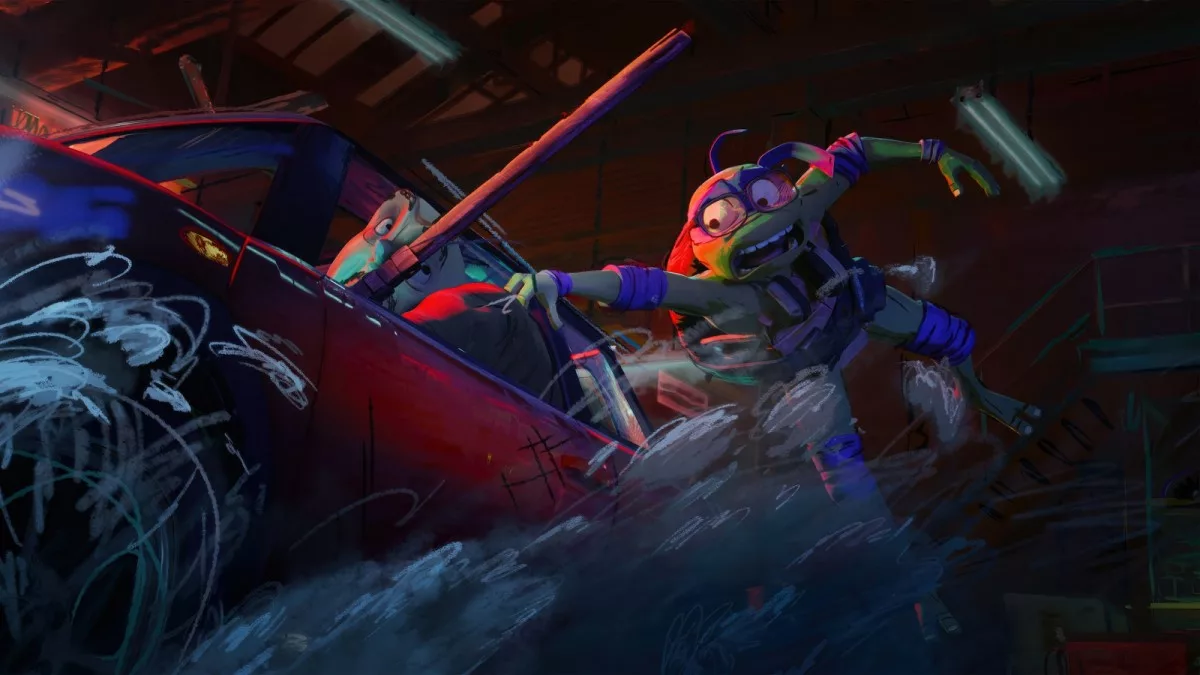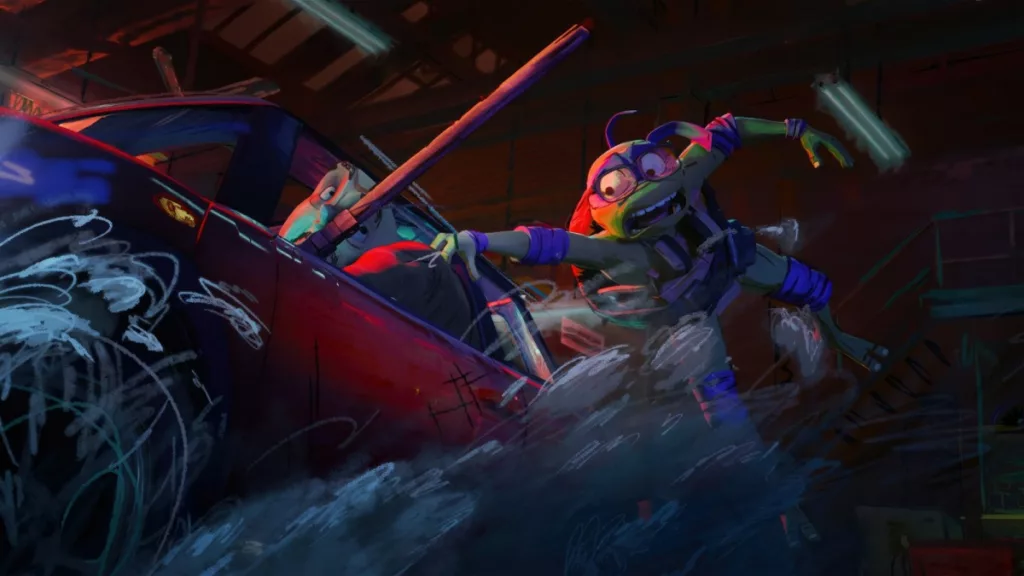 What could have been forgettable bit parts in a noisy CGI spectacle are elevated by the celebrities' clear joy of getting to goof around in a Ninja Turtles movie. There's no phoning it in for a paycheck here. The voice cast sound like they're having a blast, and that enthusiasm rubs off on the audience. Moments like Ice Cube belting out hip hop tunes or Paul Rudd muttering about pizza-induced psychedelic trips should be silly. But the talented comic actors dive in 100%, lending their colorful roles an energy and personality that goes a long way towards making Mutant Mayhem such nutty fun. It's a parade of comedians letting loose in the zany sandbox of TMNT.
Finding Heart in the Half Shell
While Teenage Mutant Ninja Turtles: Mutant Mayhem delivers requisite comic book action and wacky mutant antics, it also connects on a deeper emotional level thanks to its themes of belonging, family, and finding humor in adversity.
At its core, this is a story about outsider characters who just want to fit in. The Turtles may have freakish origins and appearances, but they have the same teenage desires as anyone else their age. This parallels the struggles of many young people who feel alienated and are searching for acceptance. The animation vividly externalizes the angst and awkwardness of adolescence into something more literal, but still relatable.
The Turtles were lovingly raised by their adoptive father Splinter, and this immigrant family dynamic also rings poignantly true. Chan's warm performance as the hardworking single parent adds empathy – here is a father deeply invested in his sons' wellbeing, even if they aren't his own flesh and blood. Many viewers from diverse backgrounds will connect with this story of found family.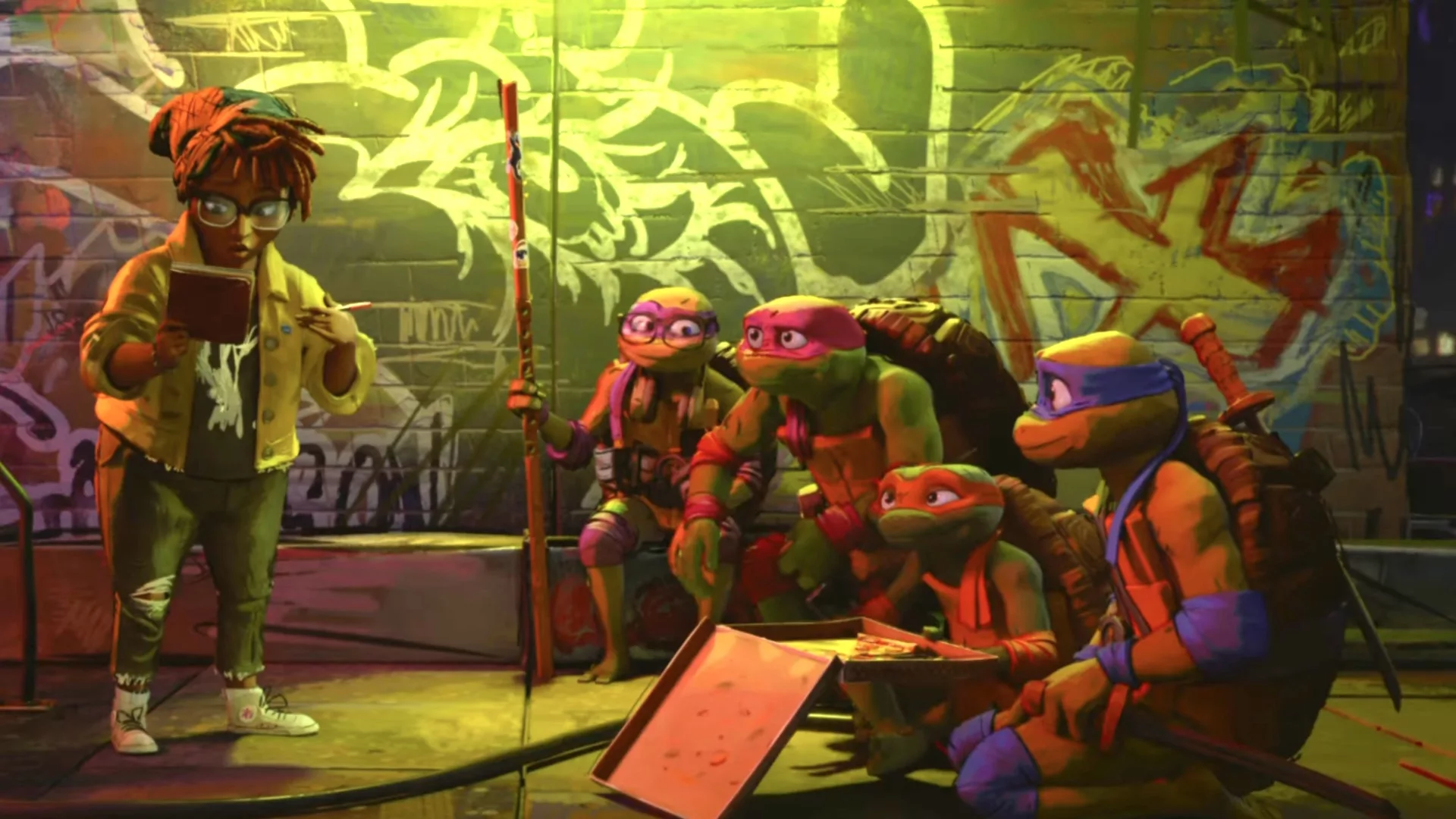 The film also squeezes plenty of absurd laughs from the premise of teenagers who are mutated ninjas. The filmmakers cast a self-aware eye over the franchise's inherent silliness, poking fun at the bizarre ingredients that led to the Turtles' creation. We shake our heads and chuckle as Michelangelo gushes about being "ooze born." The origin story is far-fetched, but the Turtles roll with the punches.
Moments like the Turtles breakdancing before attacking henchmen or singing along to 90s hip hop during fights could come off as merely goofy. But they stem from the film's spirit of finding humor and humanity amid the fantastic elements. Rather than brooding, these heroes meet life's challenges with an eye roll, wisecrack, and possibly a slice of pizza.
Mutant Mayhem embraces the weird, celebrates outcasts, and finds laughs where it can. The lighthearted tone keeps the zany premise grounded. While the ninjas offer high-kicking thrills, the film is ultimately powered by heart.
A Hip Hop Soundtrack with Turtle Power
The thumping hip hop soundtrack is key to the energetic attitude of Teenage Mutant Ninja Turtles: Mutant Mayhem. The musical vibe matches the Turtles themselves – fresh, fun and full of spirit.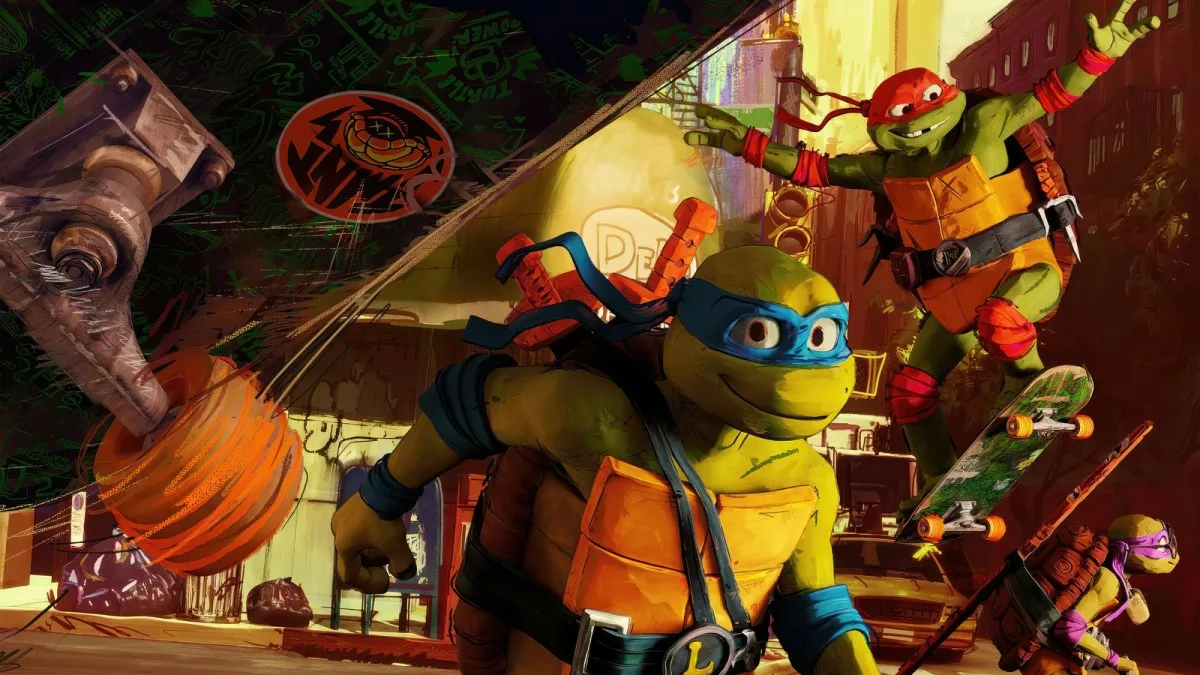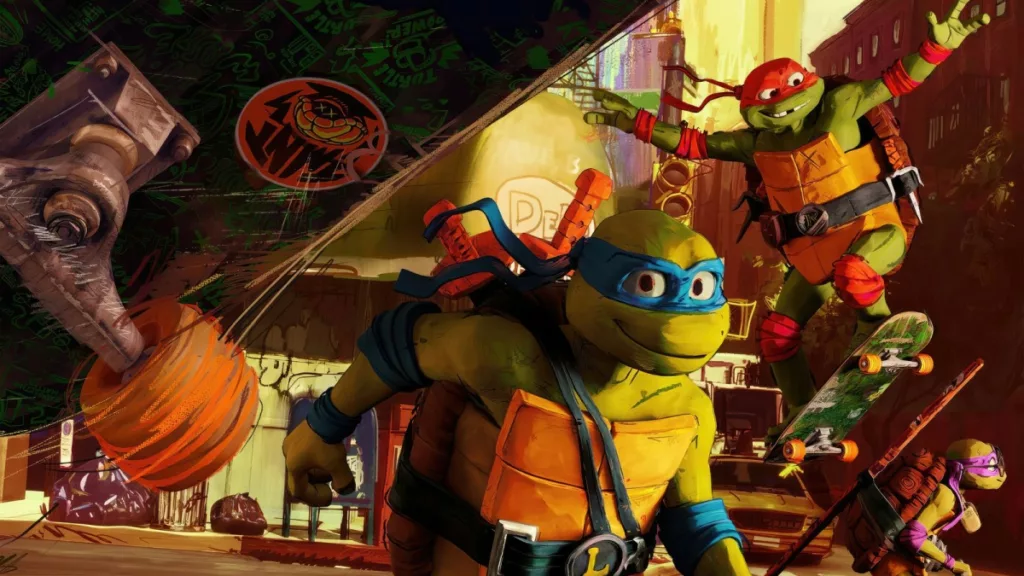 The film is packed with 1990s hip hop classics like "Ready or Not" by The Fugees and "Me Myself and I" by De La Soul that immediately transport listeners right back to the golden age of rap and R&B. When the Turtles face off against foes, their fight scenes play out like splashy music videos with the heroes spinning nunchucks and slicing pizza to the beat.
Oscar-winning composing duo Trent Reznor and Atticus Ross also deliver a propulsive original score that amps up the action. The menacing industrial synth melodies they crafted for films like The Social Network get a youthful kick here, with skittering rhythms and heavy basslines that throb with teenage angst.
The fusion of old school rap anthems and adrenaline-pumping score perfectly complements the film's anarchic energy. When Michelangelo exclaims "This music is tight, yo!" while doing a flying spinning kick, we can't help but agree. The slick soundscape by Reznor and Ross plus hip hop hits old and new give the film an auditory swagger that matches the heroes in a half shell. Whether it's Lauryn Hill soulfully crooning or Ice Cube rapping as Superfly, the music adds plenty of style and power to this turtle powerhouse.
TMNT Through Fresh Eyes
Teenage Mutant Ninja Turtles: Mutant Mayhem is the 7th theatrical film in the franchise, and it succeeds by retaining the goofy tone audiences expect while bringing creative new touches.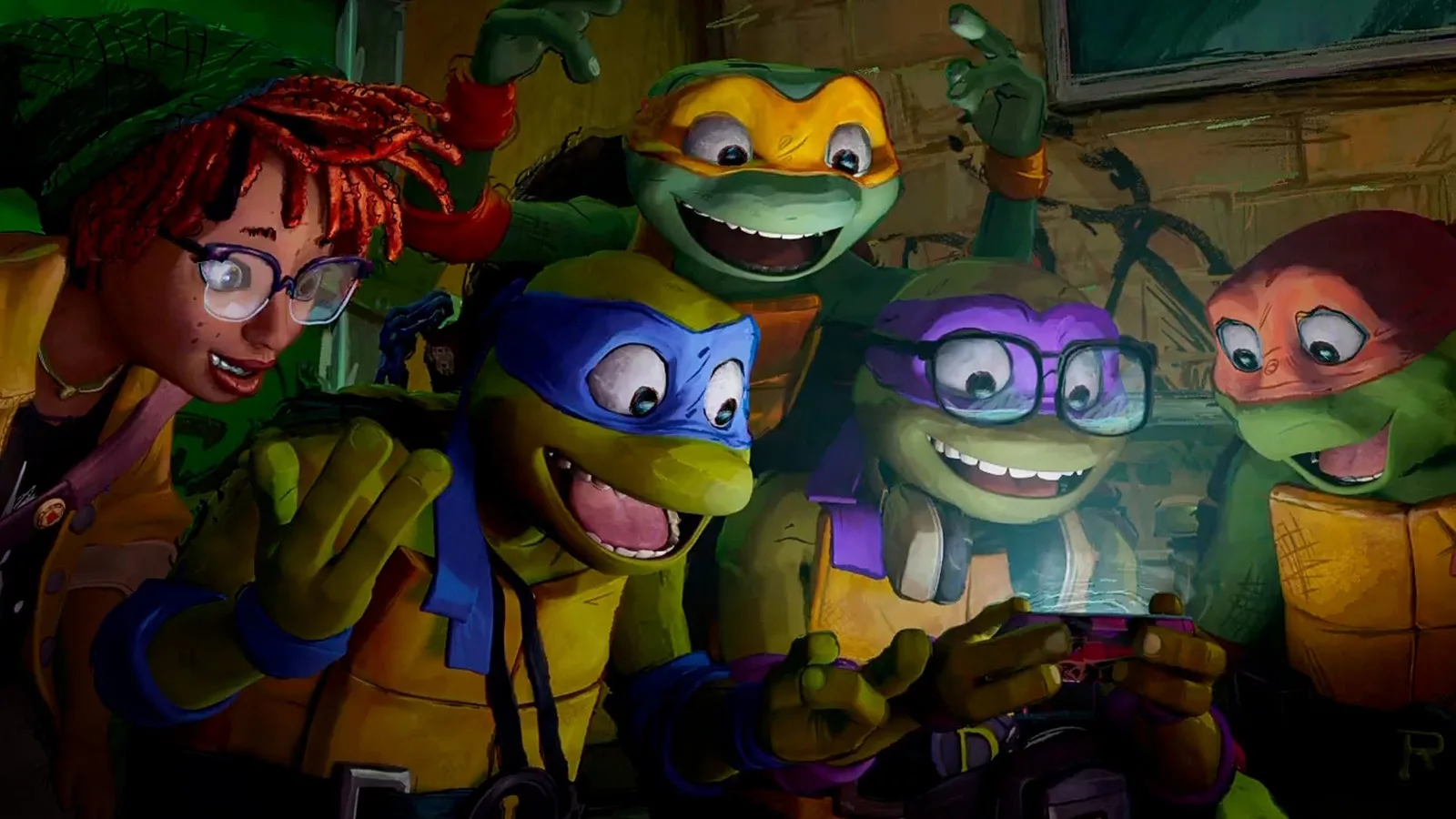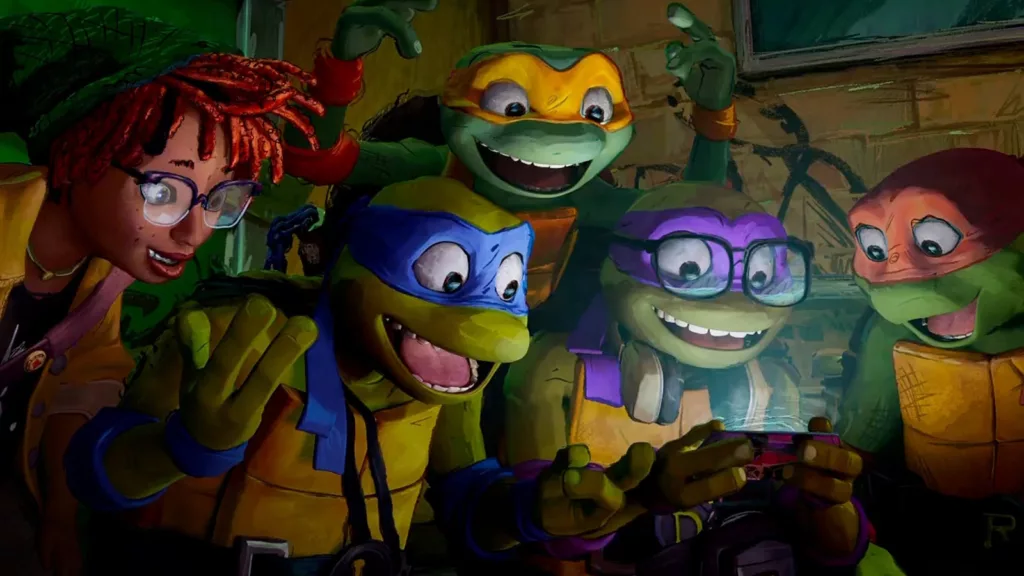 The spirit of zany fun that has defined TMNT since the 1980s is still intact here. We get all the ingredients fans love – wisecracking Turtles, over-the-top villains, gooey mutations, secret ninja moves. But the filmmakers avoid repetitiveness by focusing more on the Turtles as actual teen characters.
Past versions presented the heroes as mostly interchangeable sources of slapstick comedy and martial arts mayhem. But here, Leonardo, Donatello, Raphael and Michelangelo are distinctive, richly-realized adolescents. Their camaraderie and struggles are key, not just the high-kicking action.
The emphasis on hand-drawn animation over slick CG also brings visual innovation, making the world feel more vibrant and alive. Little idiosyncrasies like giving each Turtle a unique physique and voice cast add up to make the team feel fresh.
By tapping into the previously underutilized "teenage" component after 7 films, Mutant Mayhem makes the venerable franchise feel revitalized. The Turtles have always been inherently absurd creations – wise-cracking reptiles with martial arts skills created from radioactive goop. That bizarre premise will never not be ridiculous. But the filmmakers approach the material with heart and humor, telling a story of outsiders longing to belong that gives the saga emotional heft.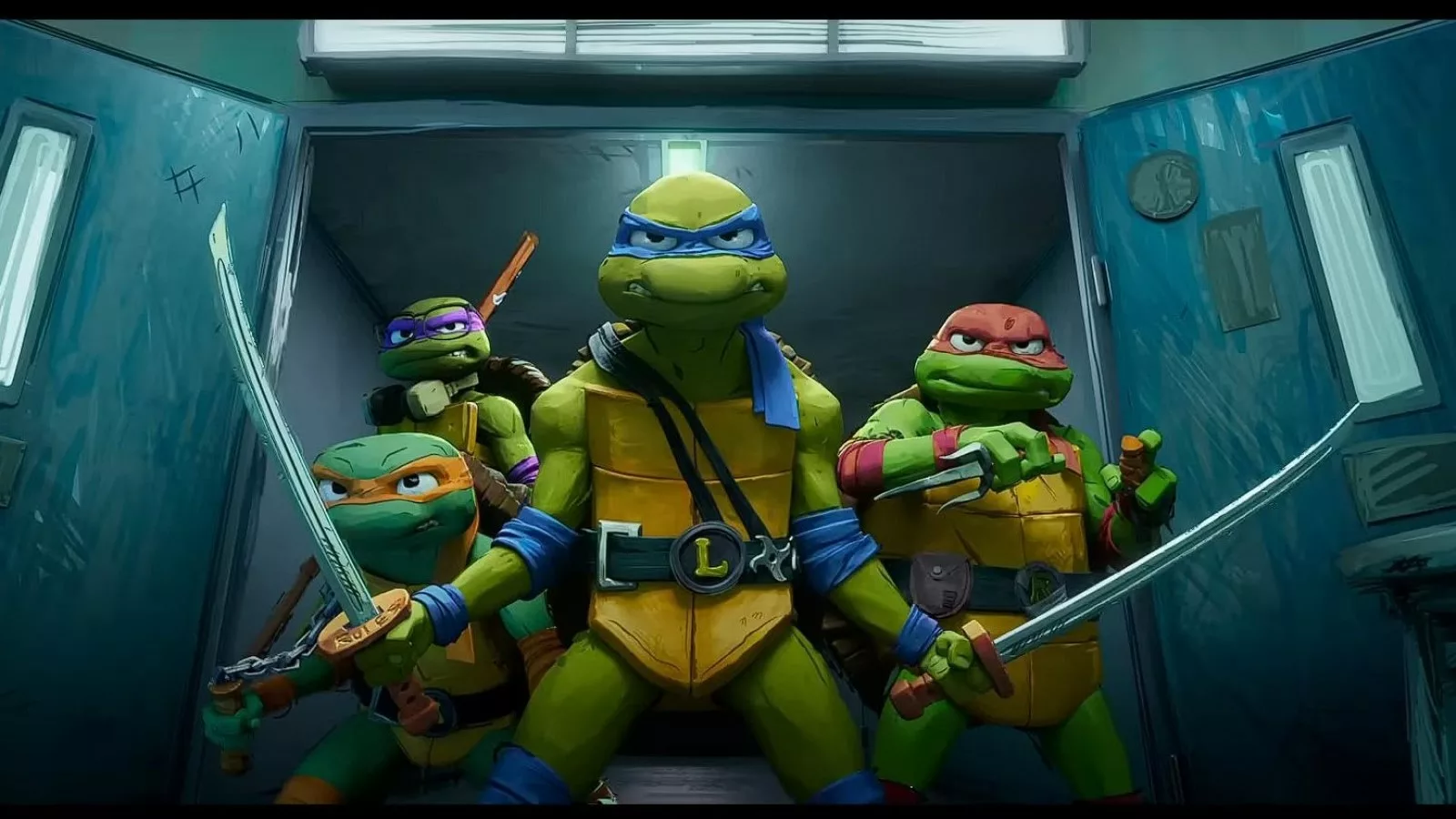 Mutant Mayhem reminds us why the Teenage Mutant Ninja Turtles endure: behind the goofy gimmicks, they remain beloved characters who connect with the kid in all of us. After 35 years, this film proves there's still more turtle power yet to tap into.
Turtle Power Endures
While on the surface Teenage Mutant Ninja Turtles: Mutant Mayhem seems like a familiar romp with the heroes in a half-shell, the franchise's seventh feature finds new ways to keep these characters feeling fresh even after 35 years. It may tread on familiar ground with its zany premise, but the film injects new life with an affectionate focus on the Turtles as actual, anxious adolescents. The vibrant hand-drawn animation, lively voice cast, and themes of family and belonging come together into a satisfying take that reminds us why we still love these turtles after all these years.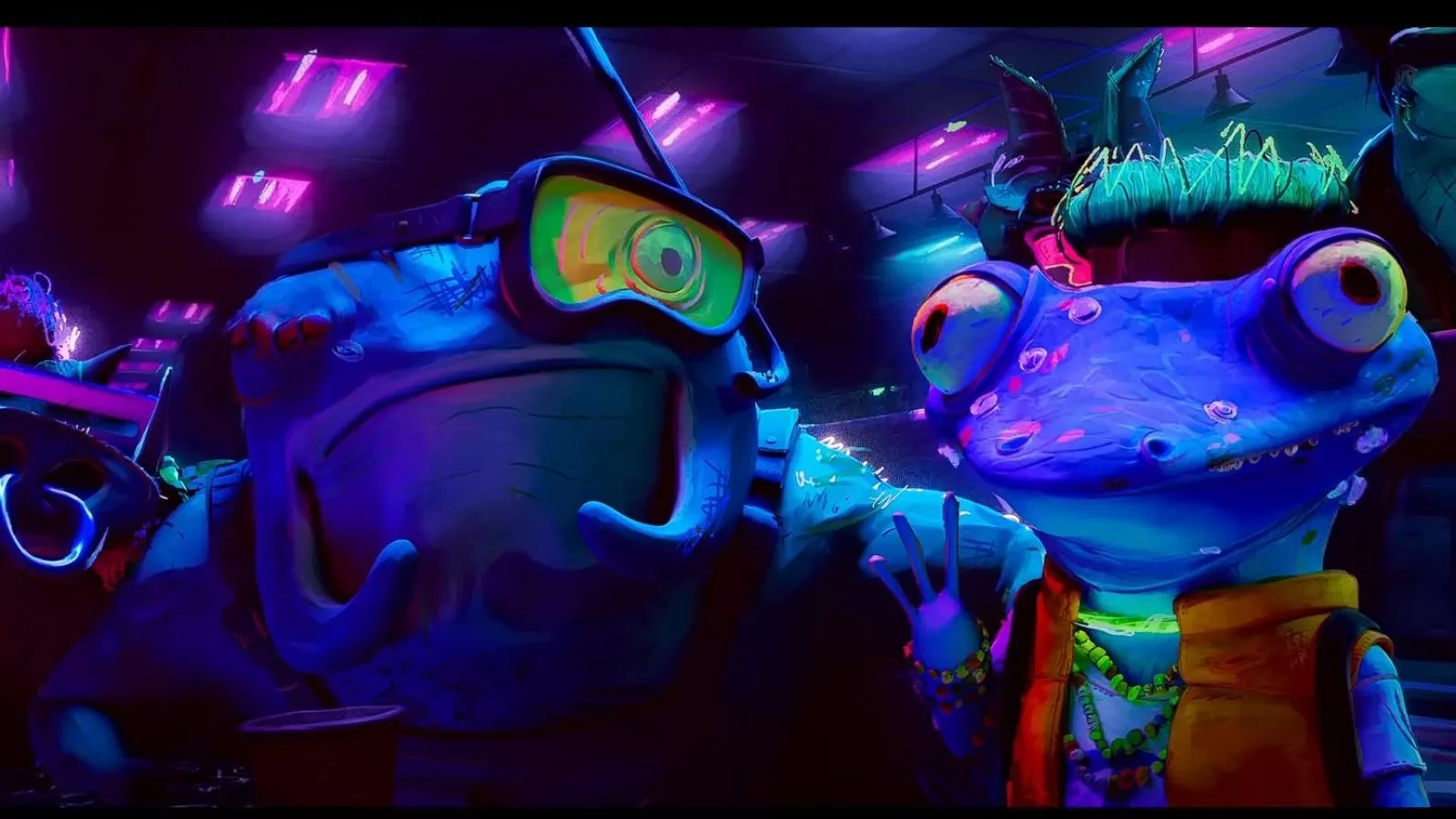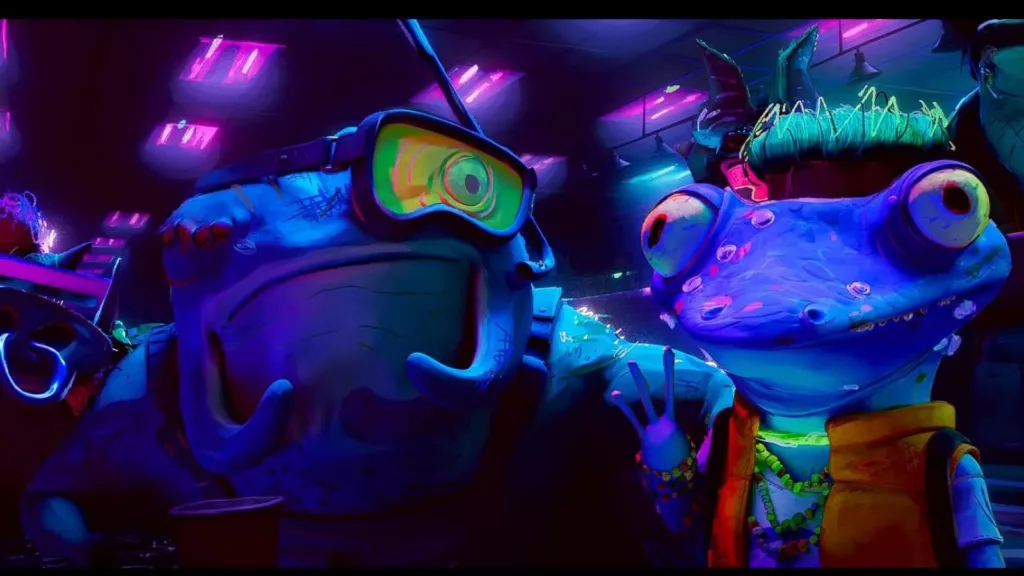 By blending humor, thrilling action, and genuine heart centered around outcast characters who just want to fit in somewhere, Mutant Mayhem makes for a winning good time for both die-hard fans and new viewers. It proves there's still life left in these teenage turtles yet. While we may have seen similar TMNT stories before, this film recaptures the magic with wit, feeling, and plenty of turbo-charged turtle power. Cowabunga may be outdated slang, but the Turtles' spirit endures.
The Review
Teenage Mutant Ninja Turtles: Mutant Mayhem
Teenage Mutant Ninja Turtles: Mutant Mayhem breathes new life into the decades-old franchise, proving there's still plenty of turtle power left in these heroes in a half shell. By focusing on the teenage characterization and telling a story with heart about misfits searching for belonging, the film makes the venerable Turtles feel fresh and fun again. Outstanding animation, a lively voice cast, and humor that embraces the weird premise make Mutant Mayhem an entertaining romp for longtime fans and newcomers alike. While it treads some familiar ground, the crucial emphasis on the "Teenage" component gives this a dimension lacking in previous films. After seven big-screen adventures, the Turtles remain as lovable and engaging as ever.
PROS
Vibrant hand-drawn animation style gives it visual flair
Emphasis on "teenage" characterization makes Turtles endearing
Natural voice acting chemistry between the young cast
Story has emotional resonance about finding belonging
Score and hip hop soundtrack turbo-charge the action
Stays true to spirit of franchise while adding innovation
Ice Cube's casting as Superfly is inspired
CONS
Relies on some familiar franchise tropes and elements
Plot follows predictable origins/hero's journey structure
Villain motivations are a bit one-dimensional
Some pop culture references may not hold up over time
Final action sequence gets overly busy and chaotic
Certain jokes feel geared towards a young audience