Every cricket fan remembers it – Andrew Flintoff consoling a crestfallen Brett Lee as England narrowly edged Australia in the greatest Ashes finale of all time. Moments like this, where triumph and heartbreak sit side-by-side, underscore why we love this sport. So when Aussie developer Big Ant Studios teased their latest virtual bat and ball endeavor, Cricket 24, hopes were high that such timeless cricket drama could be recreated. Alas, while Cricket 24 iterates on the foundations of Cricket 22, it fails to fully capture the tactical nuances and emotional rollercoaster that makes real cricket so enthralling.
Part of the long-running Big Ant cricket franchise, Cricket 24 brings updated graphics, new licensing deals, and the same in-depth career mode. There's no doubt this simulator offers the most comprehensive and customizable cricket experience available today. You can customize tournaments, create players and teams, and choose from a smorgasbord of play styles.
However, while the window dressing has been spruced up, the AI still behaves erratically and outcomes feel predetermined regardless of your skills. Ultimately, Cricket 24 falls shy of delivering an authentic flow between bat and ball. Unless you're a diehard looking to bat again in a familiar, albeit flawed, cricket sandbox, this sequel is unlikely to bowl you over.
Finding Joy in the Journey, Not the Destination
At its core, Cricket 24 delivers the same solid batting, bowling, and fielding gameplay loop as previous Big Ant cricket titles. Depending on your preference, you can choose between standard, pro, and arcade batting controls. Standard maps your shot choice and direction to buttons, while pro requires manipulating both analog sticks to control footwork and shot direction independently. This advanced option certainly raises the skill ceiling, but also the barrier to entry given the tight timing required. Standard or arcade may be better choices for newcomers.
When it clicks, batting proves very responsive and intuitive. There's a great sense of timing and finesse required to confidently dispatch wayward balls to the boundary while defending staunchly against quality bowling. Each stroke feels unique depending on footwork, timing, and bat angle. Meanwhile, bowling remains a tactical joy, with numerous varieties like seamers, bouncers, spin, and swing to keep batters guessing. At higher difficulties, any sloppy line or length gets punished, rewarding disciplined bowling.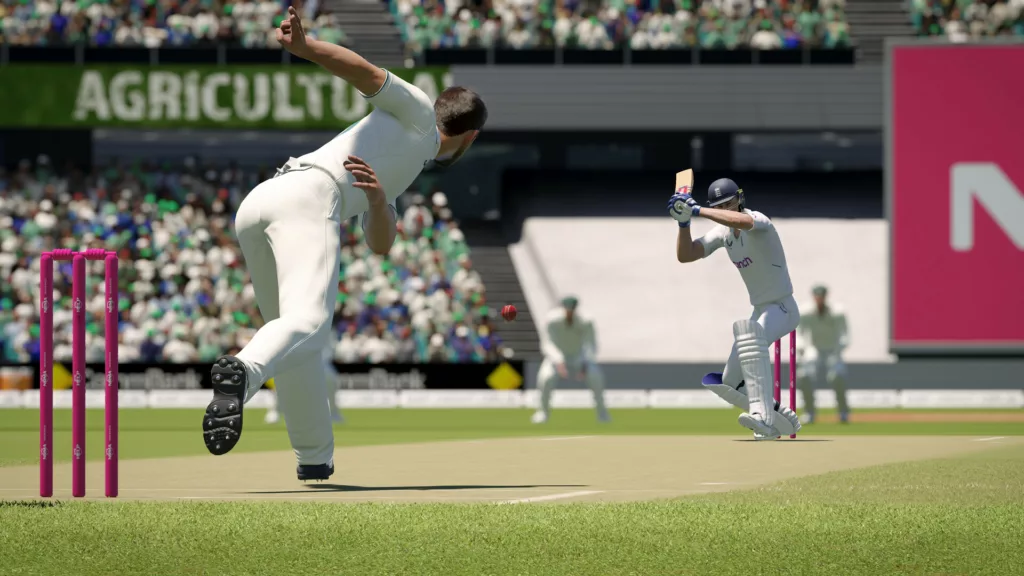 Unfortunately, any tactical gambits or precision seem futile against the AI's unpredictable shot selection and predetermined outcomes. Batters randomly slog balls from outside off while leaving straight half volleys, with fielder reaction times slow to capitalize on mistakes. The AI decides when your string of dot balls will be broken by an inevitable boundary. Outcomes feel arbitrarily pre-ordained regardless of delivery quality. This lack of responsiveness sucks the tension from multiplayer.
These AI issues have plagued the series, though Big Ant has refined core mechanics over iterative entries. However, while gameplay variety remains excellent on paper, the unsatisfying AI limits the appeal of repeating matches. Presentation, licensing, and graphics have gradually improved, but the AI and physics systems seem puzzlingly resistant to meaningful overhaul. There's still fun to be had for cricket fans, but each entry only provides incremental improvements over familiar foundations. Unless you crave updated rosters and visuals, it's hard to recommend at full price for returning batters.
Something for Everyone, But Longevity Lacking
Cricket 24 checks all the boxes when it comes to game mode variety. The basics are covered with Quick Match for one-off games and the Tournaments mode for leagues and knockouts. Ashes Cricket satisfies British and Aussie fans with a standalone licensed mode devoted to the legendary rivalry. The career mode remains the crown jewel, enabling you to lead a custom player up the ranks across 15 seasons, from club cricket to international glory.
For the first time, licensed Indian Premier League teams join the ranks, albeit not the full IPL license. The fast-paced T20 format and big-hitting superstars like Virat Kohli inject energy, though absent teams like Chennai Super Kings will disappoint Indian fans. The Hundred, Big Bash, T20 Blast, and Caribbean Premier League round out the premier T20 offerings. Creating your own custom tournaments and championships is also possible.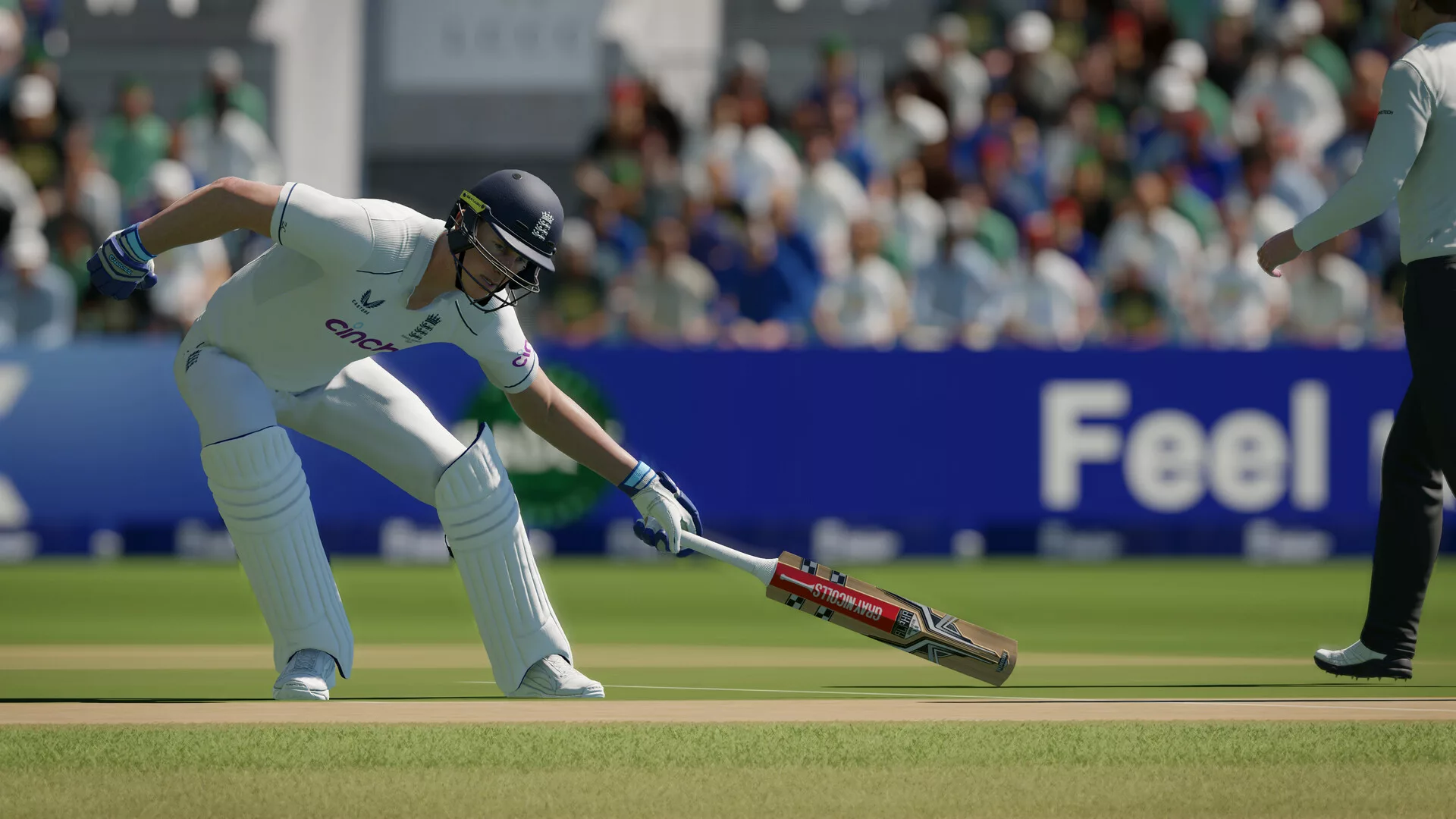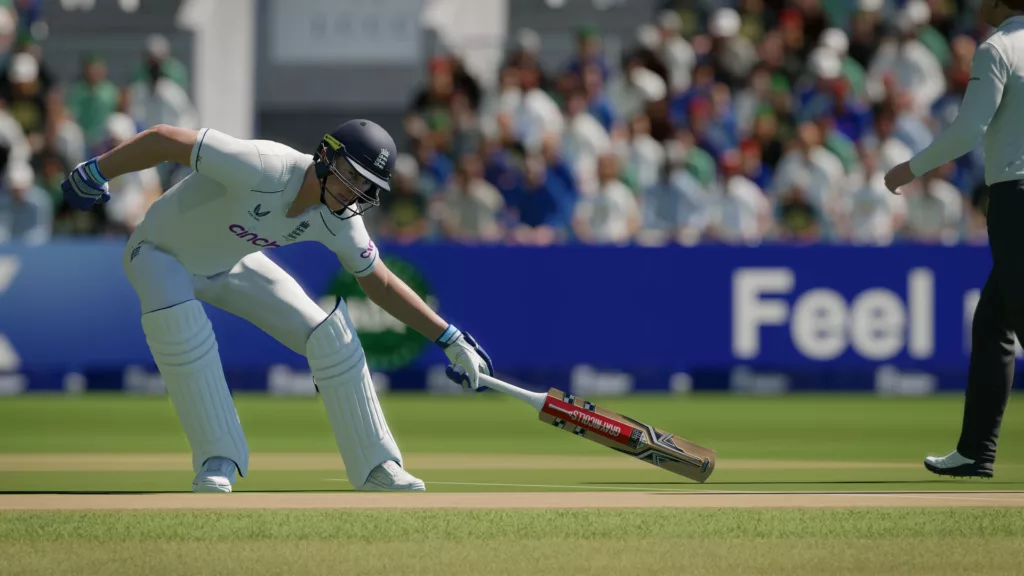 On paper, the breadth of options is staggering. Combined with deep team, player, and uniform creators, all the ingredients seem present for almost endless potential starting XIs and matchups. However, in execution, the promise of near-infinite variety gets undermined by issues like predictable AI, repetitive commentary, and presentation niggles that dampen enthusiasm over the long haul.
Career mode illustrates this well. Beginning with club cricket, you'll hone skills via training then carry your growth into domestic competition. Eventually, the international stage awaits, where captaincy and coaching roles open up. It's a sprawling journey, but development feels one-note. Training exercises like bowling rhythm games are gone, replaced by simple schedule management. Net sessions visuals haven't progressed either. The career arc feels predictable and lacking in surprise events or challenges to truly test you.
While recent entries have expanded mode breadth, the lack of innovation in AI, commentary, presentation, and physics curbs long term investment. The addictive joy of an MLB The Show career mode eludes Cricket 24, though Big Ant does an admirable job serving cricket fans globally. Just temper expectations of a truly generational virtual cricket career until foundations improve. For now, enjoy Cricket 24 more as a one-day tour than a test career.
Looks the Part but Lacks Immersive Atmosphere
Visually, Cricket 24 impresses with higher resolution textures, improved lighting, and player likenesses that verge on photorealism. Big Ant's image scanning technology accurately captures faces like Virat Kohli and Pat Cummins, while also expanding the library to over 300 players. Bats gleam, uniforms shine in the sunlight, and stadiums like Lord's look fabulous from wide camera angles. Players move with more realistic weight and momentum, though some ragdoll physics quirks remain.
On the downside, beyond scanned faces, character models appear quite stiff and robotic in their movements and reactions. Subtle details that enhance immersion are missing too, like Stuart Broad's headband or players acknowledging the crowd after landmarks like centuries. Crowds look low detailed as well, while fielders seem to slide awkwardly instead of sprinting. Persistent clipping issues also indicate optimizations could improve.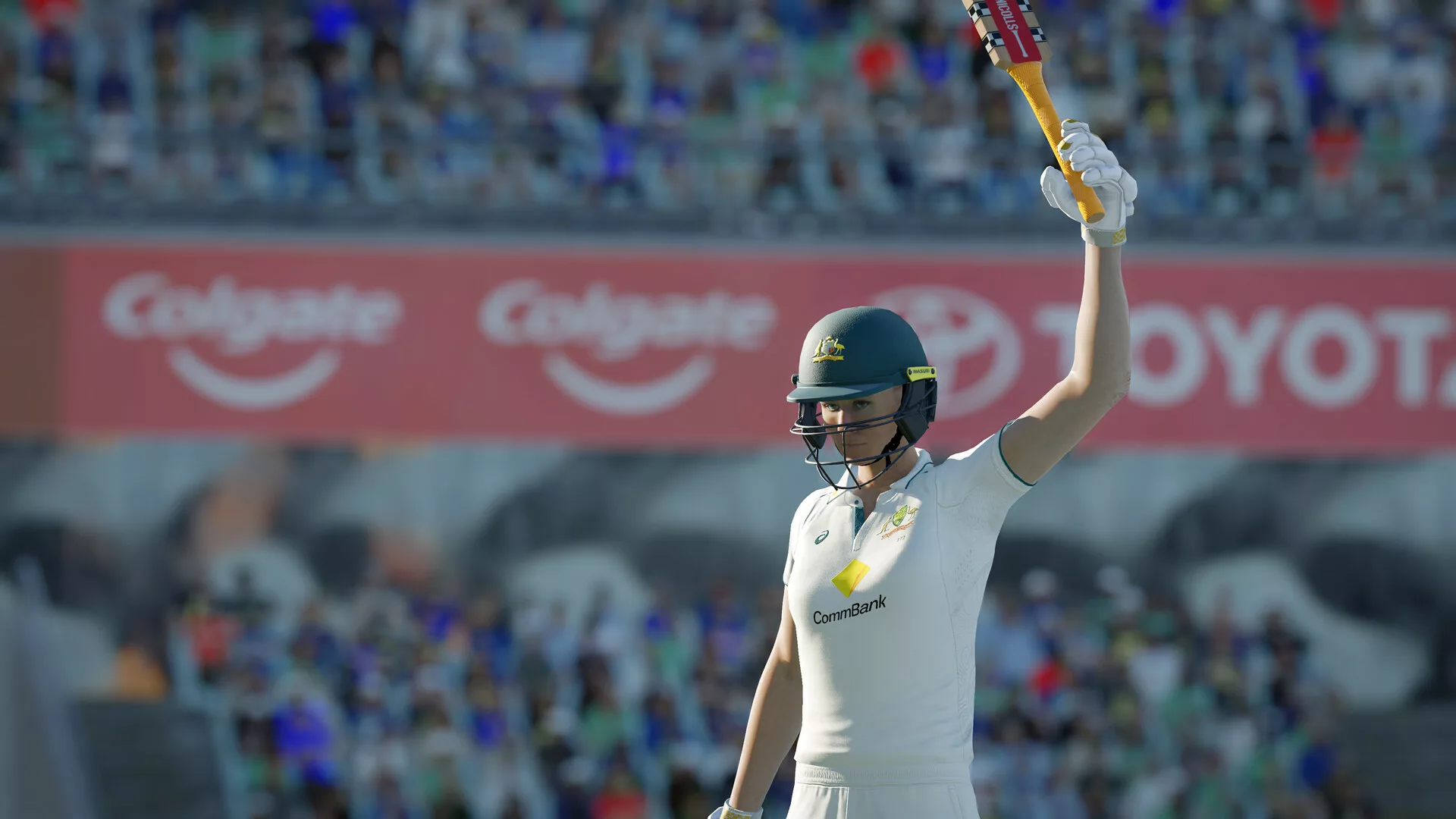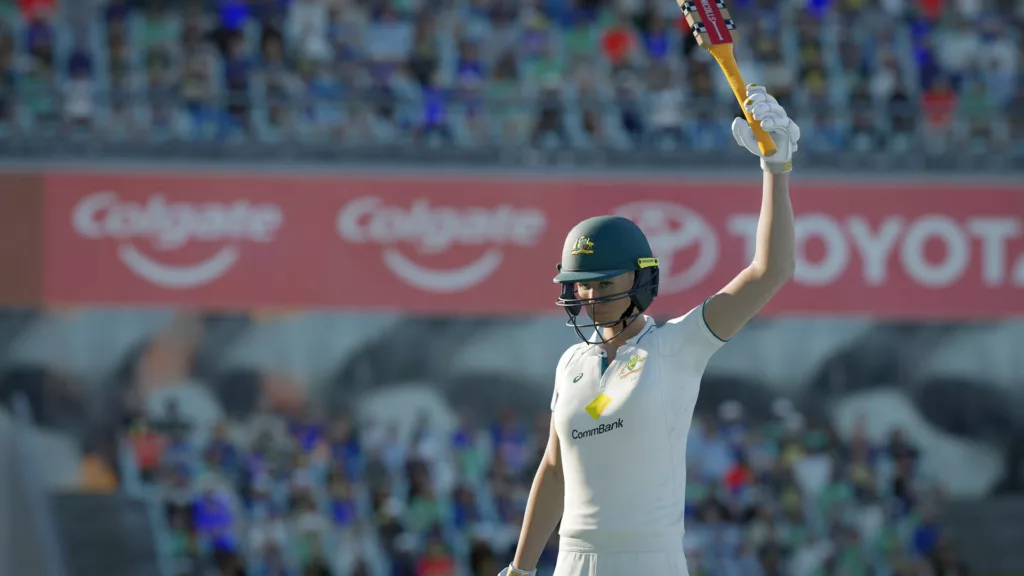 Commentary finally adds the legendary Adam Gilchrist, but he struggles alongside the stilted and repetitive delivery of regulars Alison Mitchell and Michael Clarke. Contextual dialogue remains rare, with little change in intensity whether a thrilling super over finale or drab group stage match. Sound effects like bat on ball and stadium ambience are solid, if unexceptional. The menu music is decidedly weak.
On the whole, Cricket 24's strengths lie more in surface-level polish rather than truly authentic atmosphere. With better motion capture, evolving wicket and outfield conditions, supporter chants rising and falling with the action, and reactive commentary, Big Ant could transport us to iconic cricket grounds rather than just depict them accurately. For now, adequate visuals and audio underscore how much untapped potential remains.
The menus and UI also illustrate this – while functional and packed with options, navigation feels clunky. This manifests when selecting teams and finding desired players. Improved searching, filtering, and stat access would create a smoother user experience. Loading times on Switch also hamper pace of play. Presentation has progressed but still lacks key touches to truly shine.
Incremental Improvements Rather than Revolution
Given the modest two-year development cycle, it's no surprise Cricket 24 opts for iteration rather than innovation. While new licensed teams and visual polish are welcome, core systems and mechanics remain largely unchanged. A few touted features even failed to make the final cut.
The major hook is increased licensing, notably for Indian Premier League (IPL) teams. However, this comes with caveats – only eight of the 10 IPL squads appear, with notable absences like Chennai Super Kings. Additionally, you can't play as fully authentic IPL lineups since India's national team isn't licensed. Spielberg this licensing saga is not.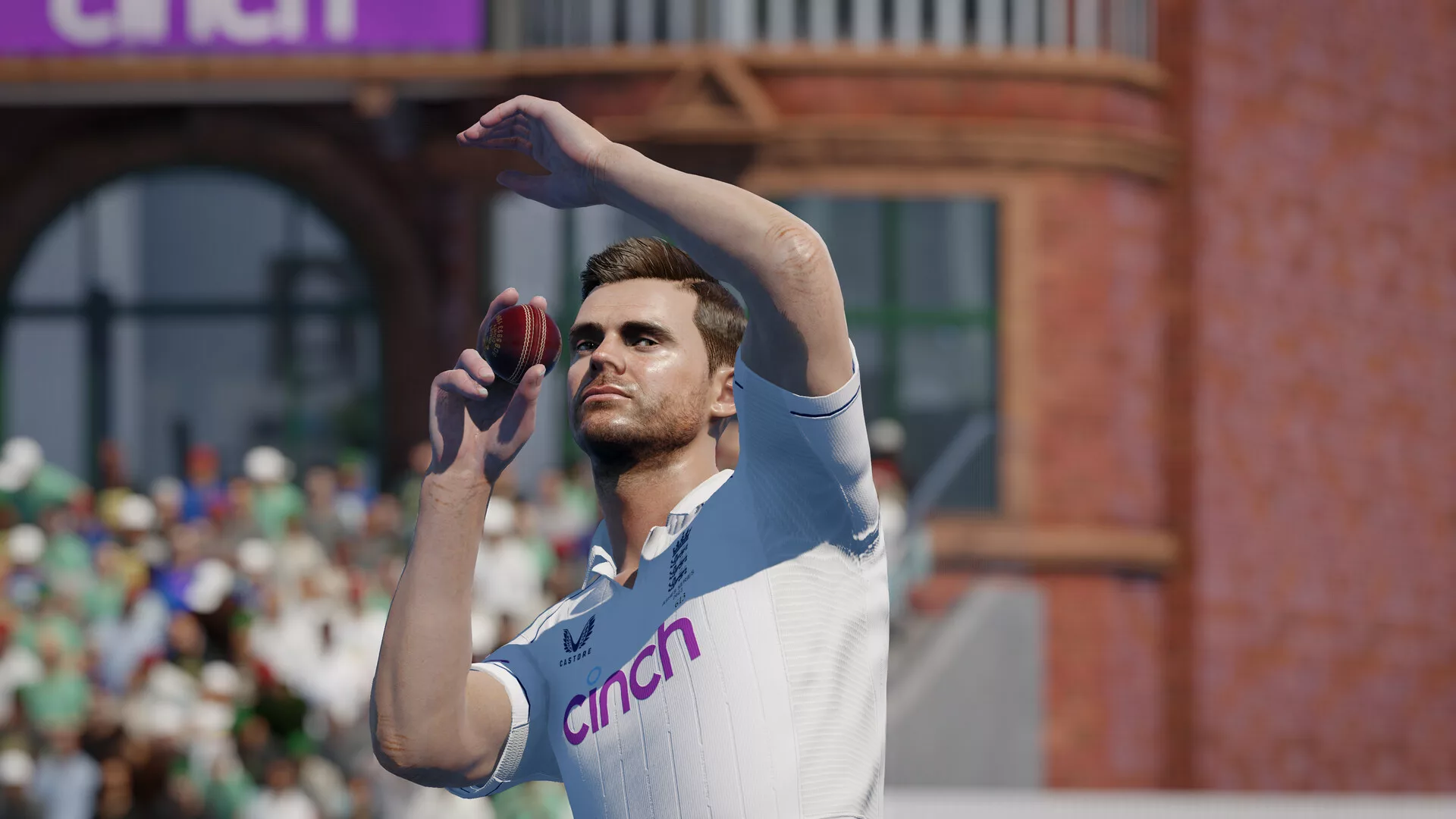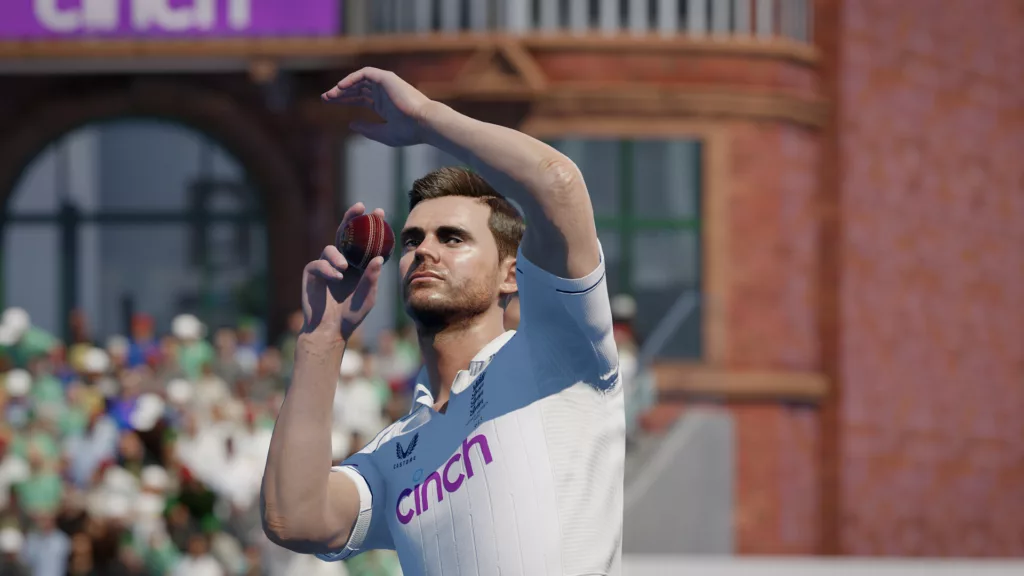 Other additions like the Pakistan Super League also come with inaccuracies – Pakistani players lack their true likenesses. Meanwhile, promised features like a deep "Pro Team" mode for customized tournaments haven't materialized yet and may never. So far, licensing additions feel fragmented rather than coherent.
Presentation and visuals do take a modest step up via 4K support, enhanced textures, and photogrammetry for over 300 players. Higher resolution crowds, physics refinements, and elements like dynamic time of day would further enhance immersion, but aren't implemented here. Still, Cricket 24 undoubtedly looks better than its predecessor at a glance.
Less obvious are the absent changes many hoped for – revamped fielding AI, realistic physics, overhauled career mode progression, etc. Commentary recycling and predictable batting behaviors indicate iterative design rather than meaningful innovation dominated. Without fundamental improvements to AI and physics, new coats of paint can only marginally elevate the experience.
Cricket 24 plays things safely, delivering modest graphical gains and licensing expansions fans expect annually. But with series foundations remaining largely unchanged, it's tough to shake a lingering sense of missed opportunity. This builds cautious optimism for the next generation leap cricket fans crave, but that revolutionary outing remains elusive for now.
Multiplayer Marred by Connectivity and AI Issues
On paper, Cricket 24 checks all the boxes when it comes to multiplayer options. Exhibition matches support local co-op and multiplayer, either on the same console or via LAN play. Online multiplayer is also supported, including ranked and unranked modes, with the ability to customize rules and settings before matchmaking. Stat tracking and leaderboards enable competition between friends or the wider community.
In practice, however, technical issues hamper the experience. Slowdown and lag are frequent complaints, especially when fielding. Balls may jerk or stutter mid-flight online, throwing off timing for batting and bowling. Matchmaking can also be uneven, pitting fledgling rookies against seasoned veterans. Leaderboards incentivize competition, but rank mismatches persist.
Worse still, AI behavioral problems manifest prominently in multiplayer. Fielders remain lethargic and unpredictable, while batting tactics appear erratic and untethered to match situations. This undermines immersion severely. When combined with technical hitches, multiplayer falls well short of expectations.
Local multiplayer fares better thanks to the lack of connection issues. But frustrating AI persists, especially for fielding teams. Missed run-out chances and slow relay throws suck tension from close contests. Batting is quicker to pick up for newcomers too, so bowling teams often endure lopsided losses.
Robust online connectivity and sharp AI would elevate Cricket 24's multiplayer to must-play status. For now, niggling technical problems and braindead fielding undermine the experience. Solo players aren't missing much, but improvements here could make Cricket 24 a party staple.
Familiar Progression With Missed Opportunities
Cricket 24 brings back the series' familiar career mode, enabling you to guide a custom player up the ranks from club cricket to international stardom. It's a sprawling journey across up to 15 seasons and for cricket fans seeking a comprehensive fantasy cricket life simulation, it delivers. However, progression feels overly familiar for veterans and lacks innovation.
After customizing your player's skills and style, you'll vie for selection in club and domestic matches. Consistent performance leads to higher profile teams and eventually international duty. In-between, you'll schedule training sessions to upgrade attributes and manage fitness. Transfer offers and coaching roles open up later on for added longevity.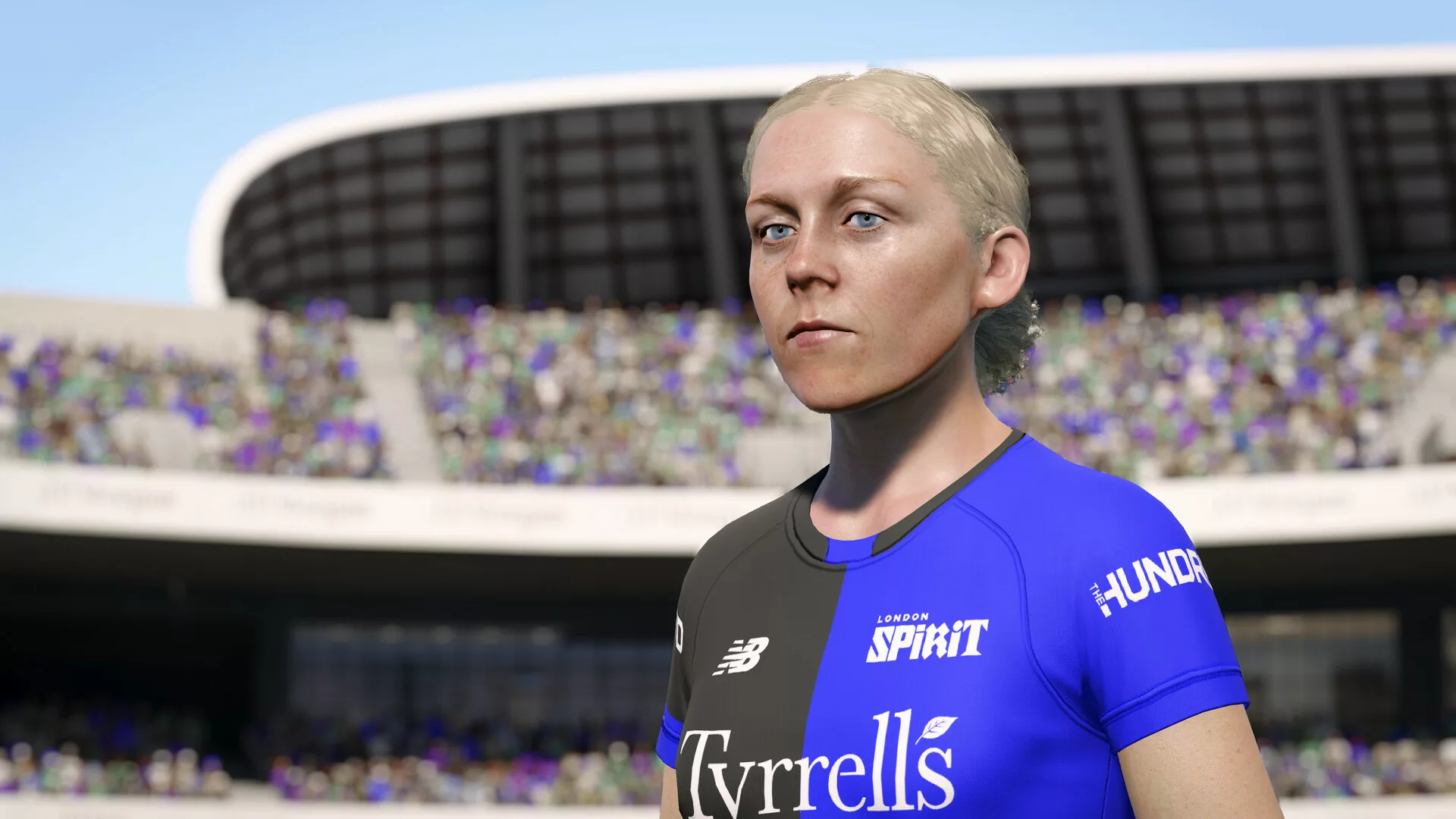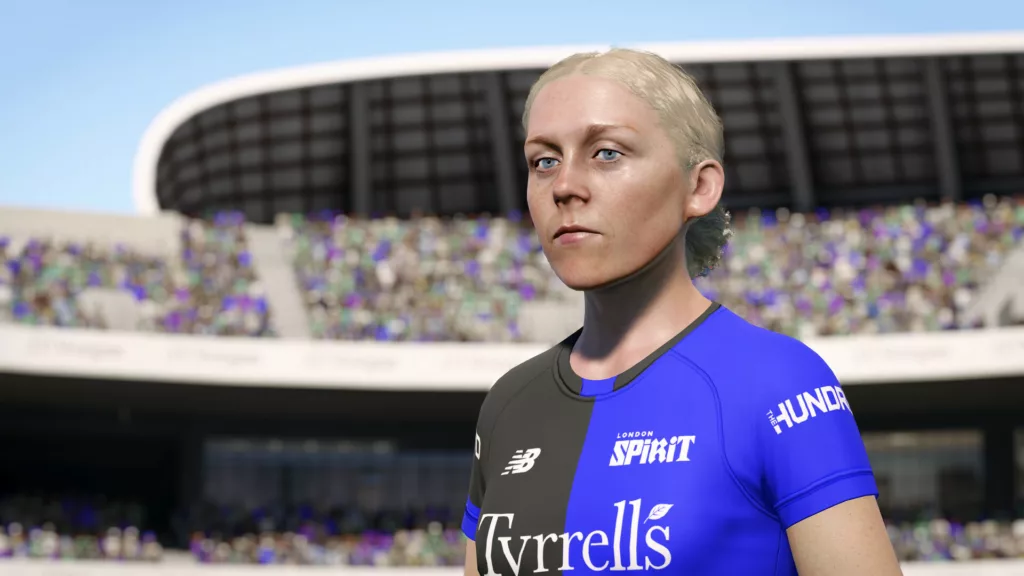 It's a formula veterans will recognize immediately from past Cricket and Don Bradman titles. While comfortingly familiar, after so many iterative sequels the career progression desperately needs more variety. The training minigames of Cricket 22 are now gone, replaced by menu-based schedule management. Practice sessions lack flavor too. A sense of grind quickly sets in.
Your path to glory follows a predetermined trajectory without surprise debuts, injuries, or story events to navigate. Rivalries, controversies, selection drama – the off-field elements that electrify real cricket careers are absent. It feels more like controlling a batsman rather than inhabiting a career.
With genre peers raising the bar for sports career modes, Cricket 24 feels caught in the past. Training variety, cinematic moments, choice-driven narratives, personalized sponsorships and gear – there are so many avenues to explore. Unfortunately, this career mode plateaus as a workmanlike simulation. It gets the job done capably, but without flair. Here's hoping Big Ant rediscovers innovative strokes for future installments.
Fair Monetization But Missing Modes Disappoint
Cricket 24 follows modern sports game convention with annualized releases at full retail price. Unlike greedy collect-a-thons from EA and 2K, Big Ant provides a fair value proposition for single player fans. No egregious microtransactions or pay-to-win mechanics plague Cricket 24 – you can access all modes, teams, and roster updates with just the base purchase.
Post-launch DLC follows a similar reasoned approach. Big Ant transparently outlines a content roadmap of new stadiums, uniforms, and roster updates rather than segmenting features cynically. Fan wishes drive DLC rather than microtransaction engineering. A season pass exists for convenience but isn't essential.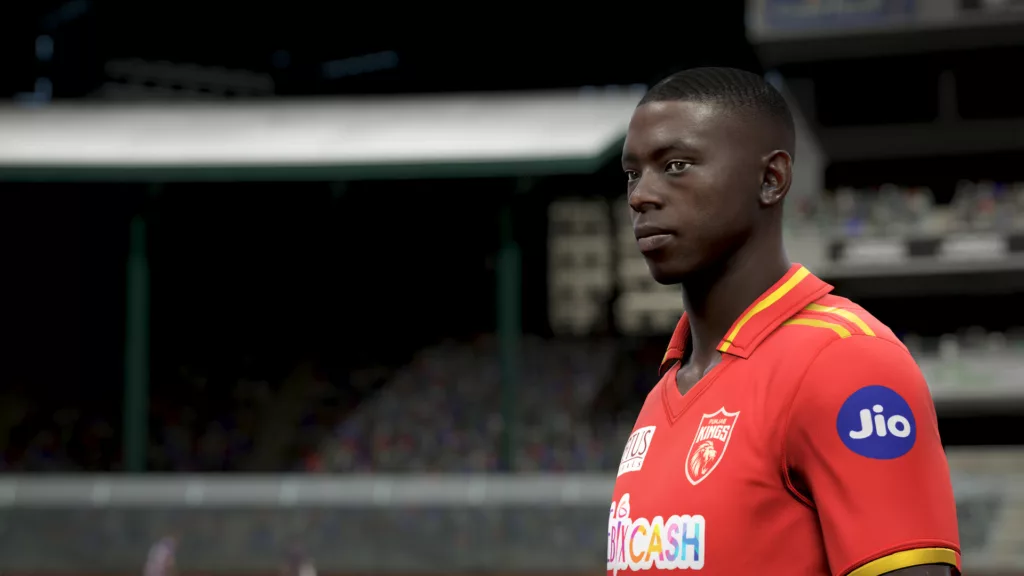 There are some caveats, however. The absence of a proper licensed IPL tournament feels like an obvious opportunity for paid DLC down the road, leaving a void for Indian fans at launch. Meanwhile, the advertised Pro Team mode is mysteriously absent – its unclear if this will resurface as paid DLC.
Still, stacked up against industry greed, Cricket 24 offers reasonable value. You won't be nickeled and dimed provided you can overlook missing features. The DLC roadmap caters to enthusiasts rather than extorting them.
However, when core modes are absent or lacking polish at launch, it inevitably breeds skepticism regarding post-launch plans. Big Ant's community goodwill makes it tough to suspect cynical motivations, but enhanced transparency regarding the Pro Team mode and IPL status would help reassure weary sports gamers.
For now, Cricket 24 deserves modest praise for avoiding exploitative monetization schemes plaguing its genre peers. But rebuilding trust around chopped launch content will be an ongoing process.
Final Thoughts on Cricket 24
In the end, Cricket 24 epitomizes modest annual iteration. With polished graphics and expanded licensing, it retains the series' honor as the most comprehensive cricket simulator available today. The sheer breadth of modes, customization, and play options remains staggering. For diehard fans seeking another season with familiar fundamentals but updated rosters and visuals, Cricket 24 warrants a qualified recommendation.
However, significant flaws and omissions prevent universal acclaim. The AI still behaves inconsistently, especially in the field. This undermines any tactical nuance or immersion. Meanwhile, the career mode lacks innovation and variety for returning batsmen. Commentary quickly grates as well. These lingering issues indicate foundational systems like physics and AI need priority before surface level content additions.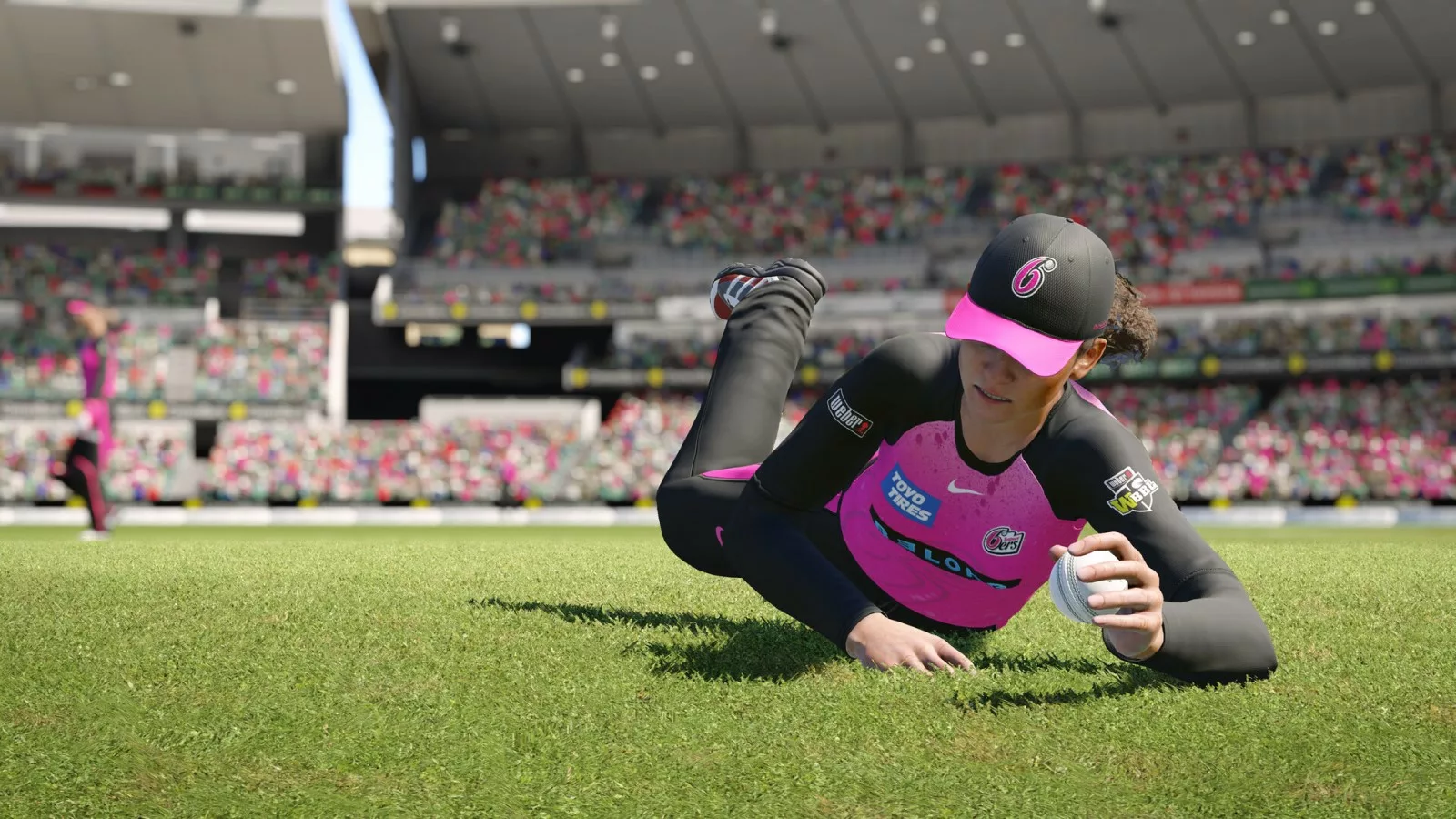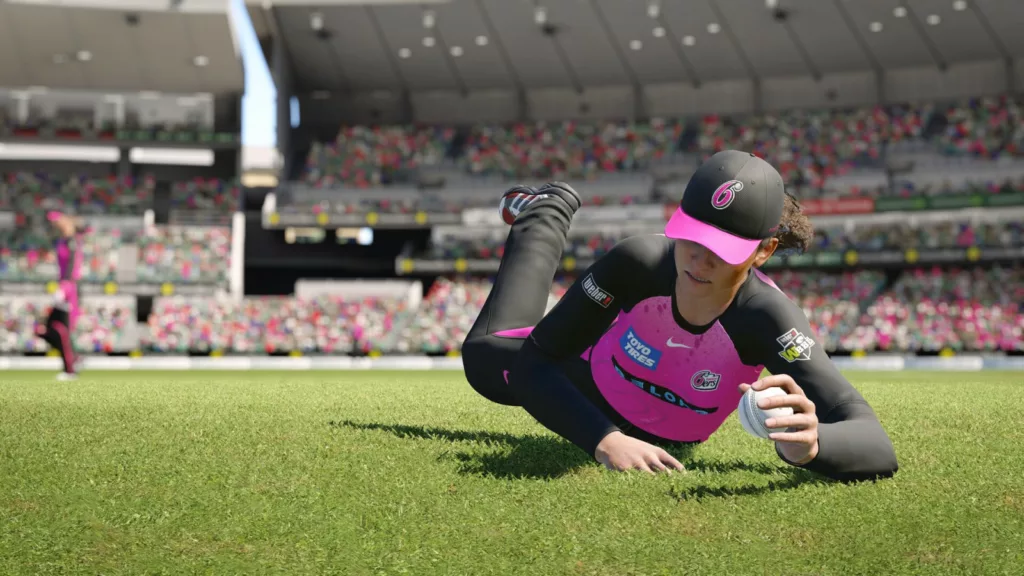 As a result, Cricket 24 falls short of delivering truly authentic cricket flow. Moments of brilliance shine through in the responsive batting and bowling, but outcomes often feel predetermined regardless of user input. This diminishes the satisfying chain of action and consequence that defines sports. Without factoring in player decisions properly, Cricket 24 misses an opportunity to capture the psychological duel between bat and ball.
In some ways, Cricket 24 epitomizes the franchise model catch-22 – established mechanics and modes disincentivize risky innovation, but failing to innovate breeds player fatigue. Big Ant deserves credit for serving cricket fans better than most AAA publishers serve niche sports. However, another coat of paint can't disguise an aging chassis much longer.
The ingredients are there for a truly landmark cricket simulator, but execution remains inconsistent. Unless the next release tackles AI and physics systems head-on, the franchise risks being stuck on 99. Here's hoping Big Ant reads the signs and channels their inner Steve Smith to find that breakthrough entry. Until then, Cricket 24 fills a gap capably but not memorably.
The Review
Cricket 24
Cricket 24 is a quintessential annual sports sequel - modest graphical bumps and new licensing deals wrapped around largely unchanged core systems. This leaves the experience feeling over-familiar for series veterans while missing opportunities to address longstanding AI and immersion flaws. Big Ant deserves credit for expanding cricket gaming access globally, but their locomotive seems to have reached a plateau. Unless future sequels prioritize innovation and risks rather than roster updates, it's tough to envision this franchise breaking through toward mainstream acclaim. Cricket 24 plays the innings capably but fails to find the boundaries needed to achieve greatness.
PROS
Comprehensive and customizable cricket experience.
Solid batting, bowling, and fielding gameplay.
Impressive graphics with high-resolution textures and player likenesses.
Fair monetization without microtransactions or pay-to-win mechanics.
Extensive game mode variety, including career mode and various tournaments.
Expansive licensing deals, including IPL teams and players.
CONS
Erratic AI behavior and predetermined outcomes.
Lack of innovation in core systems and mechanics.
Repetitive commentary and presentation issues.
Stiff and robotic character animations.
Technical issues in multiplayer, including lag and AI problems.
Career mode lacks variety and innovation, feeling one-note.