The Marvel Cinematic Universe has become a pop culture behemoth, churning out superhero blockbusters for over a decade now. But in recent years, cracks have started to show in Marvel's armor. Films like Eternals, Thor: Love and Thunder, and Ant-Man and the Wasp: Quantumania received disappointing reviews and reactions from fans. Now comes The Marvels, bringing together Captain Marvel, Monica Rambeau, and Ms. Marvel for an intergalactic adventure. With three powerful heroines at the helm, can this team-up recapture the old Marvel magic? Or is it another sign of a franchise in decline?
The Marvels picks up with Carol Danvers, aka Captain Marvel (Brie Larson) as she helps Nick Fury's space force SABER. Meanwhile on Earth, her former ally Monica Rambeau (Teyonah Parris) and super fan Kamala Khan (Iman Vellani) discover their powers have become mysteriously linked to Carol's. The trio starts randomly swapping places when using their abilities, forcing them to work together to stop the vengeful Kree villain Dar-Benn (Zawe Ashton).
In this review, we'll analyze The Marvels' story, action, effects, performances and more. Our goal is to determine if this cosmic team-up lives up to the Marvel name, or if it's a disappointing addition to the ongoing Multiverse Saga. Strap in true believers, and let's see if Captain Marvel, Photon, and Ms. Marvel assemble into a Marvel-ous crowd-pleaser or just a mediocre letdown.
A Cosmic Case of Mistaken Superhero Identity
The Marvels throws viewers right into the action as we catch up with Carol Danvers, aka Captain Marvel (Brie Larson). She's off on a solo mission aiding Nick Fury's new space force SABER. But her cosmic adventures hit a snag when she crosses paths with Dar-Benn, a vengeance-seeking villain from the alien Kree race. Dar-Benn (played with theatrical menace by Zawe Ashton) blames Carol for the downfall of her home planet Hala, after Carol's past actions against the Kree led to disaster for their world.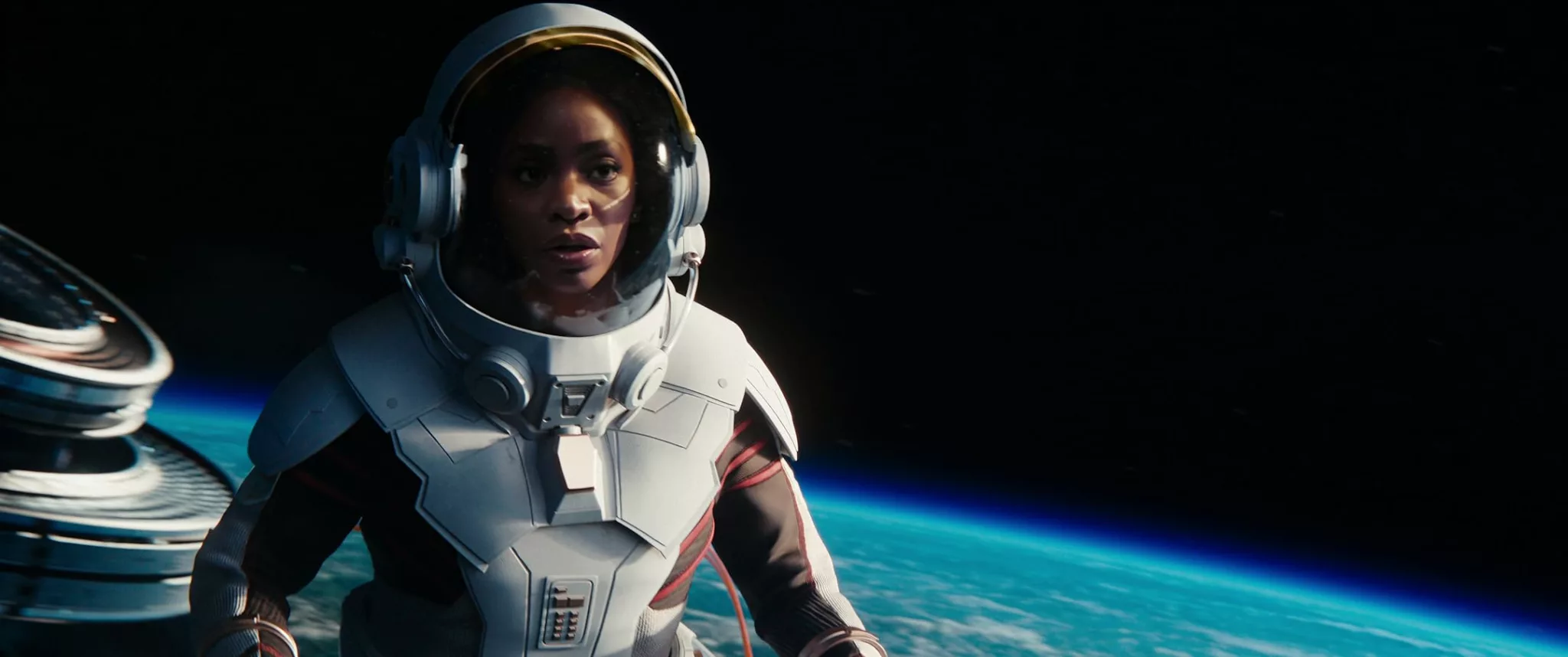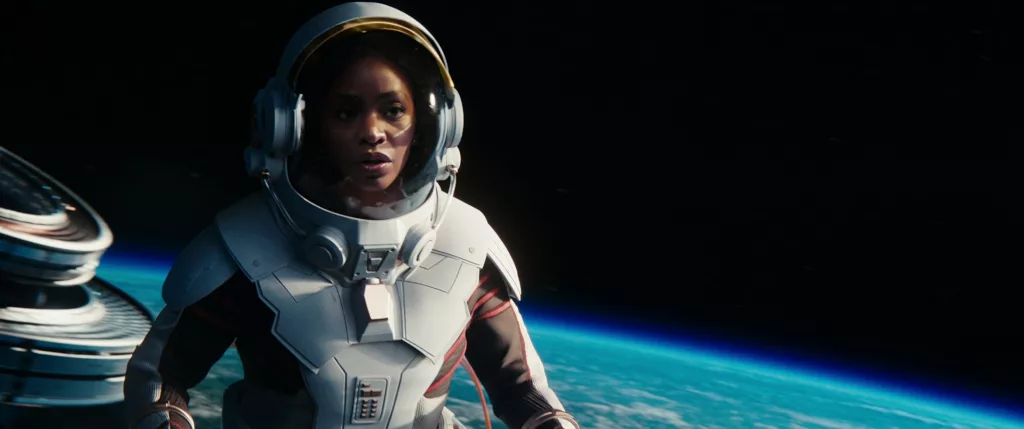 Armed with a powerful Quantum Band that enhances her abilities, Dar-Benn is ready to take Carol down and destroy any planets that get in her way. But her reckless actions with the Quantum Band suddenly link Carol's powers to those of two other heroes – her former ally Monica Rambeau (Teyonah Parris) and superfan Kamala Khan (Iman Vellani), aka Ms. Marvel. Now, whenever any of the three use their special talents, they abruptly trade places across the galaxy.
At first, Carol finds herself randomly swapping with Monica during battles and missions. Then energetic teenager Kamala gets pulled into the cosmic chaos when she activates her morphing abilities. Kamala's giddy excitement at meeting her idol Carol gets tempered by these inconvenient teleportation mishaps.
After some frantic initial mix-ups, the displaced heroes realize they have no choice but to work together to find answers. Hot on their trail is Dar-Benn, who continues attacking planets to lure Carol into a confrontation. Carol knows she must face the wrath of Dar-Benn and the victims her past mistakes left behind. But she'll need help from her new partners Monica and Kamala if they have any chance of saving the galaxy.
As their unwilling interstellar alliance takes shape, the three heroines slowly open up to each other about their lives and motivations for being superheroes. Can Carol make peace with the wreckage in her past? Will Monica and Carol reconcile their strained relationship? And what kind of impact will young Kamala have on her seasoned allies? The Marvels soon becomes a cosmic test of teamwork, as three heroes from different worlds must cooperate to overcome their weaknesses and stop Dar-Benn's rampage across the stars.
From Guilt to Growth: The Marvels' Journey to Heroic Harmony
At its core, The Marvels is a story of characters seeking redemption, connection, and understanding. Captain Marvel's Carol Danvers carries the heaviest burden of guilt. Haunted by her past wartime actions that led to disaster for the Kree race, she struggles to come to terms with the blood on her hands. This guilt has left Carol emotionally guarded, preventing her from forging genuine bonds with the new allies fate has brought her way.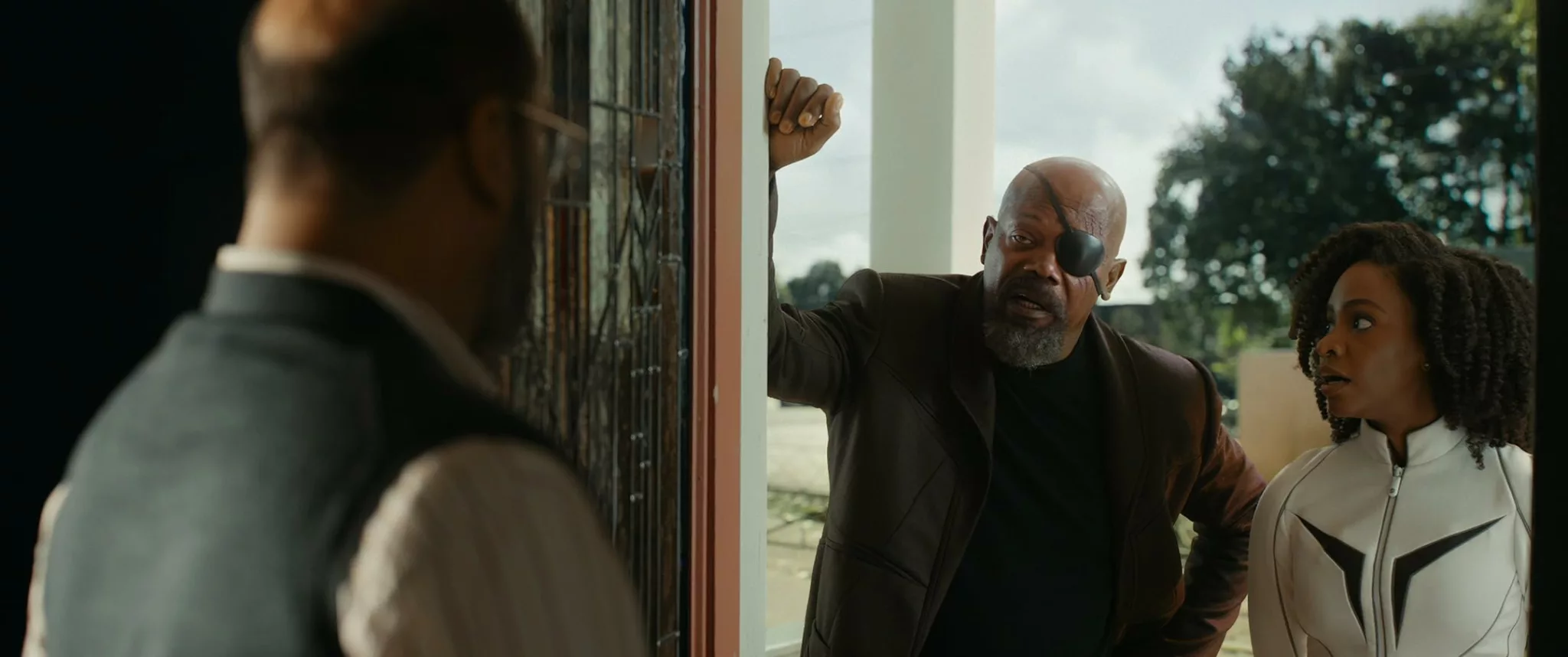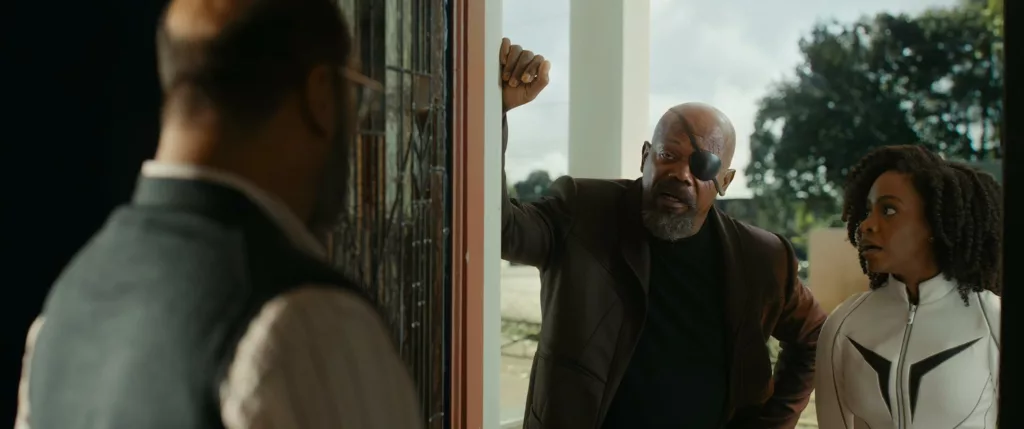 Monica Rambeau knew a different side of Carol once – not the hardened warrior, but the caring friend of Monica's late mother Maria. As a child, Monica idolized Carol and saw her as family. But with time and distance, a rift grew between them. Now possessing super powers of her own, Monica hopes to rediscover the almost sisterly connection she once shared with Carol. Yet she finds Carol's new reticent demeanor difficult to reconcile with the warm memories of her childhood hero.
Meanwhile, Kamala Khan's primary arc is one of moving from fangirl adulation to seeing Captain Marvel as a complex and flawed person rather than an idealized icon. At first, Kamala is delighted just to fight alongside her number one hero. But through their reluctant partnership, Kamala comes to better understand the heavy burdens and self-doubt beneath Carol's stoic façade. She learns that even the greatest heroes have struggles and weaknesses they must constantly grapple with in order to grow.
These three character journeys fuel both the interpersonal drama and thematic resonance of The Marvels. At the start, Carol, Monica, and Kamala feel isolated and struggle to communicate. But gradually, through shared battles and hard truths, the barriers between them begin to dissolve. Scenes of the heroes confiding in and encouraging each other outside of combat form the emotional core.
By the film's end, Carol has found some measure of redemption through owning her past errors. Kamala has gained a more nuanced take on heroism. And Monica has rediscovered the familial closeness she once had with Carol. The trio didn't come together by choice, but through working in unison they've forged a powerful bond that engenders both vulnerability and strength. They learn that only by overcoming divisions and embracing trust can they succeed.
The Marvels thus transforms from uncertain beginnings into an uplifting tale of clashing personas finding common ground. It reminds us that within everyone, even seemingly invincible heroes, reside weakness, regret, and the basic need for kinship. Some may come to the team-up spectacle for high flying action, but find unexpected resonance in its themes of atonement, acceptance, and the fundamental humanity beneath each hero's godlike powers.
Thrills, Laughs and Some Cosmic Whiplash
The superhero action in The Marvels hits plenty of excitement highs, but suffers from some narrative lows. On the positive side, the scenes of Captain Marvel, Photon, and Ms. Marvel swapping places mid-combat are utilized inventively to lend the fight choreography a giddy, off-kilter energy.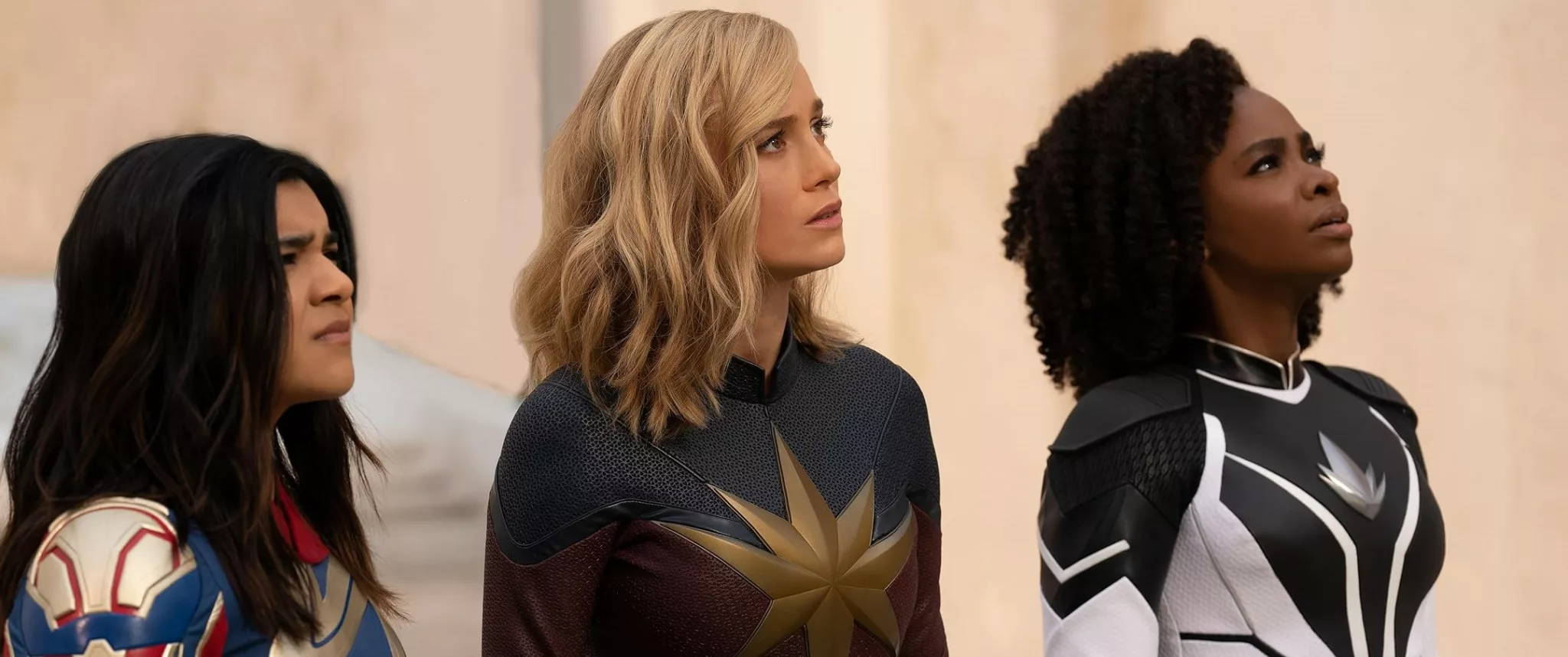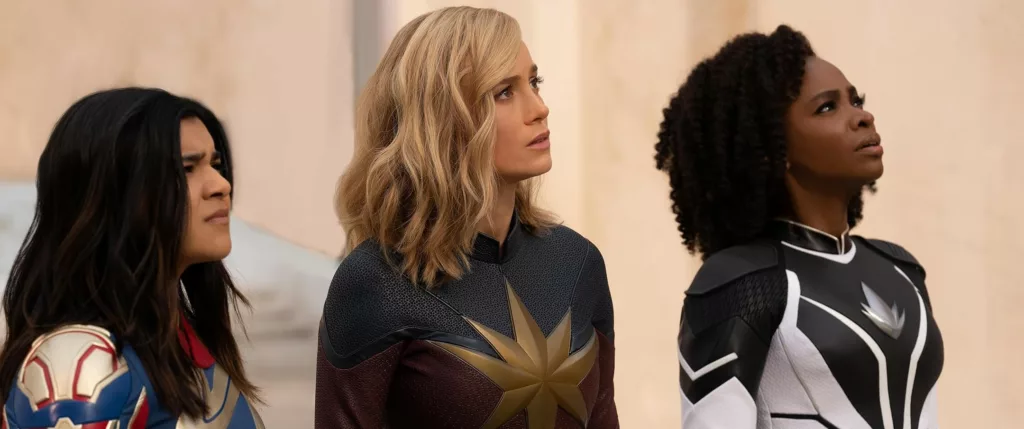 Seeing the heroes abruptly trade spots across galaxies in the middle of battles proves a clever way to visually underscore their reluctantly interlinked powers. We get some especially hilarious fish-out-of-water moments as the disoriented combatants suddenly find themselves amidst new chaotic situations. The filmmakers find humor and propulsive visual flair in the device of the ever-changing cosmic battlefield.
But while the fights benefit from a sense of playfulness and surprise, they sometimes fail to build the stakes meaningfully. The final showdowns with Dar-Benn start to feel repetitive as yet another city or planet comes under sensational CGI siege. The trilogy of heroes battling the cackling villain from destroying random civilizations becomes numbing without sufficiently developed dramatic stakes.
The visual effects in The Marvels are similarly uneven. Certain environments like the musical planet Aladna exhibit meticulous, eye-catching design work and vivid colors. But some green screen shots look oddly cheap, with flat cinematography sinking the believability of scenes clearly filmed against fake digital backdrops. As with the story, the effects couldn't decide between grounding the cosmic adventure or reveling in campy artificiality.
Which brings us to the film's unwieldy tonal shifts. At times, The Marvels wants to be an earnest sci-fi fable about regret and redemption. At others, it slides into almost self-parody with goofy sight gags and absurdist detours. The weird comedy lands best when it flows from the characters, as in a running bit about Kamala's hair-ball spewing cat. But random injections of bizarre humor like the singing planet divert from plot and feel at odds with the more serious main narrative.
The action, effects, and tone all shine in fits and starts, but a lack of tonal focus underserves the movie's potential. Still, when The Marvels embraces the wacky fun of its premise, it can be a blast. Just don't expect the spectacle to maintain dramatic consistency or resonance. Ultimately, the film works best if enjoyed scene-by-scene rather than as an integrated heroic saga.
Overstuffed Story Meets Intimate Character Moments
At the helm of The Marvels, director Nia DaCosta clearly has a knack for crafting vibrant superhero action sequences. Under her guidance, the scenes of the heroes swapping places mid-fight crackle with propulsive energy and visual wit. It's in unifying the film's disparate threads that DaCosta and the script stumble. Clocking in at just over 100 minutes, The Marvels has little time to juggle its numerous plot lines and connections to the Marvel universe.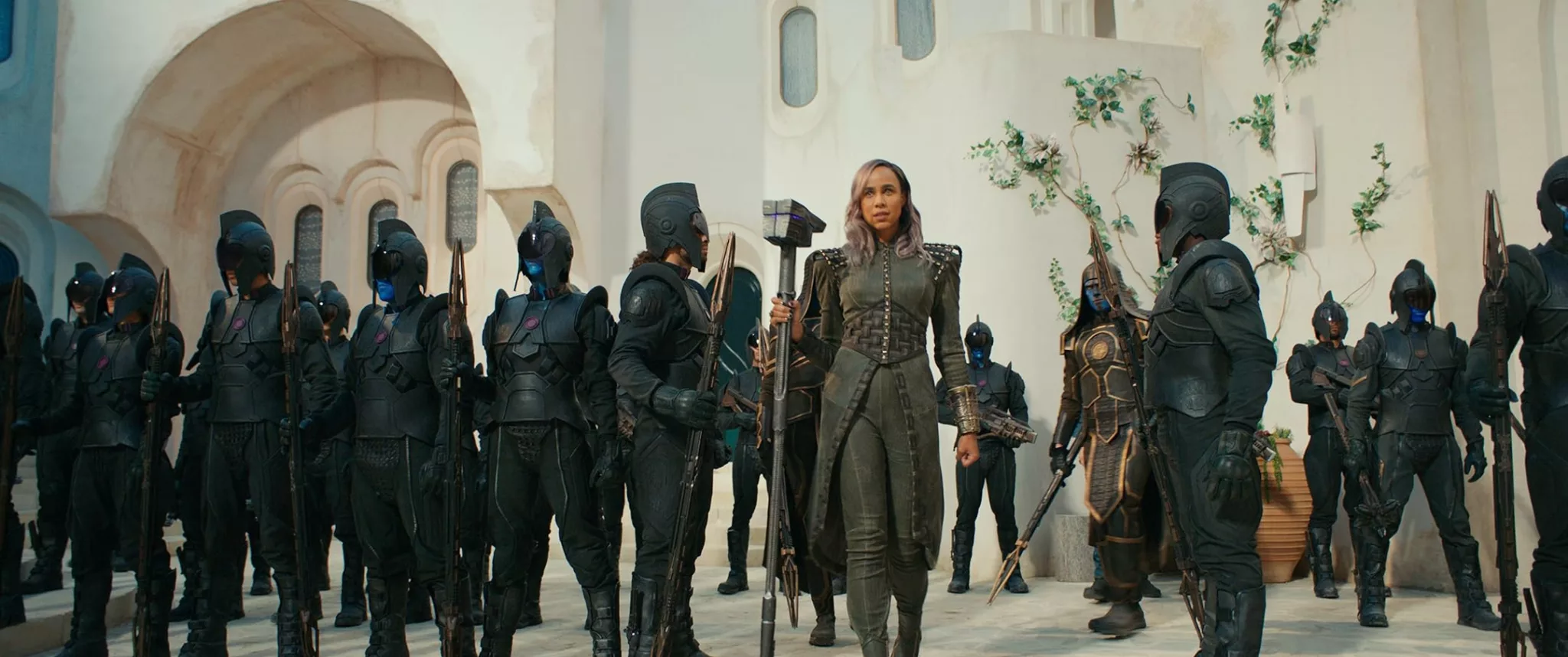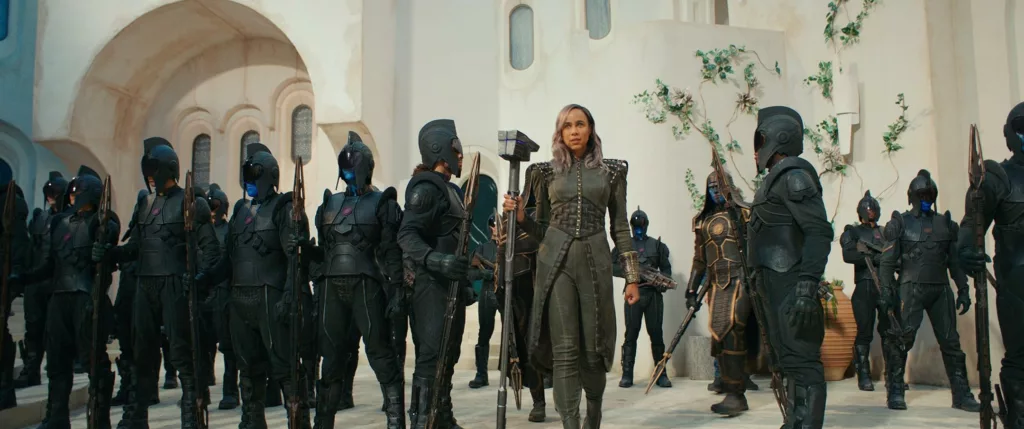 Writers DaCosta, Megan McDonnell, and Elissa Karasik found themselves saddled with advancing an array of lingering MCU subplots and integrating three leads from separate franchises. The result is a packed story overflowing with threads left dangling or neglected. Ideas like the musical planet feel tossed in as one more element to keep up with rather than serving the whole. And side characters, from Nick Fury to Kamala's charming family, make scant impact in their brief screen time.
Most disappointingly, the central trio of heroes see their relationships and bonding given short shrift in the crowded proceedings. We get affecting glimpses of their emerging kinship, but too often the personal arcs feel abbreviated. The brevity prevents the script from delivering sufficient emotional resonance to match the dazzling spectacle.
Yet DaCosta does find space for resonant character moments amidst the chaotic plot by keeping her camera intimate and meditative during lower-key exchanges. Her patient pacing and eye for nuanced interactions elevate scenes of the heroes privately hashing out their baggage. The story's shallowness is offset somewhat by DaCosta's poignant glimpses into each woman's inner doubts and frustrations.
Overlong franchise films that leave fans checking their watches have become all too common. At under two hours, The Marvels exhibits the opposite issue – attempting to achieve too much in too little time. The action sequences shine and the characters intrigue, but they needed room to breathe. Trimming the cluttered story and deepening the relationships could have allowed The Marvels to stand proudly alongside the MCU's most engaging team-up epics. As is, it's an enjoyable but slightly undercooked cosmic mashup.
Standout Turns Amidst A Stellar Ensemble
A strong cast gives The Marvels an engaging emotional center, even when the busy script leaves them insufficient room to fully develop their characters. In the lead role of Carol Danvers/Captain Marvel, Brie Larson brings an earnest spirit to the part, playing Carol as eager to prove herself as a leader and hero. But the edge and complexity Larson brought the role previously get sanded down here in favor of a more straightforwardly noble portrayal.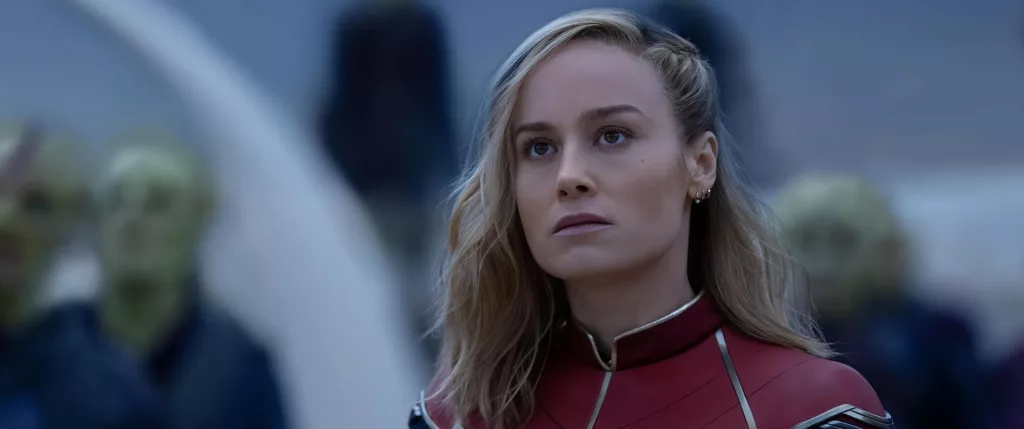 Faring better is Teyonah Parris as Monica Rambeau, imbuing her performance with deep reservoirs of compassion and strength. She movingly conveys Monica's cautious optimism about rebuilding her frayed connection with Carol. And Iman Vellani bursts off the screen as Kamala Khan, perfectly capturing the character's infectious, wisecracking Gen Z energy and wide-eyed excitement at entering the superhero big leagues.
The villains make less impact, though not from lack of trying by the cast. Samuel L. Jackson seems present largely for marquee value, with too few scenes for Nick Fury to register meaningfully. But Zawe Ashton sinks her teeth into the scenery-chewing role of Dar-Benn, casting forceful looks of rage and theatrical pronouncements of vengeance. Ashton has fun even as she's let down by the underwritten role.
Among the protagonists, only Kamala's family and best friend Nakia get any room for nuance, with the rest of the supporting players given little chance to shine. Yet despite limited screen time, charming performances prevent them from fading into the background. Special praise goes to Zenobia Shroff and Mohan Kapur as Kamala's endearing parents Muneeba and Yusuf.
In the end, Larson, Parris and Vellani manage to conjure up engaging team chemistry and plausible camaraderie despite script issues hampering their development. Their combined charm and humor keep The Marvels entertaining even when the storytelling doesn't quite satisfy. With a handful of memorable turns buoying the crowded ensemble, the cast provides heart to balance out the film's more hollow spectacle.
Mixing Laughs and Drama with Cosmic Quirk
From its pop needle drops to absurd detours, The Marvels aims first and foremost to provide colorful, crowd-pleasing fun. The general tone lands on the lighter end of the spectrum, even as the story attempts to weave in moments of redemption and emotional catharsis.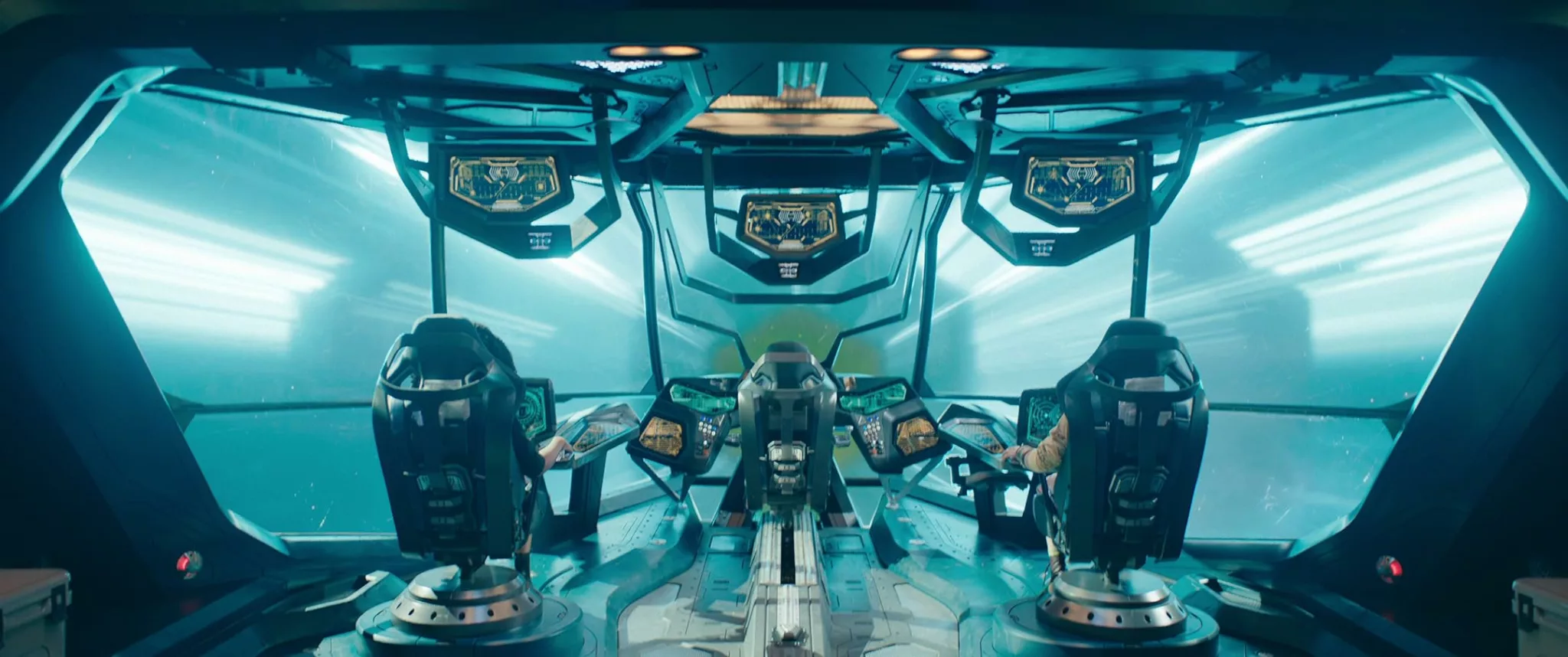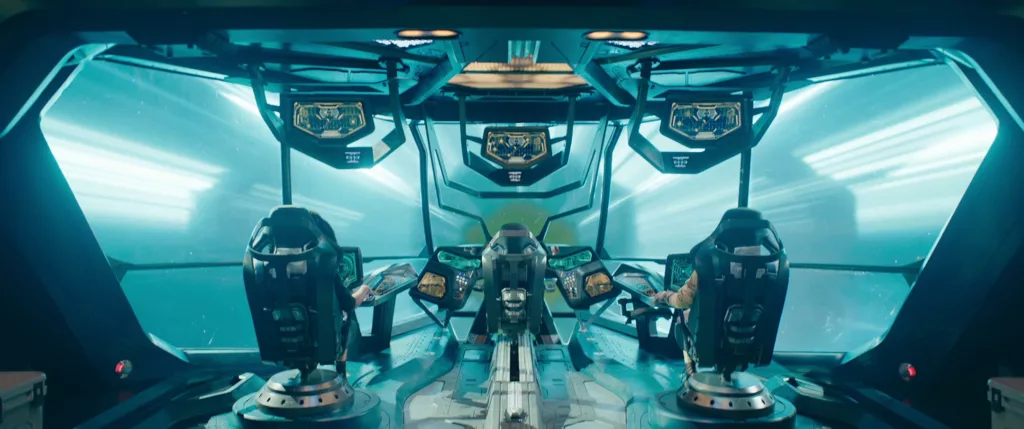 The off-kilter humor mostly arises from creative choices rather than character comedy, with winking musical cues and odd graphically elements inducing smiles. We get blasts from the Beastie Boys and show tunes at incongruous moments, along with twee animated sequences portraying Kamala's daydreams. Longtime Marvel fans will best appreciate the frequent Easter eggs and inside references.
The tonal whiplash comes from the script punctuating the irreverent humor with segments of earnest pathos. As the story flits rapidly between planets and subplots, the grounding gets lost. Dramatic beats focused on the leads repairing their relationships and confronting past trauma exist alongside detached sensory overload like the planet where everyone spontaneously bursts into song.
While the inconsistent tone fails to cohere, one can still appreciate the film's moments of heart or absurdity individually. When it leans into the cheeky fun of its premise, The Marvels displays admirable quirkiness. But the fleeting stabs at gravitas sit uneasily beside the dominant fanciful camp. In its best bits, though, the movie exhibits a playful spirit that should sufficiently entertain Marvel devotees, if not satisfy those seeking emotional depth.
By the end, it becomes clear The Marvels seeks primarily to provide a good time fueled by dazzling colors, neatly choreographed fights, and left-field song choices. Thankfully, leads Brie Larson, Teyonah Parris, and Iman Vellani generate enough charisma and humor to carry viewers through the tonal whiplash for an enjoyable if shallow ride.
A Flawed but Fun Cosmic Romp
For all its narrative shortcomings, The Marvels still manages to deliver a cheerful, fast-paced superhero adventure. Directed with verve and centered on a winning trio of heroines, the film succeeds as an enjoyable trifle even when it falls short of profound storytelling. Diehard Marvel fans should find plenty to enjoy in the cosmic team-up. But a lack of depth limits its appeal for those not already immersed in MCU lore.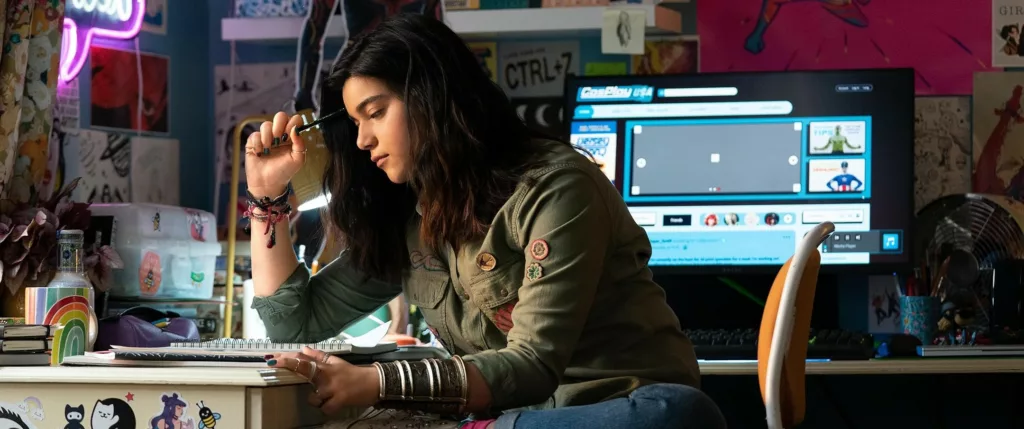 Where The Marvels shines brightest is in the lively interplay between its leads. Brie Larson, Teyonah Parris, and Iman Vellani generate infectious comedic and dramatic chemistry as reluctant allies turned found family. Their charm and humor provide an endearing heart that propels the movie through its flaws. Even when the overstuffed plot loses momentum, we remain invested in the engaging central characters.
The film's lighter tone also works in its favor by not pretending to be portentous epic myth-making. Embracing the inherent silliness of its premise allows The Marvels to get away with illogical plot turns and pop culture winking. It fares best when reveled in on a scene-by-scene basis rather than considered as an integrated saga. Even then, Marvel novices may find some of the shallow storytelling and inside humor confusing at times.
Yet taken as a spirited comic book adventure not shackled to rigid realism, The Marvels entertains despite glaring issues. For Marvel devotees, the nifty fight sequences, charismatic leads, and absurdist detours should sufficiently satisfy. We get cleverly choreographed action, goofy spectacle, and glimpses of resonant team bonding. Not the hallmarks of an MCU masterpiece, but enough to provide two hours of lighthearted superpowered fun.
Like its heroes, The Marvels has flaws. But also like them, it retains enough heart and spirit to succeed as a joyous if imperfect exercise in cosmic camp. This is no Endgame or Infinity War. But it should leave MCU fans smiling, and further cement Captain Marvel, Photon, and Ms. Marvel as worthy franchise figureheads primed for more wrongs to right across the stars.
The Review
The Marvels
Despite an overstuffed story and some tonal inconsistency, The Marvels succeeds on the strength of its charismatic leads and good-natured spirit. While falling short of the narrative richness that defines the best of the MCU, it provides a fun cosmic romp for Marvel devotees. Thanks to lively humor and chemistry from Brie Larson, Teyonah Parris, and Iman Vellani as Captain Marvel, Photon, and Ms. Marvel, The Marvels entertains and leaves viewers wanting more team-ups with its endearing heroes. For all its flaws, the film captures enough of the inspirational, freewheeling comic book energy that launched the MCU to cinematic dominance.
PROS
Strong lead performances from Brie Larson, Teyonah Parris, and Iman Vellani with great chemistry
Creative action sequences with the heroes swapping places mid-fight
Lighthearted, irreverent tone with quirky humor and music choices
Vibrant visuals and settings like the musical planet
Thematically about redemption, growth, and characters overcoming divisions
Captures the upbeat spirit of Marvel comics
CONS
Overstuffed plot with too many subplots and universe connections
Tonal inconsistency, shifting abruptly between serious and silly
Underdeveloped relationships and emotional arcs
Repetitive third act battles without stakes
Side characters like Nick Fury underserved
Uneven CGI and green screen effects
Attempts at gravitas feel unearned next to campy detours
Inside humor may confuse Marvel newcomers
Lacks narrative depth and focus