The Persona series has cultivated a passionate fanbase over the past two decades thanks to its stylish blend of high school drama, demon collecting, and turn-based RPG combat. 2017's Persona 5 Royal stands as the crowning achievement for many fans, perfecting the formula with its epic 100+ hour adventure about a group of teenagers moonlighting as magical vigilantes.
Now in 2023, developers Atlus are back with a fresh take on the Phantom Thieves' story in Persona 5 Tactica. Launching on PlayStation 4, Nintendo Switch, and PC, this spinoff shifts genres from JRPG to turn-based tactical strategy, while bringing back the familiar cast of characters. Tactica slots itself into Persona 5's story as a side chapter, taking place between the second and third semesters.
For those who missed out on one of the best JRPGs in recent memory, Persona 5 Royal followed a high schooler codenamed Joker who discovers he has access to a mystical Metaverse. There, Joker and his friends awaken powerful Personas and become the Phantom Thieves, working to reform corrupt adults by stealing the dark desires from their hearts. It featured stylish menus, demon collecting, confidants to bond with, and a touching story about fighting for justice and reforming society.
Now in Tactica, the Phantom Thieves are back for a new grid-based adventure. Does this spinoff recapture the magic of Persona 5? Or does it feel like an unnecessary encore for the legendary RPG? Over the next 2000 words, we'll examine Tactica's story, gameplay, audiovisual presentation, and more to see if it's worth playing for Persona fans and tactical strategy lovers alike. Strap in for a review highlighting both the triumphs and pitfalls of this ambitious genre shift.
A Tale of Rebellion: Exploring Persona 5 Tactica's Story and Setting
To appreciate Tactica's story, a quick recap of Persona 5 Royal's epic narrative is in order. The 100+ hour RPG followed Joker as he transfers to Shujin Academy and discovers the Metaverse – a supernatural realm shaped by humanity's consciousness. There, Joker and his friends awaken as the Phantom Thieves, using their Personas to reform corrupt authority figures by "stealing their hearts."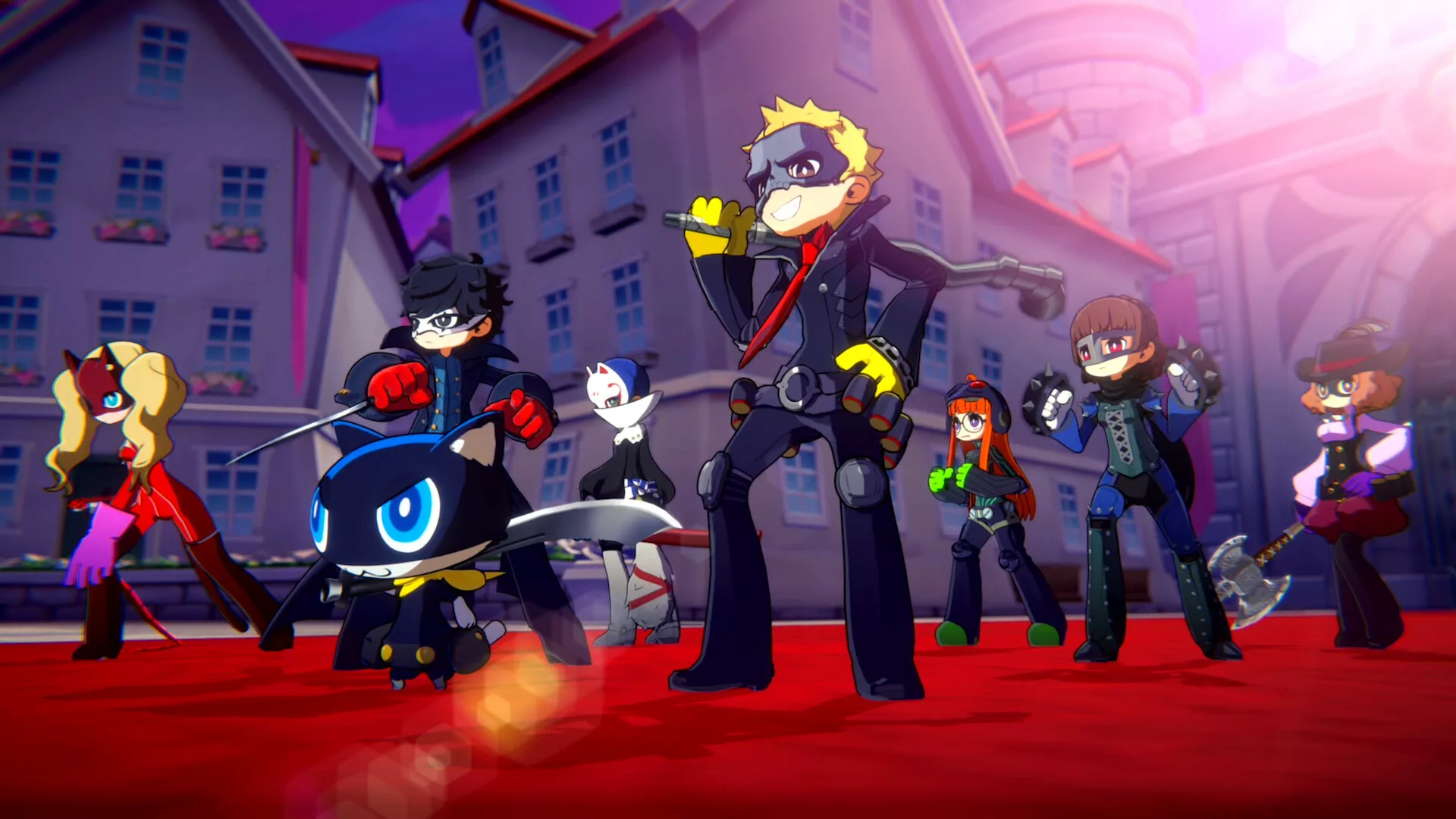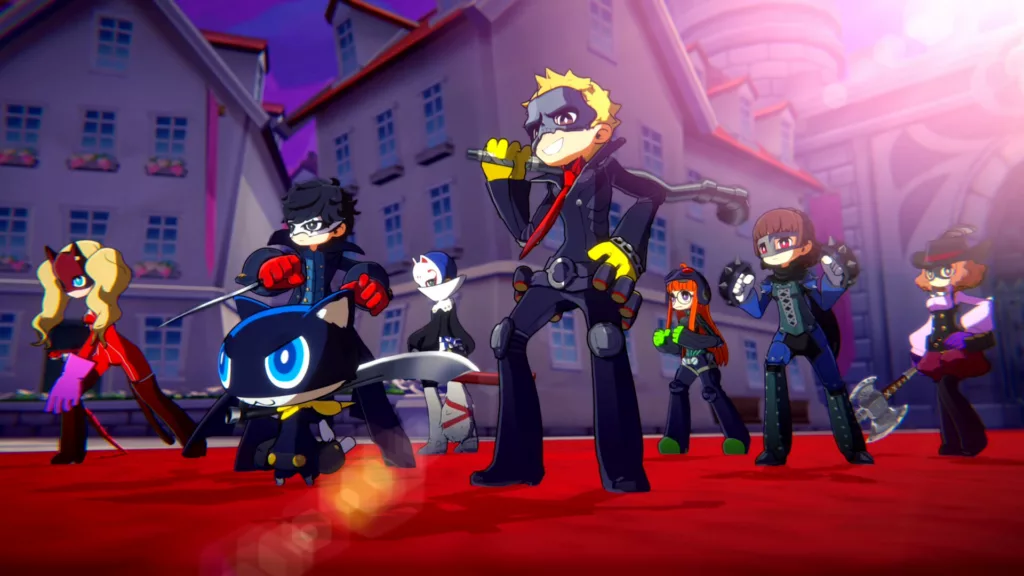 The Phantom Thieves grow in strength while balancing high school life, part-time jobs, and relationships. Their tale explores themes of fighting back against systemic injustice, reforming a rigged society, and discovering one's true self. Persona 5 Royal expanded the original game with a new character, extra semester, and more. Its emotional, stylish journey culminated in an unforgettable finale.
Persona 5 Tactica picks up shortly after Royal's second semester, with the Phantom Thieves preparing to go their separate ways after graduation. While reminiscing at Cafe Leblanc, a mysterious doorway appears, pulling them into a new corner of the Metaverse.
Instead of Tokyo's subways and back alleys, the Phantom Thieves find themselves in medieval kingdoms ruled by tyrants. Firebrand rebel Erina recruits their help in overthrowing the despotic rulers to liberate the oppressed citizens. Our heroes get swept up in her righteous revolution, hoping these new Metaverse domains may hold the key back home.
Much like Persona 3 and 4 had central conceits revolving around death and truth, Tactica focuses on rebellion and solidarity. Erina spearheads a morally righteous insurrection against entrenched powers, directly challenging systemic injustice rather than covert vigilantism. Her convictions inspire both the weary Phantom Thieves and newcomer Toshiro, a politician who finds himself swayed by their ideals.
These new Metaverse domains distort their ruler's cognition, transforming personal relationships into literal kingdoms to conquer. A woman's perception of her arranged marriage becomes an erotic dominatrix realm, while a controlling father manifests as an authoritarian quasi-religion. Through exaggerated metaphors, Tactica explores the real-world struggles underpinning them.
Despite some pacing issues bookending the experience, Tactica's middle 25 hours form a compelling narrative. The writers adeptly juggle the interpersonal dynamics between Erina, Toshiro, and the familiar Phantom Thieves cast. The story builds steadily before culminating in a climactic third act that poignantly explores the sacrifices and dangers that revolutions entail.
While lighter in overall tone thanks to its chibi visuals, Tactica still touches on weighty subject matter. From systemic corruption to the complications of fighting for reform, Tactica's narrative adds texture to the Phantom Thieves' worldview. It presents an emotionally resonant tale worthy of bearing the Persona name. Some reviewers felt the finale was rushed or drawn out, but the character writing and thematic ambitions shine regardless.
For fans of Persona 5 Royal, this side story marks a gratifying chance to see the Phantom Thieves continue evolving with new allies in tow. And newcomers can still appreciate its themes of courage and justice, even without full context. With heartfelt writing and social commentary befitting the Persona name, Tactica tells an impactful tale complemented by its fresh strategic gameplay.
Strategic Showdowns: Evaluating Persona 5 Tactica's Gameplay
The most radical departure in Tactica comes through its shift to turn-based tactical gameplay, trading Persona's traditional JRPG combat for strategic grid-based battles. The core components of observing enemies, exploiting weaknesses, and coordinating with teammates translate neatly to this new format. With ample customization options and room for creativity, Tactica makes for a engaging tactical experience once you get over the initial learning curve.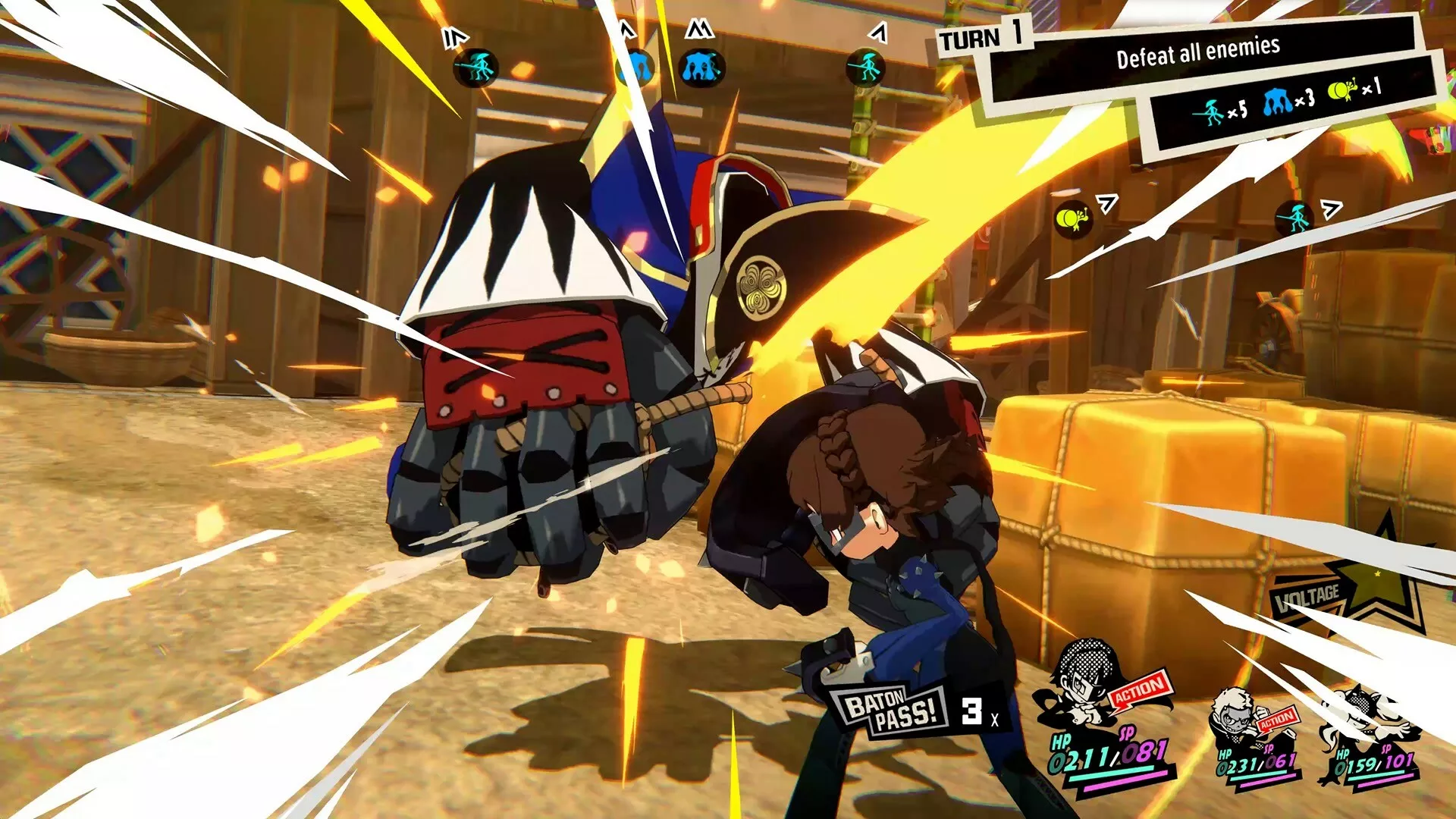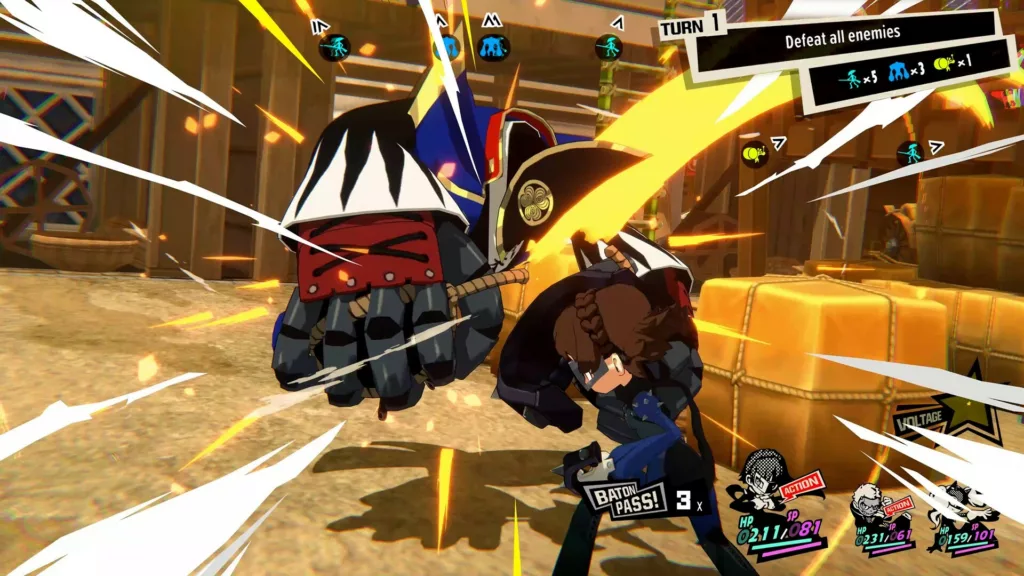 Maps are divided into grids, with turn order displayed prominently. On their turns, party members can move, attack, use items or abilities, and interact with the environment. Rather than targeting elemental weaknesses, players must take advantage of cover, positioning, and displacements skills to gain an edge.
For example, Ann's fire attacks could destroy an enemy's cover, exposing them to follow-up blows. Morgana's wind abilities push foes out of position, while Ryuji's electric shock prevents movement entirely. Mastering these room-wide combos is integral to survival.
Adding further depth is the ability to equip two Personas per character, vastly expanding your strategic options. Do you give Ryuji a fast-moving Persona for hit-and-run attacks? Or grant Yusuke bonus healing so he can support the frontline? This customization makes team composition exciting.
Chaining together skills, critical hits, and combos will allow for powerful finishing moves, similar to All-Out Attacks. Creating a triangle formation between all three party members unleashes an area-wide finisher, incentivizing clever positioning.
While the opening hours are painfully slow, the tactical gameplay comes into its own once all elements are introduced. Battles transform into engaging puzzles, rewarding creative problem-solving and mastery of abilities. Bonus objectives for each map also add replayability.
That said, inventory management and progression feel more limited than games like XCOM or Fire Emblem. Purchasable guns and incremental skill tree upgrades are the extent of tactical customization. Still, the combat captures the spirit of Persona's weaknesses system through environmental interactions.
Outside of combat, playable side content is mostly limited to short challenge missions. These one-off battles provide enjoyable tests of skill, but can't match Persona's expansive social systems. Reports of performance issues on Switch also hamper the experience.
Overall, Tactica's confident transition to tactical play makes for compelling and cerebral combat. Coordinating teammates and manipulating foes across environments stays engaging across its 30+ hour adventure. Fans eager for a fresh take on Persona gameplay will find plenty to sink their teeth into.
Style and Sound: Analyzing Persona 5 Tactica's Presentation
Visually, Tactica opts for a radically different style than Persona 5's slick anime realism. Characters are reimagined with chibi proportions, sporting oversized heads, tiny bodies, and cute rounded designs. This vibrant art style deviates sharply from the mature look of past games.
During the opening hours, this artistic change can feel jarring for fans. But Tactica's charming and energetic aesthetic grows on you over time. The bright colors and dynamic facial expressions add life to the experience.
Stylistic flourishes like manga panel cut-ins and UI elements evoke the Persona 5 aesthetic, lending familiarity. New characters like Erina and Toshiro receive distinctive looks befitting the series' flair for design. Enemies also sport creative designs, from menacing shadows to imposing knights.
Certain moments lose some dramatic impact due to the cute art style, especially during weightier scenes. Yet even in poignant moments, the visual presentation remains effective. Tactica's vibrant graphics develop an appealing identity that sets it apart from Persona 5's mature polish.
On the audio front, Tactica delivers an energetic soundtrack blending new compositions with remixes of familiar themes. The funky menu music and rocking battle themes bring musical cohesion. Standout new tracks accompany major story moments and boss fights.
Vocalist Lyn Inaizumi returns to belt emotive lyrics for major battles. While not quite on par with timeless songs like "Rivers in the Desert," the music plays a vital role in bringing Tactica's conflicts to life. Even in a different genre, Tactica's soundtrack upholds the Persona pedigree.
Between the infectious music and distinctive art direction, Tactica forges its own aesthetics independent of Persona 5's anime realism. This helps it stand apart rather than simply rehashing old ground. Tactica plays to its own strengths visually and sonically to craft an experience with heart and style.
Friends Old and New: Examining Persona 5 Tactica's Characters
The Phantom Thieves of Hearts are back in action for Tactica, though they play more of a supporting role this time around. Series newcomers Erina and Toshiro occupy much of the spotlight. While fans may miss the deep characterization from Persona 5, the overall character writing remains strong.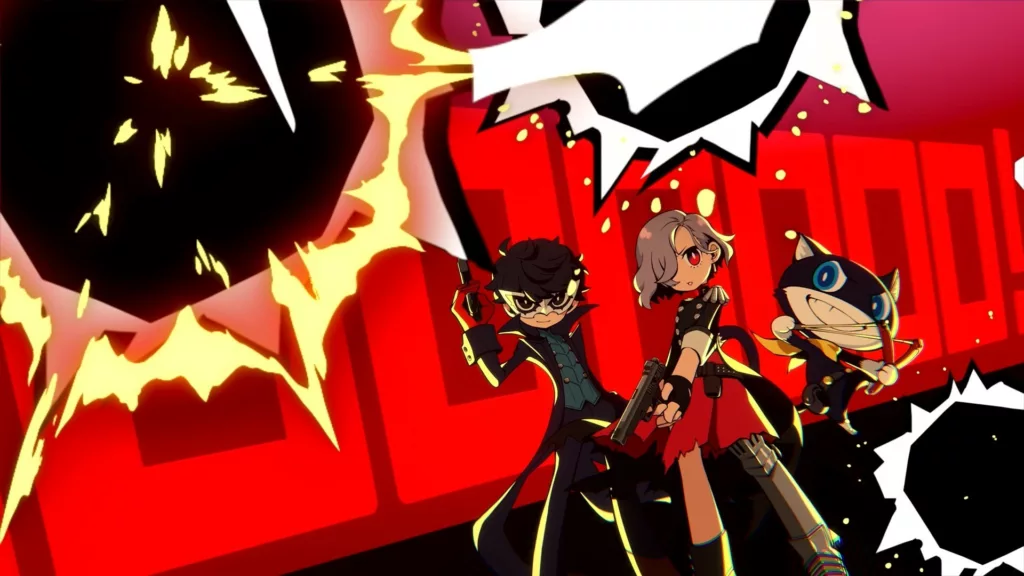 Protagonists like Joker and Ann take a backseat compared to previous outings. The main cast don't get individual story arcs, feeling slightly "flanderized" into their core traits. Still, heartwarming group conversations remind us why we adore these personalities.
The real stars are hot-blooded revolutionary Erina and conflicted politician Toshiro. Erina's aggressive idealism drives the rebellion, while Toshiro represents a more pragmatic counterpoint. Their dynamics and growth form the core of Tactica's narrative.
Erina's English voice actor Leeanna Albanese brings the rebel leader to life with passion and nuance. Toshiro also ranks among the best new Persona characters in recent years, delivering emotional heft. Their bond pushes the protagonists just as much as the antagonists.
Beyond the central plot, optional scenes help flesh out the broader cast through side conversations in between missions. These comedic moments add levity and give spotlight to overlooked characters like Haru. Though they lack the depth of Persona 5's Confidants, these vignettes are welcome.
Moreover, the veterans' maturity and camaraderie feel believable. Echoes of their past bonds persist, with the team supporting each other as seasoned friends. Their relaxed dynamic with the newcomers demonstrates tangible growth since the Phantom Thieves' early days.
While certain team members get sidelined, Persona 5 Tactica's writing still showcases endearing characters. Erina and Toshiro carry the plot with conviction, while fan favorites offer memorable moments outside the main story. Combined with stylish action, a lovable cast propels the experience.
The Phantom Thieves' Triumphant Return: Final Verdict on Persona 5 Tactica
After examining its story, gameplay, presentation, and characters, Persona 5 Tactica emerges as an ambitious and largely successful new chapter for the Phantom Thieves saga. By transitioning the series' combat into turn-based tactics, Tactica finds a fresh way to deliver satisfying strategic gameplay in the Persona mold.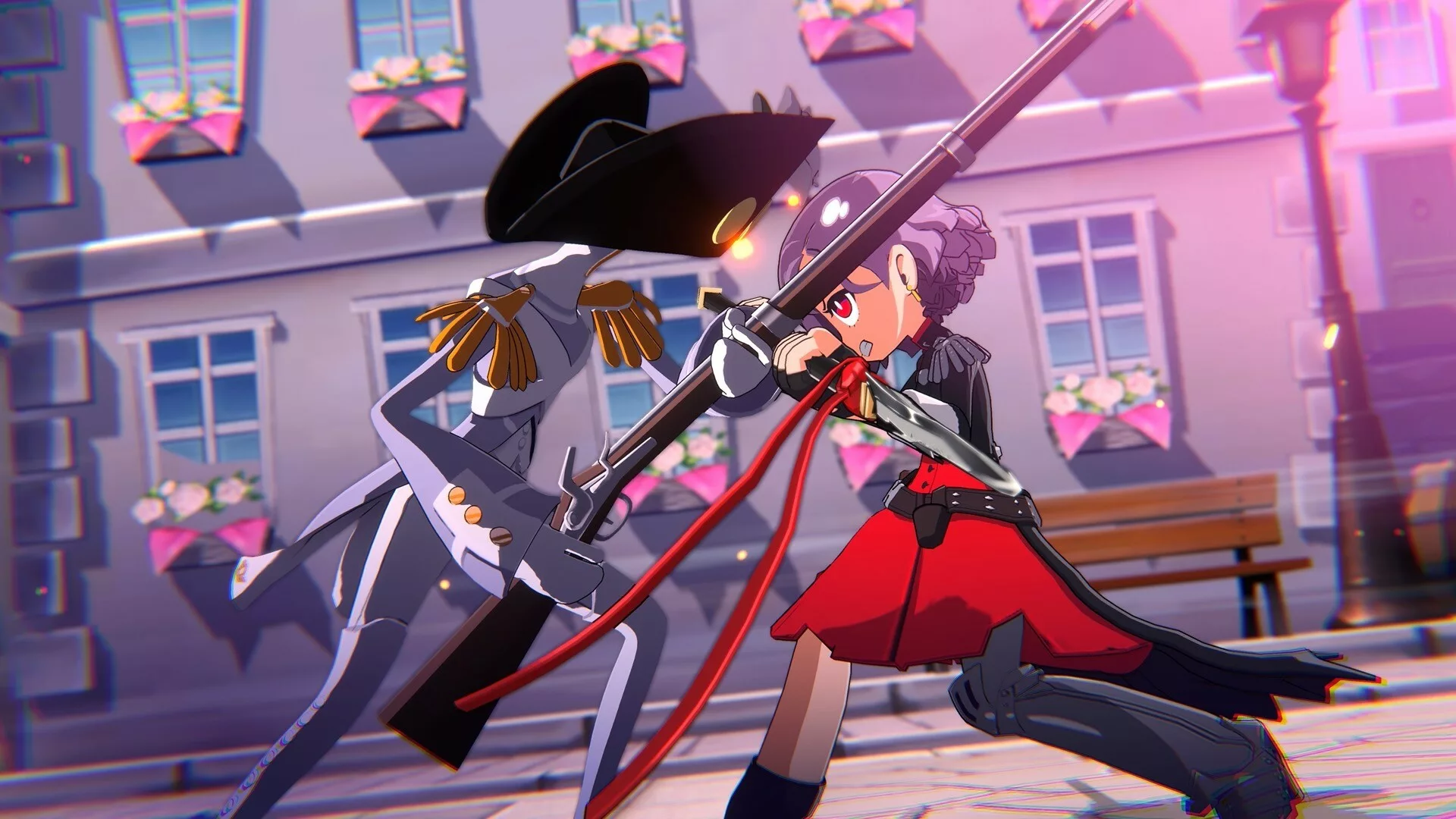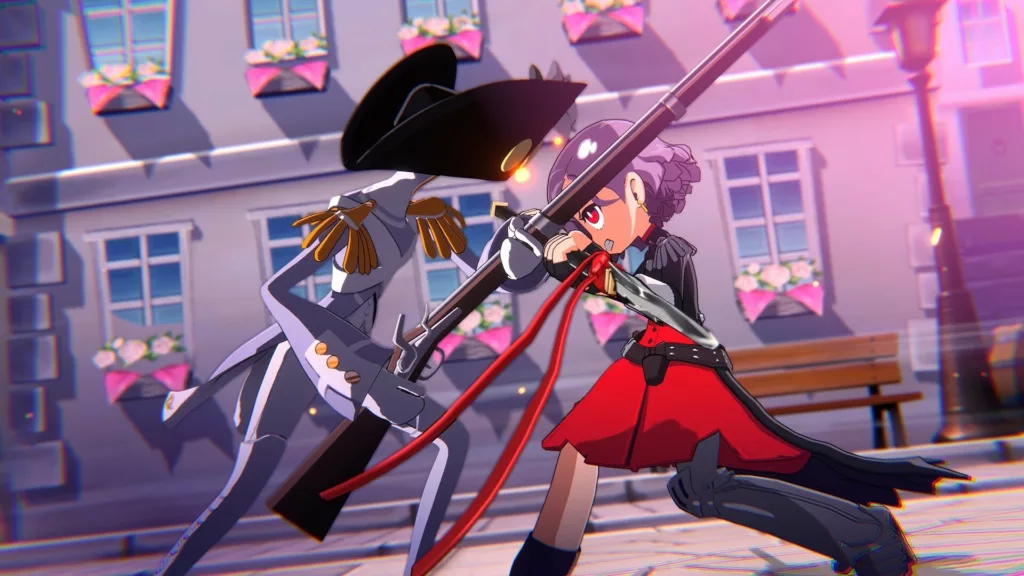 The opening hours suffer from overly slow pacing and tutorialization before the experience comes into its own. Once mastered however, chaining together combos and manipulating foes across environments stays engaging throughout the 30+ hour campaign and optional side content.
On the narrative front, Tactica spins an emotionally resonant tale carrying forward the Persona series' spirit and themes. Newcomers Erina and Toshiro leave a strong impression, while the veteran Phantom Thieves retain their endearing camaraderie. Despite some bloat, the writing tugs at the heartstrings.
Presentational elements like the charming chibi art style and rocking soundtrack also hit the right notes, creating cohesion between Tactica's tones and mechanics. This is a tactical spinoff with genuine style and soul.
Hardcore Persona fans may be disappointed by the reduced focus on Joker and friends compared to previous entries. And the gameplay simplifications keep Tactica's strategy from reaching the heights of genre leaders. But on the whole, Tactica marks a successful transition into a new genre that respects the spirit of the revered RPG series.
Persona 5 Tactica earns a hearty recommendation for its ambition alone. The tactical format largely pays off, expanding the servants available for stylish demon summoners. It may not outshine Persona 5 Royal's perfection, but Tactica stands tall as a gratifying new adventure starring one of gaming's most lovable bands of heroes. The Phantom Thieves are back in business!
The Review
Persona 5 Tactica
Persona 5 Tactica delivers a fresh and engaging new take on the acclaimed RPG franchise. With satisfying tactical gameplay and an emotional narrative that lives up to the series' pedigree, this spinoff gives the Phantom Thieves a chance to shine once more, even if it doesn't fully realize the potential of the genre shift. Tactica is a worthwhile journey for JRPG enthusiasts.
PROS
Addicting and strategic tactical combat that captures Persona's weaknesses system
Emotionally resonant story exploring meaningful themes
Great new characters like Erina and Toshiro
Familiar Phantom Thieves cast retains charm and chemistry
Stylish and vibrant new art direction
Energetic soundtrack with new and remixed battle themes
Successfully adapts the Persona formula into a new genre
CONS
Slow pacing and excessive tutorials early on
Main cast feels less characterized than previous entries
Lack of deep customization and progression systems
Performance issues reported, especially on Switch
Finale and ending stretch feel bloated
Doesn't fully capitalize on potential of tactical systems
Relatively limited side content compared to Persona RPGs