The delightfully quirky point-and-click adventure series Frog Detective hops its way over to consoles for the first time with Frog Detective: The Entire Mystery. This collection bundles together all three entries in the comedic amphibian-led mystery games originally developed for PC by Aussie indie studio Worm Club. Players take on the role of the titular sleuth, an upbeat and eager frog aiming to prove himself as a master detective. Though he may not be the best or brightest, Frog Detective tackles cases ranging from paranormal happenings to Wild West capers with plenty of heart.
With its charming hand-drawn art style and emphasis on humor over challenge, the Frog Detective games exude a sincerely lighthearted charm. The gameplay focuses on exploring environments, talking with oddball characters, and trading items to solve simple but amusing mysteries. While the pointing and clicking may be basic, the real draw here is the consistently endearing dialogue. The mysteries serve more as vehicles for laughs than brain-teasers.
In this review, we'll hop through the key elements of gameplay, art and sound, storyline, and overall appeal to see if Frog Detective: The Entire Mystery manages to translate the magic of the original PC adventures or if it falls flat on consoles. For players looking for a refreshing palate cleanser between intense games, does this slimy sleuth deliver a ribbiting good time? Let's magnify the clues to determine if this bundle is worth picking up.
Hopping Through Frog Detective's Cases
The core gameplay of the Frog Detective games consists of traditional point-and-click adventure mechanics. Players guide the titular sleuth through compact environments depicted with a charming low-poly 3D art style, searching for clues by clicking on points of interest. Solving each mystery revolves around conversing with the locals, noting clues in your handy dandy notebook, and gradually piecing together the puzzle through logic and trading items back and forth.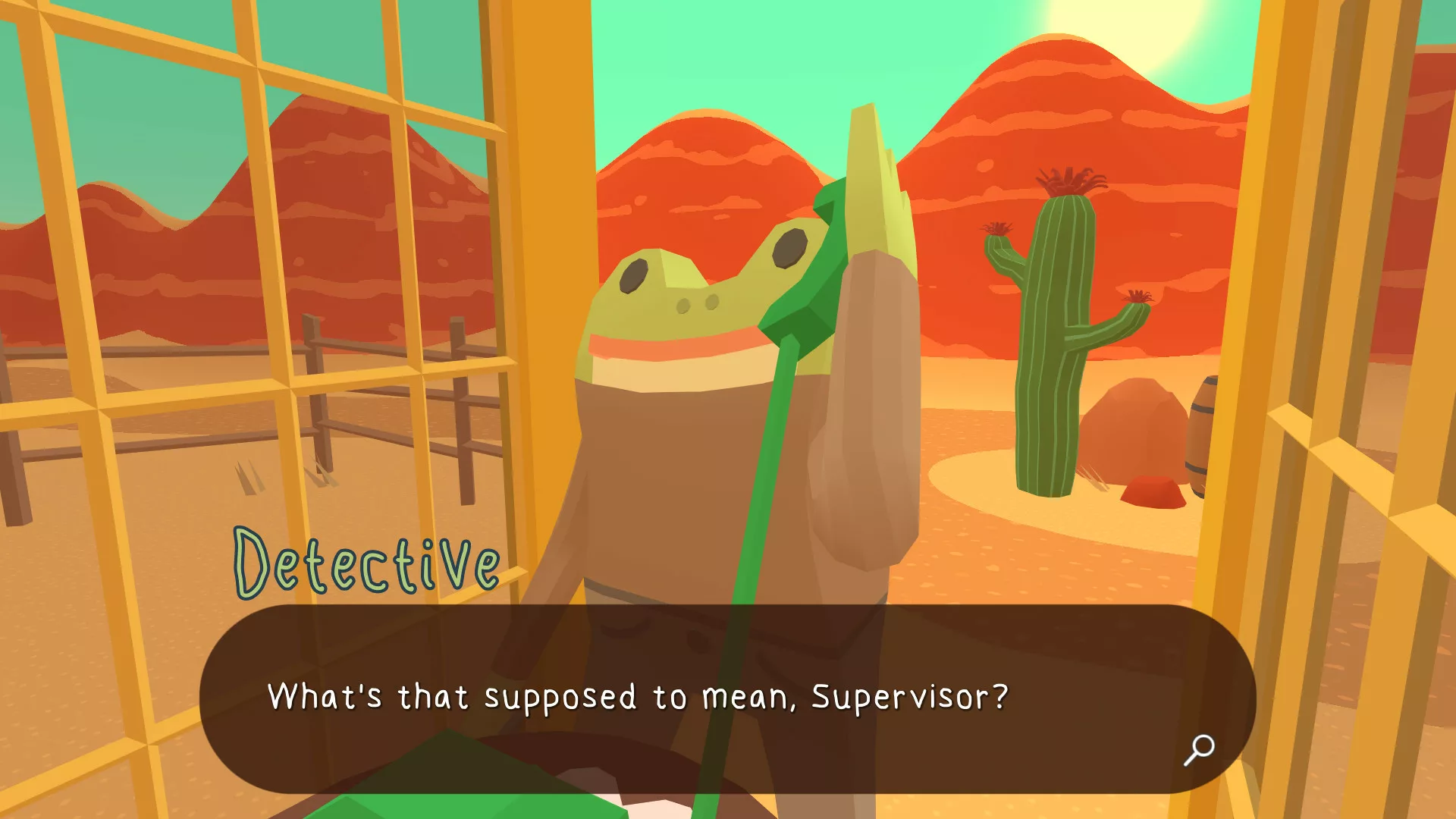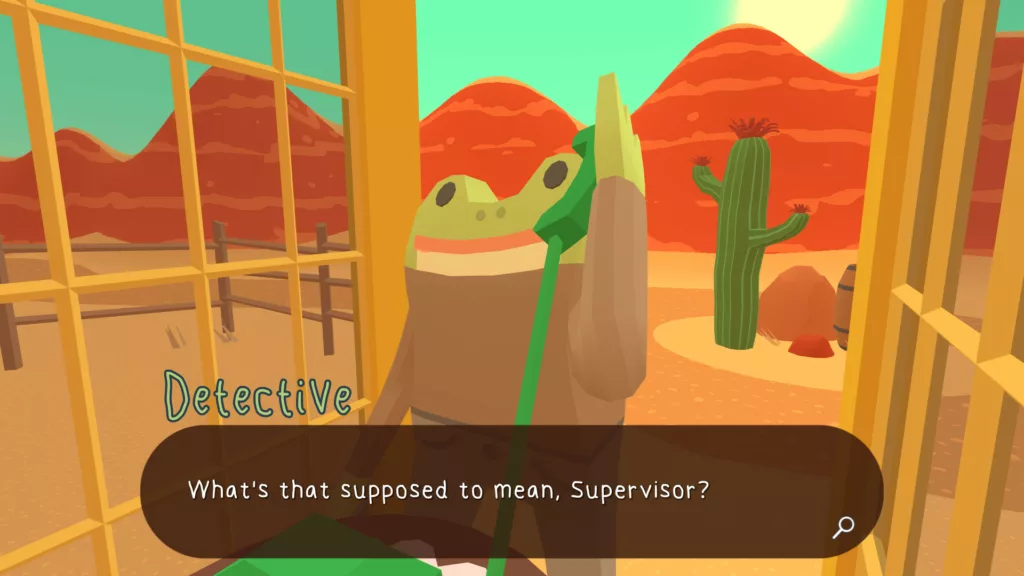 Every case begins with Frog Detective receiving a call to action from his supervisor, prompting him to grab his trusty magnifying glass and get investigating. From there, players explore the area, interacting with characters by choosing dialogue options. Many of the exchanges feel non-sequitur yet humorous, with Frog Detective bouncing between topics casually to gather intel. The dialog trees are linear without branching choices, keeping the focus on amusement over agency.
Progress comes from noting clues that come up in conversations, then tracking down the items or information other characters request in exchange for their help. For example, a hermit crab may ask for seaweed in exchange for a tidbit that helps advance the mystery. This cycle of fetch quests andtrades fuels the simple investigative gameplay, rewarding players for keeping track of who wants what.
While these point-and-click adventures may not offer substantial challenge, the focus on funny dialogue exchanges and quirky character interactions takes center stage. Solving each case feels more about enjoying the humorous journey than flexing mental muscles. Those seeking tough brain-teasers may feel underwhelmed, but as lighthearted palate cleansers, Frog Detective keeps the focus on fun.
As the series hopped from sequels, a few gameplay enhancements added depth while maintaining accessibility. In the second game, Frog Detective gains a notebook to track clues and stickers to customize it with. By the third outing, a scooter lets players zoom around larger environments rather than simply hopping afoot. However, the core loop remained steady, for better or worse depending on one's gameplay preferences.
Overall, Frog Detective prioritizes personality and comedy over convolution. The low-stakes mysteries serve as vehicles for laughs, with the point-and-click gameplay simply enabling the charming character interactions. While not particularly deep or demanding, the gameplay complements the silly storytelling rather than detracting. Players seeking serious stumpers may ribbit with dissatisfaction, but those wanting a humor-filled romp will appreciate the breezy investigations.
A Frog's Journey to Become a Renowned Detective
The heart of the Frog Detective games lies in their charmingly absurd mysteries and the quirky characters tangled up in them. Each entry sends players to new locales with self-contained stories centered around lighthearted crimes begging to be solved. While the cases have loose connections as the eponymous sleuth strives to build his reputation, the real draw is the sheer silly fun of each nonsensical adventure.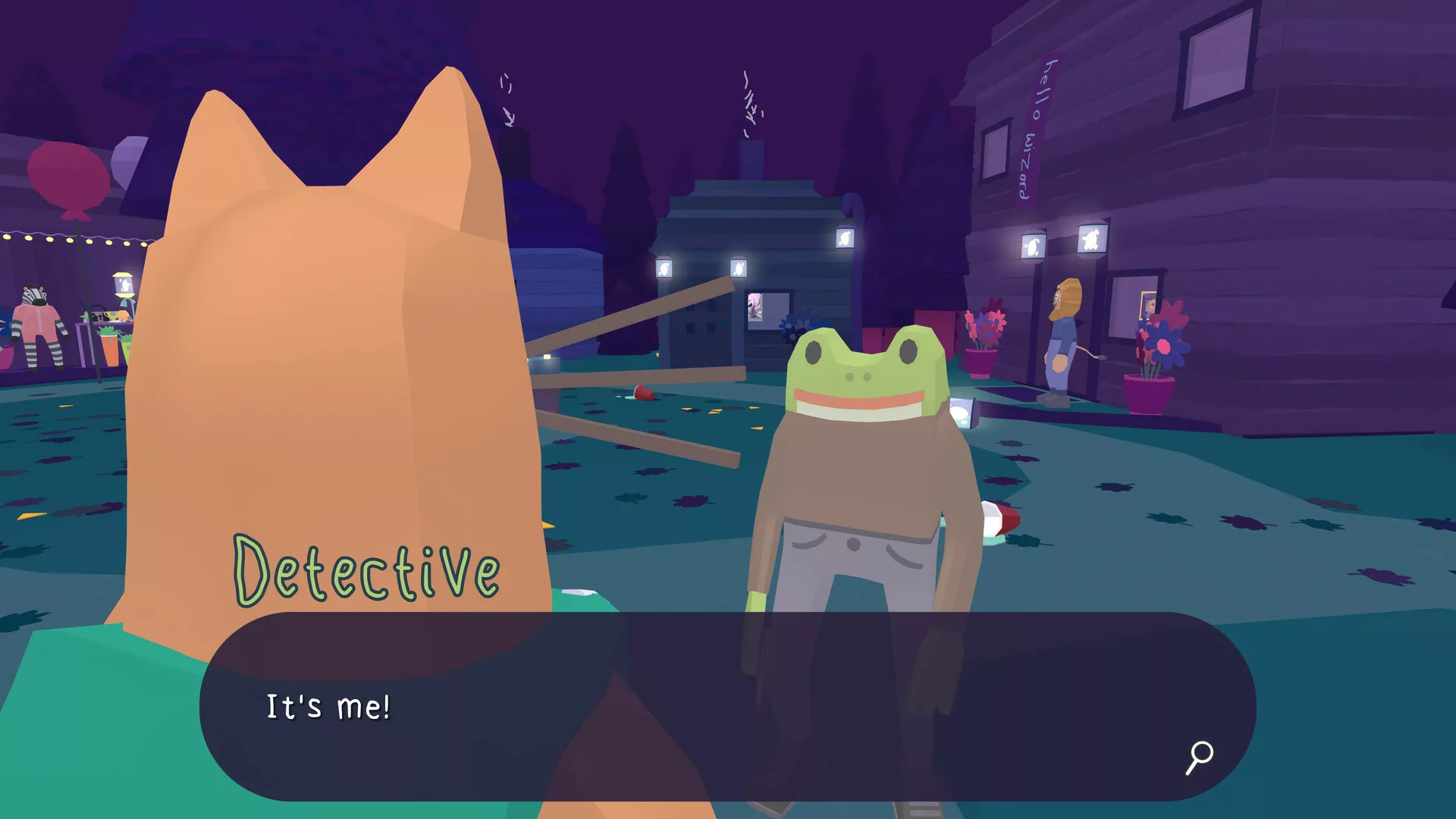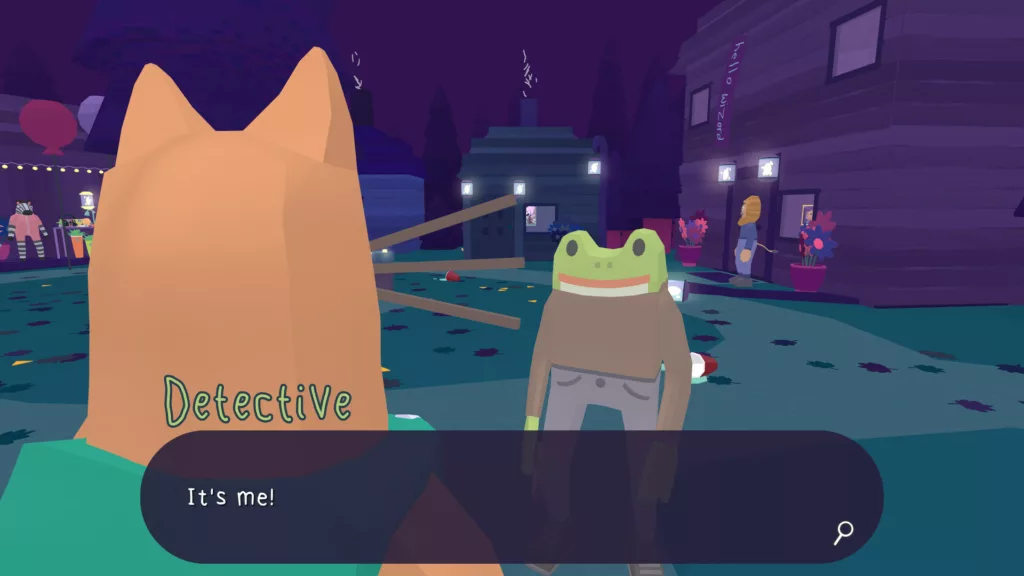 In the first game, Frog Detective is called to the mysterious Pleasure Island, where ghosts have been relentlessly tormenting the local sloth population. After conversing with quirky locals like a koala relaxing in the ocean, Frog Detective works to get to the bottom of the paranormal pest problem. Of course, the actual cause ends up being more ridiculous than supernatural.
The second case whisks Frog Detective away to Warlock Woods, where he must find the troublemaker responsible for destroying the decorations for an upcoming wizard parade. More absurd characters like a robot named Robutler and "werewolf" Wolfgang await, along with more preposterous leads to run down. By trading clues and favors, Frog Detective eventually unmasks the surprising vandal.
Finally, Frog Detective visits Cowboy County, where a theft of cowboy hats has thrown the town into disarray. With his rival Lobster Cop caught up solving his own case, Frog Detective is determined to crack the caper himself. Through more silly exchanges with townsfolk, like deputy Craig the cow, the missing hats mystery eventually gets resolved in typically ridiculous fashion.
While the cases have loose connections revolving around Frog Detective's drive to make a name for himself, each provides standalone stories filled with joyful absurdity. The crimes serve as backdrops for the charming personalities of each character met along the way. Even side quests like reuniting pen pals add memorable moments between the main cases.
The cheerful hand-drawn visuals bring these quirky characters to life with expressive eyes and grinning faces, perfectly complementing the light breezy tone. And the consistently witty dialogue exchanges ground each locale with humor and heart. Whether it's ghosts, vandalism, or missing hats, Frog Detective reminds us that kindness and community can overcome any hardship, no matter how silly.
A Charming Look and Sound
The visual presentation of Frog Detective exudes just as much heart and humor as the writing. The games utilize an intentionally lo-fi low-poly 3D art style, with blocky environments and characters brought to life with simple colors and expressive details like large googley eyes. This gives each scene a pleasant storybook quality, complementing the wholesome tone.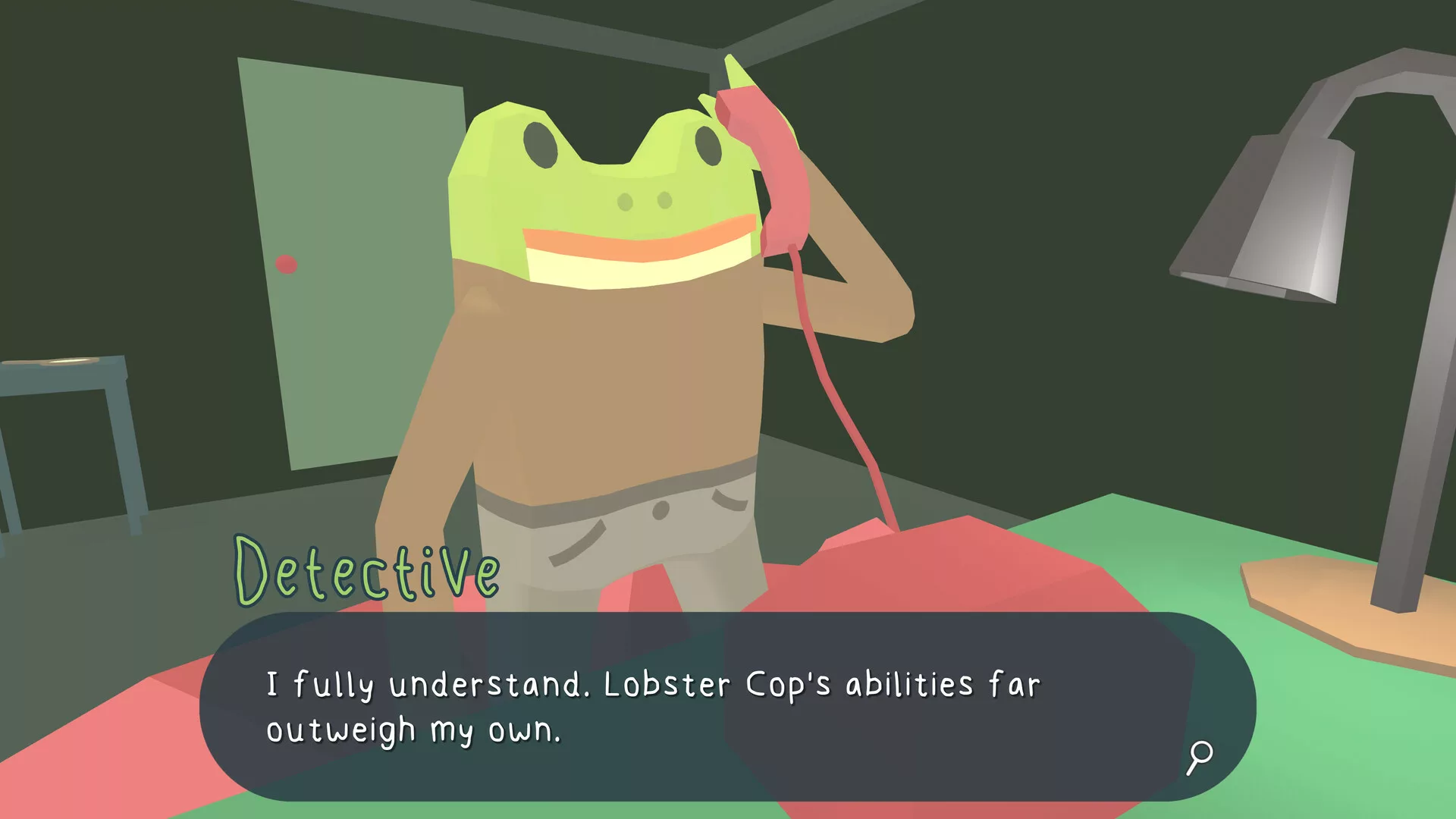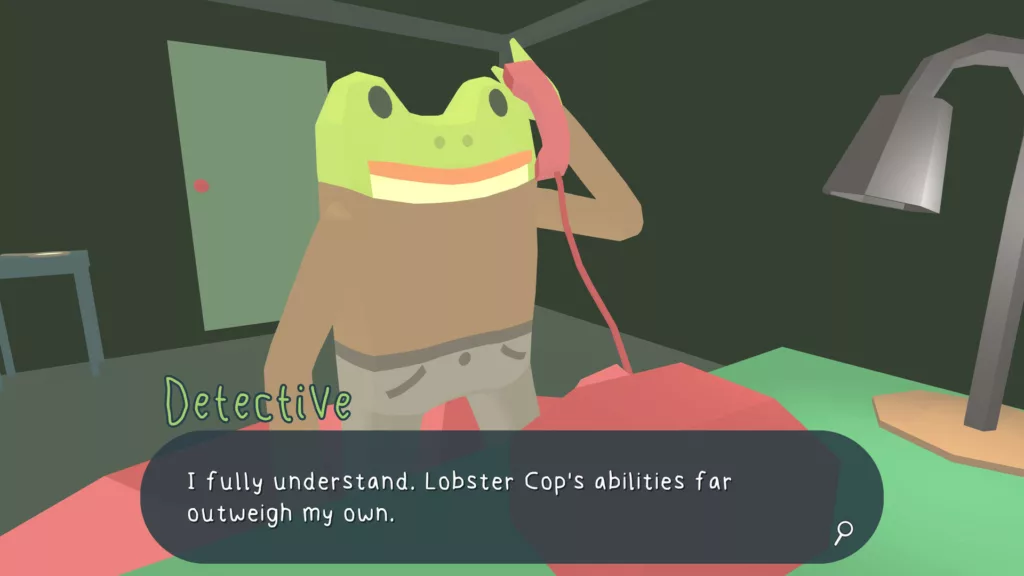 Characters appear asZoombinis-like figures, assembled from basic shapes yet undeniably cute and charming. Their large, expressive eyes readily convey emotion from scene to scene. And while their mouths stay frozen in perpetual grins, the witty dialogue makes their thoughts easy to imagine. The simple style allows one's imagination to fill in the gaps while retaining the sincerity.
Backing up the visuals, the soundtrack by Dan Golding stands out with catchy, poppy tunes that stick in your head as much as the absurd mysteries. The music ranges from upbeat and cheerful to lend energy to Frog Detective's investigations, to more soothing and mellow tones when conversations turn sentimental. But no matter the mood, each track complements the scene with tunes that are hummable and toe-tappingly pleasant.
Notably, the Frog Detective games have no voice acting. While some may see this as a limitation, it ends up working in the experience's favor. The deadpan expressive text allows the humor to shine through, often heightened by the contrast between the absurdity described and the matter-of-fact tone. Players are free to imagine the voices however they please, unlocking a theater of the mind effect that likely enhances the comedy.
Overall, the graphics and audio work harmoniously to build endearing game worlds that feel pleasantly hand-crafted. The lo-fi 3D visuals brim with a DIY charm that meshes ideally with the humble comedy. And the tunes give each scene an energizing or smoothing soundtrack to hop along to. It's a great example of how technical polish isn't necessary when the style aligns so heartwarmingly with the spirit.
A Frog-sized Shot of Wholesomeness
While Frog Detective: The Entire Mystery may not boast the most complex stories or challenging gameplay, its greatest strength lies in its sincerely good-natured charm. The experience radiates a wholesome positivity that feels all too rare in games today. Through its vibrant style and humor, it provides a refreshing dose of kind-hearted fun.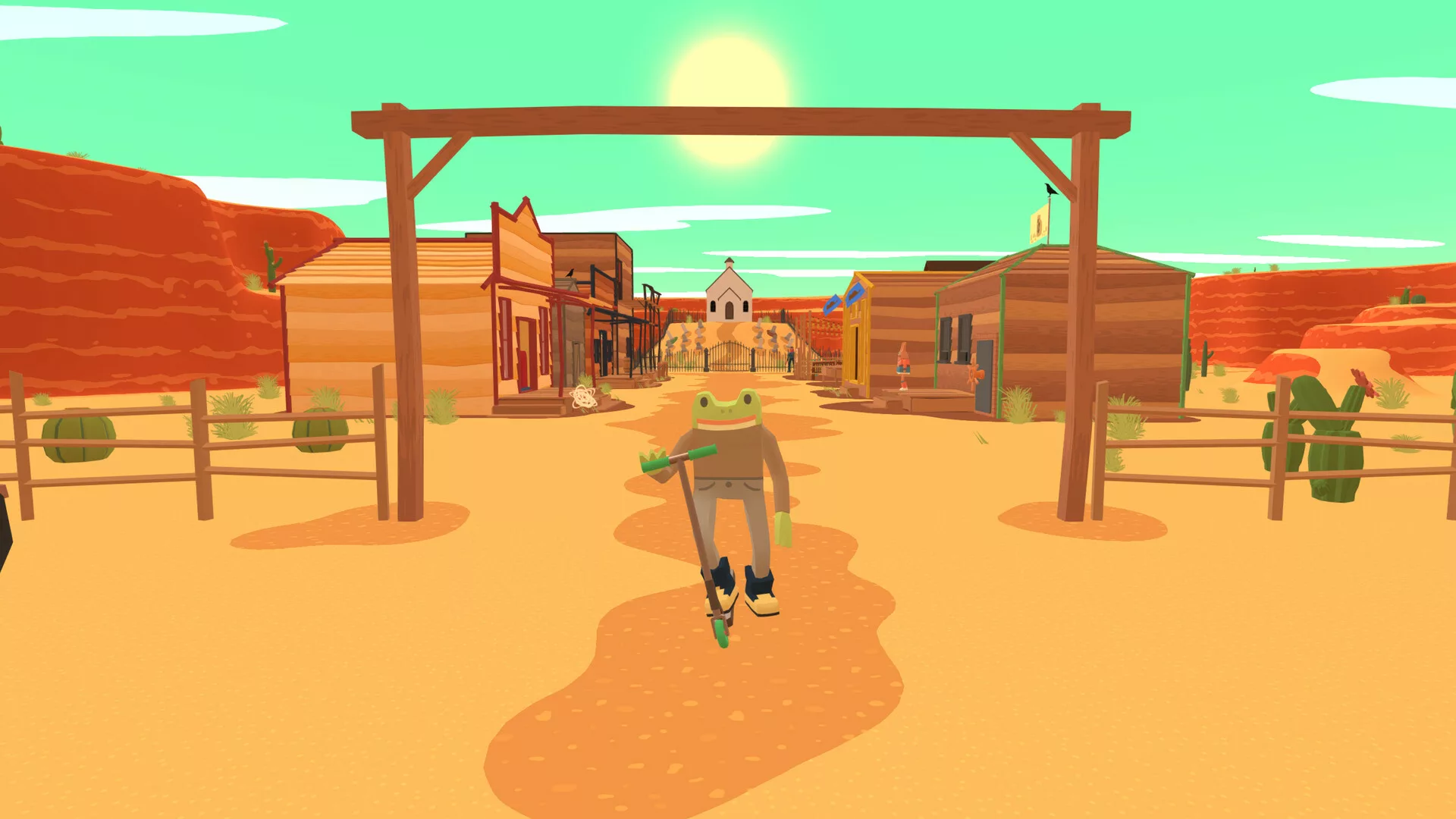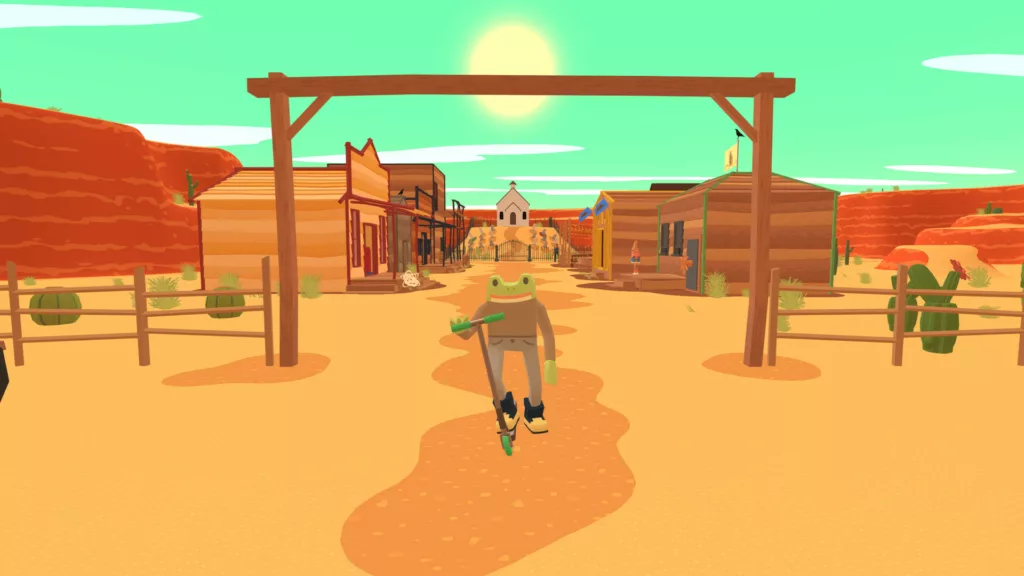 The warm tone is evident right from the friendly demeanor of Frog Detective himself. Despite not being the greatest sleuth, he tackles each case with eager determination and belief in others. The game exudes a sincere kindness through him that permeates each quirky character encountered along the way.
Even the crimes tackled end up serving more as setups for building community than harsh condemnations. The ghosts bring together scientists and locals. The vandal inspires townsfolk to unite for their parade. And the missing hats see friends and rivals come together to solve the caper. Justice often comes through understanding over punishment.
This earnest positivity invokes the spirit of optimism in classics like Wes Anderson films. The handcrafted visuals, humor, and heart create a comfortable world to get lost in. While things may seem odd at first glance, taking the time to understand and connect with others leads to resolution. Frog Detective reminds us how powerful kindness can be.
Of course, the lighthearted comedy also amplifies the charm. The game lovingly parodies the absurdist logic and convoluted puzzles of old-school adventure games. Trades of random junk for clues, nonsensical solutions, and silly side stories all poke fun at the genre's tropes. Yet it's all done affectionately and cleverly rather than mean-spirited.
But the humor shines brightest through the dialogue writing. Conversations with the oddball characters take pleasantly meandering paths with plenty of witty asides and jokes. The pacing and tone in the text builds a consistently feel-good experience. Even with no voice acting, the personalities of each character come through.
By leaning into its wholesome spirit rather than aiming for technical polish or gameplay complexity, Frog Detective stands out as a beacon of positivity. It harkens back to the sincerity of classic adventures but with a modern inclusivity that makes its kindness truly resonant. For players craving something pleasantly upbeat, this froggy sleuth brings a smile that's hard to shake.
More Frog Fun with Scooters
In addition to the three main mystery cases, Frog Detective: The Entire Mystery includes a fun bonus minigame exclusive to the console versions. After completing the story, players can unlock Frog Detective Scooters, a mini game inspired by the scooter riding introduced in the third game.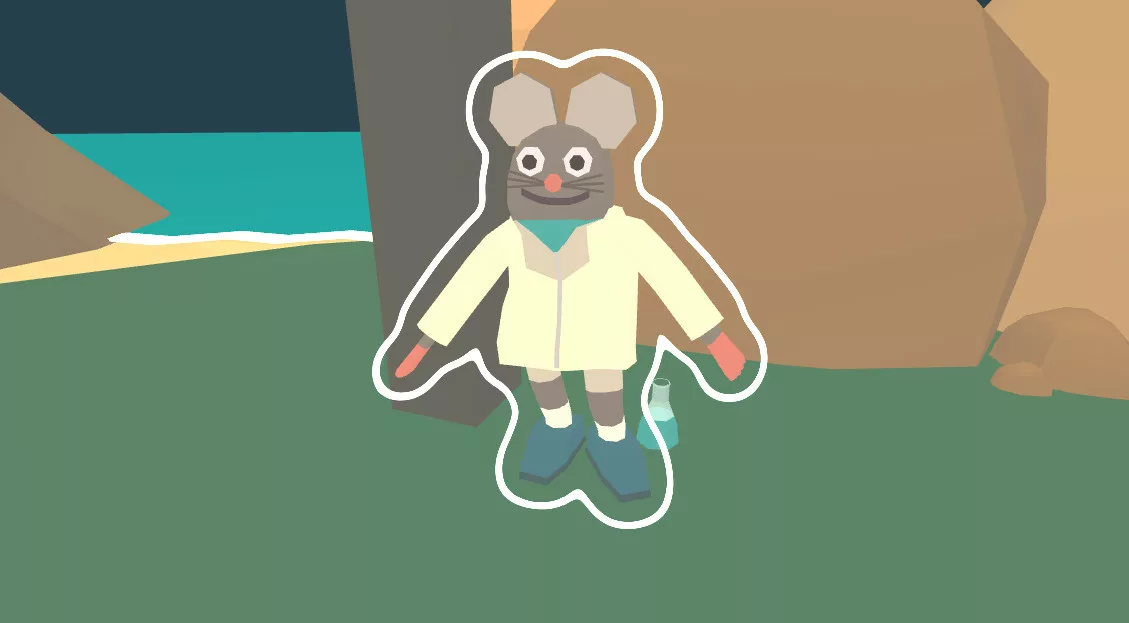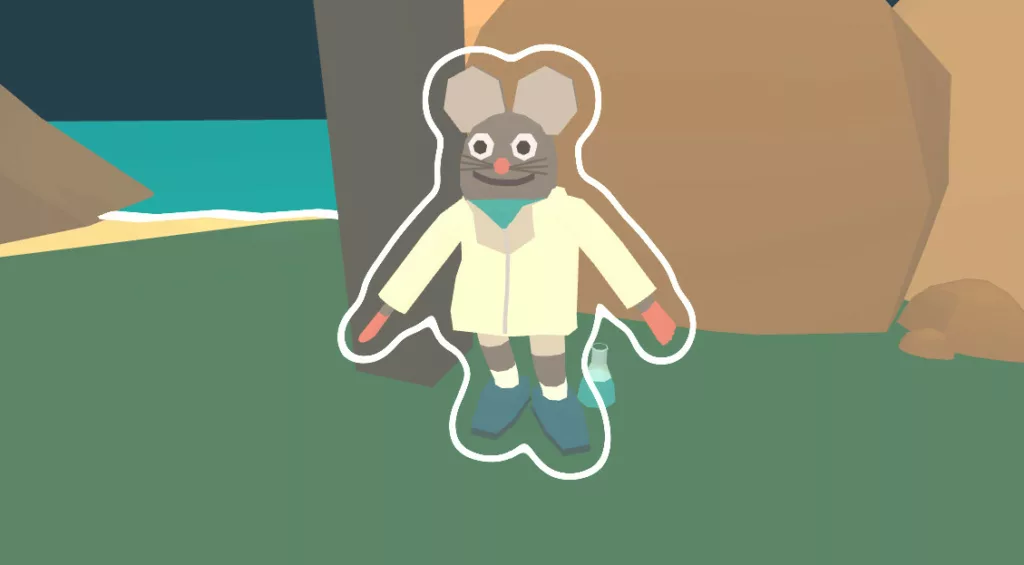 In Scooters, players zoom around a small desert town on Frog Detective's rideable scooter. The goal is to collect magnifying glass pickups while pulling off tricks and grinds for points and combos. Hopping ramps and rails earns multipliers that can ratchet up high scores. There's no time limit, allowing casual enjoyment.
The microgame captures the playful spirit of the main adventure in a bite-sized experience. The visuals and music match the aesthetic of Frog Detective 3 for seamless continuity. Unlocking new scooter parts like wheels and paint jobs provides some progression.
It likely won't hold attention for long, quickly exhausted once you've seen all it offers. However, Scooters makes for a fun little bonus exclusive for console players. It extends the lighthearted enjoyment of Frog Detective 3 for those wanting just a bit more. And mastering big air and slick grinds lets players truly embrace the scooter-riding sleuth fantasy. For a free add-on, it's a nice extra capsule of fun.
A Frog Worth Leaping For
At only a few hours long each, the Frog Detective games may seem slim, but they use their brevity to deliver concentrated doses of wholesome hilarity. What the adventures lack in gameplay complexity, they more than make up for with an abundance of sincerity, wit, and positivity. This amphibious sleuth exemplifies how much charm can come in small packages.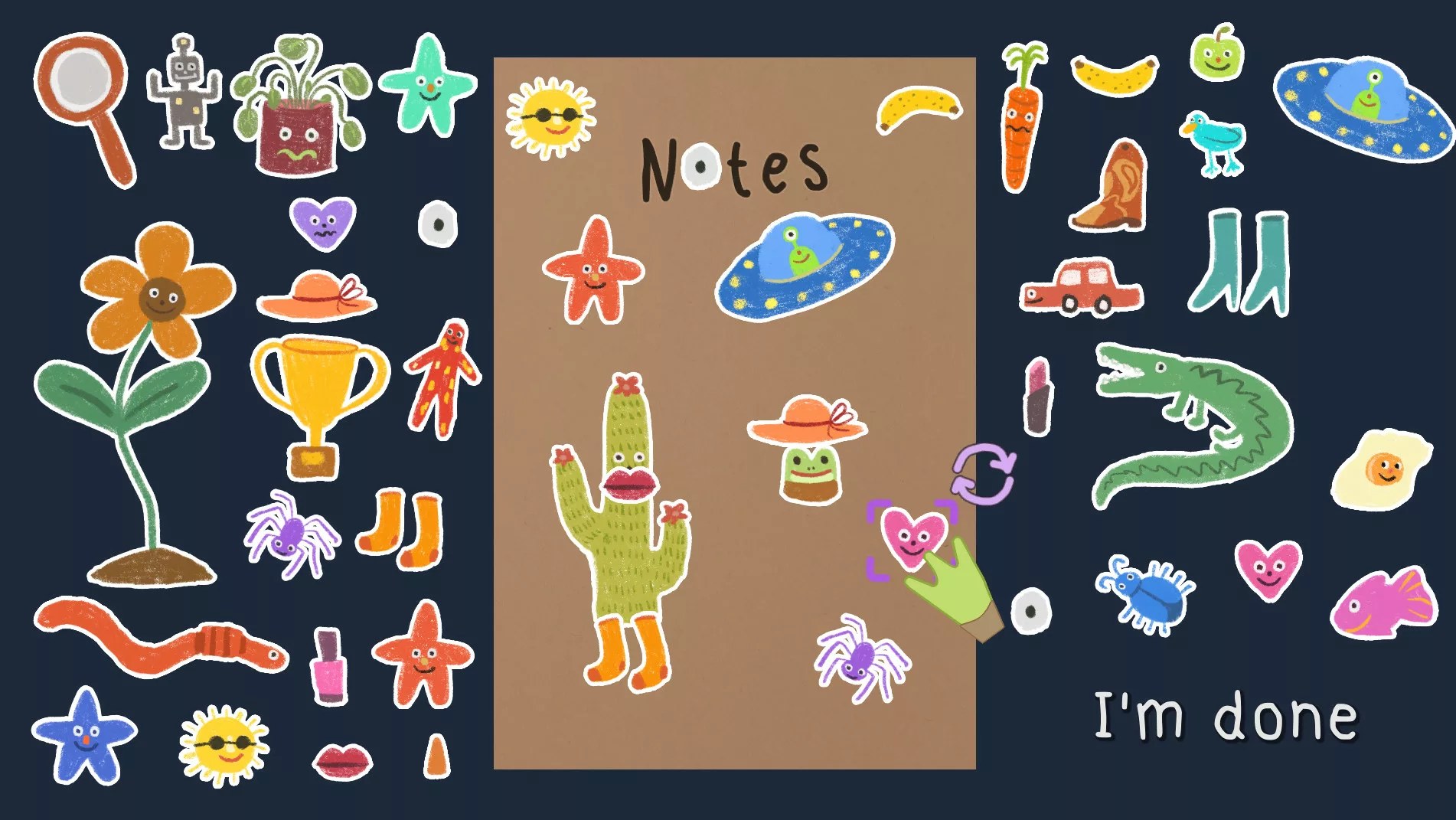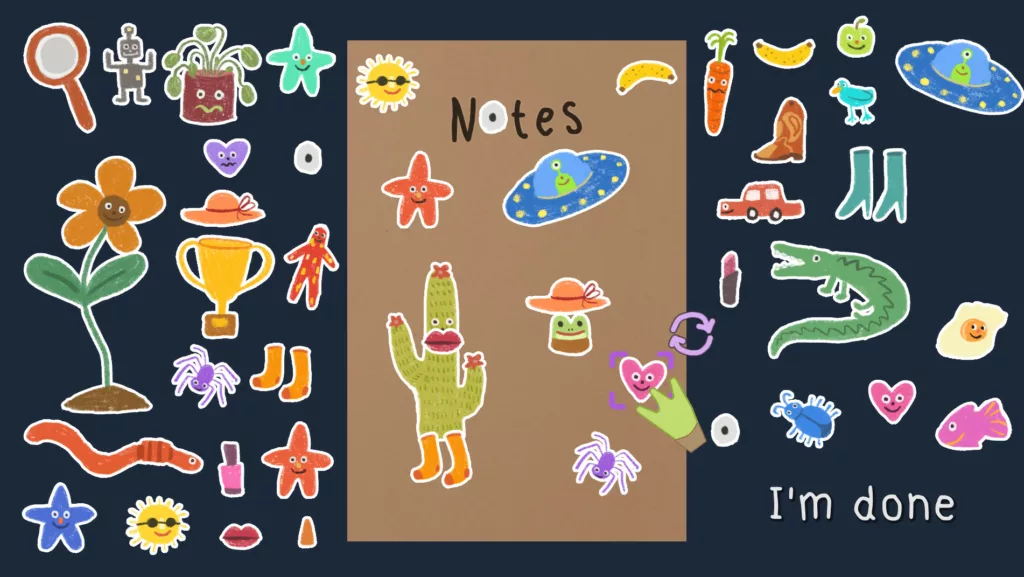 While the point-and-click investigation mechanics are straightforward, they take a backseat to the comedy and spirit at the forefront. Those seeking challenge may be disappointed, but as low-stakes palate cleansers between intense experiences, Frog Detective hits the spot. The focus stays on amusing characters and dialogue rather than difficulty.
Ultimately, Frog Detective: The Entire Mystery succeeds on the appeal of its personality. The charming hand-crafted visuals, upbeat music, and witty writing create a world that's hard not to find pleasantly endearing. There's a genuine wholesomeness to the experience that feels all too rare.
For players looking for a reprieve between grim blockbusters or seeking a fun casual adventure, Frog Detective's humorous hijinks come highly recommended. And compiling the complete saga together makes it easy for new fans to dive in while offering a welcome portable version for existing admirers. While short, the value comes from the abundance of heart and humor packed inside.
In the end, Frog Detective delivers plenty of laughs, kindness, and community spirit – a welcome breath of fresh air. Though simple, its charm shines all the way through. For a delightful good time, this froggy sleuth is well worth catching.
The Review
Frog Detective: The Entire Mystery
Frog Detective: The Entire Mystery proves that games don't need elaborate complexity to provide wholesome entertainment. Its simplicity highlights a sincere charm and humor that fills the experience with positivity. While the point-and-click gameplay is straightforward, the witty writing and lovable hand-drawn visuals make exploration a joy. Each short mystery offers an amusing dose of kindness that provides a refreshing palate cleanser between intense blockbusters.
PROS
Charming hand-drawn visual style with expressive character designs
Consistently funny and witty writing/dialogue
Relaxed and upbeat soundtrack that fits the tone
Lighthearted, wholesome stories and themes
Short playtimes make it easy to pick up and enjoy
Entertaining characters and absurd humor
Does a lot with simplicity in terms of gameplay and presentation
Provides a refreshing break from more intense or violent games
CONS
Very straightforward point-and-click gameplay lacks challenge
Short playtime means limited gameplay and replay value
Stories are simple and absurd rather than complex or thought-provoking
Lack of voice acting could be limiting for some
Might be too silly or juvenile for some players' tastes
Minimal gameplay additions between sequels
Scooter mini-game feels like a small bonus