The Audi Q7 has been among the largest SUVs on our streets since 2005. Its second generation was introduced in 2015 and given a facelift in 2019. Although this was not yet absolutely necessary, it was nevertheless a good thing for the large vehicle. Particularly to remain attractive against the fresh competitors such as the BMW X5, X7, Mercedes GLS, Range Rover, Porsche Cayenne and VW Touareg. The Ingolstadt model has also been able to do this since the fall of 2020 with the SQ7 TFSI with biturbo V8, which generates a whopping 507 hp from four liters of displacement.
In terms of looks and appearance, there wasn't much to improve. The headlights, rocker panels, air intakes and radiator grille have been restyled at the front. The latter looks like a large honeycomb with its six vertical struts in an octagon shape. As standard, narrow LED headlights shine; optionally, they are also available with matrix LED light and laser support.
Meanwhile, at the rear, a three-part chrome bar and narrower LED taillights add classiness and a modern look. Overall length has grown by eleven millimeters to 5.06 meters. But this is hardly noticeable; after all, the Q7 has always been a big lump. Stay tuned in our 2021 Audi Q7 review as we are going to take a deeper look into different parts of this car.
Introducing the new Audi Q7 control system: Goodbye buttons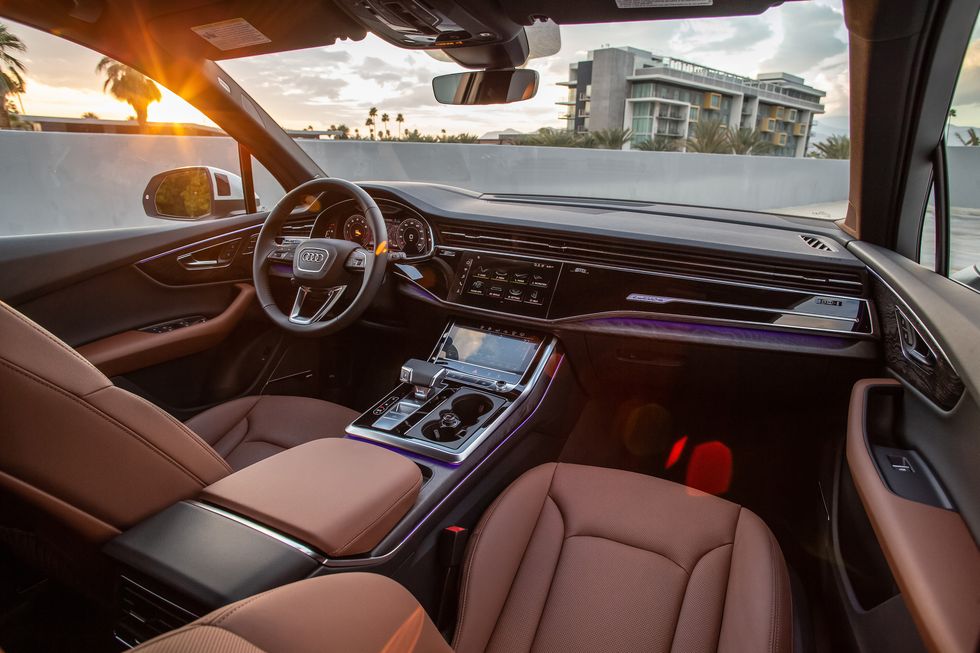 When you get in the car, the difference becomes more obvious: Lots of analog buttons have been stripped away and replaced by the more modern operating system of the Q8 SUV coupe with its touch-sensitive and dual-screen display. Even the climate control now works via a screen that provides haptic feedback every time a button is pressed, just like a "real button."
The very generous amount of space has not changed: Five people can be seated very comfortably, and even the rear is spacious. Another two people can optionally be seated on the third row of seats. The luggage compartment in the standard versions holds between 865 and 2050 liters – which is more than enough for an extended family vacation.
Many features that make the Q7 a luxury car still cost additional fees. For instance, a servo function that silently pulls the doors closed. Or a Bang & Olufsen sound system with 3D sound and 23 speakers, the contour ambient light package, the 4-zone automatic climate control or the Air Quality package with aromatization and ionizer. The Q7 is now better connected with, among other things, an LTE hotspot and the Amazon Alexa voice service.
Perfect Handling for an SUV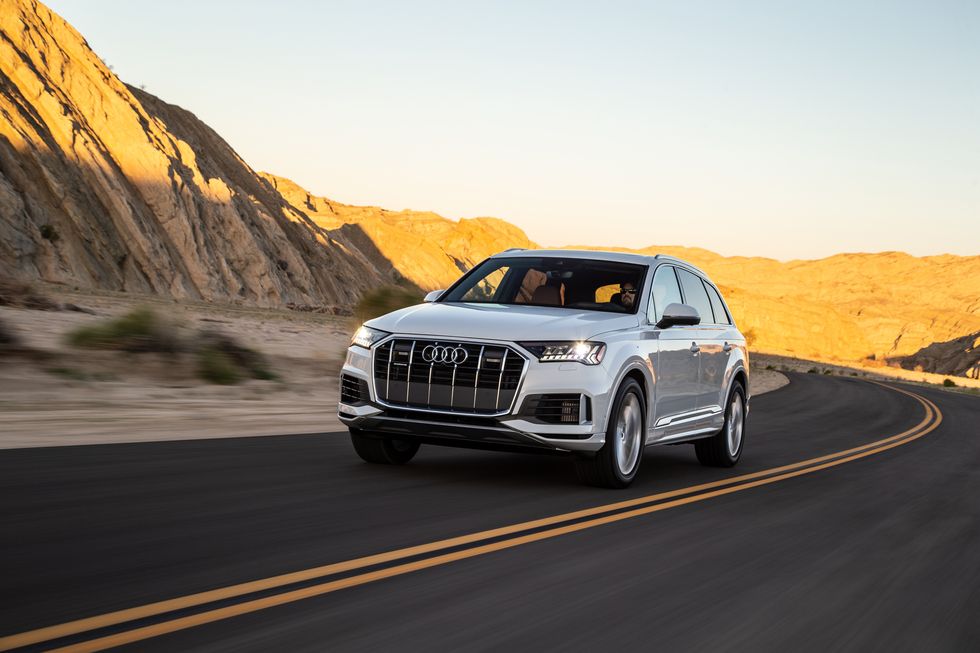 Thanks to an active control of the anti-roll bars, the optional roll stabilization system minimizes body movement. The system especially reduces body roll and sway on curvy roads. In fact, the Q7 wobbles casually from bend to bend without making the rear passengers feel sick.
There are two optional air suspension systems that provide more comfort and more ground clearance off-road (the Q7 can be "pumped up" by six centimeters), while the all-wheel steering system, which is now standard, adds to the driving pleasure. When driving at low speeds, the rear wheels turn in opposite directions by up to five degrees, thereby reducing the cornering radius to a minimum. When driving at high speeds, the rear wheels steer in the same direction, providing greater stability.
As a result, the Q7 drives almost like a compact car – and that' even though it is over five meters long and weighs over two tons unloaded. If it weren't for the width of 1.97 meters, the driver would easily forget what a big car he's sitting in.
Stay tuned as in the next section of 2021 Audi Q7 review we will take a look at its performance.
Also Read:
Smallest diesel with good performance
Notwithstanding the diesel crisis, Audi keeps relying on compression ignition engines with at least six cylinders. The Q7 45 TDI's "base engine" develops 170 kW/231 hp, 500 Nm of torque and actually should satisfy all demands. After all, it sprints from 0 to 100 km/h in 7.1 seconds and has a top speed of 226 km/h.
The stronger Q7 50 TDI has 210 kW/286 hp and 600 Nm, which of course gives the large car even more supremacy. While both diesel engines are slightly grumpy, their rich torque at low revs and low standard consumption of around seven liters per 100 kilometers are very impressive.
There are also two gasoline engines in the powertrain lineup. The first is the Q7 55 TFSI with 250 kW/340 hp and 500 Nm, which will most likely lead a niche existence in America. This is too bad, because it drives very smoothly and confidently. With a quick tap on the gas pedal, the 2-tonne vehicle storms off effortlessly, without any loud engine noise or vibrations.
The SQ7 TFSI's 373 kW/507 hp biturbo V8 with four liters of displacement and a maximum torque of 770 Nm is even more forceful. Given the curb weight of a good 2200 kilograms, the sprint time of 4.1 seconds is quite significant, and the speed limit is set at 250 km/h as before.
The lineup is rounded off by two plug-in hybrids: the Q7 55 TFSI e with 280 kW/381 hp system output and the 60 TFSI e with 340 kW/462 hp. Both consume 2.8 to 3.2 liters of premium and a good 22 kWh of electricity per 100 kilometers, according to Audi. These are purely theoretical figures, at least in terms of gasoline, which cannot be achieved in practice due to the maximum electric range of 43 kilometers.
The latest technical highlight in all V6 engines is the mild hybrid system with 48-volt electrical system and belt-driven starter generator. During braking, this feeds up to eight kW of energy into the drive battery. Using pure electric power, the Q7 can then "sail" for up to 40 seconds with no need for the combustion engine.
The engine deactivates at speeds as low as 22 km/h before traffic lights or traffic jams. This is intended to reduce fuel consumption by an average of 0.7 liters per 100 kilometers. In some cities, at least, where the appropriate infrastructure is already available, the Q7 (optional) will know when the traffic lights turn red anyway. The car then makes suggestions to the driver as to the best speed for smooth driving. It doesn't make sense to drive quickly toward a traffic light that is about to switch.
2021 Audi Q7 Specs
Technical data (manufacturer information)

Audi Q7 45 TDI

Audi Q7 55 TFSI

Audi Q7 55 TFSI e

engine

Six-cylinder turbodiesel, 2967 cm³, 170 kW / 231 PS,

500 Nm

Six-cylinder turbo gasoline engine,

2995 cm³, 250 kW /

340 hp, 500 Nm

Six-cylinder turbo gasoline engine, plug-in hybrid, 2995 cm³, 280 kW / 381 PS,

600 Nm

Performance

7.1 s to 100 km / h,

226 km / h top

5.9 s to 100 km / h, 250 km / h top

5.8 s to 100 km / h, 240 km / h top

consumption

6.9 – 7.0 l diesel / 100 km, 181 – 185 g CO₂ / km

10.3 l super / 100 km, 234 g CO₂ / km

2.6 – 2.7 l Super + 21.6 – 21.8 kWh / 100 km,

59-62 g CO₂ / km

Dimensions

L 5.06 / W 1.97 / H 1.74 m

L 5.06 / W 1.97 / H 1.74 m

L 5.06 / W 1.97 / H 1.74 m

Trunk

865 – 2050 l

865 – 2050 l

650 – 1835 l

price

from $58,295

from $61,795

from $78,120
Stay tuned as in the next section of 2021 Audi Q7 review we will take a look at its driving habits.
How does the Audi Q7 SUV drive?
Well, thoroughly. I've been thinking for a long time about an appropriate word and have realized that the word "thoroughly" expresses the whole essence of Audi Q7 crossover's driving habits. In fact, there is at least one huge Japanese premium crossover I know that gives you more confidence of "you'll get there". And I know at least one VW crossover that, with an identical engine and a more compact body, has a more dynamic feel in a straight line and nimble in the corners. Thus, Audi Q7 is precisely between them.
You will be accompanied by comfort, silence and peace in each trip. No matter what speed (of course, within the allowed limits!) or on any road: large or small bumps, ledges or holes. Everything remained there somewhere from below – and all vibrations, impacts and sounds have dissolved in bowels of pneumatic suspension.
Probably, heavier steering wheel should also give a feeling of confidence and thoroughness: they say "everything is under control". But sometimes you want it to be lighter. Therefore, why do you need such steering wheel, when you drive a 5-meter 2,1 ton high-rise crossover, originally aimed at comfort? Of course, as compared to some body on frame SUV, the Audi Q7 drives in an comfortable way: it is perfectly prepared and accurate.
Nevertheless, if we speak about large crossovers, there are models with more sporty habits. However, if you want to have fun and cheer up on the road, choose "dynamic" mode with lower body and lower gears. This does not get rid of a feeling of dimensions and weight in a turn, but already allows enjoying decent draught of the engine and its excellent coordination in work with the automatic transmission.
2021 Audi Q7 Pricing
The lowest-priced Q7 45 TDI will cost at least $58,295, while the Premium 55 comes in at $61,795, followed by the SQ7 at a hefty $86,095 and the gasoline-powered model at just over $56,045. The prices for the two plug-in hybrids are $70,470 and $78,120.
2021 Audi Q7 Review: Bottom Line
The 2021 Audi Q7 is one of the best family crossovers out there and as the largest and the only 7-seater crossover in Audi lineup, the company expects a good number of sales in the market. If you are looking for a large and spacious crossover with the latest technologies and a modern cabin, 2021 Audi Q7 might be the perfect choice for you.
We tried to cover all about the German crossover in our 2021 Audi Q7 review, but in case you have any questions about this car, let us know in the comments section below.