Gwen Stefani was married to Gavin Rossdale for 13 years and had three sons before they divorced in 2015, listing "irreconcilable differences" as the reason for the split. In the end, the No Doubt singer and the rocker split their assets fairly and also shared custody of Kingston, Zuma and Apollo.
In the meantime, while the frontman of the British group Bush was dating a girl who is not even half his age, Gwen met the second great love of her life: The singer met and fell in love with Blake Shelton while on the 2014 taping of "The Voice USA," and in October 2017 she spoke about the then "Sexiest Man Alive" as follows: "He's perfect for it. Someone who is funny and has a sense of humor is sexy – that's number one priority. He's at his peak and talented, sincere, cool, generous and unaware of it all – a complete man."
Ultimately, in October 2020, Blake asked his Gwen the question of all questions, and declared via Instagram, "Thank you for saving my 2020 … and the rest of my life. I love you. I heard a YES."
Also Read:
Gwen Stefani and Blake Shelton Marriage license
For six years now, Gwen and Shelton were a couple and decided to get married at the end of June 2021. According to official documents from the relevant authority in Oklahoma, they had officially applied for a wedding and they had been granted a license to marry. The couple had ten days to get married. And behold? They tied the knot in their in-house chapel on the first weekend of July. The New York Times, at least, declared this after aerial photos of their estate clearly showed a wedding celebration: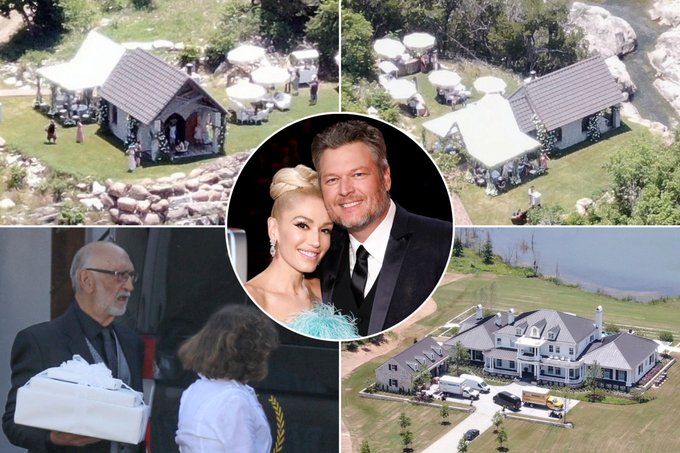 In the meantime, Gwen Stefani and Blake Shelton haven't yet spoken out about the private wedding ceremony at their Oklahoma estate, while first pictures of the happy couple's wedding haven't made it online yet either.
However, fans are still watching the self-made video for their joint single "Happy Anywhere" and celebrating their favorite musicians in love:
We will have to wait and see when Gwen Stefani and Blake Shelton marriage is going to be officially announced by the lovely couple. Let us and other Gazettely readers know your thoughts about Gwen Stefani and Blake Shelton marriage in the comments section below.
Update: Gwen Stefani has published the first shots from their wedding. We've written a post talking about Gwen Stefani wedding dresses she wore during the ceremony!