Are you looking for what to do in Dubai? What to see in Dubai? In our 2022 Dubai travel guide we have provided all the things you need to know about Dubai before coming to the city, including the Top 10 list of activities to do in Dubai which includes all the must-do's; activities and sightseeing, tourist attractions, monuments, shows, areas to visit, cheap or free tours, etc. In order to pay less in Dubai, you should book your tickets in advance (Burj Khalifa tickets, hotels, activities…).
Dubai's name alone is an indication of what you can expect: an ocean of luxurious hotels, world renowned restaurants, and outlandish attractions, all of which are located in the middle of the desert, surrounded by a vast expanse of land and sea. Dubai is not a city to rest on its laurels, as the Emirati locomotive is constantly moving forward (and skyward), there is always something new to see.
Moreover, Dubai is a city with plenty of outdoor activities, sports and, perhaps surprisingly, nature related ones. As the intersection of the West and the East, Dubai is the symbol of the Arabian dream and is constantly gaining attention on the international tourism market. So where can you start in this crazy city and what can you do in Dubai? Stay tuned to our 2022 Dubai travel guide to find out.
What to do in Dubai – Top 10 tours and activities
In our 2022 Dubai travel guide, first we will start with the best things to do and visit in Dubai, just to give you a little guidance for your first stay in this amazing city.
Visit the Burj Khalifa in Dubai (must-do activity)
Free: observation from the outside
Paid: visiting the 124th ($) or 148th floor ($$) – Reservation required
In first place of our Top 10 Dubai, there is the Burj Khalifa, the tallest tower in the world (828 meters)! At the foot of the building or from one of the observation platforms, the discovery of this landmark is a must during a stay in Dubai!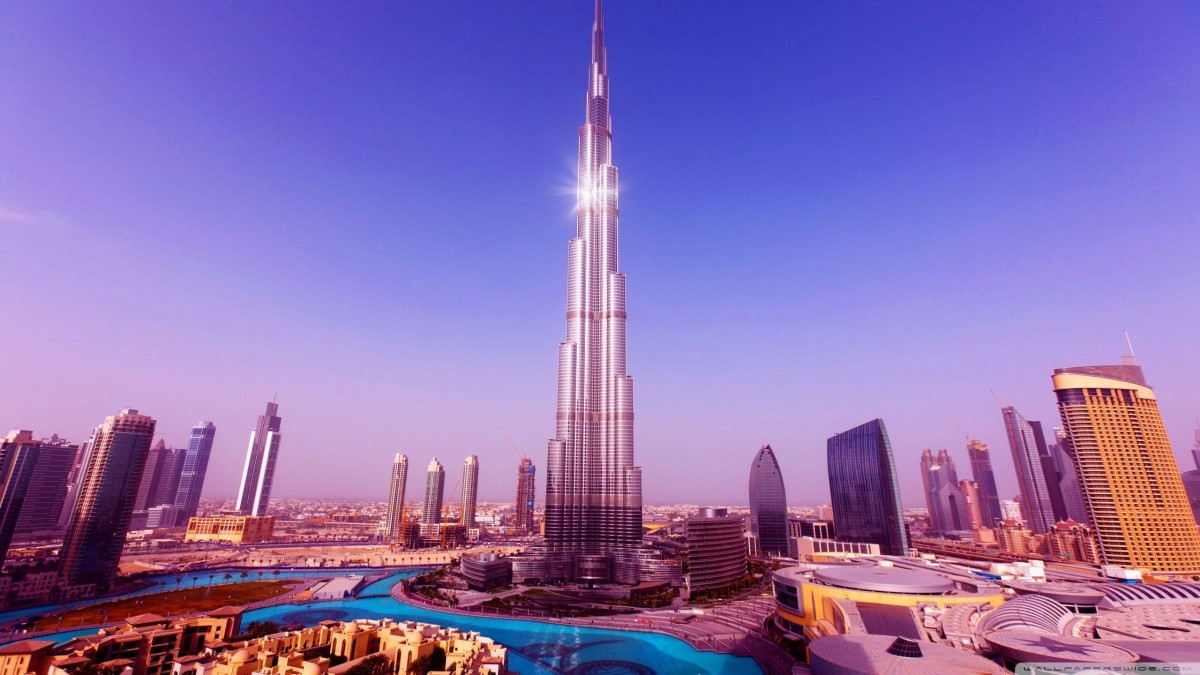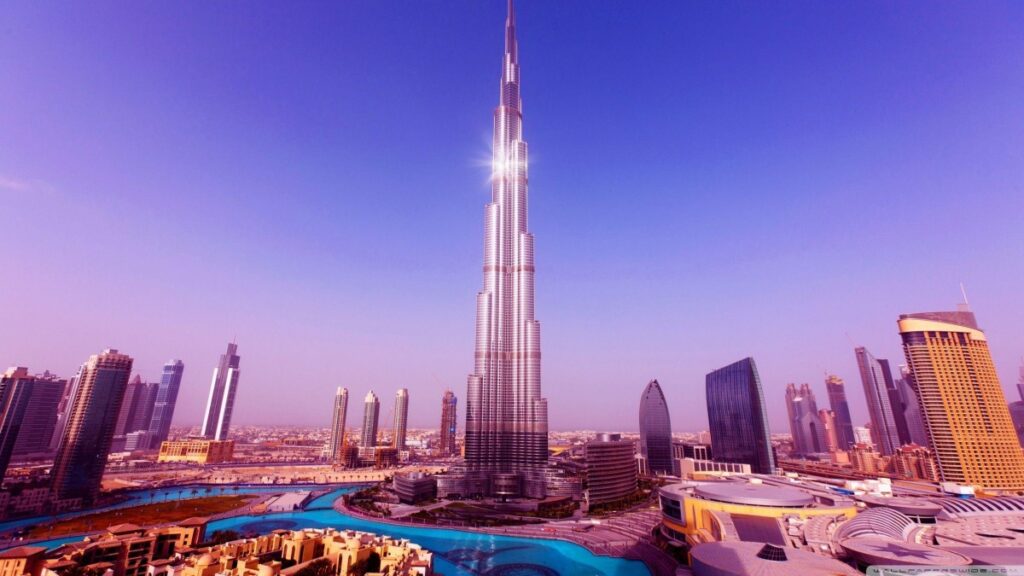 There are 4 ways to discover the tower:
Observation from the foot of the tower (free)
Simply observing the Burj Khalifa from the ground makes you dizzy! The tower can be seen from just about anywhere in Dubai, but the most impressive view is from the Dubai Fountains, just outside the Dubai Mall.
Visit the 124th floor
The main observatory is located at 456m high. This is the classic tour, which most visitors take. The views are impressive: it almost feels like you're on a plane, the city seems so small below! There is an indoor platform (with glass and air conditioning) and an outdoor platform (without glass but with bars). Tours are organized by time slot and are limited.
We therefore strongly advise you to reserve your tickets as soon as possible as it is difficult to get a visit at the time of your choice once you are there (unless you take the flexible ticket for morning or evening access). Also, be aware that you can book a combined ticket with the Dubai Aquarium to save money.
Visit the 148th floor
This more VIP observatory is located at 555m high. It also features an indoor and outdoor platform. It provides an even more impressive view in a quiet and airy space (the number of visitors is very limited). Access to the 124th floor is also included, but the ticket is almost 3 times more expensive… Again, it is better to book in advance because the spaces are very limited.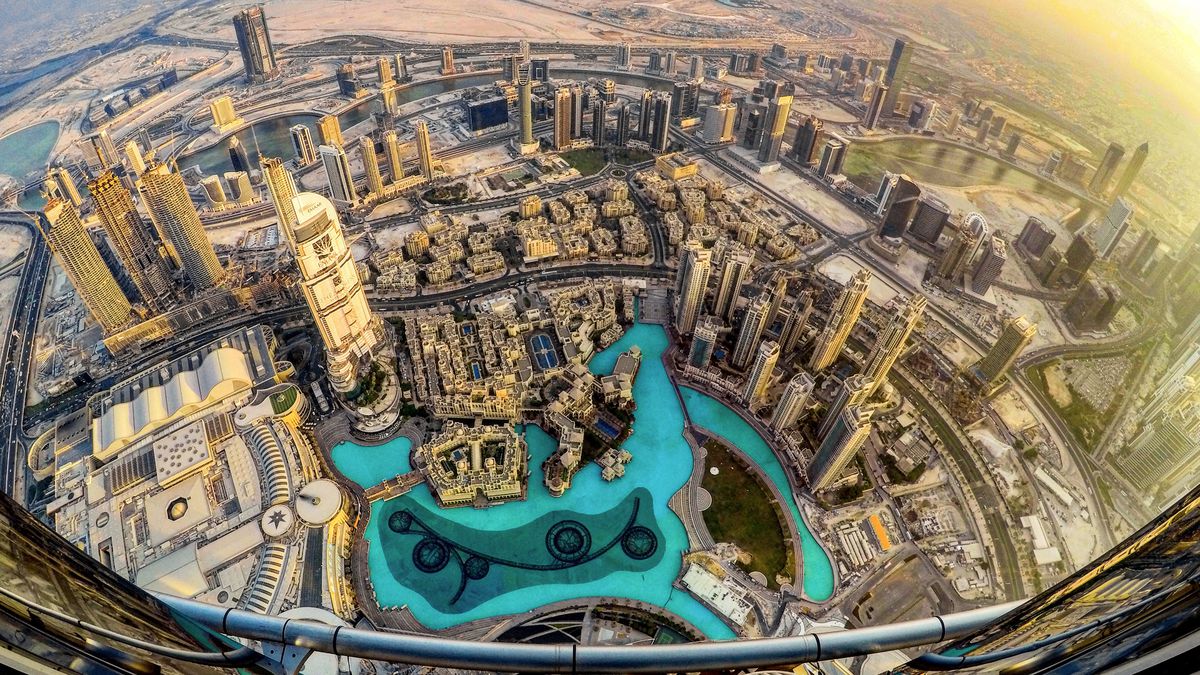 Dining at the "At.Mosphere" restaurant or the "Burj Club"
The first restaurant is located on the 122nd floor of the tower. Don't hesitate to go there if you have the budget (substantial). The second restaurant is a bit more affordable and is located on the 5th floor. The restaurant is very nice and allows you to have a beautiful view on the lake and the fountain show during your meal. There is also a large terrace. So if you want to eat at the Burj Khalifa, we would rather recommend the second option!
Stay tuned to our 2022 Dubai travel guide to find out about more activities to do in the beautiful city of UAE.
4×4 or Quad Safari in the Dubai Desert
Paid ($$) – Reservation recommended
This is definitely one of the best activities in Dubai! A 4WD will take you into the desert, doing some acceleration and skidding in the sand dunes, before leaving you to enjoy this beautiful natural area. There are also quad and buggy tours available.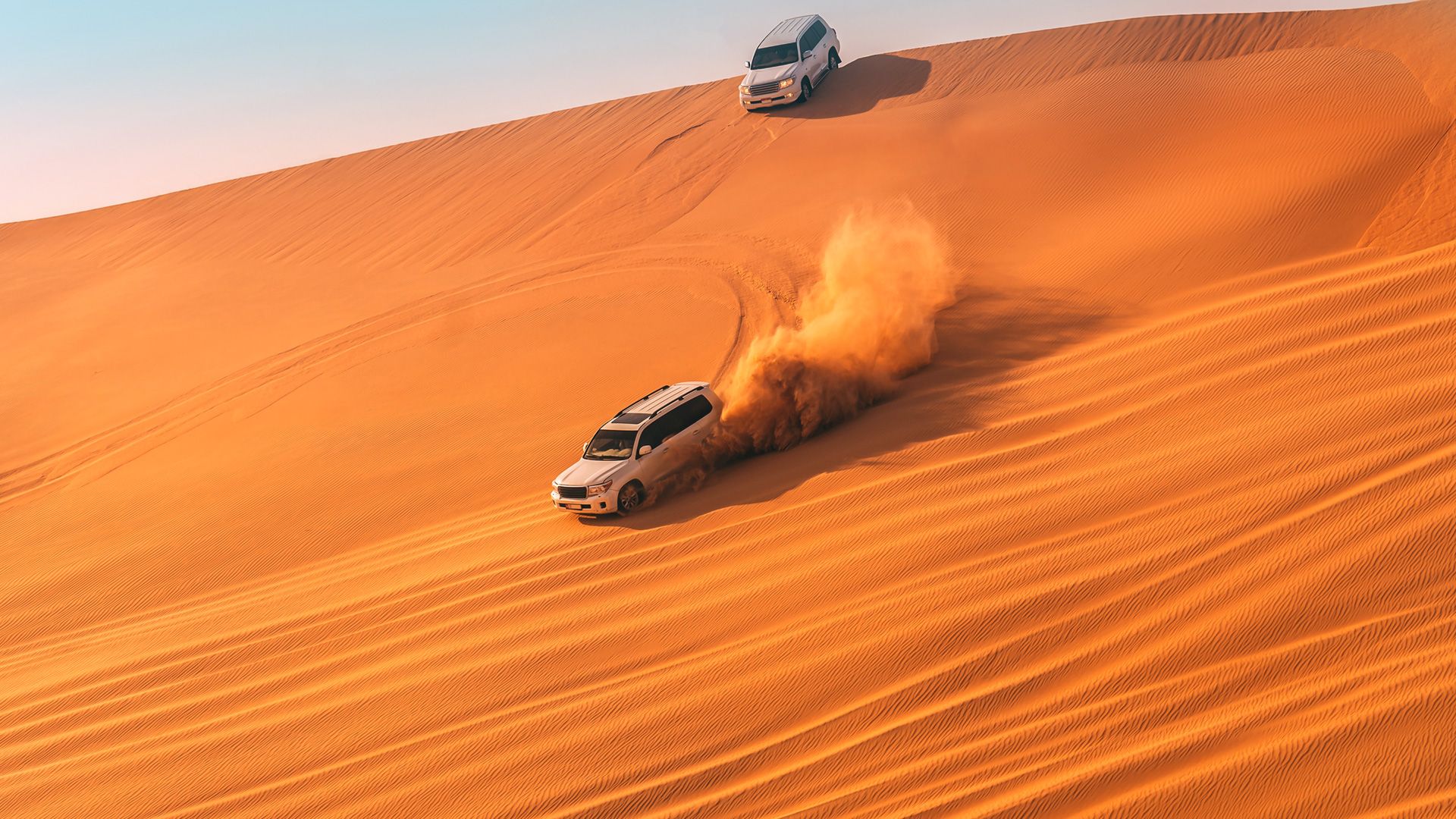 Most of these tours include an evening in a Bedouin camp, which turns out to be a tourist camp (like many things in Dubai…). The food is good (barbecue), the atmosphere is good and the activities are numerous (belly dancing, tea service, henna painting, chicha, camel rides, sandboarding…). You can even sleep in the camp if you choose a safari including a night in the desert!
If you wish to discover the deserts of Dubai in a more active way, tours in quad, buggy and camel are also offered. Last but not least, many tours take place in the late afternoon. This provides a good opportunity to watch a sunset in the desert (always a magical moment)!
Take a tour in other emirates: Abu Dhabi, Sharjah…
Paid: self-transportation or tour ($)
There are many possibilities for trips around Dubai. In a single day, you can visit Abu Dhabi, the Al Ain oasis or the Musandam Fjords. If you will be staying in Dubai for more than 3 days, you should plan a day trip to Abu Dhabi. There you can admire the magnificent Sheikh Zayed Mosque, the largest mosque in the Emirates (and ninth largest mosque in the world) and the newly opened Louvre Abu Dhabi!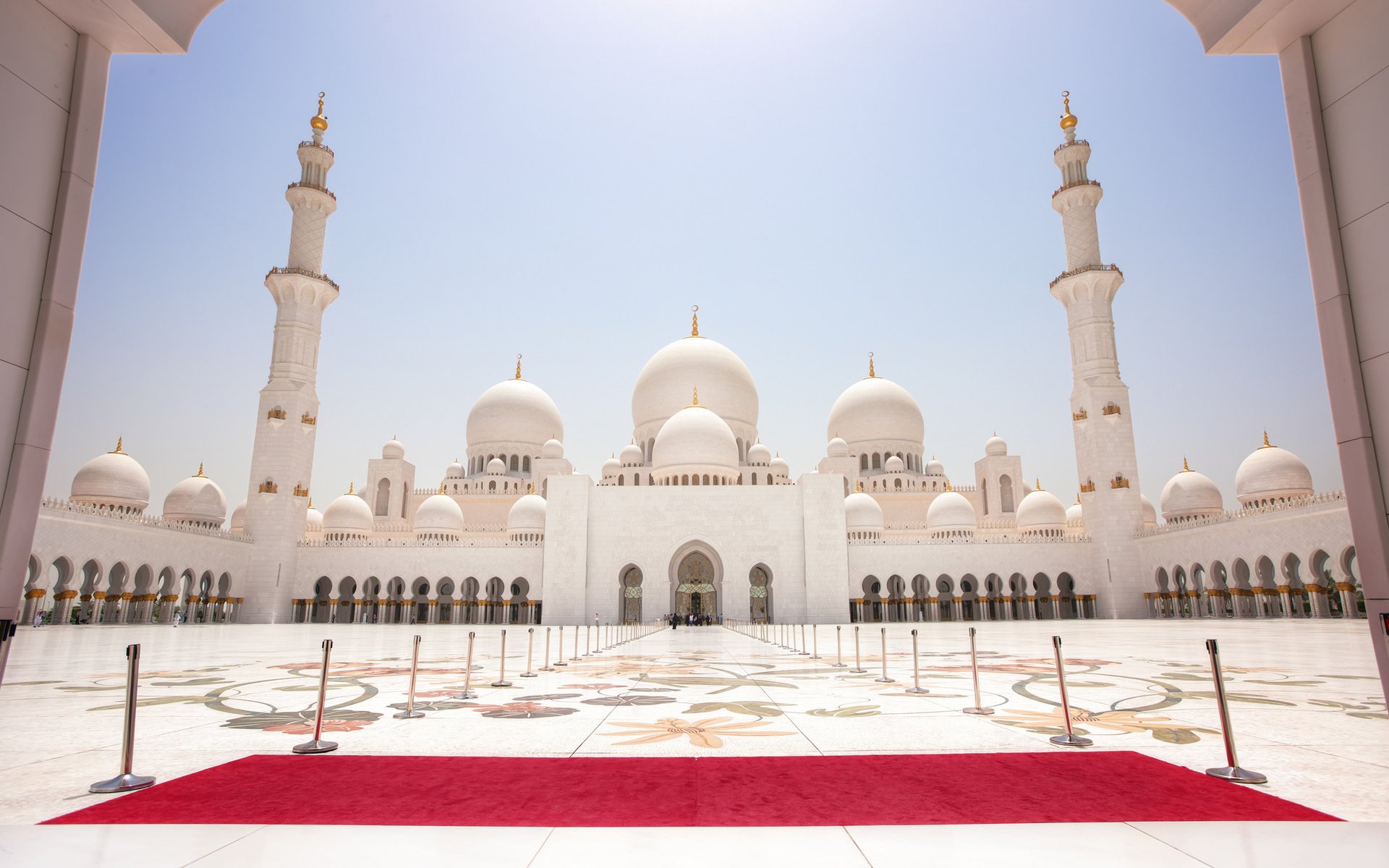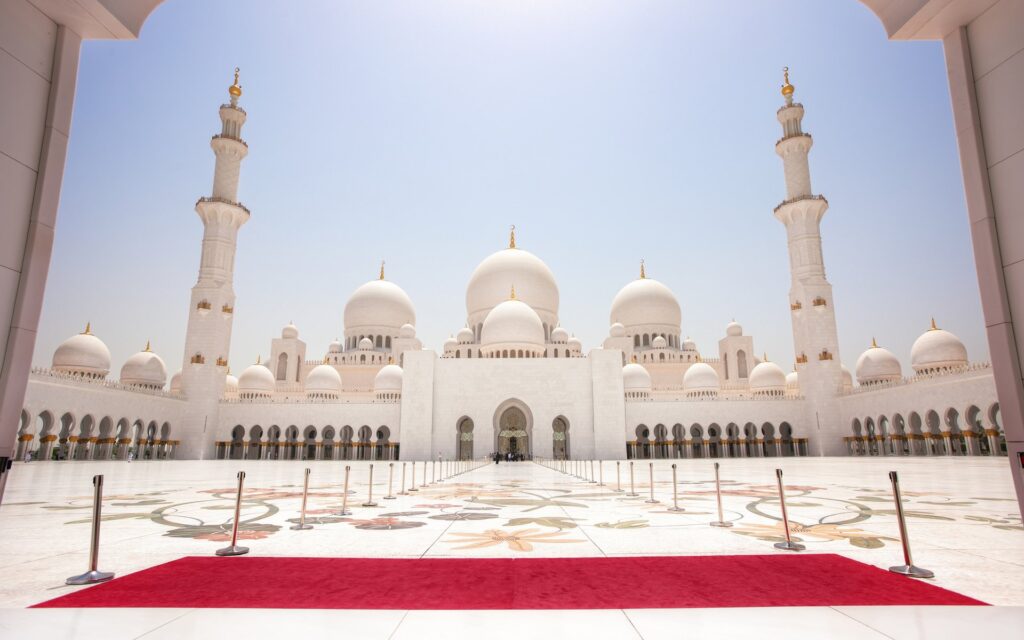 The Ferrari World Park is also located there. There are guided tours from Dubai that are well organized.  If you prefer to stay on your own, you can also get to Abu Dhabi by public transport! If you are staying more than 5 days in Dubai, we suggest a trip to the beautiful Musandam Fjords (the fjords belong to the Sultanate of Oman, bring your passport to get there).
Stay tuned to our 2022 Dubai travel guide to find out about more activities to do in the beautiful city of UAE.
Visit the old Dubai: Souks, alleys, Dubai Museum…
The Old City of Dubai is located on both sides of the Khor Dubai, the sea arm crossing the city (it is called "Dubai Creek"). You can find different souks (gold, spices, textiles…), small streets and beautiful monuments (mosque, fort, Indian temple…).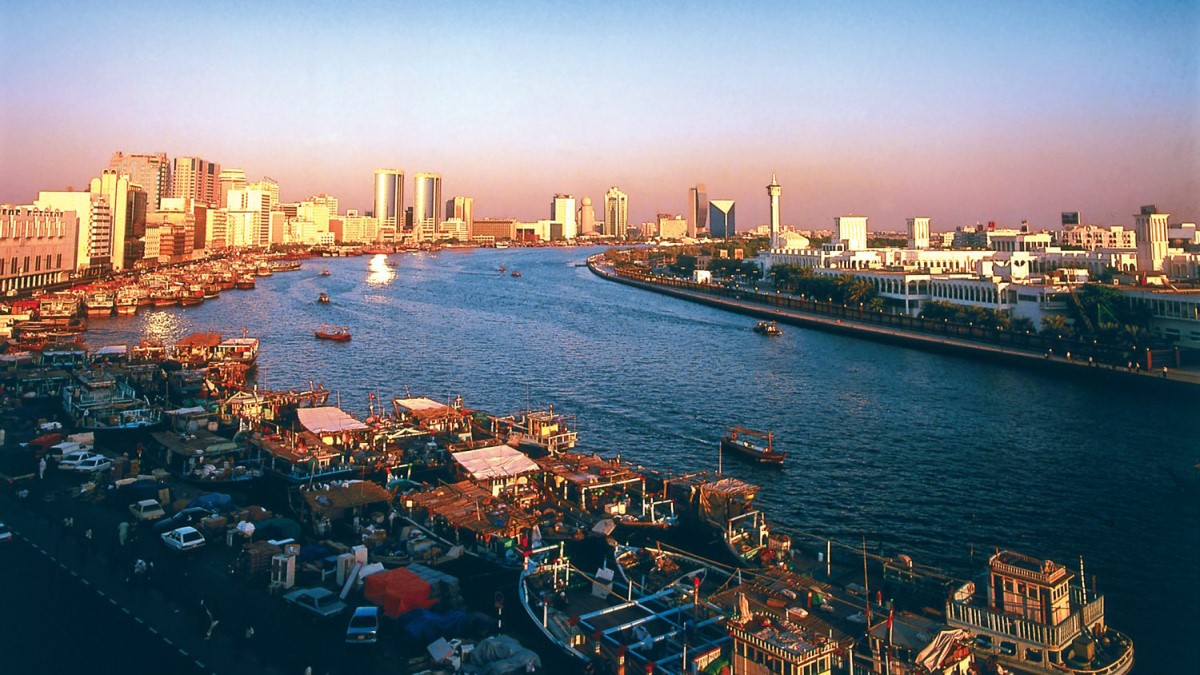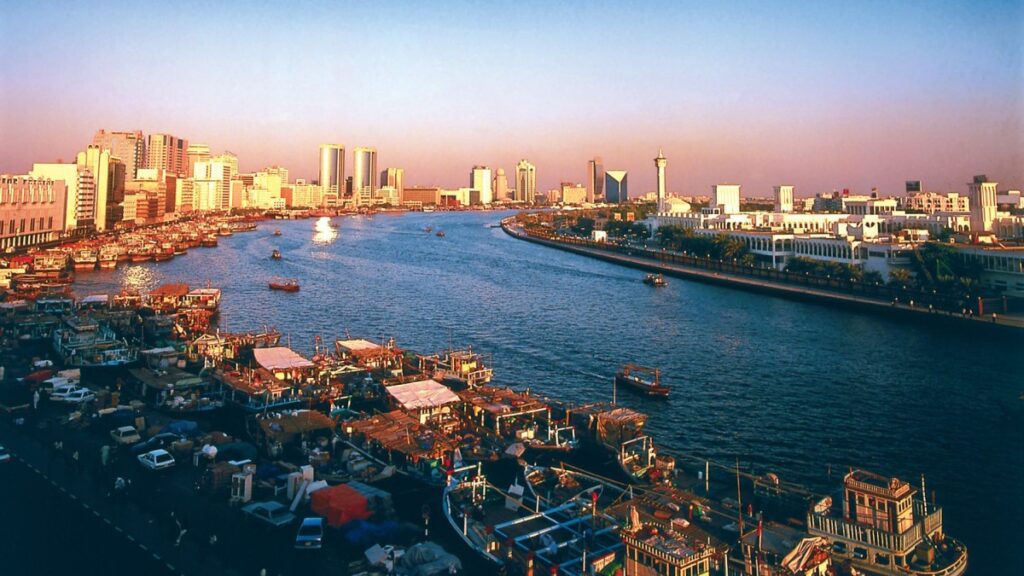 Walking in this district is very different from anything you can see in the metropolis. You can also visit the Dubai Museum (3 dirhams entrance, less than one dollar!), the museum which presents the history of the city. It is situated in the Al Fahidi fort, the oldest building in Dubai, built in 1787!
To cross from one shore to the other, you should take an abra (it costs only one dirham. These small traditional boats are very atypical and friendly! Stay tuned to our 2022 Dubai travel guide to find out about more activities to do in this beautiful city of Emirates.
Attend a water show: "Dubai Fountain" or "The Pearl"
Free: Fountain show
Paid: "The Pearl" ($) – To be reserved
There are two wonderful water shows in Dubai! At the Dubai Fountain, you can watch different water jets "dance" to classical, Arabic or international music compositions, all with an excellent light show. Meanwhile, The Pearl show features artists and acrobats who perform on a fully immersed stage! Both shows are very different and therefore both deserve to be seen!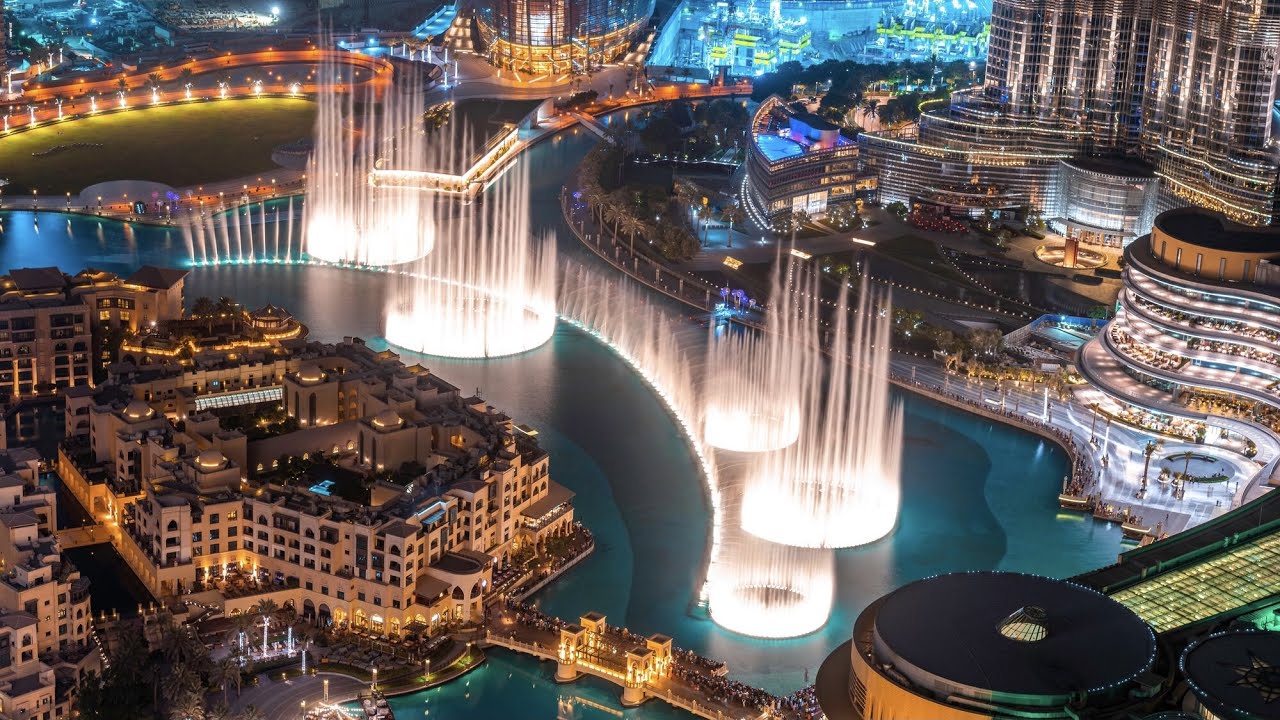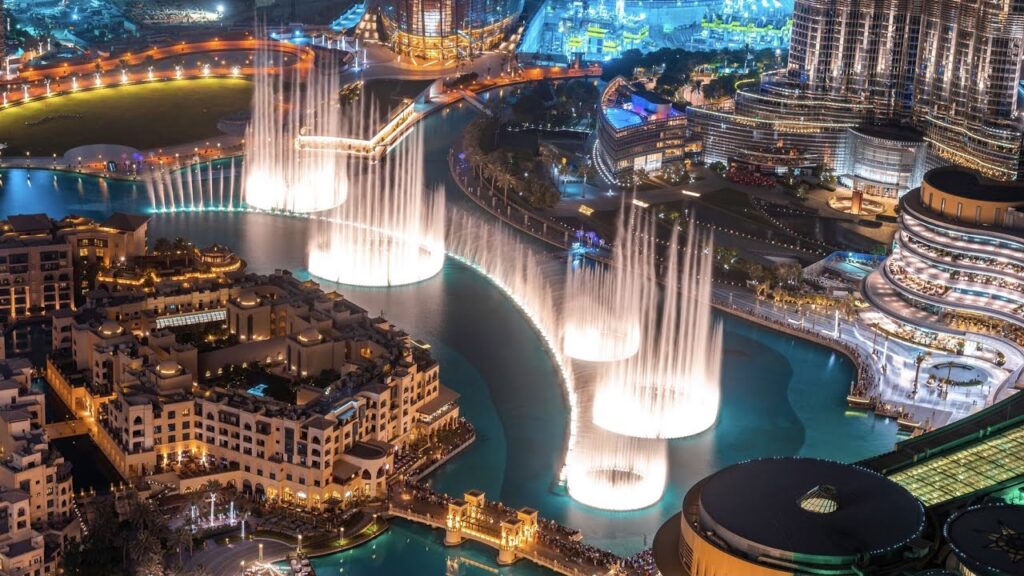 So if you're looking for something to do in Dubai in the evening, here are two perfect activities for you:
Fountain Show (free but paid options for a better view)
The show is free, which makes it one of the must-do activities in Dubai. It is an amazing fountain show that takes place every night at the foot of the huge Burj Khalifa tower (from 6pm to 11pm, every 30 minutes). There you can see magnificent water jets evolving to the rhythm of 20 different choreographies, calm or spectacular.
Some of the projections can go up to 140 meters high! There are also shows in the early afternoon, but they are less impressive (the show is designed and thought as a night show with a very elaborate light show). To get an even more spectacular view, it is possible to embark on a small boat that will sail on the lake during the show.
The Pearl Show (paid)
The other show which we recommend is not free, but is well worth the money! It is "The Pearl", a show directed by Franco Dragone, who is one of the most famous designers of shows in the world. It takes place in a huge hall with 1300 seats, where more than 65 artists perform live. The scenery is fabulous, but it is the main stage that catches the eye: a huge swimming pool, shaped by different scenery and used in a creative and original way.
Some acts can be poetic, others spectacular (we loved the sequence with the motorcycles!), but one thing is sure: one is not used to see such things!  If you can afford it, we recommend you to book your tickets!
Stay tuned to our 2022 Dubai travel guide to find out about more activities to do in this beautiful city of Emirates.
Have fun in a theme park in Dubai: Aquaventure, IMG…
Paid ($$) – Must be booked to get a ticket
The city of Dubai has the ambition to become the Orlando of the Middle East. There are already many theme parks and water parks in the city and we could almost make a top 10 with them alone! In fact, more are planned in the coming years!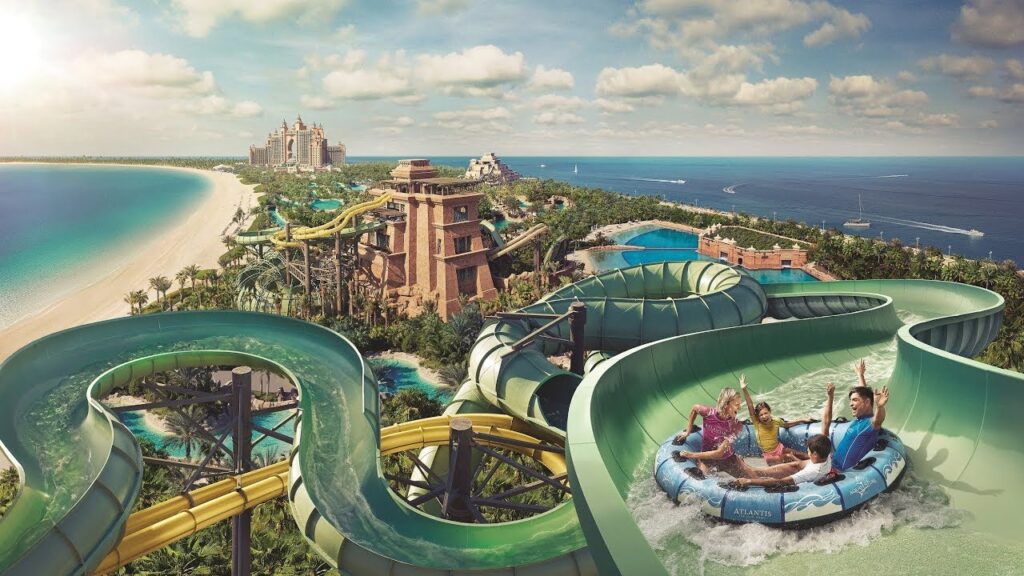 The main water parks in Dubai are the following:
Aquaventure
Situated next to the famous Atlantis hotel, this park with its "South American" design has some great attractions, including a slide offering an almost vertical drop from a height equivalent to 9 floors! There is also the possibility to swim with dolphins.
Wild Wadi
The park is ideally located, just in front of the Burj al Arab hotel. It provides a great view on this monument and features various entertaining attractions (slides to go down with buoys or a long fall after opening a trap door, quiet rivers, etc.).
Legoland Waterpark
This park, with its LEGO® toy-inspired decorations, is mainly intended for children.
The main amusement parks in Dubai are the following:
Ski Dubai
This artificial complex is located in the heart of the Mall of the Emirates. There you can go skiing, sledding or play games on ice and snow (such as a descent inside a giant ball)! This is a very fun place, but one still wonders how all this is in the middle of the desert!
IMG
This theme park is simply the biggest indoor park in the world! The building is entirely covered and air-conditioned, and offers some thrilling attractions taking inspiration from the Marvel universe, the world of dinosaurs or cartoons.  Especially recommended are the thrill rides "Velociraptor" (you go from 0 to 100km/h in 2.5 seconds) and "Spiderman" (a roller coaster with a rotating car).
Motiongate
This park presents various attractions that are inspired by the films of Dreamworks, Sony Pictures and Lionsgate studios.
Legoland
If you want to know what to do in Dubai with kids, this park offers sets and attractions inspired by LEGO® toys. Stay tuned for more theme parks in our 2022 Dubai travel guide.
Bollywood
This is the first theme park inspired by Bollywood cinema. While there are a few rides, the main reason visitors come here is for the colorful sets and shows.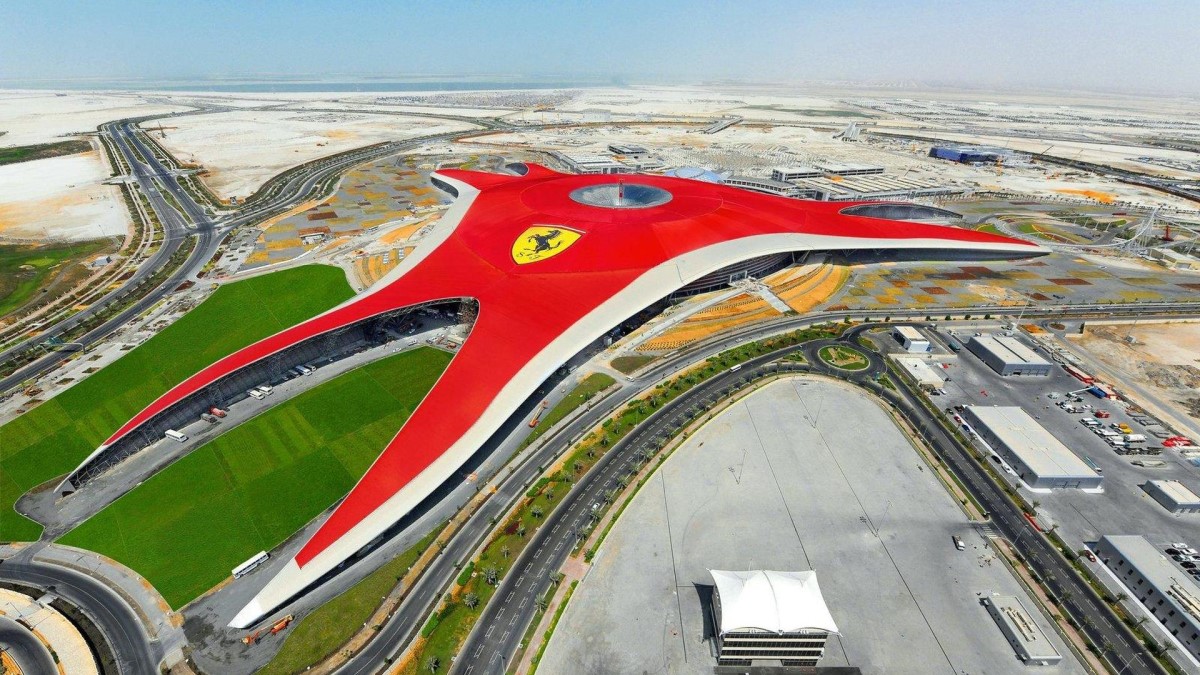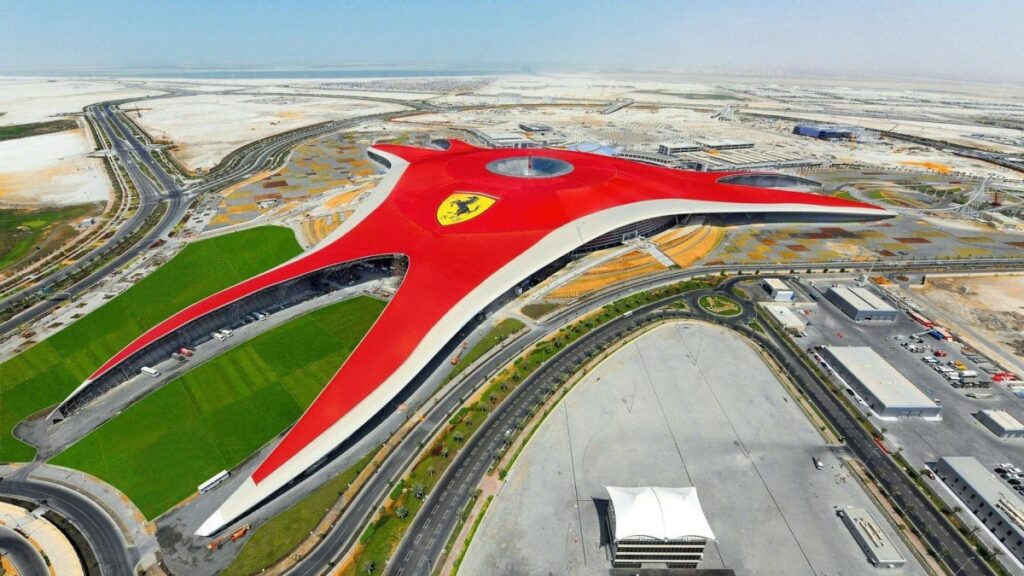 Ferrari World (in Abu Dhabi)
There are only a few attractions in this park, and the spaces are empty. The only highlight that may be worth a visit is "Formula Rossa", the fastest attraction in the world (0 to 240km/h in less than 5 seconds).
There are also other smaller parks designed for children like Wonderland, Kidzania, Green Planet, Hub Zero, etc.
Stay tuned to our 2022 Dubai travel guide to find out about more activities to do in this beautiful city of Emirates.
Visit the iconic hotels in Dubai: Burj Al Arab & Atlantis
Visiting Dubai without seeing the city's two iconic hotels would be a shame! One of them is the Burj Al Arab, often referred to as the only 7-star hotel in the world, recognizable by its unique sail-shaped design. The massive Atlantis Hotel is located at the end of the Palm Jumeirah, an artificial archipelago in the shape of a palm tree (beautiful from the air!).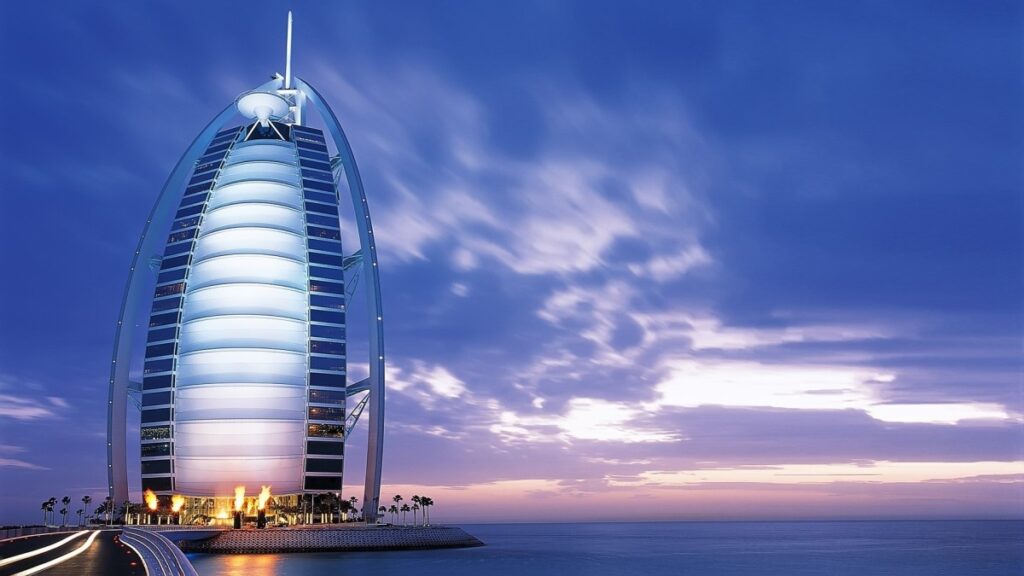 The access to the Burj Al Arab hotel is limited and it is not allowed to approach it without being a guest. Nevertheless, there are different possibilities to discover it:
Observe the hotel from the public beach of Jumeirah or Madinat Jumeirah
We recommend this option (free of charge), since it allows you to clearly distinguish the particular shape of the hotel while being in a pleasant environment. Cruises on the Persian Gulf also offer a beautiful view from the sea
Enjoying the view from the Wild Wadi Park
This water park is located right in front of the hotel and offers a beautiful view of the building
Have a tea or a dinner in one of the hotel's bar-restaurants
Expect at least $100 per person, a smart outfit and a reservation in advance
Spend a night there
Budget from $1,700 to over $3,600 per night!
To see the Atlantis Hotel, there are 3 options:
Visit "The Lost Chamber" Aquarium and view the hotel from the Palm Jumeirah
Situated inside the building, the aquarium offers original scenery, though the visit is quite short. The views from the palm, at the foot of the hotel, are impressive but not perfect because the distance is not great enough (the building is huge)
Observe the hotel during a cruise
Because of the distance and the environment (the sea against a blue sky), the zodiac tours offer without a doubt the best view of the Atlantis hotel
Spend a night on site
Expect a minimum of $300 for a standard room
Stay tuned to our 2022 Dubai travel guide to find out about more activities to do in this beautiful city of Emirates.
Taking a water ride in Dubai: Cruises & Water Sports
Paid: Abras ($), jet-ski, zodiac, yacht or dhow ($$), fly boat ($$$)
Use your stay to discover Dubai from the water! There are beautiful cruises on the waters of the Persian Gulf and on the Khor Dubai (an arm of the sea crossing the city, also called Dubai Creek). There are also more sporty activities such as jet-skiing, kayaking or flyboarding!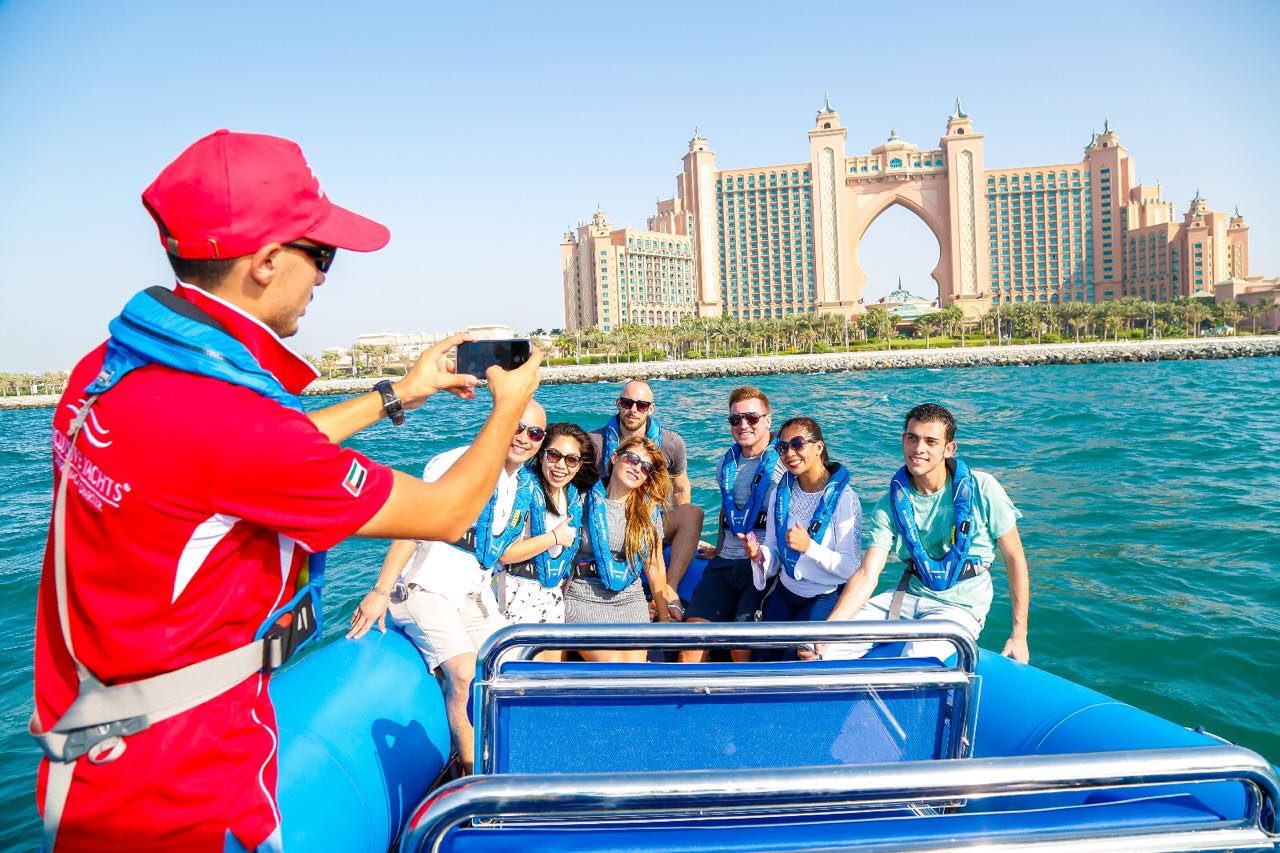 There are different types of boats offering cruises in Dubai:
Zodiac cruise in the Persian Gulf (the most popular offer!)
This is the coolest option with a great view of the monuments, notably the Burj al Arab and Atlantis hotels (departures from Dubai Marina). If you want to do something in Dubai with kids, this is a great choice.
Abra cruises on the Khor Dubai
The most authentic and cheapest choice! For as little as 1 dirham (a few cents), you will board a small boat operated by the locals and cross the Khor Dubai in old Dubai (5 to 10 minutes crossing). With this price, there is no reason to miss out! Stay tuned for more water rides in our 2022 Dubai travel guide.
Cruise (with or without dinner) in a yacht or a "fly boat"
The most luxurious option (and therefore the most expensive…). Yachts usually depart from the Dubai Marina, while the fly boat departs from the Old Dubai.
Dhow dinner cruise
This is the most entertaining cruise. These tours take place aboard traditional dhows, and usually feature an all-you-can-eat buffet and live entertainment on board. They are offered on the Khor Dubai or at the Dubai Marina.
In terms of water sports, there are also many options:
Jet-ski
You can take a jet-ski tour on the Persian Gulf and enjoy a beautiful view of the Burj Al Arab hotel.
Extreme Seabreacher tour
This highly original activity is worth a visit! Seabreacher is a kind of mini submarine that simulates the swimming of a dolphin. The concept is quite difficult to explain, but imagine high speeds, good out of water and mini dives and you will have an idea of what awaits you! Obviously, a pilot is in charge of controlling the machine but the sensations are no less exhilarating.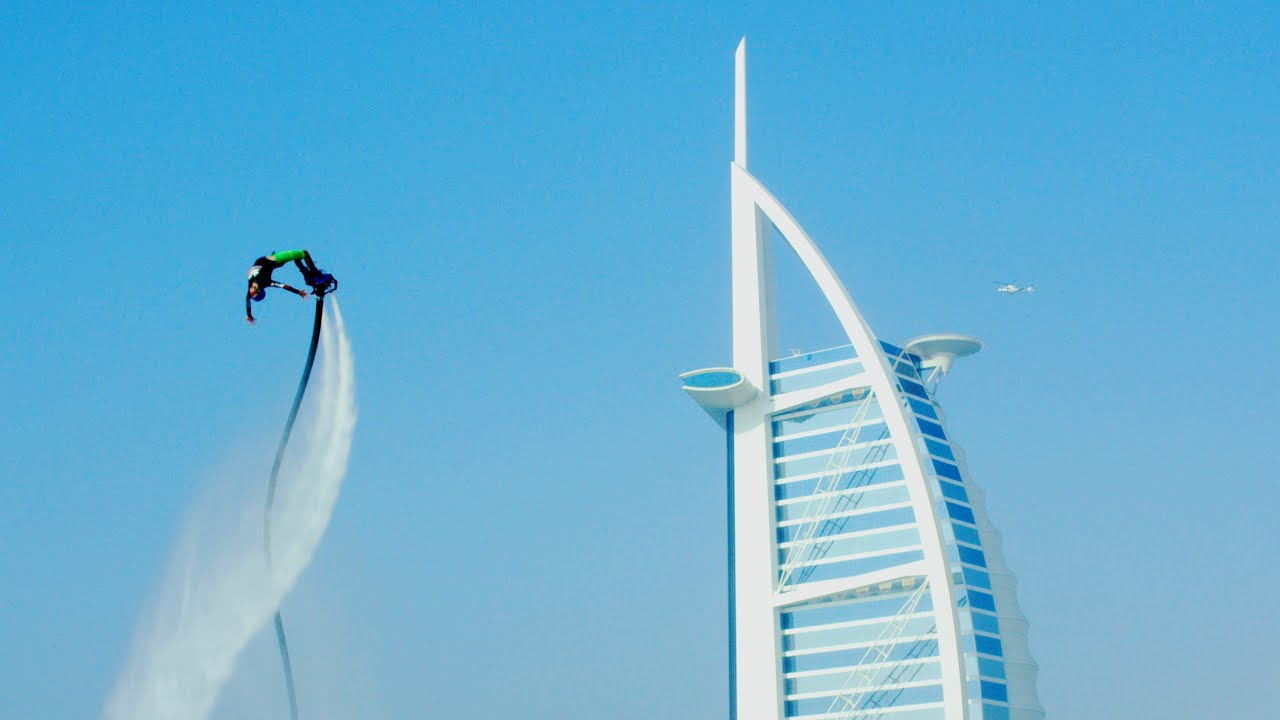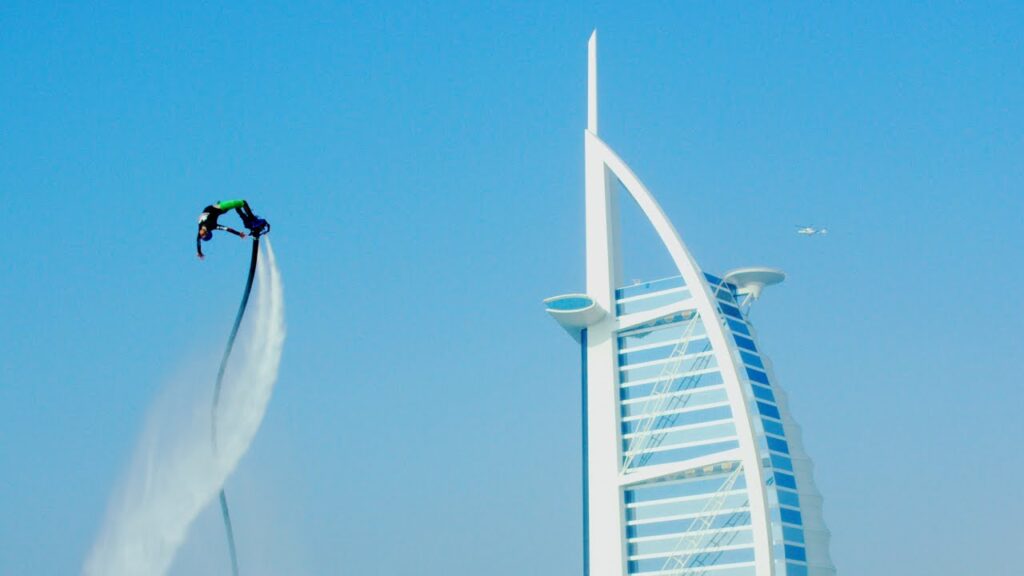 Flyboard & Jet-pack
If you have the money and you have never tried one of these activities, we definitely recommend you to do it ! Both of these equipments allow you to rise several meters above the sea with a high pressure water propulsion system. The flyboard is designed to be propelled by the feet while the jet pack is worn on the back.
Paddle, kayak, banana boat
As in any seaside city, Dubai has all the typical beach activities. You can for example take a kayak or paddleboard tour or be pulled by a boat by hanging on to big buoys.
Stay tuned to our 2022 Dubai travel guide to find out about more activities to do in this beautiful city of Emirates.
Visit Dubai Malls: aquarium, attractions & shopping
Free: access to the malls
Paid: shopping & attractions ($$)
The city of Dubai is a shopper's paradise! Even if you don't plan to leave with a full suitcase (prices are only slightly cheaper than in the US, even if the choice is wide and varied), you should visit the city's biggest malls, which are luxurious, huge and extravagant. There are also some of the best attractions and activities in Dubai.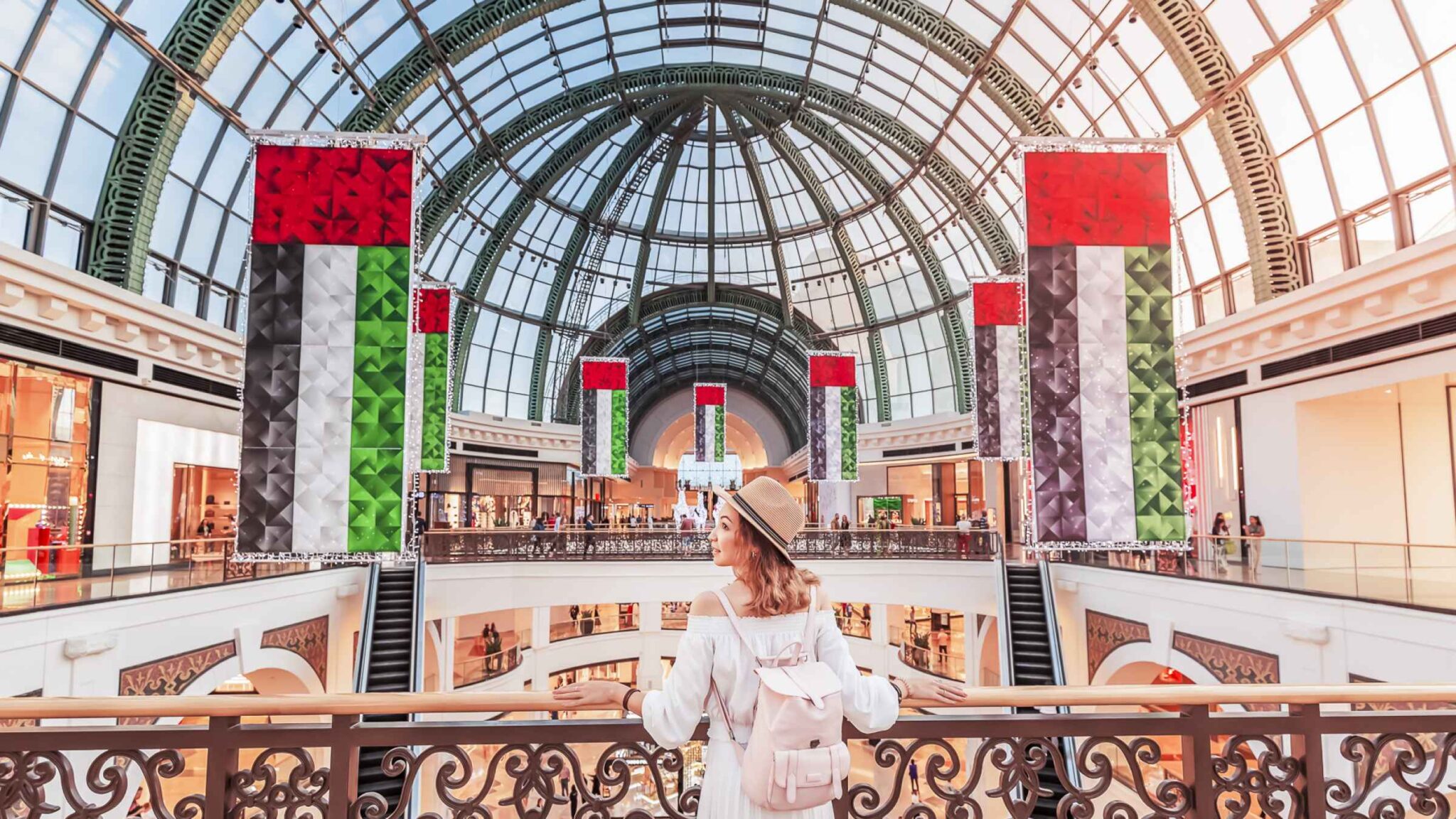 Dubai has nearly 100 shopping malls. Each of them has its own special features, but the main ones are the following:
Dubai Mall and its giant aquarium
Situated right next to the Burj Khalifa, it is the largest shopping mall in the world, boasting more than 1,000 stores. One of Dubai's most famous attractions is a giant aquarium which can be seen for free (you can buy a ticket to "cross" the aquarium in an underwater tunnel and enjoy an impressive view)! There is also an "underwater zoo" (you have to buy a ticket for the aquarium tunnel to get in) and huge "waterfalls" and an Olympic ice rink.
Mall of the Emirates and its ski slope
This huge mall has the distinction of hosting Ski Dubai, an attraction where you can ski on a large artificial slope and play various games on the snow!
City Walk
Located between the Burj Khalifa and the Jumeirah beach, this open-air street offers many stores and a pleasant stroll. Stay tuned for more about Malls in our 2022 Dubai travel guide.
Deira City Center
This mall is not very well known but it's a great place for shopping. Its reasonable size and good organization make it easier to find your way around and to be more efficient
There are a lot of other malls that can be worth a visit: Mercato Mall (Renaissance inspired decorations), Wafi Mall (Ancient Egypt inspired decorations), Dubai Outlet Mall (factory outlet stores with discounted prices), etc.
Stay tuned to our 2022 Dubai travel guide to find out about more activities to do in this beautiful city of Emirates.
Fly over Dubai: by helicopter, seaplane, parachute or giant zip line
Paid ($$ or $$$) – Reservation required
Among all the activities to do in Dubai, flying over the city is undoubtedly one of the most memorable! Because of its original architecture and its vastness, Dubai has numerous sites to observe from a helicopter or a seaplane. For example, the Palm Jumeirah is much more impressive from the air, particularly during a parachute jump! If you love adrenaline, a zip line descent in the heart of the buildings could also please you!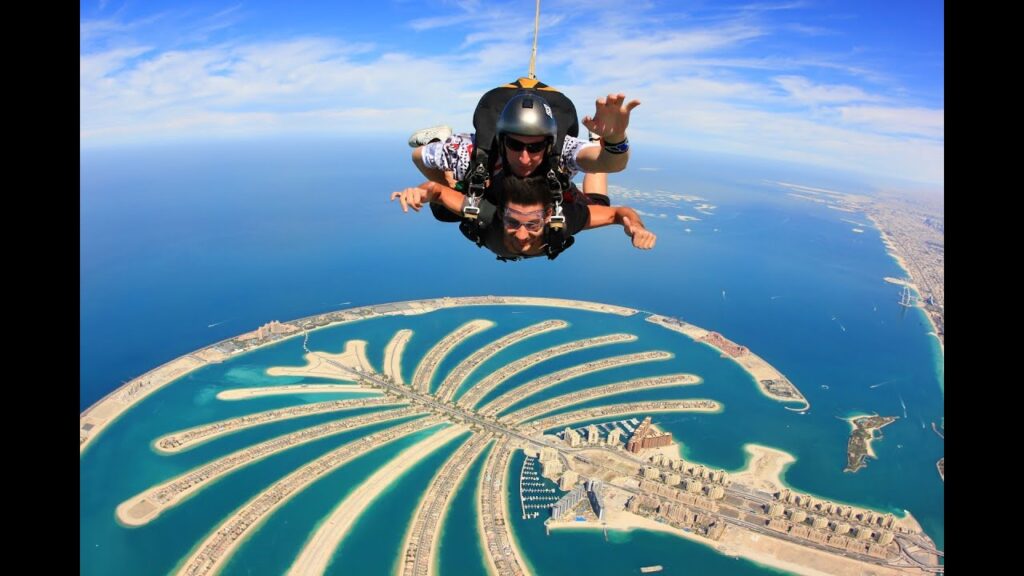 If you want free or cheap activities, forget about these! For lovers of aerial views or sensations, you will need to spend money… But the view is worth the money! Four choices are available to you:
Helicopter flight
Classic and efficient! The flights can last 12, 15 or 25 minutes. Of course, the shorter flights are the cheapest, allowing you to discover the main sites from the sky (Palm Jumeirah, Burj al Arab, Burj Khalifah…). However, the longer flights offer a complete flight over the city, to better understand its gigantic size and extravagance.
Seaplane flight
A more original and longer flight, but a bit more expensive. Nevertheless, the view is superb and the flight very pleasant (without turbulences). It is really an original experience, which is sure to become one of the highlights of a stay in Dubai! Stay tuned for more flying experiences in our 2022 Dubai travel guide.
Skydiving in Dubai
The skydiving takes place over the Palm Jumeirah, which is considered one of the most beautiful places in Dubai when seen from the sky. Probably one of the best places in the world to do this activity, although the price is very high!
Giant zip line
The world's largest urban zip line is in Dubai! Starting from a 170m high skyscraper, you'll be launching yourself in a "superman" position at almost 80 km/h! The zip line is 1 km long and passes through the buildings of the Marina, the most modern district of Dubai. This attraction is new in Dubai and already extremely popular!
In case of a tight budget, you can just watch Dubai from one of the observation platforms of the Burj Khalifa, although the view will not be as beautiful and the sensations very different… Keep also in mind that all these activities are in high demand and have a limited capacity. Think about booking them before your departure if you want to participate!
Also Read:
What to do in Dubai: Other tours, attractions and activities
Are you looking for other ideas on what to do in Dubai besides the activities listed in our TOP 10? Below is a selection of other attractions and activities, both free and inexpensive:
Jumeirah Beach: Dubai's main beach.
Jumeirah Mosque: This mosque, frequently described as the most beautiful in Dubai, opens its doors to non-Muslims and it is possible to visit it (except on Friday).
Heritage & Diving Village: A tourist area recreating the life of the ancient Bedouin villages and presenting the city's ancient economic activities, pearl fishing and dhow (wooden ship) building.
Sheikh Mohammed Centre for Cultural Understanding: A center dedicated to the understanding of Islam and the culture of the Emirates.
Dubai Marina: An area described as the "new Dubai", where it is nice to stroll along the waterfront and where you can of course see many pleasure boats.
Madinat Jumeirah: A luxury hotel complex where it is possible to walk around. The decorations are intended to replicate an ancient Arab citadel. The environment of the place is nice and the walk is enjoyable.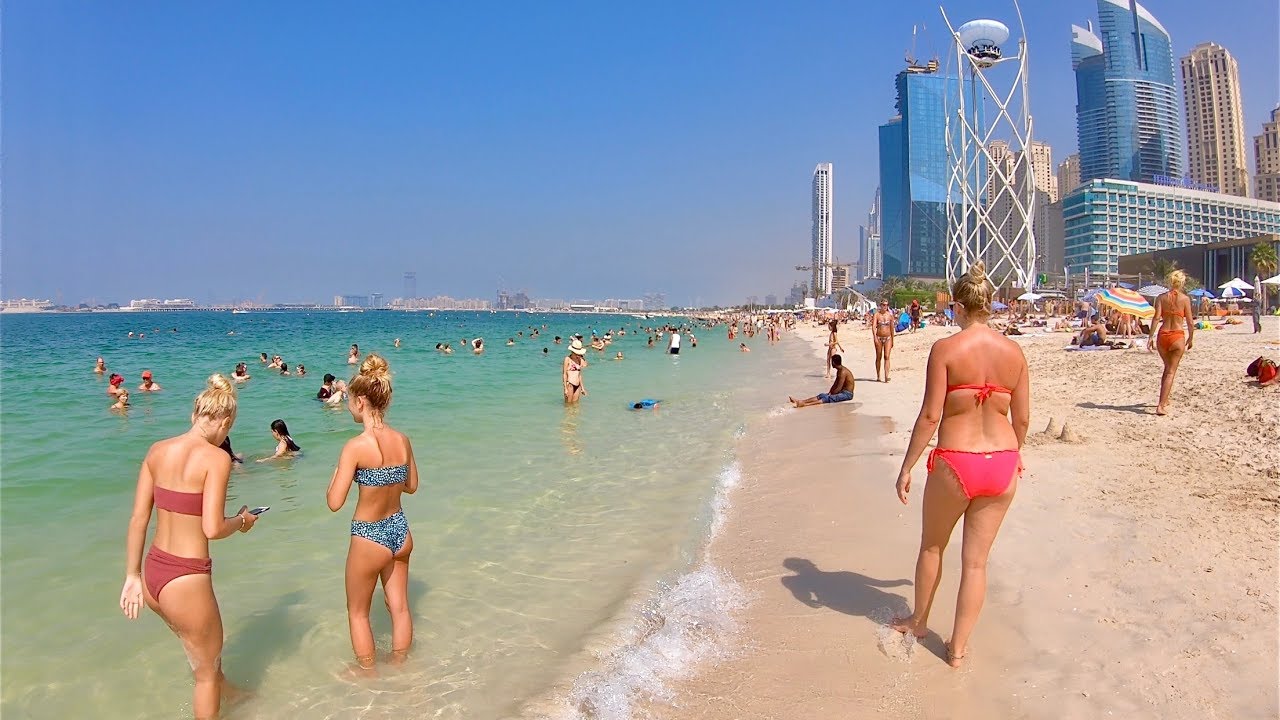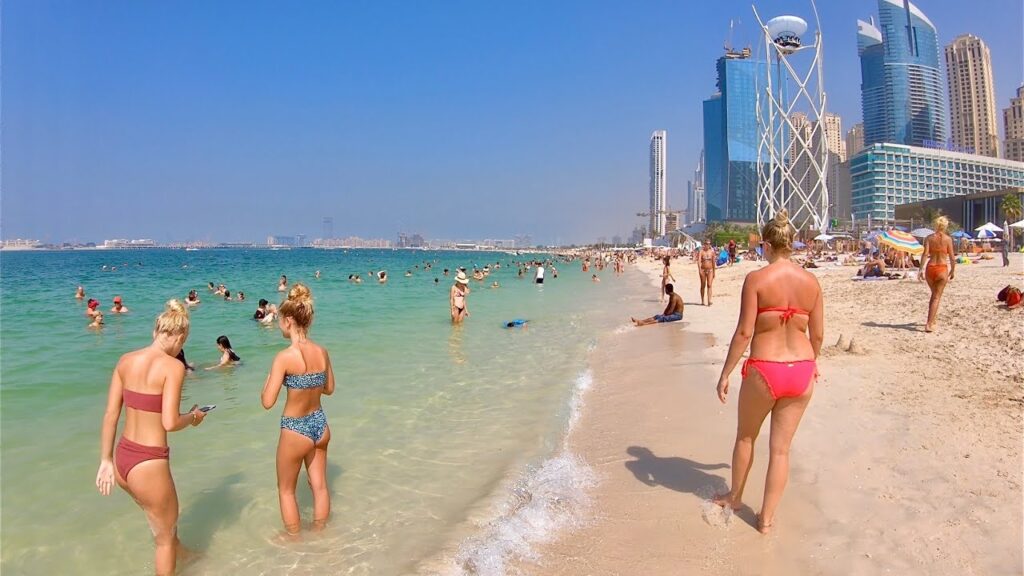 Useful tips for visiting Dubai and planning your trip
Here we have tried to give you as many ideas as possible about what to do in Dubai. Below are some tips and tricks to help you organize your trip, so stay tuned to our 2022 Dubai travel guide to find out about more about the city.
Activities booking info (+ Passes, Tickets & Availability)
Dubai is a very touristy city, with plenty of visitors to the major attractions (museums, theme parks, aquariums, etc.). While most tickets have the skip-the-line option, they are not necessarily required, because everything is well organized and entry is usually fairly quick. However, the only attraction for which it is absolutely necessary to book tickets in advance is the Burj Khalifa.
Visits are by time slot and there is often no more availability… If you would like to save money, booking tickets is recommended as the price is often cheaper online. Regarding activities (desert safari, cruises, helicopter flights…), it is always advisable to book in order to be sure to have a place and to get ready. Know that there are multi-activity passes that quickly turn out to be profitable if you plan to do several activities and attractions.
Stay tuned to our 2022 Dubai travel guide to find out about transportation in Dubai.
Transportation in Dubai
There are several ways to get around Dubai:
By foot
We strongly advise against long journeys on foot. Since Dubai is a huge city, you will need to plan transportation to visit the most interesting sites. But there are some very nice areas to walk around (Old Dubai, Marina…). Stay tuned to explore other transportation options in out 2022 Dubai travel guide.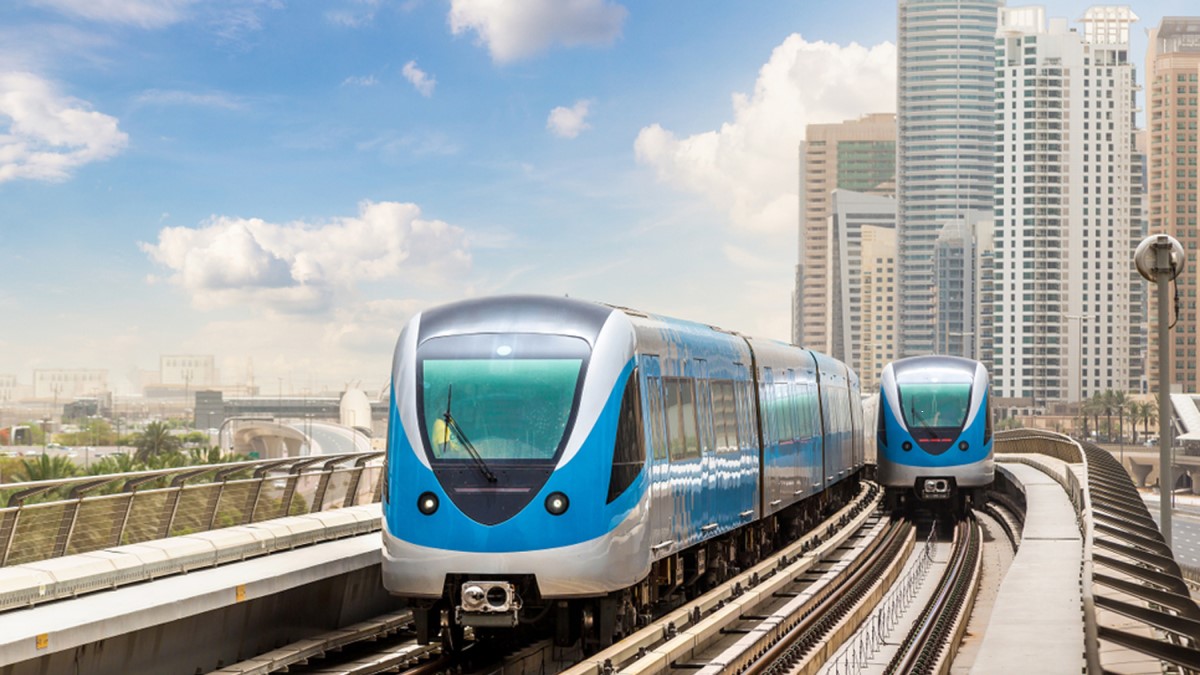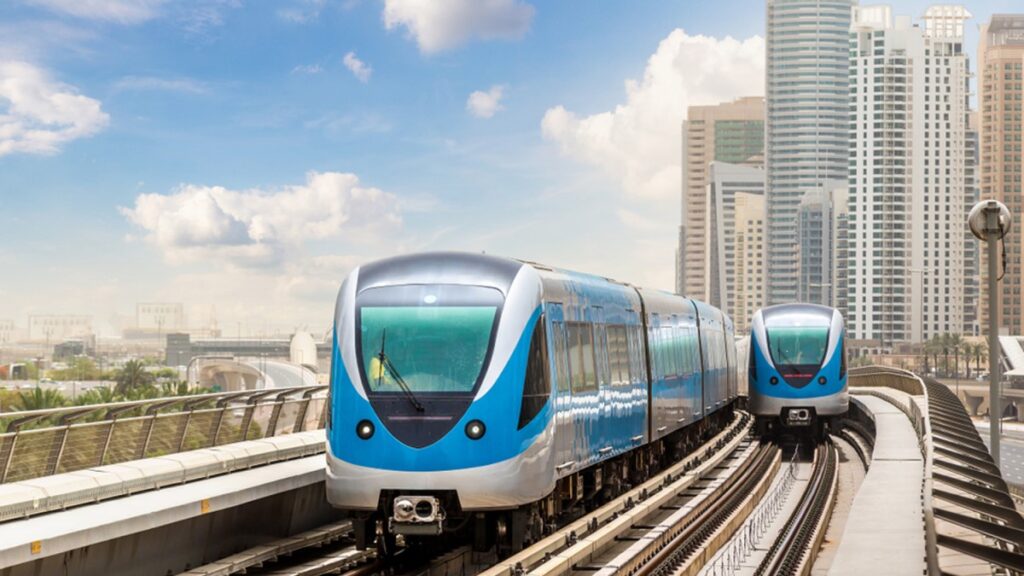 By public transport
There is a nice subway as well as buses serving the main sites of Dubai. The subway is probably the best way to get around because it is fast enough, quite clean and not expensive. You can limit the cost of your stay by buying a daily, weekly or monthly pass on site. Then you will have unlimited access to all public transportation.
By multi-stop tourist bus
The main advantage of this means of transportation is that it is designed to visit Dubai. They are open top buses that offer a panoramic view of the streets and monuments. Routes are set to pass by the most beautiful sites of Dubai, and one can get on and off at any stop. There are also audio guides that provide commentary during the ride.
For a comprehensive tour of Dubai at a relaxed pace, this is perhaps the best choice. It is recommended that you book your tickets in advance. You will be able to present your ticket directly on your cell phone (or in printed form) to the bus driver
By car (rental, cabs & private drivers)
It is not advisable to travel with a rented car, as parking spaces are expensive and traffic is rather heavy. The price of cabs is not too high, so prefer this means of transportation if you want to get around as quickly as possible.
Airline tickets
There are very good airlines serving Dubai (Emirates, Qatar Airways, etc.). When booking your flight, remember to do so as early as possible, since prices are generally lower. Many studies show that the lowest prices are offered between 120 days and 55 days before the departure date. You can check ticket prices on many websites.
Getting from the airport to your hotel
In order to get to the center of Dubai, you can take the subway (tickets or passes can easily be purchased on site). It is probably the most convenient way to get to the center of Dubai, as the subways leave directly from terminals 1 and 3.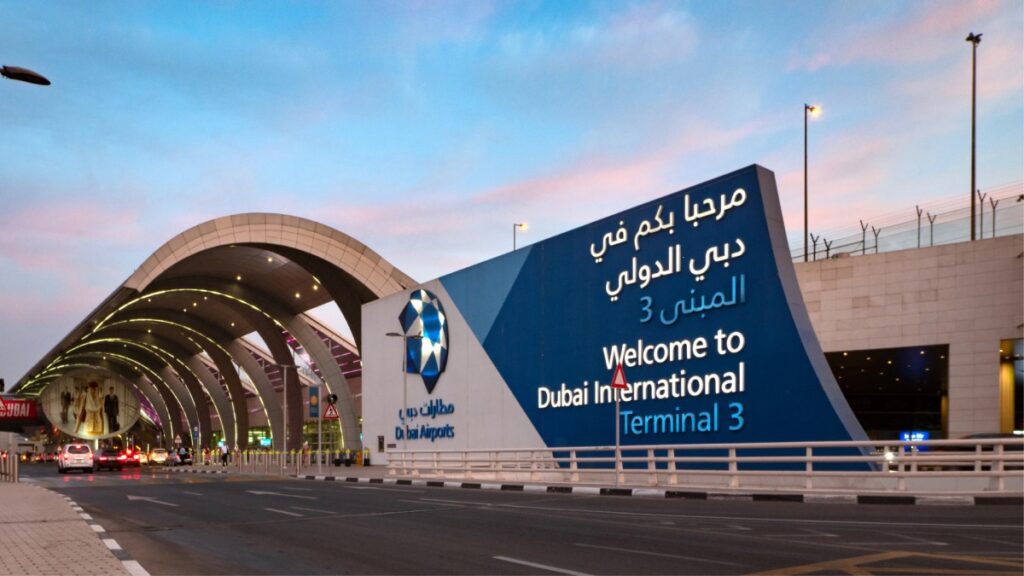 Accommodation
To reserve your accommodation, we recommend the Booking website. There you will find the best offers at the best prices. Typically, the earlier you book, the lower the price and the better the choice. Stay tuned to our 2022 Dubai travel guide to find out about more about this beautiful city of Emirates.
Currency
The Emirati Dirham (AED) is the currency used in the country. It has a fixed exchange rate with the dollar ($1 = AED 3.67).  To exchange currency, you can withdraw directly from an ATM in Dubai (paying a bank fee) or at an exchange office. You should avoid the counters located in airports, since the rates are generally higher and you will lose money.
Weather
Dubai is hot, very hot! Therefore, if possible, you should visit between October and April to enjoy bearable heat. That period also corresponds to the high season, with more visitors… If you intend to go back and forth between the outside and the inside of the buildings, take a little jacket: the air conditioning is pushed to the limit everywhere and you catch a cold very quickly!
2022 Dubai Travel Guide: Bottom Line
In our 2022 Dubai travel guide, we have tried to give you as much information as possible to help you to visit Dubai and to know what to do during your stay. If you still have questions about 2022 Dubai travel guide, feel free to ask them in the comments, we'll be happy to answer them.  Have a great vacation.