It is the dream destination par excellence for millions of people: the Thai island of Phuket along with its mix of beaches, temples and accommodation options. The magnificent nature and the versatile leisure facilities as well as the warm temperatures make Phuket an absolute favorite in the vacation sector. In our travel guide for Phuket, we will share all the information you need to know about this perfect island.
Where is Phuket Thailand?
Located in the west of Thailand, Phuket is widely regarded as one of the world's most popular vacation destinations. Phuket, the largest of Thailand's beautiful islands, is often the first destination on an Asian vacation and has its own airport. However, Phuket is not too large with a length of about 50 kilometers and a width of 22 kilometers. There is only a small waterway separating the region from the mainland, so passages are quick.
Phuket is a dream destination for a honeymoon or a relaxing vacation far away from stress and hectic life. Plus, it offers a refined mix of party hustle and pure relaxation. In Phuket, turn night into day and party exuberantly in Patong or, in contrast go to the party world, let your soul dangle – for example in the warm sea!
With numerous temples and a huge Buddha statue, Thai culture is not forgotten either. Interesting places like the old town of Phuket Town will let you immerse yourself in foreign cultures. This experience can be rounded off with the pleasure of regional dishes, for example in the famous cookshops. There are also international restaurants, which virtually put the world at your feet in Phuket. Stay tuned for more in our travel guide for Phuket.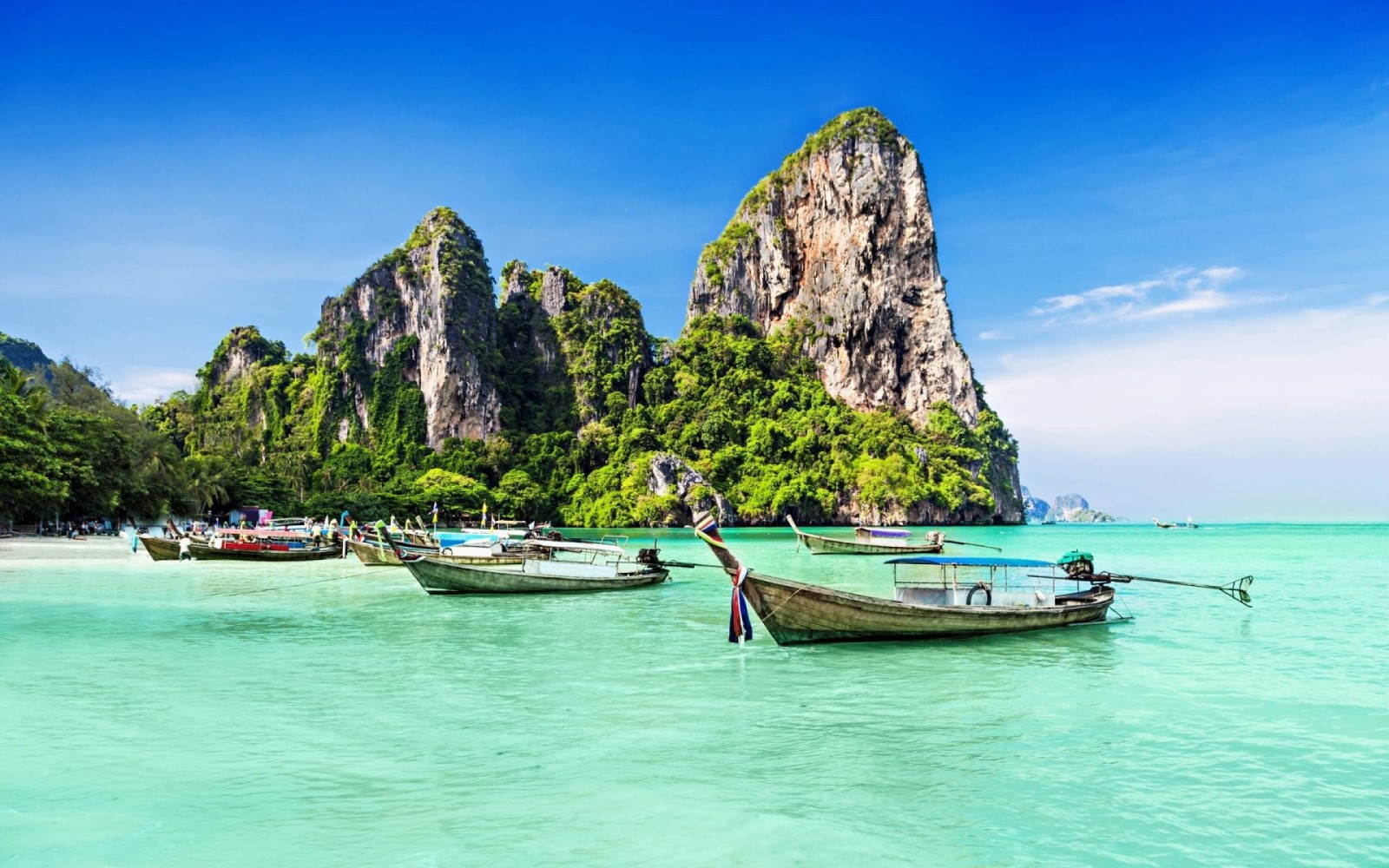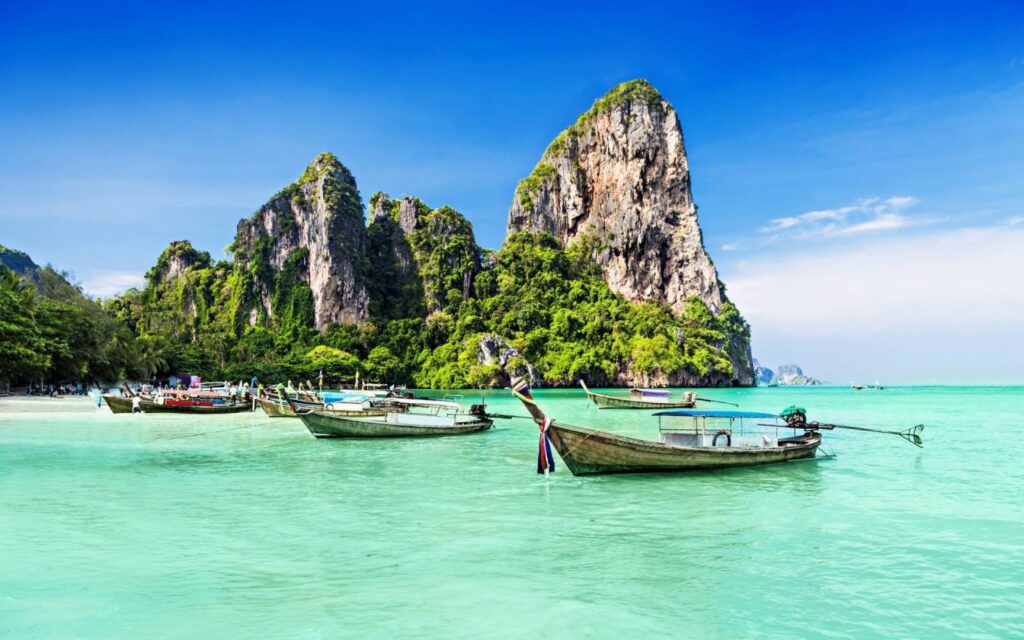 Phuket vacation – yes or no?
If you are new to Thailand, Phuket is a good choice because of the wide range of leisure activities and the western-style resorts. Additionally, the traditional fishing villages and incredibly beautiful sights will give you a first impression of the Asian culture and the Buddhist religion. No worries: In this "dose" there is certainly no culture shock to fear on vacation!
Actually, you can experience almost any kind of vacation on Phuket: While the wild countryside is a paradise for nature lovers, the white beaches are a favorite among bathing beauties and water sports enthusiasts. For party vacationers, Patong is the place to be, and for those looking to visit Thai temples, Phuket Town is the place to go.
Likewise, there are some quiet insider tips for meditation and the "journey to yourself". Obviously, everything can be combined on the island. So one thing we know for sure: traveling to Phuket will not be boring! In the next section of out travel guide for Phuket, we will explore the places which you must visit during your stay at the island.
Places to See in Phuket
Several places on Phuket show themselves in different ways – for example the traditionally held Phuket Town as the capital of the island and the very original and contemplative Koh Sirey. Patong with its party and bathing scene will also be well remembered at the latest after your vacation on Phuket.
Phuket Town for Sightseeing Fans
There are more than 75,000 people living in the main town of the island: Phuket Town. This is a town that impresses with its temple complexes, vibrant markets and old buildings from the colonial era. Also the smell of delicious Thai food is in the air, because there is one cookshop after the other. Wander through the old town of Phuket Town with its historical buildings or enjoy the view of the whole island from one of the many viewpoints.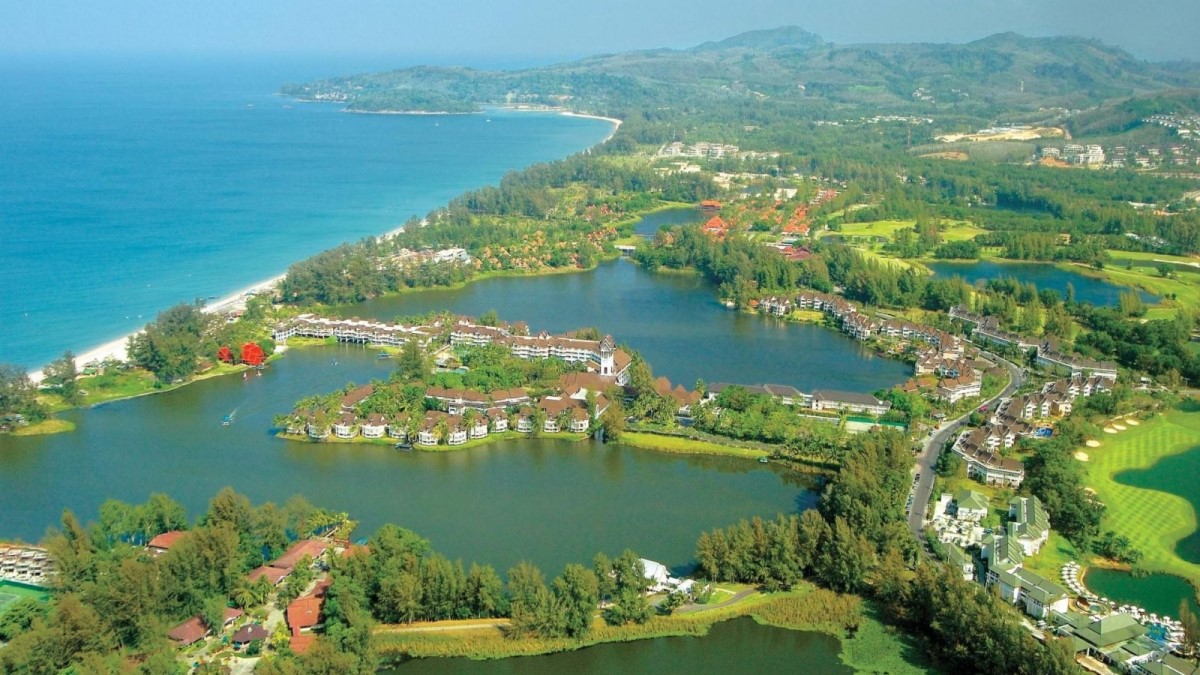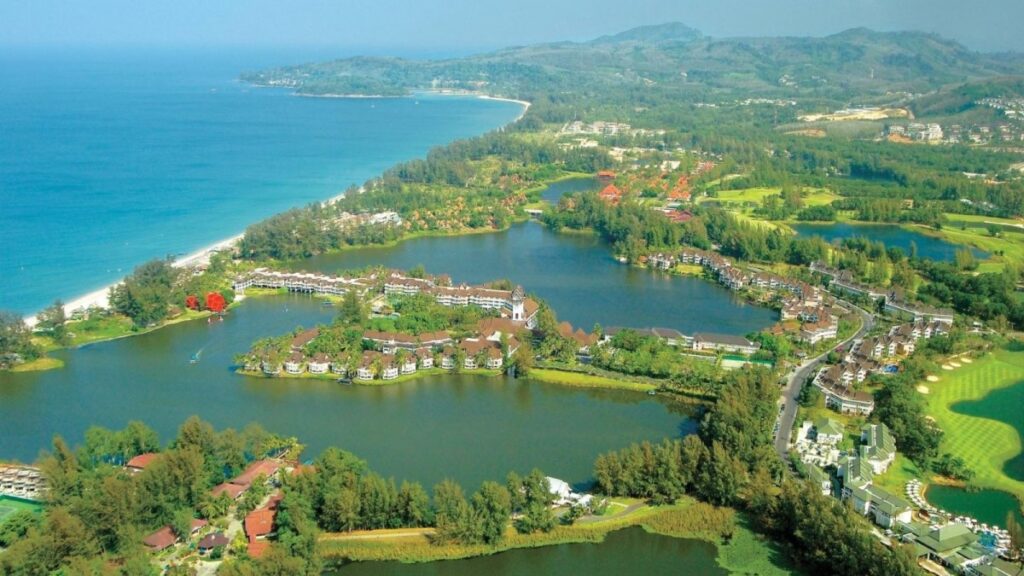 Koh Sirey
This 20 square kilometer island belongs to Phuket and is an insider's tip. There is pure nature and quiet temples like Wat Koh Sirae with its peaceful environment. You will find plenty of opportunities for a relaxing meditation and great viewpoints that are not too crowded.
Patong for beach and party vacationers
For the ultimate contrast to peaceful Koh Sirey, head to Patong, the most famous seaside resort on Phuket. Just as notorious is Bangla Road: clubs, bars, colorful lights and shrill "lady boys" dominate the scenery and will tempt you to dance the night away! The beach parties at Patong Beach are also impressive and hit the heart of night owls. In the daytime, the location is transformed into a hotspot for water sports enthusiasts.
Sights to see in Phuket
You can immerse yourself in the Asian culture especially in Phuket Town, as well as in other places on the island. Why not visit the Wat Chalongs temple, the largest and most visited of its kind on Phuket? How about an unobstructed view of the imposing Big Buddha, which is known as the landmark of the island?
Wat Chalong Temple
As is common for Thailand, Phuket is home to many temples. One of these is Wat Chalong, which was devoted to two monks and has statues of both of them. Moreover, it has a huge tower, a so-called "Chedi". When you climb it, you will find an impressive viewpoint on Phuket!
Big Buddha
The Big Buddha, known as the landmark of Phuket, towers 45 meters high in the middle of Chalong Bay. There is also a temple complex here, surrounding the imposing statue. You can see the scenic bay at your feet and the sea from an unusual perspective from the Big Buddha.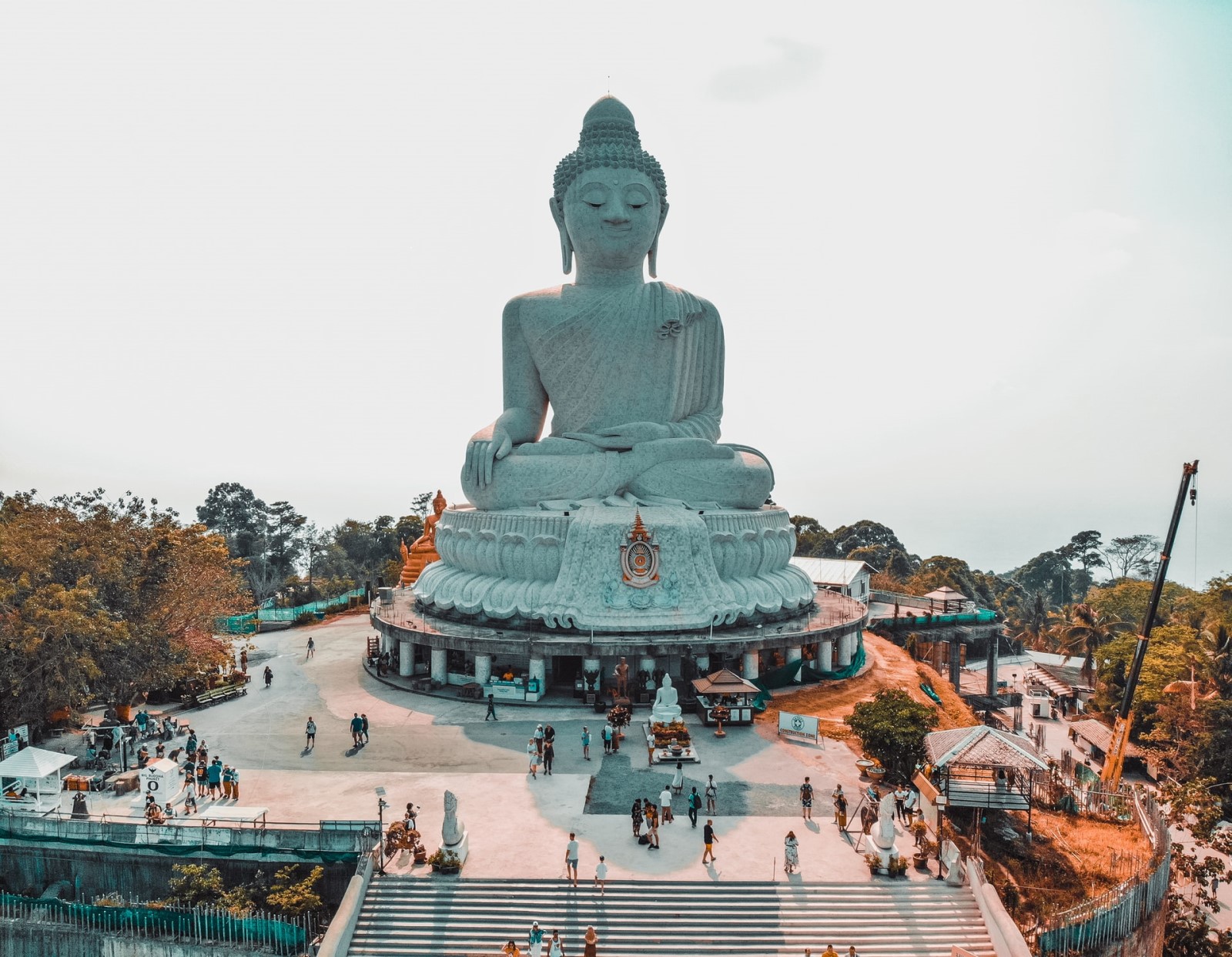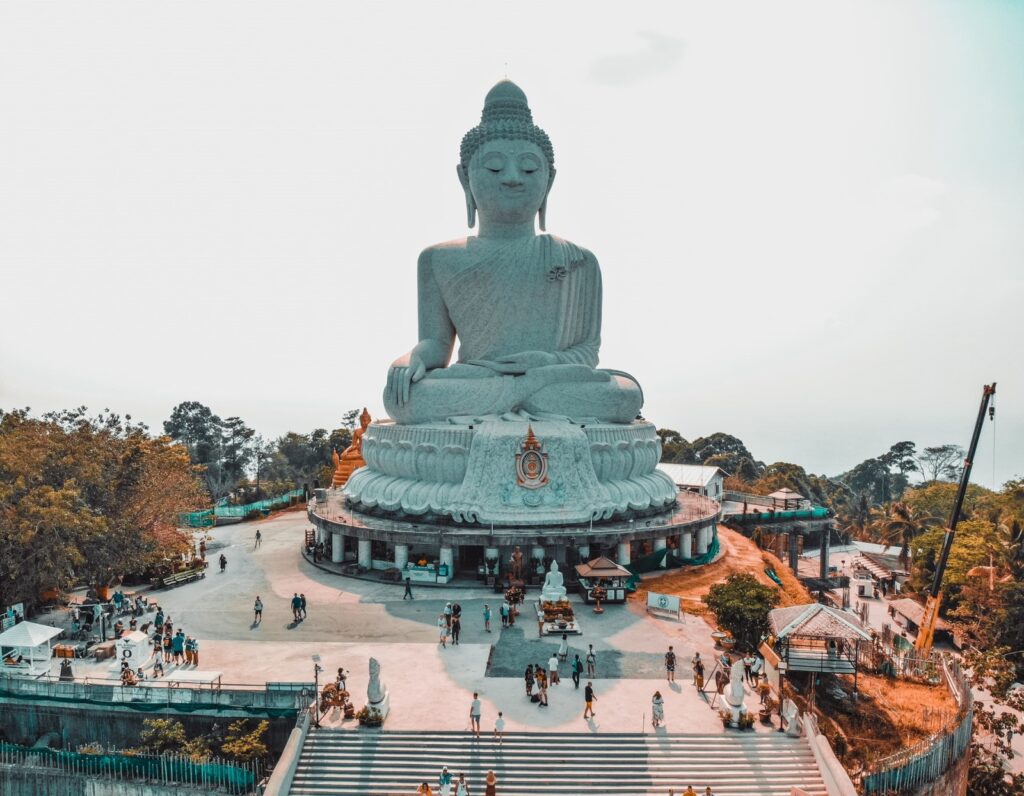 Khao Rang Viewpoint
To the northwest of Phuket Town, you can enjoy a stunning view from the Khao Rang Viewpoint across Phuket to the Big Buddha you just visited. This viewpoint attracts attention not only because of its panoramic view, but also because of the Khao Rang Temple. Many tourists like to visit the small temple complex with the imposing Buddha statue. There are various statues of temple guards here, which remind one more of the Hindu religion than the Buddhist one.
In the next section of out travel guide for Phuket, we will explore the best beaches which you must visit during your stay at the island.
Which Phuket Beach is Best
At Phuket you can also enjoy the beach life. You can go snorkeling, swimming, surfing and sunbathing – just everything a beach vacation has to offer. Where? It is up to you, because the beaches excel each other with their fine sand, the blue sea and the colorful underwater world. You can enjoy the pleasant water almost everywhere in Phuket – only the east of the island is a bit too forested for a beach vacation.
Patong Beach
Just as vibrant and turbulent as the city of the seaside resort of Patong is the adjacent beach. There is a huge range of activities on offer, from water sports and quad-bike excursions to restaurants, stores and a wide variety of party night options. The beach measures about 3.5 kilometers and is regarded as the most famous of its kind on Phuket. It is located quite centrally on the west coast of Phuket.
Who is it for? Patong Beach is ideal for party people and water sports enthusiasts, but also if you want to enjoy a shopping spree while diving into the sea, Patong Beach is the right place for you.
Surin Beach
An alternative to Patong Beach is the quieter Surin Beach, which is only a few kilometers to the north. You will find many a beach bar here as well, and you can look forward to snacks and delicious cocktails. In general, Surin Beach is elegant and luxurious – many celebrities are supposed to spend their vacations there. But this beach is less suitable for water sports enthusiasts, as the offers in this regard are limited.
Who is it for? Surin Beach could be the right choice if you have been partying in Patong and are now looking for a quieter beach for a change. It is also suitable for a more upscale beach vacation.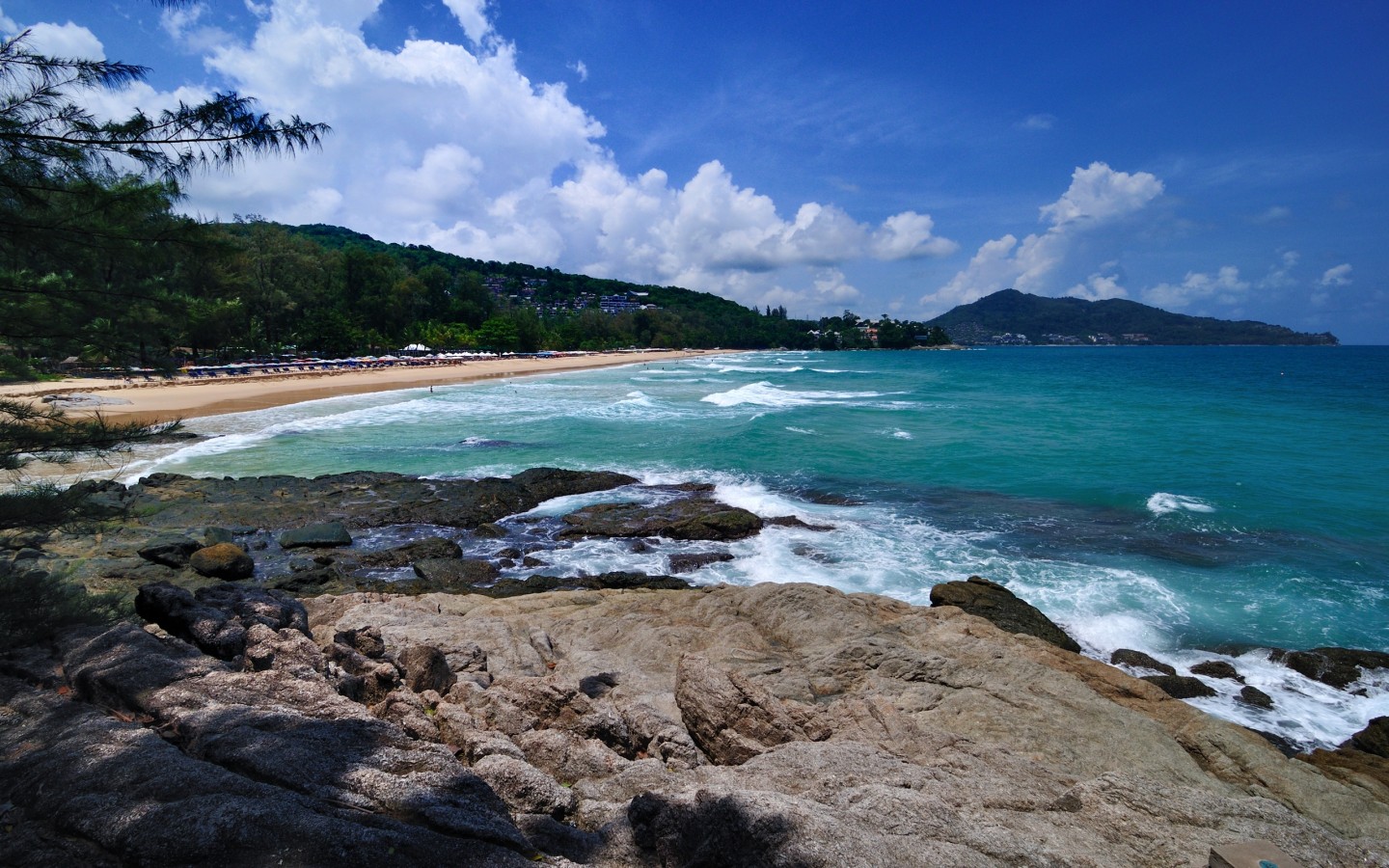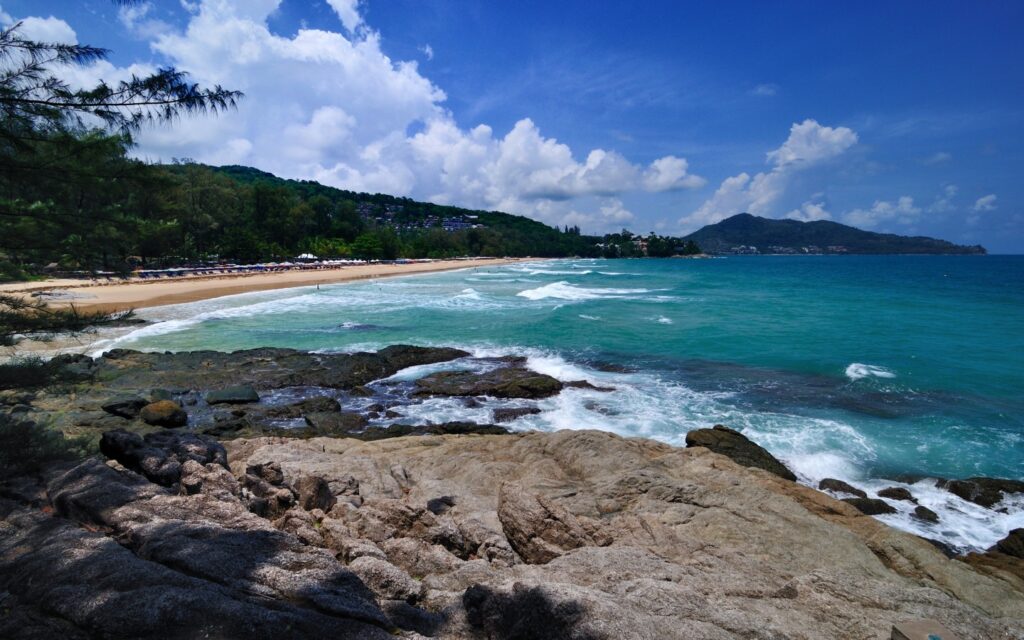 Karon Beach
The second favorite vacation destination of travelers on Phuket is also located on the west coast – right after Patong. It offers restaurants, cafes and shopping facilities, but is still considerably less turbulent than the seaside resort of Patong. One highlight is the Wat Karon temple, where a colorful market is held several times a week.
Who is it for? Those who like the mix of hustle and bustle and silence are in good hands in Karon Beach.
Nai Harn Beach
The Nai Harn Beach is one of the favorite beaches among water sports enthusiasts. Simultaneously, you can look forward to more privacy than at the beaches presented so far. There are less restaurants and stores, but a lot of unspoiled nature and beautiful viewpoints.
Who is it for? Those who love nature, seeking peace and quiet, and water sports enthusiasts with a wish for a popular diving or snorkeling spot should put Nai Harn on their vacation list.
Mai Khao Beach
Another quiet place to spend your vacation is Mai Khao Beach. This beach is the longest and most northerly beach in Phuket. Those traveling to this area can look forward to relaxed sunbathing and the untouched nature of Thailand. That is why Mai Khao Beach is, among other things, a top choice for couples on their honeymoon. One of the highlights is the part of the beach that huge sea turtles choose to lay their eggs. When you are there between November and February, you might even be able to witness the exceptional spectacle live.
Who is it for? Romantics and lovers are as likely to fall in love at Mai Khao Beach as animal lovers who arrive during the "sea turtle season". Also nature lovers will be pleased with the scenery.
Kamala Beach
Looking for a place with plenty of beachside dining options that doesn't immediately scream "party scene"? Then have a look at Kamala Beach! This beach, located not far from Patong, is a quiet counterpart to its resort, which is famous for its nightlife. Affordable hotels also let you spend a budget-friendly vacation there. In addition, Kamala Beach presents itself as a surfing favorite between May and November.
Who is it for? Kamala Beach is a great place for families, because there is no noise and no excessive nightlife. However, friends of a more upscale nightlife can also enjoy Kamala Beach for those looking for peace and quiet and for water sports enthusiasts.
Phuket Nature
Now let's take a look at the heartland of Phuket, which is a wild and pristine contrast to the powder-sugar beaches. This is where you will encounter the extraordinary jungle of Asia and can go on daring forays. You can easily go on adventurous hikes. But we recommend these only with an experienced guide who already knows the area.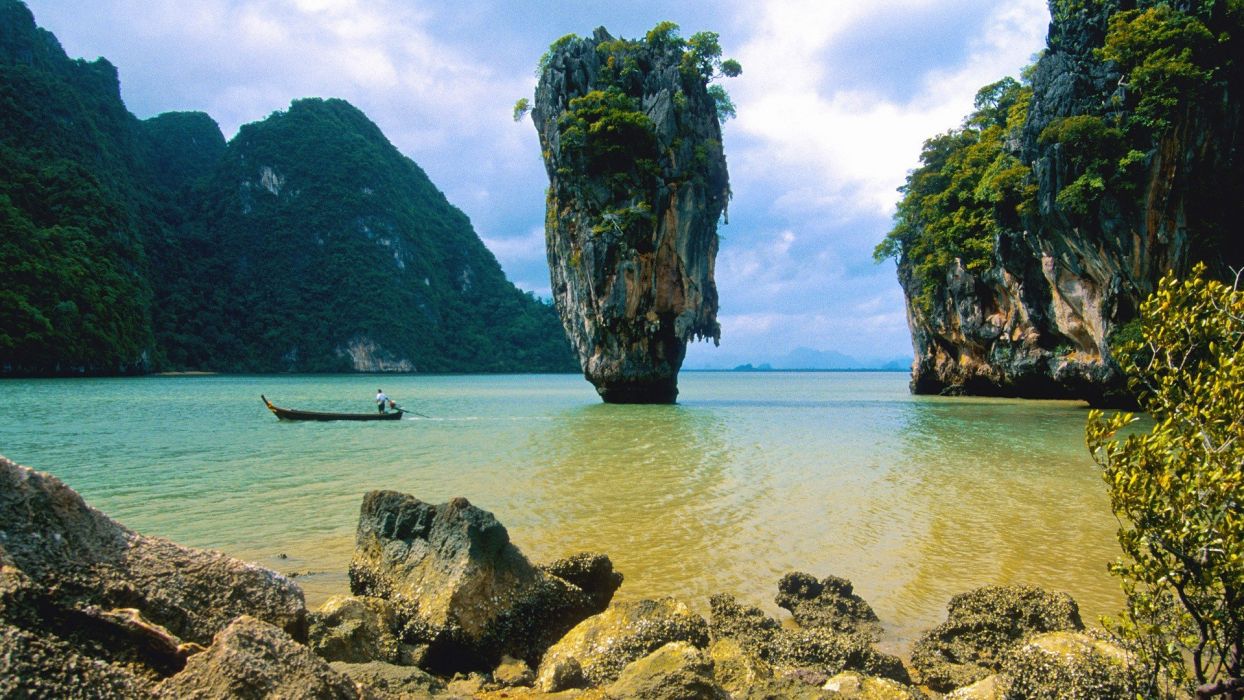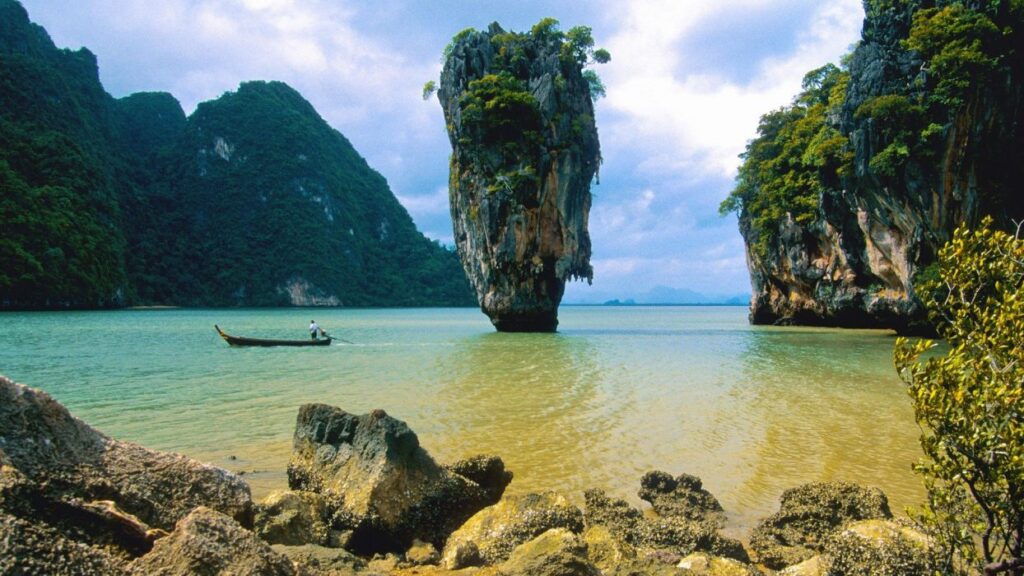 Make sure to visit the Sirinat National Park if you consider yourself a nature lover. You will be thrilled by the mangrove forests and the diverse fauna, which is characterized by colorful birds. You can also take snorkeling tours to the coral reefs in the national park and discover a unique underwater world. In the next section of out travel guide for Phuket, we will tell you some more general information about traveling to Phuket.
Also Read:
Phuket Travel info
Are you now in the mood for a vacation to Phuket? Then let's start planning your vacation! The best way is of course with our travel guide for Phuket.
Phuket Travel Time
The vacation season in Phuket lasts all year round – however, tourists mainly travel between March and May or from October onwards. The rainy season is between June and September, which means that there is a risk of occasional showers. All year round the temperature is at least 23 and at most 35 degrees Celsius – therefore at any time the best prospects for a beach vacation!
Documents & Currency
If you plan to stay in Phuket for a maximum of 30 days, a valid passport is all you need to enter the country. The passport must be valid for at least half a year. Upon entry you will also need to fill out an "Arrival Card" and a "Departure Card".
Thailand's national currency is the Thai Baht. However, don't worry about missing out on money exchange: in popular regions among tourists, it should also be possible to pay by credit card.
Arrival on Phuket
It is possible to travel by plane to Bangkok and then by ferry and bus to Phuket. The distance between Thailand's capital and the island, however, is about 850 kilometers, which means that after the already quite long flight, there is another long distance waiting for you. One alternative is to fly directly to Phuket, which is possible, for example, from many big hub airports with a Thai airline. Furthermore, there are flights with a stopover.
On the way on Phuket
We recommend exploring the island on foot, by scooter or by tuk tuk. But you should definitely negotiate the price for the tuk tuk ride in advance! The same goes for a cab ride. This way you avoid overpriced prices for tourists.
Do not worry about the communication in the local language: If necessary, you can get along with hands and feet, as the Thai people are considered hospitable and happy to help. Communication in English is of course also possible around the hotspots for tourists. Phuket is very safe and the crime rate is not very high. However, if you want to be on the safe side, leave your most important valuables at the hotel when you go on trips.
When visiting the temples, remember to dress appropriately. This means taking off your shoes and removing hats or caps.
Food & Specialties in Phuket
In Phuket you will enjoy Thai food of the highest quality. Fresh vegetables, spicy curry or delicious chicken – all culinary connoisseurs will get their money's worth!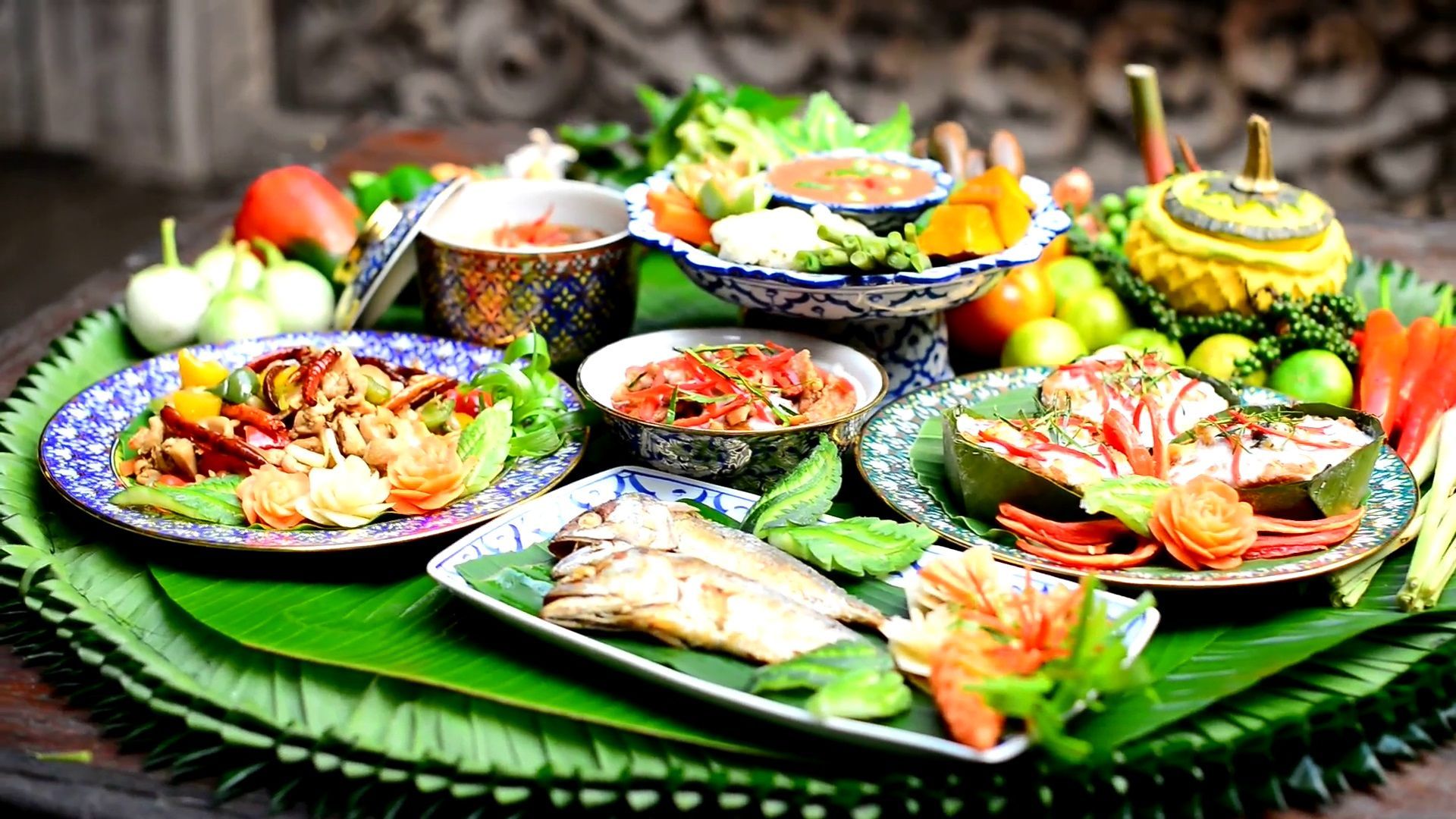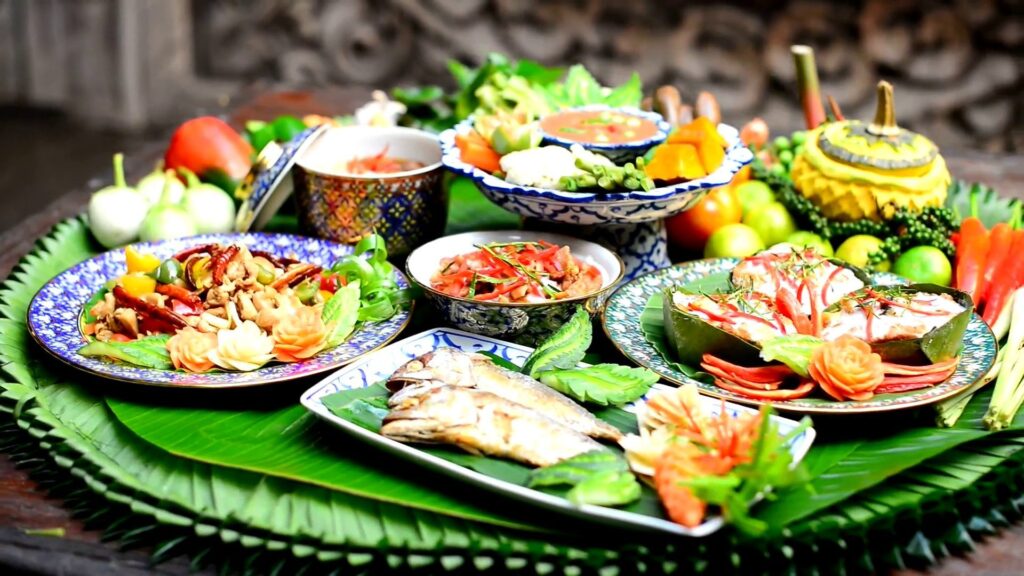 We especially recommend the cookshops, which can be found everywhere along the streets, or the cozy beach bars with regional food. With the predominantly healthy Thai cuisine, not even the beach figure is in danger – but after your perfect vacation, that would be rather unimportant anyway, wouldn't it?
In the next section of out travel guide for Phuket, we will share some info about hotels and where you can stay in the Thai island.
Where to Stay at Phuket
You can choose between Western-style hotel chains, which are also represented internationally, and the originally furnished accommodation in Asian style. The first are mainly found on the west coast around Patong Beach. Traditional accommodations are scattered all over the island and allow you to immerse yourself in the Thai culture. There are also hotels with their own beach area, pool or quick access to the sea for beach vacationers.
Travel Guide for Phuket – Bottom Line
In out travel guide for Phuket we tried to answer all of your question about visiting this beautiful Thai island and share all the information about Phuket. In case you still have any question, don't forget to message us or ask them in the comments section below.