In 2014, Android Auto was first introduced. Hyundai was the first car manufacturer to introduce Android Auto as a standard feature. Until today, a lot has changed: Today, more than 500 different car models can use Android Auto and it belongs to the everyday life of many Android smartphone users. With Android Auto, you have the chance to connect your smartphone to the car and thus use practical functions. Then, the smartphone can be controlled via the infotainment system. This will help you avoid being distracted on the road.
What is Android Auto and which features does it offer?
The Android Auto is a system developed by Google to link the car's infotainment system with an Android smartphone. In this way, many of the phone's functions can be controlled directly from the car's display. A further, less frequently used system for this is Mirror Link.
The idea behind Android Auto is to allow users to fully focus on the road while having the option to use many of their smartphone's functions. You can answer calls, send messages, or even select and play music, for example. With Google Assistant, you can also stay in touch with your smartphone via voice command and use apps, find routes, and more.
Android Auto is now available for vehicles from 35 different car manufacturers and therefore can be used all over the world. As soon as your car is paired with your Android smartphone, the control is done in real time, offering smooth operations. Lately, Android Auto has been revamped from the ground up and now offers many brand new features.
We will present all aspects of Android Auto in detail in this article and provide an overview of the developers and supporters of Android Auto. We will tell you in which vehicles of which car manufacturers you can use Android Auto, we will explain the working principle as well as the pros and cons of Android Auto and, we also introduce upgrade solutions for existing passenger cars.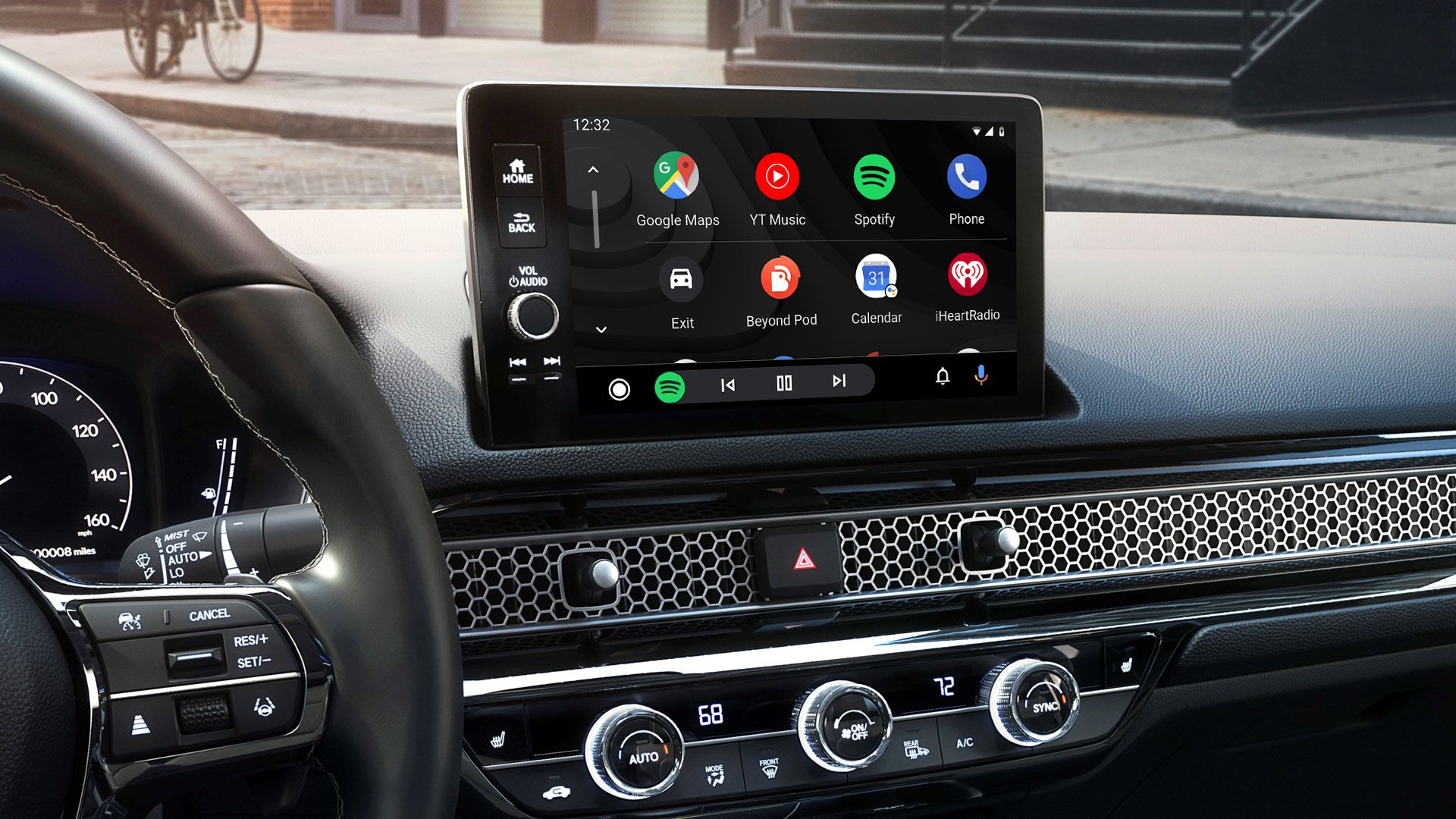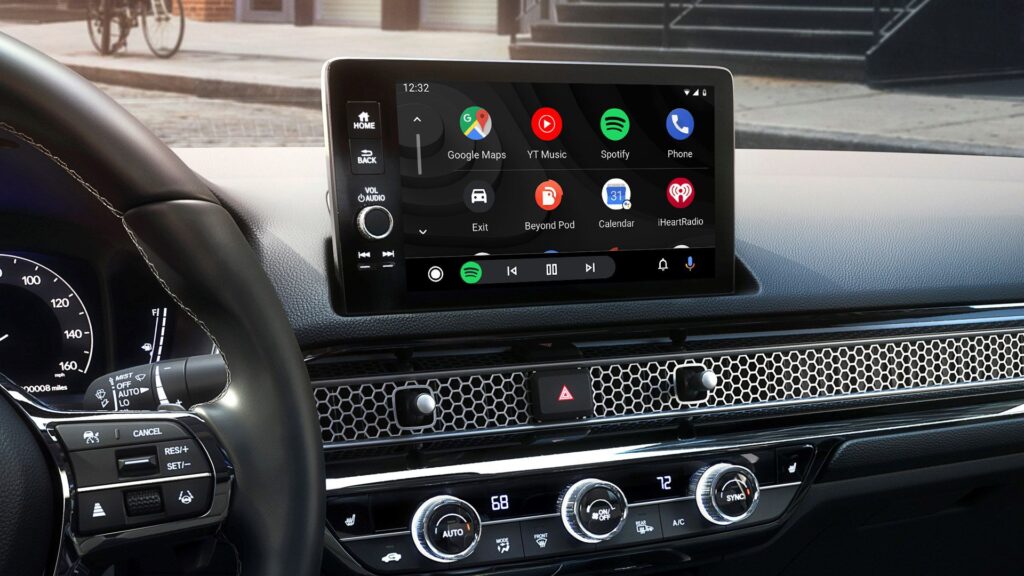 Developers: Google, Open Automotive Alliance and car manufacturers
Google developed Android Auto, which offers an app display optimized for use in cars. It was at the Consumer Electronics Show (CES) in early 2014 that the Open Automotive Alliance was established specifically for Android Auto. The aim of the participating car companies as well as chip manufacturer Nvidia and Google is clear: to bring Android to the car.
Android Auto Requirements
Requirements for Android Auto up to version 1.0: You can't do anything without the car interface
On the smartphone side you have to install the Android Auto app on the Android smartphone. This app is free, it can be installed on the smartphone from Android 5.0 onwards, but Google recommends Android from version 6 or higher.
On the car side of things, the infotainment system of the passenger car must also support Android Auto. Support for Android Auto is included in a premium equipment package of the respective car manufacturer. For example, at Audi this package is called Audi Smartphone Interface , for Volkswagen App-Connect and so on.
Requirement for Android Auto since version 2.0: It works even without car interface
With the release of version 2.0, Google delivered an update for Android Auto in over 30 countries, making this app completely independent of the car manufacturer's infotainment system installed in the car.
As a result, you can also use Android Auto in "Driving Mode" only on the Android smartphone (from Android 5.0), with no need for it to connect to the infotainment system fitted in the car. Therefore, you put the android in the smartphone cradle of your vehicle and then start Android Auto. In case a Bluetooth hands-free system is installed in the vehicle, Android Auto will start on the smartphone automatically after pairing.
You can then use the usual functions of Android Auto, which for this has large buttons and a clear layout on the smartphone screen. This means that the apps are not mirrored on the car's monitor in Android Auto 2.0, which is different from the usual use. This standalone operation of Android Auto is designed for vehicles that do not have a modern infotainment system with the Android Auto interface or for vehicles made by car manufacturers that do not support Android Auto for policy reasons, such as BMW, as well as for older vehicles and classic cars.
Of course, the sound output is then only via the smartphone's speaker and not the car's, when using Android Auto without coupling to the built-in infotainment system. The new Android Auto version requires at least version 5.0 of Android on the smartphone. The functional scope of Android Auto only on the smartphone is intended to be identical to Android Auto in combination with the car's infotainment system.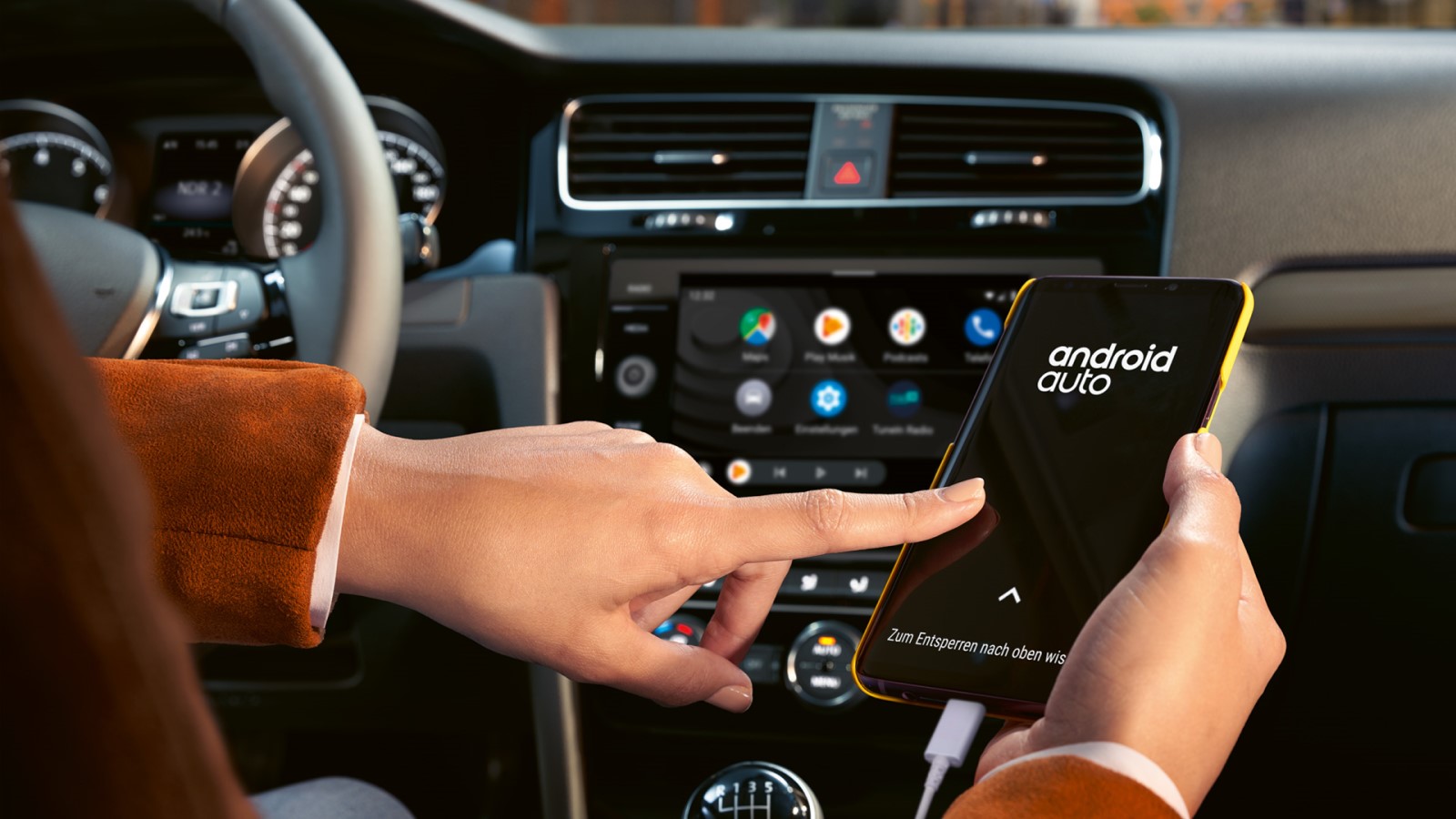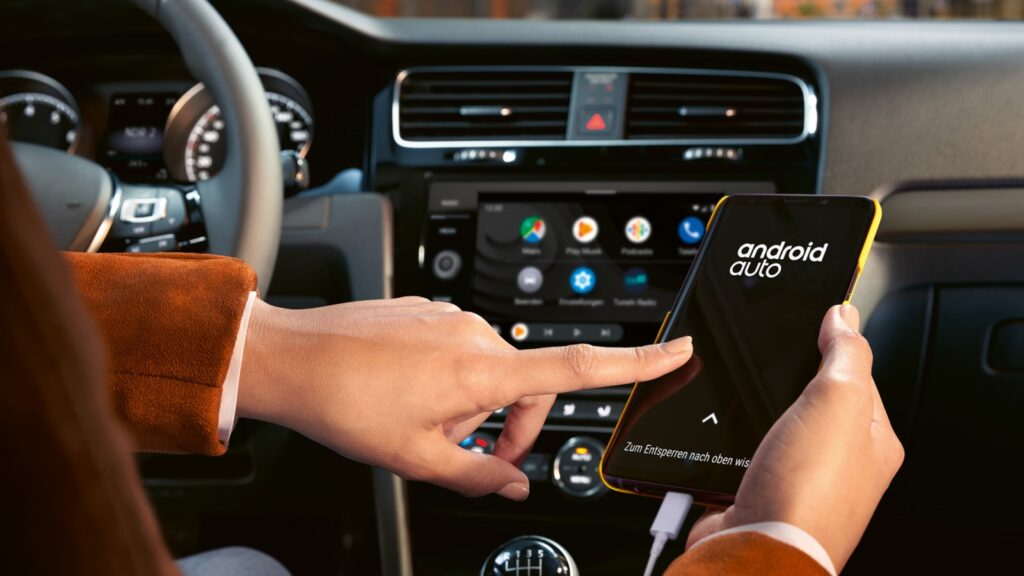 So Google Maps, Google Play Music, Phone, Spotify, Pandora, etc are all there. It is operated via voice command from Google Now. The "Ok Google" command to start the voice control and to control the various functions of Android Auto will be delivered by Google in the near future.
Android Automotive vs. Android Auto
Android Auto is the foundation of Android Automotive . Developed by Google together with Intel since March 2017, Android Automotive is an Android variant which is designed to be the operating system base for the infotainment system, climate control and instrument panel in passenger cars. An automaker who chooses Android Automotive can still adjust the operating system in detail to its needs.
The Android Automotive runs as a stand-alone operating system in the car. Unlike Android Auto, it does not require an Android smartphone for operation. For example, the Polestar 2 electric car uses Android Automotive. Meanwhile, Fiat Chrysler is developing its Uconnet 5 infotainment system based on Android Automotive. Even General Motors is interested in using Android Automotive.
Android Auto Connection of Smartphone and Car
The standard case: Via USB cable
In the same way as with Carplay and Mirrorlink, the connection between the Android smartphone (with the Android Auto app installed on it) and the car's infotainment system is established via the USB cable. However, be careful here, as Bluetooth is additionally mandatory despite the USB connection .
This is because Android Auto uses Bluetooth for making calls, or more precisely for the hands-free profile HFP. In contrast, all other functions, such as transferring pictures and videos, control events or all audio data (except for calls), such as the microphone input for Google Now, are transferred via the USB cable.
The better solution: Wireless Android Auto
By default, smartphones with Android 11 can wirelessly connect to Android Auto. This was announced by Google on its support page. This means that with an Android smartphone with Android 11, the complicated plugging in of the USB cable is no longer necessary.
A wireless connection had been presented by Apple for Carplay a long time ago and BMW was actually the first car manufacturer to offer it in its vehicles from mid-2016. Wireless connection has been theoretically possible with Android Auto since mid-April 2018. Yet for a long time, virtually no automaker used wireless Android.
This was because only the Google smartphones Pixel, Pixel XL, Pixel 2, Pixel 2 XL, Nexus 5X and 6P with Android 8.0 Oreo or higher and with Android Auto 3.1 initially supported wireless Android Auto.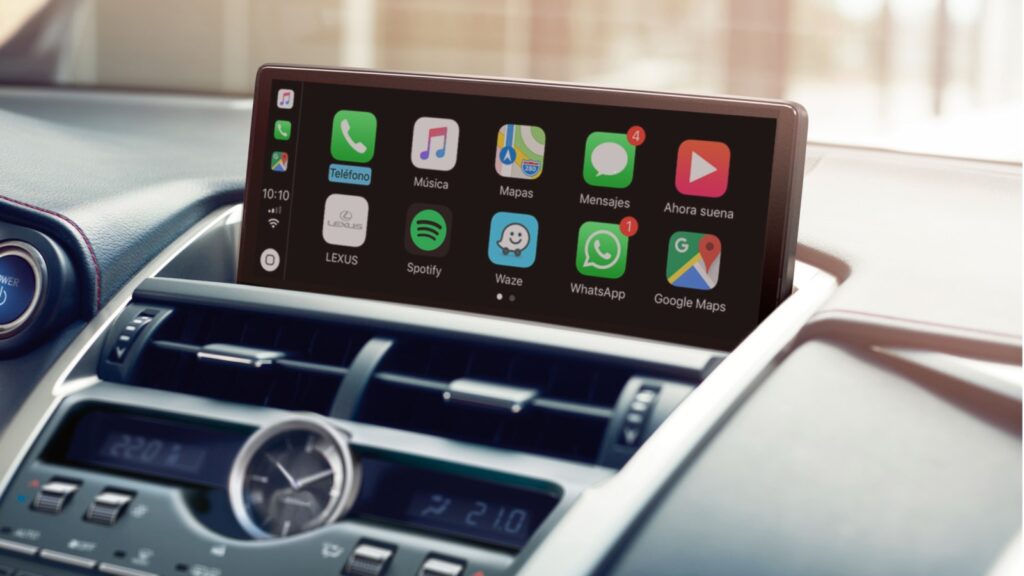 But Audi has stated that it is working on offering wireless Android Auto out of the box. However, Audi still did not specify an exact date for the introduction of wireless Android Auto.
On the other hand, BMW has been more specific: The Bavarians already announced at the end of 2019 that they want to offer wireless Android from July 2020. At the same time, BMW is giving up its general blockade against Android Auto.
In early July 2020, BMW then went on to confirm the introduction of Wireless Android Auto for its models with BMW Operating System 7. In the United States, Ford offered Wireless Android Auto for the first time in the new F-150 model in 2021.
The Wireless Android Auto feature, also known as Android Auto over Wifi, transfers data between the car and the smartphone via a WLAN connection. This is the same as Wireless Carplay. The phone calls, on the other hand, are made via Bluetooth. In order for Android Auto to work wirelessly, however, it has to use WLAN via the 5-GHh connection! Moreover, this 5 GHz WLAN must fulfill the regulatory requirements of the European Union.
There is one difference to Wireless Carplay, however: For the Android smartphone and the infotainment system in the car to be able to recognize each other, you have to connect the smartphone to the car once via USB cable. This is not required with Wireless Carplay.
Also Read:
Operating concept, functionality, appearance and key advantages
When the connection between the Android smartphone and the car is established, the apps which are available for Android Auto – in other words, those which have been certified by Google – will be mirrored on the car's screen. The apps from Android Auto on the vehicle display have larger buttons compared to the smartphone screen, and in addition, unimportant and distracting elements are removed. The sound, which for example comes from music apps or web radio, is played by Android Auto via the car's speakers.
In other words, Android Auto is the interface between the Android smartphone and the car's infotainment system. In this case, the Android smartphone can no longer be operated directly, and the smartphone screen is switched off.
Home screen
Starting in August 2019, the home screen presents itself with a default dark mode. It shows the Android Auto-compatible apps with large, colored icons. The navigation bar is located at the bottom of the screen with the app launcher (for easier access to apps) and the notification center for messages and calls. After pressing an icon, however, the corresponding application will not always start immediately.
This is true for Spotify, but if you press the icon for Google Calendar, Google Assistant launches instead, allowing you to use voice control to follow the rest of the steps through your calendar. Google Assistant is furthermore accessible via the corresponding microphone icon on the far right of the navigation bar throughout.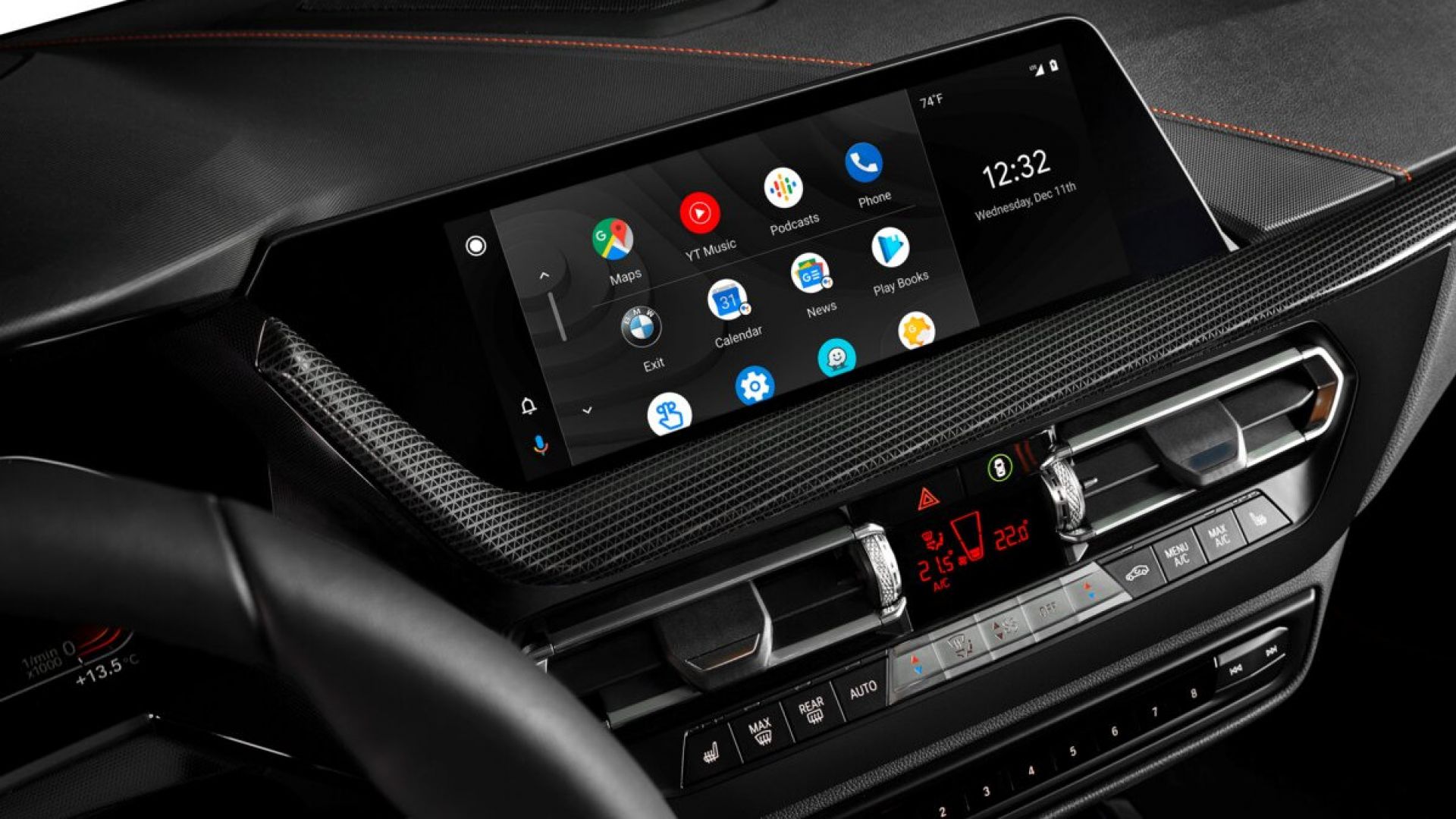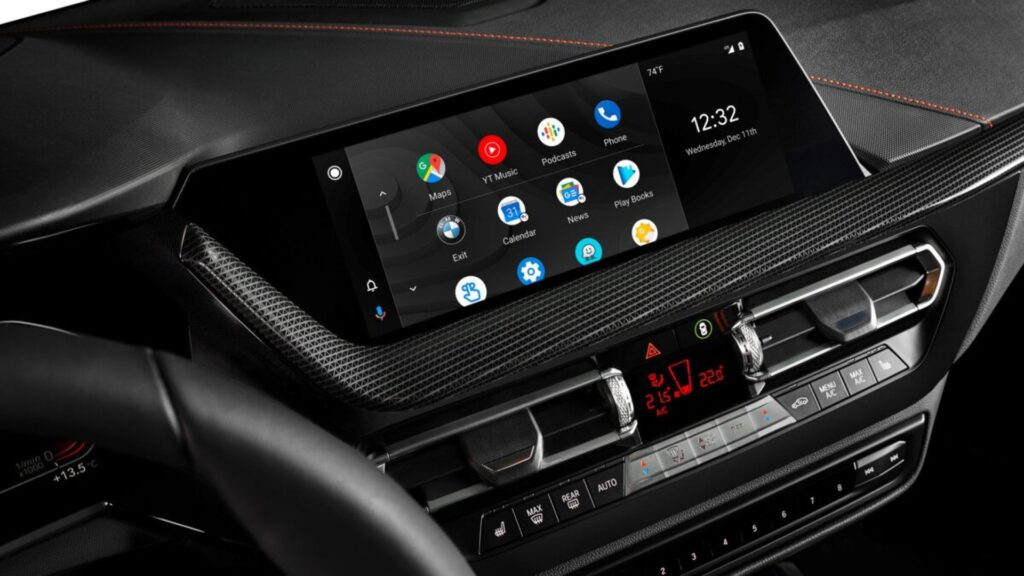 Some apps, such as Google Music or even Spotify, can place their own controls for play, pause, skip in the navigation bar. The driver can then make entries in the respective apps without always having to open the entire app first, in case the music app is running in the background and the screen is occupied by the navigation, for example.
The navigation bar also always gives you direct access to Google Assistant and the Home button. The Notification Center (accessible via the bell icon) will display the latest messages and calls and enable an immediate reaction to them – for example, a callback or playing a voice message.
Same appearance and operation everywhere
Regardless of which car you're in – Android Auto will look and work the same everywhere. Therefore, you do not have to change when you change cars, and will always find the familiar user interface. Users of Android quickly get to know Android Auto because they have the functions they are used to from their Android smartphone at their disposal. However, everything is displayed in a slightly larger and simplified format in order not to distract the driver. That is the main advantage of Android Auto.
Touchscreen or voice control
Drivers can use Android Auto via the touchscreen in the center of the dashboard or via voice control with Google Assistant. For example, Audi and Mercedes-Benz have long avoided a touchscreen on the main screen. In this case, the driver controls the on-screen menu via the controller on the center console, where a small touchpad is located if necessary. This negatively affects the usability of Android Auto in our experience; Android Auto is just easier to use with a touchscreen.
This shortcoming, however, has been resolved by Audi with the new infotainment kit MIB2+: All of the completely new generations of vehicles that use the latest generation of the MIB2+ infotainment kit are now getting touchscreens, meaning that you can also operate Android Auto by touch in these new Audi vehicles.
It all started with the A8 in the fall of 2017, but Audi is now also fitting a large touchscreen in the new A6 and A7. And Mercedes-Benz has also had a touchscreen since the new A-Class with the MBUX infotainment system.
Steering wheel buttons and control knobs
You can also partially use the car's control knobs and steering wheel buttons to use Android Auto functions such as Google voice control. You can launch Google voice control by pressing the steering wheel voice control button for a longer time, and a short press launches the car manufacturer's proprietary voice control. In most cases, the volume up/down buttons in the steering wheel are also available for Android Auto's volume control.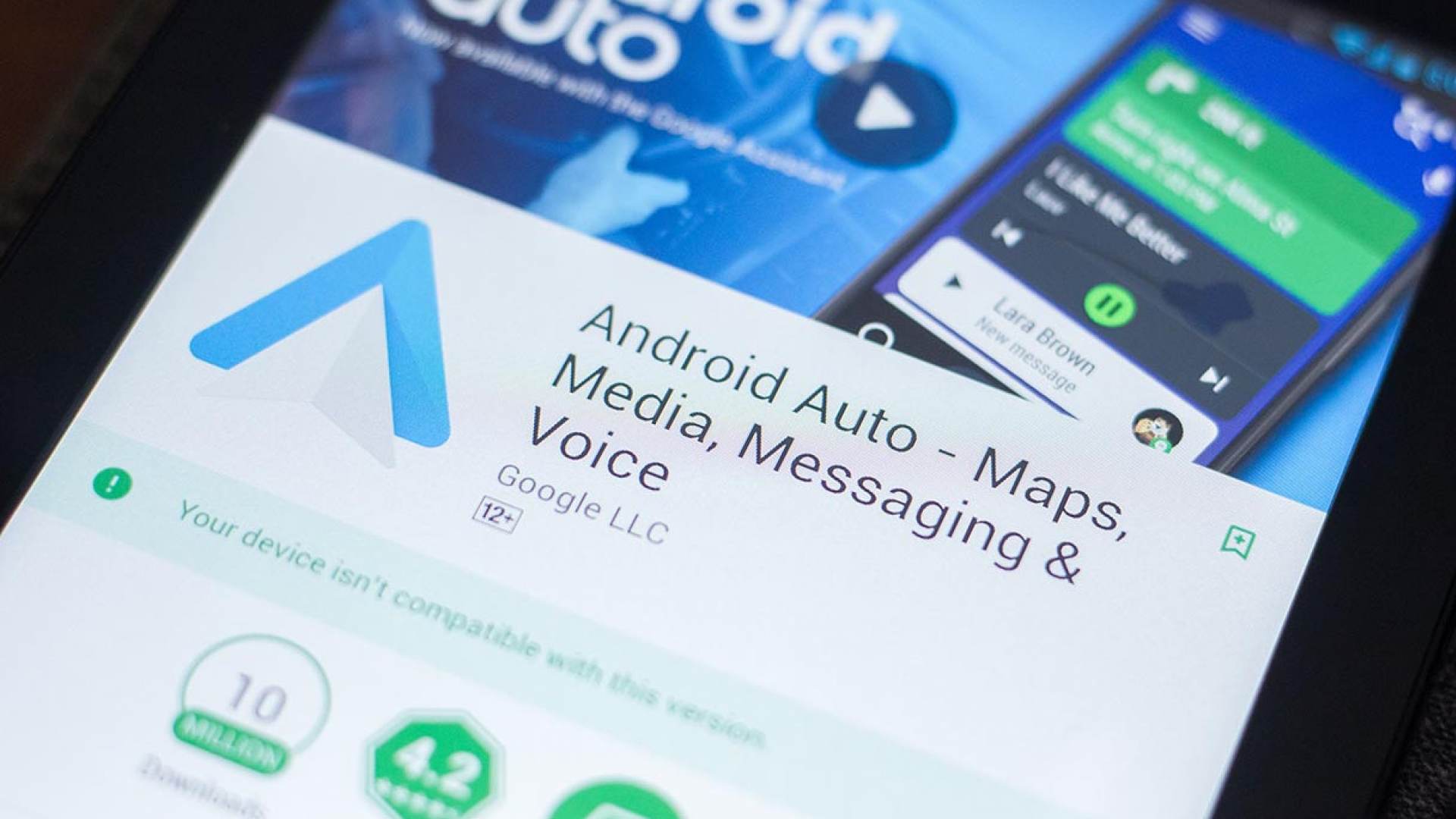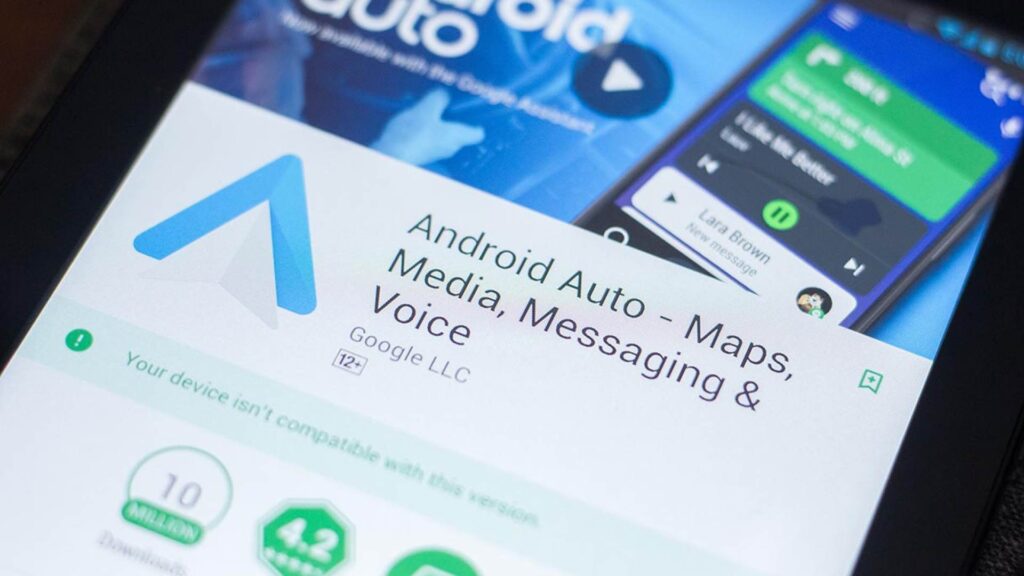 All of the processing power, however, comes from the Android smartphone, connected to the infotainment system via USB cable. The Android battery is unlikely to be recharged while driving since it has to power the smartphone.
The Bluetooth connection between the smartphone and the infotainment system is also used for making calls. Besides the computing power and the battery capacity of the android, the smartphone's cellular network plan is also required, since all traffic is of course handled by the connected smartphone.
Also Read:
Range of features: Navigation, Calls, Whatsapp, Music.
Navigation
The navigation with Google Maps is certainly a highlight of Android Auto. While this online navigation solution guides the user very accurately thanks to the exact traffic situation information, it generally obtains its map material continuously from Google's servers, which can burden the monthly data volume of your mobile phone plan if Google Maps is used frequently. Roaming costs also apply outside of your home country.
In remote regions with poor or no cellular connection at all, Google Maps will not work. This was only rarely the case in our test, however, and just for a very short time, and it did not significantly affect the navigation. All these problems can be avoided by navigating offline with Google Maps and downloading the map material you need for your route to the smartphone in advance via WLAN.
You can use Android Auto's voice control to directly enter your navigation destination: "What's the way to Miami?". Immediately, the Android Auto launches Google Maps Navigation, tells you the approximate time of arrival taking into account the traffic situation, states whether there are any traffic jams on the way, and displays the route on the map. Then you can get on the road right away. During the navigation there are solid voice announcements and of course the good traffic situation information from Google Maps is available.
Google search
The excellent Google search is very useful and delivers many more hits than the points of interest from the navigation device. With it, you can find the nearest gas station or supermarket in no time. When asked "Where can I have a coffee in Manhattan now?", Android Auto will show you a list of cafés and hotels where you can have a hot drink. You can immediately be navigated to each of these hits by Google Maps. But you can also find the nearest car repair shop via voice command.
Hands-free calls
Making calls via the Android smartphone is probably also one of the most important functions of Android Auto. This is also done most easily via voice input: you simply record the desired phone number in one go without interruption. Usually, Google Assistant will understand the number flawlessly and start the call immediately. You can also name the contact you want to call from the smartphone's phone book. Receiving and sending Whatsapp messages or SMS is also possible with Android Auto.
Music and Podcasts
In addition, you can get music from various sources such as Google Play Music (with a 90-day trial access for Google Play Music), Amazon Music or Spotify, as well as audiobooks from Audible. The songs stream from Google's servers to Android Auto via your Android smartphone and then play the music through the car's built-in speakers. One can also browse the music collection on the android while the car is stationary.
Other functions
Using voice commands, you will also ask Android Auto for the weather report – a female voice will read out the weather report – or for the next appointments from the calendar. A voice command can also be used to enter a new appointment. You cannot send mails from the car via voice command, nor can you open a browser. However, you can send messages via Whatsapp.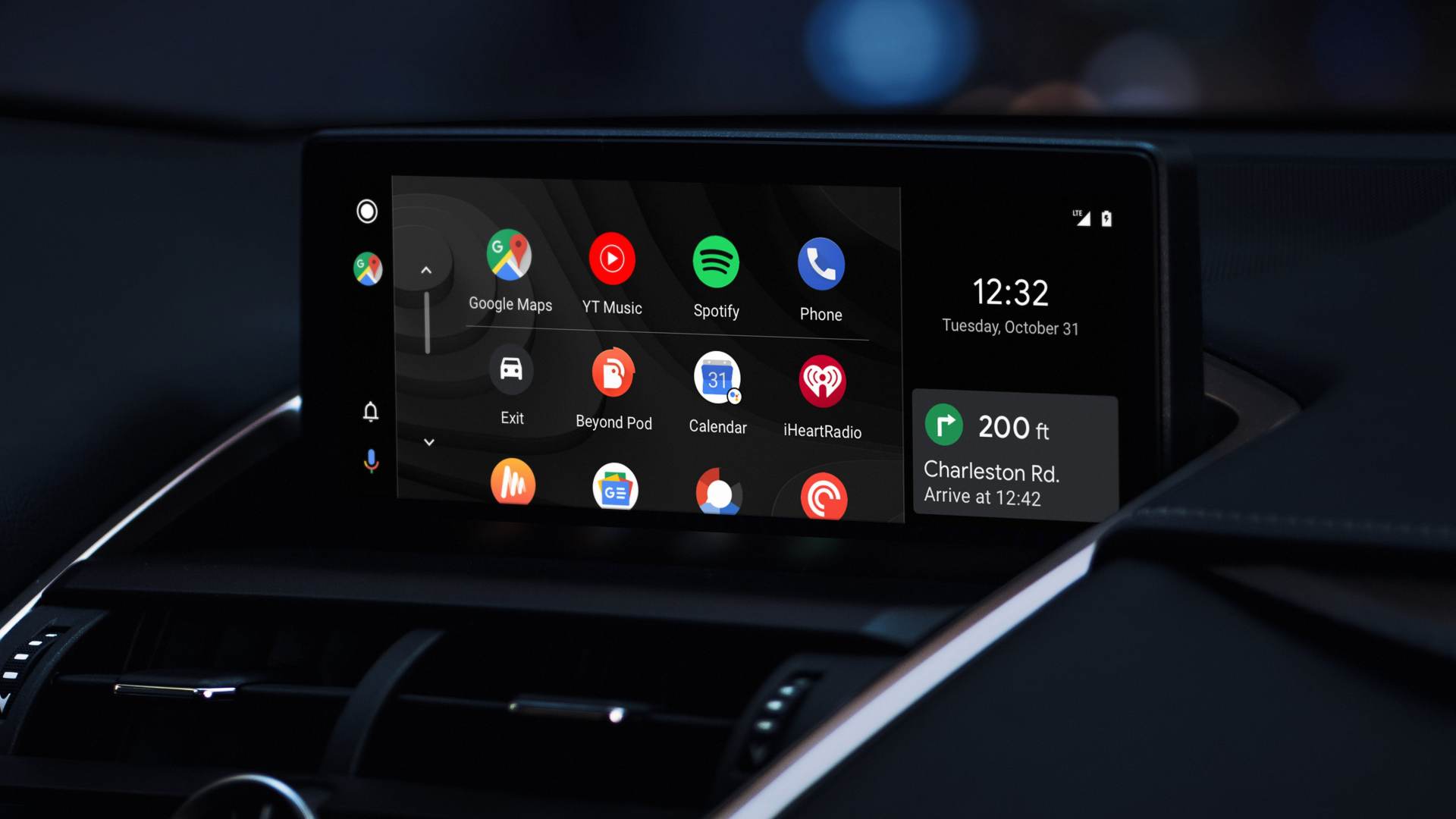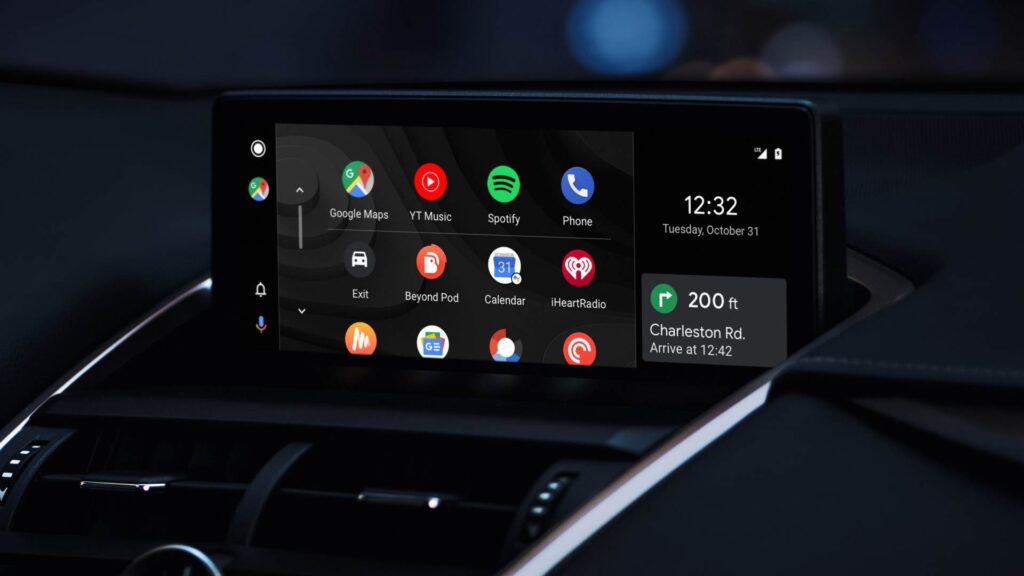 In August 2020, Google added its calendar app back to Android Auto as The Verge reported. This means you can navigate to the meeting place of your next appointment directly from the calendar app of Android Auto again now.
The Calendar app and the associated navigation option was already part of Android Auto until 2019. However, in the major update for Android Auto that was rolled out at the time, Google removed the calendar app or replaced the on-screen display with an exclusively spoken output via Google Assistant.
Installing apps
However, you can also install many other apps for Android Auto later, for example Pandora, Tune-In Radio, Skype or ICQ. But there are some restrictions here, which we will explain in the following section.
Google only allows selected apps for Android Auto
Unfortunately, not all Android apps are compatible with Android Auto. Google has listed the Android apps for Android Auto here. You cannot yet use offline navigation apps like Here We Go – formerly Here Maps – (free, with real-time traffic information) or Sygic Car Navigation (various in-app purchases for the maps and additional information like traffic situation data) or TomTom with Android Auto.
Such apps store their entire map material on the Android device, so that traffic situation information only comes through the cellular connection while driving. However, Google has not yet released any of these navigation alternatives for Android Auto and only provides its SDK to the manufacturers of the few apps selected for Android Auto.
In April 2021, however, this changed: Google is now allowing third-party apps for navigation (for example, from Sygic and Tomtom), for parking for Android Auto. App developers should find all the necessary information to adapt their apps accordingly. A real example of a navigation app that has been compatible with Android Auto since April 2021 is the free navigation app Tomtom AmiGo.
To use an Android app on the Android car screen, Google needs to certify it for this purpose. The app must be programmed in such a way that it does not distract the driver while driving. In some cases, an app approved for Android Auto can only be operated when the vehicle is stationary.
Alongside Google Maps, there is also Google Play Music, Pandora, Spotify, Stitcher, Tune-In Radio, kik, Skype, Whatsapp and ICQ for Android Auto. The Facebook Messenger is also compatible with Android Auto: users can have incoming messages read out to them and reply directly to them via voice command.
Furthermore, you can send a standard reply to the sender of a Facebook Messenger message with the touch of a finger, telling them that you are currently on the road with the car and therefore cannot chat. Video apps like Youtube are not supported by Android Auto at all for security reasons.
Android Auto is available in over 30 countries
You can use Android Auto in some 36 countries around the world. When Android Auto is available in a country, it specifically means that the Android Auto app is available for installation in Google Play for users from that country. But Google Assistant cannot necessarily be used for Android Auto; indeed, the list of countries where Google Assistant is available for Android Auto is much shorter.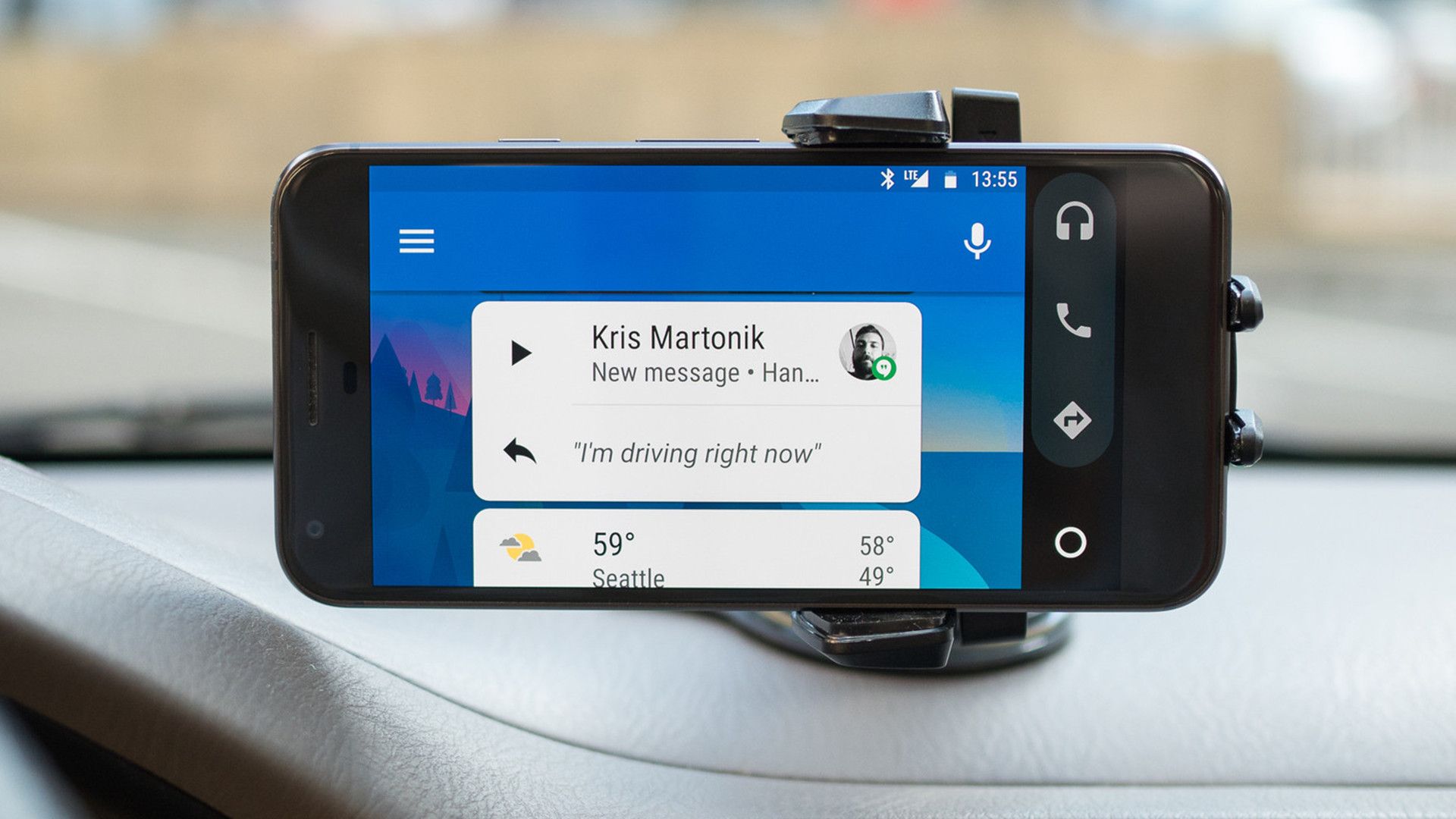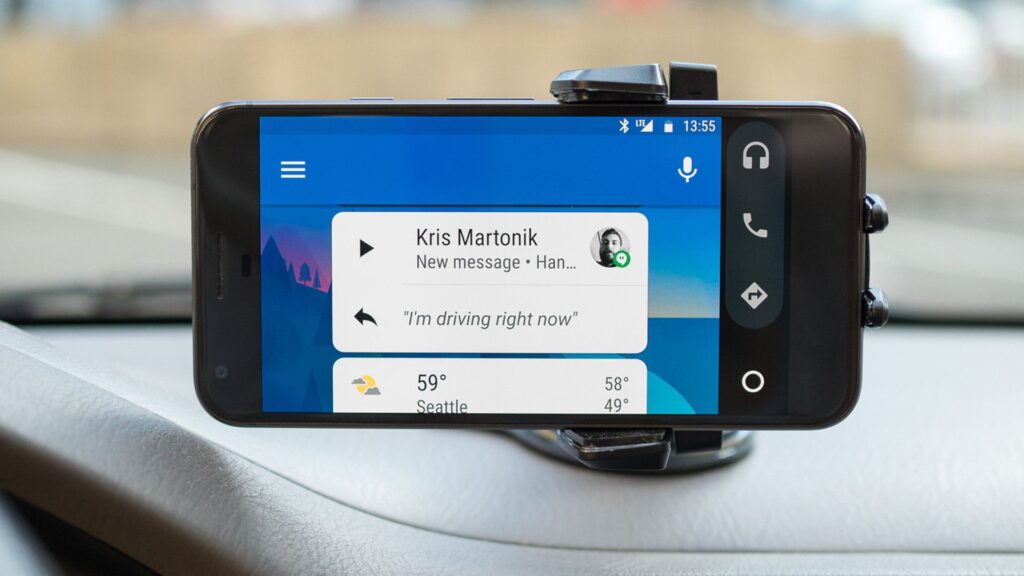 Which car manufacturers have Android Auto?
The following car manufacturers offer Android Auto as an option in at least some of their vehicles: Abarth, Alpine, Alfa Romeo, Aston Martin, Audi, Bentley, BMW, Citroen, Chevrolet, Fiat-Chrysler, Ford, Honda, Hyundai, Jaguar, Jeep, Kia, Maserati, Mazda, Mercedes-Benz, Mitsubishi, Nissan, Peugeot, Opel, Renault, Seat, Skoda, Smart, Subaru, Suzuki, Toyota, Volkswagen, Volkswagen Commercial Vehicles (VWN), Volvo and many others.
Upgrade solutions for Android Auto
Supplier solutions
One by one, the first audio and entertainment accessory manufacturers are introducing upgrade solutions for Android Auto to the market. These solutions can be used to replace the car radio installed in the vehicle at the factory and subsequently use Android Auto.
For example, Sony has such a replacement solution for Android Auto and Carplay on offer. Namely, the Sony XAV-AX100 and the Sony XAV-AX200. The XAV-AX100 features a 6.4-inch display and resolves with 800 x 480 pixels, voice control is also available.
You can upgrade Carplay, Android Auto, DAB+ and a touchscreen in vehicles with 1-DIN and 2-DIN radio installation slots with the Alpine Digital Media Station iLX-F903D "Halo9". This device is available for under 800 dollars on Amazon, but some buyers expressed considerable criticism of this solution.
A retrofit solution available in many countries is Dashboard Ultraslim Carplay aka Carplay Plus A aka Portable CarPlay/ Android Auto/ Car Life from the Taiwanese company Orient Enterprises. Unlike many other aftermarket solutions, this device does not plug into the radio slot where your radio/infotainment system is located.
Rather, it is mounted to the windshield with a suction cup just like a traditional navigation device (PND). This means you don't have to remove or install anything, and you can also switch this carplay/Android Auto solution between different vehicles or take it with you in rental cars at any time.
According to the manufacturer, the price is 300 US dollars. The Portable CarPlay/ Android Auto/ Car Life is not available on Amazon, but only via Alibaba. The manufacturer confirmed at CES 2020 that they basically intend to offer the device on Amazon as well. However, it would still take some time until then.
Solutions of the car manufacturers
Mazda offers Android Auto upgrade
Since July 2019, Mazda has been offering Android Auto for both new cars from the factory and for used cars for upgrading. A requirement is that the Mazda MZD Connect infotainment system must be installed in the new or used car. Mazda first launched MZD Connect with the Mazda 3 in 2013 – meaning Android Auto will be available for upgrade since then.
The upgrade to use Android Auto and Apple Carplay involves a software update and the installation of a new USB hub. Your smartphone will then be connected to the new USB hub via cable. You can control Android Auto as well as all other MZD Connect while driving by using the multi-commander on the center console or by voice control. In contrast, operation via touchscreen is only possible when the car is at a standstill or at speeds of up to 8 km/h. This is a feature that Mazda has always maintained with its MZD Connect infotainment system.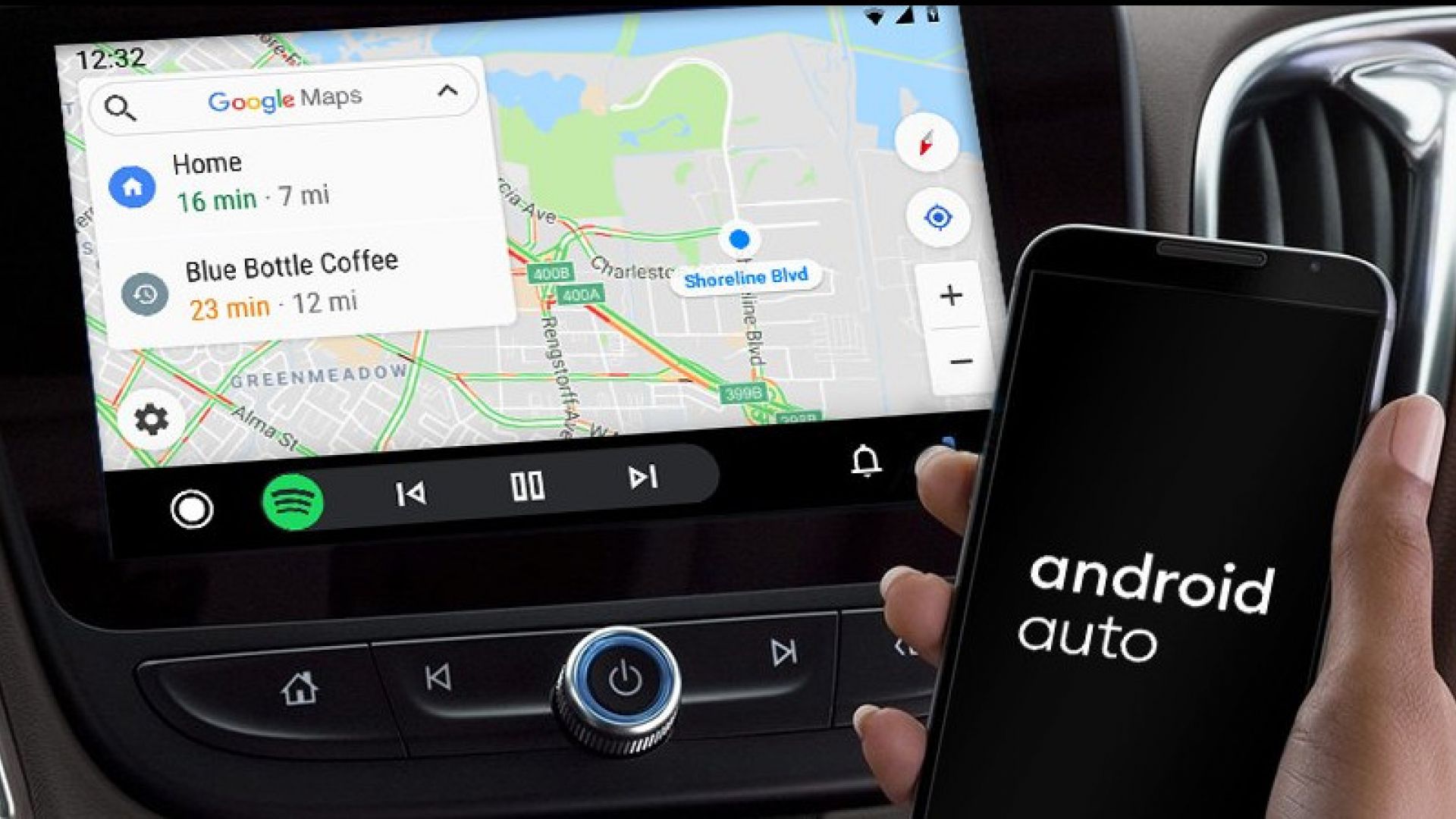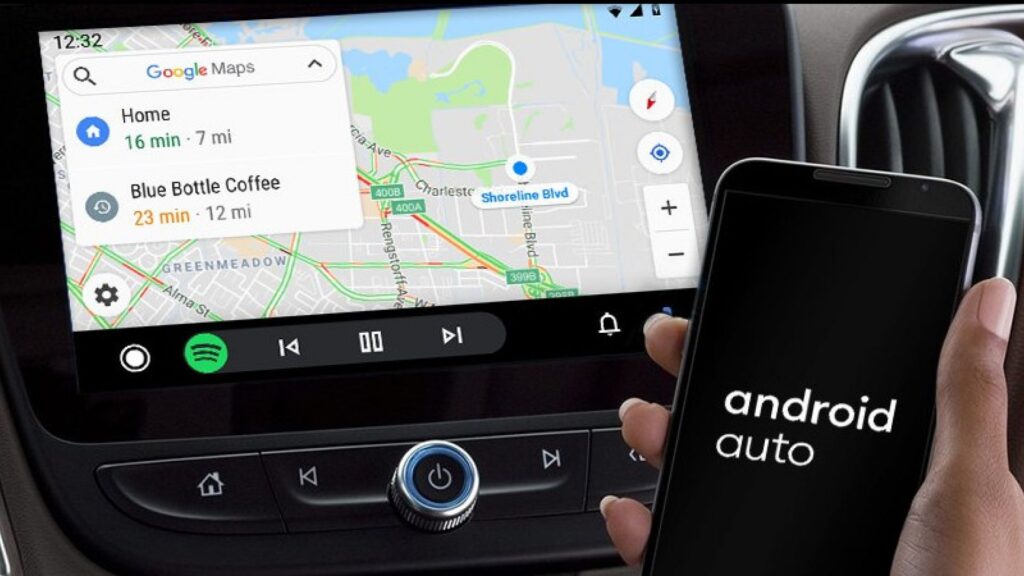 The cost of Android Auto and Carplay integration (support for both systems is only available as part of the package) is around 350 dollars as an option for new vehicles and around 250 dollars plus installation costs as a retrofit kit. To give a precise example: For a 2014 Mazda 3, the installation of the upgrade kit comes to a total of around 400 euros. Mazda dealers are currently offering somewhat more favorable installation prices. Installation takes 1.5 to 2 hours for a 2014 Mazda 3.
Volkswagen
In case you drive a relatively new Volkswagen, Android Auto and Carplay can perhaps be activated right away. This is possible in most standard infotainment systems of vehicles of the Modular Transverse Toolkit (MQB) from Golf 7 onwards, according to the ADAC. The activation takes place in the authorized workshop. A radio with touchscreen is required.
On the other hand, the Golf 7 and its counterparts cannot be activated via VCDS alone, so you will definitely have to go to the workshop. This only changes with the Golf 8: Here, customers can also activate the paid upgrade directly from the car, provided that a credit card is stored.
Difference between Mirrorlink and Android Auto
Be aware that If your car's infotainment system supports Mirrorlink, it doesn't mean it can also handle Android Auto. This is because Android Auto and Mirrorlink are both intended for integrating Android smartphones into the infotainment system of modern passenger cars. They both work in a similar way: they mirror the Android apps on the screen, and the Android smartphone takes care of the processing power. However, the developers, the technical basis, the hardware and even the user interface are completely different.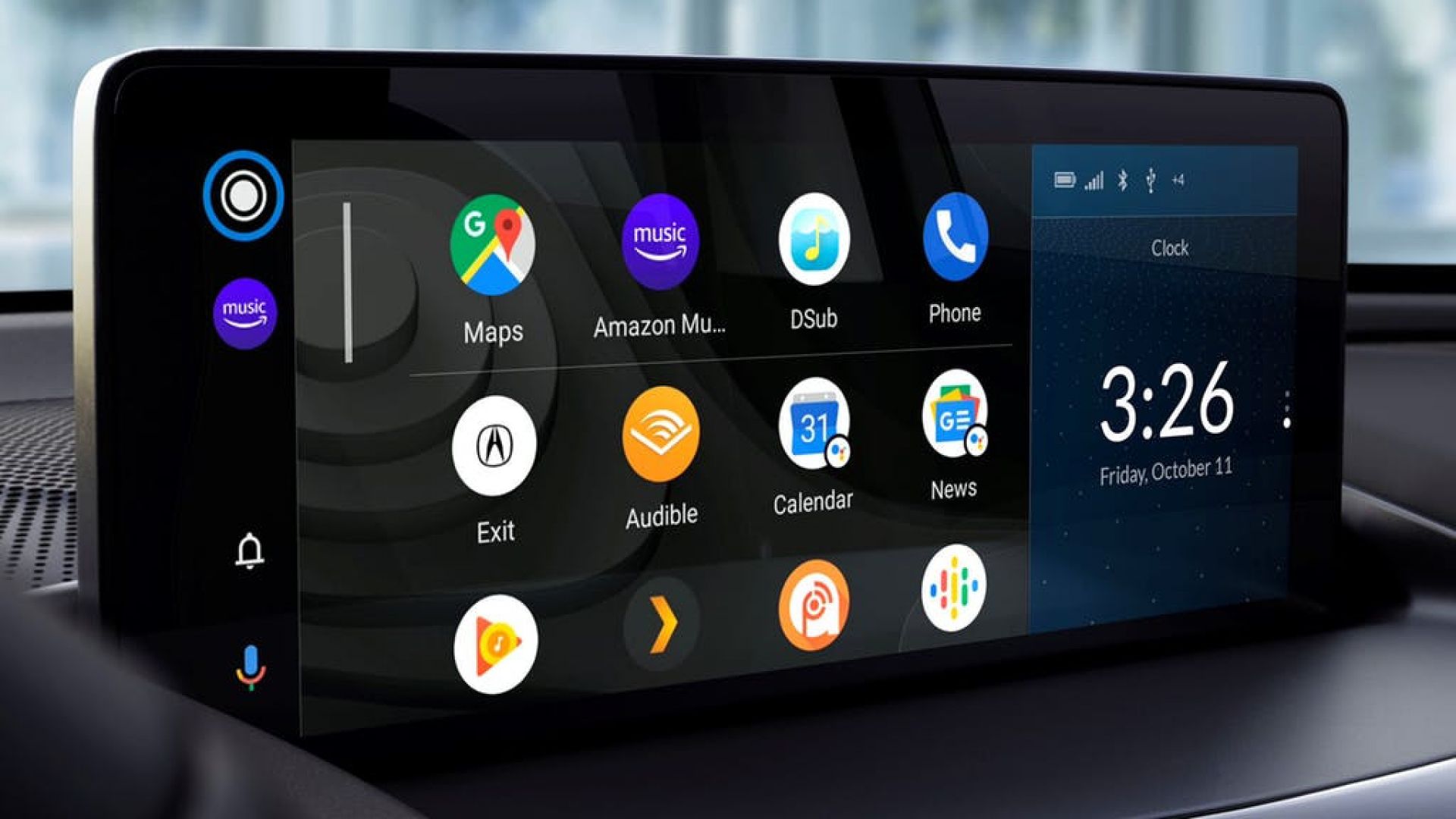 Mirrorlink: Fun has another look
Mirrorlink is not a Google product and originally comes from Nokia's research labs. For some time now, the Car Connectivity Consortium has been working on Mirrorlink. This consortium includes many companies from the automotive and telecommunications industries.
Mirrorlink disadvantage
The problem with Mirrorlink is that you have to find Mirrorlink-compatible devices in the first place, and then infotainment systems and smartphones frequently aren't compatible with each other, although they formally support Mirrorlink. There are just different versions of Mirrorlink that do not work together. Furthermore, many apps are not certified for Mirrorlink and cannot be used with it.
The Future of Android Auto
Over time Google's support for Android Auto has become more and more robust and persistent, and there's no reason to believe things will change in a few years. In the next few versions, small and large changes to the interface should arrive: One of the most expected is a dedicated weather icon at the bottom of the screen. The most relevant, and expected, is the support for the driving assistant, based on Google's voice assistant, which is supposed to handle recommendations and suggestions based on driving habits.