Hogwarts Legacy is the most ambitious game set in the Harry Potter universe to date and, just for the first time ever, the Hogwarts school will be a huge open world that can be visited without restriction.
This means that the guys at Avalanche have had to put a lot of effort into making the school look like it's a living, dynamic place, and there will be dozens of other student NPCs.
That means the guys at Avalanche have had to put a huge amount of effort into making the school look like a living, breathing place, and there will be dozens of other student NPCs. Exactly how many? one fan has done the math.
The Hogwarts Legacy game promises to be the most immersive and exciting adventure in the Harry Potter universe, which is why no detail has been spared, both in terms of art and gameplay.
Among the things we have been able to see in detail in the latest previews of the game have been the common rooms of the different houses of Hogwarts and, based on the calculations of one of the fans, Hogwarts school would have little more than 200 students.
Well if you're so sure… You better be in Gryffindor!
As far as we could tell from the latest previews for the game, a somewhat curious fan decided to count the beds seen in the common rooms to try to figure out the number of actual students that would fit in this dgital version of Hogwarts, and there would be 224 students.
"I'm not sure if this has been noted before, but if you count all the dormitories shown (14) and multiply them by the number of beds (4), you get a maximum of 56 Hufflepuff students. This implies that there are around 224 students at Hogwarts," she comments via Reddit forums.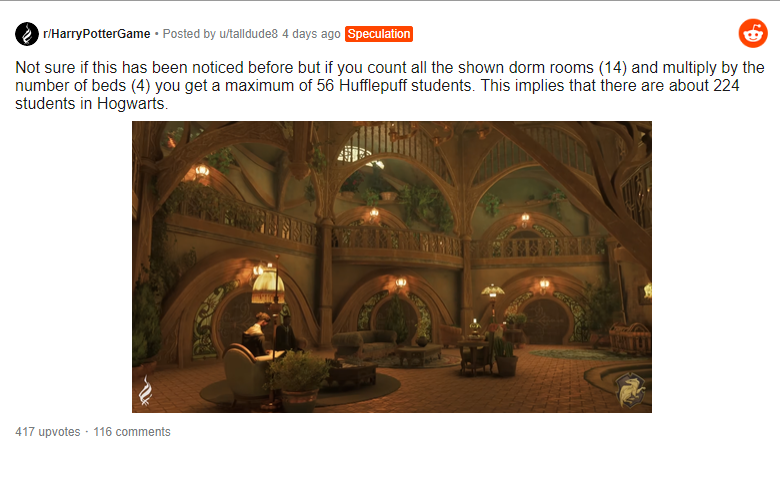 That seems like a small number of students to fill the Hogwarts Great Dining Hall on important days, but it is merely an artistic curiosity.
It is highly unlikely that the number of NPCs we see in the game is actually related to the number of beds in the Hufflepuff common room.
Kidding, it might also be that Hufflepuff is a less popular house than the Hufflepuffs think and has fewer students than the others.
Either way, we've got our work cut out for us when Hogwarts Legacy comes out on February 10, 2023 for PS5, Xbox Series X and PC, to count the number of students at the school.
Specially the Hufflepuff ones. In the rest of platforms will have to wait a little longer. since Hogwarts Legacy has delayed its release on PS4, Xbox One and Nintendo Switch until April and July, respectively.