The recent PlayStation showcase came to a thrilling end with the unveiling of an extensive gameplay trailer for Marvel's Spider-Man 2. However, a sense of anticipation continues to linger among fans who are eagerly awaiting the precise release date for the upcoming sequel.
In the wake of the trailer reveal, Insomniac Games took to social media to express gratitude and excitement towards the audience's enthusiastic response. The tweet read, "Watching your reactions today has been spectacular." Simultaneously, the studio acknowledged the mounting curiosity and multitude of questions that fans have regarding the highly anticipated Spider-Man 2.
A Release Date on the Horizon: Fall 2023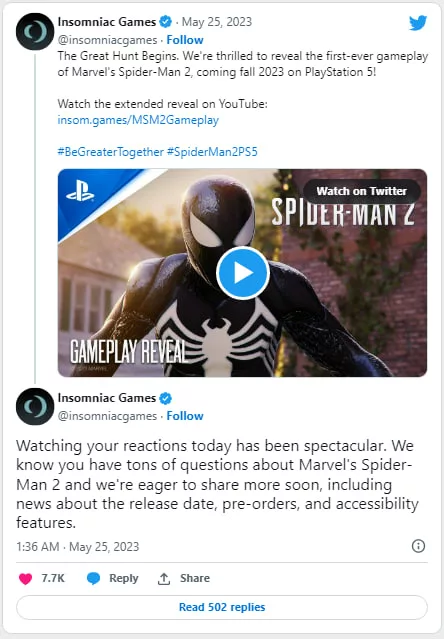 Although the game's 'Fall 2023' launch window was reinforced during the showcase, a definitive release date remains undisclosed. However, in a reassuring move, Insomniac's tweet confirmed, "We're eager to share more soon, including news about the release date, pre-orders, and accessibility features."
This statement has fueled speculation about a potential Spider-Man-themed showcase in the coming summer. Given PlayStation's relatively sparse offering of first-party titles during the recent event, there's an increasing likelihood of an exclusive show being planned for later in the season.
As the fall season inches closer, it's expected that Insomniac will soon lift the curtain to reveal more about the game.
The Spotlight on Accessibility: Building an Inclusive Gaming Environment
The acknowledgment of a focus on accessibility within Insomniac's tweet is a promising sign of the gaming industry's progress towards inclusivity.
Sony has made significant strides in this arena over recent years, with notable examples like The Last of Us 2 pioneering this initiative and God of War: Ragnarok continuing the trend.
There's a strong hope that Spider-Man 2 will not only follow this trajectory but will enhance the robust platform that Sony has established, making the game even more accessible and enjoyable for a diverse audience.