During the highly anticipated Xbox Games Showcase, Rare took the virtual stage to announce an extraordinary collaboration for Sea of Thieves, one of Xbox's most successful franchises in recent years.
Following the popular Pirates of the Caribbean crossover, the next thrilling expansion for Sea of Thieves takes inspiration from the beloved Monkey Island series.
A Legendary Crossover Saga
Much like the previous crossover, the Monkey Island expansion will be delivered to players through a free update, offering a treasure trove of new content to explore.
Prepare to set sail on daring escapades, encounter captivating characters, and embark on new quests to save the day. Witness the magic for yourself in the exciting new reveal trailer.
Rare promises that players will cross paths with iconic Monkey Island characters, including the bumbling yet courageous Guybrush Threepwood, the captivating Elaine, the sinister LeChuck, and the mischievous Murray the Demonic Talking Skull. The development team also emphasized how gameplay will pay homage to the rich history of the Monkey Island series, ensuring an authentic experience for fans.
Exploration and Puzzles in a Brand-New Way
Sea of Thieves' collaboration with Lucasfilm Games has given rise to three captivating Tall Tales in The Legend of Monkey Island, all of which will be available as part of the free update. Swashbuckling Sea of Thieves adventures will intertwine with the beloved Monkey Island lore, inviting players to embark on an unforgettable journey.
Discover freely explorable versions of Mêlée Island and Monkey Island, solving puzzles in a point-and-click style cleverly adapted for Sea of Thieves' immersive first-person perspective. Prepare to set sail in the hauntingly beautiful Sea of the Damned, where you can relive the iconic Monkey Island series in an entirely new and refreshing way.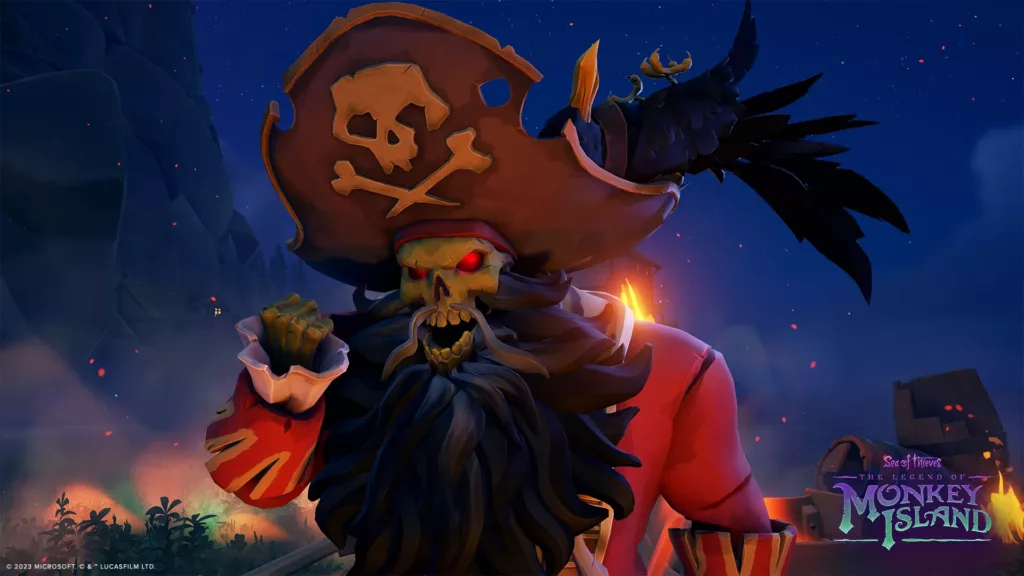 The wait for this thrilling crossover won't be long. Sea of Thieves: The Legend of Monkey Island will arrive as a free update on July 20, allowing players to dive headfirst into the captivating world of pirates, treasure, and unforgettable encounters.
Get ready to chart your course, gather your crew, and set sail for an adventure like no other. The Sea of Thieves awaits, and the legends of Monkey Island are about to come alive in this epic crossover event.
Embark on a Mobile Journey Like No Other! Connect, compete, and conquer with players worldwide in the most epic MMORPGs available on mobile this year. Dive Deep into the 16 Finest Mobile MMORPGs Now!