The spotlight of last weekend fell on "Barbenheimer," an extraordinary coincidence where both the Barbie movie, directed by Greta Gerwig, and Christopher Nolan's Oppenheimer hit the theaters.
While Mattel's iconic doll proved her commercial prowess by doubling The Dark Knight's box office figures, both movies garnered accolades, making them standout releases of the year. Amidst the excitement, Amy Schumer, a well-known American actress and comedian, had a playful reaction to the cinematic celebration.
Amy Schumer's Quirky Congratulations
Amy Schumer took to her Instagram account to extend her congratulations to both Barbie and Oppenheimer on their theatrical debut.
In a lighthearted quip, she added, "I really enjoyed Barbie and Oppenheimer, but I think I should have played the role of Emily Blunt. Make it better Hollywood," accompanied by a fun image highlighting her resemblance to Emily Blunt's character in Nolan's film, the wife of scientist Oppenheimer (Cillian Murphy).
While the jest appeared directed at the Barbie movie, it did not seem to spark any bad blood between the comedian and the actors of both films.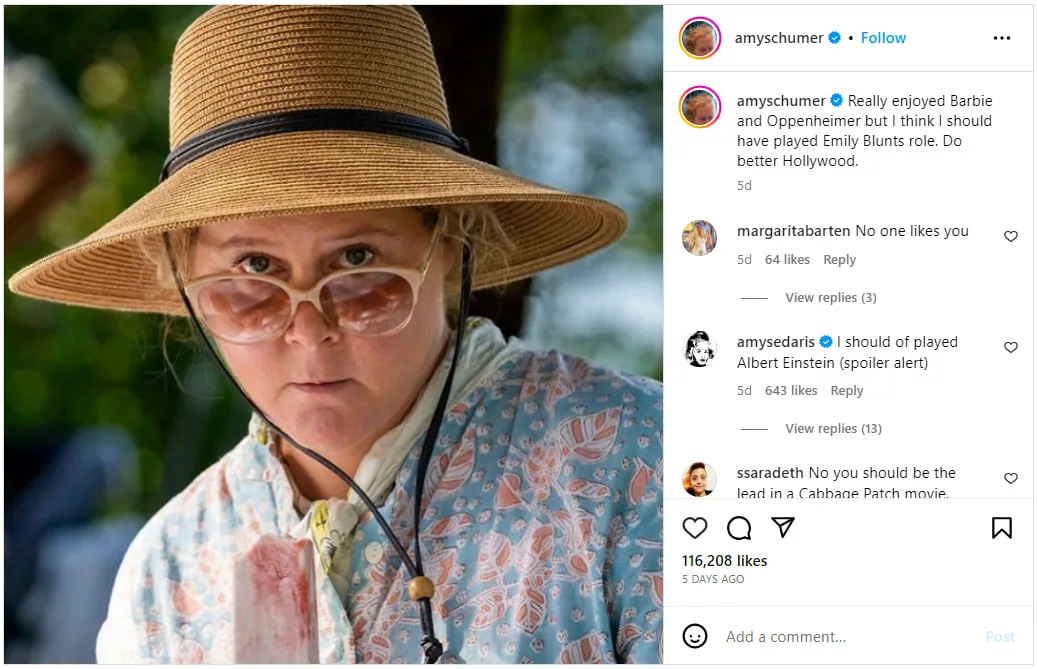 Amy Schumer's Lost Opportunity
As reported by GameRant, Amy Schumer was initially chosen to portray Barbie in Sony's 2016 version of the movie. The storyline envisioned Barbie's expulsion from Barbieland for not meeting the standards of perfection.
However, four months later, Schumer had to step back from the production due to alleged scheduling conflicts. Consequently, the role eventually went to Anne Hathaway. After several changes in the production and script, Margot Robbie ultimately donned the mantle of Mattel's iconic doll, starring alongside Ryan Gosling as Ken.
A Veiled Critique or Just Good Humor?
Whether Amy Schumer's playful remark harbors a veiled critique of the Barbie movie remains a matter of interpretation. Despite her past association with the project, the comedian's witty comment didn't appear to dampen the spirits of either the cast or the creators of both films.
Both "Barbie" and "Oppenheimer" have been showered with rave reviews from both critics and audiences alike, becoming cinematic highlights of the year. However, it is worth noting that the Barbie movie faced some restrictions and was banned in certain Southeast Asian countries.
Discover Hidden Gems: Tired of the same mainstream TV shows? Dive into our curated list of underrated tv series that deserve more recognition. Your next favorite series awaits!