The cyberpunk genre has seen a major resurgence in recent years, with titles like Cyberpunk 2077 bringing the high-tech, low-life worlds to life. Now, the indie developer Maeth is throwing their hat in the ring with the release of Sprawl, a first-person shooter that aims to capture the essence of classics like Deus Ex.
Sprawl drops players into the shoes of a disgraced special ops soldier named Seven, out for revenge in a dreary, dystopian city. With the mysterious Father guiding you via a voice in your head, you'll blast through waves of corporate military forces with an arsenal of pistols, shotguns, and more. Slow down time to line up lethal headshots, and traverse through environments using slick wall-running mechanics reminiscent of Mirror's Edge.
It's a formula we've seen before, but Maeth has crafted their own little corner of the cyberpunk universe. The contrast between Sprawl's retro pixel art style and modern gameplay creates a unique vibe. While it may not revolutionize the genre, Sprawl nails the core shooting action and offers up a compelling playground to unleash mayhem.
In this review, we'll dive deep into what Sprawl gets right and where it stumbles. Does it stand strong alongside cyberpunk heavyweights, or is the sprawl just a repetitive dystopian grind? Let's jack in and find out.
Running and Gunning Through the Sprawl
Sprawl wastes no time throwing players into the action. The core gameplay loop is all about frantic gunplay coupled with slick parkour movement to traverse through environments. It's a formula we've seen before in games like Ghostrunner or Titanfall 2, but Sprawl pulls it off with aplomb.
The shooting mechanics are responsive, and the arsenal offers plenty of variety. Pistols and SMGs are great for taking out low level grunts, while shotguns and grenade launchers excel at crowd control. There's a healthy variety of enemy types too, from agile robot dogs to hulking mechs that require strategy to take down efficiently. Popping headshots with perfectly timed slow-mo feels great, especially when enemies explode into visceral gore.
Keeping your killing momentum going is key to survival in Sprawl's intense combat arenas. The game rewards aggressive play by having enemies drop health, ammo and adrenaline boosts when finished with melee attacks or skillful weak point hits. It creates a gratifying loop of high-octane ability usage, slaughter, and replenishment. An added bonus comes from the katana, allowing for some carnage in close quarters when you're out of bullets.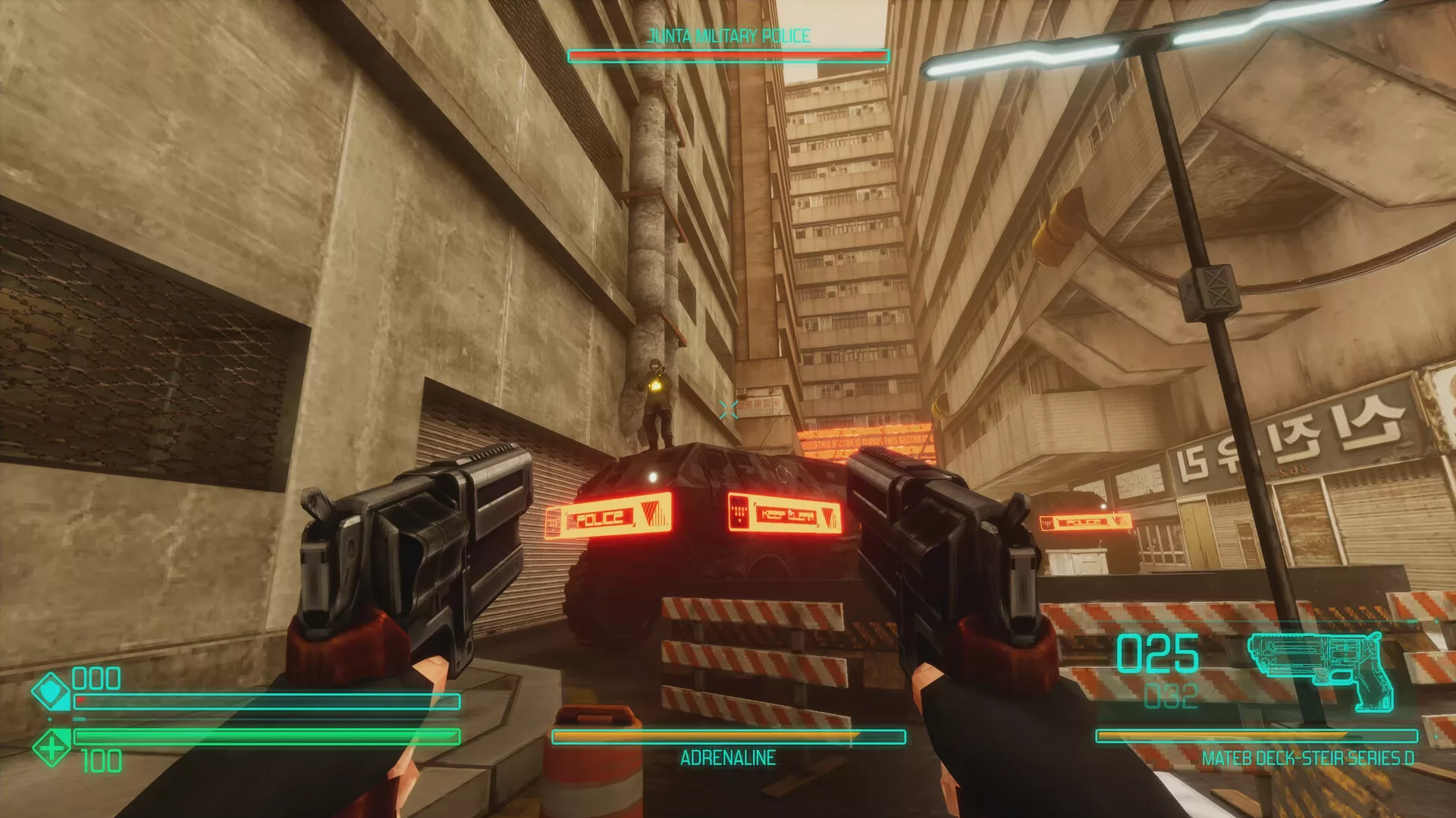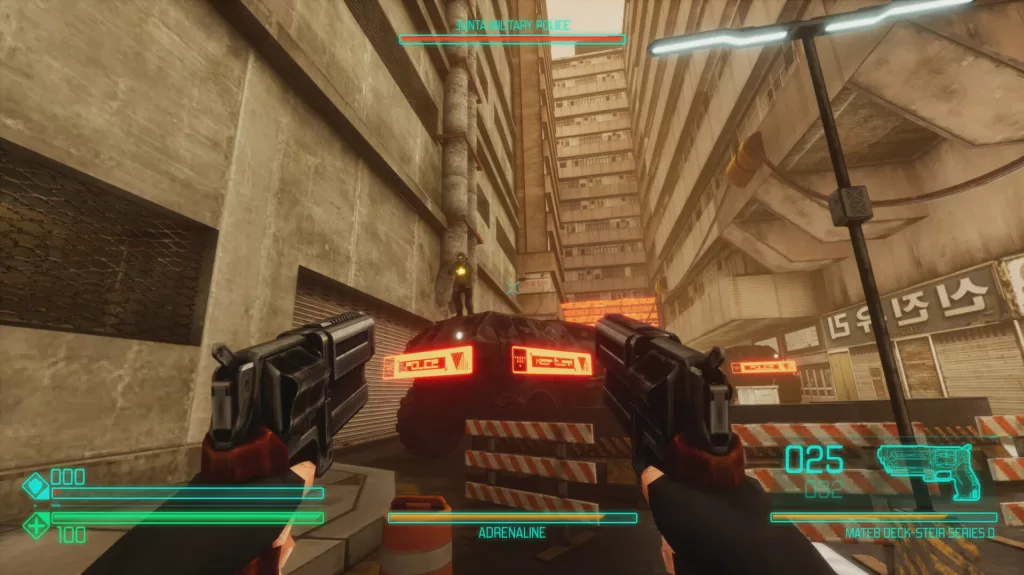 Traversing areas is just as important as the shooting. Seven's suite of parkour abilities opens up Sprawl's levels exponentially. Chaining together wall runs, hops, and slides to slingshot across chasms or reach vertical vantage points keeps movement feeling fresh. When you're flying around levels during intense fights, Sprawl is at its most exhilarating. Mastering the initially tricky wall run timing pays dividends.
The slow-mo mechanic also bears mentioning. Entering bullet time at the press of a button enables deadly precision, letting you line up perfect headshots or slow enemies for a better angle of attack. It's limited by an adrenaline meter, but thoughtful use of slow-mo is key to surviving larger enemy waves.
While most combat arenas are well paced, Sprawl does suffer from some difficulty spikes later on. The platforming also has frustrating portions that demand pixel perfect accuracy. This can lead to irritating deaths after time spent mastering the movement. There are some clarity issues too – branching level paths don't always provide clear directional cues.
But these issues only briefly detract from Sprawl's supremely satisfying core loop. Once you get in the zone chaining kills, wall runs, and stylish bullet time shots, very few shooters feel this smooth. For those hungry for high-speed cyberpunk action, Sprawl serves up plenty of neon-tinged catharsis.
A Dystopian Playground
The cyberpunk genre has cemented its own set of tropes at this point, and Sprawl doesn't stray too far from the beaten path. It paints a picture of a fallen metropolis ruled by authoritarian corporations where technology simultaneouslyconnects and isolates. Protagonist Seven is a grizzled, disgraced soldier out for revenge against the powers that betrayed her. It's a serviceable backdrop even if it breaks no new ground.
Sprawl doesn't waste much time on heavy exposition dumps. The story is mainly delivered through brief introductory text at the start of levels, and conversations with the questionable AI guide Father. This keeps the pace fast and focused on gunplay.
Seven herself is left somewhat undeveloped as a character. We know her basic backstory and motivations, but there's not much below the surface. Ultimately, she exists as little more than a justification to blast through waves of enemies. That said, the voice acting sells the performance well enough.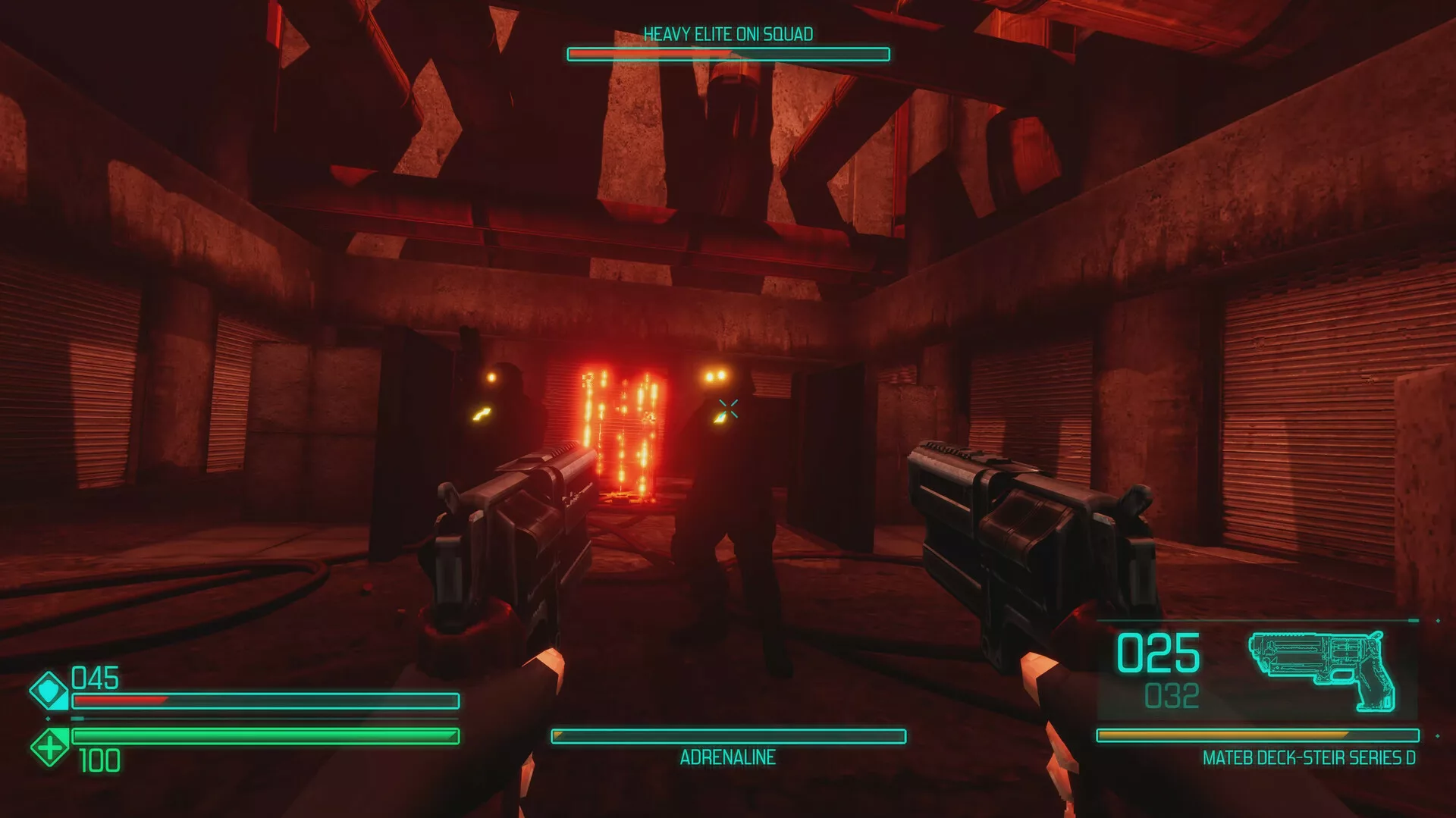 The setting, on the other hand, is crafted with care. Sprawl's environments convey the oppressive atmosphere of a surveillance state well. Districts are walled off and downtrodden, with propaganda billboards dotted around. The contrast between the washed out streets and shining corporate towers in the distance is palpable. It's certainly not the most unique take, but the aesthetic choices make the dystopian setting immersive.
While the cyberpunk trappings are familiar, the world building is comprehensive enough to establish an engaging sense of place. There's little depth to the themes of corrupt power and technology gone awry, but Sprawl does successfully utilize its setting to motivate the high-octane gameplay.
Since Sprawl is unabashedly designed as an action-focused experience, it's easy to forgive the lack of narrative ambition. The story hits the genre's most common beats without much subtlety, but provides enough style and personality to serve its purpose. Those seeking a deep dive into speculative fiction will have to look elsewhere. But for fans of bombastic shooters, the campaign provides a sufficiently intriguing playground of dystopian mayhem.
A Feast for the Senses
Sprawl's visual presentation aims for a classic pixel art style rather than pursuing pure realism. While some may lament the lack of cutting edge fidelity, the retro aesthetics are leveraged to great effect. The limited color palette and blocky environments evoke a nostalgic FPS feel while creating a suitably gloomy ambiance.
Impressively, the lower polycount environments don't detract from immersion. The excellent art direction conveys the dingy urban atmosphere perfectly. Propaganda billboards hang above dilapidated streets strewn with garbage. Flickering neon signs illuminate alleyways. Towering corporate arcologies loom ominously over the slums. It's cyberpunk to a T.
Sprawl eschews visual bells and whistles in favor of rock solid performance. A smooth framerate is crucial for the kinetic gameplay, and Sprawl delivers. Even when combat gets extremely hectic, there's barely a hint of slowdown. The responsive controls enhance the fluid feeling.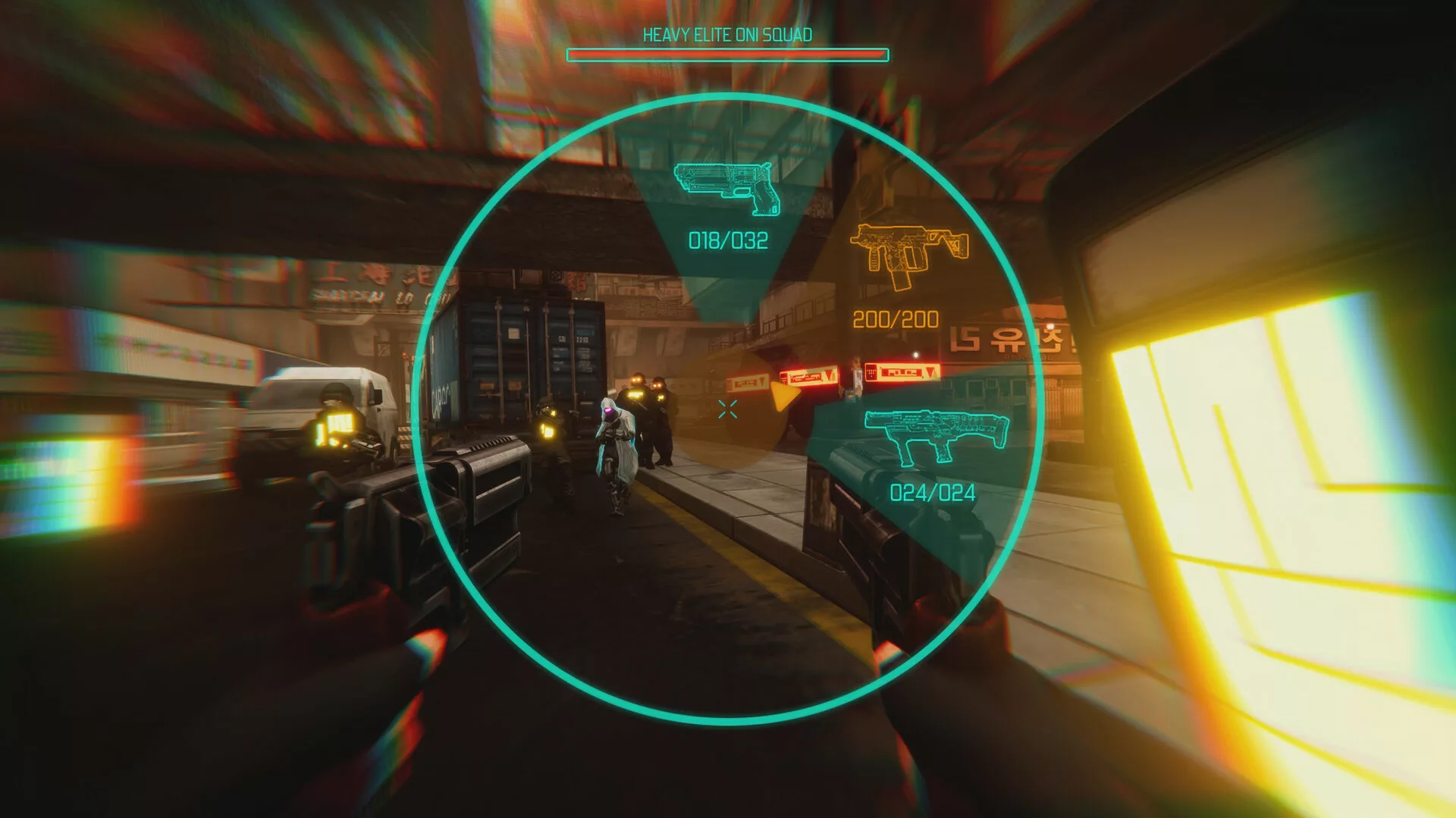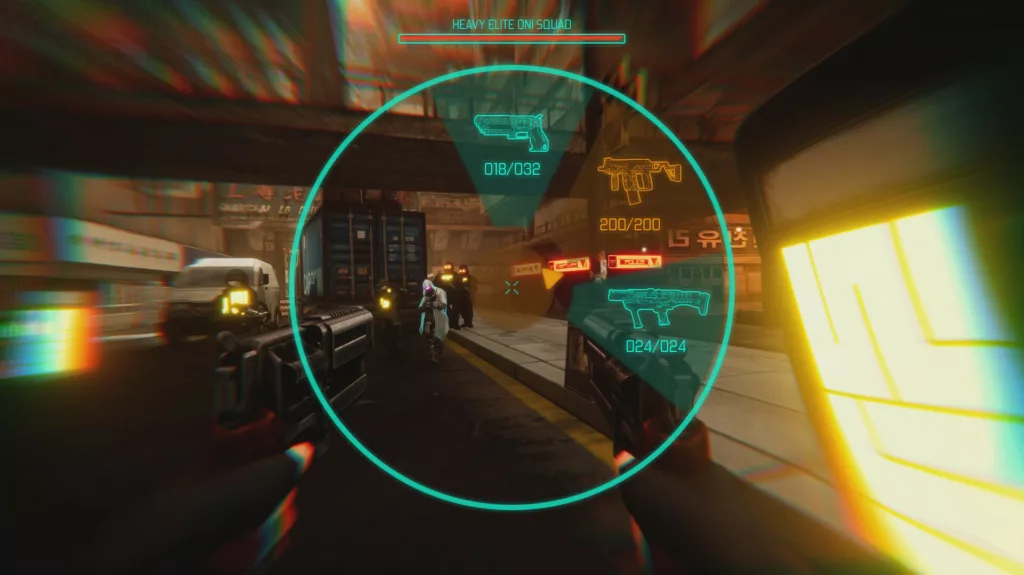 On the audio front, the pulsing electronic soundtrack stands out. The music ramps up during intense fights, lending a dramatic and rhythmic edge to the action. These high energy beats will have your trigger finger twitching in no time. The weapon sound design is punchy too, especially the thunderous shotguns. That said, there are sporadic audio issues at times. Volume levels can spike unpredictably, which can be jarring. It's not a frequent problem, but will hopefully be patched soon.
In the end, Sprawl's stylish retro visuals and pulse-pounding audio make for an engaging sensory experience. There's nuance in its lo-fi presentation, and performance remains silky smooth. When wall running through a detailed cityscape accompanied by adrenaline-surging music, Sprawl sinks its hooks in deep.
Navigating Sprawl's Skillful Strides
In the sprawling universe of "Sprawl", progression is more than just moving from one level to the next; it's about evolving as a player, understanding your environment, and mastering the art of skillful play. As the story unfolds and challenges heighten, players unlock a suite of new abilities and weapons. These aren't just handed over; they are earned rewards that underline a player's journey through a deteriorating cyberpunk world.
One of the key gratifications lies in the game's ability to reward precision and expertise. Perfect your aim and you're treated to health and ammo drops with every well-placed headshot. These aren't merely bonuses but a testament to your growing proficiency. This feedback loop incentivizes players to enhance their gameplay, turning them from beginners to sharpshooters in no time.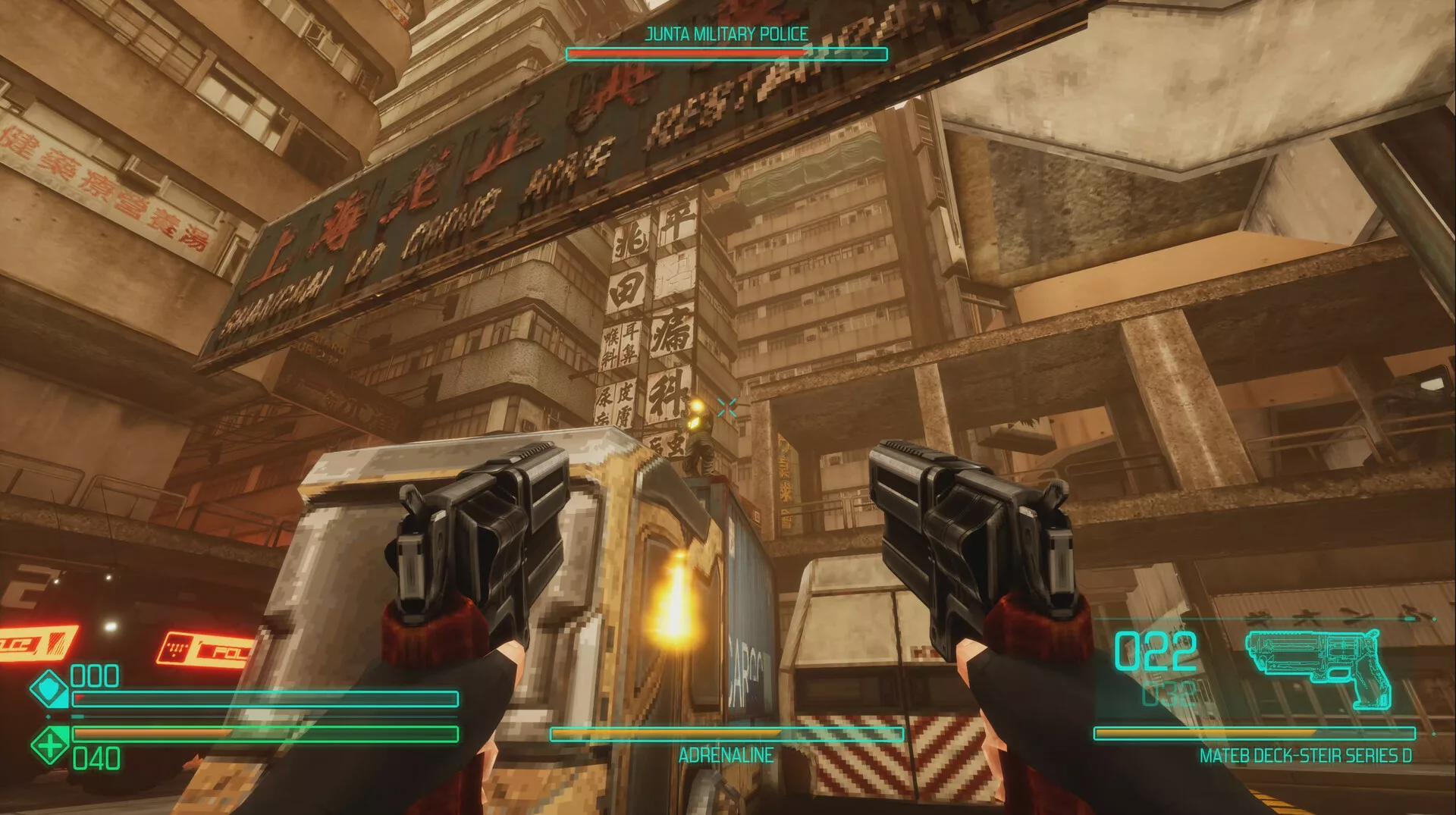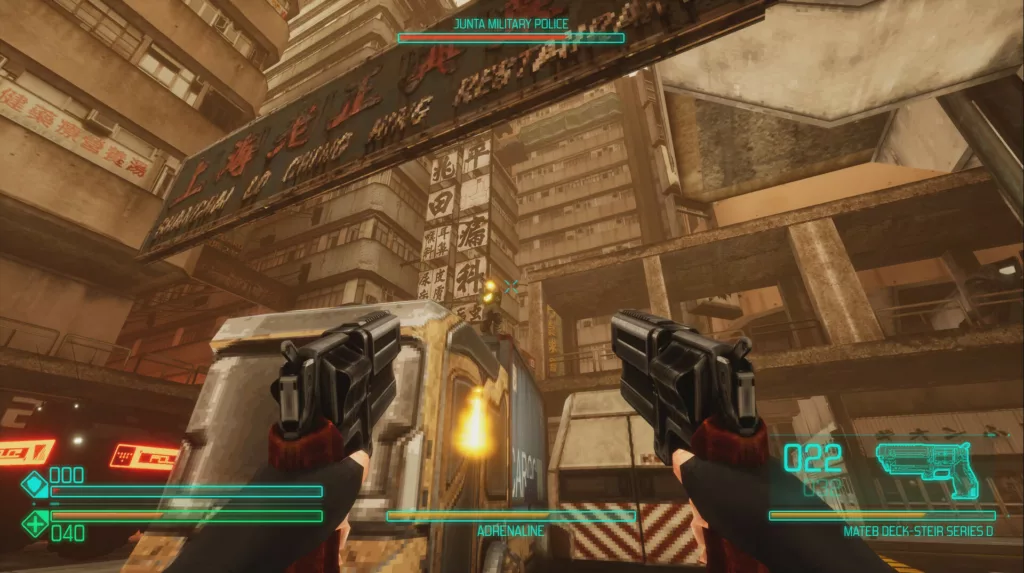 Momentum, in many action-packed titles, is often overlooked. But in "Sprawl", it's a vital currency. Keeping up the pace isn't just about evading enemy fire but is seamlessly woven into the game's progression system. Move fast, stay sharp, and the game world responds favorably, giving players that satisfying feel of a well-executed plan.
Then there's the adrenaline meter, an intriguing addition that takes the gameplay up a notch. Filling it up grants players access to bullet time, allowing them to slow down the frenetic pace of battles and line up those perfect shots or strategize on the fly. This isn't just a mere mechanic; it's an emblem of the player's growing adeptness, a tool that's vital in the more hectic showdowns of the game.
In essence, "Sprawl" masterfully intertwines player progression with rewarding systems that respond dynamically to skill and precision. It's not just about getting to the end; it's about the exhilarating journey that molds a player from novice to master.
Sprawl's Technical Stumbles
Diving into the atmospheric world of "Sprawl", one can't help but be immersed in its dystopian narrative. Yet, like any other ambitious venture, it isn't without its hiccups. From the outset, some players might encounter a few snags that could momentarily pull them out of the game's captivating universe.
The wall-running feature, meant to be a fluid and pivotal part of gameplay, at times feels like it's betraying you. There have been moments where the controls don't quite sync with the player's intentions, leading to unfortunate missteps and, occasionally, an untimely end.
Audio seems to be another thorn in the game's side. The haunting score and gritty sounds of the Sprawl sometimes stutter or fall silent, detracting from moments that should be brimming with tension. These minor glitches, though infrequent, disrupt the game's immersive soundscape.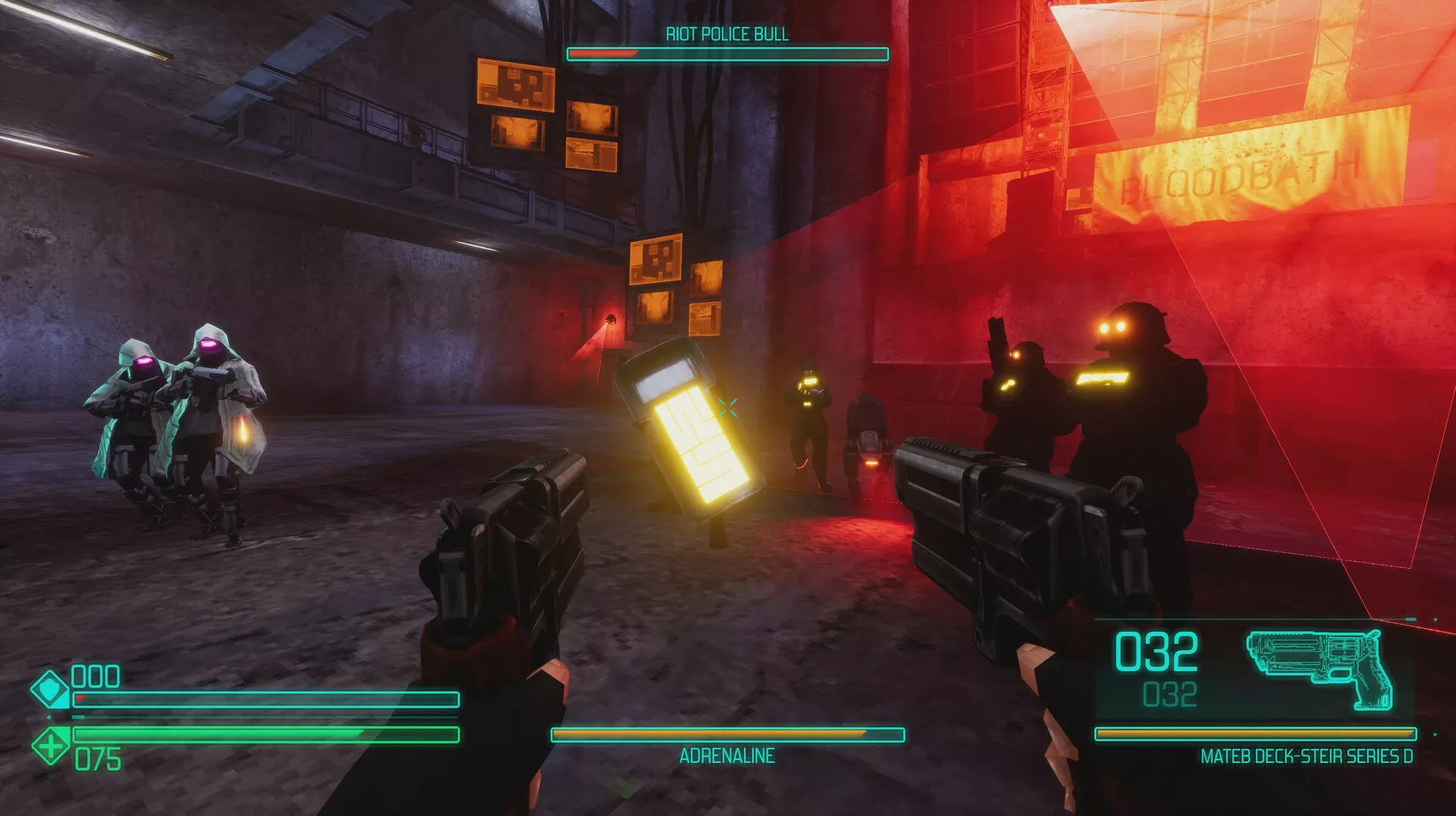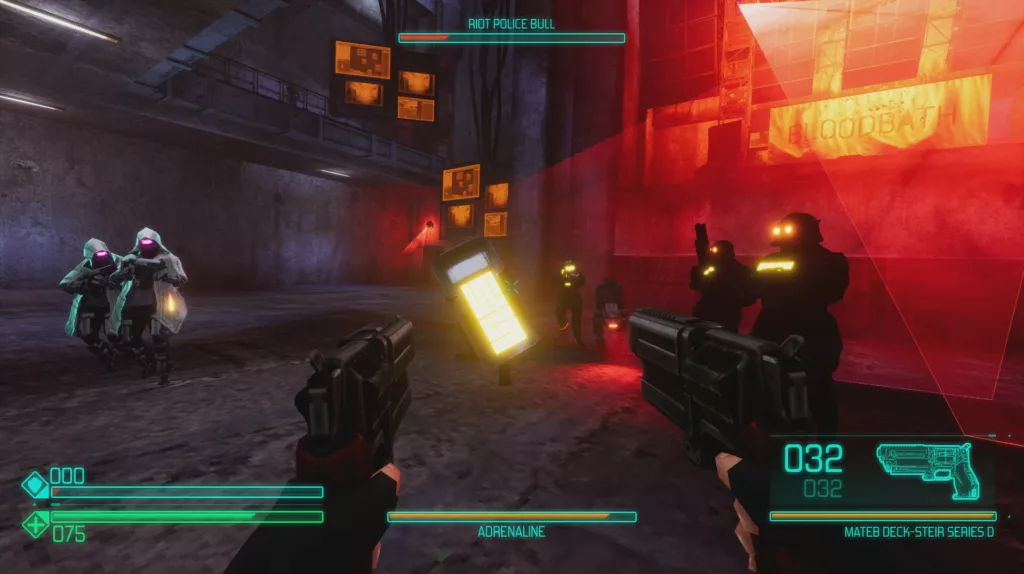 Moreover, a rather jarring difficulty spike emerges in the later sections, making one wonder if the game's pacing underwent thorough testing. It's one thing to challenge the player, but these difficulty leaps can sometimes feel more frustrating than rewarding.
Lastly, bugs concerning ammo pickups and the final boss challenge one's patience. There have been instances where the pickups aren't recognized or, worse, the climactic final boss battle grinds to a halt due to a glitch.
While "Sprawl" offers a compelling world to delve into, these technical glitches are a poignant reminder that even the most promising titles sometimes stumble in their execution. It's a world worth exploring, but adventurers should brace themselves for a few unexpected bumps along the way.
When "Sprawl" Meets "Ghostrunner": A Parallel Universe
Stepping into the universe of "Sprawl", there's an uncanny sense of déjà vu for those who've dashed through the neon-lit realms of "Ghostrunner". The echoes are unmistakable – both games portray a world where technological leaps come hand-in-hand with societal decay, a vision of the future that's bleak yet mesmerizing. The narrative threads also share a familiarity; a protagonist navigating a dystopian maze, fighting against oppressive forces, seeking liberation.
Yet, despite these mirrored settings and stories, the two games dance to their own beat. "Ghostrunner" thrives on agility, demanding pixel-perfect platforming and swift katana slashes. Its world is a maze of neon, where every wall run, jump, and dash could mean life or death.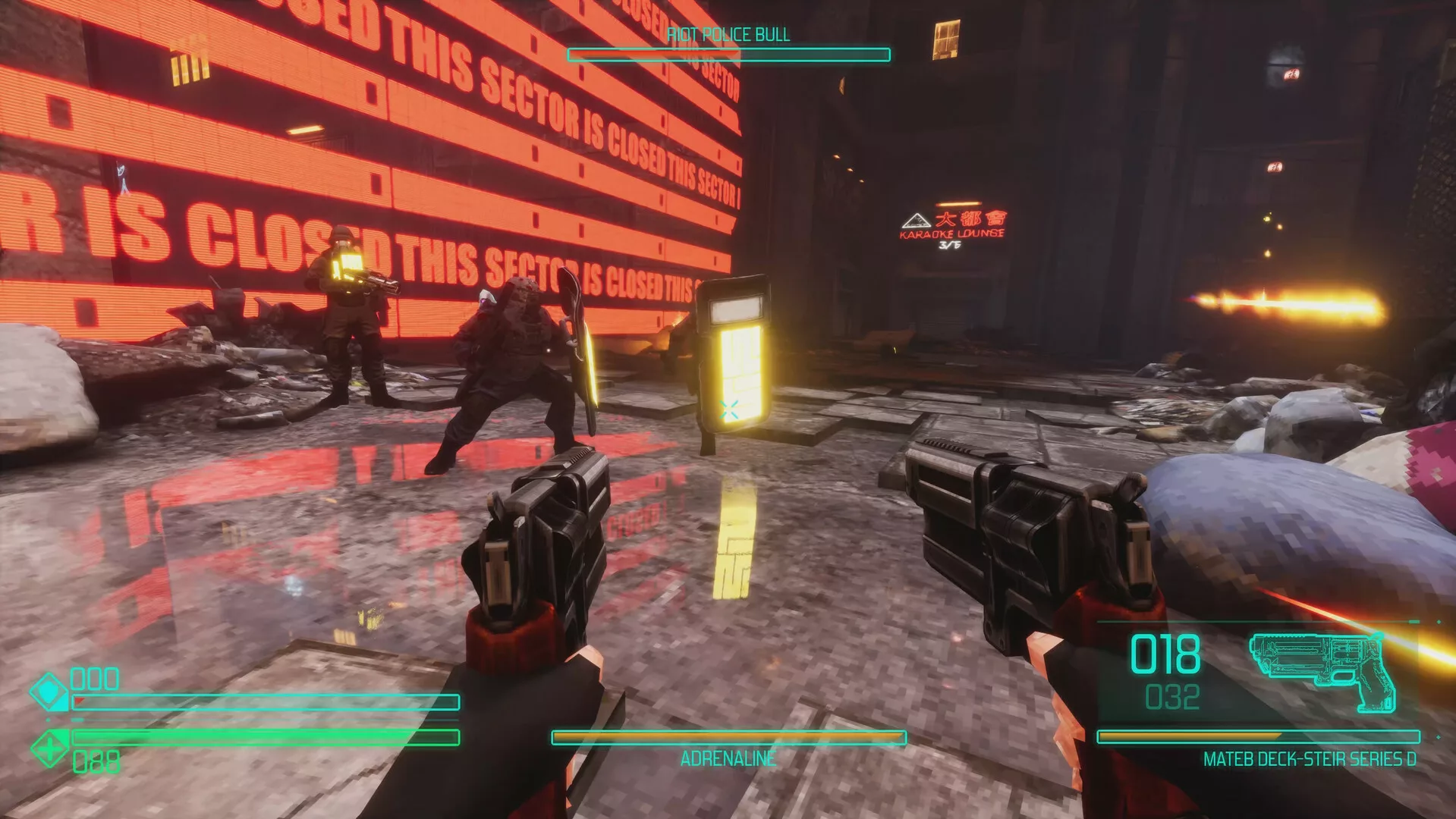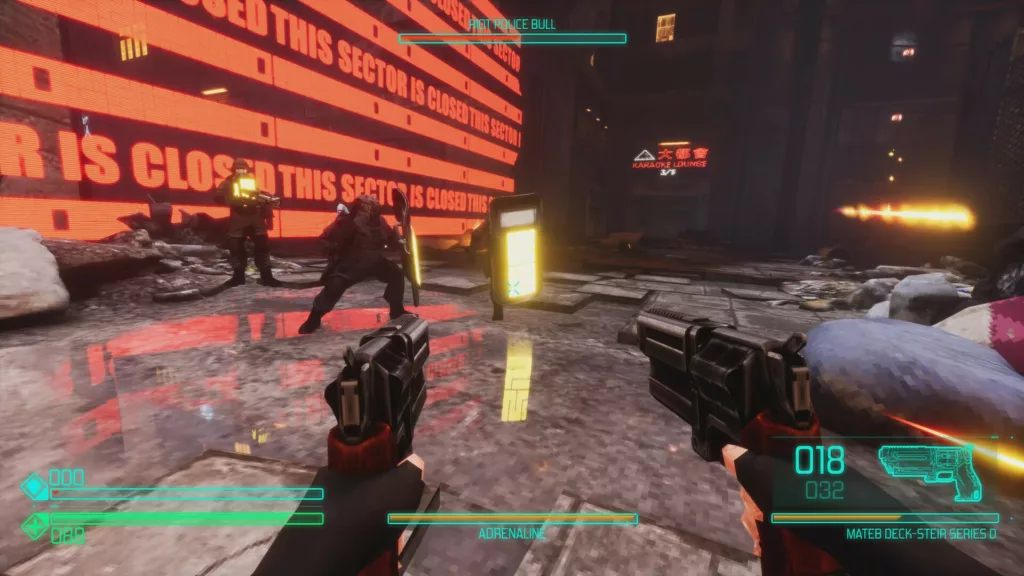 "Sprawl", on the other hand, diverges when it comes to its core gameplay. While both titles harbor parkour elements, "Sprawl" leans more into its arsenal of firearms, emphasizing strategic gunplay. The world is grittier, less neon-soaked, with a stronger emphasis on gunfights and tactical thinking.
In essence, while "Sprawl" and "Ghostrunner" might share a distant cousin-like resemblance in their backdrops and tales, their gameplay narratives sing different tunes, each captivating in its own right.
Constructive Feedback: Paving the Way for a Stronger "Sprawl"
Diving deep into the intricate lanes of "Sprawl", there's no denying its inherent charm and potential. However, like many ambitious projects, there are certain aspects that could be fine-tuned for a more polished experience.
Starting with melee combat – it's evident that the katana's implementation felt like an afterthought. For a game that leans heavily into strategic gunplay, it would be invigorating to see melee attacks seamlessly integrated, not just as an option but as a viable combat strategy. This could mean more dynamic finishes, fluid animations, or even introducing combo systems to add depth.
A more intuitive tutorial is another avenue begging for exploration. With such a unique gameplay mechanic, easing players into the world of "Sprawl" with comprehensive, yet engaging guidance would alleviate initial hurdles. Players shouldn't feel lost but rather intrigued by the game's mechanics, and a tutorial can make or break that first impression.
Lastly, the minor hiccups in audio and controls should be addressed. Ensuring wall-running inputs are smooth and glitch-free is imperative for a game that demands precision. Similarly, audio bugs can be immersion-breaking. Fixing these ensures that players remain engrossed in the game's atmospheric world, letting the narrative and action take center stage.
Final Thoughts on "Sprawl"
Navigating the expansive and intricate world of "Sprawl", it's evident that this game attempts to carve a unique niche for itself. In an era where gaming titles are often lost in the noise, "Sprawl" resonates with a distinct echo, showcasing a blend of familiar cyberpunk themes while introducing fresh gameplay elements.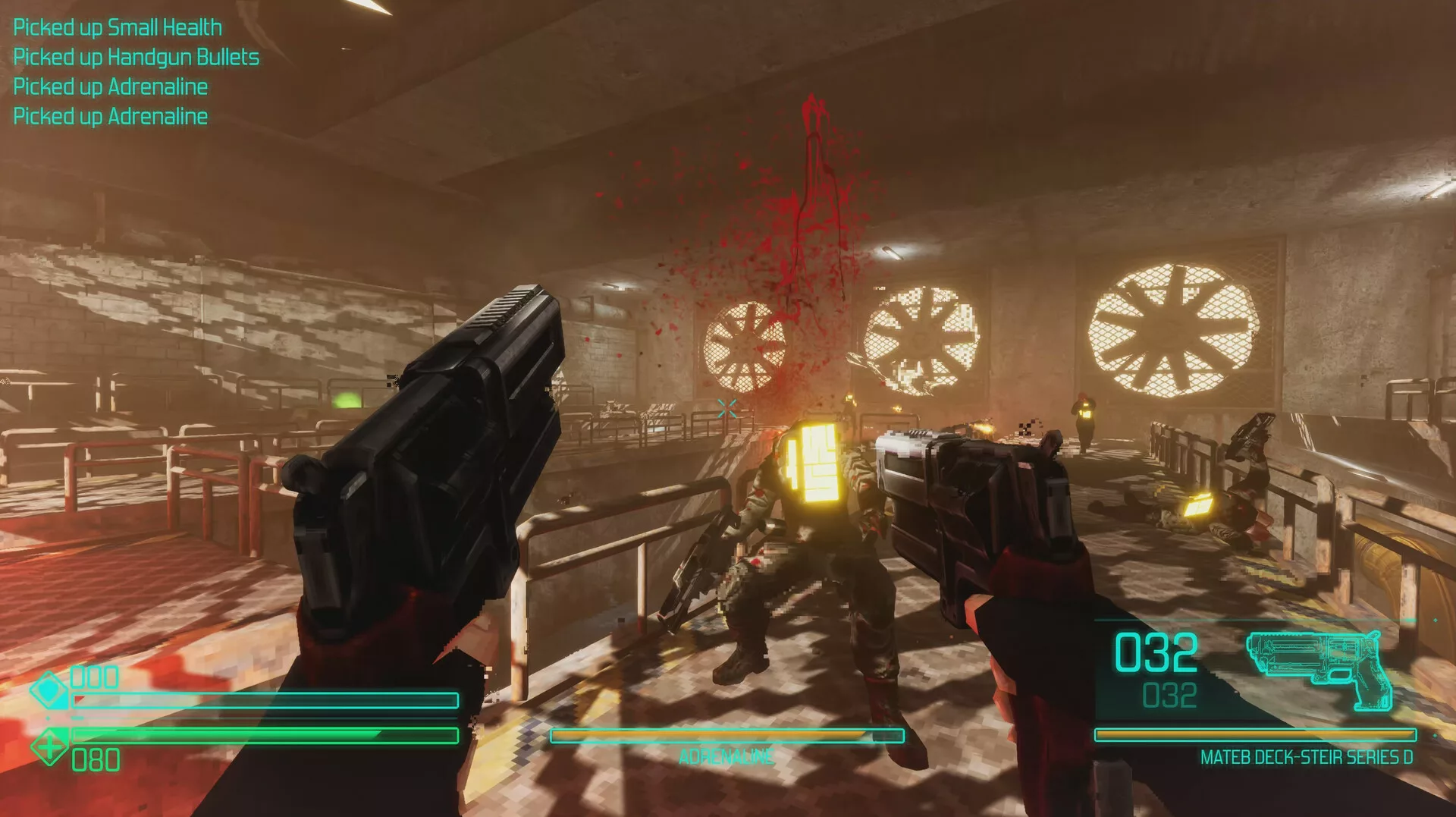 Let's be honest; the gaming world today is saturated. Yet, "Sprawl" manages to shine in moments, be it through its poignant narrative beats or its strategic combat dynamics. Yes, there are hiccups and shortcomings, as any ambitious project might face. But they don't overshadow the game's merits.
For those on the fence about diving into "Sprawl", here's my two cents: if you're a fan of the cyberpunk genre and are seeking a game that offers a blend of fast-paced action and thoughtful narrative, then this might just be your cup of tea. However, do brace yourself for the occasional hiccup, and remember – perfection is subjective.
In the grand mosaic of gaming, "Sprawl" might not be that gleaming golden tile, but it surely is a vibrant shade that adds depth and character to the overall picture. For those willing to immerse themselves and overlook the minor blemishes, the game promises an engaging ride through a dystopian future worth exploring.
The Review
SPRAWL
"Sprawl" is a daring dive into the cyberpunk universe, brilliantly capturing the genre's essence while navigating its own identity amidst familiar waters. It blends an intricate narrative with fast-paced gameplay, though not without its set of flaws. A journey that promises excitement and engagement, it's a worthy contender for those craving cyberpunk-themed action.
PROS
Engaging cyberpunk narrative.
Fast-paced gunplay mechanics.
Unique usage of the adrenaline system.
Immersive dystopian environments.
Challenging combat encounters that test skill and strategy.
CONS
Technical issues, including problems with wall-running inputs and audio bugs.
Problematic difficulty spikes.
Underdeveloped melee combat system.
Occasional lack of clarity in progression and navigation.
Some game-breaking bugs, especially in terms of ammo pickups and final boss encounters.