Mediterranea Inferno is the latest visual novel from Italian developer Lorenzo Redaelli, known for the cult hit Milky Way Prince. Published by Santa Ragione, the small studio behind the unique F.I.S.T.: Forged in Shadow Torch, Mediterranea Inferno promises to be an intense psychological journey.
The game takes place along the Italian coast as three young men in their early twenties reunite for a vacation after being separated during quarantine. They were once the toast of Milan's party scene, living glamorous lives full of admiration and pleasure. Now Claudio, Mida, and Andrea must confront who they've become during lockdown as they try to recapture the magic of their youth.
But this is no relaxing seaside getaway. A mysterious entity provides the group with Mirage Fruits, which transport them into vivid hallucinations exploring their innermost desires and regrets. Tensions rise as the boys are forced to reckon with their flawed personalities and relationships.
In this review, we'll dive deeper into Mediterranea Inferno's provocative storytelling, stylized visuals, and disturbing themes. It's a brief yet impactful game that won't be for everyone. Those willing to venture into its rumor of taboo imagery and raw emotions will find a memorable descent into the fragility of the human psyche. Join us as we review this unique visual feast and confront the darkness within.
Friends Reunited: A Troubled Bond
Mediterranea Inferno revolves around three young men brought together by fate and torn apart by time. Claudio, Mida, and Andrea were once inseparable friends, idolized for their charisma and bravado on the Italian party circuit. But when COVID-19 hit, their bonds weakened as they each endured lockdown isolation.
Now, two years later, Claudio extends an olive branch – a trip to his late grandfather's seaside villa to reconnect. Mida and Andrea reluctantly agree, though lingering resentment simmers beneath the surface.
Upon arrival, a mysterious figure named Madama offers the group enchanted Mirage Fruits. Consuming these fruits transports the boys into vivid hallucinations plumbing the depths of their psyche.
It soon becomes clear these are no ordinary friends. Claudio seeks to live up to his grandfather's legacy but resents relying on family wealth. Ambitious yet insecure Mida has reinvented himself as an influencer, hungry for validation after being spurned by his peers. Meanwhile, lonely socialite Andrea yearns for human connection after spending lockdown detached from others.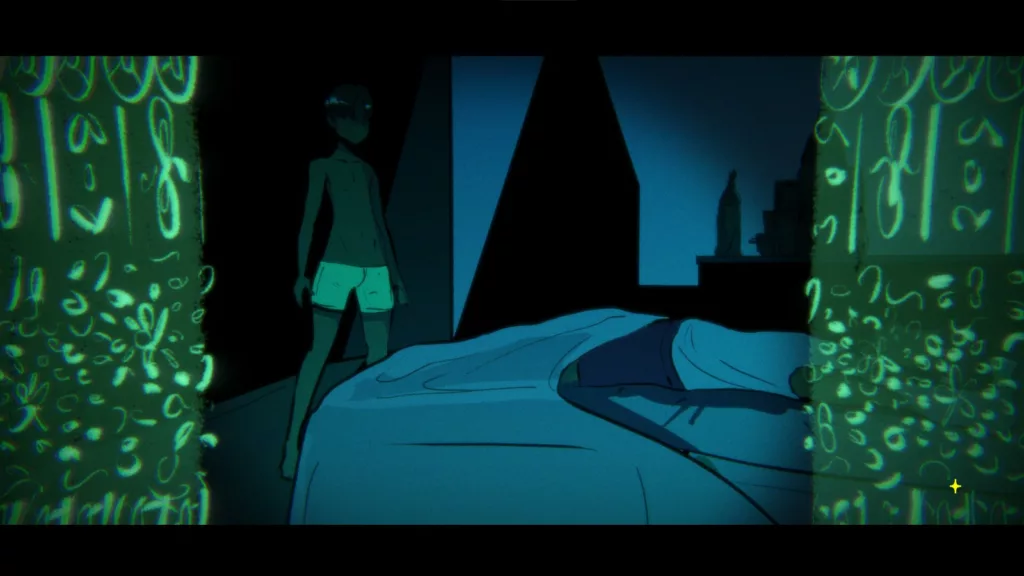 Through these Mirage-fueled visions, Mediterranea Inferno explores sensitive themes like depression, repression, and controlling family dynamics. The characters indulge in drink, drugs, and sex as coping mechanisms for inner turmoil. Religious imagery and text underscore society's judgment of their queer identities.
Nothing is off the table as the game delves into mental illness and trauma stemming from the pandemic. The Mirages visualize the boys' fears and desires in shocking, surreal scenes flowing with color and sensuality.
Mediterranea Inferno refuses to shy away from provocative concepts in examining the complete human experience. Those disturbed by explicit content beware. But players willing to embrace the discomfort may gain insight into struggles both unique and universal.
In the end, this trip was never about fun in the sun. It's about shedding pretense, confronting pain, and maybe finding absolution. Through its captivating characters and dreamlike sequences, Mediterranea Inferno crafts a compelling exploration of intimacy and what binds us together.
Navigating the Mediterranea
As a primarily visual novel, Mediterranea Inferno's core gameplay involves taking in the story through reading and making choices during key moments. Unlike pure reading experiences, the player does actively shape parts of the narrative.
Most of the gameplay centers on deciding how the boys spend their days together. Will they lounge at the beach per Andrea's wishes or visit grandpa's grave as Claudio prefers? The player helps plan activities, and these choices favor certain characters over others.
The decisions seem mundane at first, but they influence who can access the pivotal Mirages. These hallucinatory scenes are unlocked by gathering Mirage Fruits, which provide limited uses. So you must choose wisely when allocating fruits to the trio.
Each Mirage provides insight into a character's backstory and inner psyche. They range from sensual fantasies to disturbing nightmares manifesting individual fears. Players experience these Mirages from a first-person perspective, interacting with surreal imagery by clicking through story beats.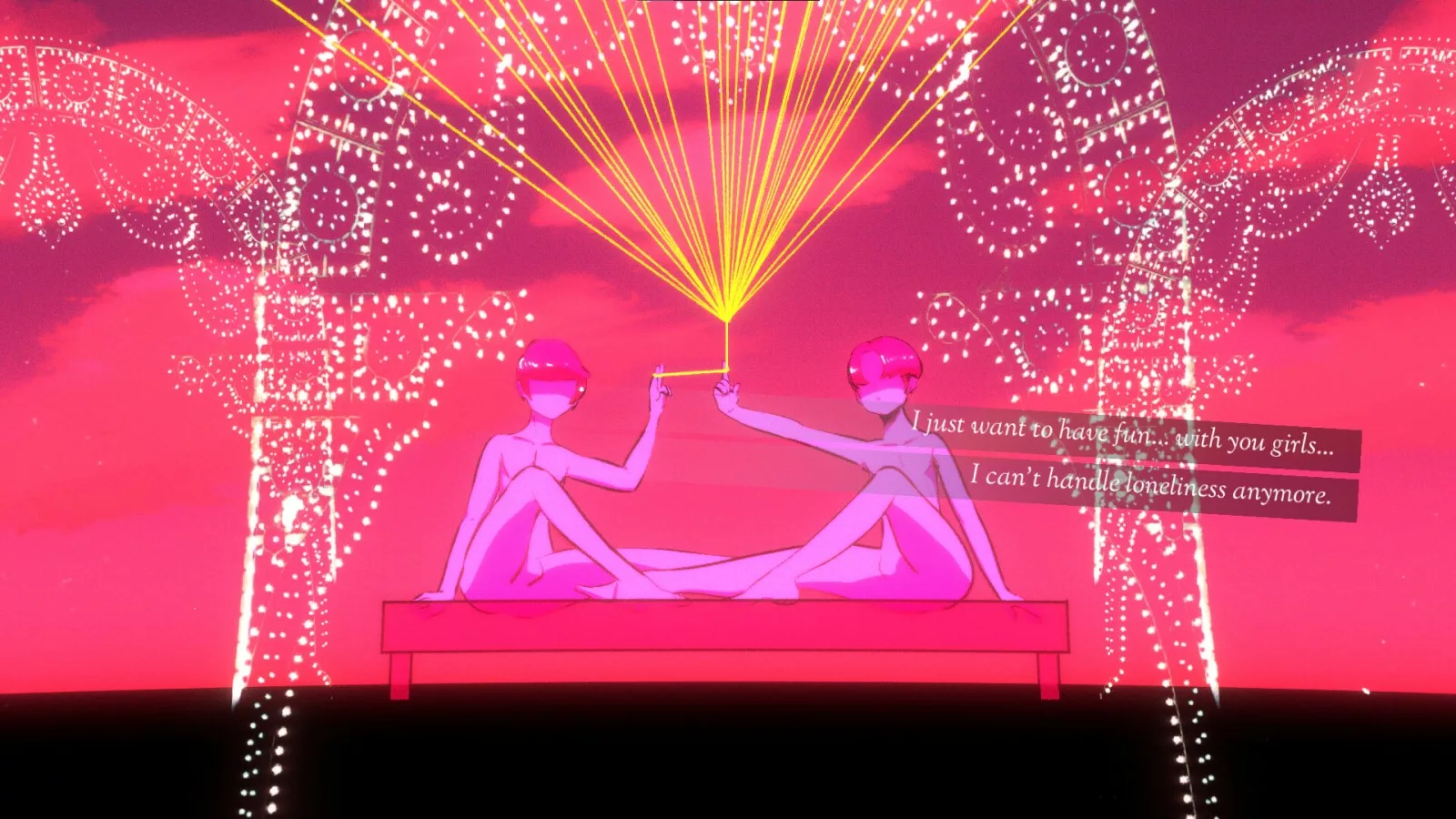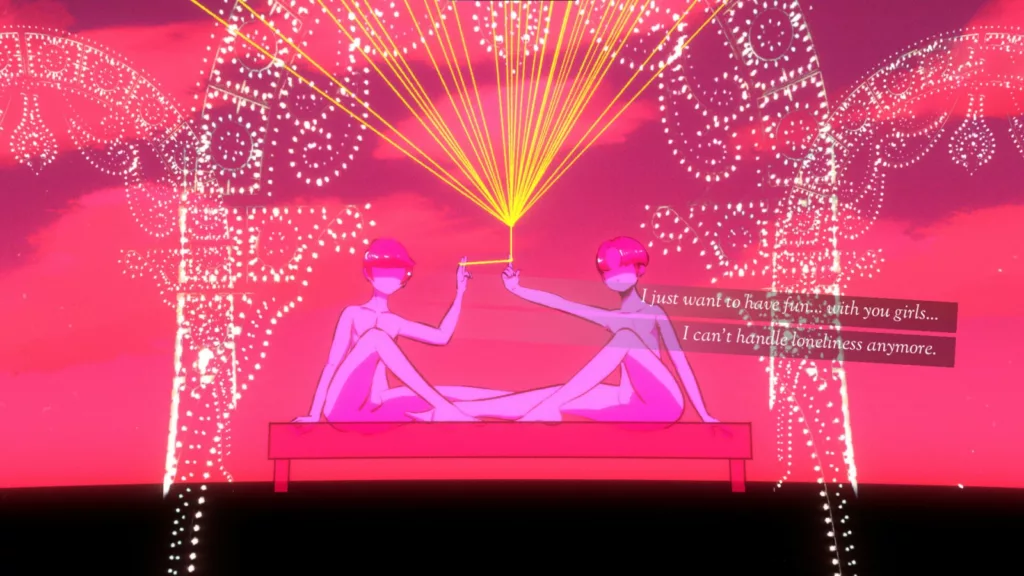 These mirages are the heart of Mediterranea Inferno. By guiding the characters through self-reflection, you organically learn their histories and motivations. The fruits even factor into the ending; consuming enough grants a character blissful "ascension."
With replayability in mind, it's impossible to see every Mirage in one playthrough. This encourages multiple runs to fully explore each character's emotional journey. You may favor Andrea's hedonism one time and Claudio's restraint the next.
Mediterranea Inferno shows how even small decisions can dramatically sway relationships. Its mechanics make you consider your own biases and judgment calls. Simple choices soon carry weighty consequences.
Through its interactive narrative, Mediterranea Inferno achieves an engaging balance between player agency and authorial intent. You shape the experience while succumbing to the irresistible pull of fate.
A Visual Feast of Dreams and Nightmares
From its hand-drawn illustrations to animated sequences, Mediterranea Inferno's art direction thoroughly realizes its emotional scope. Vivid colors and dreamlike imagery transport players into an expressive realm where logic and reason hold little sway.
The characters themselves are brought to life through simple yet distinct designs. Clean lines and silhouettes convey their personalities – Claudio's assertive confidence, Andrea's carefree nature, Mida's haughty airs. These crisp drawings pop with brightness, saturated hues bleeding into each scene.
While exploring the sleepy seaside village or socializing with locals, Mediterranea uses a flat, storybook style. The laidback backgrounds contrast with injects of vibrant color highlighting points of interest. This visual language establishes a deceiving tranquility.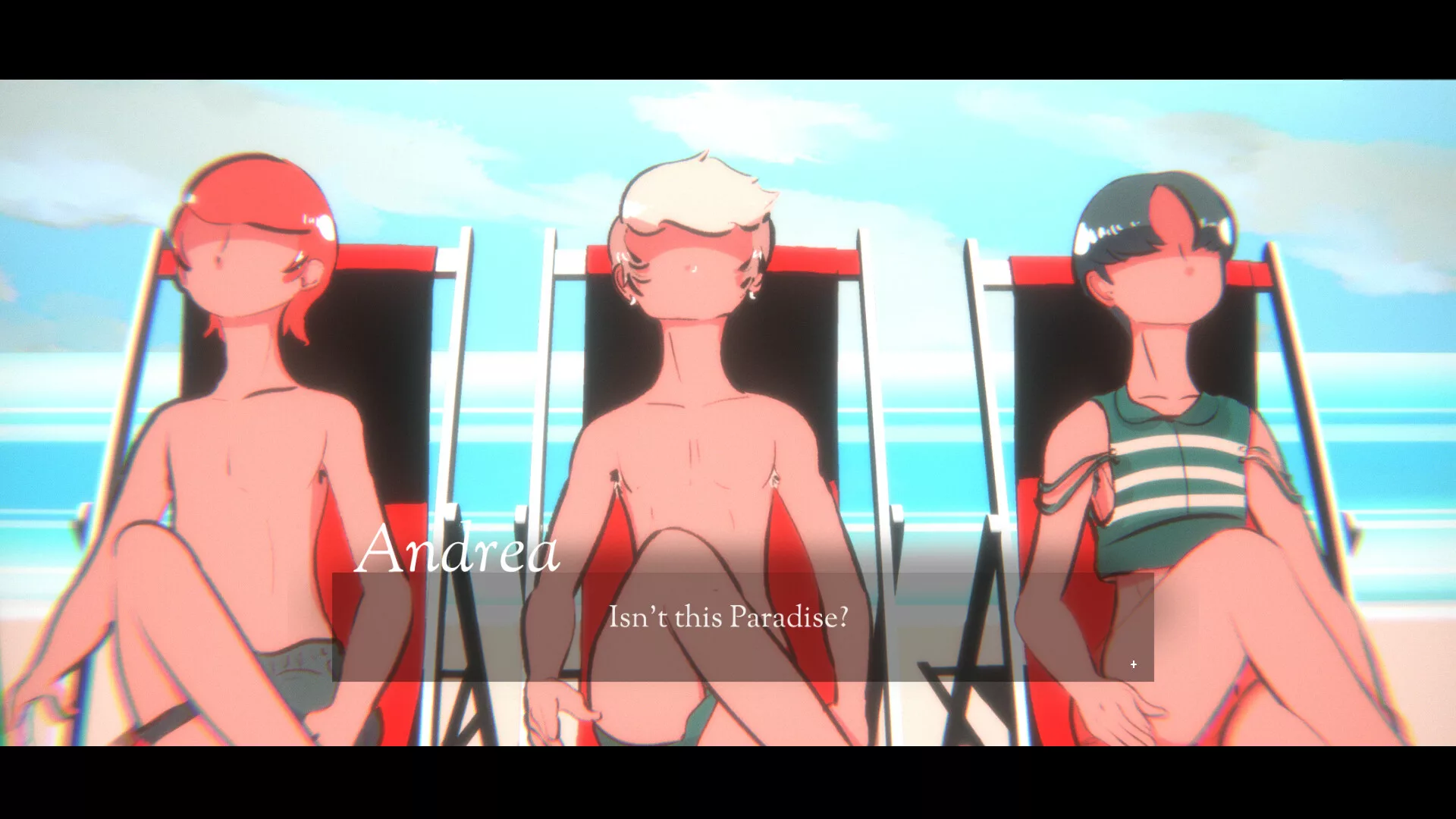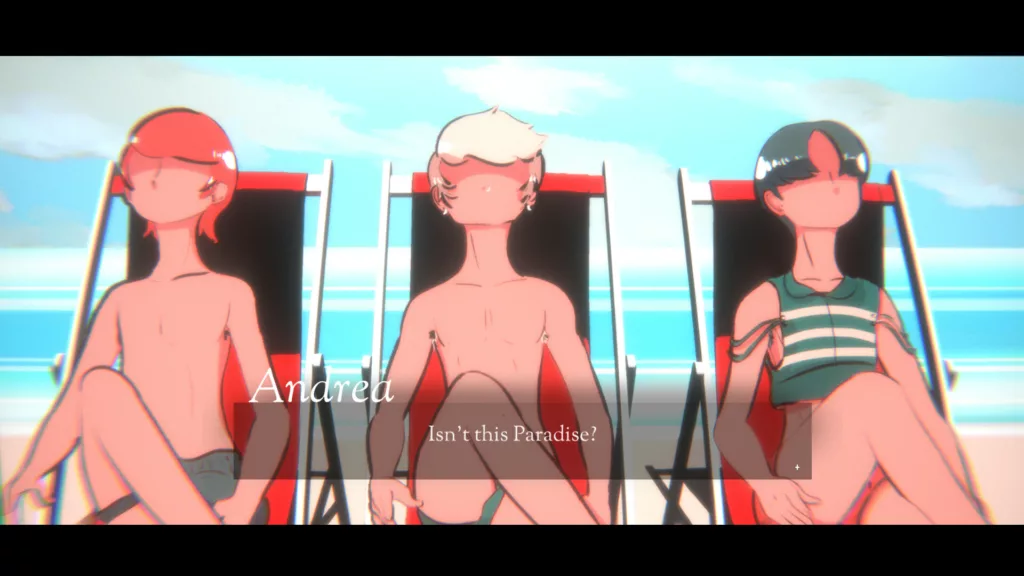 All bets are off once the Mirages begin. Unbound by reality, these hallucinatory scenes depict the inner workings of the mind with surreal, visually arresting tableaus.
Every Mirage has a distinct flavor matching its subject. Mida's dreams of stardom warp his body into a social media silhouette adrift in a void of grasping hands and cameras. Claudio's desire for connection manifests as thorny vines binding his family members. Andrea's loneliness plagues him with visions of faceless crowds from which he's excluded.
The imagery grows more cryptic and unsettling as repressed emotions surge forth. Horror visuals like demonic entities and gory religious iconography indicate a descent into chaos.
Smooth scene transitions and subtle animation breathe life into the characters and environments. Given the limited interactions, it's crucial these visuals sell Mediterranea Inferno's ambiance and surprises. Succeed it does, with every illustration and animated set piece proving memorable.
By fully utilizing its artistic medium, Mediterranea Inferno crafts a compelling aesthetic. Its bold visual storytelling lingers in the mind's eye long after the credits roll. The sunny paradise steadily warps into something ominous yet alluring, much like the lost souls at its center. Few games can evoke such meaning solely through imagery.
An Audio Escape
While Mediterranea Inferno's visuals steal the show, its understated sound design merits praise as well. The music and audio provide vital atmosphere that complements the dreamy sights.
The soundtrack utilizes minimalist ambient music to instill a sense of melancholic nostalgia. Gentle melodies of piano and strings underscore poignant scenes between the characters, highlighting their complicated bonds. Warm, upbeat guitar tunes accompany leisurely activities like strolling the beach.
These soft background tracks give way to more somber, ethereal tones during tense exchanges. As old wounds are reopened, the music swells with bittersweet emotion. Haunting vocals chime in during particularly solemn moments.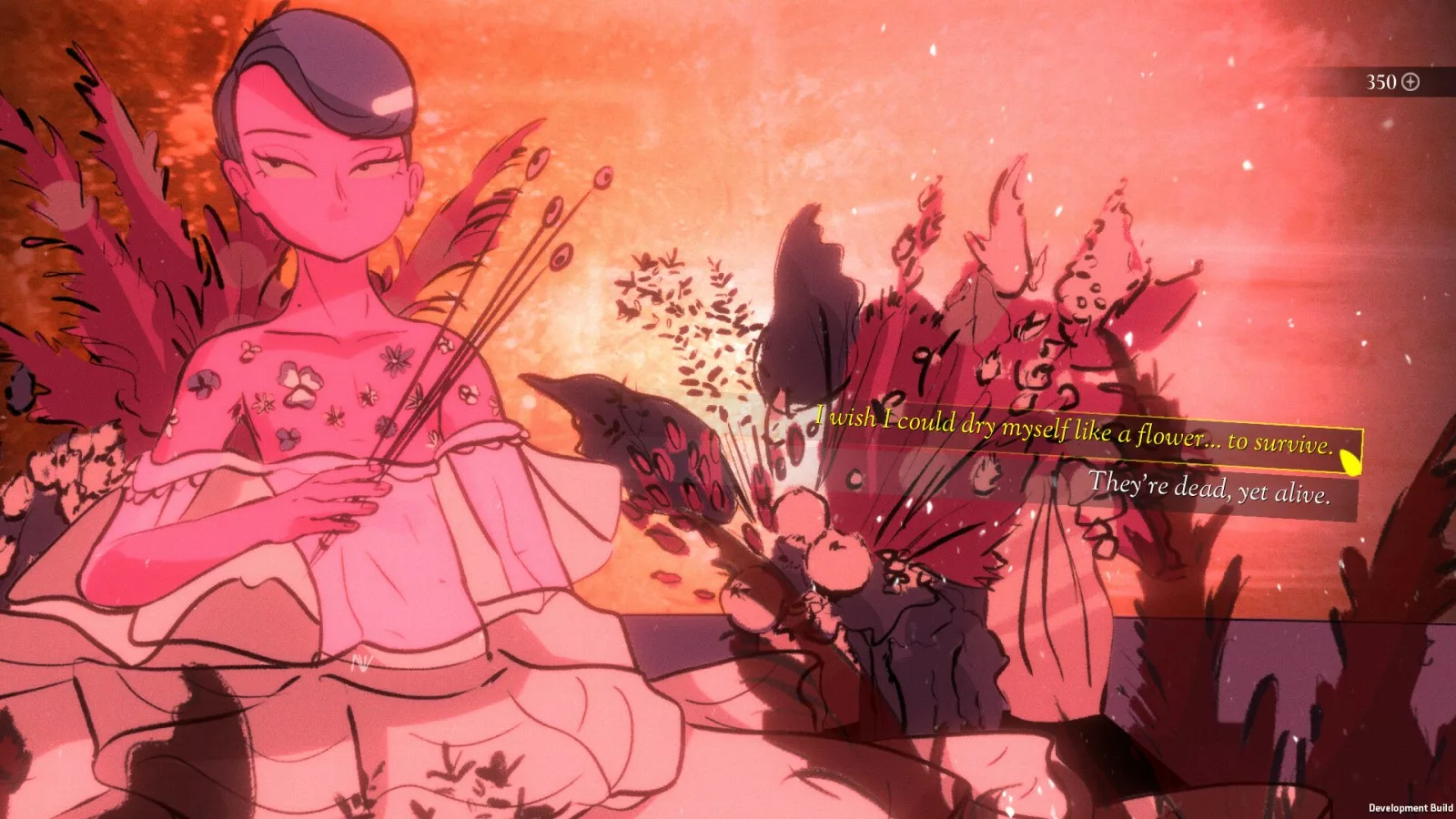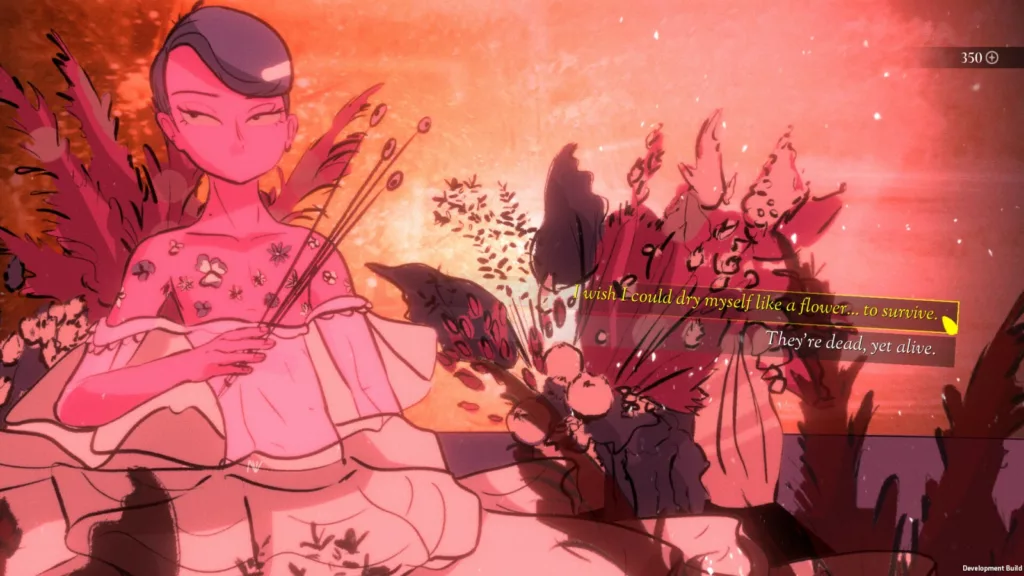 The Mirage sequences feature even more cinematic, intense music to match their vivid imagery. The trance-like beats lull players into an almost drugged state as the visuals assault the senses. It's an audio gauntlet of tension and release.
Patterns of gentle waves crashing upon sand lend authenticity to the seaside setting. Cicadas buzz during sultry afternoons spent lounging in the sun. The intimate Foley effects make the environment feel lived-in and transportive.
Perhaps most impressive are the binaural mixes during poignant scenes. Whispers and ambient noises pan around the player as if they occupy the characters' space, connecting us to their perspectives.
Mediterranea Inferno's subtle sound design pulls players into its somber reveries. The music and effects carefully accentuate each moment, granting the visuals an extra visceral punch. Like the Mediterranean coast it portrays, this title is meant to be slowly savored – an escape for the senses.
Lost Souls Seeking Purpose
Mediterranea Inferno rests upon the shoulders of its three complicated protagonists. Though initially off-putting, Claudio, Mida, and Andrea reveal themselves to be startlingly human once you peel back the layers.
On the surface, Claudio seems to lead a charmed life. He comes from old money, putting on airs of sophistication beyond his years. But privately, Claudio struggles with defining his own identity outside his family's shadow. The death of his beloved grandfather leaves a void impossible for his stern father to fill. Claudio's inflated bravado masks deep-seated insecurity and resentment.
Perhaps the most outwardly abrasive is Mida, whose inflated ego barely conceals crippling doubts. Once an outcast shunned by his peers, Mida reinvented himself during lockdown as a social media influencer. But no amount of online validation can mend his broken self-esteem. Mida's narcissism covers an aching desire for true companionship.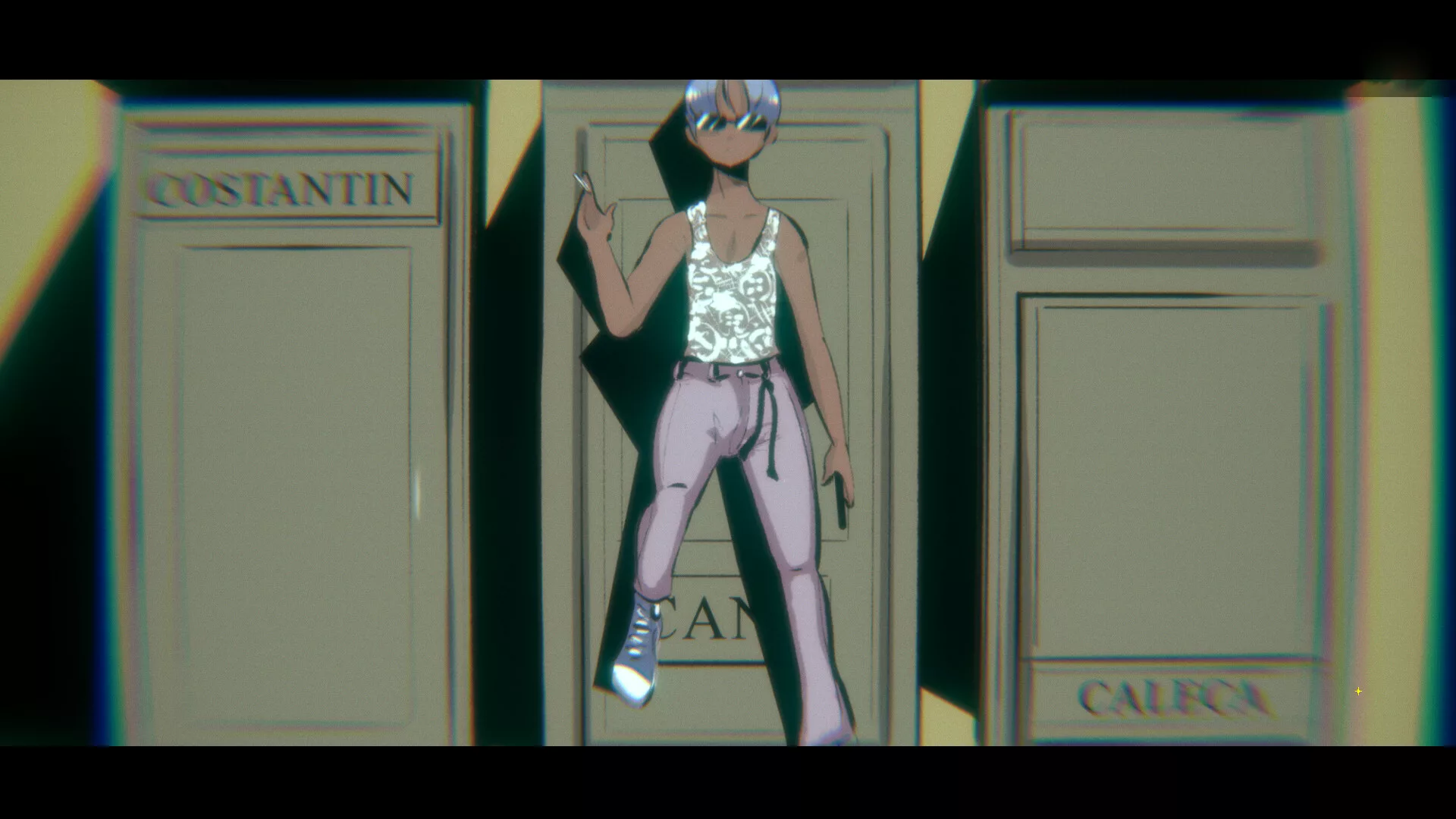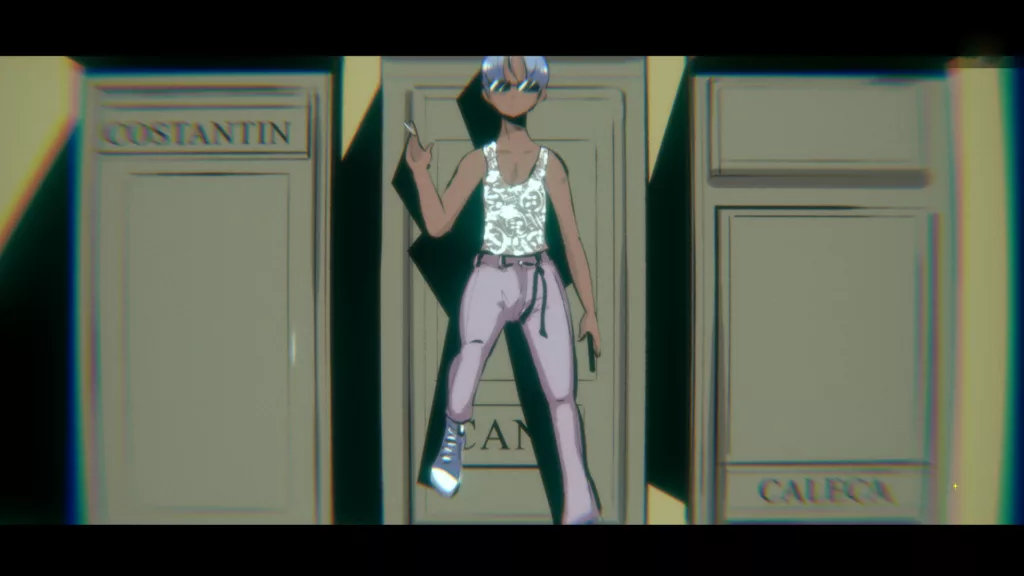 Of the three, Andrea seems least troubled on the surface. Andrea lives for sybaritic pleasures – dancing, drugs, men. But this hedonism rings hollow following two years of isolation. Beneath the life of the party exterior, Andrea yearns for the intimate human connection he's lost.
Though privileged, all three men are emotionally adrift. They self-medicate with vices to suppress their fears of inadequacy and loneliness. It's only by dropping their pretenses during this fateful vacation that raw truths emerge.
We see Claudio's crushing indecision, afraid to grasp independence. Mida succumbs to gnawing envy and frayed nerves from maintaining his online facade. And Andrea numbly flits between fleeting highs masking depressive lows.
Yet their weaknesses make these characters relatable, not repellent. Their pretentious exteriors shatter to reveal universal struggles faced by young people, especially during the pandemic – depression, anxiety, aimlessness. We root for the troupe to reconcile their differences, despite frequent missteps.
Mediterranea Inferno excels at framing superficial narcissism as a tragic byproduct of loneliness and low self-worth. The sensational initial impressions give way to empathy once we understand what drives these lost souls. We see ourselves in their earnest desire for connection and fulfillment.
Wading Into Dark Waters
Approaching a game like Mediterranea Inferno elicits both excitement and apprehension. Its unflinching dive into provocative themes promises something uniquely affecting yet undoubtedly divisive. My time with this title left me impressed, disturbed, and eager to see more.
First, the storytelling stands out as a major highlight. Despite brief length, the narrative left me invested in each character's emotional plight. The Mirage sequences in particular guide players into confronting harsh truths without feeling forced.
The dreamlike, symbolic nature of the Mirages lets our imaginations fill in gaps. We reach understanding organically rather than being told outright backstories. It's an artful approach to unraveling complex personalities.
Of course, certain subject matter may alienate some audiences. Mediterranea Inferno refuses to sanitize the characters' sexuality, mental illnesses, and questionable behavior. Those averse to horror imagery and frank discussions of vice may wish to avoid this descent.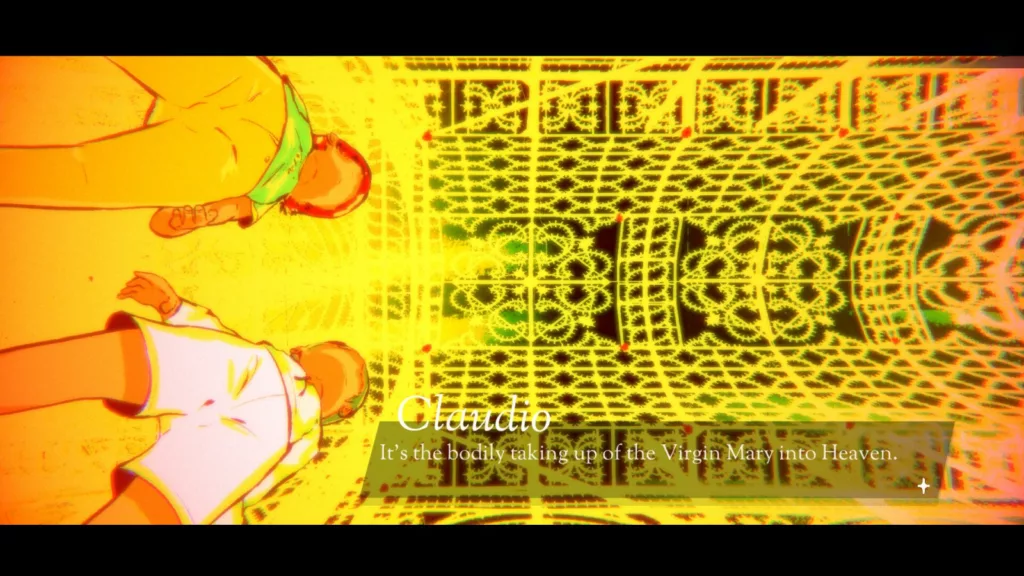 However, I found the game helped humanize struggles we often ignore. Portraying the uglier sides of the psyche makes the writing bravely candid rather than gratuitous. Still, due caution given the mature content.
One could argue the story borders on melodrama, but that's by design. Everything about Mediterranea Inferno embraces stylized intensity to mirror its subjects' turbulent headspace. Subtlety falls away once the Mirage visions begin.
The condensed runtime ensures the experience stays focused. It wastes no time plunging into the psychological depths, maintaining tension throughout the long denouement. A longer game may have diluted its emotional impact.
Despite minor gameplay, enough player choice exists to instill a sense of influence over the fates you guide. The branching paths encourage repeat playthroughs to witness all outcomes and Mirages firsthand.
Of course, being primarily a visual novel, enjoyment hinges on one's tolerance for reading over gameplay. Those who value mechanics and interactivity may not find enough substance.
But taken as the hallucinatory prose poem it bills itself as, Mediterranea Inferno weaves a compelling tale. It captures the zeitgeist of troubled youth struggling to break free from trauma's grasp.
While not for all tastes, I found this a memorable descent into the fragile mind and human condition. Some moments gripped me while others tested my patience, but the vivid extremes stayed with me long after. For players seeking thoughtful disquietude, Mediterranea Inferno satisfy
Plunging the Psyche's Depths
Mediterranea Inferno won't be every player's cup of tea. Those perturbed by sexual content, horror, and abrasive characters may wish to steer clear of its turbulent waters. Yet I'd still recommend it to mature audiences seeking a poignant character study. The sensationalist trappings house an earnest, introspective look at troubled souls during an unprecedented crisis.
While initially off-putting, the leads reveal themselves as sympathetic victims of circumstance struggling to reconnect. Their Mirage visions make material deep psychological scars in captivating allegorical scenes.
Beyond the narrative, Mediterranea Inferno impresses with its avant-garde art direction. Each frame conjures a melancholic dream state through a finely-tuned balance of tranquility and surrealism. It lends the story's painful truths an intoxicating allure.
So prepare to dive deep, surface ugly truths, and emerge enlightened. Mediterranea Inferno is no relaxing vacation, but those willing to leave inhibitions ashore may discover its depths contain buried treasure – insight into living through trauma and finding absolution. An unforgettable, if uncomfortable, descent awaits.
The Review
Mediterranea Inferno
Mediterranea Inferno is a one-of-a-kind visual feast centered on flawed yet sympathetic characters. Those seeking a thought-provoking dive into the fragility of the human psyche will find rewarding depths below its surreal, unsettling surfaces. Approach with an open mind and willingness to go beyond moral comfort zones. The reminisces will haunt you.
PROS
Well-developed, relatable characters dealing with complex struggles
Imaginative, visually stunning art direction, especially in the Mirage sequences
Ambitious and uncompromising exploration of provocative themes
Multiple endings and branches encourage replayability
Hard-hitting storytelling despite condensed runtime
Haunting, atmospheric music complements the visuals nicely
CONS
Primarily a visual novel, lacks gameplay variety for some
Mature themes like sexuality, drugs, and horror imagery may turn off some players
Story may come across as melodramatic or style over substance to some
Can feel aimless or slow during less eventful sections
Minor bugs and technical issues
Repetitive music and sound effects