On October 4, Google is set to host a much-anticipated in-person event in the vibrant backdrop of New York City. This event promises to unveil a trio of technological wonders, including the Pixel 8, Pixel 8 Pro, and the Pixel Watch 2.
Thanks to a multitude of leaks and some official teasers, we've garnered insights into what Google has in store for its latest creations. Here's a comprehensive overview of what to expect from Google's grand event next week.
Pixel 8 and Pixel 8 Pro: Reimagining the Smartphone Experience
Google has taken an unusual approach this year by acknowledging the existence of its new smartphones, the Pixel 8 and Pixel 8 Pro, well before the official launch date. In a bid to manage the buzz generated by months of leaks, the company tantalized fans with a 23-second clip on September 7.
This teaser provided glimpses of the Pixel 8 and Pixel 8 Pro from virtually every angle. Concurrently, Google unveiled dedicated landing pages for these new devices on its Google Store.
According to various leaks, particularly those by developer and Android Authority contributor Kamila Wojciechowska, the Pixel 8 Pro boasts a flat 6.7-inch OLED display with a resolution of 1,344 x 2,992. For context, the Pixel 7 Pro features a curved 6.71-inch screen with a resolution of 1,440 x 3,120.
It's intriguing that Google has opted for a slightly smaller display on its flagship phone, but this choice might be linked to the transition to a flat screen. Leaks also suggest that the Pixel 8 Pro's OLED panel can reach an impressive peak brightness of 1,600 nits when displaying HDR content, promising vivid visuals. Moreover, it appears capable of smoothly switching between different refresh rates for an enhanced viewing experience.
On the other hand, the Pixel 8 is expected to sport a 6.17-inch display with a resolution of 1,080 x 2,400. This screen is anticipated to offer a peak brightness of 1,400 nits and a 120Hz refresh rate, a notable improvement from the Pixel 7's 90Hz display.
The teaser clip hinted at the Pixel 8 being more compact than its predecessor, suggesting a shift in design philosophy. Interestingly, rumors suggest that the Pixel 8 might be Google's final a-series phone, which could explain the decision to downsize it.
Both the Pixel 8 and Pixel 8 Pro are rumored to house the new Tensor G3 processor, although it's not expected to be a substantial upgrade over the Tensor G2 SoC found in the Pixel 7 lineup. However, enhancements such as a faster processor, Wi-Fi 7 connectivity, and support for hardware-based ray tracing are on the horizon.
since the fun with the Pixel 8 series is basically over anyway…

here are the google store pages of the Pixel 8 and 8 Pro

(P8P 1/2) pic.twitter.com/kcWIGF1iTu

— kamila 🌸🏳️‍⚧️ (@Za_Raczke) September 25, 2023
Memory and storage configurations include 8GB of RAM and 128GB of UFS 3.1 storage for the Pixel 8, while the Pixel 8 Pro is said to offer 12GB of RAM and 128GB of base storage, with an option to configure up to 1TB of built-in storage in the United States.
Photography enthusiasts can look forward to significant upgrades in both Pixel models. Both are expected to feature main cameras equipped with Samsung ISOCELL GN2 sensors, the same sensor used in the Galaxy S22 and S23.
This sensor is physically larger than the GN1, offering a 35% increase in light capture. It also supports features like 8K video recording at 30 fps and Staggered HDR photos, which could potentially reduce the time needed to capture HDR images.
The Pixel 8 Pro takes camera improvements a step further, introducing a new time-of-flight sensor to enhance autofocus performance. Additionally, its ultrawide camera may utilize a modern 48-megapixel sensor, a significant upgrade from the Pixel 7 Pro's 12MP Sony IMX386.
While the Pixel 8 may not receive a new sensor for its ultrawide camera, it's rumored to feature a lens with a wider field of view. For selfies, both phones are expected to house a single 10.5MP front-facing camera.
Intriguingly, there were initial reports suggesting that the Pixel 8 Pro might include a built-in infrared temperature sensor. However, it appears that Google doesn't intend to utilize this component for photography but rather for measuring the temperature of inanimate objects.
Beyond hardware, Google is likely to introduce several software enhancements, including a revamped camera app with new features. One particularly exciting prospect is Google's potential commitment to supporting the Pixel 8 line with up to seven years of software updates, setting a new industry standard.
This support may encompass monthly security patches and could influence other companies, including Samsung, OnePlus, and even Apple, to extend their device longevity, ultimately benefiting consumers.
Pricing and Promotions
Leaked documents have hinted at the pricing structure for the Pixel 8 and Pixel 8 Pro. The Pixel 8 is expected to start at $699, representing a $100 increase compared to the Pixel 7's launch price of $599.
Meanwhile, the Pixel 8 Pro is rumored to start at $899, maintaining the same starting price as the Pixel 7 Pro. Furthermore, consumers who pre-order the Pixel 8 Pro may receive a complimentary Pixel Watch 2, enhancing the value proposition for early adopters.
Pixel Watch 2: Redefining Wearable Technology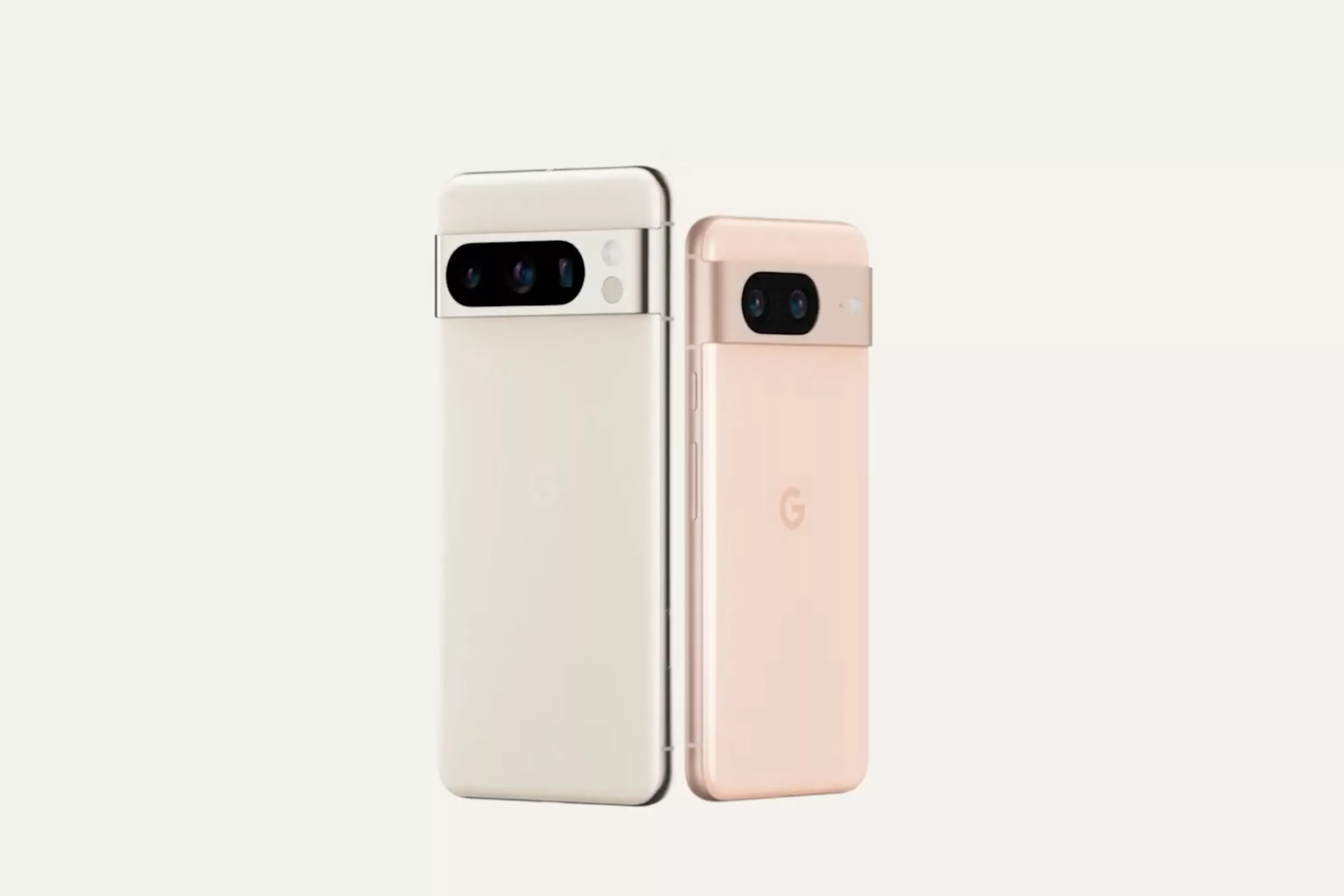 Turning our attention to the Pixel Watch 2, it appears Google has taken considerable steps to address some of the criticisms aimed at its predecessor, particularly concerning battery life. Leaked information, primarily from Kamila Wojciechowska, suggests notable hardware improvements.
The Pixel Watch 2 is rumored to feature a Qualcomm Snapdragon W5 Gen 1 processor, a substantial upgrade from the aging Exynos 9100 SoC found in the original Pixel Watch.
This new processor promises not only significantly improved performance but also enhanced power efficiency, thanks to its 4nm fabrication process. In addition to being more energy-efficient, the W5 includes support for low-power states that should further extend the Pixel Watch 2's battery life.
To tackle the battery life concern head-on, Google is said to have equipped the Pixel Watch 2 with a battery that's approximately four percent larger than its predecessor. While this may appear modest, it holds significance in the context of smartwatches, where even slight improvements in battery capacity can translate into meaningful enhancements in daily use. A noteworthy addition to the Pixel Watch 2 is the inclusion of a dedicated ultra.
Why the Google Pixel 8 is Worth Your Attention: Searching for a smartphone that delivers both on performance and price? Look no further! Check out our detailed review of the Google Pixel 8, where we break down everything you need to know about this impressive device. From its stunning display and top-notch camera capabilities to its solid performance and reasonable price point, find out why the Pixel 8 is a top contender in today's smartphone market.