Google's new Pixel 8 smartphone aims to pack premium features into a more compact body compared to other Android flagships. Priced at $699, the Pixel 8 slots below premium thousand-dollar phones like the Galaxy S23 series while matching or exceeding the iPhone 14 and iPhone 15 in some areas.
At first glance, the Pixel 8 refines the already excellent Pixel 7 formula rather than reinventing it. You get a polished aluminum and glass design, the latest Tensor G3 chip, improved cameras with clever AI tricks, and software smarts thanks to Android 14.
Digging deeper, highlights include a brighter 6.2-inch OLED display rated for up to 2,000 nits, a wider front camera, robust seven years of OS/security updates, and the debut of handy new camera tools like Photo Unblur. There's also a new macro photography mode plus the ability to erase distracting objects from photos.
Performance, while not best-in-class, should satisfy most buyers with smooth everyday use and decent graphics punch. Battery life is improved too but still trails the stamina of iPhones and Samsung's flagships.
In this review, we'll take a holistic look at the Pixel 8 to see how it stacks up to rival phones and whether it's a worthy upgrade if you're holding an older Pixel. Software and camera advancements are weighed against any potential hardware deficiencies. And we'll determine if Google made the right trade-offs to hit a more affordable price point than the souped-up Pixel 8 Pro.
By evaluating the Pixel 8 from all angles, we aim to provide a definitive verdict on who this phone is best suited for and if it's worth the investment. There are many great options at this price point, but Google is banking on its AI wizardry and compact flagship design to stand out. Let's dig in to see if the Pixel 8 casts the right spell.
Sleek and Pocketable Design with Premium Touches
Google retains the same core design language with the Pixel 8 but makes some refinements that add up to a more refined look and feel overall. The new model trims a bit of size and weight from last year's Pixel 7, enhancing comfort and ergonomics. Yet Google preserves a premium vibe through polished glass and metal.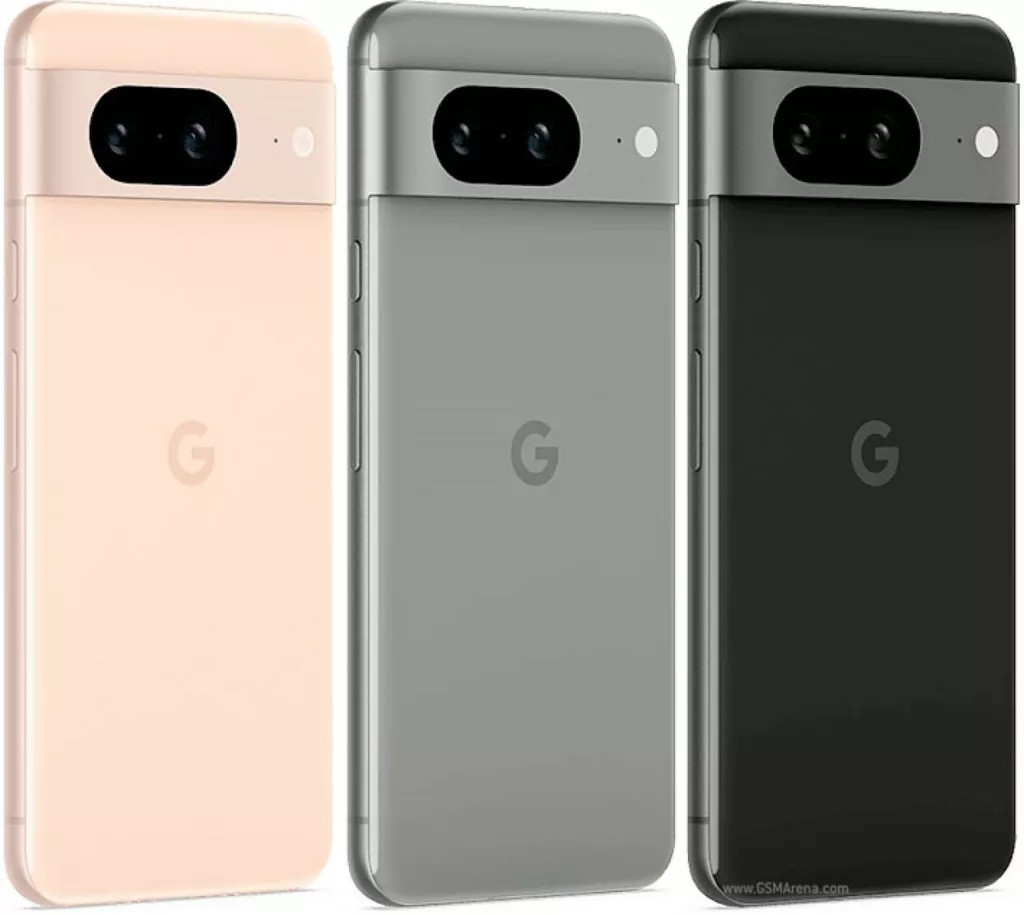 Constructed from resilient Gorilla Glass Victus on front and back, the Pixel 8 exudes durability. The aluminum camera bar stretching across the phone's back brings a distinctive style while providing some protection for the protruding camera lenses. And with an IP68 rating, the phone can survive submersion in 1.5 meters of water for 30 minutes.
At 5.9 x 2.8 x 0.4 inches and 6.6 ounces, the Pixel 8 hits a sweet spot for usability. It's noticeably shorter and narrower than the 6.1 x 2.9 x 0.3-inch Pixel 7, making one-handed use easier. The reduction in weight also makes a difference during extended handling. Yet the phone still feels substantial and not toy-like.
Google offers the Pixel 8 in three subdued but attractive colors: Hazel, Snow, and Obsidian. We tested the Hazel version whose subtle greenish-gray finish hides fingerprints well. The polished back glass provides a more upscale look than the Pixel 7's matte finish but does sacrifice some grip.
Up front, the Pixel 8's OLED display gets brighter while slightly downsizing from 6.3 to 6.2 inches diagonally. The FHD+ resolution remains but the panel's peak brightness reaches an impressive 2,000 nits in HDR mode. A smooth 120Hz refresh rate enables fluid scrolling and animations.
An under-display fingerprint reader facilitates biometric unlocking. It's reasonably quick but an iPhone's Face ID offers near-instantaneous unlocking. Google's Face Unlock relies on the 10.8MP front camera and IR sensors. It works swiftly though lacks the security for mobile payments offered by the Pixel 8 Pro's added depth sensor.
The Pixel 8 freshens up the core Pixel aesthetic while retaining the line's trademark camera bar. The smaller dimensions hit a real sweet spot for handling and portability among today's jumbo slabs. And with its polished glass and metal, the phone looks and feels every bit the premium Android flagship, especially in the stylish Hazel colorway.
A Bright and Smooth Display Tailored for Streaming
The Pixel 8's 6.2-inch OLED display checks all the boxes for an excellent viewing experience. It builds on the Pixel 7's solid panel with meaningful enhancements like significantly higher brightness and a silky smooth 120Hz refresh rate.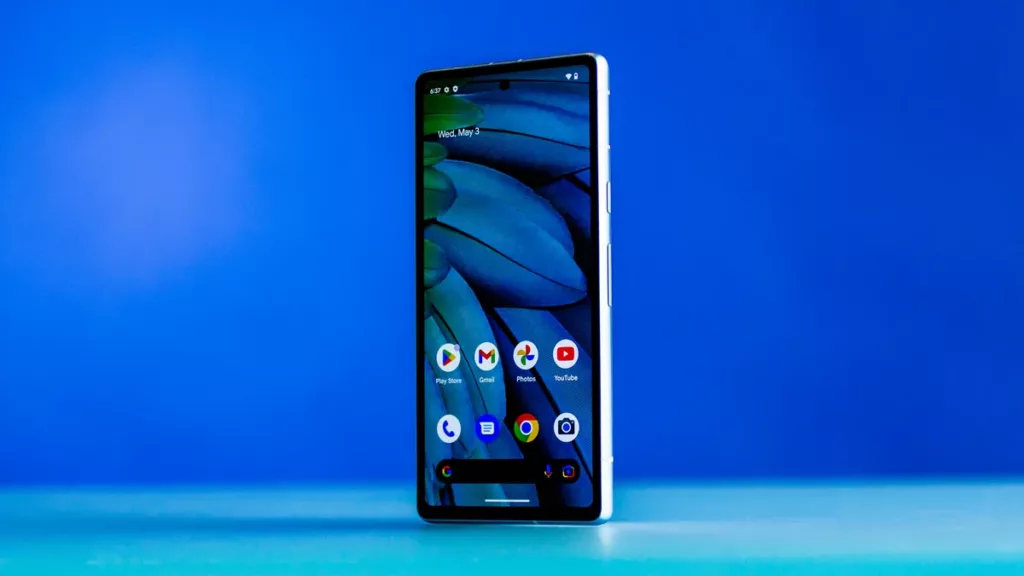 Google opts for a quality Samsung-made OLED panel. The AMOLED tech provides rich blacks, vibrant colors, and excellent viewing angles. When displaying landscapes and nature footage, the Pixel 8's colors pop without looking garish or oversaturated like some OLEDs.
Running at a crisp Full HD+ resolution (2400 x 1080 pixels), the Pixel 8 provides ample detail for streaming shows and movies. While some may lament the lack of Quad HD resolution, sticking to 1080p benefits battery life.
Where the Pixel 8 display really impresses is peak brightness, hitting an astonishing 2,000 nits in HDR mode. That's a huge upgrade from the Pixel 7's 1,400 nits max. Outdoor visibility improves dramatically as a result, making the Pixel 8 very usable in bright sunlight.
We recorded a superb 1,349 nits of brightness with adaptive mode enabled in lab tests. That tops flagships like the Galaxy S23 (1,310 nits) while nearly matching the iPhone 14 Pro's 1,390 nits. Brightness uniformity across the panel is also excellent at 90%.
In terms of color reproduction, the Pixel 8 produces 117% of the sRGB gamut and 85% of the more demanding DCI-P3 gamut. That trails the Galaxy S23 (123% sRGB, 92% DCI-P3) but exceeds the natural-looking iPhone 14 Pro (104%, 77%). Color accuracy is solid at a Delta-E of 0.25 (closer to 0 is better) when in the Natural color mode.
HDR10 and Dolby Vision content can take full advantage of the OLED's contrast and peak brightness. And animations look wonderfully smooth thanks to the 120Hz refresh rate. The phone adjusts between 60Hz and 120Hz automatically to conserve battery life when appropriate.
Always-On display support lets you quickly glance at info like time, notifications, calendar events, and more without waking the phone. This works through intelligent dimming of non-active areas to limit power drain. You can even configure Always-On to only activate when you receive notifications.
In daily use, the Pixel 8's screen is a joy. Web pages and videos pop with color. Fine details in photos shine through. High refresh rate scrolling lends a premium feel. And you can actually see the screen outdoors thanks to the substantial brightness boost. It's one of the best displays you'll find at this price point.
Clever AI Camera Tricks Take Pixel Photography to New Heights
The Pixel 8 continues Google's tradition of delivering amazing computational photography experiences. While the camera hardware only sees modest upgrades, AI-enhanced software features like Best Take and Magic Eraser give Pixel 8 owners creative possibilities rival phones simply lack.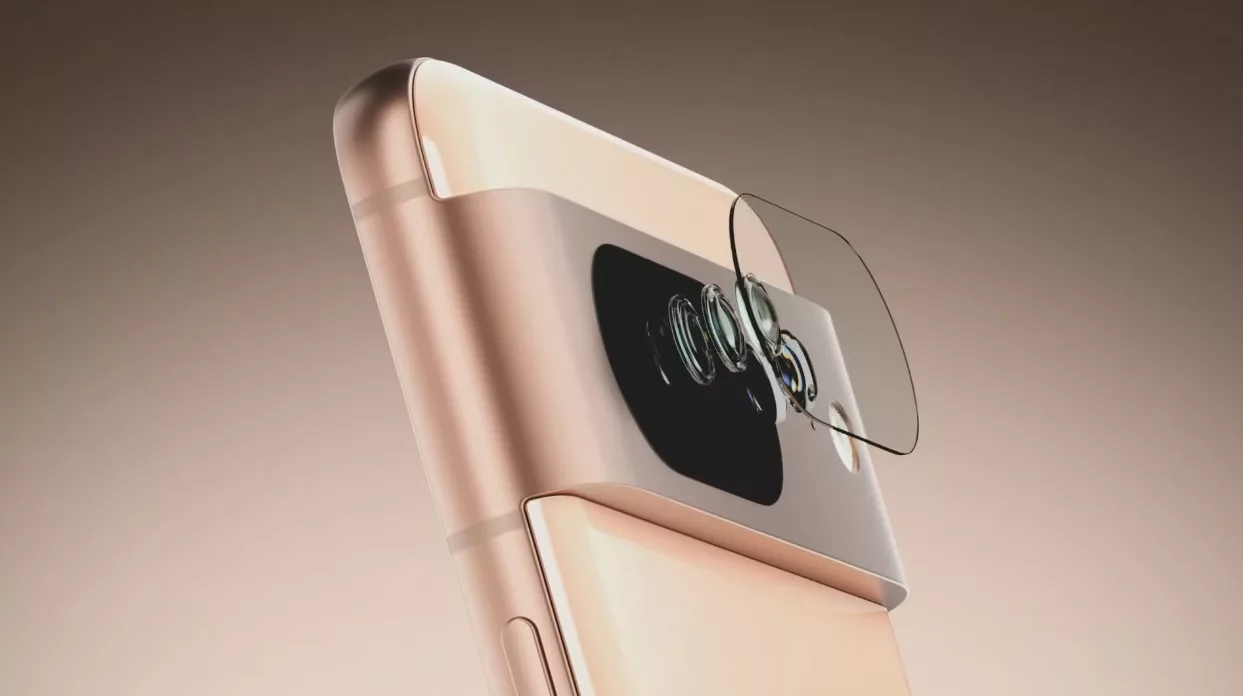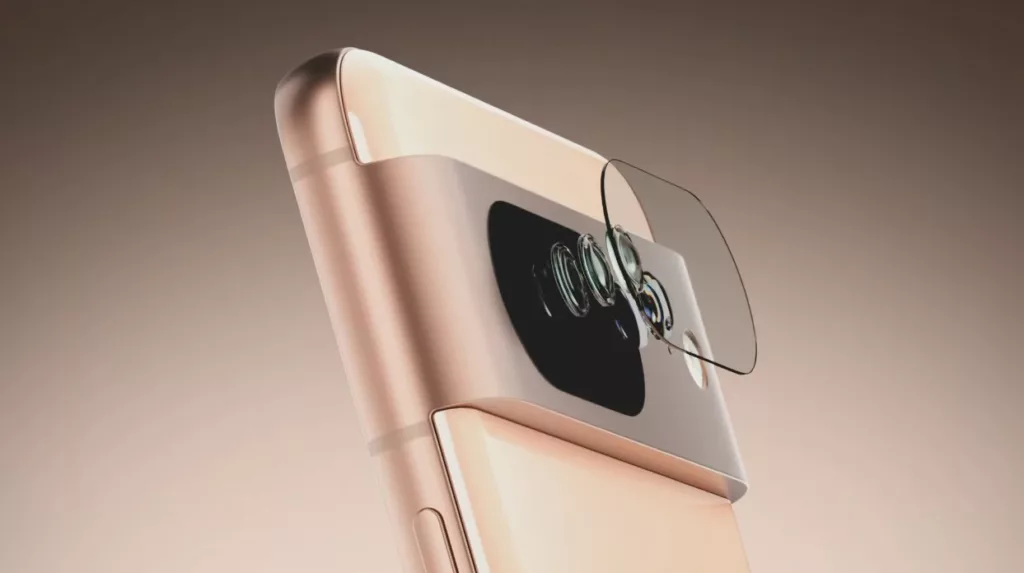 You get a dual camera array on back with 50MP wide and 12MP ultrawide lenses. The 50MP sensor bins down to 12.5MP for higher quality images thanks to Pixel Binning. The main cam boasts a bright f/1.85 aperture for low noise and fast exposure. Optical and electronic image stabilization provide sharp handheld shots in dim lighting.
That primary lens excels in daytime and indoor conditions. Photos showcase excellent detail, accurate colors, and minimal noise. Dynamic range could be better, as highlights sometimes blow out. But the Pixel 8 does an admirable job retaining shadows details.
When lighting gets very dim, the Pixel 8 makes use of its Night Sight mode for capturing multiple exposures and compositing them. Results impress, with the Pixel able to brighten extremely dark scenes. But Night mode shots exhibit more noise than the iPhone 14 Pro and Galaxy S23 capture.
The 12MP ultrawide has a 125.8-degree field of view, usefully wider than the main camera's 77-degree FOV. But detail and image quality from the ultrawide noticeably lag behind the primary lens. For group photos, it's passable. But for landscapes, we always reach for the main cam.
Zooming maxes out at 8x hybrid zoom, beyond which you'll need to rely on digital zoom. The Pixel 8 does a good job preserving clarity up to 3-4x zoom. But anything beyond that gets quite fuzzy. For serious zooming, only phones with true optical telephoto lenses like the S23 Ultra (10x optical) suffice.
For video, the rear cameras capture up to 4K at 60fps. Footage is electronically stabilized and looks crisp with accurate colors when lighting is favorable. But clips get quite noisy and shaky as soon as the light drops. Here too the Pixel 8 trails more advanced camera phones.
On the front, a 10.5MP sensor handles selfies and video calls. It snaps sharp, detailed shots with a wide 94-degree FOV good for groups. Night Sight even engages here in ultra-low light. But you don't get the portrait mode capabilities of some rivals' front cameras.
Now for the Pixel exclusive goodies. Motion Mode adds artsy radial blur effects to moving subjects. Long Exposure makes light trails pop when capturing traffic, fireworks, and water scenes. Panorama mode remains a category leader too.
New AI tricks include Best Take, which captures a burst and suggests the best composite shot where everyone looks good. Magic Eraser can also automatically remove photobombers from pics after the fact. And Photo Unblur rescues blurry shots using machine learning. These demonstrate the power of Google software.
All told, if you want a smartphone camera that practically guarantees Instagram-ready shots through advanced AI, the Pixel 8 delivers. But phones like the iPhone 14 Pro and Galaxy S23 Ultra do offer some advantages in hardware capabilities and lower-light performance that photo software can't fully overcome.
Capable Performance Powered by Google's Tensor G3
The Pixel 8 derives its processing punch from Google's latest silicon – the Tensor G3 chip. This second-generation Tensor chip aims to deliver faster overall speed along with beefed up AI capabilities.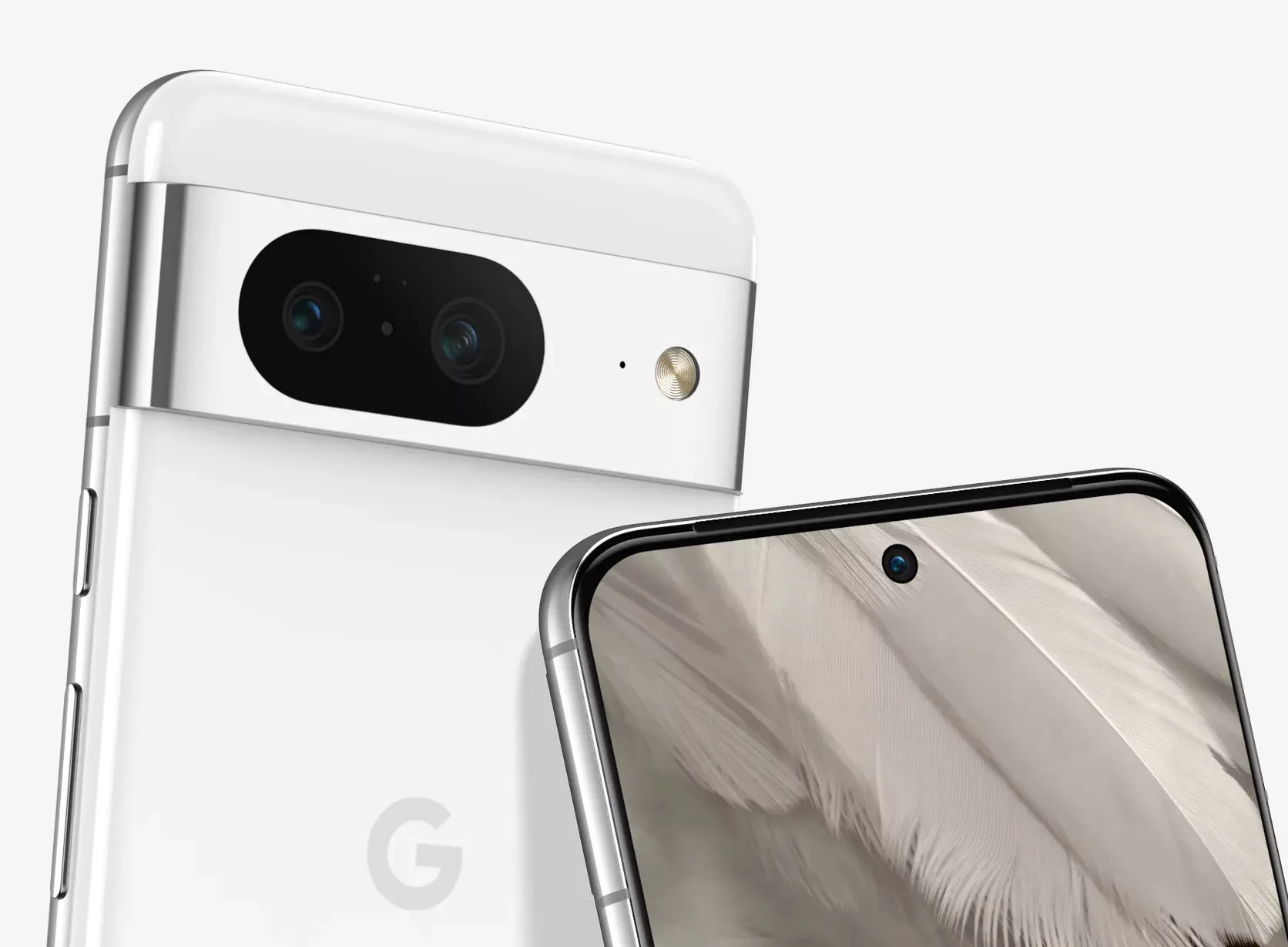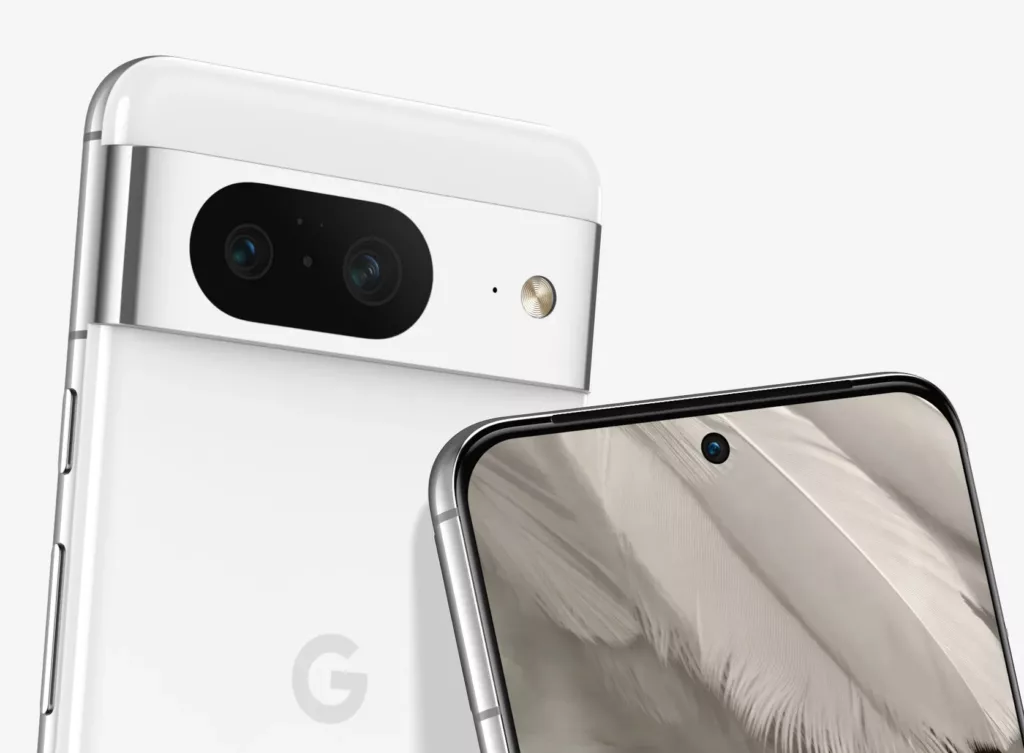 Built on a 4nm process, the Tensor G3 contains two Cortex-X1 cores clocked at 2.85GHz, two Cortex-A78 cores at 2.35GHz, and four efficiency Cortex-A55 cores at 1.8GHz. It's paired with 8GB of speedy LPDDR5 RAM. Storage options are 128GB or 256GB.
In benchmarks, the Pixel 8 doesn't lead the Android pack but puts up solid numbers. Its Geekbench 5 scores of 1,053 single-core and 3,257 multi-core surpass last year's Pixel 6. But the Galaxy S23's Snapdragon 8 Gen 2 scores around 1,500 single and 4,500 multi-core.
For graphics grunt, the Pixel 8 manages 51fps in the 3DMark Wild Life test. That's improved over the Pixel 7's 35fps but quite behind the 90-120fps of high-end gaming phones.
Real-world use sees the Pixel 8 handling everyday tasks with ease. Apps open swiftly, multi-tasking is smooth, and interface animations are fluid. The consistent speed holds up over extended use rather than slowing down.
Gaming is also a pleasant experience on the Tensor G3. Titles like Asphalt 9 and Genshin Impact run at high graphics settings without hitch. Sustained gaming does heat up the Pixel 8 noticeably, especially the upper half around the camera bar. But performance remains stable.
AI-powered experiences feel snappy thanks to the dedicated machine learning cores. The Recorder app transcribes speech in real-time. Google Assistant fields requests instantly. And camera features like Magic Eraser do their work in seconds. The Tensor G3 gets high marks for its intelligent abilities.
For most buyers, the Pixel 8's performance will feel fast and responsive. Power users desiring maximum speeds for competitive gaming or video editing may want to look at more specialized chips. But the Tensor G3 satisfies in real-world use despite its merely average benchmark numbers.
Improved But Not Best-in-Class Battery Life
One of the Pixel 7's weaker areas was below-average battery life. Google ekes out some meaningful improvements with the Pixel 8, but still falls short of the longest-lasting flagships.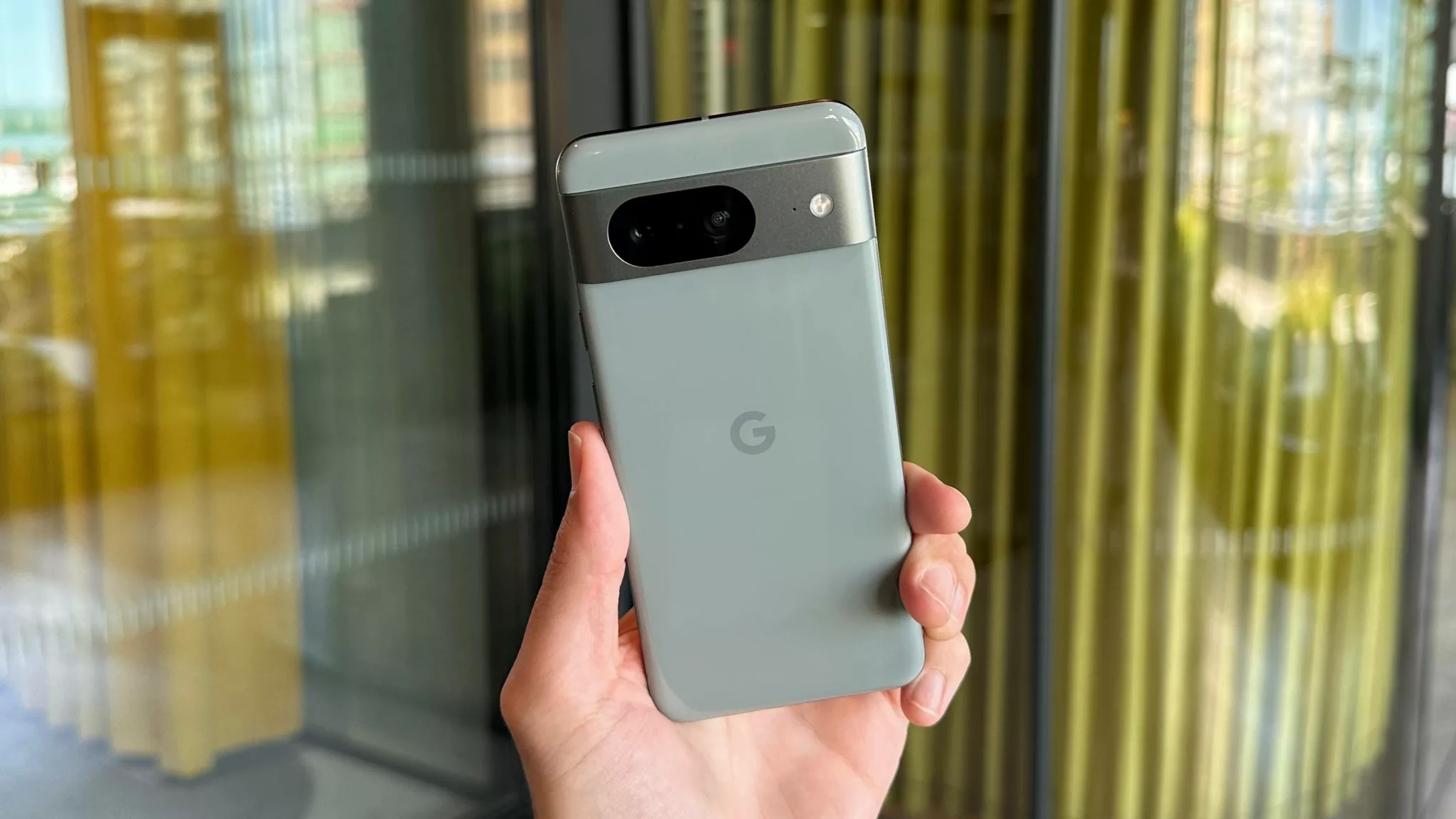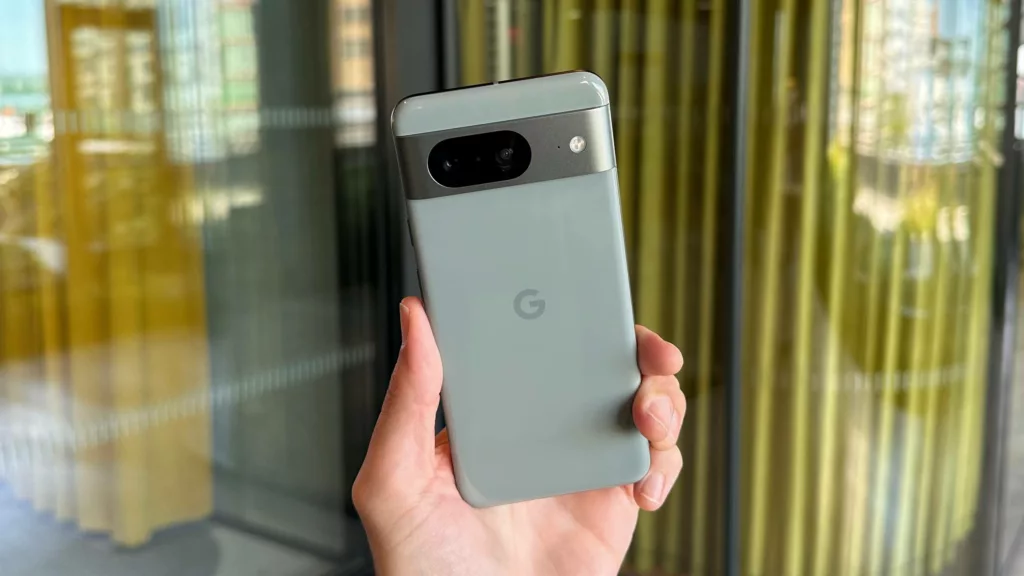 The Pixel 8's battery capacity measures in at 4,355 mAh – a modest increase from the Pixel 7's 4,355 mAh unit. In our battery rundown test with the screen set to 60Hz, the Pixel 8 endured for 9 hours and 59 minutes of continuous web surfing over WiFi.
That runtime beats the Pixel 7's paltry 7 hours and 30 minutes. However, competitors like the Galaxy S23 (11:52) and iPhone 14 Pro Max (12:16) outlast the Pixel 8 by a significant margin. When we re-tested the Pixel 8 at its default 120Hz refresh rate, battery life dropped further to just 9 hours and 43 minutes.
In real-world use, we found the Pixel 8 comfortably lasting through a full day of mixed usage including web browsing, social media, photography, streaming audio, and navigation. But power users will likely need a top-up charge in the evening. The phone also got noticeably warm sometimes even during light use.
Charging is a bright spot, with the Pixel 8's 30W wired charging hitting 60% in 30 minutes. But wireless charging remains limited to 12W speeds. Samsung and some Chinese brands offer much quicker 45W wireless charging now.
The Pixel 8's battery life is certainly adequate for casual users. But shoppers wanting maximum endurance should consider the Galaxy S23 or even an iPhone 14 Pro Max. As is, the Pixel 8 exhibits only average stamina compared to today's top flagships.
Android 14 Provides a Polished, Productive Pixel Experience
The Pixel 8 ships with the newest Android 14 operating system. This latest version of Android brings refinements and new capabilities while maintaining the same smooth performance and visual style.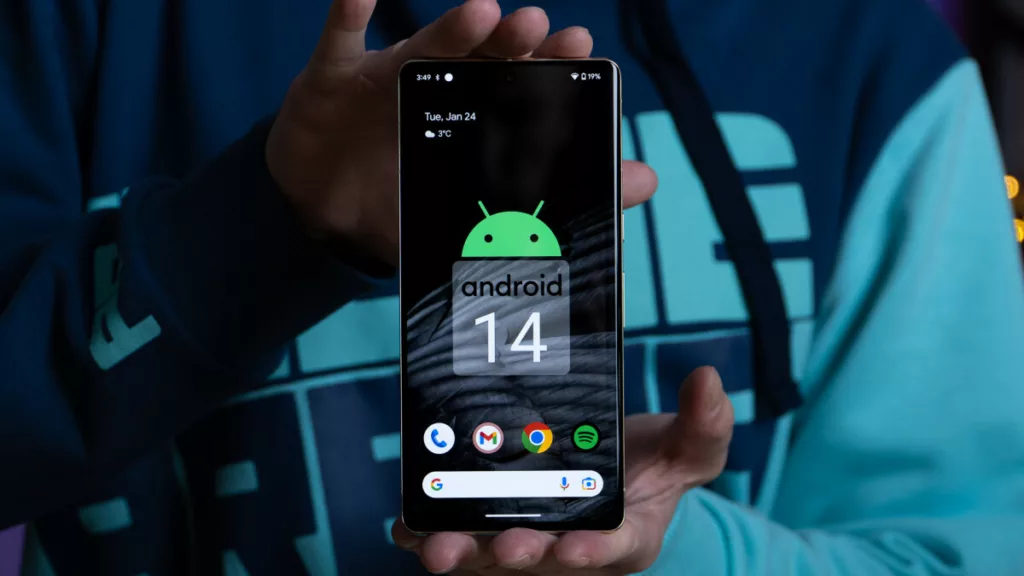 At its core, Android 14 retains the same Material You interface introduced in Android 12. System fonts, colors, icons and other elements adapt to your wallpaper colors for a personalized look. Animations and gestures lend a modern, responsive feel.
Google's suite of apps comes pre-installed, including Chrome, Gmail, Maps, YouTube, Photos, Drive, and more. Some carriers add their own apps, but overall Pixel phones avoid excessive bloatware. Facebook services are the most egregious offender.
Customization options abound for your home screen, lock screen, and always-on display. You can add widgets, customize the launcher, install icon packs, create home screen shortcuts, and use different wallpapers for the lock and home screens.
Helpful Pixel-exclusive tools include the Recorder app, which transcribes audio in real-time. The improved Live Caption feature auto-generates subtitles for media playback. And the redesigned Digital Wellbeing lets you monitor and manage your app usage.
But the headlining act is Google's implementation of AI across the interface. The Pixel 8's ML capabilities enable real-time speech transcription, instant voice dictation, helpful proactive suggestions from Google Assistant, and features like Best Take and Magic Eraser in the camera app. This sets Pixel phones apart from the Android pack.
Overall, the blend of stock Android, helpful exclusive tools, minimal bloat, and AI-enhanced experiences makes the Pixel 8 feel smarter than your average Android phone out of the box.
Next-Gen Features: Satellite Connectivity, Lossless Audio, and More
Beyond its core specs and capabilities, the Pixel 8 contains some special features that provide a glimpse of the future. These novel capabilities will only get more useful over time.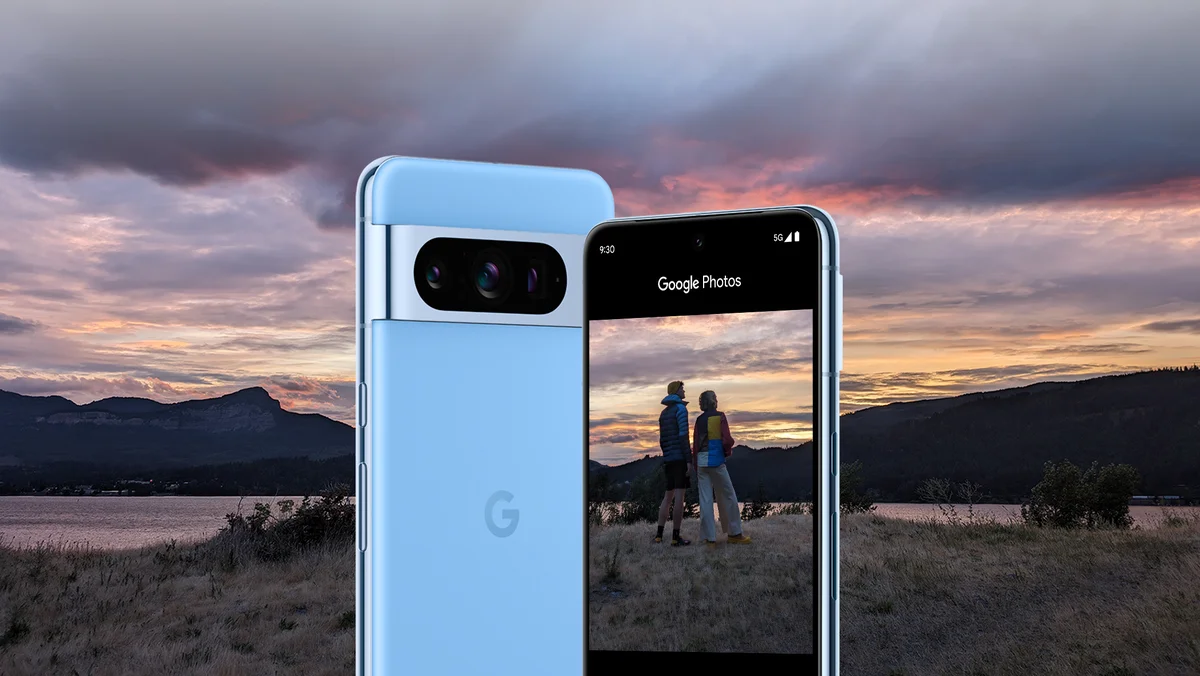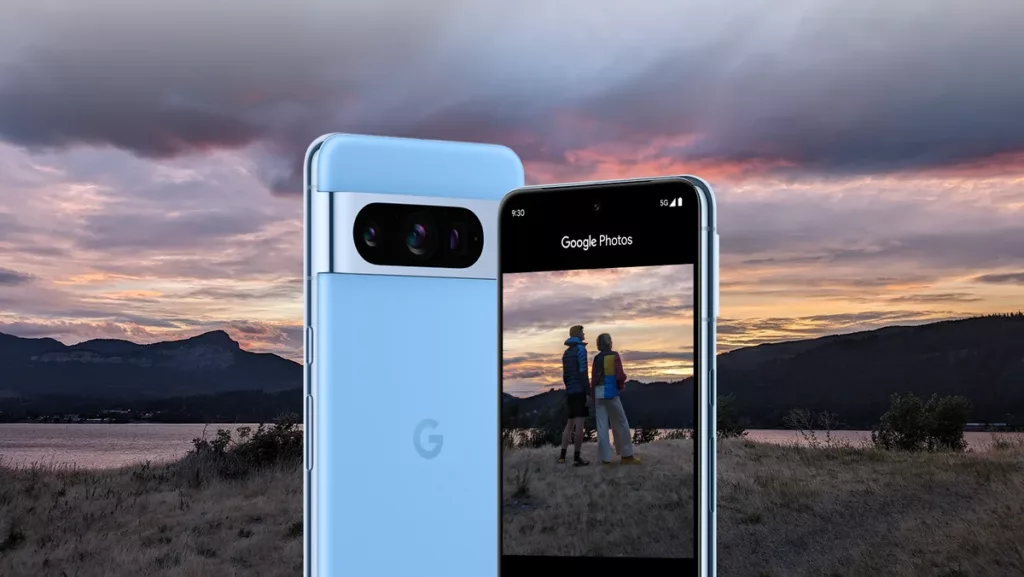 Most notable is support for communicating over satellite networks, debuting later this year in the US and Canada. When outside of cellular range, you'll be able to send SMS texts over satellite at no extra charge. This provides an emergency lifeline when adventuring off the grid.
The Pixel 8 will also gain the ability to stream music over USB at lossless CD-quality audio. Audiophiles will appreciate the enhanced wired listening experience. But strangely, Google neglected to include a headphone jack adapter in the box.
Under the hood, the Titan M2 security chip keeps sensitive data like passwords encrypted and safe from malware and hackers. The Pixel 8's on-device AI capabilities also ensure certain personal info never leaves your phone.
Looking ahead, the Pixel 8 is guaranteed OS and security updates until October 2029. That extraordinary 7 years of guaranteed software support adds tremendous value. The Pixel 8 is designed to get better over time, not slower and more compromised.
Between satellite connectivity, lossless audio, advanced security, and extremely long update support, the Pixel 8 provides future-facing capabilities you simply won't find elsewhere. These help justify the price today and protect your investment years down the road.
A Compelling Value Among Leading Flagships
With a starting price of $699, the Pixel 8 undercuts premium thousand-dollar smartphones while still providing flagship-level features and performance. Only Apple can rival Google's combination of quality and value.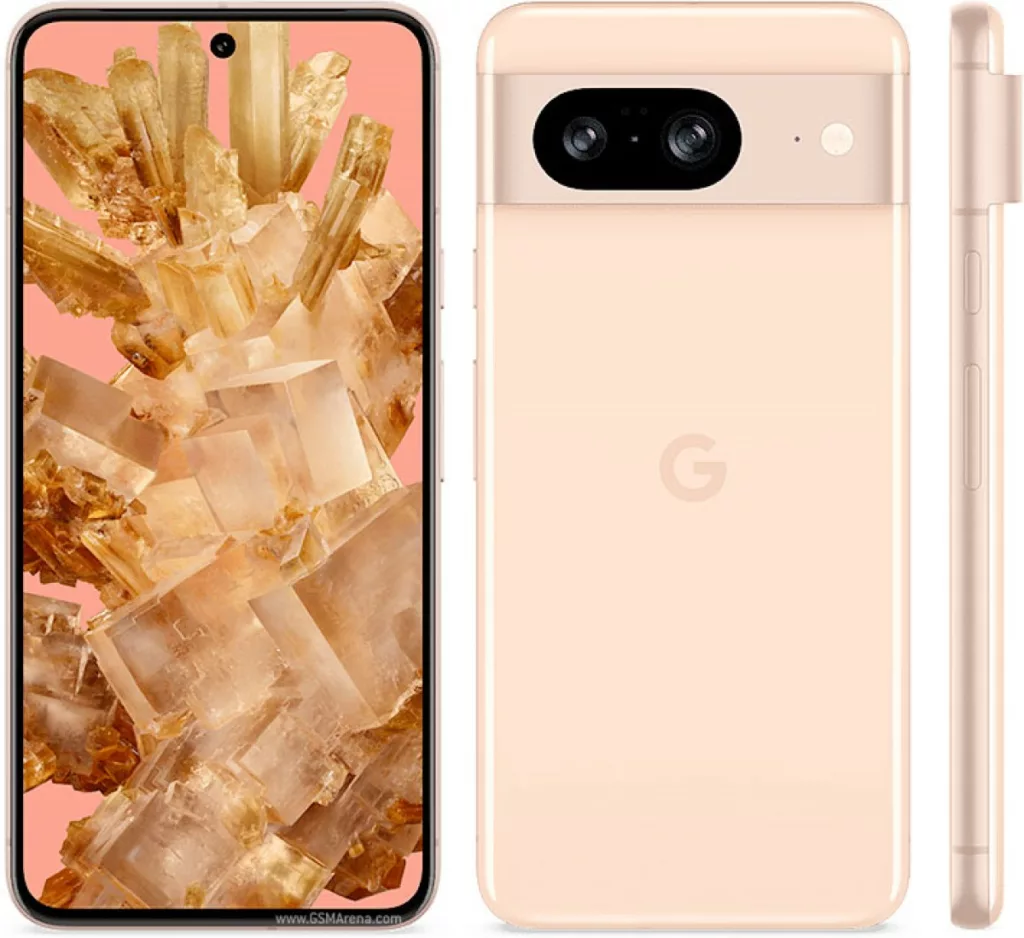 The base Pixel 8 includes 128GB of storage. Doubling that to 256GB costs an extra $100, bringing the total to $799. Given the lack of microSD expansion, we recommend 256GB for buyers who take lots of photos and videos.
Apple's iPhone 14 also starts at $699 but only packs 64GB of storage. The 128GB iPhone 14 costs $749, putting it at parity with the 128GB Pixel 8. But savvy shoppers can find much steeper discounts on Android phones over iPhones.
Samsung's Galaxy S23 retails for $799 but regularly sees $100+ discounts. It outperforms the Pixel 8 in most hardware aspects but lacks Google's AI camera smarts. The OnePlus 11 offers similar power for $699 but with bloatware-laden software.
Only the "Pro Max" style flagship smartphones exceed the Pixel 8 in capabilities but cost $200-300 more. Features like 120Hz displays, fast charging, premium builds, and 5G connectivity are now standard even at $700. The Pixel 8 competes nicely at its price point.
Ultimately, if camera quality trumps all, the Pixel 8 stands out as a value choice. If raw power matters most, the discounted S23 has an edge. And the iPhone offers unmatched iOS app support. But for a balance of quality hardware, constantly improving software, and intelligent user experiences enabled by AI, the Pixel 8 earns its premium over mid-range devices.
The Pixel 8 Captures the Photographic Crown for Under $700
With its compact size, beautiful display, polished design, and tanks of AI-infused software, the Google Pixel 8 makes a compelling case as the best sub-$700 smartphone available today.
The Pixel 8 nails the fundamentals from the bright 120Hz screen to sufficient battery life and IP68 water resistance. Performance is plenty fast for most buyers despite middling benchmarks. And the thoughtful design offers real one-handed comfort.
But where the Pixel 8 truly pulls ahead of similarly priced rivals is its ingenious camera capabilities. Thanks to Google's AI prowess, the Pixel 8 can suggest the best snaps from a batch, magically erase unwanted objects, and even deblur your shots after the fact. These superpowers outclass what Apple and Samsung offer at this price point.
Some downsides prevent a universal recommendation, however. The Pixel 8 lacks a telephoto camera, its low-light photography lags rivals, performance isn't cutting-edge, and battery life could be better. But shoppers who prioritize photographic excellence will likely find those compromises acceptable.
In closing, if mobile photography leads your buying priorities and you want extensive software enhancements enabled by AI, the Pixel 8 stands tall as the best sub-$700 smartphone you can currently buy. The camera goodies alone make it easy to recommend for casual shooters on a budget. But we suggest aspiring creators check out the Pixel 8 Pro or Galaxy S23 Ultra if budget allows. For everyone else, the Pixel 8 strikes an enticing balance of quality and value.
The Review
Google Pixel 8
The Google Pixel 8 impresses with its compact yet premium design, vibrant display, and clever AI-enhanced photography skills. For the casual smartphone user who wants reliable performance, excellent cameras, and future-proofed software at a reasonable price, the Pixel 8 is a superb choice. More demanding users may want to splurge on faster and more capable options, but the Pixel 8 gets the fundamentals right while outpunching its weight class for camera quality.
PROS
Compact and pocketable design with premium build
Bright, smooth 120Hz OLED display
Excellent camera quality with clever AI features like Magic Eraser
Solid everyday performance from Tensor G3 chip
Latest Android 14 software with helpful Pixel-exclusive tools
Guaranteed OS/security updates until 2029
Reasonable $699 starting price
CONS
No telephoto camera or high optical zoom
Low-light photography lags rivals
Benchmarks and gaming performance not cutting-edge
Battery life just average vs. competitors
No charger included in box
Fingerprint scanner could be faster
Face unlock lacks darkness capability