Cocoon is an indie puzzle-platformer developed by the small Danish studio Geometric Interactive, led by Jeppe Carlsen who previously created the acclaimed side-scrollers Limbo and Inside. Breaking from the creepy monochrome style of those games, Cocoon delivers a vibrant and surreal 3D world to explore. As an atmospheric puzzle adventure playable with simple controls, does Cocoon manage to stand out in the genre and provide a rewarding experience? This review will dive into the various elements of Cocoon to see if it's a puzzle game worth playing.
In Cocoon, you take control of a small insect-like being on a mysterious journey through alien landscapes and abstract architecture. With only a joystick and one button, you run, jump and grab magical orbs that act as portals to complete worlds contained within them. It's a fascinating puzzle mechanic that forms the core of Cocoon's gameplay. Each orb world has its own art style and powers to manipulate the environment, which you'll need to utilize to solve puzzles and progress.
With its minimalist storytelling and imaginative worlds, Cocoon aims to capture a sense of wonder and discovery as you uncover the logic of its challenges. It builds an engrossing experience not through narrative, but through the satisfaction of its puzzle solving. We'll examine how Cocoon achieves this across its gameplay, art direction, music and overall level design. Does its approach lead to an unforgettable cosmic journey? Or does it leave you lost in space? Read on to see how Cocoon fares as an atmospheric puzzle-platformer.
Journeying Through Interconnected Orb Worlds
As with most puzzle games, Cocoon is light on overt storytelling and heavy on environmental design. There is a barebones narrative conveyed only through the mysterious journey undertaken by your small insectoid character, without any dialogue or text to guide you. This wordless approach immerses you fully in the game's visually striking worlds. Each unique orb you obtain acts as a portal into a self-contained environment brimming with puzzles to solve.
These orb worlds showcase an impressive range of art styles and color palettes, bringing cohesion while still distinguishing themselves. An early sandy desert realm exudes warm oranges and yellows, the textures evoking sun-bleached stones and seashells. Later, a lush jungle sphere harbors an organic purple and teal palette, its undulating platforms and bloated sacs feeling alive and pulsating. One particularly memorable mechanical world contains stark shades of grey with otherworldly floating architecture surrounded by endless black void.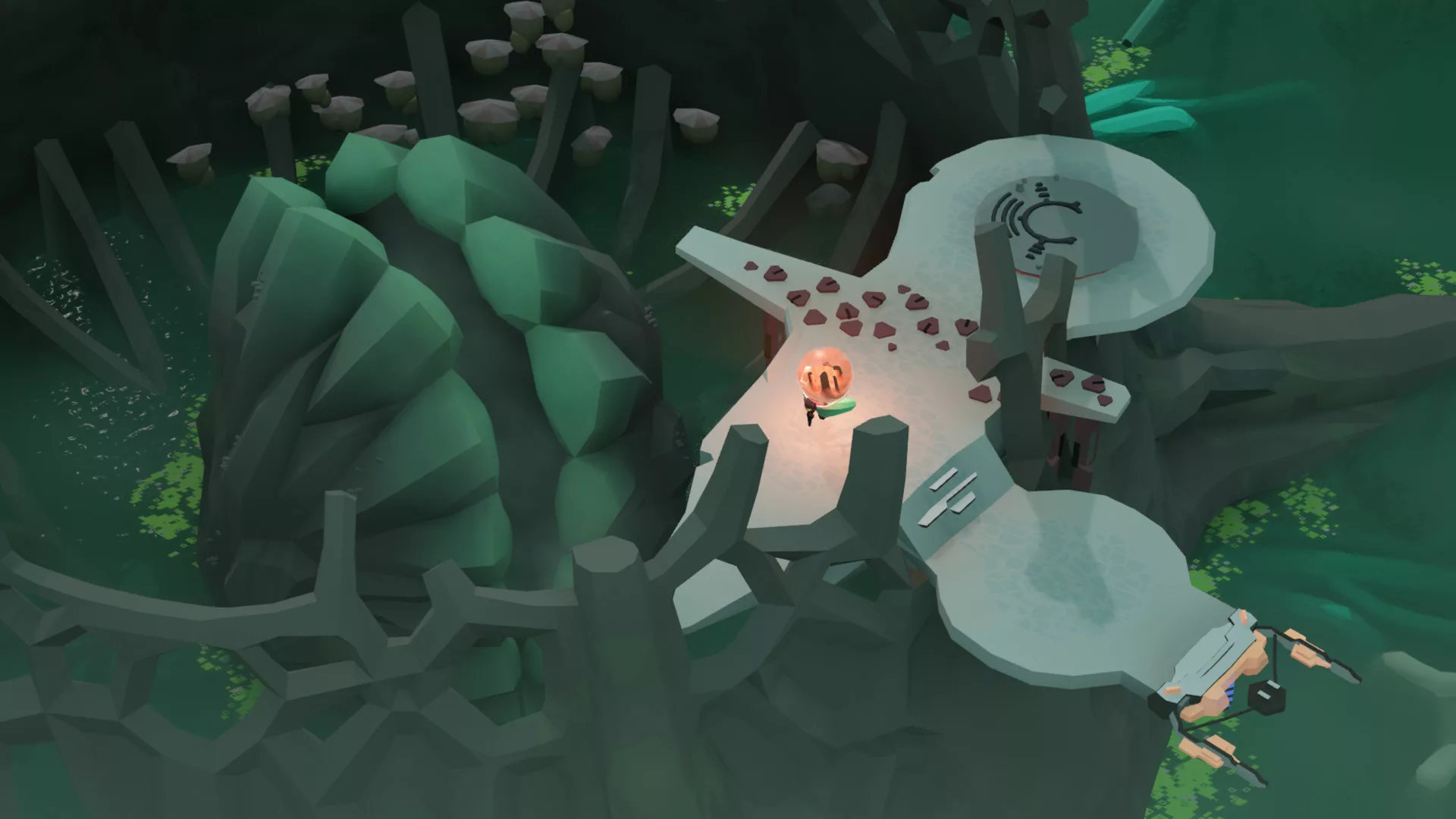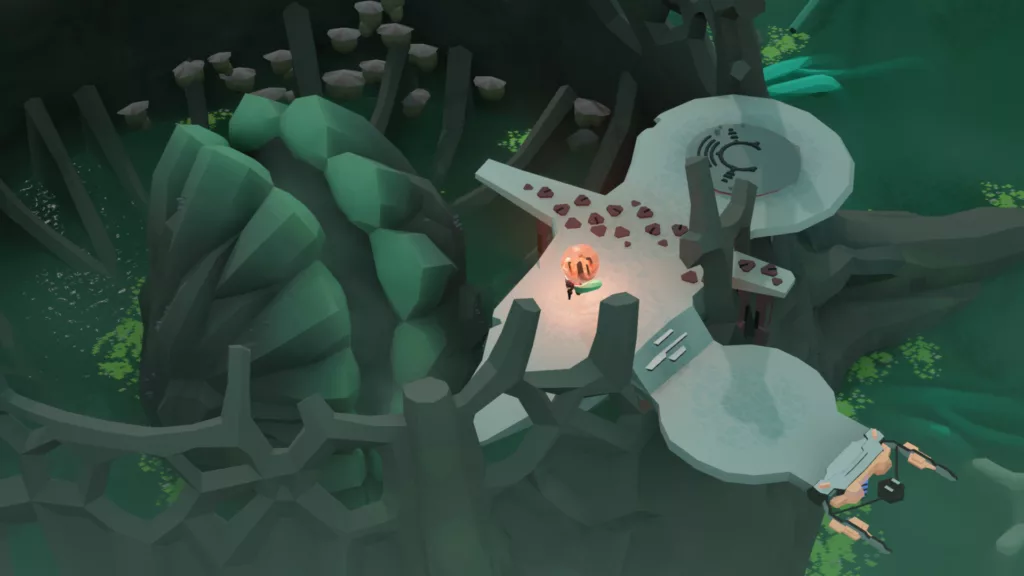 While diverse visually, each orb world fuses natural elements with biomechanical technology. Spongy growths sprout from metal terrain, bridges unfold like robotic insects, and platforms emerge from alien flora. This blended aesthetic heightens the sense of exploring unearthly realms where the line between machine and organism is blurred. The level of minute detail is stunning, making even incidental textures mesmerizing to examine up close.
Some worlds even contain mini environments within them, further enhancing the recursive cosmic scale. A core piece of Cocoon's puzzle design involves carrying orbs and traveling between their worlds. An orb world you've solved becomes a literal sphere you hold, no larger than your character, as you traverse another landscape. Yet that diminutive orb still houses an entire realm inside it. This mind-bending concept, visualized and made tactile through the gameplay, creates a palpable sense of interconnectedness.
Each world relies on the others in both functional and thematic ways. It's not just portals for progression; the environments represent linked ecosystems balancing technology and nature. Traversing surreal architecture as you peek into other realities evokes exploring the layers of some alien planet or perhaps the compartments of a single organism. Either way, Cocoon's exquisitely crafted visuals and focus on orb manipulation generate an enthralling sense of discovery within its cryptic cosmos.
A Unique Television Experiment: "Curious about a TV show that leaps across different eras? Check out our comprehensive review of 'Bodies' and discover if this time-jumping series stands the test of time."
Mastering Orb Manipulation Mechanics
Cocoon's elegant controls belie the complexity of interactions possible within its world. Using only a joystick to move and a single button to jump, grab objects, and activate switches, the game avoids button-mashing overload. This streamlined control scheme ensures the focus stays on navigating the environment and creatively utilizing its puzzle mechanics.
At the core of Cocoon's satisfying gameplay loop is the acquisition and manipulation of magical orbs. Each colored orb acts as a switch, key, and portal to an entirely contained world. Early on, you learn to pick up orbs and place them on pedestals to open doors or activate platforms that let you progress. This then evolves into realizing each orb houses its own puzzles and spaces inside.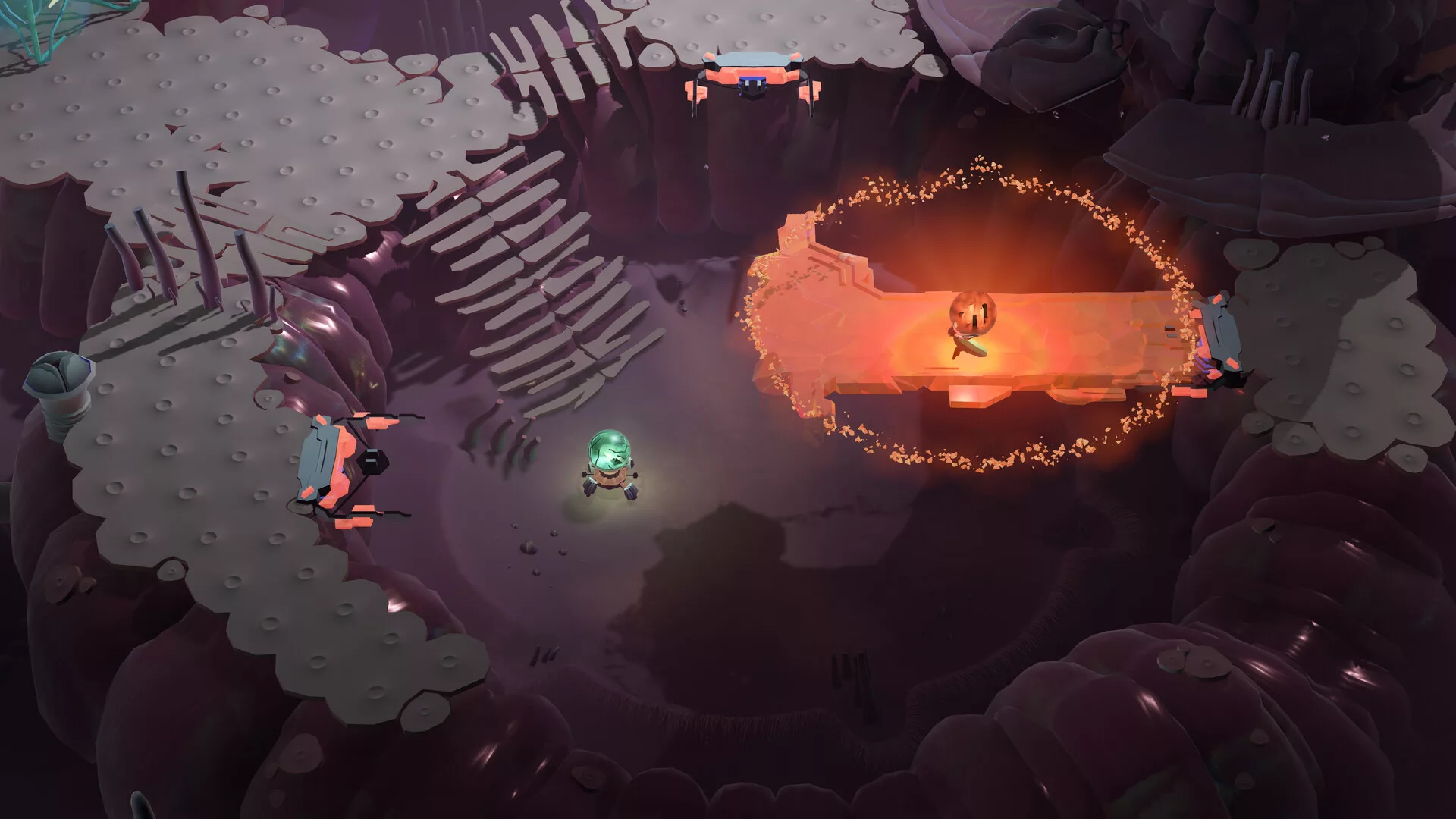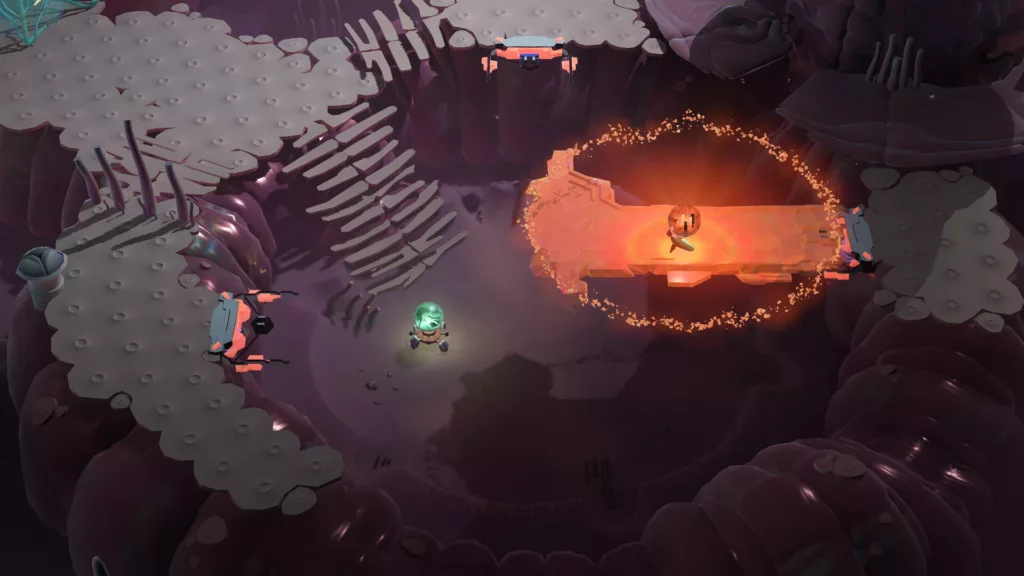 By jumping into an orb, you transport to a full 3D world with its own unique mechanics to master. One orb might contain the power to solidify invisible walkways, while another features gases you can condense into platforms. Exploring these compact but dense puzzle boxes feels reminiscent of games like Portal distilled into their essence. And the worlds dynamically shift as you manipulate their inner workings, the solutions visually reflected in morphing architecture.
Having conquered an orb world, you can then return outside and carry that orb with you. Now a sphere small enough to hold, it can be utilized as a portable power source. Much of Cocoon's most engaging puzzles arise from linking the abilities of orb worlds. If you're stuck somewhere with one orb, chances are you'll need to travel back to another orb world and retrieve exactly the right tool or power-up to advance.
This recursion of worlds within worlds enables an exponential expansion of possibilities. You can even store orbs inside each other for convenient transport, leading to moments of upending perspectives as a realm you explored in detail fits in the palm of your hand. The puzzles ramp up as you juggle the logistics of maintaining access to the required series of nested worlds.
While often abstract, the orb manipulation remains grounded through intuitive physics and sound feedback. Hefting orbs around feels weighty and tangible thanks to subtle touches like traction and inertia. And audible hums and clunks complement the tactile sensations to satisfy that primal urge to poke things and see how they work.
Occasional boss battles provide a nice change of pace from the environmental puzzles. These large creatures have attack patterns to learn and weak points to exploit, but victory ultimately requires recognizing visual tells and kiting foes into environmental traps. So even these fights function more as puzzles with patterns to decipher rather than tests of reflexes.
By elegantly evolving a single core conceit, Cocoon builds a gratifying puzzle box adventure from the ground up. It leverages slick simplicity in controls to enable engaging complexity in spatial logic and creative problem solving. Just be prepared to think flexibly in several dimensions.
Revisit a Gaming Classic in VR: Uncover how a 90s puzzle classic has been transformed in our The 7th Guest VR gameplay review. Join us for a detailed exploration of its spine-tingling revival.
Smart Puzzles That Reward Experimentation
Cocoon hits the puzzle platformer sweet spot of providing intellectual challenges without veering into frustrating obfuscation. The excellent design focuses gameplay on deciphering environmental puzzles through creative experimentation. While often perplexing, solutions feel possible thanks to the game's masterful pacing and subtle signposting.
Most puzzles center on utilizing the unique properties of orb worlds to alter surroundings and create new paths. Changing between open and closed states or shifting matter from gas to solid form the core of manipulating each area to your advantage. Cocoon parses these mechanic introductions brilliantly, starting with straightforward applications before combining elements in innovative ways.
New concepts always build upon previous knowledge, so your comprehension grows in tandem with escalating challenges. This iterative growth prevents confusion, as the game seamlessly folds in new variables once you have a firm grasp on the basics. Never does Cocoon overcomplicate its elegant foundation.
This clarity of design allows for rewarding moments of inspiration once the solution clicks. Because objectives involve manipulating specific interactive parts of the environment, eliminating irrelevant factors eventually reveals the path forward. Cocoon fosters satisfying eureka moments without relying on obscure logic leaps.
Some of the most ingenious puzzles involve creatively utilizing abilities across multiple orb worlds. Since globe-hopping is instantaneous, you're encouraged to experiment without wasting time trekking back and forth. This freedom to poke at possibilities without repercussions greases the wheels for engaging hands-on learning. Cocoon struck an ideal balance where I felt challenged but empowered to find solutions at my own pace.
When progress stalls, small environmental clues organically guide you without overt hand-holding. Puzzle design remains centered on already introduced mechanics, subtly discarding red herrings to point towards the intended variables. This invisible hand gently steers exploration down fruitful channels.
While puzzles provide juicy brain nourishment, Cocoon also scatters optional hidden collectibles as harder to digest treats. These celestial figurines are tucked away off the critical path, providing bonus goals for intrepid explorers. Finding all of these well-concealed secrets poses a stiffer yet still fair challenge beyond the core experience.
In the end, Cocoon's phenomenal puzzle progression stems from respecting the player's agency. It promotes pondering possibilities without pressure before arrives at the "a-ha!" breakthrough moment. The result is an inviting gauntlet of clever conundrums seasoned to taste for satisfaction without frustration.
Also Read: Chants of Sennaar Review – Climbing the Tower of Language
Surreal Sensory Immersion
Cocoon thoroughly transports players to its otherworldly realms by engaging all the senses through sublime artwork, evocative music, and intricate environmental reactions. Each piece complements the others to fully immerse you in every new discovery.
The striking art direction stands out first and foremost. Handcrafted textures and structures feel tangible thanks to an abundance of tiny details. Intricate patterns and mechanisms adorn natural forms like lush steampunk flora. Symmetry and mathematical precision blend with writhing organic asymmetry. And vibrant gradients distinguish each separate orb world with distinct signature palettes.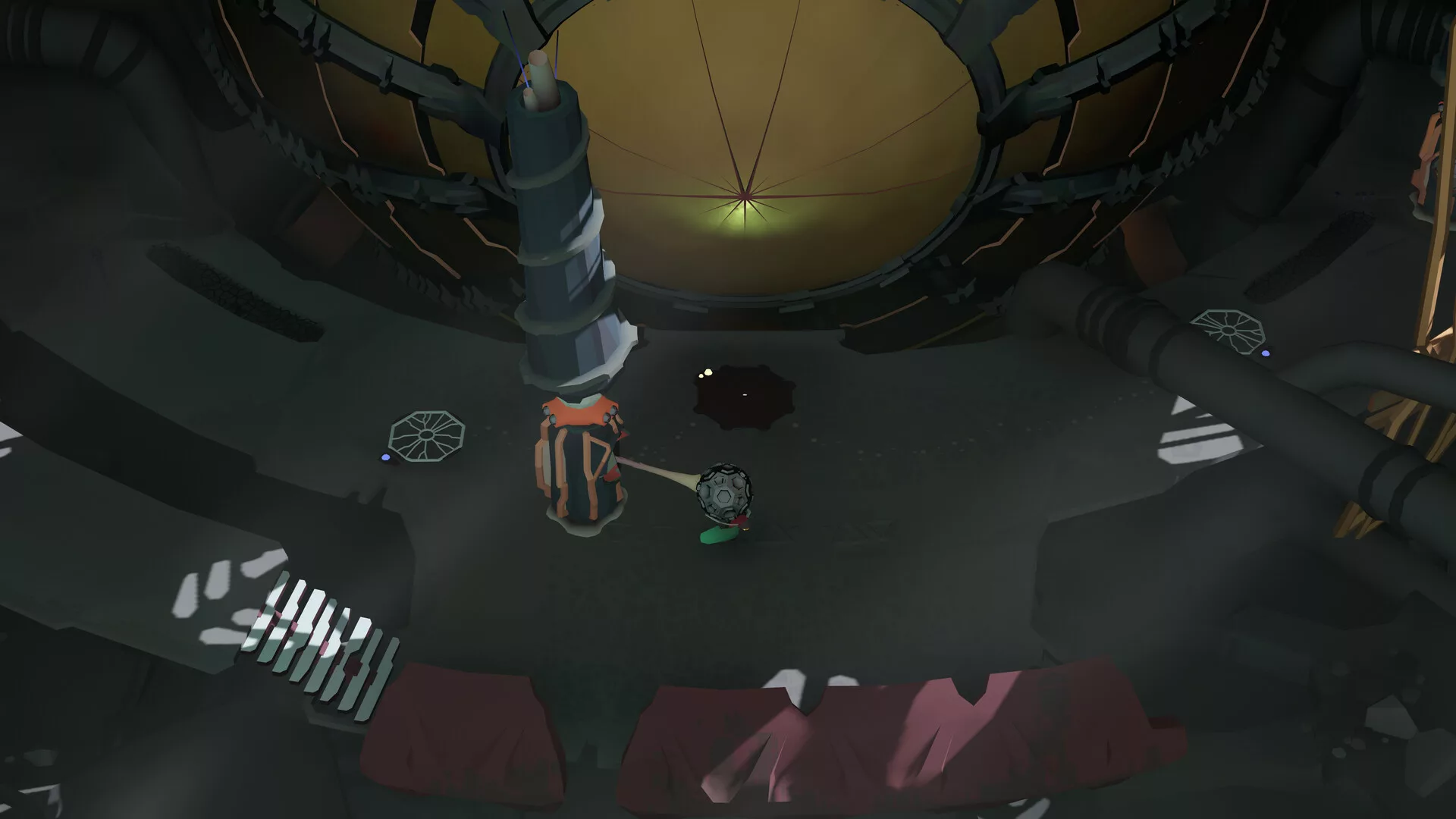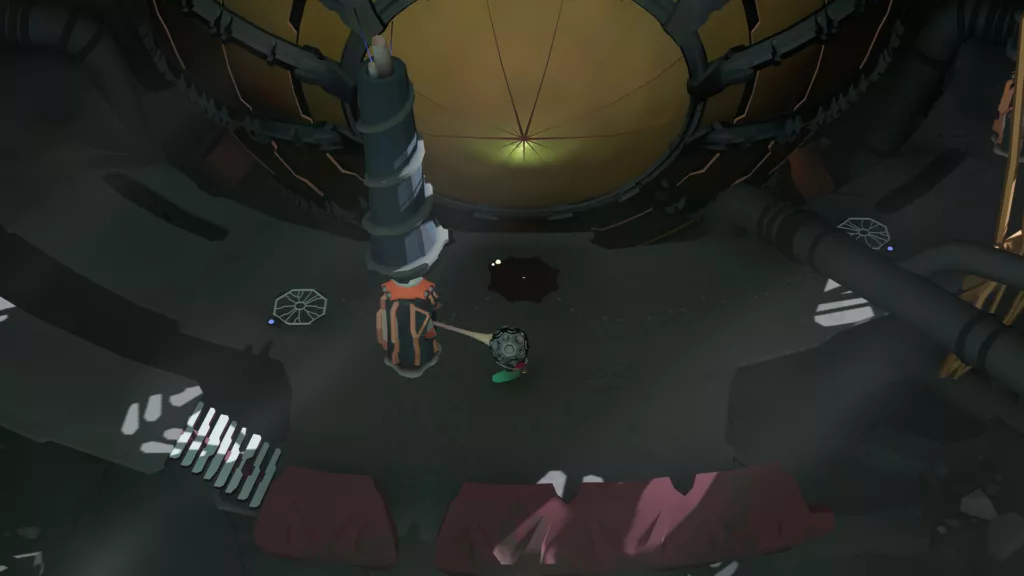 These hues don't just set moods, they aid puzzle solving by clarifying interactive elements. Yet everything visually resonates as part of a cohesive alien cosmos thanks to the balanced fusion of bold colors with bronze metals and earthen tones. The stunning vistas compel you to stop and pan the camera around just to admire the scenery.
An undercurrent of retro-futuristic ambient music complements the visuals. Synthesized notes evoke sci-fi motifs without distracting from the environment itself. The soundtrack reinforces a sense of retrospection and mysticism as you contemplate orb world puzzles. Gentle swells crescendo during moments of revelation, synchronizing audio cues to your accomplishments.
Cocoon further involves your senses through intricate animations and sound design. Chimes signal successful interactions while grinding gears denote paths opening. Hefting orbs elicits straining stone and metal groans as their mass strains against your tiny character. Doorways bloom open and structures construct themselves in mesmerizing mechanical choreography.
Every visual, aural, and kinetic element unifies into one hypnotic puzzle-solving flow. For a game centered on quiet contemplation, Cocoon offers a maximalist feast for your senses. Each lavishly presented world begs you to savor every detail. This sensuous environmental harmony remains a constant from start to finish, ensuring an aesthetically arresting experience.
An Imaginative Journey Worth Taking
At around 5-6 hours long, Cocoon offers a compact experience free of filler. Yet its handcrafted worlds feel dense with secrets begging for deeper exploration. The hidden collectibles and multiple possible solutions provide strong incentive for replayability. Even after unwrapping all its mysteries, Cocoon remains a charming cosmic adventure worth revisiting.
The minimalist storytelling aptly matches the gameplay's focus on player-driven discovery. With no text or dialogue, the narrative arises purely from the atmosphere and your actions. The enrichment comes from interpreting the puzzle logic and strange environments to weave your own theories about the journey. Like a cosmic Rorschach test, Cocoon reveals meaning through your perceptions.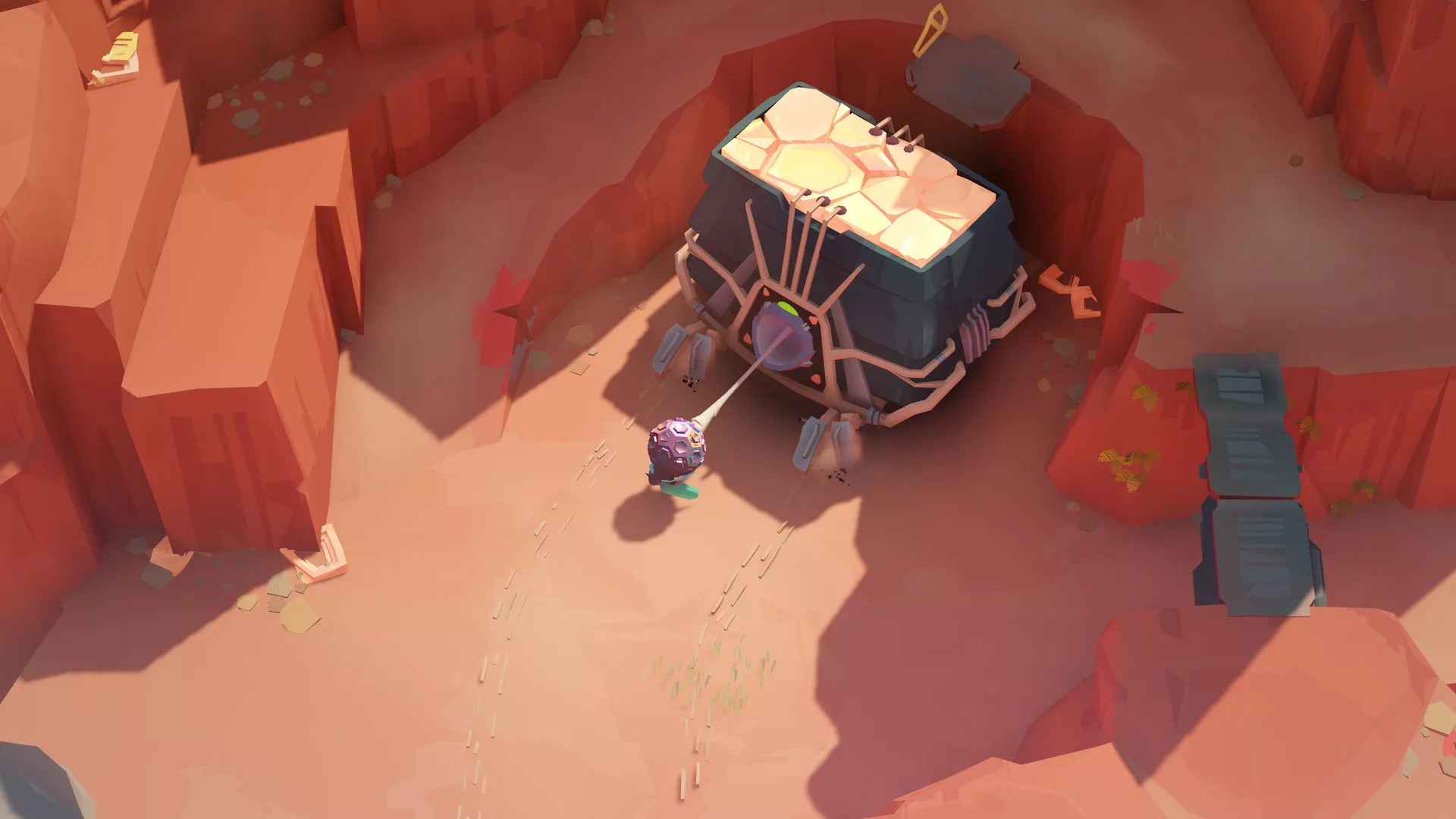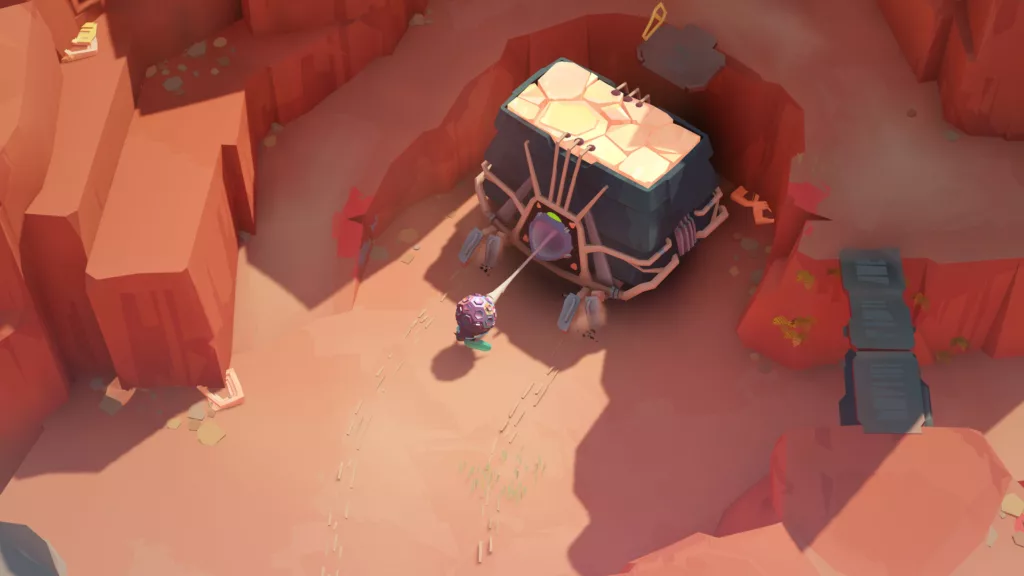 The elegant puzzle platforming challenges without ever frustrating, thanks to ingenious design facilitating incremental understanding. When solutions click they feel like revelations you uncovered yourself, not forced epiphanies. Cocoon exemplifies respectful game design that believes in the player's ability to learn and grow alongside escalating tests of logic.
For fans of Portal's spatial puzzles or Monument Valley's style, Cocoon should prove an irresistible new gem to add to their collections. And the impressive synth soundtrack provides ideal ambient listening while solving puzzles requiring concentration. Cocoon admirably fills the niche of brain-tickling adventure merged with interactive artworth.
In retrospect, Cocoon's nested worlds acted as frameworks containing our intellectual exploration. The game architected possibility spaces to spur our creativity down fruitful channels without limiting possibilities. Few games so artfully craft such elegantly bounded infinity. Cocoon offers an imaginative journey through ever deeper layers of cosmic mystery that lingers long after its completion. This compact masterpiece plants seeds of inspiration that can blossom again and again within your mind.
The Review
COCOON
Cocoon exemplifies the potential for games as both intellectual playgrounds and interactive art. Its ingenious puzzle mechanics, surreal and tactile presentation, and participant-driven storytelling fuse into a mesmerizing cosmic journey worth taking. Cocoon represents a masterclass in distilling gameplay down to focused, polished essence. This small indie gem contains a multitude of imaginative worlds to unravel and ponder. Cocoon's combination of clever design, aesthetic brilliance, and metaphysical mystique make it a puzzle platformer I won't soon forget. For those seeking a compact yet dense adventure that engages the mind and senses, Cocoon is required playing.
PROS
Excellent, clever puzzle design that starts simple and builds complexity gradually
Minimalist but immersive storytelling through environments and atmosphere
Vibrant, surreal art direction with incredible detail
Hypnotic ambient soundtrack complements gameplay and world
Novel orb mechanic leads to mind-bending puzzles with worlds inside worlds
Intuitive controls with just a joystick and one button
Great pacing encourages experimentation without frustration
Optional collectibles add replay value
Short but dense experience around 5-6 hours
CONS
Story may be too vague for players wanting more narrative
Occasional moments of trial-and-error can feel repetitive
Keeping track of nested orb worlds can get confusing at times
Short overall playtime may disappoint players wanting a longer experience
Relies heavily on spatial logic skills; not as accessible for players lacking those strengths
Lack of text or dialog makes storyline opaque
Little gameplay variety apart from orb puzzles