EA Sports' NHL series has been lacing up its skates and taking the virtual ice annually for over two decades. With the 2022-23 NHL season getting underway, publisher Electronic Arts has rolled out NHL 24, the latest iteration of its officially licensed hockey simulation franchise. Developed once again by EA Vancouver, NHL 24 arrives with the promise of significant gameplay innovations, new modes, and visual upgrades.
As with all annual sports title releases, the perennial question looms – is the newest NHL worth stepping on the ice? Or are fans better off sticking with last year's game? NHL 24 is banking on some ambitious new gameplay systems to win over both loyal fans and newcomers alike. Dubbed the "Exhaust Engine", these systems aim to capture the ebb and flow momentum of a real NHL contest. Sustained offensive pressure is meant to tilt the ice in your favor, while new goalie fatigue mechanics seek to add desperation and unpredictability to netminding.
Beyond the on-ice product, NHL 24 also boasts improved presentation elements and tweaked game modes. But issues of legacy content remaining untouched and aggressive monetization tactics linger. In this review, we'll break down what's new and evaluate where it excels or falls short. Is NHL 24 worthy of being called the best hockey game of the new console generation? Or does it feel more like a roster update with incremental additions? Lace up your skates and get ready to hit the ice with us for a comprehensive review of NHL 24.
Fluid Skating with Impactful Hits
When it comes to sports games, achieving that elusive skate-to-stick responsiveness is pivotal in capturing the essence of the real-life sport. NHL 24 delivers admirably in this regard, with smooth, flowing skating animations and fluid on-ice mobility. Pinpoint passing and shooting feels intuitive, especially with the new vision control passing system. Whether threading a perfect tape-to-tape outlet pass on the breakout or sniping top corner on a wicked wrist shot, NHL 24 exudes that satisfying feeling of control.
The biggest gameplay shakeup comes via the new Exhaust Engine and its interconnected systems. The marquee addition is a "Sustained Pressure" mechanic that activates after controlling the puck in the offensive end for an extended period. Triggering this meter provides boosts to your team's passing, shooting, and mobility while sapping the stamina of defenders. It genuinely creates an ebb and flow to each shift, rewarding dominating zone time with increased scoring chances. The Exhaust Engine also introduces a goalie fatigue system that progressively hampers netminders' ability to move laterally or recover after saves during prolonged sieges.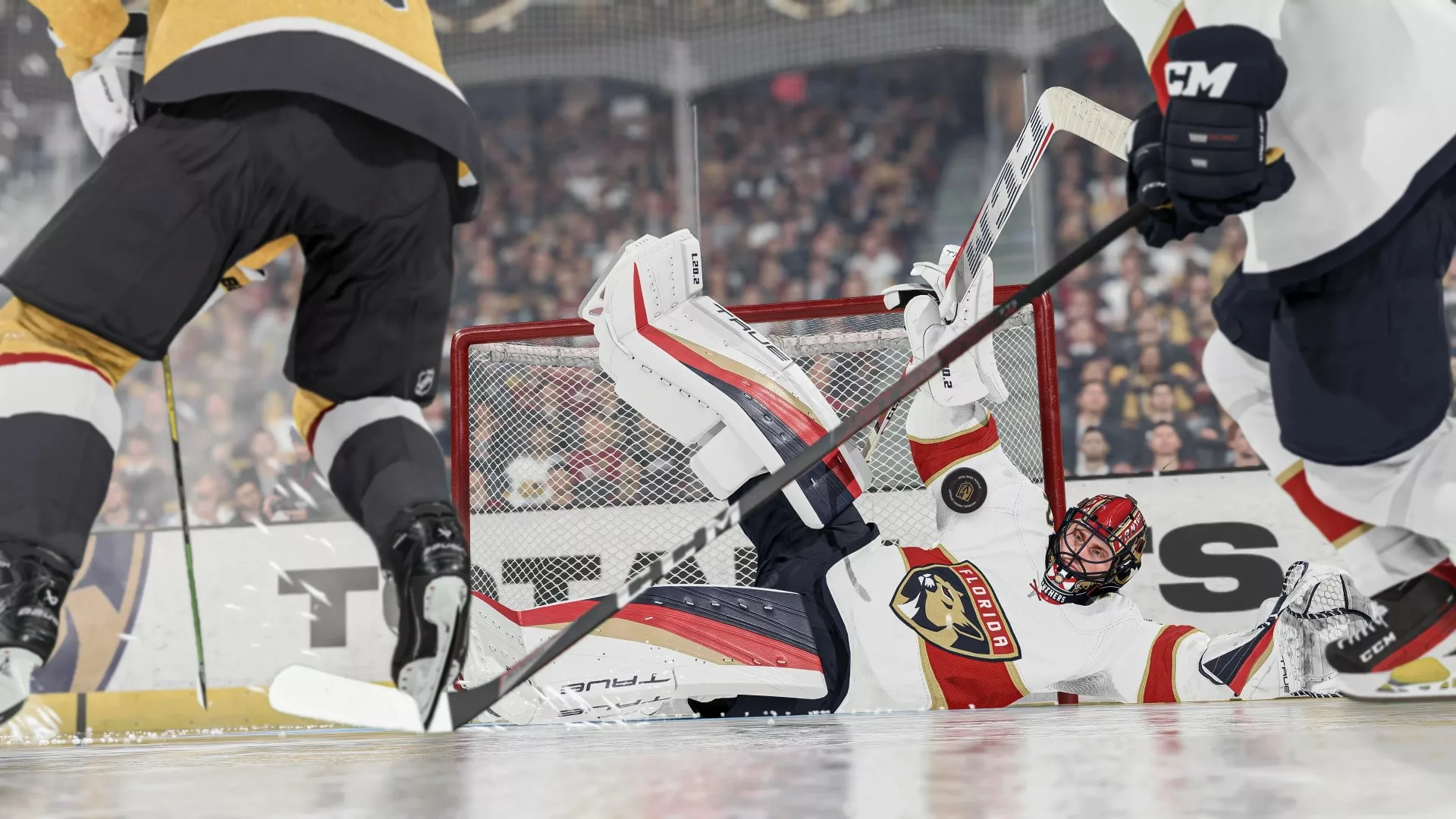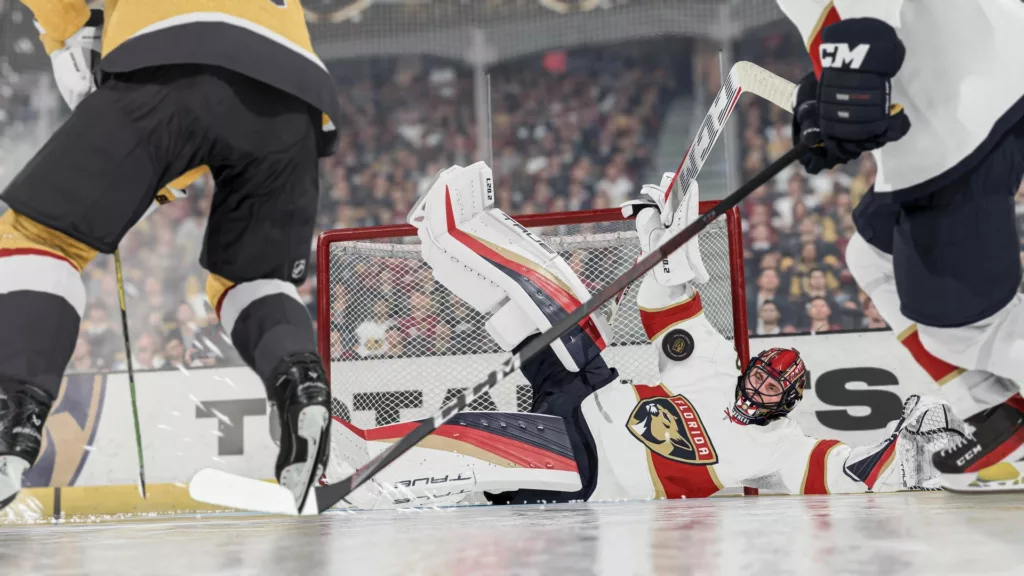 These new mechanics mesh nicely with NHL 24's already solid gameplay foundation. When the Sustained Pressure kicks in, the boost in offensive responsiveness is palpable and satisfying. The goalie fatigue system also approximates the helter-skelter desperation of a tired goalie well. Though at times it can feel slightly overpowered, leading to barrage of goals, some tuning could easily balance it out.
The new physics-based contact system also adds more impact and variability to checks and body contact. Big hits now have appropriate physicality and visual juice to match their in-game effectiveness. Players can also be more readily knocked off pucks with well-timed bumps and stick checks, avoiding previous issues of "puck magnetism". Glass shatters more frequently when players pinball off the boards, a nice aesthetic touch.
For all these positives, NHL 24 is not without its legacy on-ice issues. Defensive AI can still be overzealous with poke checking, leading to excessive penalties. Goalie save animation variety remains limited, resulting in similar looking stops. And there are still occasional moments of players getting stuck on each other orplexing physics quirks. Though not detrimental, the game is not completely free of the periodic wonkiness that has plagued past entries.
Overall the on-ice product shows positive signs of evolution, particularly with the Exhaust Engine. Combined with solid physics, responsive controls, and hard-hitting action, NHL 24 represents the franchise's most promising gameplay in some time. There is room for tuning, but the foundation is strong. Fans seeking that elusive feel of flowing, arcade-sim hybrid hockey action will find it here in spades. Just be ready to occasionally handle some rough edges along the boards.
Pick-Up-and-Play Simplicity with Granular Depth
NHL 24 smartly offers multiple control schemes to accommodate both newcomers and veterans. Total Control maps basic dekes and shots to individual buttons for simplified inputs, ideal for rookie players. But the classic Skill Stick option still allows veterans to utilize the right analog stick for more nuanced moves. This dual approach succeeds in catering to all skill levels.
Within minutes, any novice will be competently moving the puck via crisp passing assisted by the new vision guide system. Simple poke checks and body checks are also readily accessible. Pulling off one-timers and wrist shots on goal quickly becomes second nature as well. For those seeking more complexity, the Skill Stick and manual shooting opens up an arsenal of dekes, dangles, and snapshots.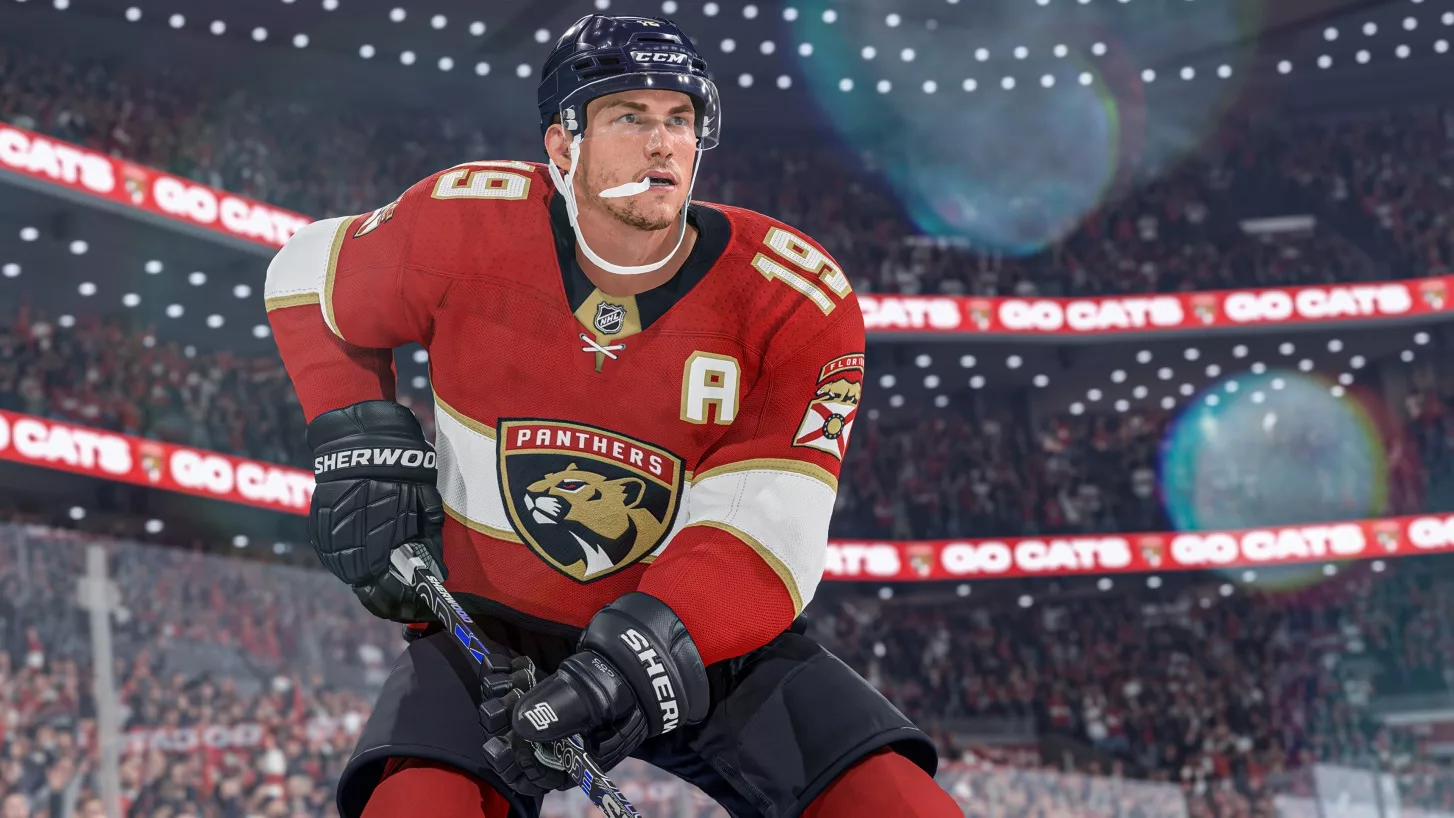 Yet due to the intelligent control mappings, there's no steep learning curve for new players in NHL 24. All of the basic actions like skating, shooting, deking and passing are intuitive and responsive right from the initial puck drop. Players can readily jump into a game and enjoy themselves without laboring to learn convoluted controls.
Veterans will appreciate the finer grain tweaks offered within the controls menu. Sliders allow customization of stick sensitivity for both shooting and deking, letting players dial in what feels "just right" for them. There's also robust button mapping available, so any confusing default layouts can be adjusted as desired.
During actual gameplay, NHL 24's controls prove smooth and polished. Whether battling along the boards, deking through traffic, or poking the puck loose on defense, everything operates precisely. Player movement and animations transition fluidly into actions like shooting, passing, and checking. The immediacy of performing commands as intended is excellent.
Frustration can occasionally crop up when attempting more complex dekes and maneuvers. There are still moments when the inputs don't translate properly on-screen, especially at high speeds. But in general, NHL 24 provides a responsive, nuanced control experience. Combined with the accommodating dual-scheme options, this game sets a new high bar for accessibility without sacrificing depth. The controls enhance the stellar on-ice product rather than detract from it.
Diverse Modes Undercut by Aggressive Monetization
NHL 24 checks all the boxes when it comes to game mode variety. Franchise mode offers multi-season team management, Be A Pro provides a rookie career, and Hockey Ultimate Team (HUT) highlights card collecting and team building. The fan favorite World of Chel (CHEL) mode also returns with online and offline casual hockey options. While not radically reinvented, all of the basics are covered for nearly any type of hockey gaming itch.
Franchise mode remains largely unchanged aside from some minor quality-of-life tweaks like a new coach hiring system. Be A Pro similarly recycles familiar content with negligible improvements. Thankfully, neither regresses in any significant capacity. But the lack of meaningful evolution in these modes feels like missed opportunities given their dedicated player bases.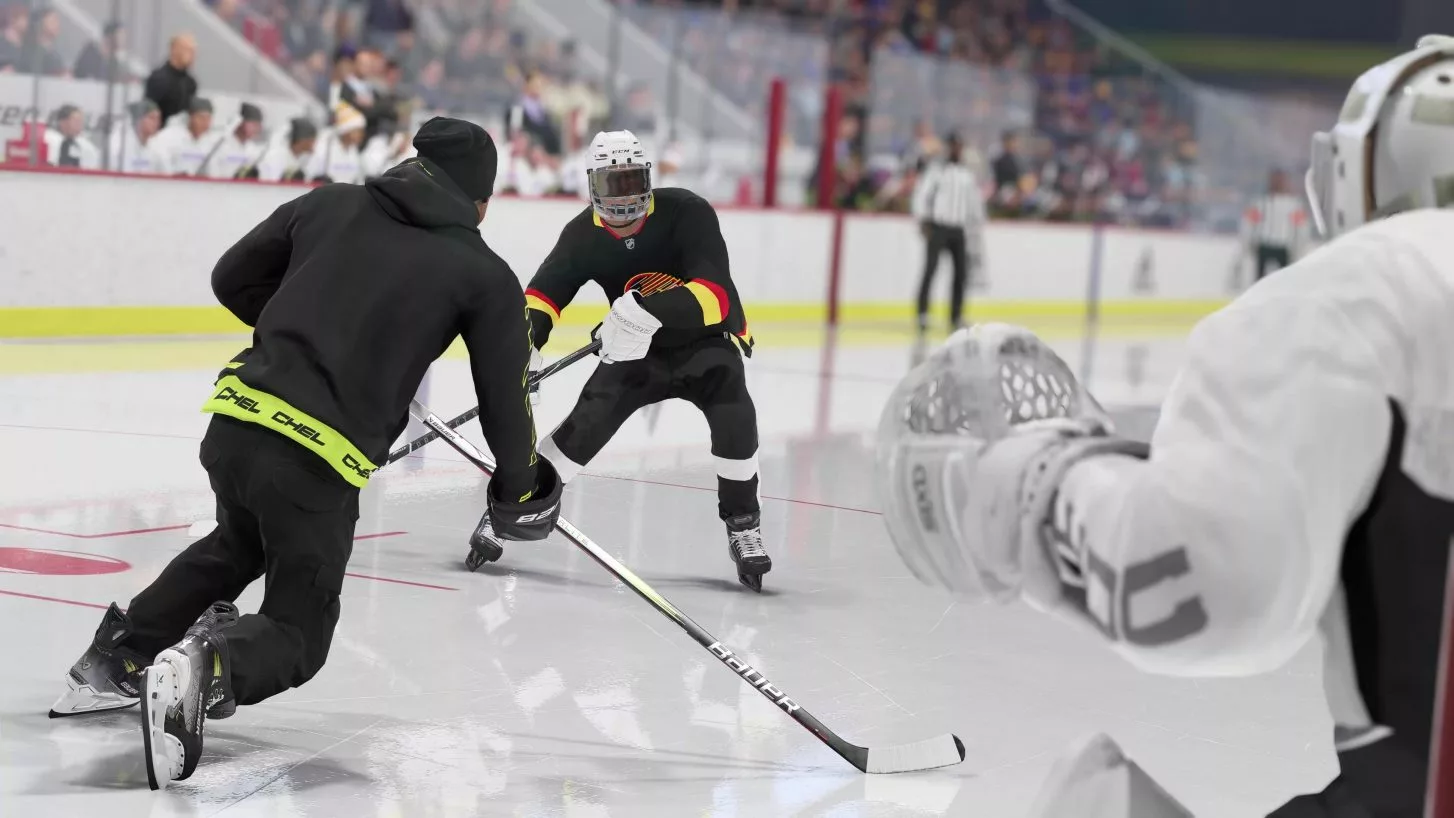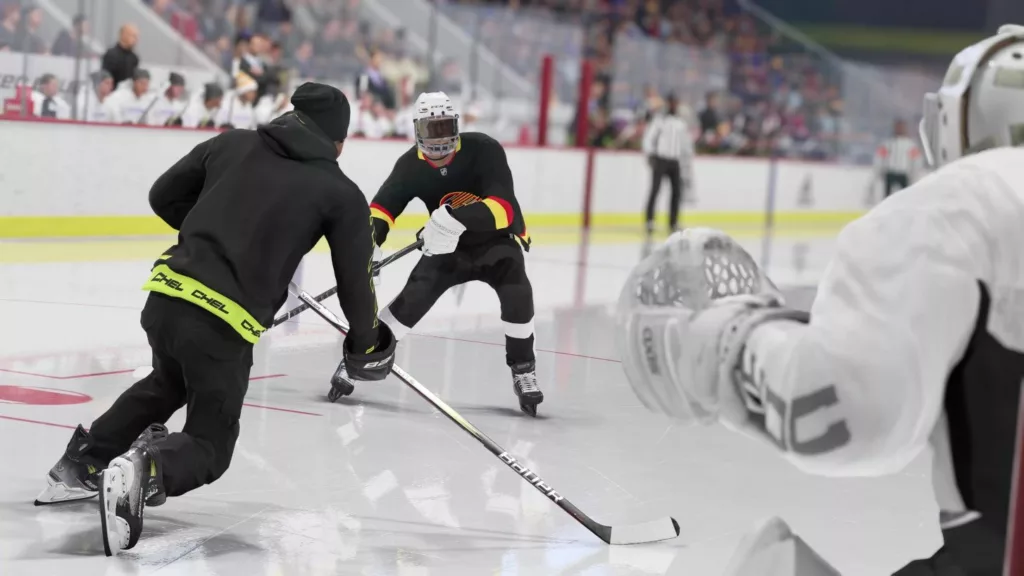 Refreshingly, HUT does see some worthwhile additions like the new Moments mode. Here, players can relive great goals, saves and performances from NHL history while earning rewards. It provides some excellent single-player content for HUT users. The Auction House also now features proper cross-play support across console generations.
CHEL receives an expanded player customization system with more gear to unlock and equip. A new casual 3v3 mode is ideal for quick drop-in sessions with friends. And enhancements were made to the competitive 3v3 Eliminator mode playoffs. Overall CHEL remains the most compelling outlet for online team play.
However, CHEL's new battle pass and increased monetization aggressively push players to open their wallets. Many cosmetics are now locked behind a paid pass, along with perks that directly affect gameplay, like boosted player classes and abilities. The transparent drive to monetize every aspect of the online experience is off-putting.
Unfortunately, this escalation of monetization schemes extends across many modes in NHL 24. While expected in HUT's card-collecting format, the creeping influence of microtransactions and cosmetic purchases into CHEL and Franchise erodes gameplay meritocracy. When advantages can simply be bought rather than earned, it fundamentally undermines the integrity of progression systems and competitive balance.
In isolation, the modes of NHL 24 checks all the requisite boxes. But the now pervasive undercurrent of funneling players into additional purchases casts a pall. Strong core content is continually diluted by monetization, leaving a game that feels intentionally designed to incentivize spending over simply enjoying hockey gameplay. What should be an accessible virtual recreation of the sport increasingly feels dominated by predatory economics.
Polished Visuals Undercut by Stilted Presentation
Visually, NHL 24 impresses with its slick player models, fluid animations, and realistic arena effects. Player faces are highly detailed, capturing everything from facial hair to visor reflections with care. On-ice gear and equipment also looks top notch, further enhancing the TV broadcast authenticity. And the Frostbite engine provides excellent lighting, shadows, and textures to the environments.
The action itself animates beautifully with smooth skating, vivid checking impacts, and responsive goal celebrations. New ragdoll physics introduce more variety to how players collide and crumble along the boards. Add in motion blur and visual polish galore and NHL 24 checks the boxes for modern sports game standards.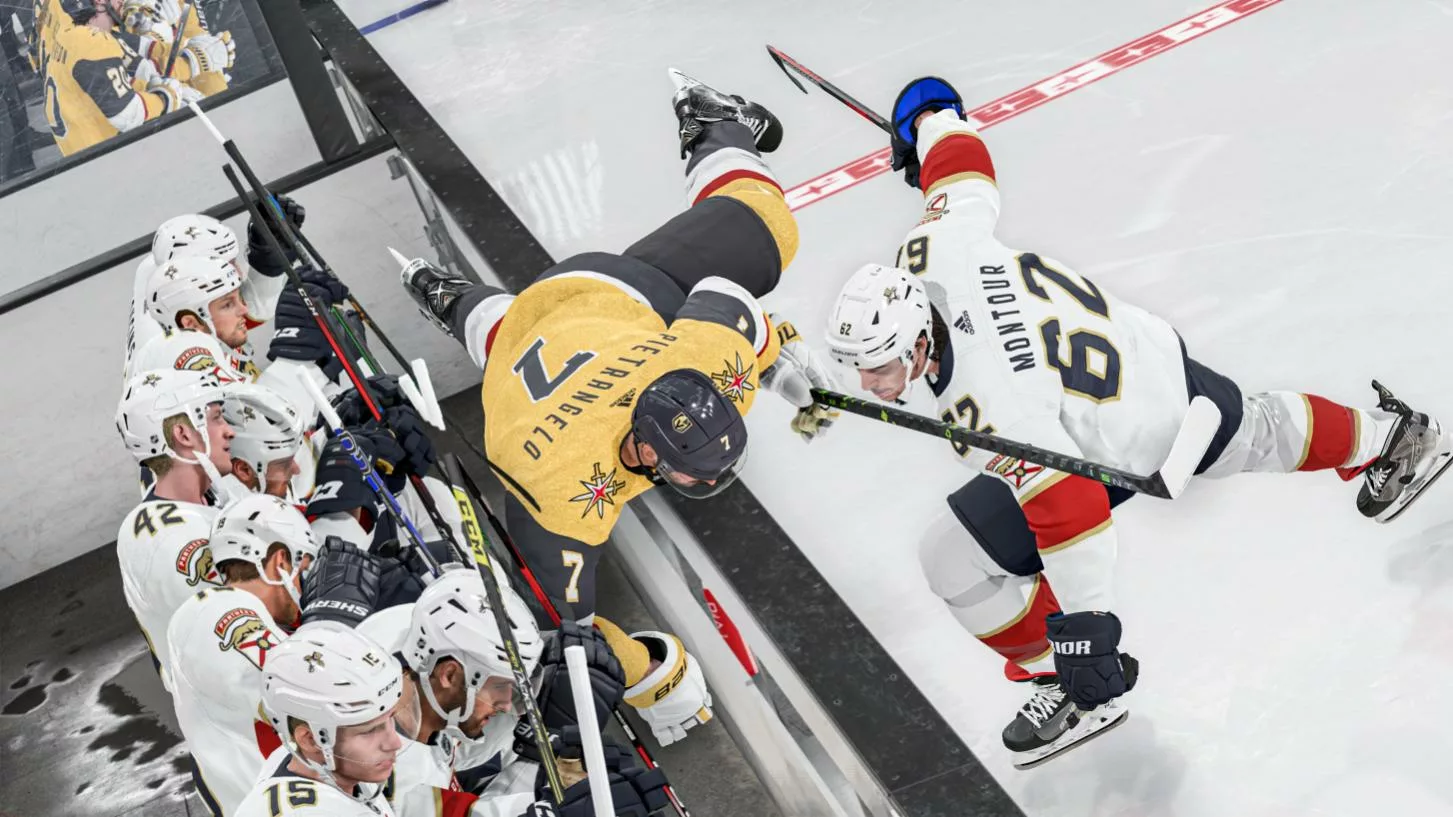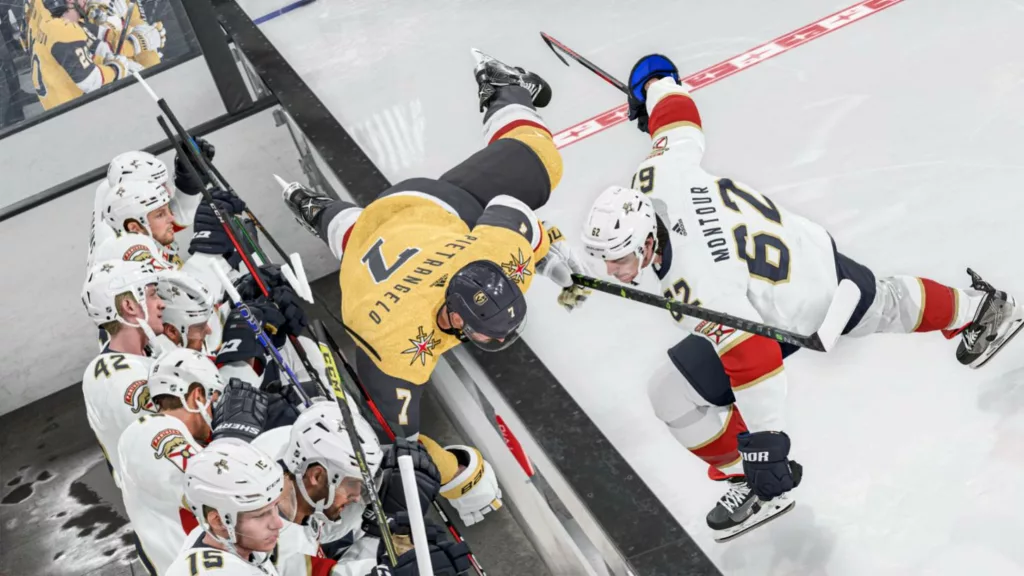 From an audio perspective, longtime commentator Ray Ferraro is out, replaced by the excellent Cheryl Pounder. Her insightful color commentary meshes nicely with play-by-play man James Cybulski. On-ice sounds like sticks clacking on slapshots and skates carving ice also remain excellent. And Nashville's Barn features a raucous crowd, though most arenas feel oddly subdued.
Unfortunately, all this high production value crumbles during actual game presentation and pacing. Pre-game lead ups and intros remain virtually non-existent. Post goal celebrations are oddly subdued canned scenes rather than team pileups. There are no signature highlight packages or replays. It all feels disconnected from the natural ebb and flow of a real televised NHL broadcast.
The menus and UI also remain clunky experiences, especially in HUT. Sluggish navigation and unclear objectives plague the time spent outside of games. Load times also linger, punishing any mode hopping. Combined with occasionally buggy stat overlays and an absence of intuitive menus, this is NHL 24's weakest aspect.
On balance, NHL 24 boasts excellent environmental and player visuals but is poorly stitched together into an authentic NHL broadcast. The game too often ignores all the signature presentation that brings televised hockey to life. Fluid action on the ice is increasingly undercut by stilted pacing and clumsy UI design off of it. Like a nice car with a sputtering engine, the game continually stalls out in taking that final step to virtual broadcast brilliance. The technical polish deserved better overall packaging to truly shine.
Engagement Undermined by Aggressive Monetization
For a franchise so centered around progression, NHL 24 drops the puck early on providing satisfying reward systems to drive playtime. HUT enables players to gradually build their ultimate fantasy roster through hard-earned card packs. CHEL offers plentiful cosmetic gear and vanity items to customize your virtual pro. Even Be A Pro provides a traditional sports game campaign of rising from rookie to all-star over years of play.
The foundations are strong for varied long-term engagement across the many modes. But NHL 24 takes an aggressive turn towards monetization that frequently disrupts enjoyable progression. The most egregious example comes via CHEL's new battle pass system.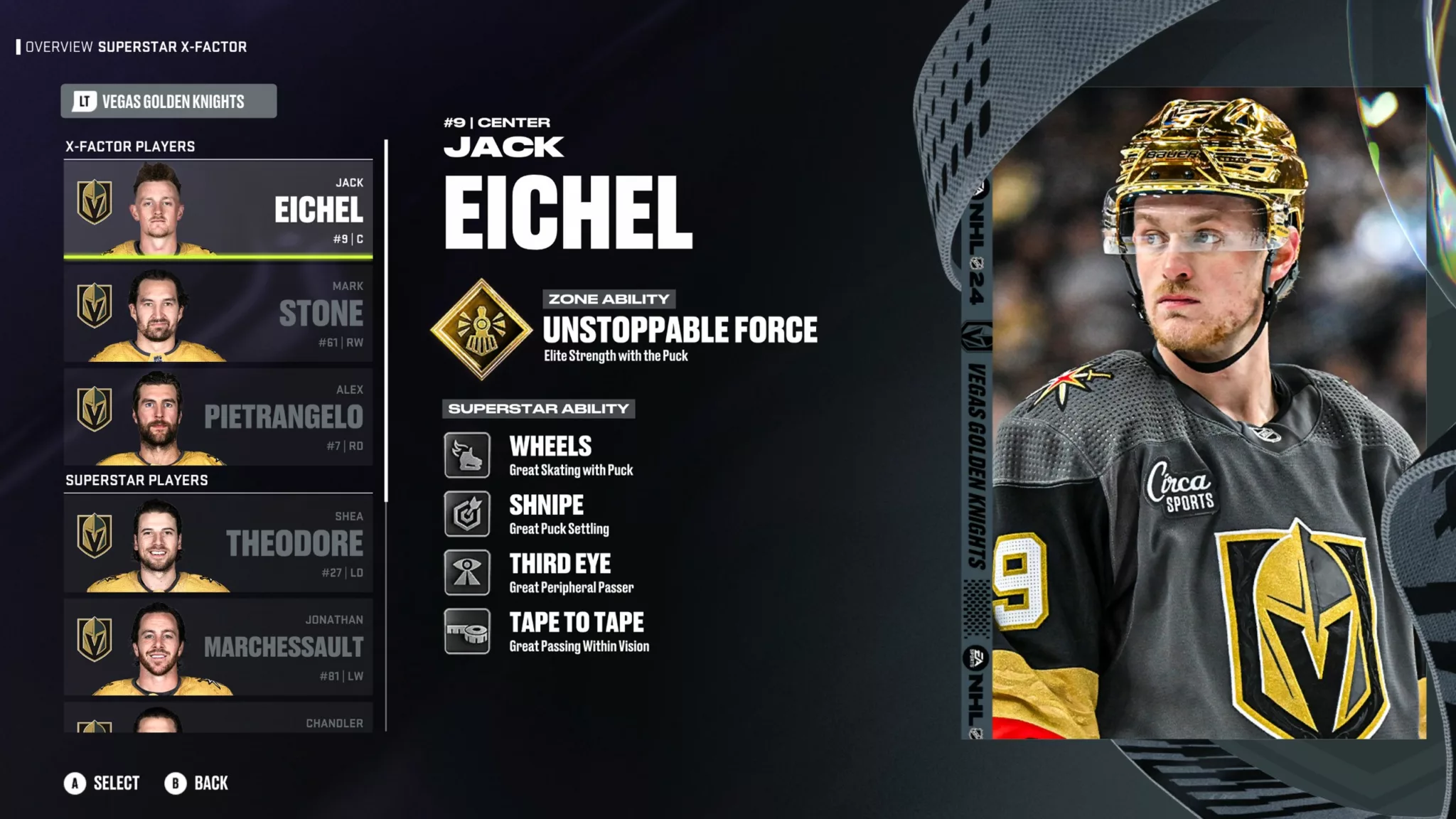 Broken into free and premium purchase tracks, many cosmetics and perks are now gated behind real money purchases in the CHEL battle pass. Want that sweet new stick tape or vintage jersey for your custom pro? Be prepared to fork over additional cash. This even extends to gameplay altering perks like boosted stats for certain player classes.
The overall structure preys on the innate desire to unlock rewards through playtime with arbitrary gates. Of course, hard unlocks still exist across all modes. But the balance is increasingly geared towards driving revenues over rewarding gameplay merit and skill.
This escalation of monetization sinks its teeth into every mode to some degree. While expected in the card collecting HUT, seen now in Franchise and CHEL modes, the progression experience is marred. Unlocks feel less like rewards for time invested and more cynical incentives to spend to keep up.
If players can overlook the transparent attempts to siphon more money, NHL 24 does offer extensive depth of content and unlocks to pursue. But the: previously rewarding positive feedback loop of progression, engagement, and ownership is now tainted. Enjoyment is too often disrupted by feeling nickeled and dimed for content that should simply respect players' time. Overall, NHL 24 unfortunately trends further away from rewarding on-iceplay and towards monetized off-ice payments.
The Bottom Line
NHL 24 arrives at a crossroad moment for the long-running franchise. Developer EA Vancouver implemented some genuinely promising gameplay innovations with the Exhaust Engine that improve on-ice flow and spontaneity. Physics-based checking and overhauled passing also bolster the quality hockey action. For core fans seeking enhancements to the on-ice product, there is much to enjoy this year.
But NHL 24 also exacerbates lingering issues withpresentation and expands aggressive monetization practices that frequently undermine engaging progression. Across the board, the game too often stumbles when it comes to effectively contextualizing the strong core action. Fans ultimately must weigh enjoying what's directly under their control on the ice versus the frustration of being nickel-and-dimed off of it.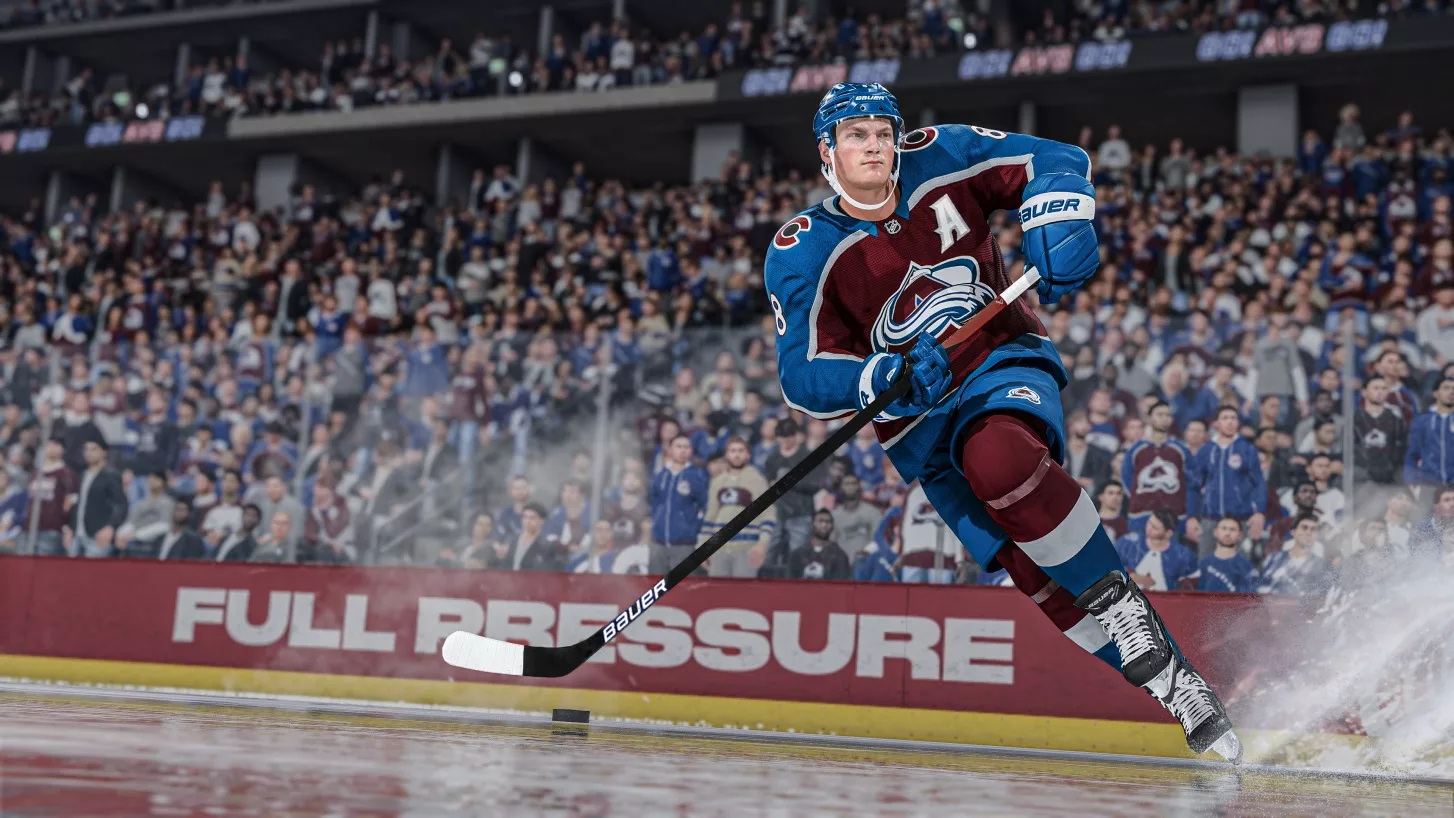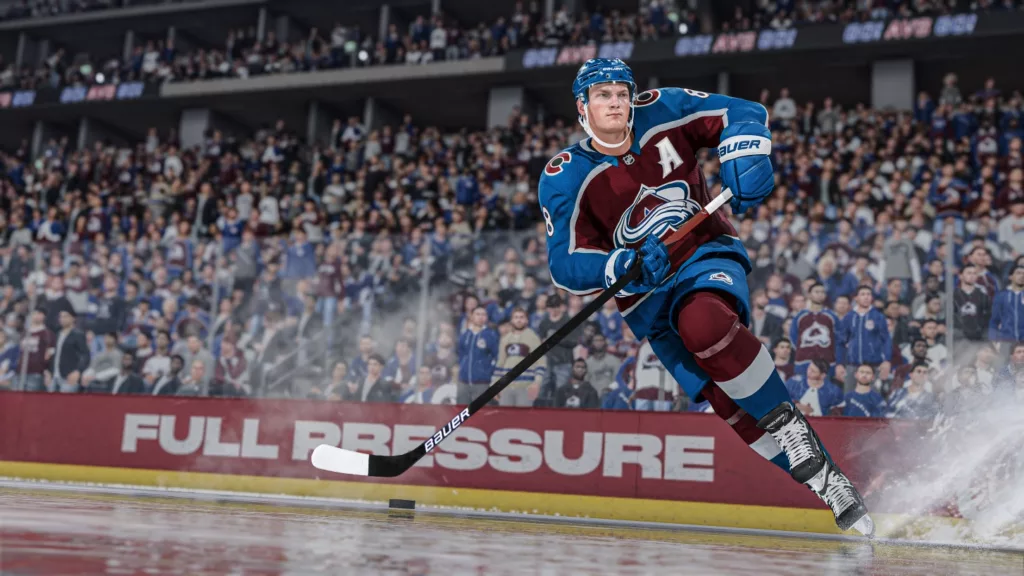 Due to the strength of the new Exhaust Engine and physics systems, I can cautiously recommend NHL 24 for diehard hockey aficionados seeking thenext-gen evolution of gameplay. Matching lines, managing shifts, and dictating the pace of play has never felt better. You'll be rewarded for hockey skills and decision making in pleasing fashion.
Yet more casual fans or those weary of aggressive monetization are better served waiting this year out or grabbing the game pre-owned. The legacy issues of uneven presentation and interface paired with the escalating push towards recurrent spending continue to restrain the full potential of the on-ice product.
NHL 24 continues the Identity crisis of sports gaming in 2022, torn between satisfying those looking for authentic and deep simulations while maximizing monetary returns above all else. This push and pull results in inspired gameplay weighed down by monetization run amok. Should you buy it? Only if quality action on-ice trumps all — off of it, the cracks are showing through the virtual ice.
The Review
NHL 24
NHL 24 delivers where it matters most with excellent core gameplay advancements like the Exhaust Engine. Hard hits, smooth skating, and responsive controls capture the essence of hockey action well. But issues linger with clumsy presentation, repetitive modes, and intrusive monetization schemes that disrupt engagement. NHL 24 is a mixed bag that innovates on the ice yet stumbles off it, resulting in an uneven experience. Diehard hockey fans will find rewards from great gameplay refinements, but more casual players should consider waiting for deeper discounts.
PROS
Excellent core gameplay with innovations like the Exhaust Engine.
Smooth skating animations and responsive controls capture the essence of hockey action.
Physics-based checking adds impact and variability to hits.
Multiple control schemes cater to both newcomers and veterans.
Diverse game modes, including Franchise, Be A Pro, and Hockey Ultimate Team.
Visually impressive player models and realistic arena effects.
CONS
Clumsy presentation with limited pre-game and post-goal celebrations.
Lack of significant evolution in franchise and Be A Pro modes.
Aggressive monetization, especially in CHEL mode, affecting gameplay perks and cosmetics.
Gameplay experience marred by the feeling of being nickel-and-dimed for content.
Inconsistent UI design, with sluggish navigation and unclear objectives.