The Detective Pikachu games offer a unique take on the Pokémon franchise, letting players solve mysteries from the perspective of the iconic electric mouse. The original 3DS game introduced the gruff, caffeine-addicted Pikachu who teams up with human partner Tim Goodman to search for his missing father. Their adventures continued in a live-action Hollywood movie adaptation starring Ryan Reynolds as the voice of Pikachu.
Now the crime-solving duo are back in Detective Pikachu Returns for Nintendo Switch. Set two years after the first game, Tim and Pikachu have become local celebrities in Ryme City. But they soon find themselves tangled in a new mystery involving sinister events that threaten the balance between humans and Pokémon in the city.
In this review, we'll take a look at the gameplay, story, graphics, and other key elements of Detective Pikachu Returns. Does this sequel build successfully on the foundations of the original, or does it fall short? Read on to see if this is a case worth cracking for Pokémon fans and budding detectives alike.
A Puzzle-Solving Adventure
At its core, the gameplay of Detective Pikachu Returns focuses on puzzle-solving and investigation. As Tim and Pikachu, you'll spend much of your time questioning witnesses and searching locations for clues related to the various mysteries you take on.
When interacting with characters, you can choose dialogue options to ask for information or press for more details. Pikachu handles conversing with Pokémon witnesses, while Tim talks to the human ones. Through these conversations, you'll uncover valuable facts and testimony to add to your case notebook.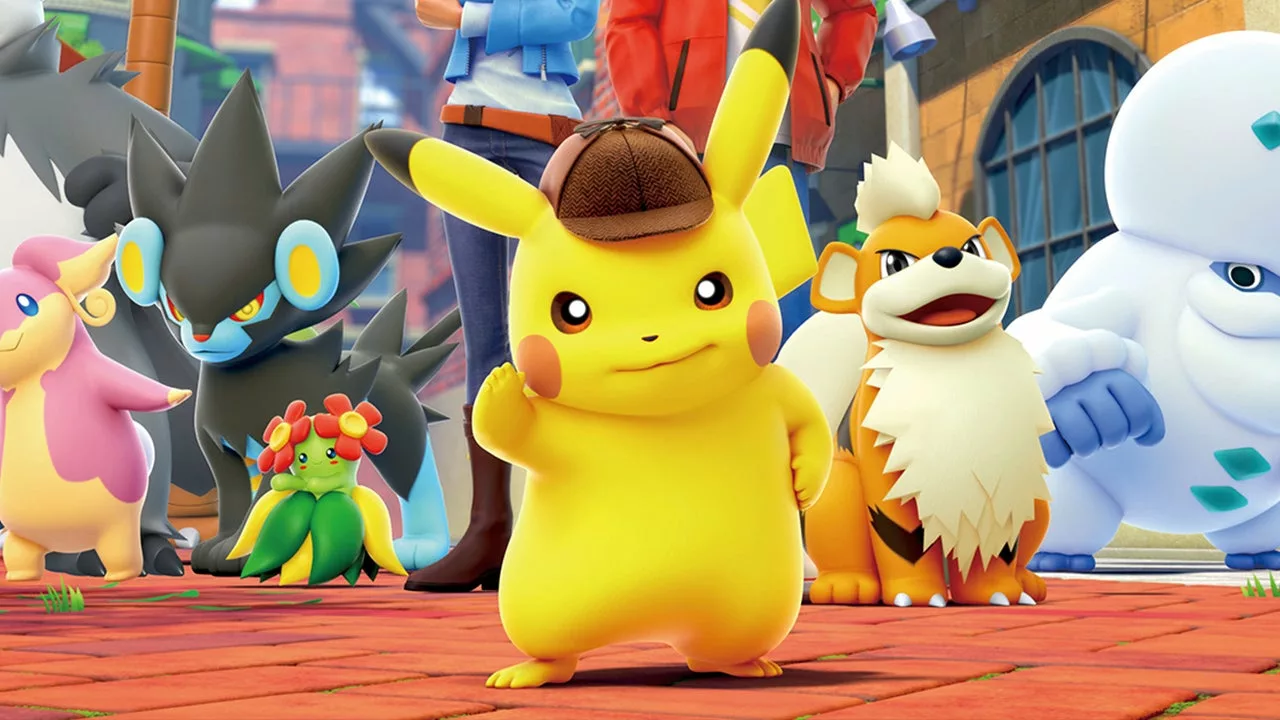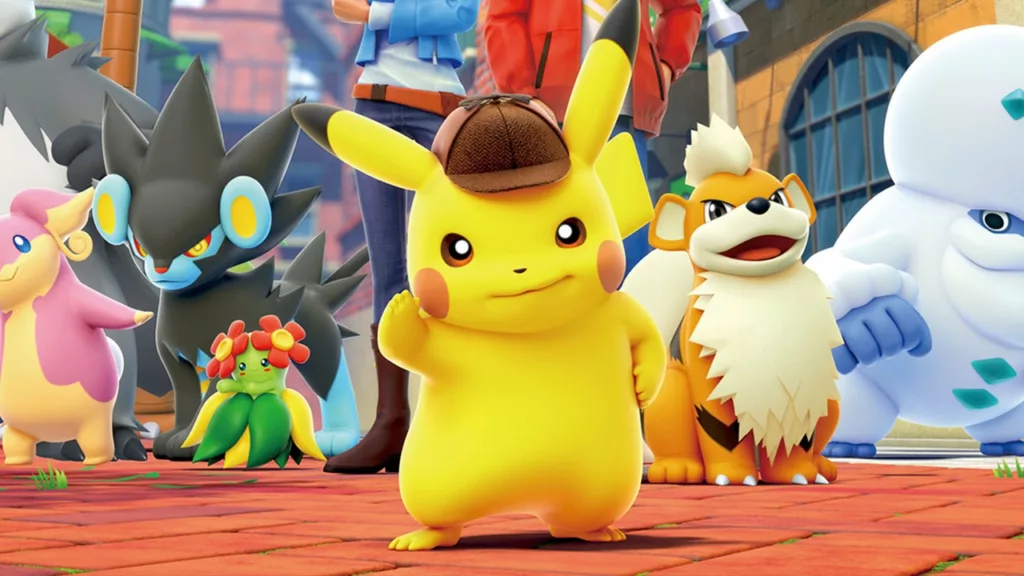 Searching environments also yields critical clues, from documents and objects found in crime scenes to audio recordings and other traces of evidence. You'll comb through locations like mansions, parks, and city streets looking for anything that might be relevant. The game uses a fixed camera perspective, so you'll move an on-screen magnifying glass around to zoom in on interactive areas.
Once you've gathered enough clues, you'll need to start piecing things together. Your notebook prompts you to make deductions by answering multiple choice questions based on the evidence and testimonies collected so far. There's no penalty for incorrect guesses – you can keep trying until you logic your way to the right conclusions.
For a change of pace, you'll sometimes take direct control of Pikachu. During these sections, you can call on other Pokémon pals to help with your sleuthing. Ride around on Growlithe tracking scents, use Luxray's X-ray vision to see through walls, and more. Stealth mechanics also come into play occasionally, requiring you to sneak Pikachu past adversaries.
Sprinkled throughout the story are side quests ranging from helping lost Pokémon to retrieving items for neighbors. These optional activities provide a welcome distraction from the main cases. Some side quests also introduce short minigames or quick-time events to add variety. While streamlined for younger audiences, the gameplay offers a diverse blend of mystery-solving fun. The investigations are easy enough for kids yet still reasonably engaging for adults along for the ride.
An Exciting Detective Story
As a direct follow-up to the first game, Detective Pikachu Returns wastes no time diving back into the overarching storylines. Top of the list is the ongoing search for Tim's missing father and Pikachu's former partner, Harry Goodman. Their investigation into his disappearance is what kicked off the events of the previous title.
The sequel picks up with Tim and Pikachu's fame around Ryme City after helping maintain harmony between humans and Pokémon. But it's not long before a new mystery presents itself – the theft of a valuable jewel from a local mansion. While starting as a routine case, it quickly becomes clear this jewel theft connects to larger sinister happenings beneath Ryme City's surface.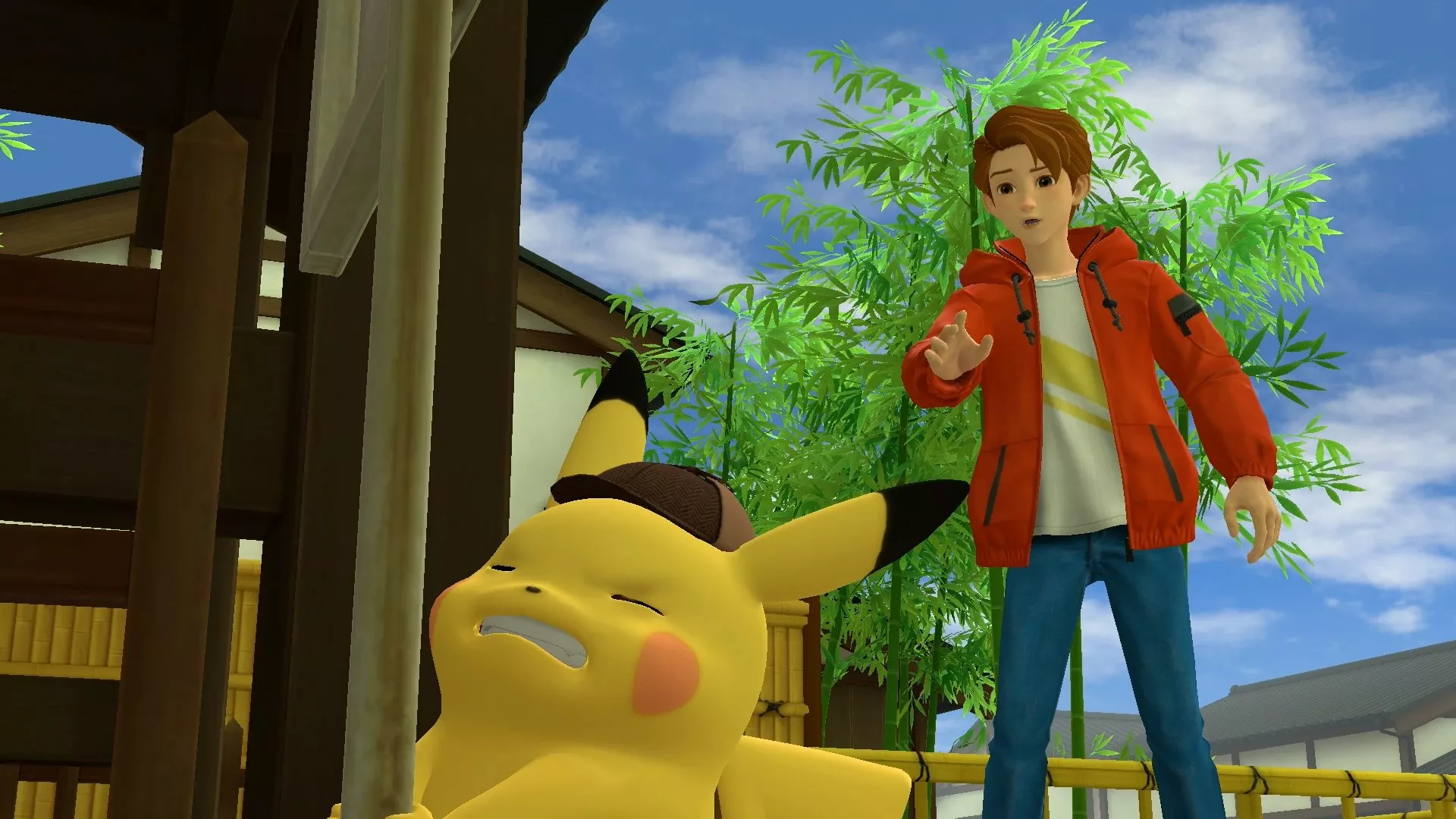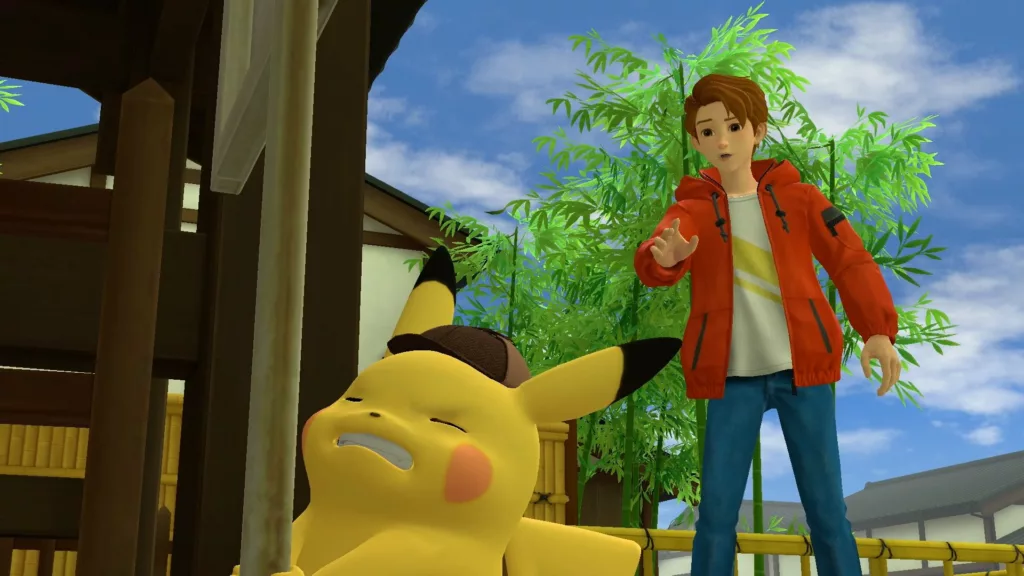 Before our heroes can get to the bottom of the bigger conspiracy at play, they'll need to solve a series of smaller, self-contained mysteries. These mini-investigations range from melting unusual amounts of ice to sneaking into blocked off areas around the city. Solving each puzzle provides clues that inch Tim and Pikachu closer to unraveling the overarching plot.
Without spoiling too much, the central mystery incorporates exciting twists as it explores powerful factions trying to disrupt the balance between people and Pokémon. The stakes escalate as the forces opposing our heroes grow more dangerous. While aimed primarily at younger audiences, the story offers surprising complexity and real sense of adventure.
Fans of the first game will appreciate the direct connections to the previous cliffhanger surrounding Harry Goodman's unknown fate. But newcomers can easily jump right in thanks to a handy recap at the beginning. The overall plot moves at a steady pace, never dragging on one mystery too long before transitioning fluidly to the next exciting development.
While slower to start, Detective Pikachu Returns ultimately delivers an entertaining detective plot sure to satisfy players of all ages. It blends small, accessible cases seamlessly into a grander story filled with fun surprises.
A Missed Visual Opportunity
Making the jump from 3DS to Switch understandably heightened expectations for how Detective Pikachu Returns would look. And while the graphics are certainly cleaner than the pixelated original, the visuals ultimately underwhelm.
On a technical level, the game displays in a higher native resolution and runs smoothly. But the environments and character models lack the colorful detail and expressiveness expected of a Switch title. The visual style comes across as flat and sterile, almost resembling a mobile game at times.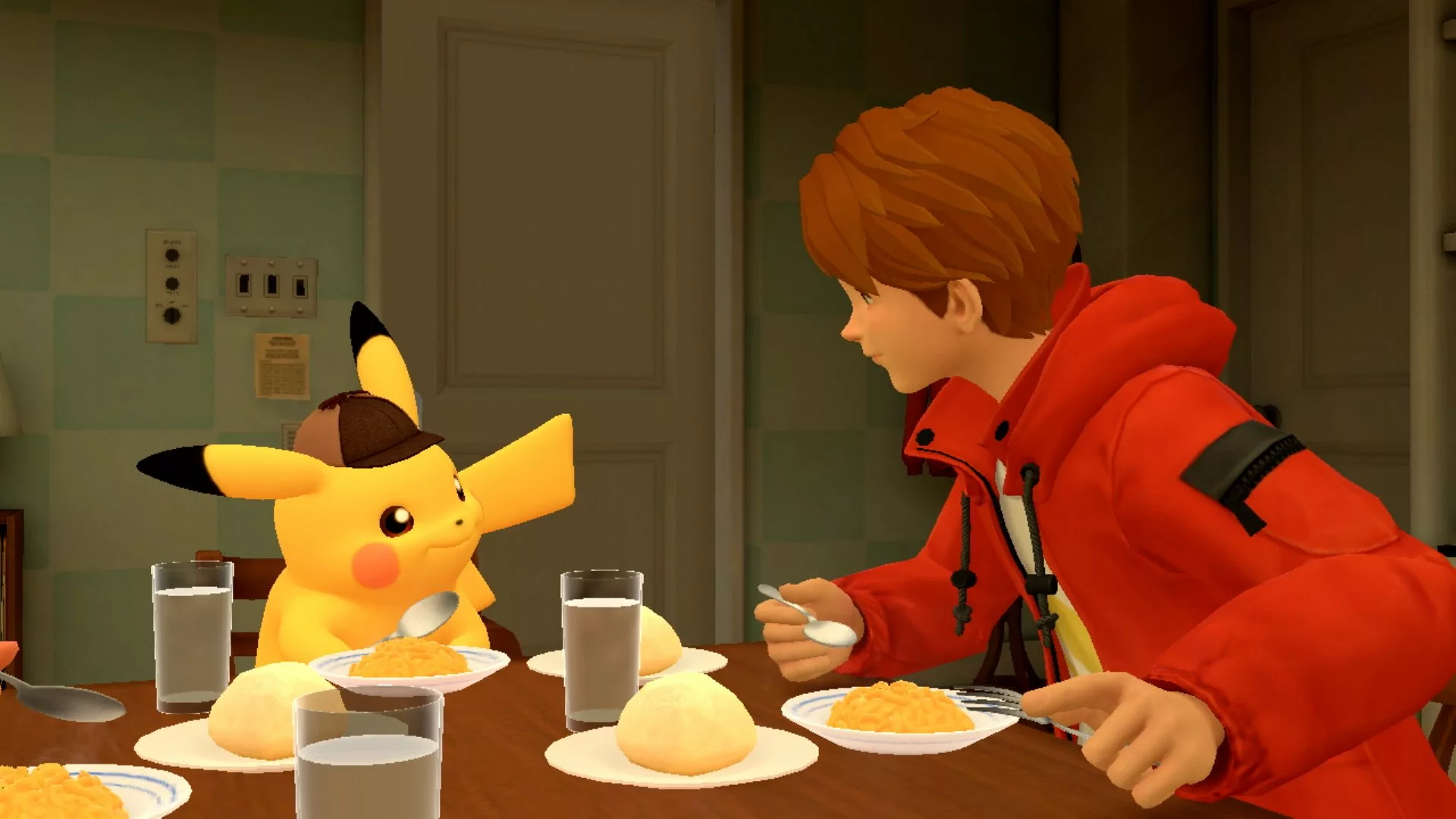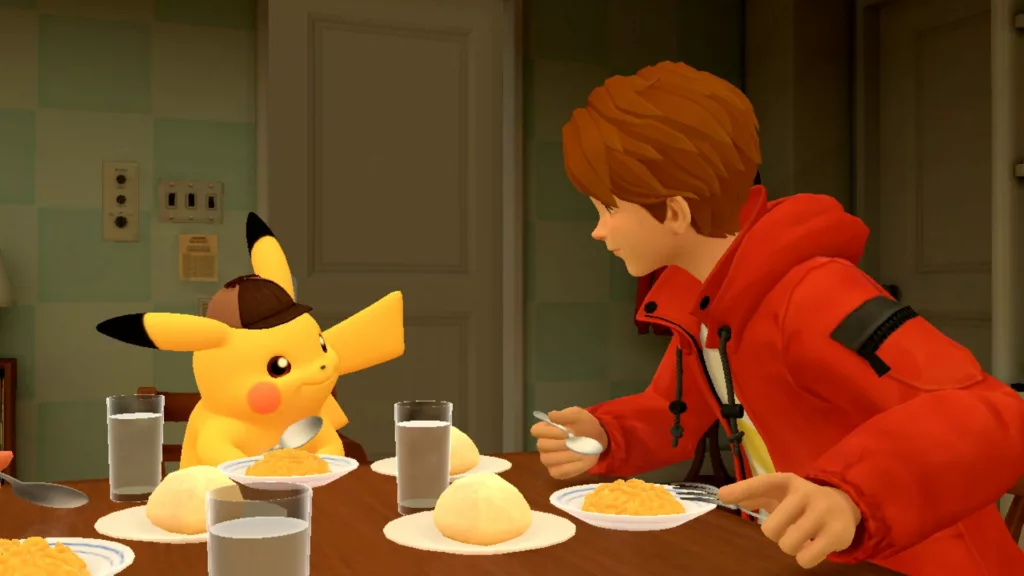 The locations you explore could have popped with personality with just a bit more environmental detail and vibrant use of color. Instead, most areas feel generic and plain. The character models are similarly muted, with rather simplistic designs and stiff animations that give conversations a somewhat lifeless quality.
We can't help but think what a difference it could have made if the game better channeled the visually rich, noir-inspired look of the live-action movie. Or took inspiration from the gorgeous environments in games like New Pokémon Snap. This feels like a missed opportunity to really showcase the jump to more powerful hardware.
On the audio front, the music and sound effects are serviceable but unremarkable. The score works well enough to set the mood during investigations and puzzles but won't stick with you once the game is off. Pokémon cries and ambient environmental audio are as you'd expect. But again, it's all just a bit flat.
In the end, while perfectly functional from a technical standpoint, Detective Pikachu Returns doesn't take full advantage of the Switch's capabilities when it comes to visuals and audio. This holds it back from being as immersive and engaging as it could have been.
Short-Lived Appeal
With a fairly brief runtime even when completing all side content, Detective Pikachu Returns unfortunately doesn't offer much incentive for replay value. Players can expect around 12 hours or so to see the credits roll, but the linearity and repetition in the game structure mean it's unlikely to be revisited often after that initial playthrough.
As a story-focused adventure aimed at a younger demographic, the straightforward mystery solving doesn't leave much room for branching narratives or alternate outcomes. Outside of the side quests, the core progression follows a set path from start to finish. This linearity, combined with a decent amount of backtracking and retreading old locations, diminishes the appeal of repeat play.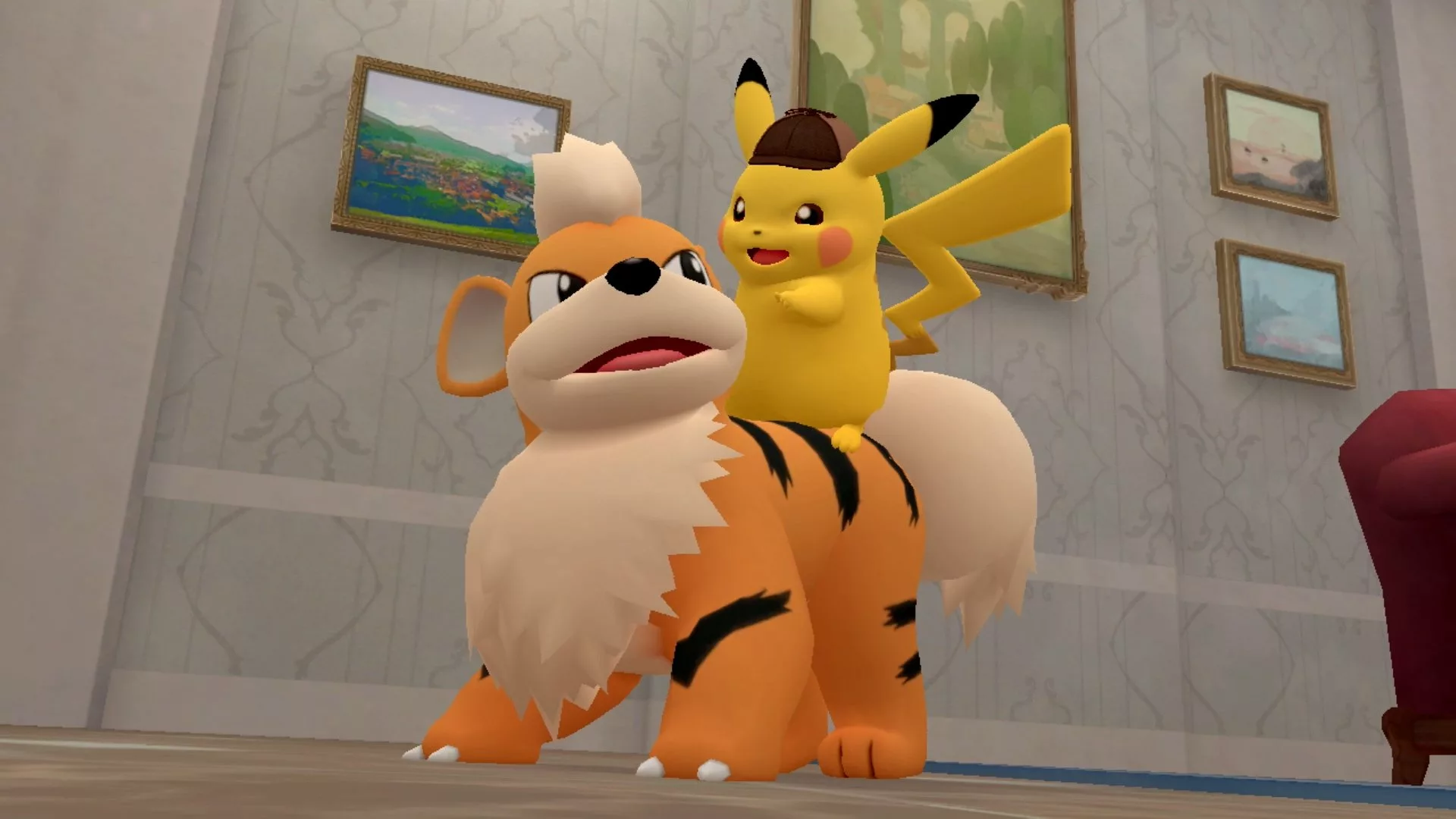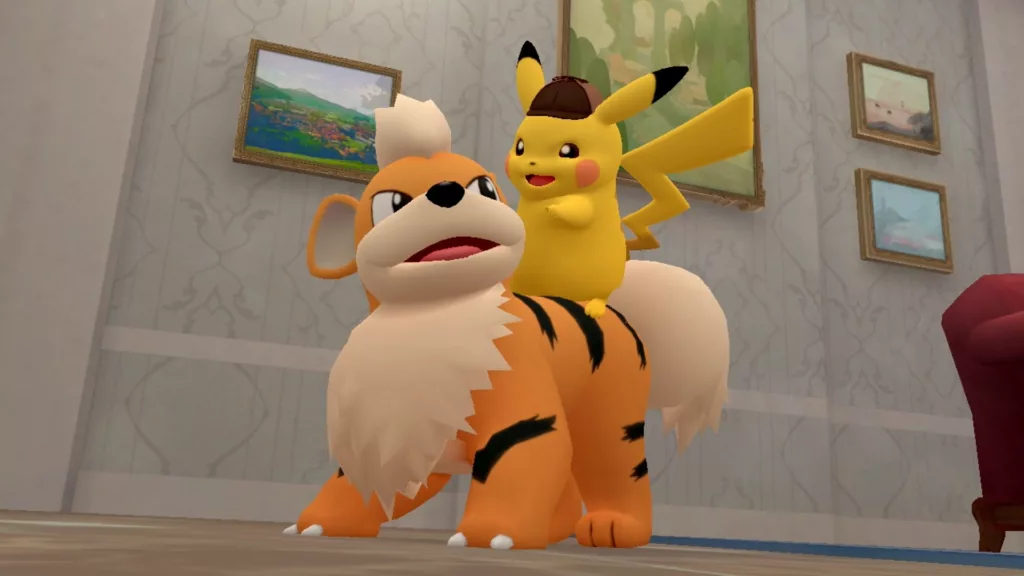 The low difficulty also caters to novice players, making the experience relatively breeze for older mystery game fans. With solutions clearly telegraphed and no real penalties for errors, there's little motivation to replay for greater challenge. The uncomplicated plot similarly means few surprises left to uncover on a second time through.
While a thoroughly charming ride for the 10-12 hours it lasts, Detective Pikachu Returns doesn't offer the depth, branching choices, or difficulty to make repeat plays rewarding. The relaxing investigative adventure is bound to delight younger gamers and Pokémon fans on their first run. But beyond that, its straightforward structure likely won't warrant revisiting after the credits roll. Those seeking more replayability may want to look to meatier mystery genre offerings.
A Case Worth Solving
In the end, Detective Pikachu Returns succeeds more often than not at delivering a charming detective adventure accessible for children but still enjoyable for their nostalgic elders. Its greatest strengths lie in the setting, characters, and, of course, Pikachu's endearing personality.
The core mystery-solving formula remains fairly simple, clearly aimed at younger audiences. But it's woven together competently enough to maintain engagement through the 10-12 hour experience. Where the game really shines is in leveraging its Pokémon elements to appeal to franchise fans of all ages. Getting to explore the world amongst so many classic Pokémon, with Pikachu himself stealing every scene, creates a uniquely light-hearted atmosphere.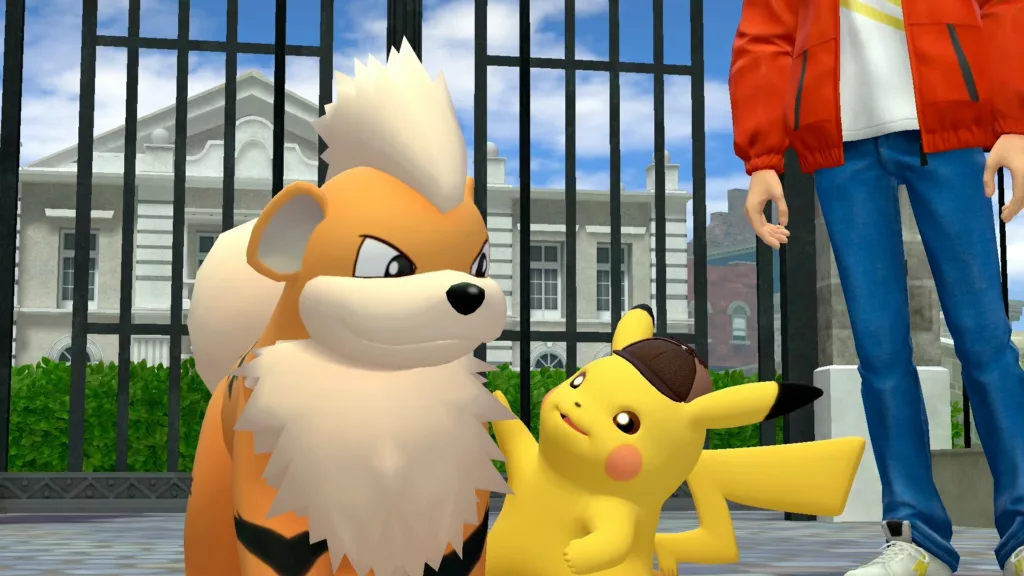 Adults accompanying younger players are sure to crack smiles at the plucky Pikachu's antics and quips throughout the journey. The writing offers plenty of humor to balance out repetitious tasks or easy puzzles. While certainly not the most challenging mystery game, it finds ways to entertain across generations.
There's no doubt the gameplay and visuals could have been pushed further to take full advantage of the Switch hardware. Lackluster graphics and repetitive retreading hold the game back from reaching its full potential. Yet these limitations seem a fair trade-off considering how skillfully Detective Pikachu Returns balances accessibility for kids with surprising wit for parents along for the ride.
For Pokémon fans eager to see their favorite creatures in a new light, or parents looking for an easygoing adventure to play through with their budding detectives, this sequel makes for a fun family-friendly romp. The wise-cracking Pikachu helps cement it as a case worth solving for trainers old and new.
The Review
Detective Pikachu Returns
Despite some repetitive gameplay and visual shortcomings, Detective Pikachu Returns succeeds as an endearing all-ages adventure that leverages the Pokémon world to entertain across generations. The charming characters, humor, and mysteries make for a lighthearted detective romp suitable for kids, while still offering enough excitement and laughs for accompanying adults. For franchise fans or parents seeking an accessible, family-friendly game night, it's a case worth cracking.
PROS
Charming cast of characters led by entertaining Pikachu
Fun, lighthearted take on the Pokemon world
Engaging mystery plot with surprising twists
Accessible gameplay for younger audiences
Plenty of humor and wit to delight adults too
CONS
Repetitive tasks and backtracking during investigations
Environments and graphics lack detail and color
Fairly easy difficulty, limited replay value
Core mystery formula a bit too straightforward
Could have better optimized gameplay for Switch