For over 50 years, James Bond has enthralled audiences on the silver screen with his high-stakes espionage adventures. Starting with Dr. No in 1962, the dapper MI6 agent known as 007 has been played by six different actors over 26 films, spanning across generations. Watching the James Bond movies in order showcases how this iconic franchise has adapted to changing times while keeping core elements like action, intrigue, humor and style that define Bond.
This comprehensive guide will go through the saga in chronological order, from Sean Connery's debut to Daniel Craig's emotional farewell in No Time To Die. We'll journey through the various eras, characters and actors while providing overviews of each essential film. Whether you're a longtime Bond fan or just discovering these classic spy thrillers, this release order timeline will help you experience the complete 007 cinematic story from the early days battling Cold War villains to modern takes steeped in complex storytelling.
Strap in for a shaken, not stirred trip through over 50 years of cinema history. Let's start at the beginning and go through every James Bond movie in order of release date to see how this enduring franchise has evolved through the decades while keeping its essential espionage excitement intact all these years.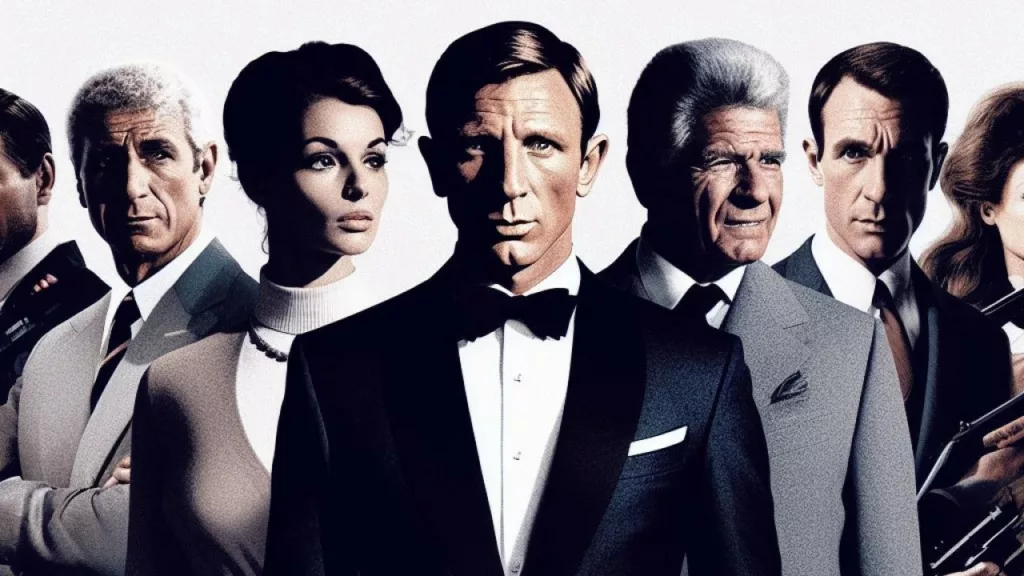 Decoding 007: A Guide to James Bond Movie Viewing Orders
With over 50 years of films, watching the James Bond movies in order can be a daunting task. Do you go by release date, chronological order, or grouping by the actor playing 007? Here's a quick guide to the pros and cons of each approach:
Watch James Bond Movies by Release Order
This is the order the Bond films were released in theaters, starting with 1962's Dr. No starring Sean Connery all the way up to 2021's No Time To Die starring Daniel Craig.
Pros:
Goes through the evolution of the franchise decade by decade
Allows you to see how each new actor put their spin on Bond
Builds up recurring characters like Blofeld and Spectre organically
Cons:
Can be jarring going from gritty, modern Daniel Craig films back to campy Roger Moore entries
Story connections between films are loose at best
Watch James Bond Movies by Chronological Order
This watches the films in the timeline order of when they are set rather than release date. For example, Connery's final Eon film Diamonds Are Forever (1971) comes after George Lazenby's On Her Majesty's Secret Service (1969) since it's set later.
Pros:
Events unfold linearly in Bond's career
Closer to Ian Fleming's original novels timeline
Allows you to see a continuity in Bond's relationships
Cons:
Can be confusing to track the actual timeline
Drastic visual shifts between decades stand out
Watch James Bond Movies by By Actor
Viewing the films by the actor playing Bond keeps their respective eras intact. Watch all Sean Connery films first, then Lazenby, Moore, etc.
Pros:
Gives you a sense of each actor's definitive Bond interpretation
Stylistic shifts are gradual within their set of films
Fun to debate whose Bond reigns supreme
Cons:
Ignores continuity between eras
Formula can become repetitive when watching an actor's run back-to-back
There's really no "right" way to watch the James Bond movies in order. It comes down to personal preference and which aspects you value most. Release order shows the films as they came out, chronological order provides story continuity, and grouping by Bond actor lets you compare their portrayals. Choose the option that best fits your Bond marathon!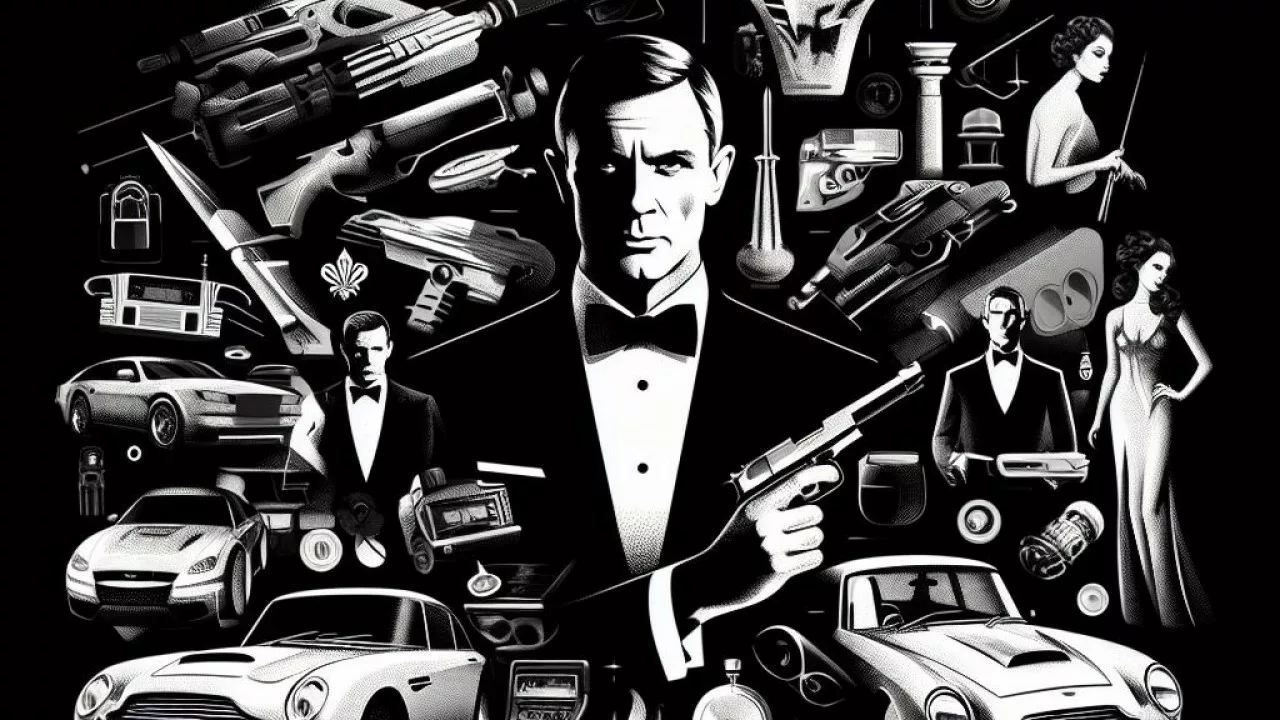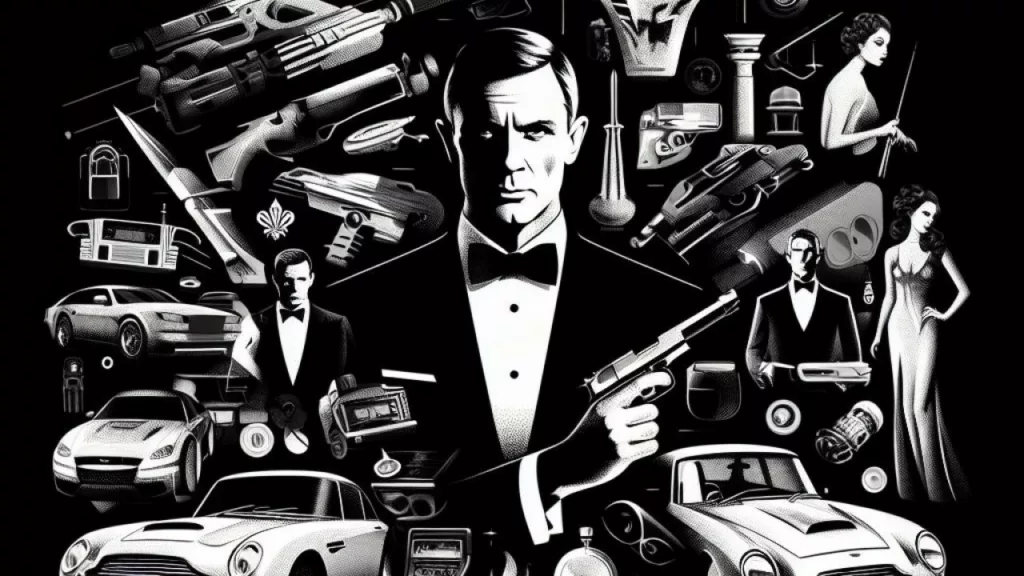 The Many Faces of 007: Breaking Down the James Bond Eras
While James Bond has always been MI6's top secret agent 007, he's been portrayed on film by six different actors over the decades. Each leading man brought their own style and persona to Ian Fleming's iconic character. Here's an overview of the various James Bond eras defined by the actor playing him:
The Sean Connery Years (1962-1967, 1971)
Scottish actor Sean Connery originated the role of Bond on the big screen in 1962's Dr. No, establishing the character's signature wit, charm, and predilection for beautiful women and gadgets. Connery played Bond in six Eon productions, including classics like Goldfinger and Thunderball. His run defined the suave yet ruthless super spy archetype. Connery stepped away after 1967's You Only Live Twice but returned for one last hurrah in 1971's Diamonds Are Forever.
The George Lazenby Era (1969)
After Connery departed, unknown Australian actor George Lazenby took over as Bond for 1969's On Her Majesty's Secret Service. While OHMSS was critically praised, Lazenby clashed with producers and declined to sign on for more films. As a result, his tenure only lasted one film where he brought a more vulnerable interpretation to Bond.
The Roger Moore Years (1973-1985)
Veteran British actor Roger Moore took the reins starting with 1973's Live and Let Die. His Bond was smoother, lighter, and more humorous than Connery's, tailored to fit the increasingly over-the-top films of the 70s and 80s like Moonraker and A View to a Kill. Moore's record 7-film run saw the spy series embrace more slapstick comedy and outrageous scenarios.
The Timothy Dalton Era (1987–1989)
British Shakespearean actor Timothy Dalton stepped in as a back-to-basics Bond in 1987's The Living Daylights, emphasizing a darker, more serious take on Fleming's spy. Dalton was praised for capturing Bond's grit but only starred in two films before exiting the role after 1989's Licence to Kill.
The Pierce Brosnan Years (1995–2002)
Irish actor Pierce Brosnan rejuvenated Bond for the 90s in 1995's GoldenEye, combining suaveness with intensity and a cheeky attitude. Brosnan incorporated contemporary sensibilities into four successful films like Tomorrow Never Dies before departing after 2002's Die Another Day. His Bond reestablished the franchise's prestige.
The Daniel Craig Era (2006–present)
In 2006, British actor Daniel Craig rebooted Bond in Casino Royale as a tough, lethal agent with a sensitive side. His five-film tenure cast Bond as a conflicted man of action shaped by his past. Flicks like Skyfall grounded Bond in gritty realism and complex characterization. Craig delivered a defining interpretation for the new millennium.
Though different actors have put distinctive spins on 007, all have honored Ian Fleming's classic character and the style, excitement, and intrigue central to the James Bond mythos. Every era has its high points thanks to how these leading men embraced playing the ultimate British secret agent.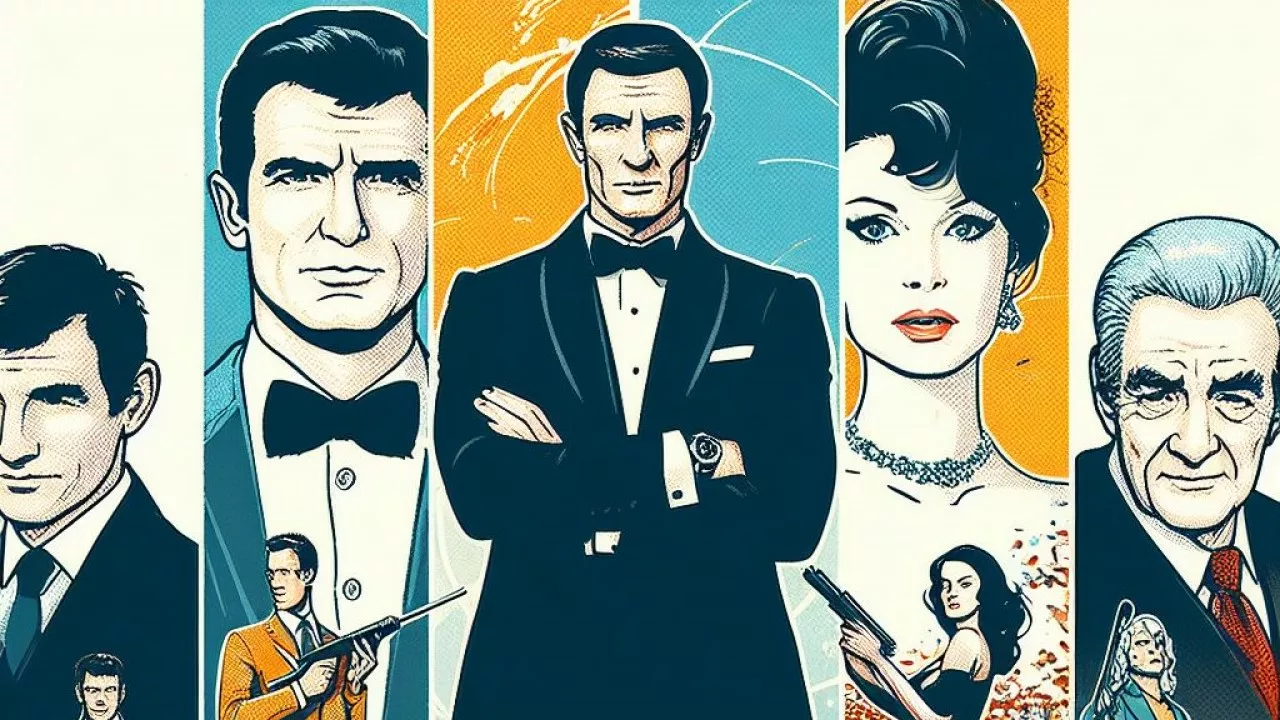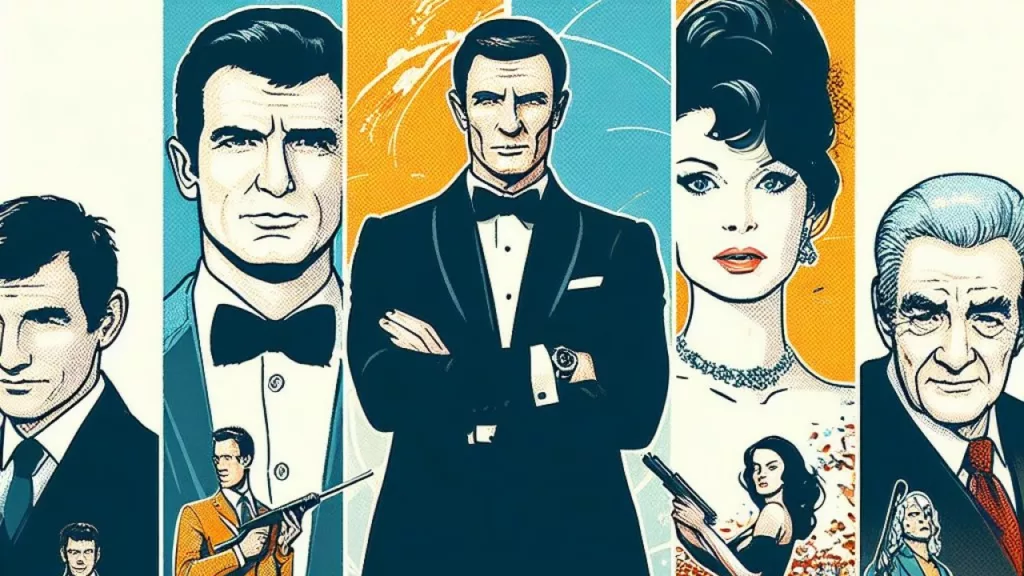 How to Watch James Bond Movies in Order?
The James Bond franchise has spanned over six decades and featured multiple leading men as MI6's greatest secret agent. While we previously discussed different options for ideal viewing orders, we'll now go through the films as they were released in theaters for a comprehensive walk through James Bond history. Beginning with Sean Connery introducing 007 in 1962's Dr. No and culminating with Daniel Craig's final outing in 2021's No Time To Die, this release order list provides a chronological timeline of the cinematic James Bond legacy.
From the early days of Cold War espionage to modern takes steeped in complex character arcs, experiencing these films in release order offers an unparalleled opportunity to appreciate the saga's complete narrative progression and cultural impact. So get ready to journey through decades of intrigue, action, gadgets, and iconic secret agents with this timeline of every James Bond movie in release order.
Dr. No (1962)
In 1962, cinema goers were introduced to a captivating new cinematic experience with "Dr. No," the very first film in the James Bond series. Portrayed with unmatched charm by Sean Connery, the dashing British secret agent, James Bond – also known by his iconic code, 007 – made his debut. This film adaptation, inspired by Ian Fleming's 1958 novel bearing the same title, unfolds as Bond embarks on a mission to Jamaica. Here, he's tasked with uncovering the mystery behind a fellow MI6 agent's disappearance.
Delving deeper into the investigation, Bond stumbles upon the secret underground base of the enigmatic Dr. No, who has sinister intentions to sabotage the US space program. With a backdrop of breathtaking exotic locations, the allure of stunning Bond women, and innovative gadgets masterminded by the brilliant Q, "Dr. No" paved the way, setting the tone and style for a series of exhilarating Bond adventures.
From Russia with Love (1963)
Building on the momentum of "Dr. No," 1963 presented the thrilling "From Russia with Love." Sean Connery, with his signature charisma, reprised his role as the renowned 007. In this installment, the malevolent criminal syndicate, SPECTRE, has Bond in its crosshairs. Their vendetta? Retribution for Bond's role in thwarting Dr. No. A tantalizing bait is set for Bond in the form of a coveted Soviet encryption device located in Istanbul.
As he gets lured into this treacherous web, Bond finds himself dodging deadly assaults, navigating perilous train escapades, and being irresistibly drawn to the enchanting Tatiana Romanova. Yet, amid these challenges, Bond senses there's a deeper, more sinister plot at play. Charged with suspense and those quintessential moments that only a Bond film can offer, "From Russia with Love" holds its ground as one of the most celebrated movies in the iconic franchise.
Goldfinger (1964)
1964's "Goldfinger" was more than just another movie; it catapulted James Bond into an unparalleled cultural sensation. Once again, Sean Connery donned the suave suit of the world's most famous spy. In this gripping narrative, Bond is pitted against the relentless antagonist, Goldfinger, brought to life by the formidable Gert Frobe. Goldfinger's audacious plan? A daring heist targeting the vast gold reserves of Fort Knox.
With Honor Blackman portraying the unforgettable Bond woman, Pussy Galore, and the introduction of the menacing henchman Oddjob, this film was destined for greatness. And who could forget the iconic Aston Martin DB5 with its myriad of spy gadgets? Traversing from the glitz of Las Vegas to the scenic horse ranches of Kentucky, Bond relentlessly pursues Goldfinger. Epitomizing what fans have come to love and expect from a James Bond spectacle, "Goldfinger" remains a timeless jewel in the Bond anthology.
Thunderball (1965)
When it's time to watch James Bond movies in order, make sure you dive deep into the underwater spectacle of "Thunderball" from 1965. Once again, Sean Connery graces the screen with his impeccable portrayal of the iconic 007. This time, the stakes are sky-high as the nefarious criminal group, SPECTRE, brazenly hijacks two potent nuclear warheads. With the fate of the world hanging in balance, Bond embarks on a thrilling chase in the sun-kissed Bahamas, where he seeks to recover these weapons of mass destruction.
On this daring mission, he encounters the mesmerizing Domino, who becomes a crucial ally against the diabolical Emilio Largo. "Thunderball" is a visual treat, boasting pioneering underwater battle sequences and jaw-dropping cinematography that captivates the audience. And, of course, Bond wouldn't be Bond without some iconic gadgets – enter the groundbreaking jetpack that left audiences in awe.
Casino Royale (1967)
Venture into the unconventional when you watch James Bond movies in order. 1967's "Casino Royale" provides a wild departure from the traditional Bond storyline. Set against the backdrop of the groovy '60s, this satirical take on the spy universe presents a kaleidoscope of actors donning the Bond mantle. Leading the pack is David Niven as the classic Bond who, somewhat reluctantly, is pulled back into the whirlwind world of espionage. Yet, this isn't a solo mission.
The film amusingly throws Peter Sellers, Woody Allen, Deborah Kerr, Orson Welles, and several other unexpected stars into the mix, each giving their own quirky rendition of "James Bond." While "Casino Royale" tries to poke fun at the spy genre with its zany humor, it somewhat stumbles in staying true to the quintessential Bond spirit. However, for ardent Bond enthusiasts, it serves as an intriguing detour worth exploring.
You Only Live Twice (1967)
If you're on a quest to watch James Bond movies in order, 1967 brings another treat with "You Only Live Twice." The magnetic Sean Connery is back in action, taking 007 to the mesmerizing landscapes of Japan. The mission? Investigate the mysterious disappearances of American and Soviet spacecrafts from orbit, a puzzle threatening global tension. Aligning himself with the astute leader of the Japanese secret service, Tiger Tanaka, Bond delves deep into the riddle and stumbles upon the sinister Blofeld's hidden volcano base equipped with a state-of-the-art space launch center.
As Bond intriguingly masquerades, feigning amnesia and adopting the life of a Japanese fisherman, the suspense intensifies, culminating in an adrenaline-pumping finale. With its rich tapestry of foreign terrains, compelling characters, iconic adversaries, and the soulful touch of John Barry's music, "You Only Live Twice" stands tall as a testament to the timeless allure of the James Bond franchise.
On Her Majesty's Secret Service (1969)
If you're keen to watch James Bond movies in order, 1969's "On Her Majesty's Secret Service" is an absolute must-see. George Lazenby makes his mark by stepping into the legendary shoes of James Bond, delivering a performance that many regard as one of the series' highlights. Taking a step back from his official duties at MI6 to hunt down the infamous Blofeld, Bond finds himself drawn into a passionate affair with the charming Tracy di Vicenzo, the offspring of a powerful mob leader.
The love story takes a twist as Bond and Tracy exchange vows. However, wedded bliss is short-lived as Bond dives headfirst into espionage again, this time penetrating the heart of Blofeld's covert allergy clinic nestled in the snowy Swiss Alps. From high-octane ski pursuits to battles on perilous mountain ridges, this film serves a dose of adrenaline-fueled Bond adventure. Daringly, the movie culminates with a heart-wrenching climax that forever alters Bond's life, making it a standout in the franchise.
Diamonds Are Forever (1971)
For fans eager to watch James Bond movies in order, "Diamonds Are Forever" in 1971 marked the celebrated return of Sean Connery as 007, following George Lazenby's singular venture into the role. The story propels Bond into the dazzling world of diamond smuggling. His investigation swiftly leads him to the bright lights of Las Vegas. In this iconic city, Bond reconnects with the crafty smuggler, Tiffany Case, and finds himself at odds with the intriguingly wealthy Willard Whyte.
Along his journey, Bond also locks horns with the sinister duo, Mr. Wint and Mr. Kidd. From encounters with powerful oil magnates to unexpected run-ins with circus talents and thrilling moon expeditions, Bond's journey is as diverse as it is thrilling. While "Diamonds Are Forever" might not be universally recognized for its narrative prowess, it's undoubtedly packed with the quintessential Bond charisma and action.
Live and Let Die (1973)
For those setting out to watch James Bond movies in order, 1973 brought forth a fresh face with Roger Moore redefining 007 for the 1970s in "Live and Let Die." Bond's newest assignment delves into the mysterious deaths of three fellow MI6 agents. This intriguing mission takes Bond from the bustling streets of Harlem to the rhythm-filled vibes of New Orleans.
Here, he unravels the complex web of a colossal drug trafficking operation, orchestrated by the menacing Mr. Big. Elevating the film's appeal is the unforgettable title track by Paul McCartney and Wings, which remains iconic to this day. From breathtaking chases across crocodile-infested bayous to other gripping action sequences, "Live and Let Die" marked the beginning of an exhilarating era for our favorite spy. Notably, the film also introduced Yvonne Shima, who made cinematic history as the pioneering Black Bond girl.
The Man with the Golden Gun (1974)
If you're on a journey to watch James Bond movies in order, the 1974 entry, "The Man with the Golden Gun," is essential viewing. In his sophomore appearance as 007, Roger Moore faces off against the formidable assassin Scaramanga, brought to life by the charismatic Christopher Lee. Not just any assassin, Scaramanga is known for his weapon of choice, a glimmering golden gun.
The high-stakes chase to retrieve a vanished solar energy gadget leads Bond straight to Scaramanga's lair, hidden amidst the lush landscapes of southeast Asia. Their inevitable confrontation and the electrifying duel on Scaramanga's secluded island are thrilling highlights. Moreover, fans of the series will be delighted by the return of the amusing Sheriff J.W. Pepper, further cementing this movie's place in Bond lore.
The Spy Who Loved Me (1977)
If you're eager to watch James Bond movies in order, the 1977 cinematic delight "The Spy Who Loved Me" stands out as a pinnacle of the series. Roger Moore, reprising his role as the suave 007, joins forces with the formidable Russian agent Anya Amasova, brilliantly portrayed by Barbara Bach. Their shared objective? To uncover the mystery behind vanishing submarines.
As the clues accumulate, the trail takes them to Karl Stromberg's impressive underwater base. Here, they strive to halt his audacious scheme to annihilate the world above and shape a unique underwater society. From far-reaching, picturesque locations to the debut of the iconic, metal-toothed villain Jaws, and not forgetting a car that seamlessly morphs into a submarine, "The Spy Who Loved Me" is a sumptuous feast of Bond fantasy and adventure.
Moonraker (1979)
1979's "Moonraker" takes Bond aficionados on an unparalleled journey, sending James Bond soaring into the cosmos! For fans continuing to watch James Bond movies in order, the stakes are as high as the altitude. When a space shuttle inexplicably disappears, Roger Moore's 007 unravels the nefarious agenda of Hugo Drax: a plan to obliterate Earth's populace and initiate a new civilization from his orbital space base.
Partnering with the determined CIA agent Holly Goodhead, Bond's mission sees him traversing from sunny California to the romantic waterways of Venice and deep into the heart of the Amazon rainforest. Amidst the backdrop of space, intense zero-gravity confrontations, thrilling laser gun duels, and even an amusing pigeon that manages a double-take, make their mark. Channeling the space-craze ignited by "Star Wars", "Moonraker" presents a delightful sci-fi twist to the Bond series, blending humor with classic espionage spectacle.
For Your Eyes Only (1981)
Eager to watch James Bond movies in order? The 1981 offering, "For Your Eyes Only," is a compelling turn back to traditional espionage action, especially after the cosmic escapades of "Moonraker." Once more, we see Roger Moore flawlessly embody the iconic 007. When a vital British spy vessel sinks under mysterious circumstances, it becomes crucial for Bond to swiftly secure the highly classified ATAC system aboard the ship.
This race against time thrusts him into the sun-drenched landscapes of Spain and the historical beauty of Greece. Along the way, he joins forces with the determined Melina Havelock, driven by a personal vendetta. With pulse-pounding ski pursuits, heart-stopping underwater scenes, and a Bond who leans more on his brains and less on gadgets, "For Your Eyes Only" beautifully captures the essence of classic Bond adventures and firmly stands as one of Roger Moore's crowning glories.
Octopussy (1983)
The 1983 cinematic treat, "Octopussy," continues our journey as we watch James Bond movies in order. Roger Moore brings his charisma back to the screen as the quintessential spy. This time, a 00 agent's mysterious demise pulls Bond into the heart of India. Here, he finds himself entangled in a vast smuggling scheme, orchestrated by the enigmatic figure, Octopussy.
But, as Bond delves deeper, infiltrating Octopussy's lavish floating palace, a more sinister plot unravels: a rogue Soviet general's plan to detonate a nuclear device within a US Air Force base in West Germany. From exhilarating tuk-tuk races through bustling streets to suspenseful encounters on moving trains and a dance with lethal knife-wielding foes, "Octopussy" stands as a vibrant and thrilling chapter in Roger Moore's Bond journey.
Never Say Never Again (1983)
1983 saw a unique twist in the Bond universe with "Never Say Never Again," especially for those keen to watch James Bond movies in order. While not under the banner of the official Eon Productions series, this film marked the triumphant return of Sean Connery to the role of James Bond. Essentially a refreshed take on "Thunderball," the storyline revolves around an older, wiser Bond coaxed out of retirement.
His mission? To prevent SPECTRE from using two pilfered nuclear warheads to wreak havoc. With contemporary spins on beloved "Thunderball" moments, Connery's mature yet engaging portrayal of 007, and a gripping face-off against the villainous Maximilian Largo on the sun-kissed shores of the Bahamas, "Never Say Never Again" stands as a delightful alternative glimpse into the Bond world. Notably, it gave audiences a chance to bid farewell to Connery's legendary stint as James Bond.
A View to a Kill (1985)
If you're eager to watch James Bond movies in order, don't skip "A View to a Kill," which stands as Roger Moore's thrilling finale in the role of 007. In this gripping tale, Bond unravels a devious plan when he stumbles upon a microchip manufacturer's sinister ulterior motives. This journey brings him face-to-face with the unpredictable and menacing Silicon Valley tycoon, Max Zorin, who harbors a diabolical vision to obliterate Silicon Valley.
This Bond adventure takes you on a whirlwind tour with heart-stopping chases atop the Eiffel Tower, adrenaline-fueled showdowns on the iconic Golden Gate Bridge, and a unforgettable snowboarding escape—all set to the rhythmic beats of the Beach Boys. And while Roger Moore's tenure as Bond showcased signs of age by this time, "A View to a Kill" ensured he bowed out with a bang.
The Living Daylights (1987)
As you continue to watch James Bond movies in order, 1987 heralds a fresh era with "The Living Daylights," introducing audiences to a rejuvenated 007 in the form of Timothy Dalton. In this action-packed narrative, Bond finds himself aiding the KGB in a high-stakes defection of a general to the West. But as layers peel back, a more complex web of arms dealing and Russian duplicity emerges.
Dalton's Bond shuns the over-the-top gadgetry, favoring instead the essence of espionage and raw intrigue. From the vast landscapes of Afghanistan to the streets of Czechoslovakia, "The Living Daylights" offers a gripping reboot, plunging deep into Cold War dynamics.
Licence to Kill (1989)
Timothy Dalton's sophomore outing as Bond in "Licence to Kill" showcases a 007 like you've never seen before. Consumed by revenge, Bond takes matters into his own hands, pursuing the dangerous drug kingpin responsible for brutally harming his dear friend, Felix Leiter. As Bond's journey takes him to the heart of Central America, he finds an ally in the daring CIA pilot, Pam Bouvier.
Together, they strategize to dismantle Franz Sanchez's sprawling drug empire. Featuring meticulously choreographed stunts, edge-of-your-seat action, and a more relentless Bond, "Licence to Kill" reimagined 007 for contemporary audiences. Despite initial lukewarm receptions, modern viewers have come to appreciate Dalton's audacious portrayal of the iconic spy.
GoldenEye (1995)
If you're on a mission to watch James Bond movies in order, the 1995 sensation, "GoldenEye," is unmissable. After a brief hiatus, the world saw the iconic spy burst back onto the silver screen, and this time, Pierce Brosnan donned the signature tuxedo. In a twist of fate, Bond finds himself squared off against Alec Trevelyan, a former MI6 colleague, who's morphed into a menacing cyberterrorist with control over a powerful satellite weapon.
But there's more at stake; Bond needs to halt Trevelyan's ambition to empty the Bank of England's coffers. With a modern edge for the 90s, "GoldenEye" boasts thrilling scenes like the epic tank pursuit amidst the historic backdrop of St. Petersburg and a pulse-pounding face-off at a Cuban satellite facility. The film stands as a testament that James Bond's allure remains timeless.
Tomorrow Never Dies (1997)
Diving deeper into the James Bond cinematic journey, 1997's "Tomorrow Never Dies" showcases Pierce Brosnan reprising his role with flair. This chapter pits Bond against a cunning media magnate with a sinister motive: manipulate global events to skyrocket news ratings. Aided by the tenacious Chinese agent, Wai Lin, Bond races against time to halt the launch of a hijacked British naval warhead that could trigger global chaos.
"Tomorrow Never Dies" is packed with cinematic gems – from a jaw-dropping car sequence in a multi-storey parking structure to an electrifying showdown on the sly Elliott Carver's stealth vessel. It's the epitome of grand Bond spectacle.
The World is Not Enough (1999)
As you continue to watch James Bond movies in order, 1999's "The World is Not Enough" serves as a tantalizing cocktail of intrigue and action. Bond, once again masterfully played by Pierce Brosnan, is handed the duty to shield an oil magnate's daughter following a perplexing assassination. However, the waters muddy as Bond finds himself ensnared in Elektra King's web, simultaneously battling the unhinged anarchist, Renard, who harbors a deadly ambition against a vital oil conduit.
Journeying from the bustling streets of Azerbaijan, through the picturesque alleys of Istanbul, to the rugged terrains of Scotland, Bond's quest is a globe-trotting thrill ride. The film is made even richer with Sophie Marceau and Robert Carlyle stepping into the shoes of cunning adversaries. Bond's mission in this installment isn't just about duty; it's deeply personal.
Die Another Day (2002)
When you choose to watch James Bond movies in order, you'll find the exhilarating "Die Another Day" marking the end of Pierce Brosnan's captivating reign as the famed spy. The narrative plunges into Bond's harrowing ordeal of being captive in North Korea for over a year. But freedom doesn't spell respite for 007. He rapidly finds himself globe-trotting from the vibrant streets of Cuba to the bustling metropolis of London, the icy landscapes of Iceland, and the dynamic vibes of South Korea.
His mission? To expose the devious alliance between the terrorist Zao and the affluent Gustav Graves, who is on the brink of unleashing a satellite of unimaginable destructive capacity. With a sprinkle of state-of-the-art CGI, heart-pounding action sequences, and an unforgettable appearance by pop icon Madonna, "Die Another Day" serves as an electrifying farewell to Brosnan's era.
Casino Royale (2006)
Get ready for a rejuvenated James Bond experience when you watch "Casino Royale." With the suave yet rugged Daniel Craig stepping into 007's shoes, we're reintroduced to Bond in an origin tale that traces his journey to attaining his iconic "license to kill" status. The plot centers around a high-octane Texas hold 'em showdown in Montenegro, where Bond is pitted against the crafty money launderer, Le Chiffre.
But it's not all about poker chips and cards. Bond's world is turned upside down as he succumbs to the charms of the enigmatic Treasury agent, Vesper Lynd, only to face the sting of betrayal. Veering away from the usual flamboyance, "Casino Royale" breathes fresh life into the franchise, grounding Bond in a grittier, more real-world setting.
Quantum of Solace (2008)
If you're delving into the saga to watch James Bond movies in order, "Quantum of Solace" awaits, picking up from the emotional aftermath of "Casino Royale." Still grappling with the anguish of Vesper's deception, Daniel Craig's Bond is on a relentless quest for vengeance, setting his sights on the enigmatic Quantum organization.
From the scenic beauty of Austria to the pulsating heart of Haiti and the historic grandeur of Italy, Bond's pursuit is riddled with treachery and moral ambiguity. Even if the narrative seems a tad intricate, there's no shortage of heart-stopping action – be it the enthralling car chase that kickstarts the movie or the climactic opera-house confrontation. Serving as a follow-up to "Casino Royale," this film adds depth and layers to Bond's multifaceted character portrayal.
Skyfall (2012)
Venturing to watch James Bond movies in order? Dive deep into the mesmerizing world of "Skyfall," arguably one of Daniel Craig's most riveting portrayals of 007. The tale unravels with the formidable Silva, fueled by vendettas of yesteryears, launching a calculated assault against the heart of MI6 and its unwavering leader, M. This relentless pursuit nudges Bond to journey into the corridors of his past, bringing him back to the haunting grounds of his ancestral abode, Skyfall, setting the stage for an unforgettable showdown.
Helmed by the masterful Sam Mendes, the film beautifully blends edge-of-the-seat drama with soul-stirring character arcs, all adorned with cinematography that's nothing short of a visual delight. With Judi Dench's M emerging as a pivotal force, "Skyfall" doesn't just stand tall as a gem in the Bond saga, but also etches its mark in cinematic history, crossing the monumental $1 billion mark in global collections.
Spectre (2015)
When you continue to watch James Bond movies in order, you'll journey next to the enigmatic world of "Spectre." Here, Bond stumbles upon a secretive criminal syndicate lurking in the shadows, eerily connected to his own past demons. The adventure ignites with a blazing sequence in Mexico City, setting Bond on a trail that snakes through the ancient lanes of Rome, scales the snowy peaks of the Alps, and culminates at the nerve center of Spectre, overseen by the legendary antagonist, Blofeld.
While the plot may weave a complex web, "Spectre" elevates the cinematic experience by deeply anchoring Daniel Craig's Bond to personal ties and reintroducing beloved elements from the Bond lore. The enigmatic aura of Christoph Waltz's Blofeld combined with Lèa Seydoux's stellar portrayal of Madeleine Swann ensures the legacy lives on.
No Time to Die (2021)
For those eager to watch James Bond movies in order and witness the culmination of an era, "No Time to Die" serves as the grand curtain call for Daniel Craig's spellbinding stint as the iconic spy. As Bond embraces a life away from the espionage chaos, his tranquil retreat is interrupted by an urgent plea from an old ally, Felix from the CIA. Thrust back into the whirlwind world of intrigue, Bond finds himself on a collision course with the enigmatic Safin, brilliantly portrayed by Rami Malek, a formidable foe armed with cataclysmic bioweapons.
Crafted by the visionary Cary Fukunaga, this cinematic marvel seamlessly stitches together the narrative threads from Craig's tenure as Bond, delivering a poignant goodbye. Despite unforeseen challenges brought on by global events, "No Time to Die" stands as a testament to Craig's intricate, shade-rich depiction of Bond.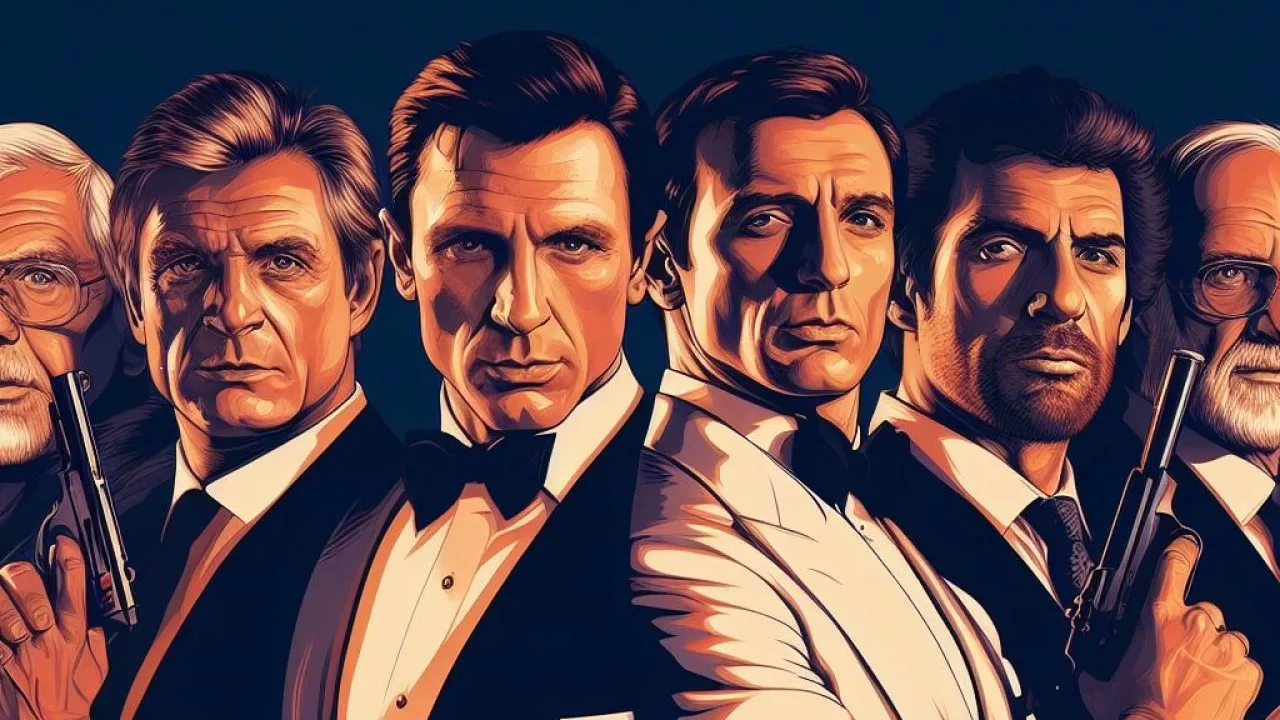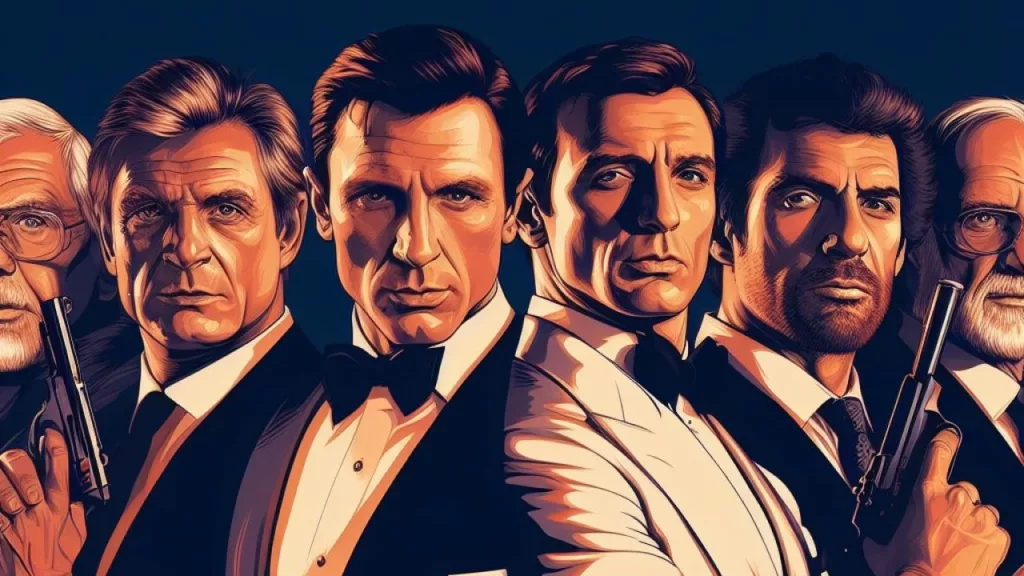 Where to Watch: Streaming and Accessing James Bond Movies
With 25 official James Bond films spanning from 1962 to 2021, it can be difficult to track down where to watch your favorite 007 adventures. Here are some of the best options for streaming or accessing the Bond catalog whether you want to rent, buy, or subscribe:
Streaming on Demand
Most of the Bond films are available to rent or purchase on major on-demand platforms like Amazon Prime Video, Vudu, YouTube, Google Play and iTunes. Prices are usually between $3-$5 to rent and $10-$15 to buy per title. The newest Daniel Craig outings like No Time To Die and Spectre are higher. This lets you cherry-pick the specific Bond movies you want to watch.
DVD/Blu-Ray
Of course, you can always buy physical copies of the Bond films on DVD or Blu-ray. Prices range from as low as $5 for older titles up to $25 for newer entries and box sets. The complete Bond 50-year collection is available in both DVD and Blu-ray sets, presenting all 25 films in one sleek package. Individual decades like the "Roger Moore Collection" are also for sale if you just want to purchase a particular Bond actor's run.
Streaming Subscriptions
Most streaming services have at least some Bond movies in their libraries. Amazon Prime subscribers can currently watch 19 Bond films including classics like Dr. No, Diamonds Are Forever, The Man with the Golden Gun, and Licence to Kill. Hulu has 10 titles at the moment such as Goldfinger, The Spy Who Loved Me, and GoldenEye. And Netflix has 7 Bond flicks including Casino Royale, Quantum of Solace, and The World is Not Enough. Subscribing can be the most cost-effective option if you want unlimited access.
Cable/TV
Of course, James Bond movies regularly air on cable networks like TNT, TBS, Epix, and BBC America. Keep an eye on weekly schedules and set your DVRs to record 007 films and come back to your own curated collection. Services like DIRECTV also let you buy or rent Bond titles on demand just like the streaming services above.
Whether you prefer physical media, streaming, cable, or on-demand, there are now more ways than ever to access decades of James Bond movies spanning six different eras and interpretations. As new distribution deals keep shaking up where you can watch, any 007 fan has options to revisit these classic action thrillers.
Watching James Bond Movies in Order FAQs
What is the best order to watch the James Bond movies in?
There is no single "best" order. Release order shows the progression, while chronological order provides story continuity. Grouping by actor works too. Choose what suits your preferences.
How many official James Bond movies are there?
There are 25 films produced by Eon Productions, as well as two non-Eon films, totaling 27.
What is the difference between Eon and non-Eon Bond films?
Eon Productions has produced the main 25 Bond films. Non-Eon films like 1967's Casino Royale were made by other studios.
Which actors have played James Bond?
The six Bond actors are Sean Connery, George Lazenby, Roger Moore, Timothy Dalton, Pierce Brosnan, and Daniel Craig.
Which was the first James Bond movie made?
Dr. No (1962) starring Sean Connery was the first Bond film produced. It began the official Eon Productions series.
Which is the latest James Bond movie in release order?
No Time To Die (2021) starring Daniel Craig is the most recent Bond film and Craig's final appearance as 007.
Where can I watch the James Bond movies online?
Many Bond films are available on services like Amazon Prime Video, Netflix, Hulu, YouTube, and more. Availability varies by region.
Should I watch the James Bond movies in chronological order?
Chronological order aligns with Bond's career timeline but differs from release order. It's a valid option for coherence.
What was the first James Bond novel written?
Casino Royale, published in 1953, was the first 007 novel written by creator Ian Fleming.
How many James Bond novels did Ian Fleming write?
Fleming wrote 14 James Bond books and 2 short story collections before passing away in 1964.