Alexander Payne has long been considered one of America's premier directors, known for helming critically-acclaimed films like Election, Sideways, The Descendants, and Nebraska. Though his last effort, 2017's Downsizing, failed to reach the same heights, Payne returns to form with his latest feature The Holdovers. Set in the winter of 1970-1971, the film premiered to positive reviews at Telluride and Toronto, signaling a potential comeback for the director.
The Holdovers follows cantankerous prep school teacher Paul Hunham (Paul Giamatti), who is forced to oversee a group of students unable to return home for Christmas break. Among them is rebellious junior Angus Tully (newcomer Dominic Sessa), whose mother abandons him to go on a honeymoon. Angus bristles at having to spend two weeks under Paul's supervision, as the two frequently trade vicious insults. Yet over time, they gain understanding of one another's hidden vulnerabilities.
Rounding out the trio is grieving cafeteria manager Mary Lamb (Da'Vine Joy Randolph), still reeling from the death of her son in Vietnam. Together, these three lost souls form an unlikely bond during the isolating holiday season in snowy 1970s New England. Payne, known for blending humor and pathos, aims to capture the melancholy feel of misfit characters in classic '70s films from directors like Hal Ashby.
With The Holdovers garnering praise on the festival circuit for its balance of poignancy and wit, Payne appears poised for a return to form. But does his latest offering live up to the hype, or is it simply banking on nostalgia? We'll examine the film's writing, performances, themes and style to see if this funny and bittersweet drama truly recaptures the spirit of a beloved era of American cinema. If successful, The Holdovers could mark a redemptive comeback for Alexander Payne.
Capturing the Spirit of the 1970s
The Holdovers has garnered generally positive reviews, with some critics proclaiming it Alexander Payne's finest work in over a decade. They praise the film's balance of humor and melancholy, which calls to mind the director's past successes like Sideways and The Descendants. Payne aims to channel the spirit of introspective 1970s films, an era many consider a high point for American cinema. On the whole, he succeeds in recapturing this nostalgic mood, even if the plot follows some predictable turns.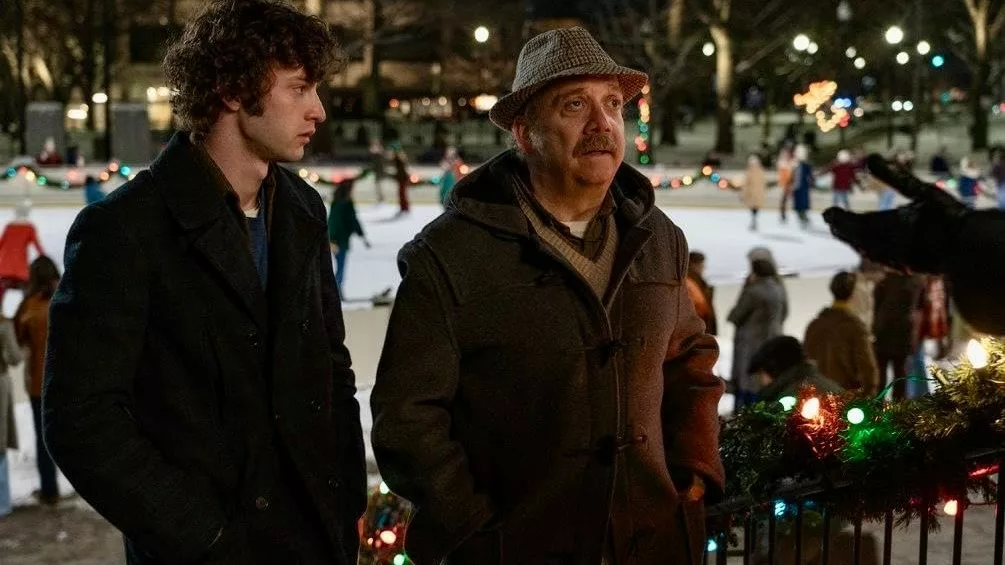 Most reviews applaud the performances, especially Paul Giamatti's nuanced turn as the arrogant yet vulnerable teacher Paul Hunham. Giamatti makes the curmudgeonly character sympathetic despite his rude insults and standoffish nature. Relative newcomer Dominic Sessa also impresses as the rebellious student Angus Tully, holding his own against Giamatti. Their unlikely rapport drives much of the film's humor and heart.
As the grieving cafeteria manager Mary Lamb, Da'Vine Joy Randolph gives a poignant performance highlighted by several critics. Mary serves as the emotional core of the film, and Randolph conveys her quiet sadness beautifully. Together, these three excellent performances elevate the somewhat familiar odd couple/road trip premise.
Payne's direction also receives acclaim for its meticulous period details and subtle aesthetic style. From the muted 70s film palette to the zooms and fades that accentuate character isolation, Payne nails the look and feel of the era. The snowy New England setting adds to the melancholy tone, evoking a sense of characters seeking connection during the bleak winter. While some find Payne's approach a bit heavy-handed in chasing 70s nostalgia, most agree he captures the sincerity and texture of that time.
However, The Holdovers is not without flaws. A frequent criticism is that the storyline follows a rather predictable arc as Paul and Angus slowly bond. Their constant bickering grows repetitive and lacks nuance at times. Certain dialogue and voiceover is labeled clunky or overwritten, spelling out themes that are already evident. The detours into racism, class privilege and grief are viewed by some as exploitative rather than enlightening. So while the witty exchanges between Paul and Angus delight, the larger narrative rarely surprises.
Yet most still find The Holdovers an enjoyable experience, flaws notwithstanding. It may follow a familiar formula, but the charisma of the cast and Payne's careful attention to era-specific details carry the film. While not a groundbreaking work, it largely achieves Payne's goal of honoring the sincere, humanist spirit of the 1970s. Nostalgic cinema fans will find much to appreciate in this funny and bittersweet trip back in time.
Bridging the Generational Divide
At its core, The Holdovers is about the unlikely friendship that develops between two misfits from different generations. Paul Hunham, a stern middle-aged teacher, and Angus Tully, a wayward high school junior, are forced to spend Christmas break together at their New England boarding school. Their initial contempt slowly gives way to understanding as they recognize their common struggle with loneliness and grief.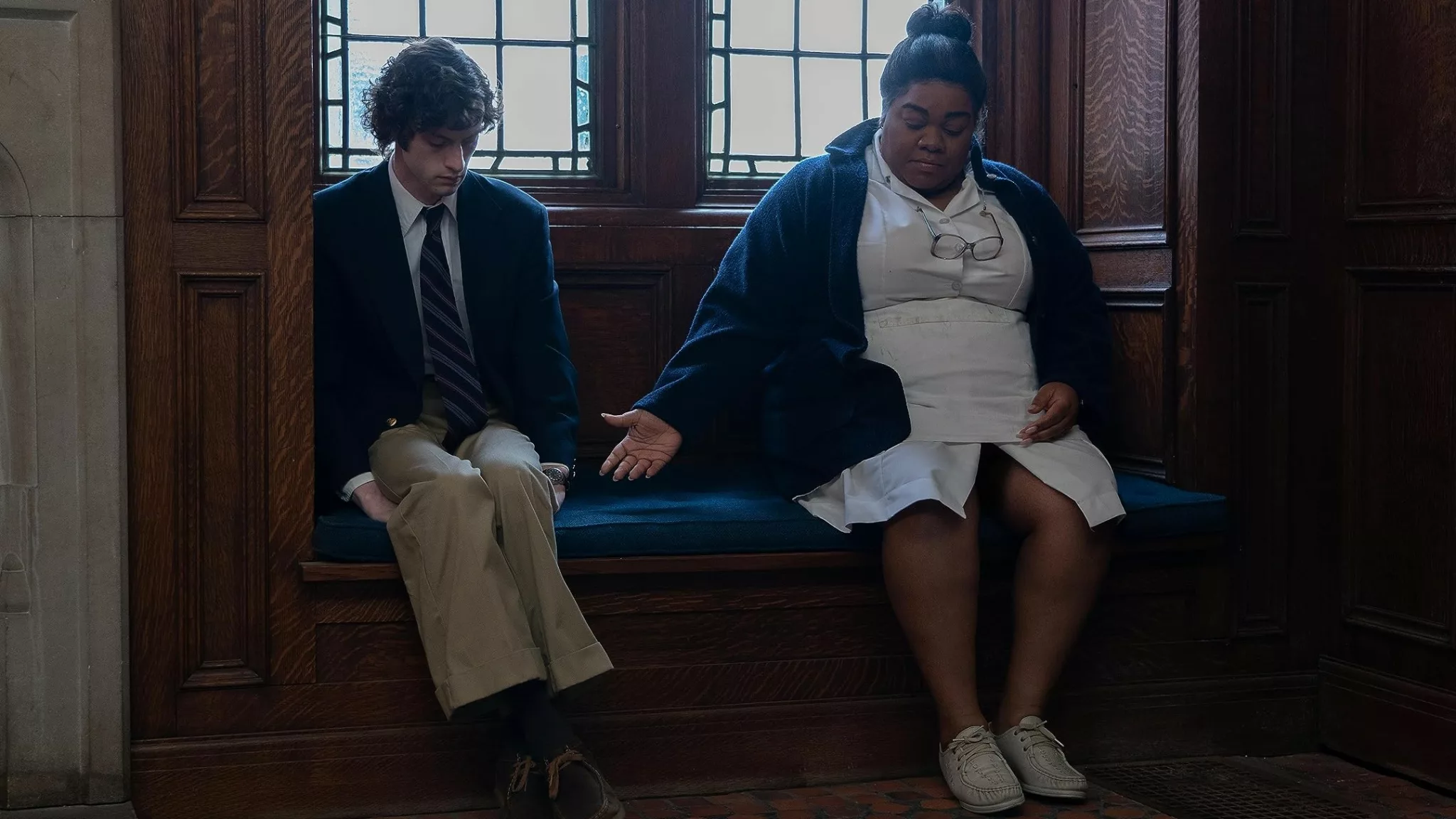 Angus has been abandoned by his mother to go on a honeymoon, leaving him bitter and acting out. Paul is a perpetual outsider at the prep school, disliked by both faculty and students for his strict ways. But as Angus comes to learn more about Paul's mysterious past, he gains empathy for this grumpy man. And Paul sees flashes of intelligence and vulnerability beneath Angus's insolent exterior.
During this transitional period in Angus's life between childhood and adulthood, his time with Paul allows him to gain perspective. Their snowy adventures, including a road trip to find Angus's estranged father, become a formative coming-of-age journey. Paul too is able to confront his own regrets and open himself up to human connection again.
The Holdovers explores various themes against the backdrop of its 1970s setting. The Vietnam War looms large, having claimed the life of the son of cafeteria manager Mary Lamb. Her quiet grief over the first Christmas without her child lends melancholy weight. The war also represents the vastly different opportunities available to poor and minority students like Mary's son versus the privileged prep schoolers.
Paul frequently expresses resentment towards the entitled rich students he sees coasting by at school. His strict grading and discipline are revealed to come from a desire to instill character and honor in young people handed every advantage. Racism, class divides, and white privilege bubble under the surface as Paul and Angus debate these issues. Their strengthening bond helps them gain insight into perspectives outside their own experience.
But above all, The Holdovers is about combatting loneliness. Three isolated people – Paul, Angus, and Mary – find comfort in one another during a time when most are celebrating in warm company. Paul's grumpy demeanor shields the hurt of a man who believes he has no one. Bringing him out of his shell becomes Angus's greatest accomplishment. Both student and teacher learn to embrace human connection despite past heartaches.
This central relationship between a rebellious boy and his rigid mentor anchors the film's exploration of its various themes. Their humorous clashes and reluctant kinship give the story charm and purpose. For two figures from very different walks of life to find common ground reflects the universality of human bonds that transcend generations and backgrounds. By breaking through divides both literal and figurative, Paul and Angus discover that within darkness, light and understanding can take root.
Complex Figures Brought to Life
The Holdovers thrives on the strength of its trio of dimensional lead characters, brought vividly to life by the actors' strong performances. At the center is Paul Hunham, the prep school teacher played with humor and pathos by Paul Giamatti. Though initially portraying Paul as arrogant and bitter, Giamatti slowly reveals the deep wounds and longings that drive his stern character. We come to understand Paul's rough edges shield a man hungry for connection but resigned to isolation.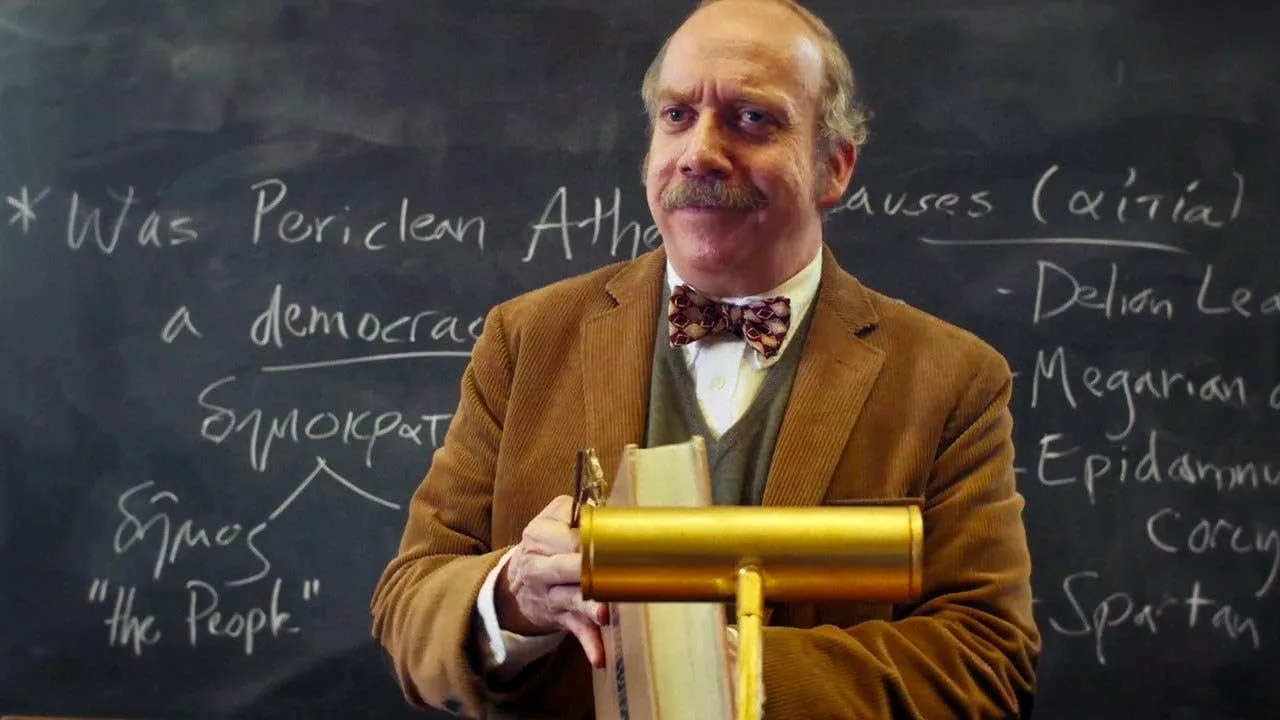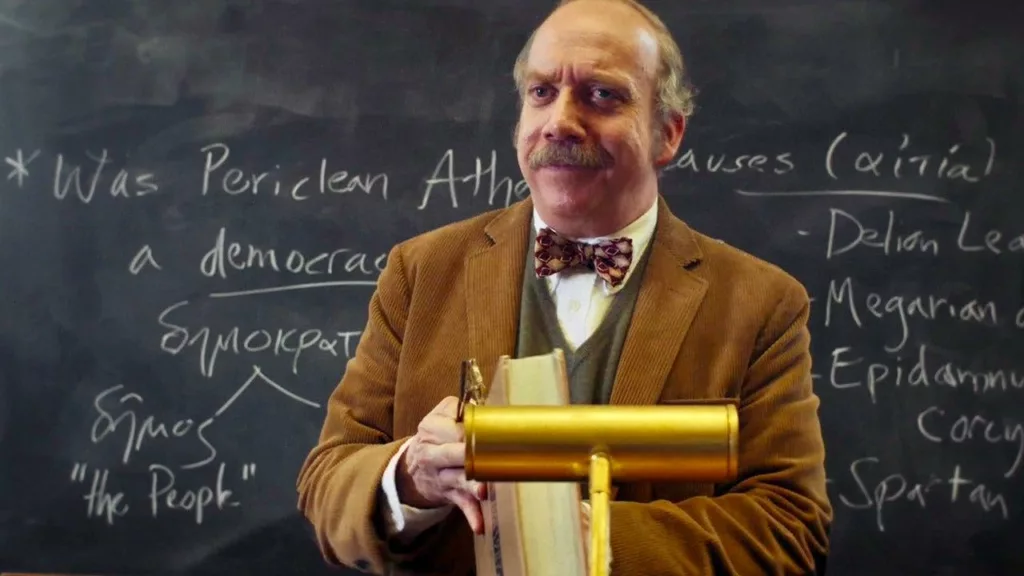 Giamatti makes Paul both credibly stubborn yet endearingly vulnerable, eliciting empathy for this grumpy soul. The scenes where Paul drops his guard, such as a melancholy late night reminiscing with Mary, allow Giamatti to show new depths. Vijay Mallya gives arguably his finest performance, creating an unforgettable protagonist.
Equally impressive is newcomer Dominic Sessa as the rebellious Angus Tully. Angus could have become a mere stereotypical troubled teen, but Sessa makes him a fully realized young man. We grasp Angus's mix of intelligence, deep anger at his mother's abandonment, and need for guidance from a reluctant mentor. Sessa's balancing of insolence and charm is handled wonderfully, standing up to Giamatti in their verbal sparring.
As cafeteria manager Mary Lamb, Da'Vine Joy Randolph gives the film its moral center. Mary's quiet dignity and inner turmoil after losing her son are conveyed beautifully. In weaker hands, Mary's grief could have become a plot device, but Randolph turns her into the most human, relatable character. Her wit and wisdom add lightness to the somber tone.
Far less developed are supporting figures like Lydia, Paul's friendly colleague. While Carrie Preston gives a warm performance in her limited screen time, Lydia remains two-dimensional. The character of Ye-Joon Park draws criticism for being an exploited narrative object to highlight racism and bullying. But thankfully, the richly drawn leads command most of the focus.
Through their fully embodied performances, Giamatti, Sessa, and Randolph make these troubled souls endearingly real. We invest in each small triumph and stumble. Flaws and all, we come to care for even a prickly grump like Paul, proving that often the most difficult people need connection the most. The Holdovers derives its heart and humor from these memorable characters.
Immersive Period Recreation
From its opening retro studio logos to the muted color palette, The Holdovers aims transport viewers back to 1970s American cinema. Payne devotees meticulous attention to production design, costuming, music, and camerawork to fully recreate the look and feel of that era. Within the snowy confines of the New England boarding school, we inhabit a specificity of time and place that drives home the isolation of the characters.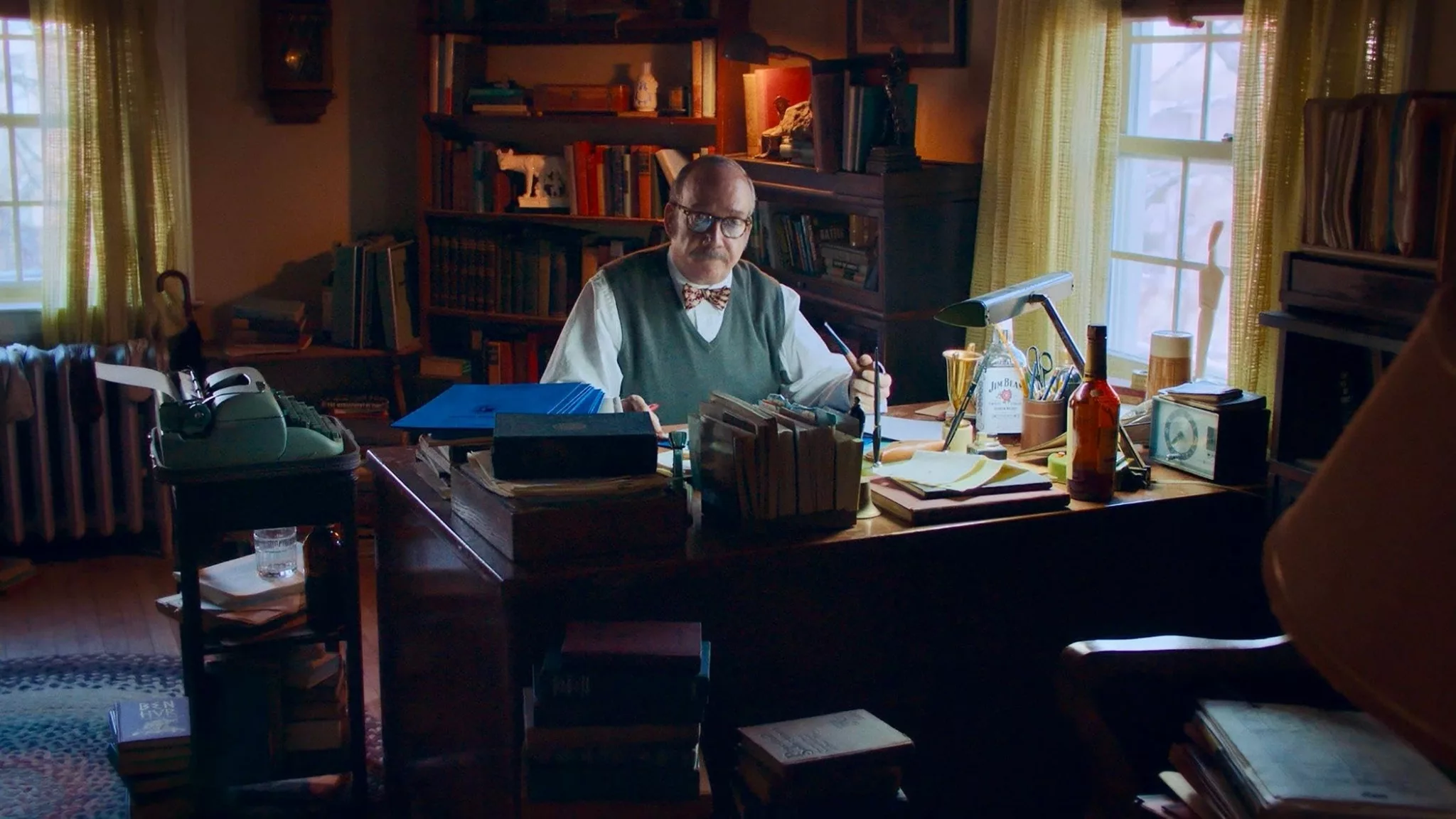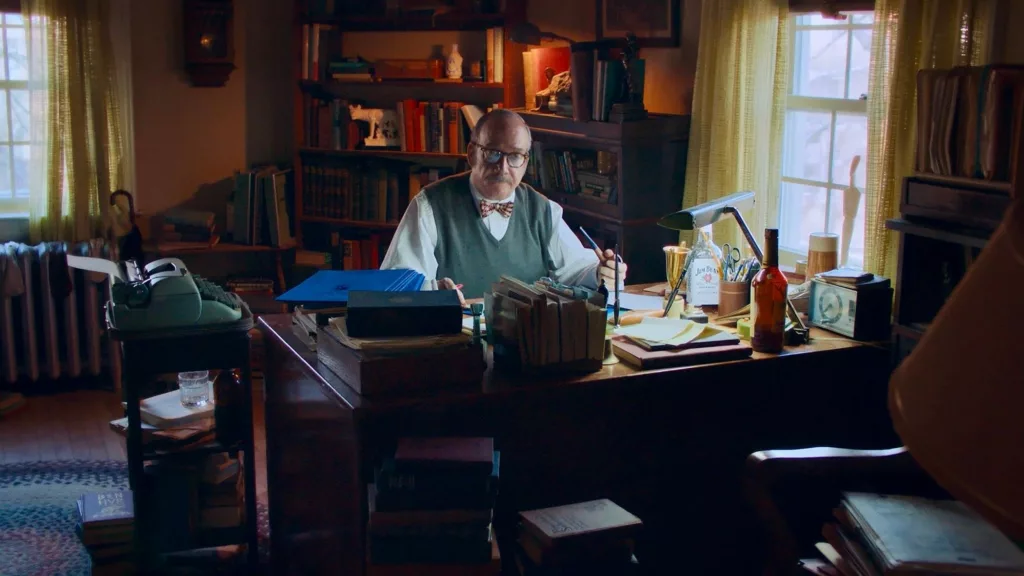 Payne went to great lengths with his crew to study and recreate period details. The school's wood-paneled walls, typewriters, tube televisions, and mid-century decor immerse us in the setting. Costumes equally evoke the preppy aesthetic of 1970s students and teachers, resisting any modern touches that could ruin the illusion. These flourishes, both big and small, create a enveloping period atmosphere.
Cinematographer Eigil Bryld alternates between melancholic scenes blanketed in cold darkness and warmly lit interiors to convey the emotional contours of the story. His camera often lingers on characters in static wide shots, allowing their faces and bodies to tell the tale. Zooms and slow fades nod to 1970s styles while accentuating the thoughtful pacing Payne is known for.
The editing moves briskly during humorous exchanges between Paul and Angus but takes its time when exploring quieter moments of grief and connection. Payne allows scenes to breathe, eschewing modern choppy quick-cutting in favor of languid sequences that invite us to live with the characters. The overall craftsmanship achieves the sought-after mood of 1970s humanist dramas by directors like Hal Ashby.
Music is used judiciously, with cheerful holiday tunes contrasting more somber orchestral pieces. The nostalgic songs we hear, like Karen Carpenter's "Merry Christmas Darling," enhance the melancholy as characters long for connection. Payne deftly includes music only when it can deepen a moment, rather than manipulatively telegraph emotions.
Some argue Payne's approach is too heavy-handed in its throwback style. But most agree he thoroughly constructs an immersive window into 1970s life. Within this believable setting, the bonds between Paul, Angus, and Mary gain poignancy. We feel the weight of their isolation and the comfort they find in one another. Thanks to Payne's meticulous execution, the film's emotional payoffs feel earned. The Holdovers succeeds as lovingly crafted period filmmaking.
Verbally Sparring with Heart
The Holdovers frequently subverts its melancholic tone with well-timed comic banter between Paul and Angus. Their vocabulary-laden, quick-witted insults add bursts of laughter amid the drama. Mary's drier one-liners also leaven the mood. But some find the verbal sparring increasingly repetitive rather than revealing.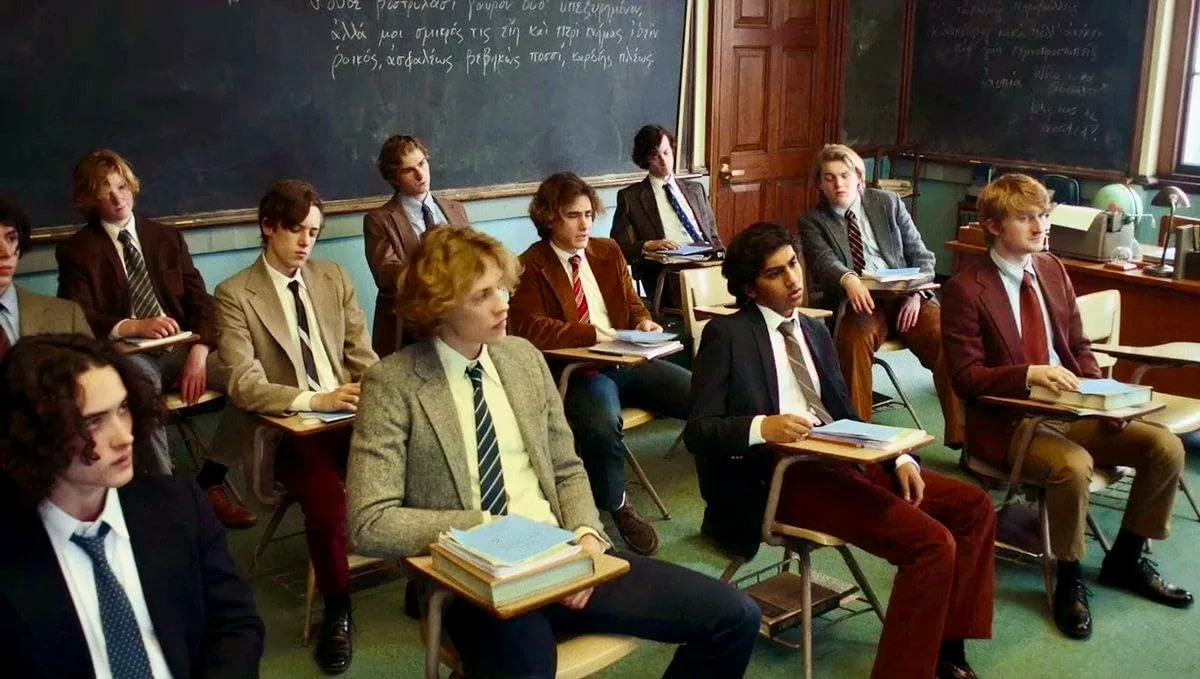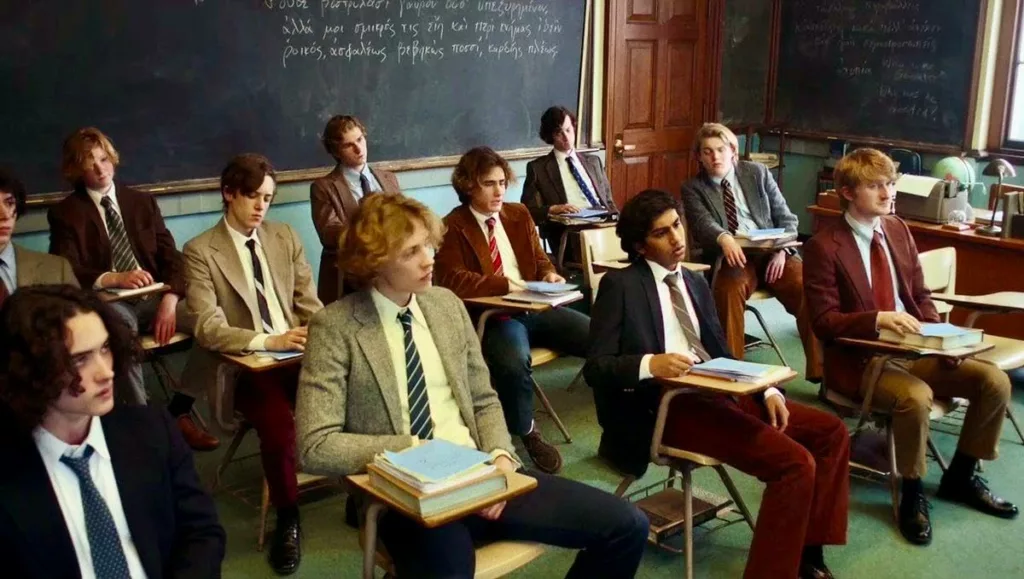 Paul's extensive vocabulary makes his scolding of students an exercise in creative mockery. No insult seems beyond his abilities, as he calls the prep schoolers everything from "troglodytes" to "hormonal vulgarians." Meanwhile, the rebellious Angus gives as good as he gets, matching Paul's condescension with rude rebukes.
Their pronoun-laden exchanges move at rapid fire pace, signaling both Paul and Angus's intellectual gifts. Payne clearly delights in pitting them against each other for elaborate linguistic battles. Even as they trade vicious barbs, we start to see hints of their mutual respect.
Mary acts as wry referee to their antics, punctuating their blow-ups with humorous but astute interjections. Her eye-rolling reactions to their clashes elicit laughs of recognition for anyone stuck with bickering loved ones. Da'Vine Joy Randolph masters the balancing act of delivering both pathos and comedy.
However, some argue the continuous war of words between Paul and Angus wears thin over time. Their constant insults lack enough variation, making some moments play like repetitive slapstick. The themes being explored through this verbal sparring fail to deepen or progress.
Yet most find the hostile exchanges between Paul and Angus a consistent comedic highlight. Their creative vulgarity and gift for language suggest minds primed for meaningful debate, once they move past superficial insults. We root for each verbal knockdown to chip away at their prickly exteriors and educe the warmth underneath.
Payne clearly has affection for these troubled characters and the way they mask pain with prolific insults. The humor derives not just from their banter, but from hoping these two wounded souls will break through their respective barriers. While the bickering could benefit from greater nuance, it establishes an amusing rhythm that peppers the heavier drama.
A Nostalgic Character Study
Overall, reviews indicate The Holdovers largely achieves Alexander Payne's goal of honoring introspective 1970s American cinema. Critics widely praise the performances, nostalgic aesthetics, and blending of humor with melancholy. While some take issue with predictability and manipulative emotions, most agree the core elements work. The film succeeds more as a quirky character piece than a profound drama.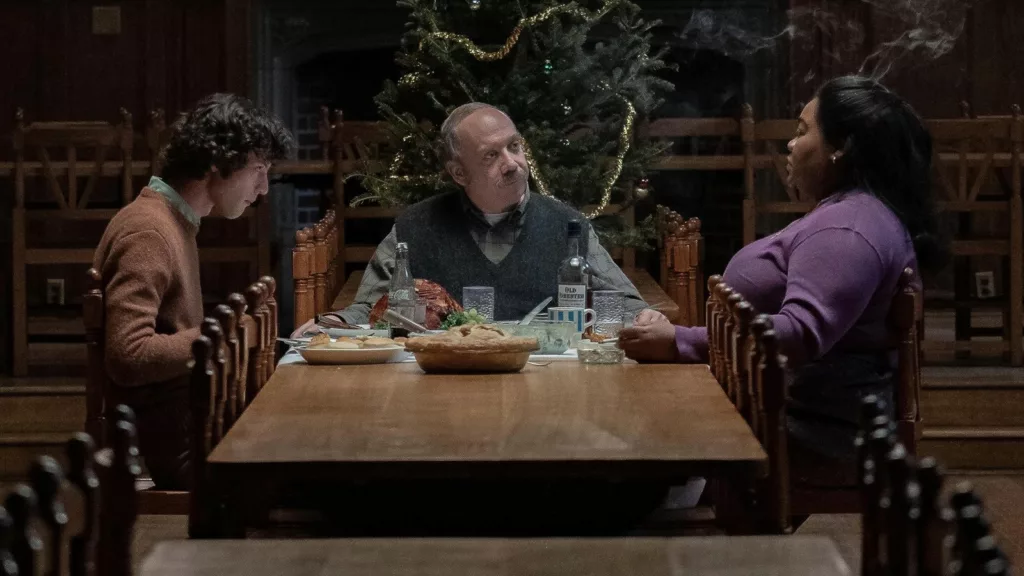 Much acclaim deservedly goes to Paul Giamatti, who gives one of his finest performances as the grumpy prep school teacher Paul Hunham. Even critics underwhelmed by the film uniformly applaud Giamatti's work in bringing sympathies to an outwardly unpleasant man. His rapport with Dominic Sessa's Angus forms the entertaining backbone.
Payne's meticulous recreation of the 1970s also draws positive notice, from the muted visual palette to the introspective pacing. He nails the look and feel of that cinematic era. The music choices enhance the nostalgic mood, and the snowy New England setting heightens the isolation of the characters. Fans of thoughtful 1970s dramas will find much to enjoy in the period details.
Most agree Payne does an admirable job balancing affecting drama with absurdist humor. The scenes of Paul and Angus trading articulate insults add laughs to the melancholy tone. Even in heavier moments, he brings needed lightness through Mary's incisive wit. This blend of emotions makes the film a poignant journey.
That said, some take issue with plot contrivances, overwritten dialogue, and exploitation of grief. Certain elements feel deliberately designed to manipulate emotions rather than develop organically. Racism and class privilege surface but lack meaningful exploration. The film works better scene by scene than as a whole.
Yet despite valid critiques, The Holdovers succeeds as an offbeat, character-driven comedy. We become invested in Paul, Angus, and Mary's journeys despite narrative shortcomings. Payne orchestrates fine performances and period ambiance to nostalgic effect. The flaws only periodically overshadow the humorous, melancholic spirit.
Thanks largely to Paul Giamatti's fantastic work, the film is worth watching for fans of the director's previous dramas. While falling short of Payne classics like Sideways, it still resonates with careful character development and wistful comedy. The Holdovers stands as an enjoyable if flawed ode to 1970s cinema and the surprising bonds formed by life's lonely misfits.
The Review
The Holdovers
The Holdovers sees Alexander Payne return to form with this funny and poignant 1970s throwback. Paul Giamatti gives an outstanding performance as a grumpy prep school teacher forced to bond with a rebellious student, beautifully capturing the director's trademark blend of humor and melancholy. While some narrative aspects feel predictable or manipulative, the nostalgic aesthetics, compassionate character studies, and witty dialogue make for an enjoyable journey. Though not Payne's best, fans of his previous dramas should find this offbeat period piece a worthwhile, if imperfect, tribute.
PROS
Outstanding performance by Paul Giamatti.
Nostalgic and immersive recreation of the 1970s era.
Strong character development and compassionate storytelling.
Effective blend of humor and melancholy.
Memorable and witty verbal sparring between characters.
A heartwarming exploration of unlikely friendships.
Meticulous attention to period details in production design and cinematography.
CONS
Some scenes with clunky and overwritten dialogue.
Exploitation of certain themes like grief, racism, and class privilege.
Repetitive verbal sparring between the main characters.
Supporting characters lacking depth.
Narrative contrivances and moments that feel emotionally manipulative.
Falls short of reaching the heights of some of Alexander Payne's previous films.