For many people, decorating the Christmas tree is a special tradition at Christmas. While some take the boxes with the long-loved Christmas decorations out of the attic on the morning of December 24, the others have long since stocked up on new baubles and pendants in current colors such as purple or ice blue.
But no matter whether you swear by trends or drape your grandmother's wooden figurines on the tree every year: those who take a few tips to heart when decorating the Christmas tree can enjoy a particularly harmonious appearance that is sure to be rewarded with many "Ahs" and "Ohs".
Decorating the Christmas tree: Quick tips
The Christmas tree is traditionally decorated on 24 December, i.e. Christmas Eve, in many countries. You can start with the fairy lights, real candles are added to the tree at the end. The following applies when decorating: do not choose too many colors, but rather harmonious nuances. Use different materials and shiny baubles to set accents.
Heavy, large baubles and pendants should be placed at the bottom of the tree, while smaller ones should be placed at the top. This will help the tree retain its typical fir tree shape. Garlands and bows are draped at the end.
When should you decorate the Christmas tree?
When the first Christmas trees are on sale, some people are already tingling in their fingers: after all, a beautifully decorated tree creates a feeling of security and a cozy atmosphere in the living room. However, when is the right time to decorate the Christmas tree? In the United States, for example, decorating trees right after Thanksgiving or at the beginning of Advent is not at all unusual. But in Europe, Christmas trees are decorated – according to tradition – only on December 24, Christmas Eve.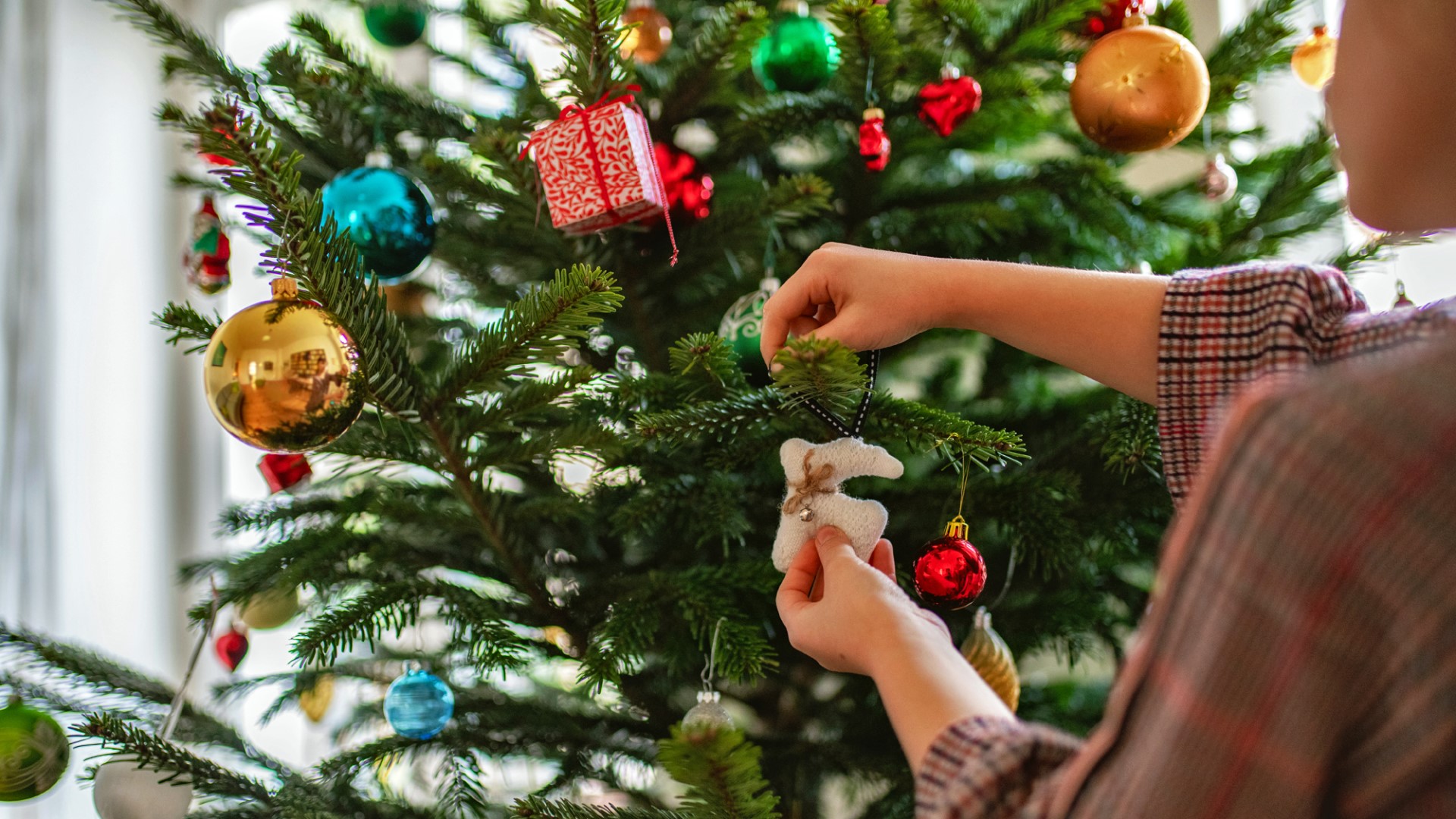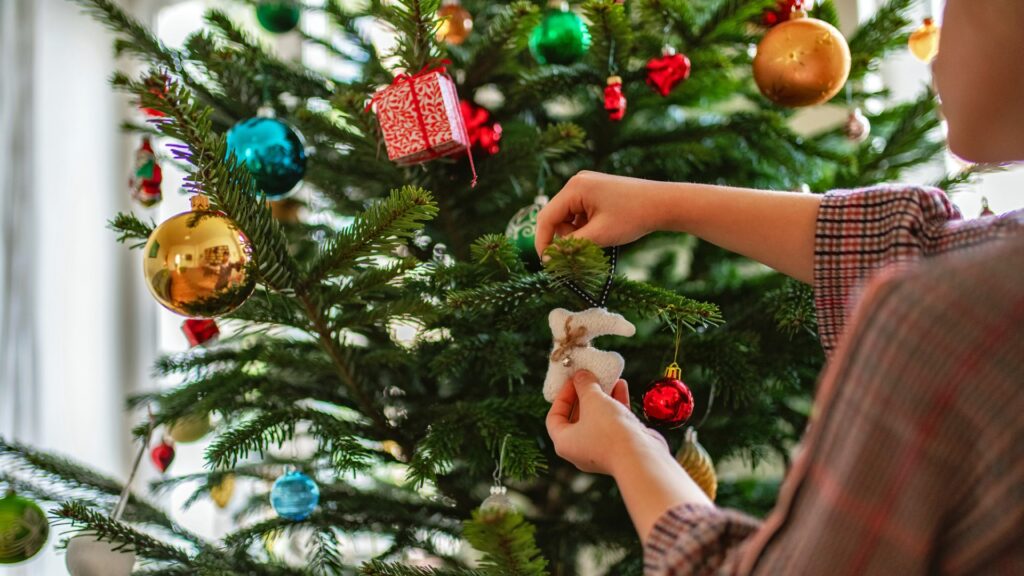 However, in the meantime you can frequently see fir trees shining in festive Christmas decorations even days or even weeks before Christmas in many countries. Many people simply want to enjoy their expensively purchased tree for longer than a couple of days. But others have practical reasons: Some need to work on Christmas Eve, while others are busy with preparing the Christmas menu. Ultimately, then, it's a matter of attitude whether you want to preserve old traditions or make your own.
A disadvantage that the early decoration of the Christmas tree can bring with it: Actually, the longer it stands in the warm, the more likely it is to dry out and lose its needles. But in order to keep your Christmas decorations from hanging on dry branches, you should try to keep your Christmas tree fresh. Among other things, storing it as cool as possible until it is put up and finally a bright, but not too warm place in the house are crucial.
How to decorate a Christmas tree? Best tips
You should set up the Christmas tree before decorating and allow it about a day to become acclimated to its final location. With the transport net removed, its branches will have time to spread naturally again.
The following applies to the decoration: be it classic in red and gold and with nostalgic pendants, playful with bright colors and funny motifs or quite elegant in black, silver or white – you are allowed what you personally like. But the warm white glow of the lights should probably not be missing from any tree.
Light for sparkling moments
To make the Christmas tree shine, many possibilities are now available: Ranging from real candles to energy-saving LED fairy lights in different designs to cordless, battery-operated candles. The best way to start decorating is with the string of lights, so you don't get the cord tangled up in the tree decorations. Using the plug as a starting point, start wrapping the cord around the tree from bottom to top so that the lights are evenly spaced.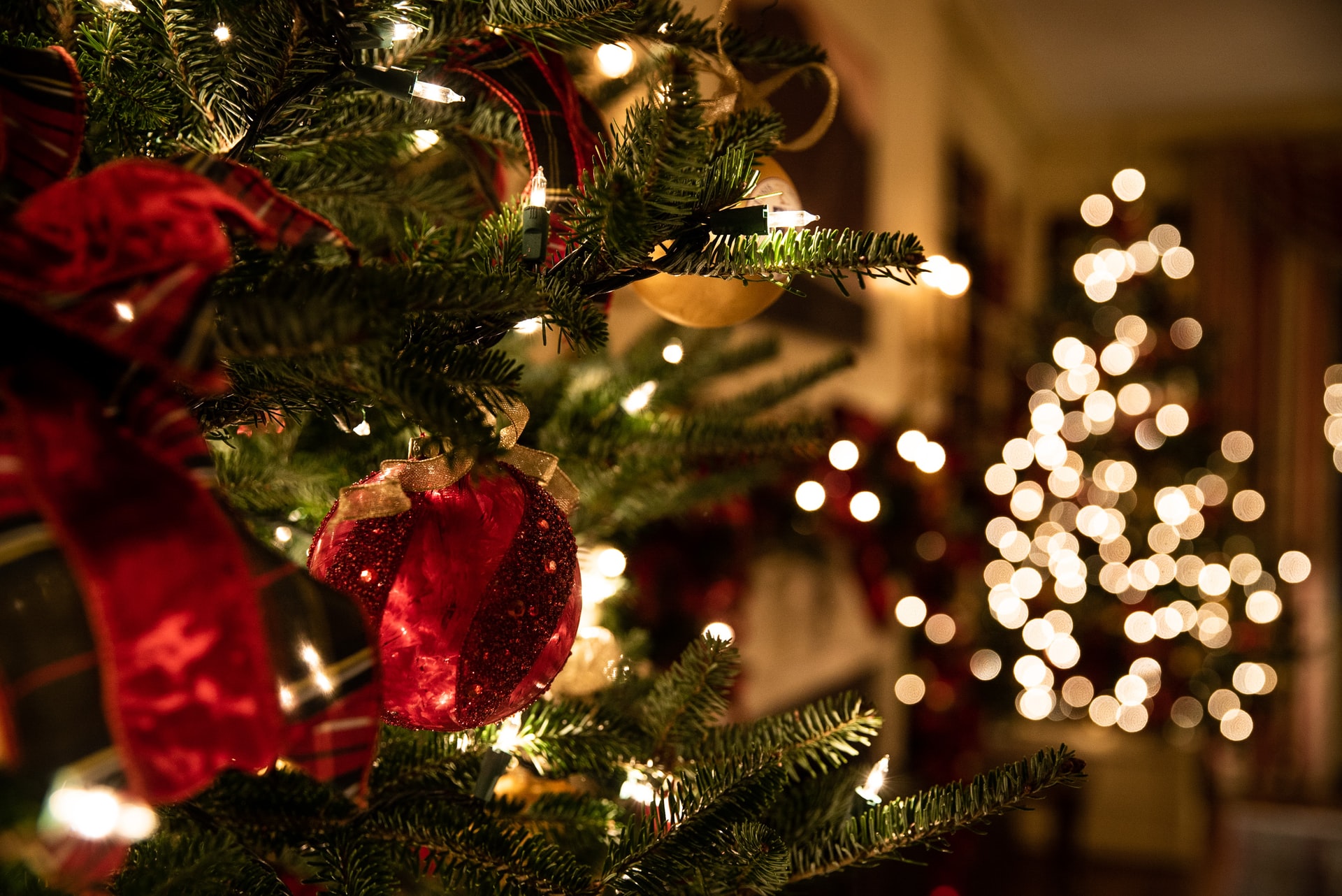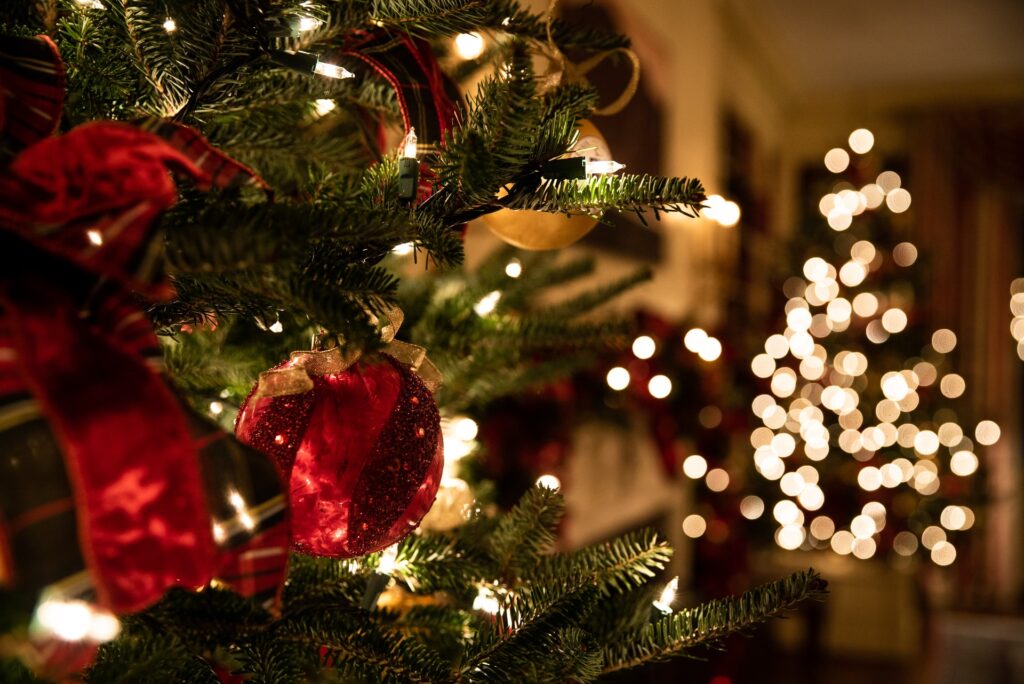 Real candles can be clipped to the outer ends of the branches – though not until the Christmas tree is fully decorated. Naturally, the choice is a matter of taste, but it's also a question of safety: wax candles on the branches are always a source of indoor fires. Nevertheless, if you don't wish to do without real candles, you should never leave them lit and unattended.
Decorating with baubles, pendants and co.
When the lights are in place, the next step is to decorate the Christmas tree. In general, you get a nice effect with baubles and pendants in different sizes and harmonizing colors. Ideally, you should consider in advance in which color family you would like to be. You may prefer different shades of pink or gradations of various shades of green?
Accents can be set with tree ornaments made of different materials. Or you can also use a bright color, shiny baubles in gold or silver, or homemade paper tags. If you decorate your Christmas tree in a more classic way, you can't go far wrong with nostalgic wooden figures and straw stars. A tip: Be sure to give your favorite pieces prominent places where they will be shown off to their best advantage.
However, it's the quantity that counts! Excess decorations can quickly make the tree look cluttered or even misshapen. As a benchmark, experts therefore advise 10 to 15 baubles per quarter meter. In addition, if the fir tree itself is already of dense-bushy stature, it can take more decoration than a somewhat lighter, more delicate little tree.
It is recommended that large or heavy pendants be hung from the lower, sturdier branches to accentuate the typical fir tree shape. Do not let them bend down under the weight. The smaller, delicate ornaments should be placed on the upper branches. Also, hang a few elements inside the tree, that is, closer to the trunk – this will provide more depth visually and a harmonious overall appearance.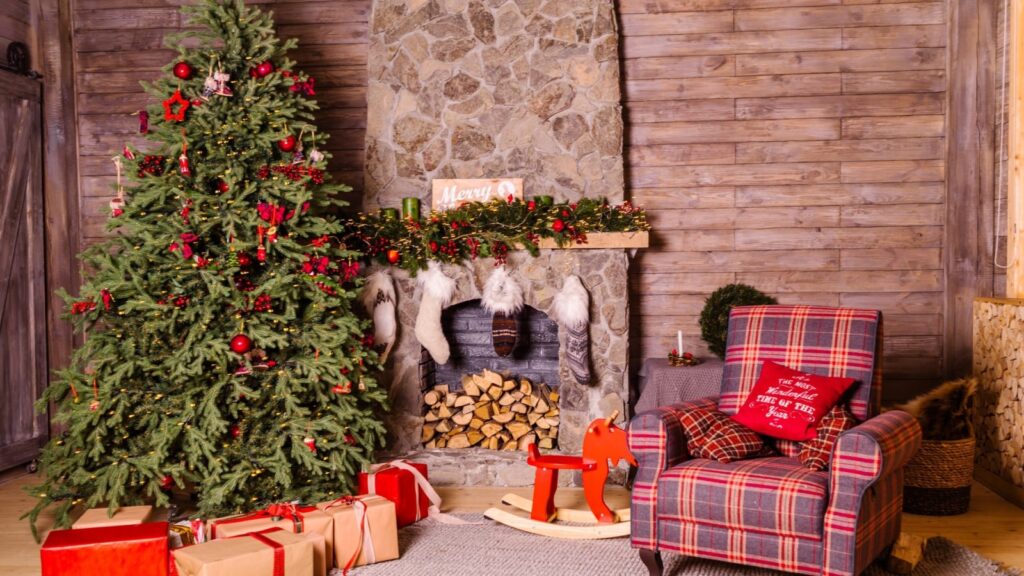 Using longer pendants such as icicles, you can also conceal possible gaps between the rows of branches. Those who still haven't had enough can then drape bows or garlands on the branches. In doing so, work from the top downwards. Those who like can decorate their tree with a classic tree top, an angel or a large star.
Tips for putting Christmas tree on balcony of terrace
Even if you would rather put up your Christmas tree on the terrace or balcony instead of in the living room, we have some basic tips for decorating it. To begin with, place the tree in a spot that is as sheltered from the wind as possible.
Next, it's best to choose decorative material that is weatherproof and has a certain dead weight. This will help you avoid getting it soaked by heavy rain on the one hand, as well as a breeze swirling everything around on the other.
Furthermore, we recommend that you choose baubles and the like made of break-resistant material, if anything does fall off. Natural tree decorations such as pine cones, white stars made of birch bark, or red wooden apples look particularly beautiful outside. As for the fairy lights, be sure to choose a model that is suitable for outdoor use.
Also Read:
Christmas tree decoration ideas
In the following, we are going to talk about some cool Christmas tree decoration ideas for you, so stay tuned!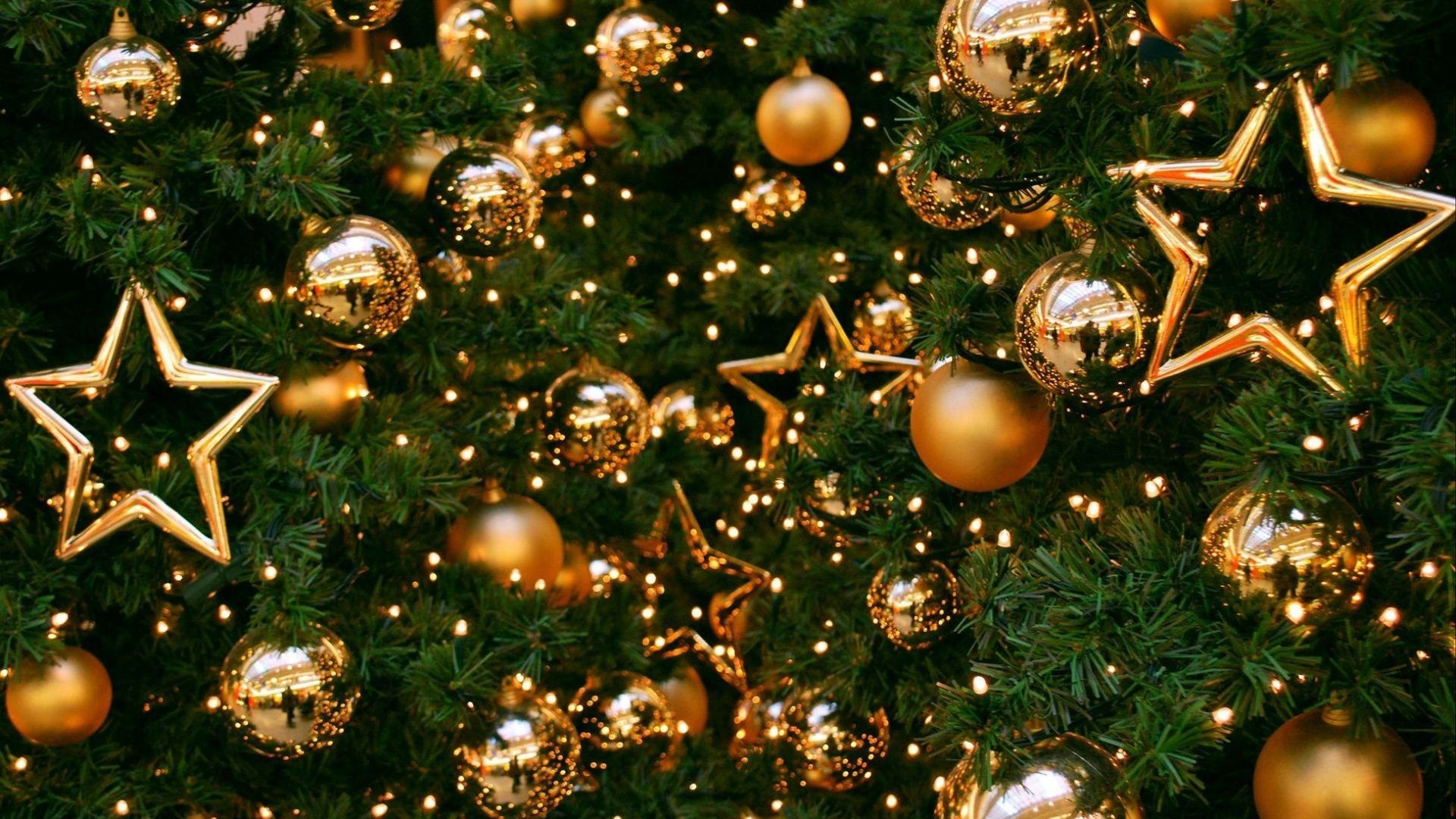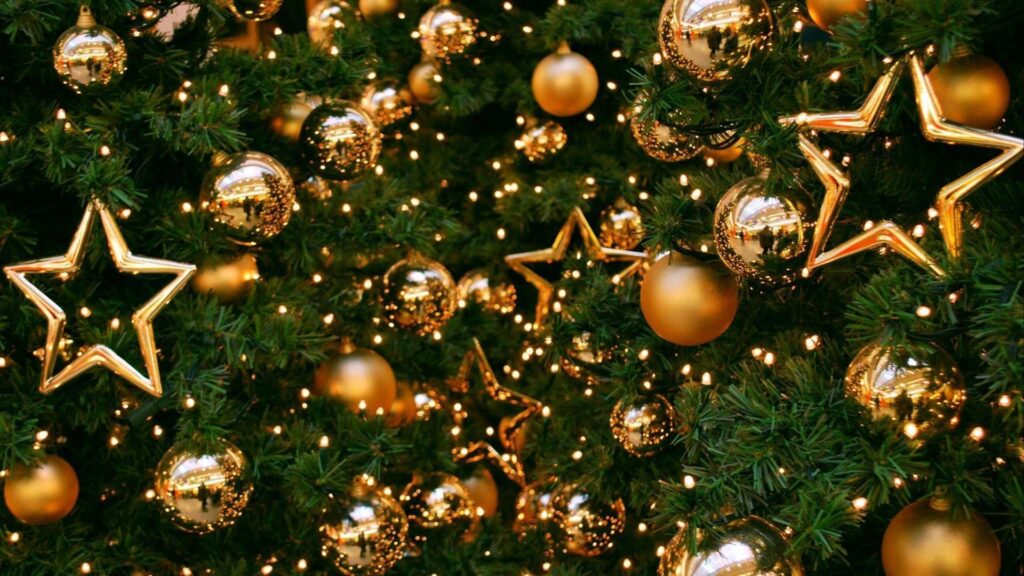 Classic
Colors like red, gold, green and silver are real Christmas classics. Not surprisingly, they stand for timelessness and tradition. To achieve a very classic look on the Christmas tree, we recommend decorating it in red and gold. Together, they have a warm, homey feel, while the combination with green is fresher. Something more modern, but also a touch cooler, but no less classic, is the combination of green, red and silver. And real candles on the tree are mandatory.
Minimalist
With minimalism making its way into our homes and apartments, it"s also making its way into decorating the Christmas tree. But do not worry, skillfully used or decorated, the minimalist style is certainly not too cool or not Christmas enough. The most important thing for a successful implementation is to rely on one color family and high-quality materials, and to avoid frills! The color families around white, silver, black and blue as well as pendants made of brass or gold are particularly popular for minimalism.
Handmade look
This is where pendants and garlands made of paper and Christmas tree decorations made of natural materials such as wood, straw or felt go on the tree. Also welcome are homemade baked goods such as gingerbread or cookies. You can hang anything you like in the tree, real candles complement the look perfectly, but they aren't a must. Also ideal are colorful fairy lights with pendants. As beautiful as it is, sometimes less is more, even with this look!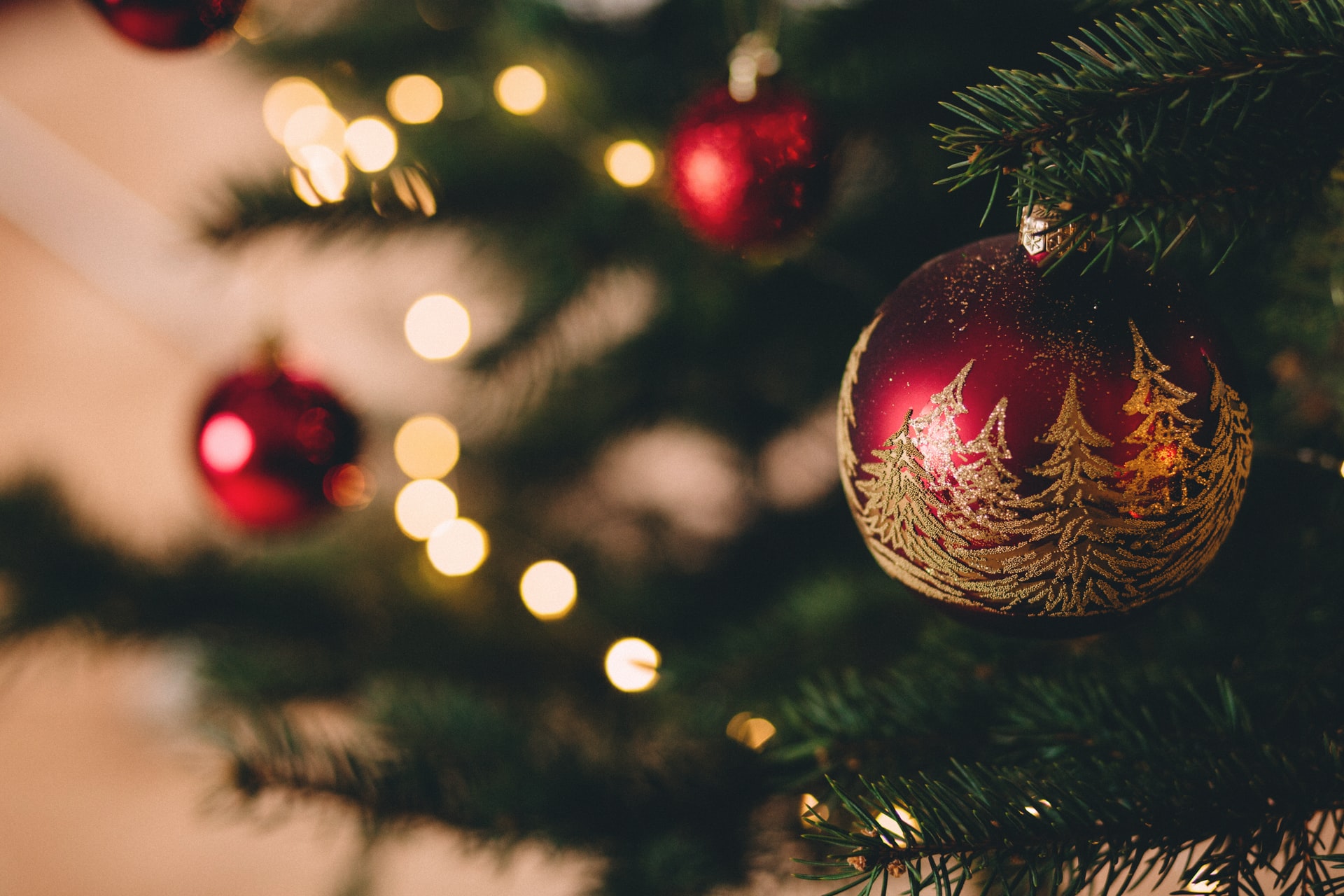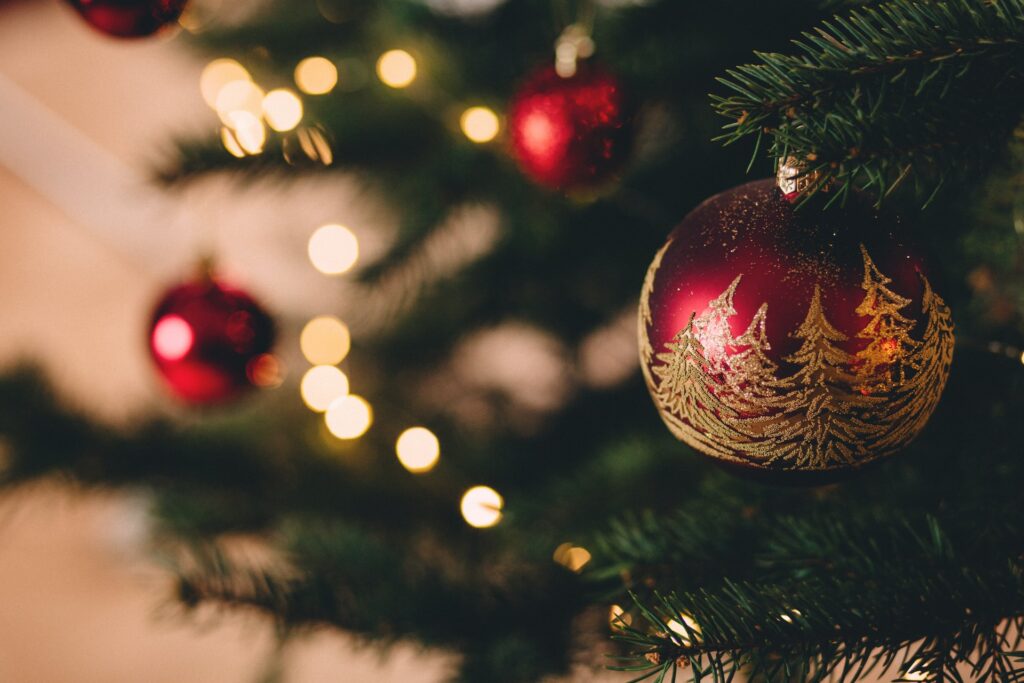 Where does the decorated Christmas tree come from?
Answering the question of how the custom actually originated is certainly one of the most interesting facts about the Christmas tree. You have to look for the origin in pagan customs, in which trees and evergreen branches symbolized health and vitality. The first decorated Christmas tree was then found in Alsace and dated back to 1521.
It slowly spread from there to the rest of the world: by 1850, the Christmas tree was available not only to the wealthy, and was introduced first by the Protestant Church as a custom at Christmas. Nowadays, the Christmas tree is an integral part of the celebration of love and decorating it is a joyful ritual for young and old.