Final Fantasy VII: Remake, released on April 10, 2021 on PS4 and later on December 16, 2021 on PC, has won over players' hearts worldwide. Its refreshing approach, which expanded the narratives of side characters and unveiled mystifying events, marked a significant shift from the original game.
Understandably, fans are on tenterhooks, awaiting its sequel – Final Fantasy VII: Rebirth. Developer Square Enix has been tactically stoking anticipation around this new addition to the franchise.
The Mystery Surrounding Final Fantasy VII: Rebirth
As of now, the exact launch date of Final Fantasy VII: Rebirth remains under wraps. However, the upcoming Summer Game Fest, scheduled for June 8, might be the platform where this closely guarded secret is finally unveiled. In the meantime, Square Enix has been dropping breadcrumbs in the form of engaging infographics on Twitter, packed with intriguing facts about the game.
One of the key points recently highlighted is that players need not have experienced Final Fantasy VII: Remake to fully appreciate Rebirth. While this detail was disclosed earlier, it remains an essential piece of information for newcomers to the franchise.
Adding to the allure, Square Enix has also revealed that Final Fantasy VII: Rebirth will grant players expansive freedom in traversing the game world. This marks a considerable shift from the predecessor, Final Fantasy VII: Remake, where the exploration scope within the city of Midgar was considerably limited due to its closed-off locations.
A Glimpse into the Future of Final Fantasy VII: Rebirth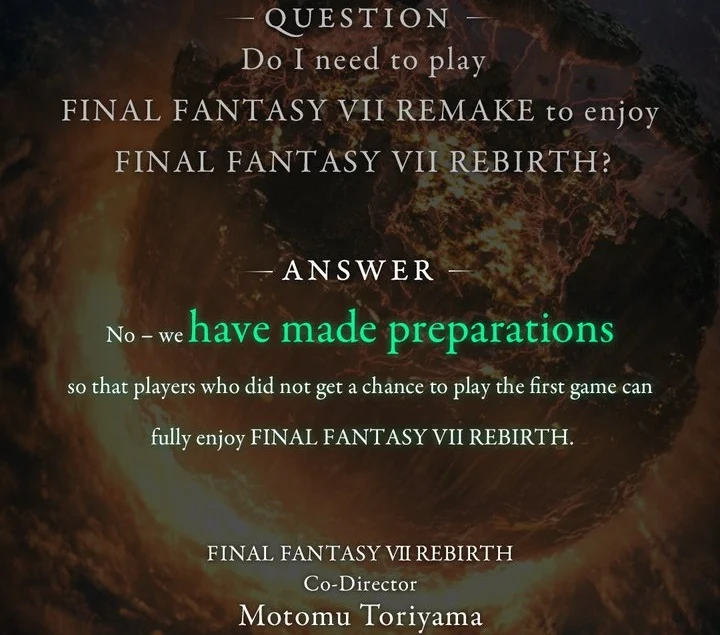 As the anticipation continues to build, fans are eager to uncover more about the enigmatic Final Fantasy VII: Rebirth. Will the Summer Game Fest be the event that finally pulls back the curtain? We will soon find out. Stay tuned for more updates about this highly anticipated sequel.
Join us as we delve into Crisis Core: Final Fantasy VII Reunion review and see if it successfully bridges the gap between the past and the present, delivering a captivating gaming experience.