For players of Diablo 4, a highly anticipated action RPG with five distinct classes, managing multiple characters and their late-game gear can be quite challenging. Currently, level 100 characters in the game can only equip items with a level 100 requirement, making them useful exclusively for characters at the maximum level. However, an exciting change is coming in season 1 that will alleviate this issue, making it easier to play multiple characters.
Level Cap Changes for Sacred and Ancestral Items
As revealed in an interview with Gamestar and subsequently confirmed by associate game director Joe Piepiora on Twitter, level requirements on Sacred and Ancestral items will be capped starting from season 1.
Sacred items will have a maximum level requirement of 60, while Ancestral items will cap at level 80. This means that if players discover exceptional items on their level 100 main character, they can now save them for their other characters without the need to grind numerous levels to equip them.
Implications for Legendary Aspects and Minimum Requirements
The impact of the new level caps on items with high-level Legendary aspects remains unclear. Currently, if a high-level aspect is added to a piece of gear, it raises the item's level requirement accordingly.
If a player's alt character is below level 100, they won't be able to use the item, resulting in the item being "bricked" within the community. However, it is possible that if the new level caps persist, the Legendary aspect's bonus could scale down to match the item's power level.
It's important to note that the new level caps do not mean a level 20 character can equip endgame gear. Sacred items still require a minimum level of 45, while Ancestral items require a minimum level of 60. Nevertheless, the level caps provide a new purpose for high-level items that players no longer need, encouraging endgame players to trade loot with others and fostering a sense of cooperation within the community.
Simplifying Diablo 4's Item System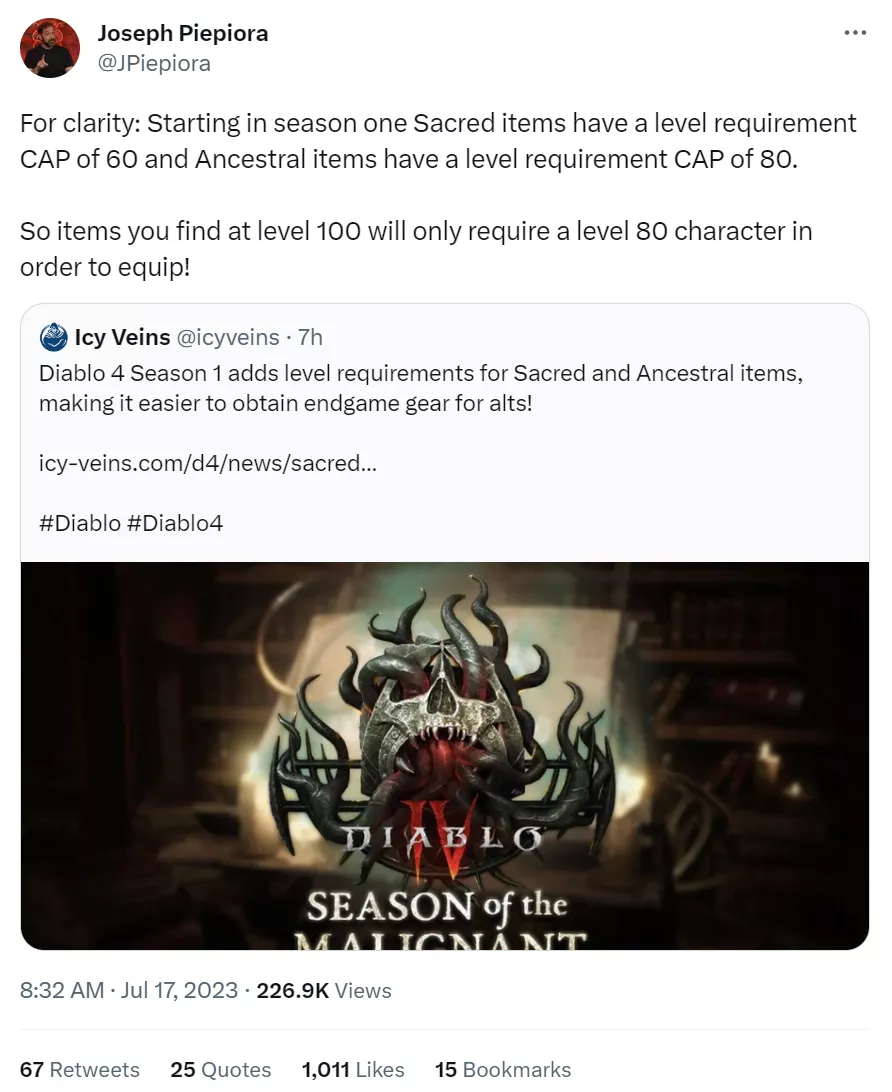 The introduction of level caps on items in Diablo 4 represents a positive change that simplifies the game's intricate item system. The various processes involved, such as extracting, imprinting, and upgrading, can make it challenging to keep track of an item's final level. With the new level caps, players can efficiently use their endgame characters to acquire loot for their lower-level characters, a beloved activity from previous Diablo games.
The new item level caps will work harmoniously with the Scroll of Amnesia, a new item introduced in season 1. Earned through the Season Journey challenges, the Scroll of Amnesia allows players to refund all their skill points and Paragon points instantly, free of charge.
Therefore, if players find an exceptional item for their alt character and possess one of these scrolls, they can easily respec and build their character around it. Furthermore, if Blizzard implements build presets in the future, it will resolve one of the most tedious issues in Diablo 4.
Diablo 4's first season is set to launch on Thursday, July 20, bringing these changes and improvements to the eager player base.