Tucked away in the rainforests of the Amazon lies a world brimming with natural wonders just waiting to be discovered. This is the setting for Flutter Away, a charming indie game that invites players to explore the beauty of the wilderness through the eyes of an aspiring naturalist.
In this short yet sweet adventure, you take on the role of a young researcher who has embarked on a five-day expedition to study the local wildlife. Armed with only a camera, journal, and trusty butterfly net, your goal is to photograph and document as many species as possible before your trip comes to an end.
Gameplay centers around wandering through lush jungle pathways, keeping an eye out for flittering butterflies and other creatures. Spot an interesting insect or animal? Snap a picture for your journal. Want to get a closer look? Use your net to temporarily capture them and jot down notes about their appearance and behaviors. Through this simple but satisfying loop, Flutter Away captures the excitement of discovery and the tranquility of being immersed in nature.
While the scope of the game may be limited, Flutter Away nonetheless provides a delightful retreat from the hustle and bustle of daily life. It's a short yet magical experience perfect for anyone looking to trade the urban jungle for the wonders of the real thing.
Exploring the Rainforest
The core gameplay loop of Flutter Away is simple yet immersive. Movement through the lush rainforest is handled with the arrow keys, giving you full control as you maneuver down muddy paths and around massive trees. The visuals are smooth and react fluidly to your inputs, making traversal feel natural.
Your trusty camera, mapped to the Z button, is your key tool for documenting finds. A quick tap snaps a picture, automatically adding it to your in-game journal. The interface is intuitive enough that even novice players will get the hang of it within minutes.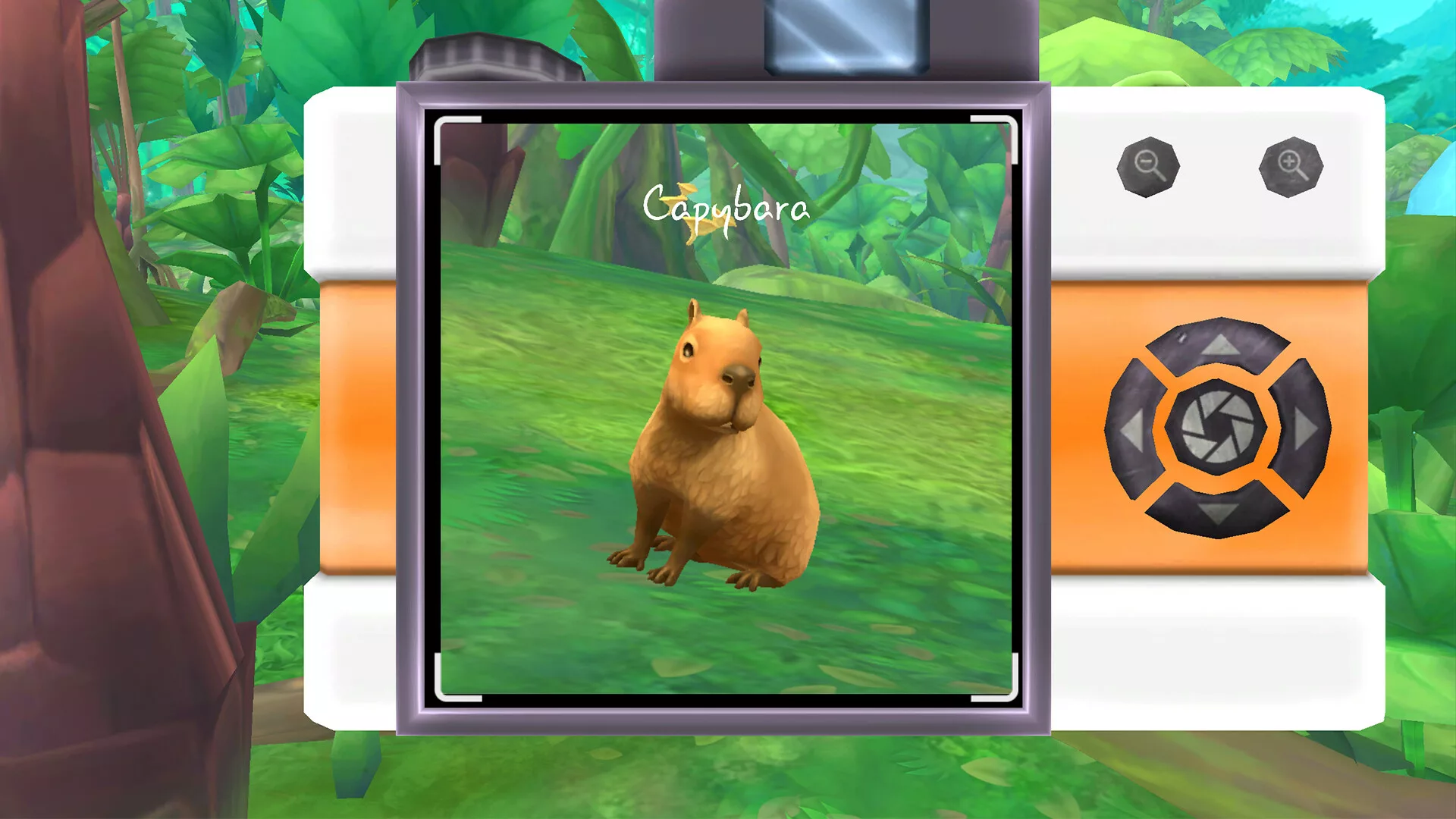 Capturing butterflies takes a bit more finesse. You'll need to use your net to temporarily capture them long enough to jot down notes. Here the game adds a fun extra step – placing the butterfly on a "perch" stick to rotate and inspect it from all angles. It's an ingenious way to gamify the research process.
Filling Out the Journal
The journal is where the meat of the gameplay lies. Each day in the rainforest provides new creatures to find, from vibrant butterflies to peculiar plants. Photographing them is only half the battle – you'll need to take notes as well before fully logging them.
These objectives provide structure while also mimicking the feel of conducting real field research. It satisfyingly walks the line between fun distraction and educational experience.
The daily checklists take around an hour or two to complete, making Flutter Away perfect for short play sessions. There's also plenty of incentive to replay; a "Hidden Discoveries" section tracks photos taken beyond the core objectives, so completionists will want to revisit to find all secrets.
Despite the limited scope, the game never feels repetitive thanks to the wide diversity of species to uncover. It's a testament to the care put into even this compact virtual ecosystem.
Simple But Engaging Controls
With only basic actions needed to play, the control scheme stays simple. The D-pad handles switching between camera, journal, and net, while most interactions are relegated to a single button. Veterans and newcomers alike will find this pick-up-and-play accessibility refreshing.
The only minor issue is occasionally finicky detection when trying to inspect objects. You may need a few tries lining up the reticle perfectly to trigger prompts. But beyond these sporadic hiccups, controls mainly excel at getting out of the player's way.
By keeping things straightforward, Flutter Away allows you to sit back and soak in the atmosphere. And what an atmosphere it is! Next we'll explore how this pocket of rainforest comes to life.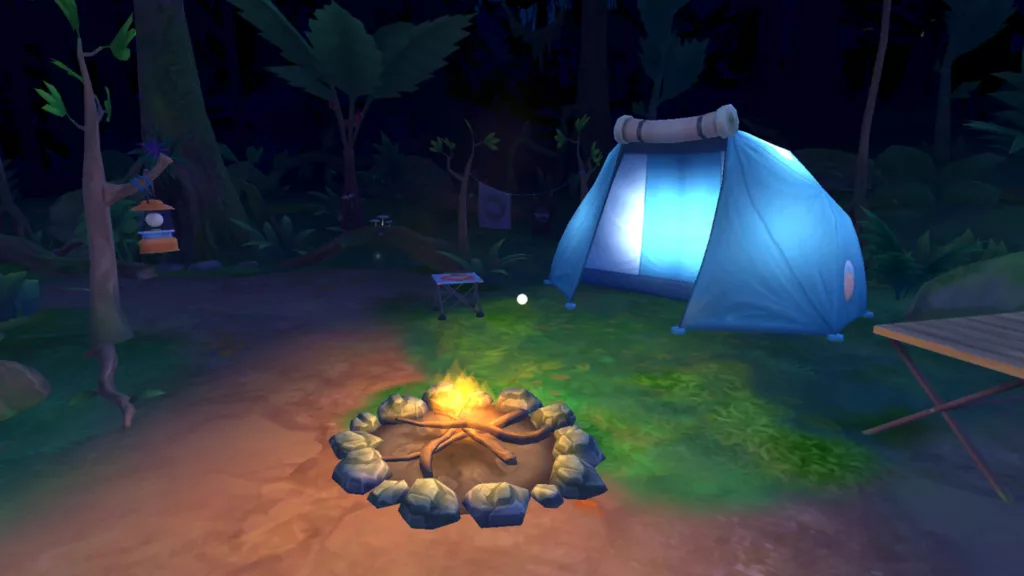 A Pocket of Paradise
While Flutter Away may not boast the largest open world, what it lacks in scale it more than makes up for in beauty and character. This intimate slice of rainforest overflows with gorgeous vistas and lively ambience that truly transports you.
Lush, Vibrant Visuals
Venturing down the first foggy path already sets the tone, sunlight streaming through the canopy overhead. The 3D graphics bring each leaf and flower bud to life in vivid color. Dappled light filters through the trees as you weave deeper into the jungle, catching flickers of wings in the underbrush.
Every new area provides fresh eye candy, from a rocky cliffside waterfall to gently rolling fields dotted with wildflowers. The art direction shines through in both sweeping landscapes and those subtle decorative touches like a frog contentedly perched on a lilypad.
It's a testament to the visual polish that such a compact space never feels repetitive. There's always another captivating composition to stumble upon just around the next bend.
Alive with Sounds of the Wild
Coupling with the scenic views is an evocative soundscape of ambient jungle noises. Bird calls and insect chirps echo all around, transporting you into the moment. The whooshing of the waterfall or crunch of leaves underfoot adds tactile life to your surroundings.
Again, diversity plays a key role in keeping this atmosphere from growing stale. Wander into a cave and the echoy drips of water droplets set a new mood. Return to your campsite at night and crickets fill the air as firelight crackles. Every area has its own audible personality.
By engaging multiple senses, Flutter Away paints a transportive landscape bursting with realism. Whether watching leaves sway in the breeze or spotting fading rainbows after a storm, there's always some nuance to appreciate.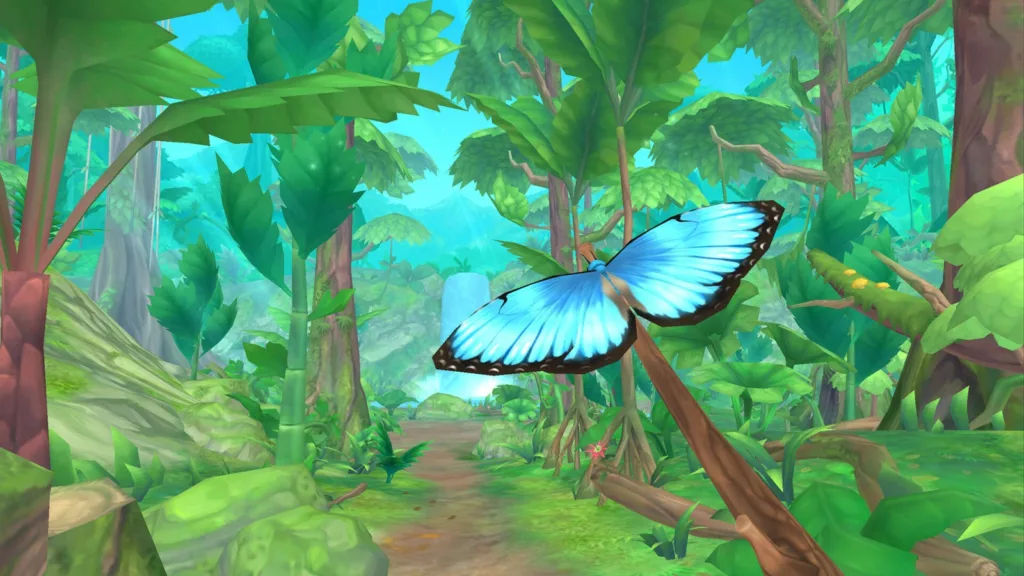 A Soothing Escape
For many players, the biggest draw of exploring this miniature rainforest is the sheer relaxation it provides. Away from the hustle of daily stresses, you're free to let calm wash over you while surrounded by nature's beauty.
It's a rare feeling that only the best ambient games can evoke – a zen-like escape that rejuvenates the spirit. Flutter Away may present a compact piece of jungle, but that only makes it easier to lose yourself completely in its atmosphere.
Capturing the Magic of Nature
While Flutter Away keeps its scope intimate, it packs in plenty of memorable moments tailor-made for nature lovers. From befriending rainforest creatures to studying exotic species up close, these highlights create an experience that lingers.
Fluttering Photo Ops
Naturally, snapping pics of dazzling butterflies offers some of the most delightful gameplay. The thrill of spotting wings peeking out from the undergrowth or chasing a zippy specimen through a sunbeam is tough to match.
It satisfies that innate childhood joy of exploring the outdoors and discovering small wonders. And the educational journal entries accompanying each new find let you walk away with real knowledge too.
Befriending a Capybara Companion
Easily the game's most adorable feature is the loyal capybara who shows up at your campsite. Dubbed "Capybara" via player input, your new friend becomes part of the daily routine, leading you to hidden wonders and even introducing you to her babies.
Few gaming moments match the rush of stumbling upon the baby capys nestled under a leaf, or the simple pleasure of getting to pet these gentle giants. It's an emotional rollercoaster in the best way.
Immersing You in Research
The journal does more than just log entries – it fully immerses you in the role of budding naturalist. Filling in observations page by page not only provides gameplay objectives but also satisfaction akin to completing real scientific fieldwork.
The daily task loop enhances this research vibe. It's easy to lose yourself in the flow of experimenting, inspecting specimens, and taking studious notes.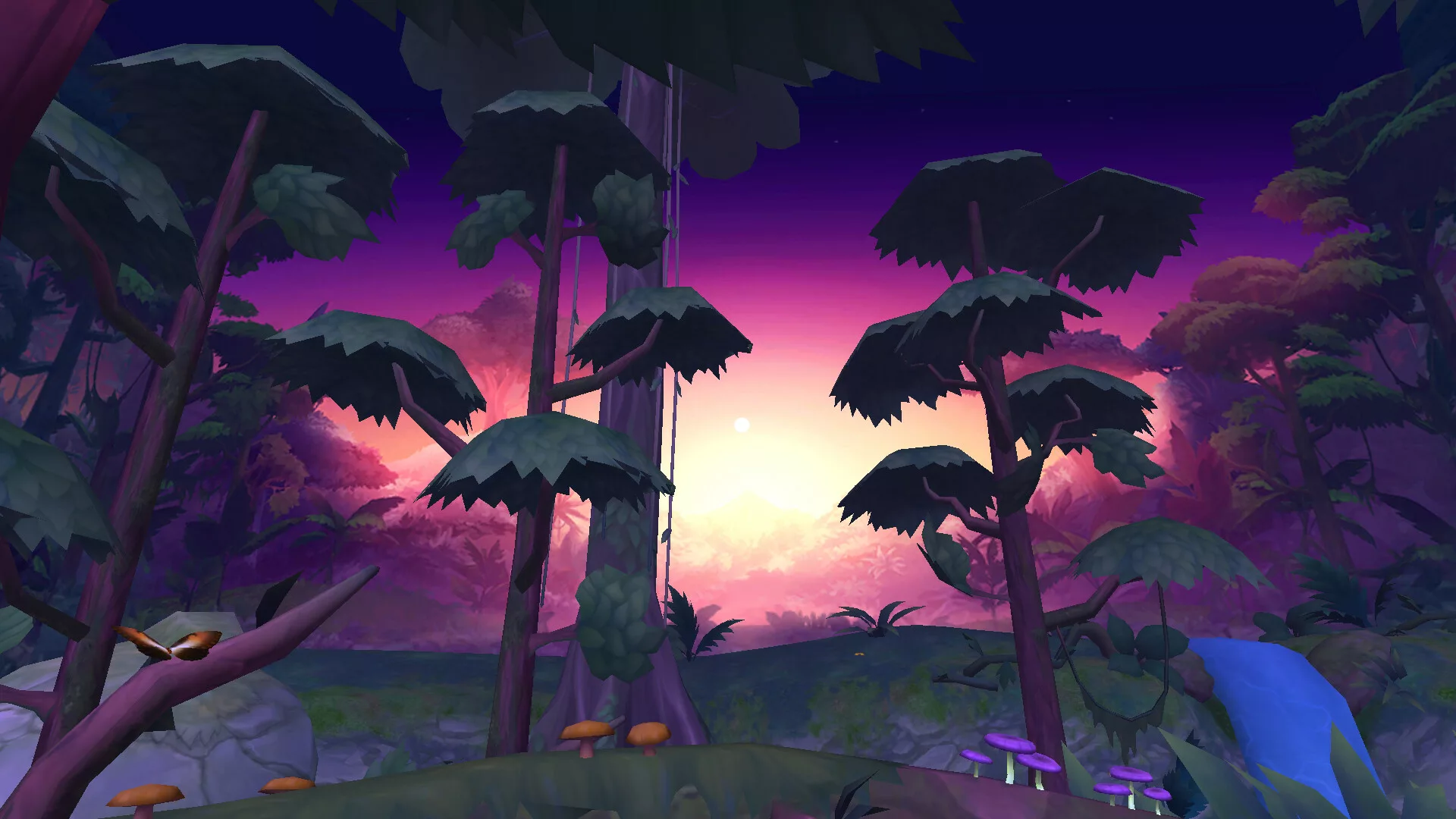 Reflecting on Favorite Finds
Lastly, the ability to choose a favorite daily photo adds surprising poignancy. Pausing each day to reflect on the most impactful discovery helps create personal connections. It grounds the experience in nostalgia that remains long after the credits roll.
These standout features work in harmony to create an experience as educational as it is magical. By letting you view nature through a scientist's eyes, Flutter Away brings out a spirit of childlike wonder in players of all ages.
Room to Grow
While Flutter Away succeeds as a peaceful escapade, a few issues hold it back from reaching its full potential. Most notably, the compact scope leaves some players, like myself, wanting more. There's also the occasional technical hiccup. But these are minor quibbles for an otherwise polished package.
Over Too Soon
The most prevalent complaint is simply that Flutter Away ends far too abruptly. At just 1-2 hours long, it's over before you know it. While the game makes the most of its brief runtime, the experience leaves you longing for more.
Expanding the number of explorable days or adding post-game challenges could help mitigate this truncated feeling. As is, some may feel the $12.99 asking price is steep for such a short adventure.
A Cramped Setting
Complementing the short runtime is the tight map size – you're limited to a small campsite and three branching paths. This constrained space undersells the endless potential of the rainforest theme.
As you quickly learn the handful of zones by heart, the world starts to feel less organic and more an artificial creation of invisible walls and other boundaries. More sprawling trail networks could work wonders for immersion.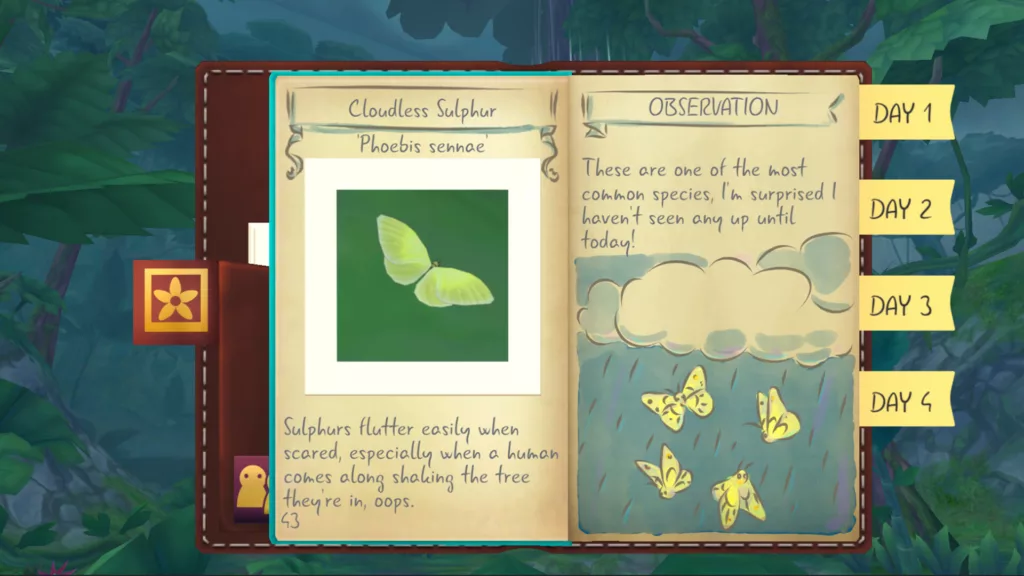 Control Hiccups
The only other real complaint is occasional issues with finicky object interaction detection. For example, lining up the camera reticle perfectly to analyze items sometimes takes patience.
These very minor control annoyances hardly ruin the experience, but they could frustrate players seeking a totally smooth, intuitive interface. Some tweaks to the interaction detection would polish things off.
However, in the grand scheme, Flutter Away comes remarkably close to delivering on its vision. The flaws fade into the background when weighed against everything this charming journey gets right. Fans of mellow, nature-based experiences should find plenty to love here.
A Brief But Beautiful Escape
In an industry saturated with high-stakes adventures, Flutter Away stands out for its commitment to serenity. This short yet poignant game carves out a meditative space to delight in the wonders of nature from the comfort of home.
While expanded scope could have added replayability, Flutter Away makes the most of its intimate setting. Charming wildlife encounters and an endearing capybara companion turn gameplay into a wildlife documentary come to life. Approachable controls and a welcoming pace make immersing yourself effortless.
Few games today can transport you into such a palpable sense of peace. For those longing to trade urban bustle for misty jungle air, Flutter Away is a dream come true. Its encapsulation of natural beauty provides a refreshing antidote to modern stresses.
Some may be left wanting more, but that sentiment is a testament to the calming atmosphere achieved here. Flutter Away squeezes memorable magic into its compact runtime, earning its place among the most creatively uplifting indies out there. Just be ready to book a real rainforest trip after falling for this one!
The Review
Flutter Away
Flutter Away beautifully bottles the wonders of exploring nature into a bite-sized package brimming with charm. Its intimately crafted rainforest world and heartwarming wildlife encounters provide a soothing retreat from everyday stresses. Minor scope limitations hold it back from being a must-play masterpiece, but the immersive atmosphere and approachable gameplay make this 1-2 hour adventure well worth the journey.
PROS
Immersive rainforest environment with vibrant visuals and sound
Relaxing, low-stress gameplay perfect for unwinding
Simple but satisfying photography and journaling mechanics
Cute wildlife encounters like befriending a capybara
Educational insights into rainforest species
Accessible controls and objectives
CONS
Very short gameplay length leaves players wanting more
Small explorable area limits immersion
Occasional finicky detection when interacting with objects
Price point may seem high for 1-2 hours of content
Scope to expand variety of creatures and biomes