Retro platformers are all the rage these days, with many developers trying to capture the pixelated magic of classic 16-bit games. Tiny Thor from Asylum Square stands out from the crowded field, delivering an authentic old-school experience that feels like it was plucked right out of the 1990s. After over 10 years in development, this passion project finally launched in 2022, bringing Thor's 8-year-old adventures to life in glorious 2D detail.
As soon as you boot up Tiny Thor, the retro ambiance hits you instantly. The vibrant pixel art takes you back to the days of the Sega Genesis, with smooth animations and varied colorful environments. The chiptune soundtrack also nails the vibe, with catchy beats fit for a lighthearted action game. It's clear from the start that a lot of care went into crafting an experience reminiscent of gaming's glory days.
Yet Tiny Thor doesn't just succeed on nostalgia alone. The platforming gameplay also delivers a satisfying, if brutal, challenge. With 30 sprawling levels filled with enemies, hazards, and intricate jumping puzzles, Tiny Thor captures the trademark difficulty of old-school classics. You can expect to die frequently as you help young Thor repair the Bifrost and save his homeworld, but the clever level designs make it hard to put down the controller, even after the 100th game over screen.
For platformer fans yearning for a new retro journey, Tiny Thor hits all the right notes. With fantastic 16-bit presentation and demanding gameplay, it shows how this throwback subgenre still has plenty of life when done right. Just be prepared to hone your skills and reflexes if you want to conquer Tiny Thor's Norse-inspired adventure from start to finish.
The Legend of Tiny Thor
The story of Tiny Thor offers a fresh, lighthearted take on Norse mythology by letting players control Thor as an 8-year-old boy. After being gifted the mystical Mjolnir hammer on his birthday, Thor can't resist fooling around with his new toy. This leads him to accidentally destroy the anchor for the Bifrost on the advice of a stranger, which cuts off Asgard from the rest of the realms. Realizing what he's done, Tiny Thor sets off on a quest across vivid worlds to find magical items that can stop the impending doom of Ragnarök before it's too late.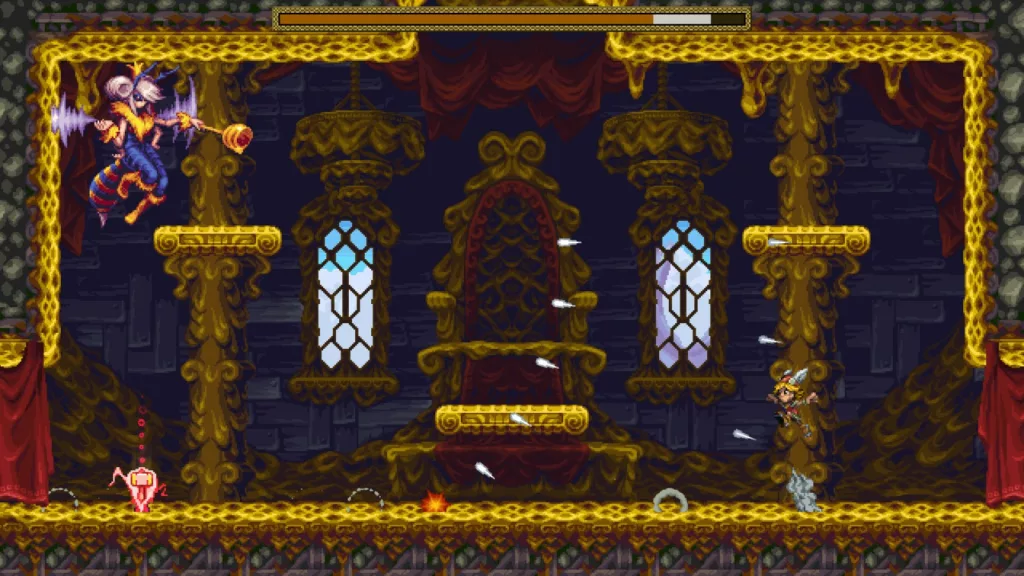 Despite the high stakes, the overall tone remains cheerful and fun, capturing Thor's innocence and wonder. One minute you're bounding through grassy meadows reminiscent of medieval Asgard, the next you dive deep underwater in search of a powerful trident. The varied settings keep the adventure feeling fresh, like when you scale the icy cliffs of Jotunheim to infiltrate a frost giant stronghold. Each area pops with color and personality thanks to the stellar pixel art. Tiny details really sell the illusion, like idle animations as Thor catches his breath or stares in awe at massive monsters.
While the story takes clear inspiration from Norse myth, it carves its own identiy with playful twists. You'll recognize popular figures like Odin and Loki, but their portrayals focus on humor and heart over dramatic gravitas. Thor may be on a quest to save the world, but he's still just an ordinary kid at his core. The lighter take on these legends makes for a charming adventure perfect for all ages.
By putting players in control of the fledgling God of Thunder at his lowest point, Tiny Thor crafts a unique interactive Norse story. The vibrant pixel-art worlds are a joy to platform through as you help Tiny Thor redeem his mistake and grow into a hero. It's a familiar tale made fresh again through the lens of childhood wonder.
A Visual Splendor in 16-Bits
It's hard to overstate just how gorgeous Tiny Thor looks, especially for a game purposefully mimicking a retro art style. The pixel artwork conjures the glory days of 16-bit platforms, with meticulously crafted sprites and backgrounds worthy of the Sega Genesis classics that inspired them. Yet the visuals don't just wallow in nostalgia. Tiny Thor leverages modern hardware to deliver astonishing fidelity and vivid details beyond what those old consoles could even dream of.
From the sweeping vistas of Asgard to the damp caverns of Niflheim, each new environment astonishes with its pixel-perfect beauty. The icy sheen of glaciers, flickering torches in underground fortresses, and etching on mystical ruins all showcase incredible attention to detail. Sprites animate with fluidity, whether it's Tiny Thor hoisting his hammer triumphantly or shuddering from a crushing blow. Even the most fearsome mythic beasts like the Midgard Serpent come alive through subtle characterizations in their motions and attacks.
The art team's passion and talent is evident in every scene. Tiny Thor clearly aimed to capture the essence of 16-bit classics while enhancing them with the benefits of modern tech. As such, the game smoothly maintains its retro look without ever overwhelming the screen, even when the action gets hectic. Slowdown is virtually nonexistent despite the lush set pieces. From icy mountain valleys to verdant forests straight from fairy tales, each locale has its own visual identity with bespoke assets, hazards, and personality.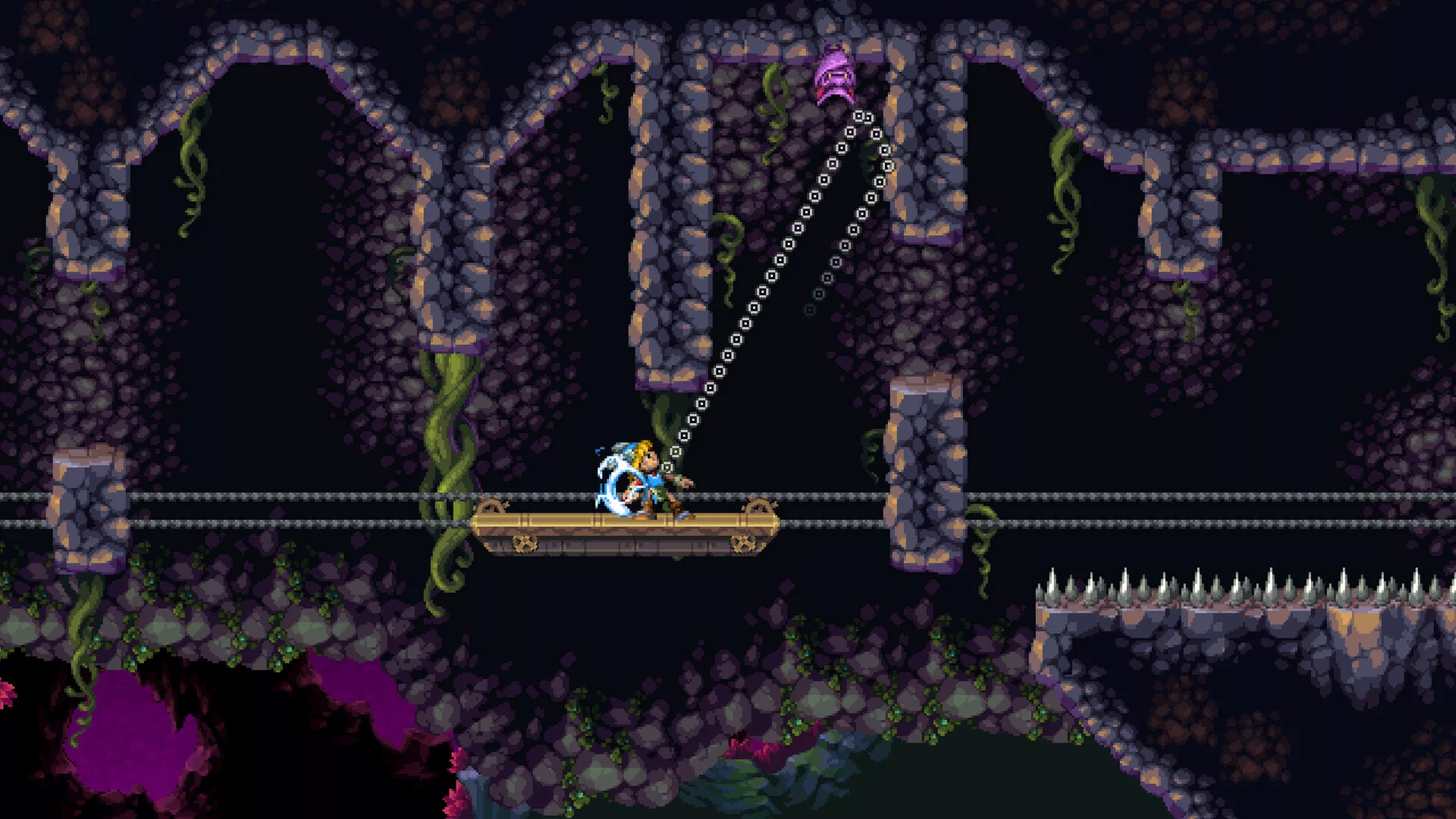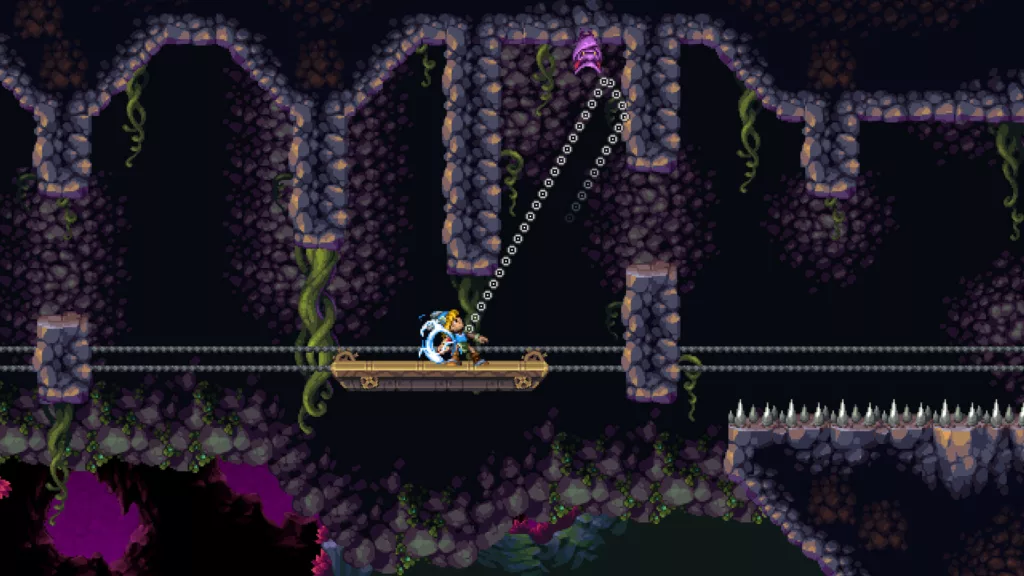 By pushing the limits of pixel art in terms of scope and detail, Tiny Thor crafts a visual experience as riveting as the finest 2D animated films. The retro style still shines through thanks to the blocky character models and low native resolutions. But everything has been elevated to such heights that you'll frequently pause just to admire the breathtaking environments Tiny Thor journey's through. For longtime fans of 16-bit graphic design, Tiny Thor represents the pinnacle of the form. It leverages modern hardware to deliver an experience both nostalgic yet cutting edge, proof of just how timeless pixel art remains.
Tunes Fit for Asgard
The chiptune soundtrack expertly complements Tiny Thor's retro flair with beats and melodies that would have blended right in during the 16-bit era. Composers Fabian Del Priore and Chris Hülsbeck clearly aimed to evoke the spirit of classic platformer music, crafting songs that stick in your head but never overwhelm the gameplay. The compositions utilize authentic chiptune instrumentation that adds to the nostalgic atmosphere.
The soundtrack balances high energy tracks to amp up the action with more atmospheric melodies for poignant moments. Upbeat tempos will get your blood pumping as you dodge deadly traps, while triumphant riffs accent your victories over imposing bosses. Occasional calmer songs help sell the sense of wonder and adventure as you explore Tiny Thor's whimsical worlds. The overall style fits the lighthearted tone, though a few darker moodier pieces spice things up when the narrative shifts.
While the quality level remains high across the entire soundtrack, more variety between songs would have been welcomed. It's not uncommon to hear familiar melodies and instruments recur across multiple levels, leading to a feeling of repetition setting in over long play sessions. Having said that, the stellar composition and chiptune production values make even recurring motifs easy to enjoy.
For all its familiarity, the soundtrack has enough flair to carve its own identity. The blend of infectious energy and emotional moments captures the childlike spirit at the heart of Tiny Thor's quest. These tunes will rekindle your love of old-school chiptunes while showing there's still new life in the style. Tiny Thor's music transports you to the golden era of 16-bit audio and helps immerse you in its retro world.
Godly Platforming with a Mortal's Touch
At its core, Tiny Thor utilizes traditional 2D platforming mechanics with a focus on precise jumping and movement. The 30 main levels offer compact 10-15 minute challenges mixing action with environmental puzzles. Most stages follow a linear series of platforms and hazards, but keen explorers will uncover hidden paths and nooks harboring collectibles. Each level builds on the last, testing your skills with new obstacles and traps that force you to master Tiny Thor's capabilities.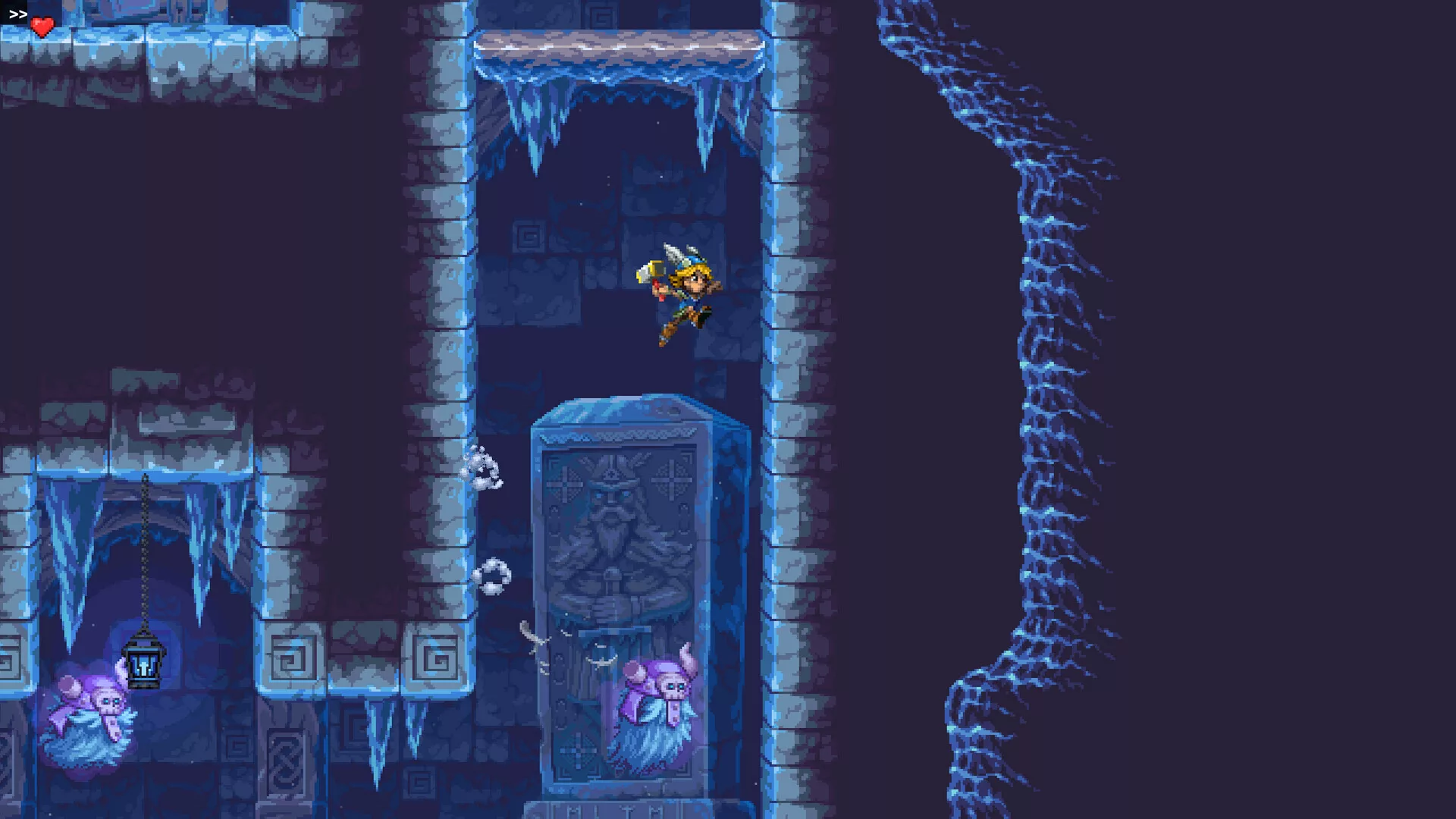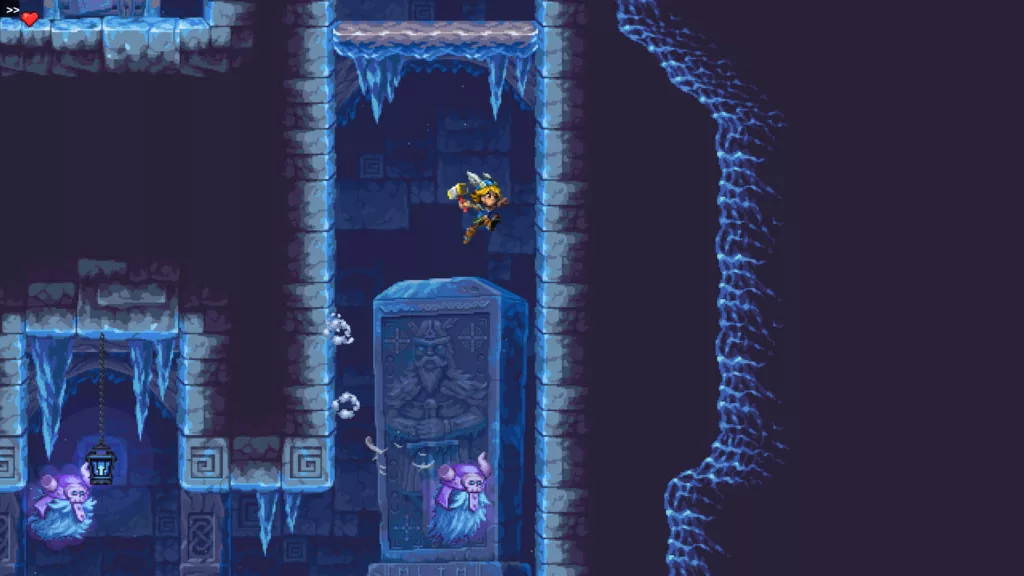 The signature weapon is of course the legendary Mjolnir, which truly sets Tiny Thor's gameplay apart. You can hurl the hammer in an aimed direction, then recall it instantly like a boomerang. Mastering the ricochet path opens up possibilities, whether using it to trigger distant switches, retrieve items, or clear out mobs of foes. Some of the most satisfying moments come from angling throws to bounce the hammer around puzzle rooms, showcasing ingenious level design. Less enjoyable are the repetitive combat sections, where enemies become tedious damage sponges.
Unfortunately, the well-crafted environments tend to overshadow the platforming itself. Precise jumping between tiny platforms is mandatory, but an overabundance of instant-death spikes and pits makes progress frustrating. The tiniest mistimed hop or physics glitch can undo minutes of progress, especially given the inconsistent checkpoint placement. Prepare to retrace steps constantly after each death. Frequent restarts sap away some enjoyment even amidst the stellar artistic design.
The punishing difficulty partly stems from controls that don't feel tuned enough for the required precision. Whether it's inconsistent hammer throwing physics or jump timing windows smaller than Mario's, Tiny Thor's move set lacks polish. Chaining wall jumps and double jumps for a bypass can be needlessly finicky. Hit detection also seems suspect at times, with Thor taking damage or dying inexplicably. The overall responsiveness merely feels adequate rather than tight.
Various abilities unlock to expand platforming options, like dash attacks and mid-air dodges. However these can't fully compensate for the lack of controller harmony. Tiny Thor demands near flawless reflexes and mastery of skills that never feel natural. There is satisfaction in overcoming the odds, but it takes Sisyphean persistence. At least the optional challenge levels offer lower stakes practice for harder techniques.
For less hardcore players, Tiny Thor does include welcome accessibility options. Collecting gems enables useful upgrades like extending your post-hit invulnerability window and improving movement control. Players can tailor the experience to their needs through various assists. That being said, reducing the difficulty dampens the uniquely old-school flavor that seasoned platformer veterans might prefer.
In the end, Tiny Thor's brilliant levels and possibilities are muted by play control and design issues. The retro appeal hits hard initially, but wanes as frustrations mount. Still, determined players who adapt to its rigid demands will find greatness beneath the flaws. Tiny Thor comes so close to platforming perfection, it's hard not to admire the effort despite the pitfalls.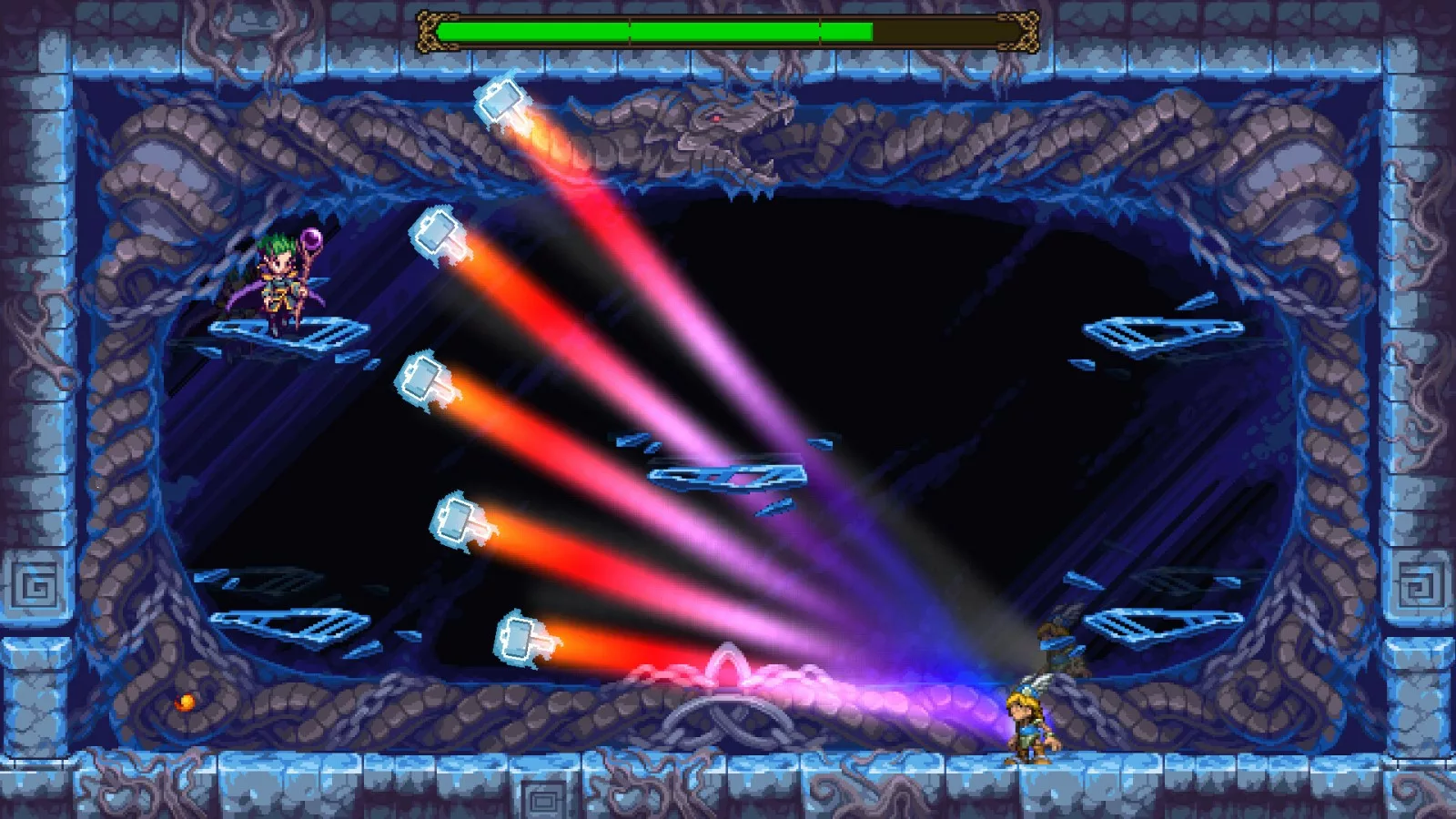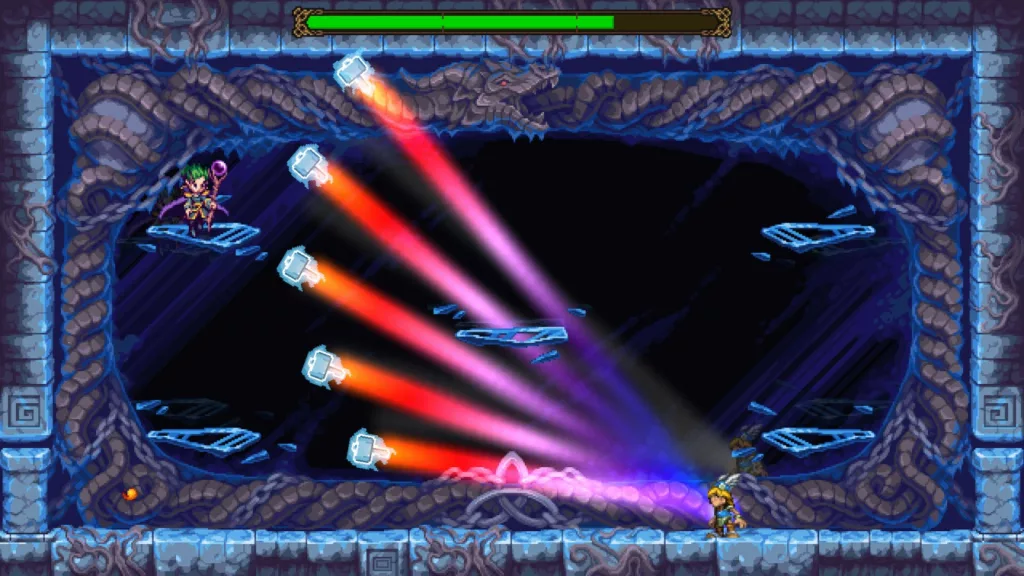 Final Thoughts
Tiny Thor ultimately exemplifies how potent nostalgia can elevate a retro revival platformer despite significant flaws holding it back. For veterans of 16-bit challenges seeking to recapture that magic, Tiny Thor absolutely delivers on presentation and aesthetic. The pixel visuals and chiptune audio transport you back to the 90s glory days in the best possible way. When the ingenious level designs sync up with the core hammer-flinging mechanic, it leads to immensely satisfying puzzle solving.
Yet once the initial rush of nostalgia fades, Tiny Thor's blemishes become more apparent. The frequently oppressive difficulty and imprecise controls diminish the experience. Tiny Thor lacks the fine polish and careful balancing of difficulty that defined the classics it embraces. The result is a game brimming with heart and great ideas, yet mired by inconsistencies.
Seasoned platformer fans will still find much to love, especially if difficulty spikes provide appeal rather than frustration. But for casual and new players, the significant hurdles outweigh the charm of Tiny Thor's worlds. Impressive effort was put into reviving old-school platformers; now the formula needs refinement. For now, Tiny Thor stands as a triumphant first swing rekindling 16-bit memories, if not quite smashing it out of the park completely.
The Review
Tiny Thor
Tiny Thor nails the look and spirit of cherished 16-bit classics, but can't quite stick the landing when it comes to gameplay and difficulty balancing. There is brilliant art direction and level design here bogged down by frustrating controls and punishing spikes. As an unabashed love letter to the golden retro era, Tiny Thor delivers stunning visuals and a uniquely charming story. Yet its flaws keep it from reaching the pantheon of true greats like Super Mario World and Sonic the Hedgehog. Retro enthusiasts should still find plenty to enjoy in Tiny Thor's imaginative worlds and clever puzzles. But a pedestrian platforming core undercuts its boundless creativity. With more refinement, Tiny Thor could have achieved timeless status instead of just temporary nostalgia. As is, it remains a solid excursion for the Norse child god that ultimately plays like the apprentice work of an aspiring retro craftsman rather than a master.
PROS
Gorgeous retro pixel art visuals that are true to 16-bit games but enhanced
Imaginative world and character designs based on Norse mythology
Charming lighthearted story provides a fresh take on Thor's legend
Excellent chiptune soundtrack evokes nostalgia while sounding modern
Satisfying environmental puzzles when the hammer mechanic clicks
Lengthy campaign with plenty of content for dedicated players
CONS
Controls lack polish leading to frustrating platforming at times
Difficulty spikes can feel punishing and discourage progress
Checkpoint placement is inconsistent and lost ground is tedious
Combat relies on damage sponges instead of clever mechanics
Mjolnir throwing physics feels imprecise
Accessibility options dampen the retro challenge that veterans may want
Story doesn't fully leverage the potential of its Norse roots
Story doesn't fully leverage the potential of its Norse roots