In the highly anticipated Metal Gear Solid: Master Collection Vol. 1 by Konami, fans of the iconic series can now gain insight into the frame rates that will accompany their nostalgic journey through the first three Metal Gear Solid games and additional content.
While the focus has primarily been on modernizing these classics, the frame rates show a blend of honoring the past and catering to contemporary gaming preferences.
Konami recently released a comprehensive table detailing the output resolution and frame rates for all three games across various platforms. The revelations shed light on how the legendary series will perform on today's gaming systems.
The first entry in the series, originally released on the original PlayStation, will maintain a frame rate of 30fps consistently across all platforms. This choice seemingly pays homage to the game's roots, preserving the feel of the original release. However, some may find it disappointing that resolution appears to be the sole improvement over the original.
In contrast, the subsequent two games, Metal Gear Solid 2: Sons of Liberty and Metal Gear Solid 3: Snake Eater, will enjoy a more contemporary 60fps frame rate when played on PlayStation and Xbox consoles and on PC via Steam.
However, Nintendo Switch players, whether in handheld or docked mode, will experience these titles at a frame rate of 30fps, which, given the capabilities of the Switch, remains consistent with previous performance expectations.
Konami had previously shared a statement with Eurogamer, expressing its goal of achieving 1080p/60fps across all platforms (excluding the Switch). However, this target seems to apply solely to the sequels, clarifying that the first game would not conform to this frame rate standard.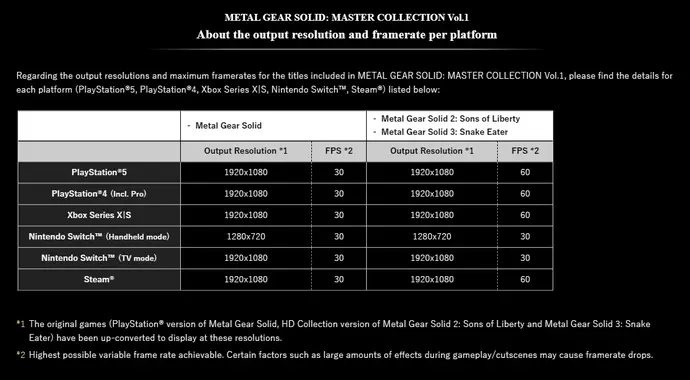 It's worth noting that while none of the games in this collection will output at 4K resolution, this choice appears suitable for titles with aging graphics, ensuring smoother gameplay experiences.
As the Metal Gear Solid: Master Collection Vol. 1 release date approaches on October 24th, fans are eager to dive back into the world of Solid Snake and Big Boss. Early impressions from those who had hands-on experience with the collection have sparked excitement, even from self-professed Metal Gear newcomers, making the forthcoming release an enticing prospect for both long-time fans and newcomers to the franchise.
Deep Dive into Metal Gear Solid's Legacy: Immerse yourself in the intricate world of stealth, strategy, and storytelling with our detailed analysis of the Metal Gear Solid: Master Collection Vol. 1. Uncover the secrets behind its enduring legacy and find out how it stands up to modern gaming standards.