Thirteen long years after the release of cult classic Alan Wake on Xbox 360 and PC, developer Remedy Entertainment has finally unveiled the highly anticipated sequel, Alan Wake 2. Set once again in the atmospheric Pacific Northwest town of Bright Falls, Washington, Alan Wake 2 aims to deliver an intense psychological thriller that significantly expands upon the original game's unique blend of supernatural horror, episodic storytelling, and third-person action.
While retaining the core spirit of 2010's Alan Wake, this sequel makes some bold strides forward thanks to Remedy's gained experience from developing Quantum Break and Control. Most notably, Alan Wake 2 shifts the gameplay more firmly into survival horror territory, with more open-ended levels, scarce resources, and enemies that hit harder and smarter. The story and presentation have also received dramatic overhauls, with two playable protagonists across twisted realities, striking live-action scenes, and interactive investigative mechanics that remarkably blur boundaries.
After over a decade of waiting, does Alan Wake 2 live up to the legacy of this cult favorite franchise? Is this a must-play experience that both returning fans and horror newcomers should rush to embrace? Over the course of this review, we will closely analyze each element of Alan Wake 2, from its nightmare-fueled storylines to its polished combat, to determine if Remedy has managed to capture lightning in a bottle once again. While the original Alan Wake rightfully earned its dedicated following, this sequel seeks to appeal to a much wider audience hungry for a fresh, daring, and truly unique psychological thriller.
A Twisty Tale Told Across Two Intertwined Nightmares
The complex narrative of Alan Wake 2 spans two distinct but interconnected storylines, providing a twisted mystery that will keep players guessing until the very end. The first campaign follows FBI agent Saga Anderson as she arrives in Bright Falls to investigate a series of ritualistic murders supposedly tied to a deadly cult. Accompanied by her seasoned partner Alex Casey, Saga quickly becomes engulfed in the town's ominous atmosphere, littered with clues hinting at supernatural forces and the lingering legacy of Alan Wake's disappearance over a decade prior. This story arc unfurls like an intense procedural thriller, with Saga utilizing her uncanny profiling talents to decode esoteric clues and decode the pattern behind the killings.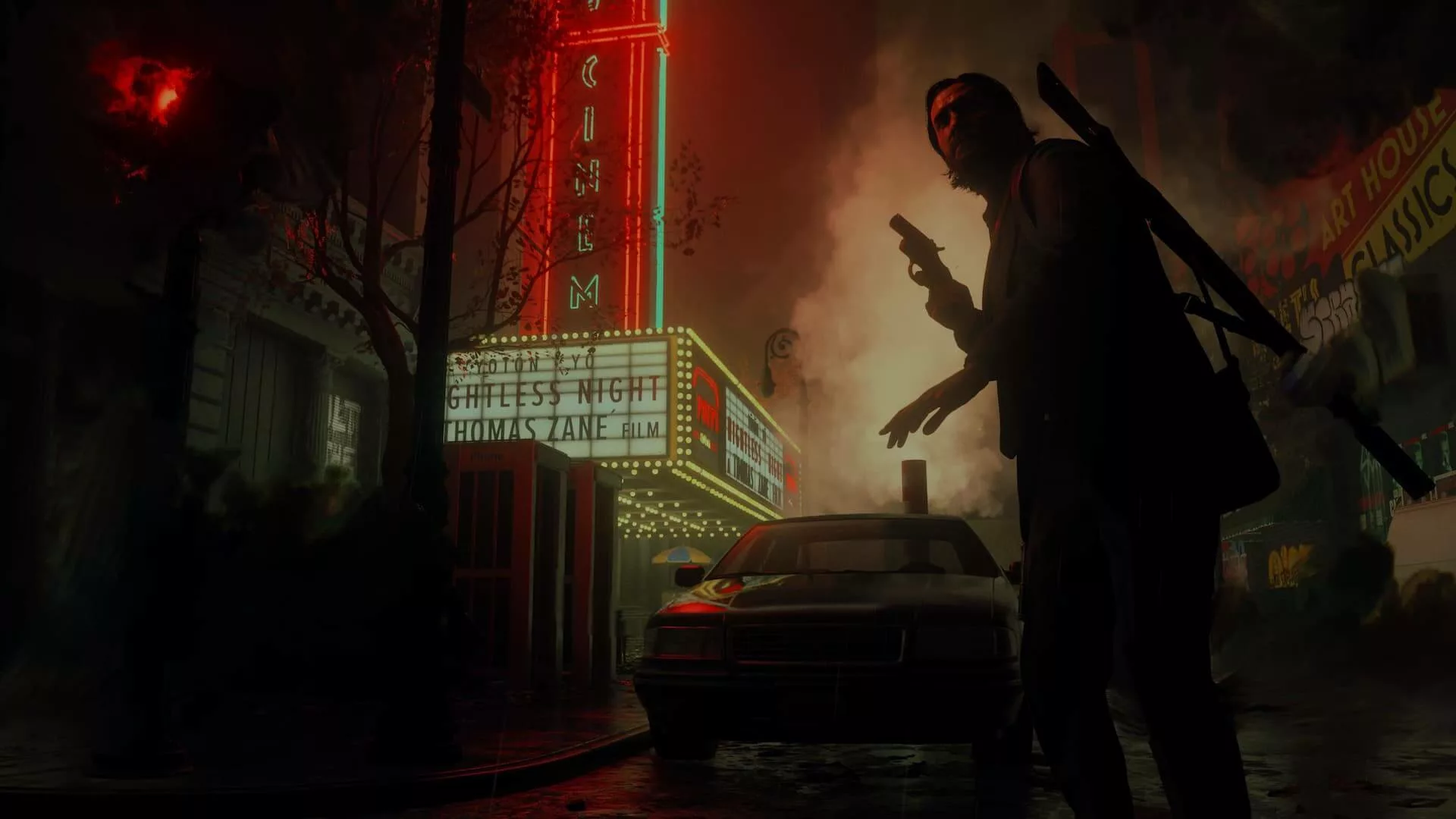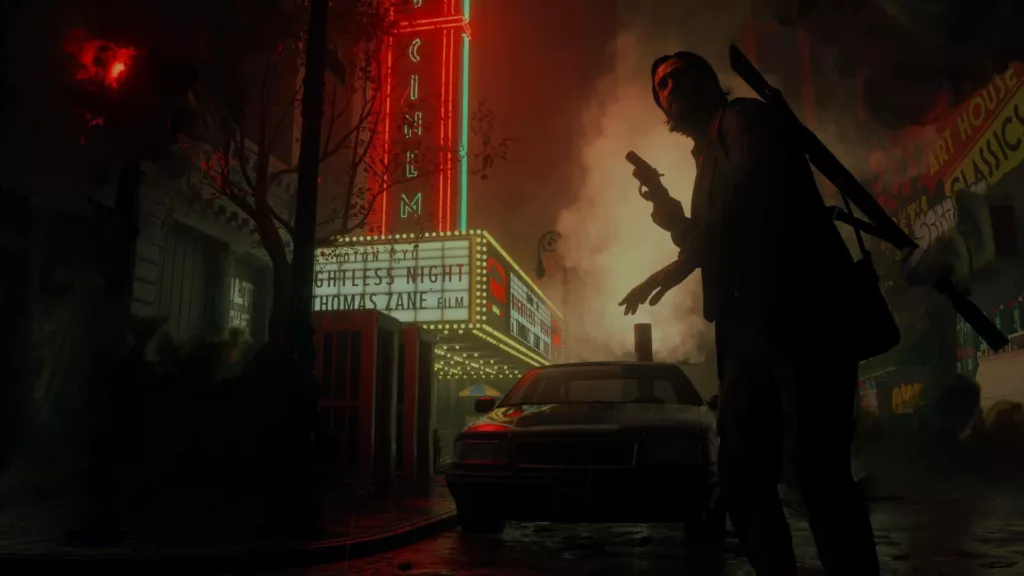 Meanwhile, in the second concurrent storyline, players take control of Alan Wake himself as he fights to escape the nightmarish Dark Place – a shadowy reflection of New York City that he has been trapped within for 13 years. Alan must rewrite this dark reality using echoes and episode fragments found throughout the environment in order to open new paths and eventually find an exit. This abstract setting provides a stark contrast to Bright Falls, bathed in grimy neon and populated by disturbing apparitions behind every corner.
Expertly jumping between the tranquil horror of Saga's investigation and Alan's surreal, Lynchian struggle compounds the dread and confusion. Reality begins to blur as details cross over between their tales, creating a cyclical labyrinth of truth and fiction that must be unraveled. Environmental storytelling is masterfully used to reinforce this, with disturbing scenes playing out silently in the backgrounds of levels and files fleshing out the lives of victims. Haunting live-action vignettes also seamlessly bleed into cutscenes for added visceral impact.
The tone balances heart-pounding horror with moments of oddball humor and self-referential meta-playfulness. Quirky side characters provide comedic relief amidst the darkness, while Alan's plot power affords plenty of fourth wall-breaking as he alters reality to his will. From start to finish, Alan Wake 2 commits fully to its surreal, Lynchian atmosphere, refusing to ever let players feel comfortable or complacent. Even after the credits roll, disentangling the truth behind its convoluted narrative provides plenty of debate fodder for dedicated fans.
Polished Survival Horror and Reality-Bending Puzzles
Alan Wake 2 retains the tense third-person combat of its predecessor while considerably expanding upon those foundations to deliver a true survival horror experience. Resources are now strictly limited, so players must carefully scout environments for extra ammo, health items, and batteries to power their flashlights and burn through enemies' protective darkness. The core loop focuses on cautiously exploring open-ended levels, backtracking as new routes open, gathering supplies, and taking down otherworldly "Taken" enemies that react more intelligently and aggressively.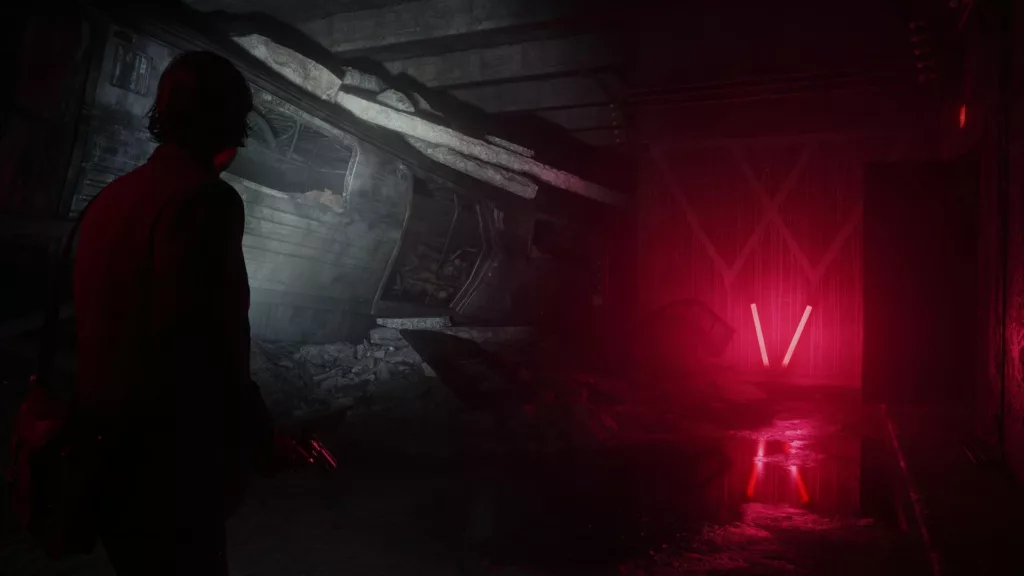 Combat requires paying close attention to enemy movement patterns and managing space effectively. Dodging and sprinting away from deadly attacks is key before switching to a hit-and-run tactic of burning away darkness shields and targeting weak points. While the original Alan Wake emphasized action and spectacle, ammo conservation and well-timed flashlight bursts take priority in Alan Wake 2. Some oppressed areas are best avoided outright after weighing the risks. This new emphasis on strategy and getting by with less makes each victory intensely satisfying.
Both Saga and Alan have access to an array of upgradable firearms alongside environmental tools like flashbangs, flares, and safe haven lamps that provide temporary protection. Unlocking new weapons and honing favorites helps counter the evolved Taken, who now feature added variations such as faster hunters and tank-like brutes. A wider array of enemy abilities, such as projectile attacks and group tactics, constantly keeps players adapting.
Outside of combat, Saga spends much time in detective mode, searching crime scenes for clues and compiling evidence back in the Mind Place. Her supernatural profiling skills also lead to some unique interactive sequences. Meanwhile, Alan utilizes his Plot Board in the Mind Place to rearrange reality and open new paths by finding echoes in the environment. These engrossing narrative-driven activities provide a nice change of pace from the tense action.
While complex, Alan Wake 2 does a good job easing both new and returning players into its world and rules through initial encounters and tutorial prompts. The adjustable difficulty settings also help newer fans acclimate if needed. Given the abundance of optional content and collectibles, completionists and fans craving a stiff challenge will find plenty of replay value in upping the intensity.
Overall, Alan Wake 2 smartly evolves the series into a more harrowing survival-focused experience while introducing some experimental new storytelling mechanics across its ambitious dual timelines. The result is a sequel that stands confidently alongside gaming's greatest horror experiences.
Haunting Visuals Brought to Life with Stunning Fidelity
From thick fog rolling through mossy Pacific Northwest forests to the flickering neon illuminating the urban decay of Alan's surreal Dark Place, the visual presentation of Alan Wake 2 is consistently incredible. The environmental detail and volumetric lighting effects bring its twisted realities to life at a level of graphical fidelity rarely seen in horror games. Exploring the dense forests and dilapidated small town architecture of Bright Falls reveals new surprises around every corner. Meanwhile, the visual artists clearly had a field day fleshing out the impossibly intersecting architecture and dynamic lighting shifts of Alan's psychologically molded realm.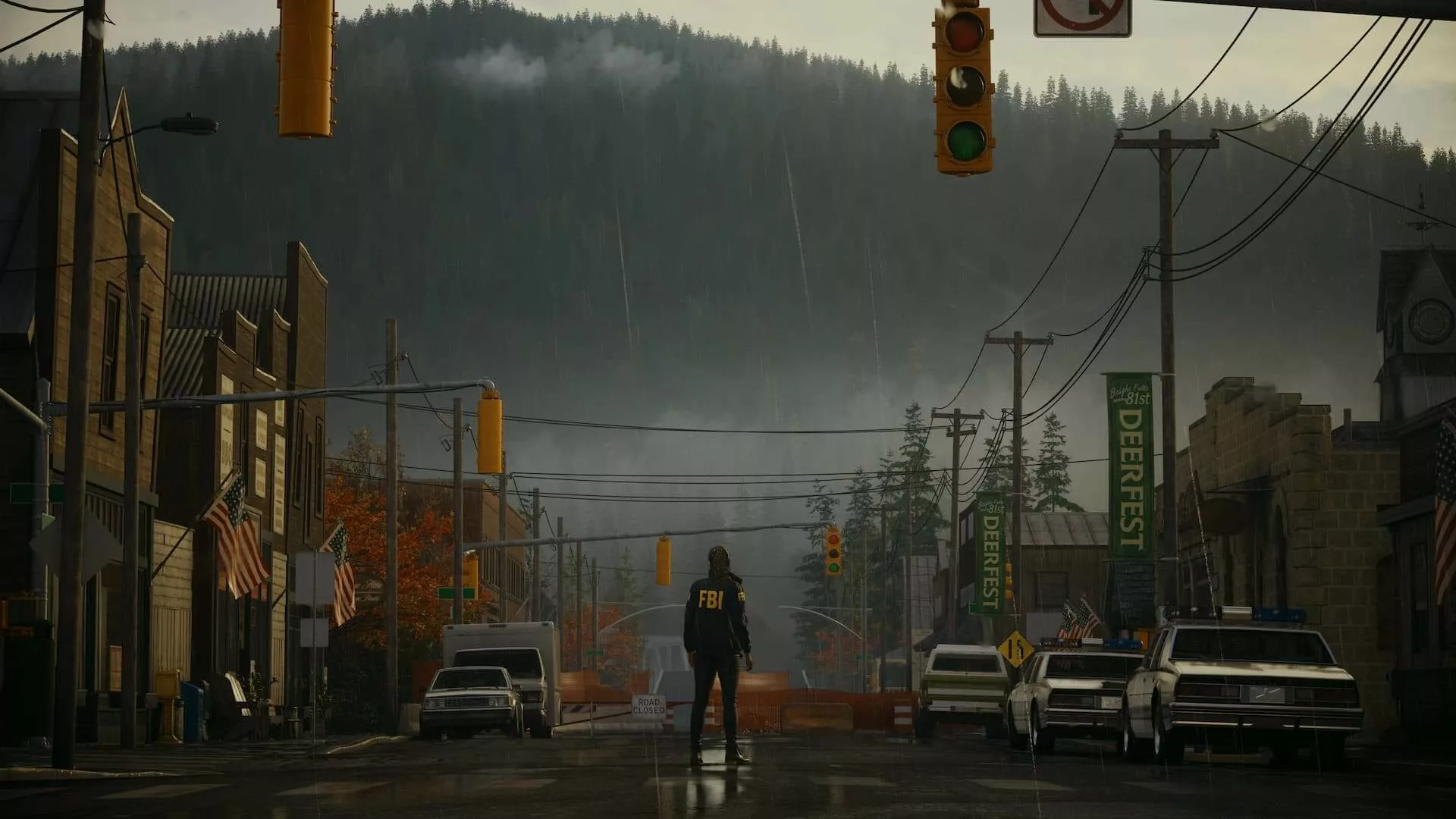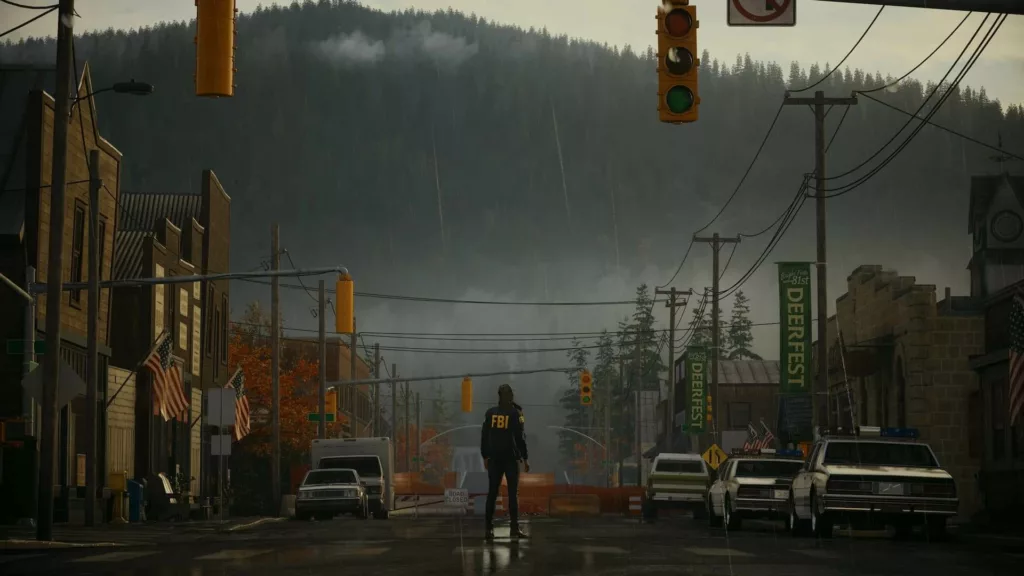 Character models are also highly impressive, with uncanny facial animations that make story moments more impactful. Saga and Alan feel grounded in their pain and determination thanks to subtle motions and expressions. The various Taken enemies also move with an erratic, animalistic fluidity, including some truly unnerving motion captured movements for certain spectral apparitions. Destructible environments add another layer of realism and satisfaction to combat, with wooden walls splintering from gunfire and glass shattering.
From a technical perspective, Alan Wake 2 offers two graphics modes on console: one prioritizing 4K resolution and one prioritizing 60 FPS. On a PS5, the 4K mode runs seamlessly at a locked 30 FPS, while the 60 FPS mode only sees very minor dips during extremely hectic combat situations. Loading times are also blazing fast thanks to the SSD, keeping repetition to a minimum. I encountered no noticeable bugs or crashes during my entire playthrough.
The striking cinematography and seamless blending of in-engine and live-action visuals are clear technical achievements as well. The camera work perfectly complements the ebb and flow of action and horror. From a visual standpoint, Alan Wake 2 represents a new benchmark for the psychological action-horror genre. The art direction and attention to detail are simply second to none. Whether admiring sweeping Pacific Northwest vistas or cringing at grotesque enemies in tight corridors, Alan Wake 2 never ceases to impress.
Audio and Score Perfectly Complement the Nightmares
The sound design and musical score of Alan Wake 2 are just as impressive as the visual presentation when it comes to immersing players in its twisted story. The forests of Bright Falls come alive through environmental audio, from leaves rustling in the wind to branches cracking underfoot. Eerie ambient tones echo through the metal corridors and vast open spaces of Alan's abstract Dark Place setting. Flashlight beams give a satisfying thud when making contact with Taken enemies, and guns all have an authentic sense of power.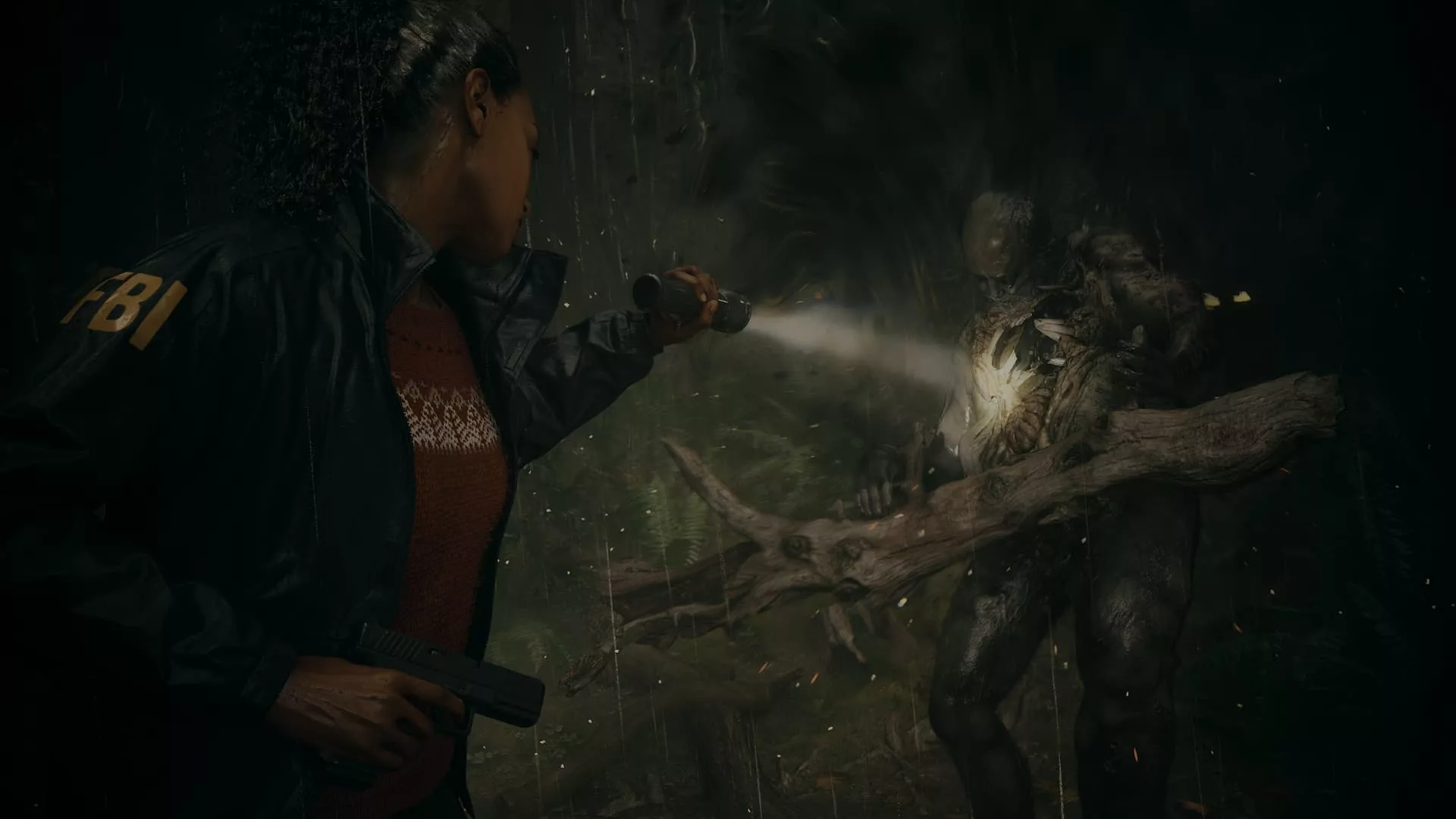 The haunted score strikes a perfect balance between melodic yet menacing. Hair-raising strings and ominous synth tones crescendo during tense encounters before fading into the backdrop during exploration segments. Licensed songs from various eras also blend seamlessly into the world for added character. The song choices range from brooding oldies to heavy metal, with some impressively produced original pieces written specifically for memorable moments.
Top-notch voice acting rounds out the polished audio experience. Both protagonists deliver nuanced, grounded performances, convincingly selling the trauma and determination of their journey. Supporting characters are also expertly cast, from kindhearted locals to the varied Taken enemies, whose guttural tones and erratic mutterings are straight-up disturbing. Additional snippets of voiceover scattered throughout environments adds richness without being overbearing.
In a game where atmosphere means everything, the stellar sound design and score create a world players can believe in. Whether subtly building tension or aggressively assaulting the senses, Alan Wake 2's audio consistently accentuates the surreal horror in memorable fashion. Turn off the lights, turn up the volume, and don't be surprised if you still hear these disturbing tones echoing in your mind after the credits have rolled.
Plenty of Reasons to Revisit the Nightmare
Beyond the gripping 15+ hour main campaign, Alan Wake 2 provides players with several incentives to dive back in for repeated playthroughs. Collectibles in the form of manuscript pages are scattered across levels, providing backstory details when enough are gathered. Observation and thorough exploration is required to find them all. The adjustable difficulty options also encourage replay, with the upcoming Nightmare mode providing an extreme challenge for seasoned veterans.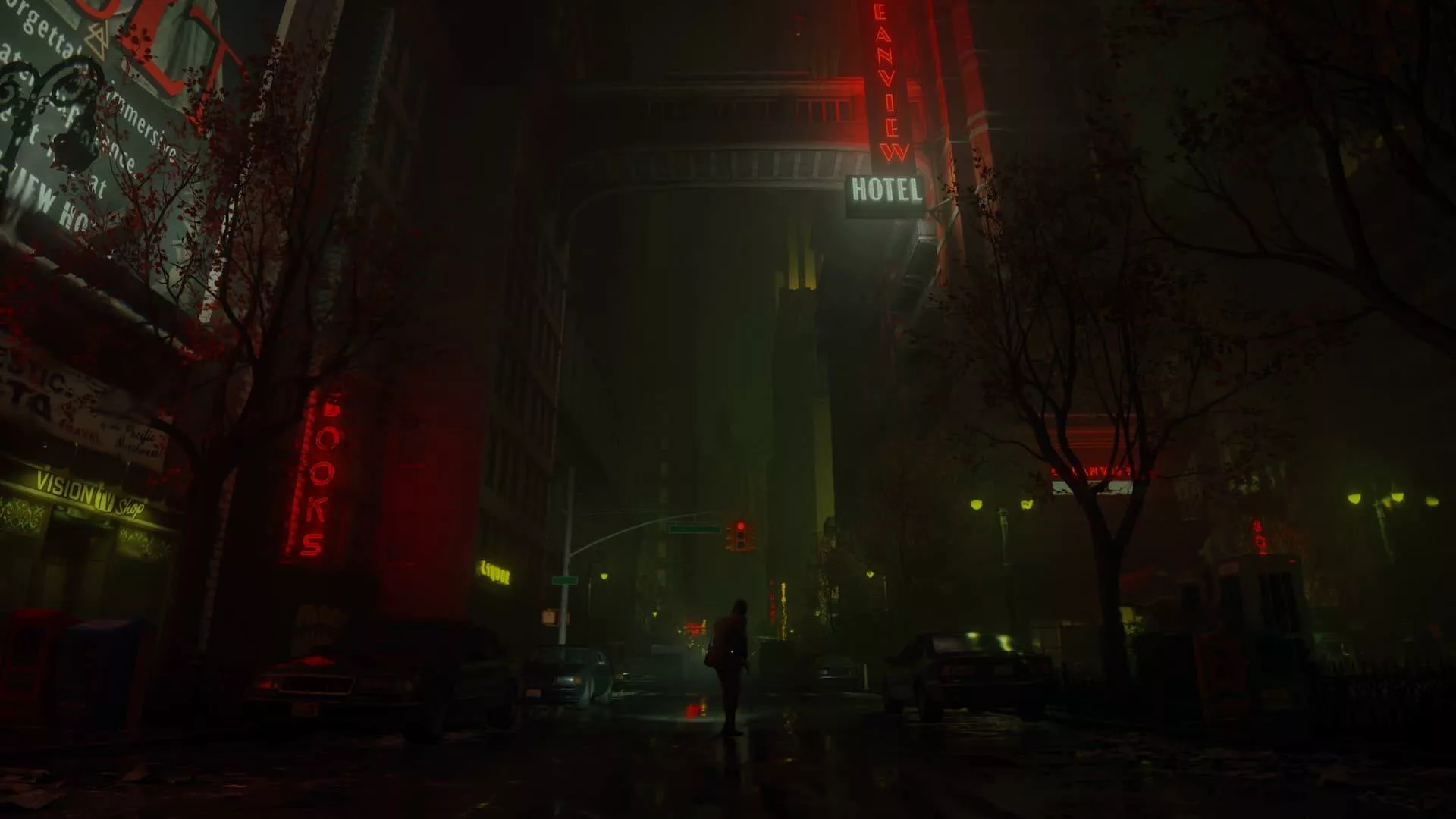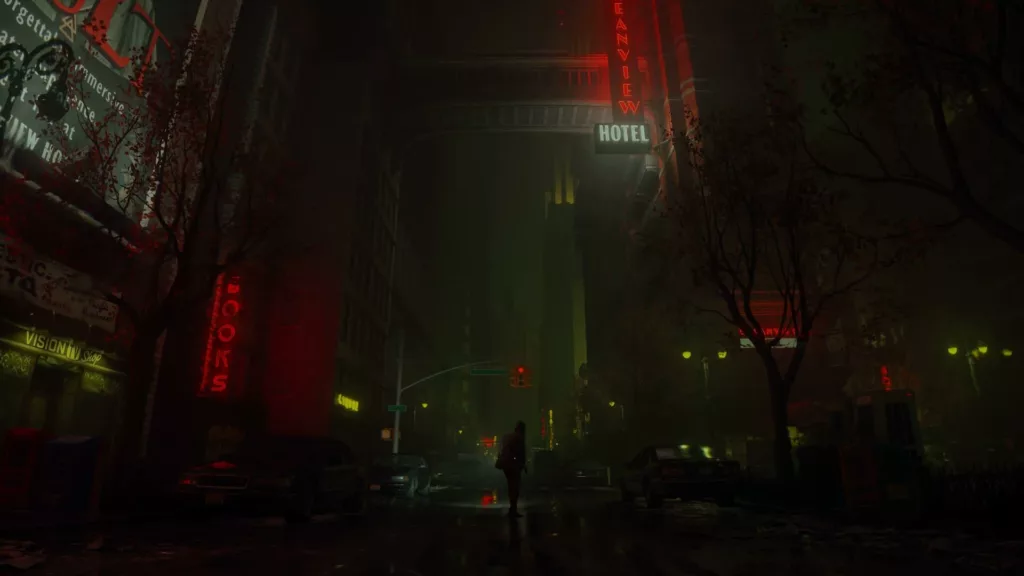 A New Game+ mode allows players to carry over acquired weapons and upgrades to a fresh playthrough. Since it's impossible to unlock every upgrade in a single run, this adds replayability for those who enjoy maxing out abilities and tinkering with new loadouts. Speedrunners and achievement hunters will also find plenty of replay value in mastering levels to improve times and accomplishing specific combat feats.
While no concrete DLC plans have been announced yet, Remedy typically supports their games with post-launch content, and the ending leaves narrative threads that could be explored. Given that Alan Wake 2 has been designed with the next generation of consoles in mind from the ground up, a steady stream of optimizations and technical improvements can also be expected.
For those craving more fiction from the twisted world of Alan Wake, two tie-in books were published in 2022 that complement the sequel's story nicely. With such dense lore and storytelling, conversations with fellow fans online about theories and interpretations will also drive engagement well after the credits roll. All said, Remedy has packed Alan Wake 2 with plenty of incentives for value-minded fans to keep coming back for more.
A Triumphant Return to Form for Alan Wake
After analyzing all aspects of this long-awaited sequel, I can wholeheartedly recommend Alan Wake 2 to fans of psychological horror and thrilling adventures alike. Remedy has exceeded expectations, building upon the strong core of the original while evolving in bold new directions. The complex interwoven narrative creates an enthralling mystery to unravel across distinct but complementary nightmarish worlds. Slick third-person shooting action still shines during combat encounters, but increased strategy and scarce resources provide a welcome sense of desperation.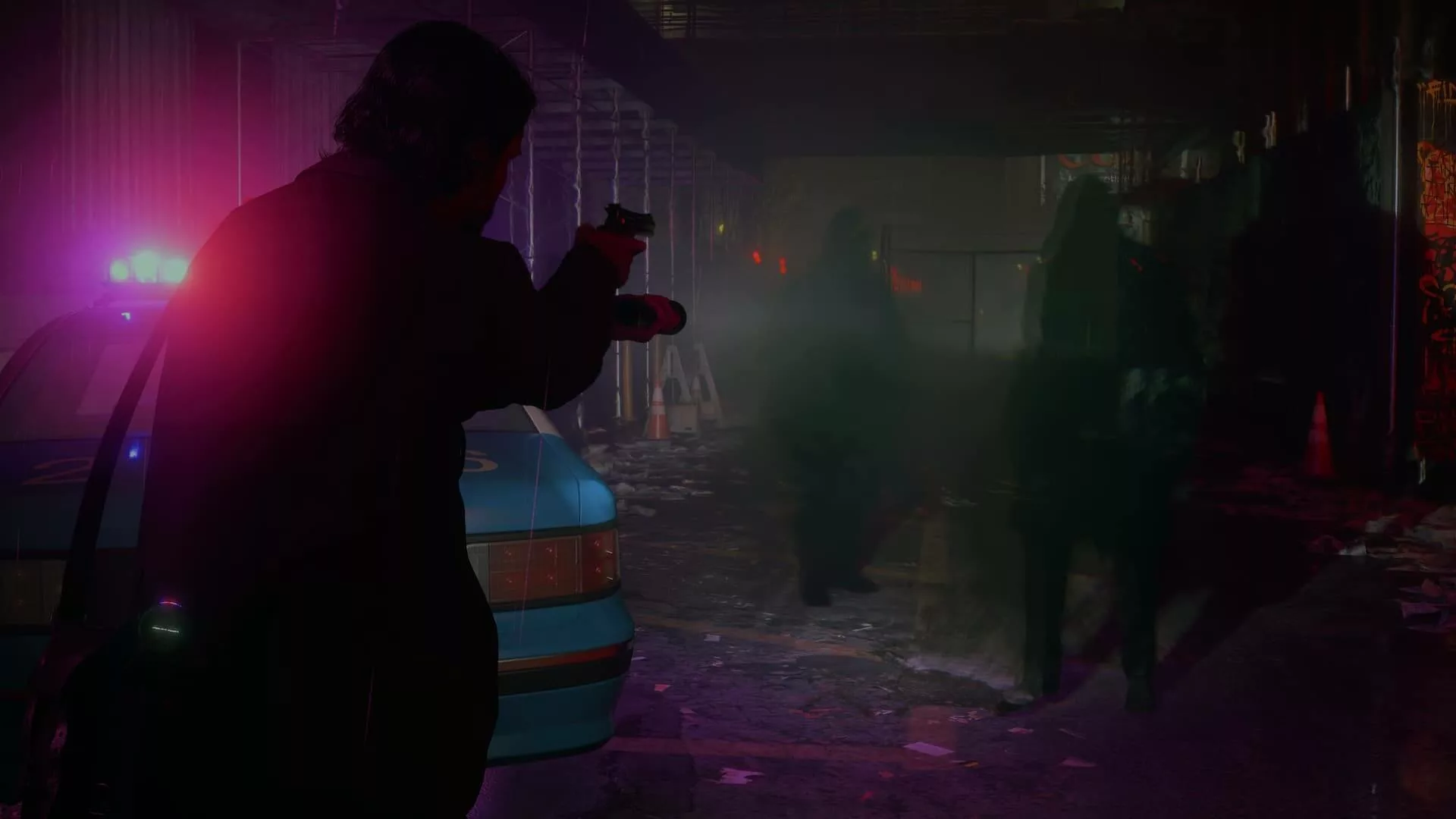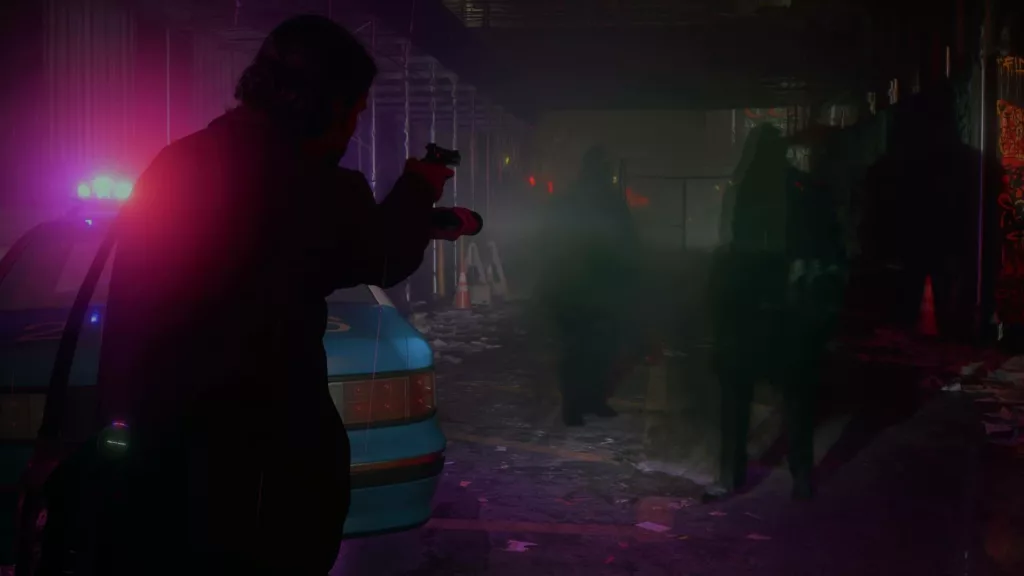 On the presentation front, superb graphics, sound, and music perfectly complement the haunting atmosphere. Exploring the beautiful Pacific Northwest settings and otherworldly architecture never fails to impress thanks to top-notch environmental design. Some minor repetitive tasks in Saga's levels and imbalanced skill upgrades represent the only noticeable drawbacks.
Ideal for mature fans of twisted stories and tactical action, Alan Wake 2 should appeal to devoted Remedy fans along with those who appreciate strong artistic vision. Newcomers may be initially overwhelmed, but accessible difficulty options make dipping into the rich mythology welcoming. Alan Wake undoubtedly retains a cult status, but this sequel deserves to find a wider audience across horror aficionados.
When it comes to furthering interactive storytelling and delivering a gorgeous surrealist adventure, few games can stand on the same level as Alan Wake 2. Just over a decade later, Remedy has managed to meet the lofty expectations of fans while dramatically expanding the scope and potential of this franchise. Alan Wake 2 will likely be held in high regard for years to come and serves as a new benchmark for psychological action-horror.
The Review
Alan Wake 2
With its brilliant dual-reality narrative, engaging survival horror combat, and striking visual presentation, Alan Wake 2 stands as a stunning return to form that lives up to its cult classic predecessor and then some. Remedy has woven an unforgettably surreal thriller that admirably pushes the boundaries of artistic storytelling in games and cements Alan Wake as a premier psychological action-horror franchise. This eagerly anticipated sequel was well worth the 13 year wait.
PROS
Brilliant dual-reality narrative that keeps players engaged.
Engaging survival horror combat with limited resources and strategy.
Striking visual presentation with impressive graphics and immersive environments.
Memorable sound design and music that enhance the atmosphere.
Plenty of replay value with collectibles, multiple difficulty options, and New Game+ mode.
Potential for post-launch content and support.
Expands the scope and potential of the Alan Wake franchise.
CONS
Some minor repetitive tasks in Saga's levels.
Imbalanced skill upgrades.
Potentially overwhelming for newcomers (although accessible difficulty options help).
No concrete DLC plans announced at the time of the review.