Suicide Squad: Kill the Justice League, the much-anticipated video game from Rocksteady Studios and WB Games, has released a new trailer, shining a spotlight on the iconic antihero Harley Quinn.
This latest glimpse into the game's universe showcases Harley in her element, battling against the formidable forces of Braniac in the sprawling cityscape of Metropolis.
This new portrayal of Harley marks a significant shift from her past narrative associations. Departing from her Joker-centric storylines, the trailer portrays Harley as an independent force, albeit with a slightly twisted sense of heroism.
In the game, she's not fighting to save Metropolis out of altruism but rather due to a more compelling reason – a bomb implanted in her head by Amanda Waller, the jailer/commander voiced by Debra Wilson.
Batman's Tech in Harley's Hands
An intriguing aspect of the game, as revealed in the trailer, is Harley's access to Batman's technology. This inclusion nods to the game's setting in the same universe as Rocksteady's Arkham trilogy. The thought of Harley nonchalantly pilfering gadgets from the Batcave adds a humorous and exciting dimension to her character and gameplay.
Anticipation for the game's release in February is high, and for a lucky few, the excitement will peak sooner. WB Games and Rocksteady are organizing a 'Closed Alpha Tech Playtest,' scheduled from November 30 to December 4.
This exclusive event, shrouded in secrecy and bound by a strict NDA (Non-Disclosure Agreement), offers select players an early experience of the game. However, breaching this agreement could potentially harm the game's launch plans, as emphasized by WB Games.
The Controversy and Expectations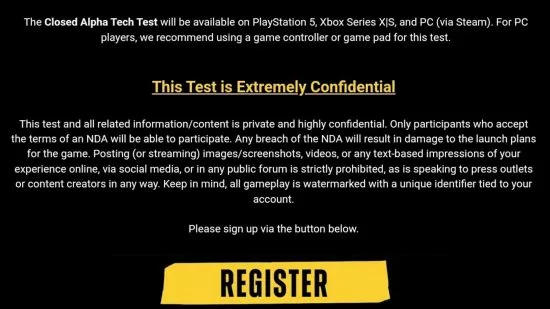 This playtest and the game's development come amid mixed reactions to previous gameplay trailers and concerns about 'Games as a Service' elements in the game.
There is speculation about the extent of these features and whether they might lead to an online-only experience, even for single-player modes.
Fans of the Arkham series are particularly watchful, hoping that Suicide Squad does not follow the controversial path of overpriced microtransactions, a criticism faced by other WB Games releases like Mortal Kombat 1.