Higher PlayStation Plus subscribers can start checking out a number of added productions. Proposals announced as part of the December offer are now available for download.
The final month of this year promises to be quite attractive for PlayStation subscription users. First, the Sony released a set consisting of five games, of which the refreshed Mass Effect collection deserves quite a mention.
The improved trilogy was met with an excellent reception at the time of its release, therefore if you haven't checked it out yet, long winter evenings are the perfect opportunity to do so.
The list today has been expanded with quite interesting productions – daredevils can look forward to, among others, three large maps full of villains from the Far Cry universe, giant terrains laden with enemies and a capital Nemesis system in Middle-earth or the next stories from the Land of the Cherry Blossom.
There are also titles for younger audiences on the list, along with more classics – PS Plus subscribers get a chance to check out the excellent, albeit unfortunately short, Heavenly Sword.
Ninja Theory, as an independent team, has offered Sony a game that was quite popular in the PS3 era. Now, among other things, developers are developing Senua's Saga: Hellblade II for Microsoft.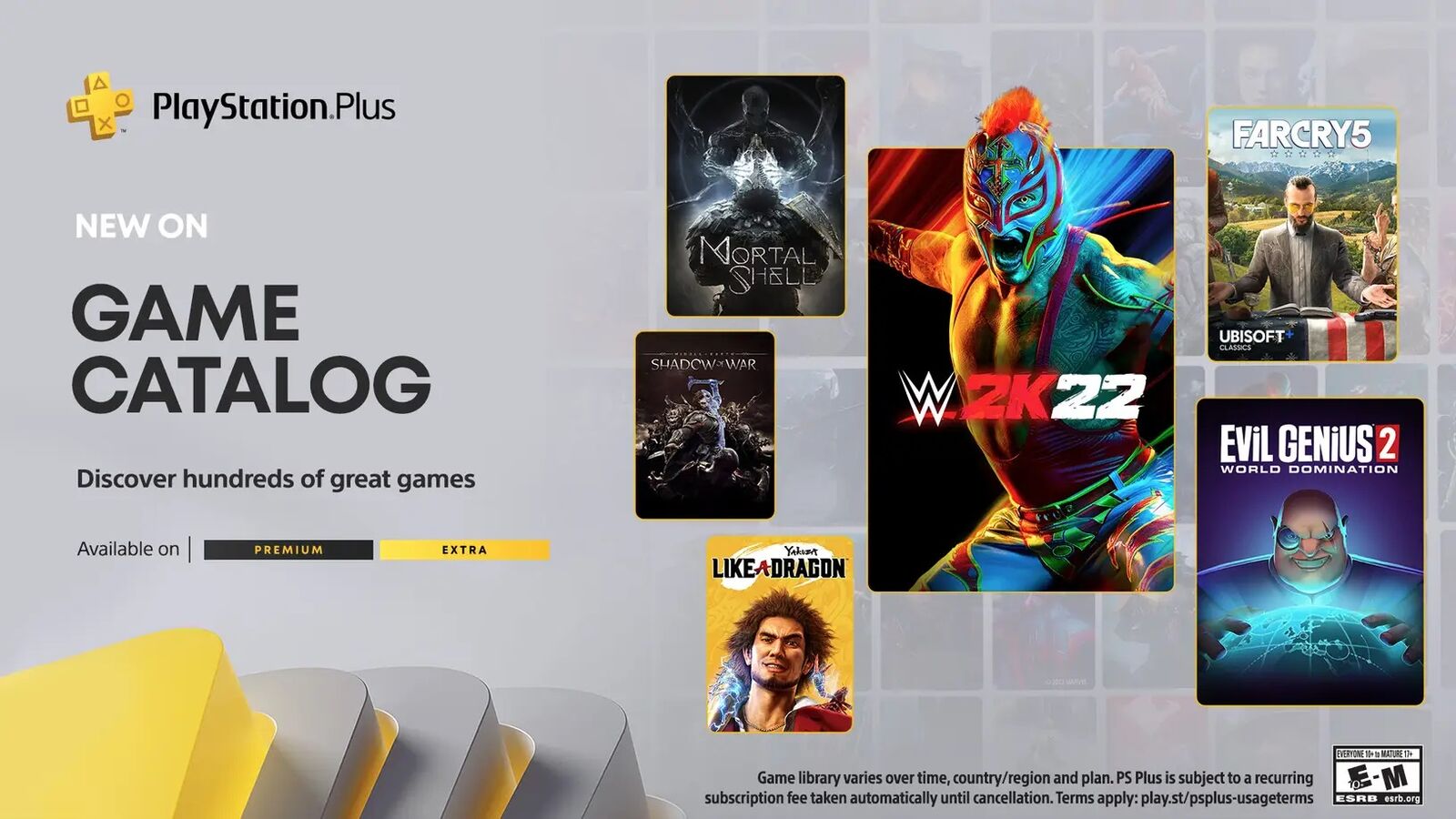 PlayStation Plus Extra and PlayStation Plus Premium 
WWE 2K22 | PS5 – download with PS Plus

Far Cry 5 | PS4 – download with PS Plus

Far Cry New Dawn | PS4 – download with PS Plus

Far Cry Primal | PS4 – download with PS Plus

Mortal Shell | PS4, PS5 – download with PS Plus

Judgment | PS4, PS5 – download with PS Plus

Yakuza: Like a Dragon | PS4, PS5 – download with PS Plus

Yakuza 6: The Song of Life | PS4 – download with PS Plus

Middle Earth: Shadow of Mordor | PS4 – download with PS Plus

Middle-Earth: Shadow of War | PS4 – download with PS Plus

The Pedestrian | PS4, PS5 – download with PS Plus

Evil Genius 2 | PS4, PS5 – download with PS Plus

Adventure Time Pirates of the Enchiridion | PS4 – download with PS Plus

Ben 10: Power Trip | PS4, PS5 – download with PS Plus

Gigantosaurus The Game | PS4 – download with PS Plus

Pillars of Eternity II: Deadfire – Ultimate Edition | PS4 – download with PS Plus

Worms W.M.D | PS4 – download with PS Plus

The Escapists 2 | PS4 – download with PS Plus
PlayStation Plus Premium | Classics
Ridge Racer 2 | PSP – download with PS Plus

Heavenly Sword | PS3 – download via console

Oddworld: Abe's Exoddus | PS1 – download via PS Plus

Pinball Heroes | PSP – download via PS Plus
PlayStation Plus Essential
Mass Effect Legendary Edition (Mass Effect, Mass Effect 2, Mass Effect 3) – download with PS Plus

BioMutant – download with PS Plus

Divine Knockout (DKO) – download with PS Plus