Zelda Tears of the Kingdom (TOTK), with its vast and expansive open-world map, is a veritable treasure trove teeming with hidden secrets and unexpected surprises. This article aims to enrich the exploration for all the fans ardently treading in Link's footsteps across Hyrule, by highlighting some incredible details about Zelda Tears of the Kingdom that may have been overlooked during the initial few hours of gameplay.
The Opening Act: A Class Act
One of the countless subtle yet brilliant elements that sets apart this exclusive Nintendo Switch release is its opening sequence. Eiji Aonuma and his team elected to usher in the new explorers of the Hyrule Kingdom with an unassuming black screen and the text: "Nintendo presents The Legend of Zelda Tears of the Kingdom".
This understated introduction is a testament to the unwavering confidence Nintendo places in the game's ability to captivate the audience without relying on extravagant sequences or cinematic scenes.
Sanctuary Entrances: A 'Tardis-Style' Touch
In the early stages of your adventure, you may stumble upon another unique aspect of Zelda TOTK. Nintendo cleverly uses a 'Tardis-style' effect to portray the unveiling of the Sanctuaries.
This special effect, which seemingly 'pierces the screen,' grants each sanctuary a dimensional portal, thereby connecting the Zelda sequel to another notable platform-centric adventure, Psychonauts 2.
Creepy Encounters in the Game
As you traverse the landscapes of Hyrule, certain spine-chilling aspects of the game might have eluded your attention. Eiji Aonuma has masterfully sprinkled 'moments of horror' into the most unpredictable in-game situations.
For instance, the eerie voices echoing during narrative flashbacks about the Calamity, the audio distortions of the soundtrack when in contact with Miasma, and the bloodcurdling music that follows Link's encounter with the 'Hell's Hands' arising from the ground in the most perilous areas of the map.
A Familiar yet Alien Landscape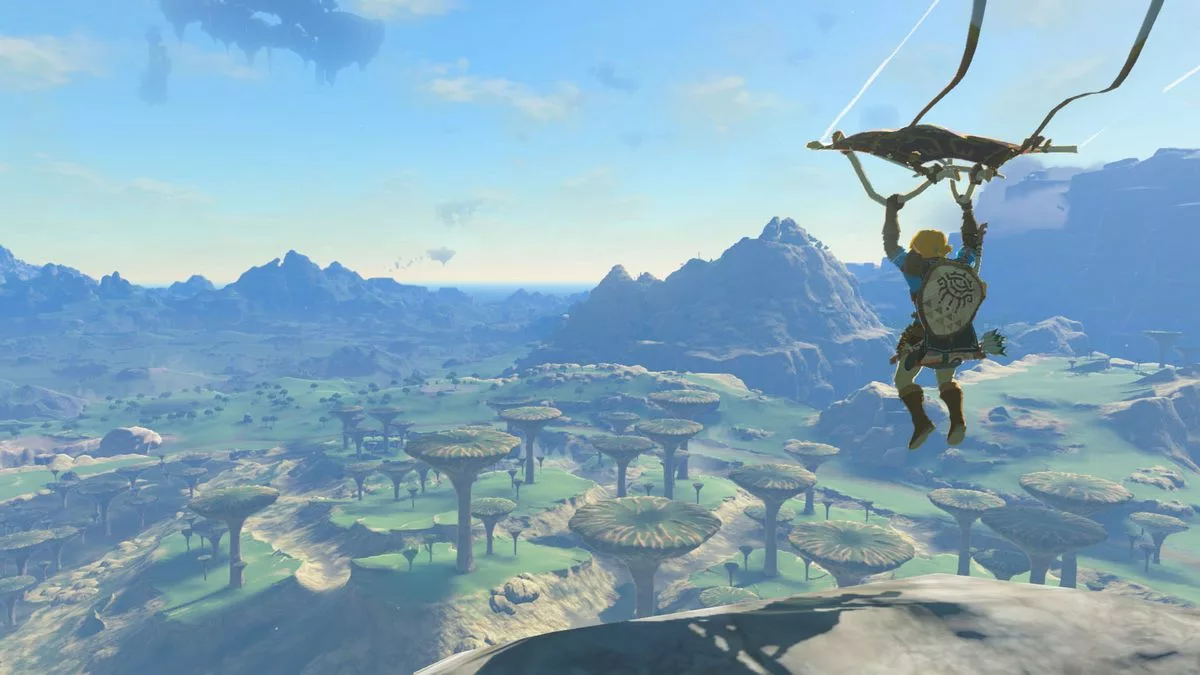 Finally, seasoned explorers venturing into Hyrule's territories after their extensive sojourn in Zelda Breath of the Wild would be hit with an uncanny sense of déjà vu. The sight of once lush pastures morphed into colossal canyons and cryptic pictograms supplanting centuries-old trees evokes a sense of the familiar yet alien.
The ever-changing landscape of Hyrule itself stirs the players' imagination and curiosity through its continuous 'artistic persuasion,' turning every simple walk into a memorable journey.
In Zelda Tears of the Kingdom, each playthrough is an opportunity to uncover more of Hyrule's elusive secrets and treasures. So, gear up for a journey that's as enthralling as it is surprising!
Delve into the world of "The Consultant," a show that boldly examines the moral limits of capitalism while captivating you with suspense and horror. Can't get enough of Christoph Waltz's compelling performance? Neither could we. Learn why we're so hooked in our detailed review. Explore Our Review of "The Consultant" Now.