At the recent Summer Game Fest, not only was the release date and collector's edition of Marvel's Spider-Man 2 confirmed, but also the pre-order incentives were unveiled.
Among these incentives are the classic Spider-Man costumes, available in different packs for both Peter Parker and Miles Morales. In addition to revealing the suits, players will have the opportunity to explore the origin and significance behind each one, delving deeper into the Spider-Man lore.
Unveiling the Origins of the Spider-Man Suits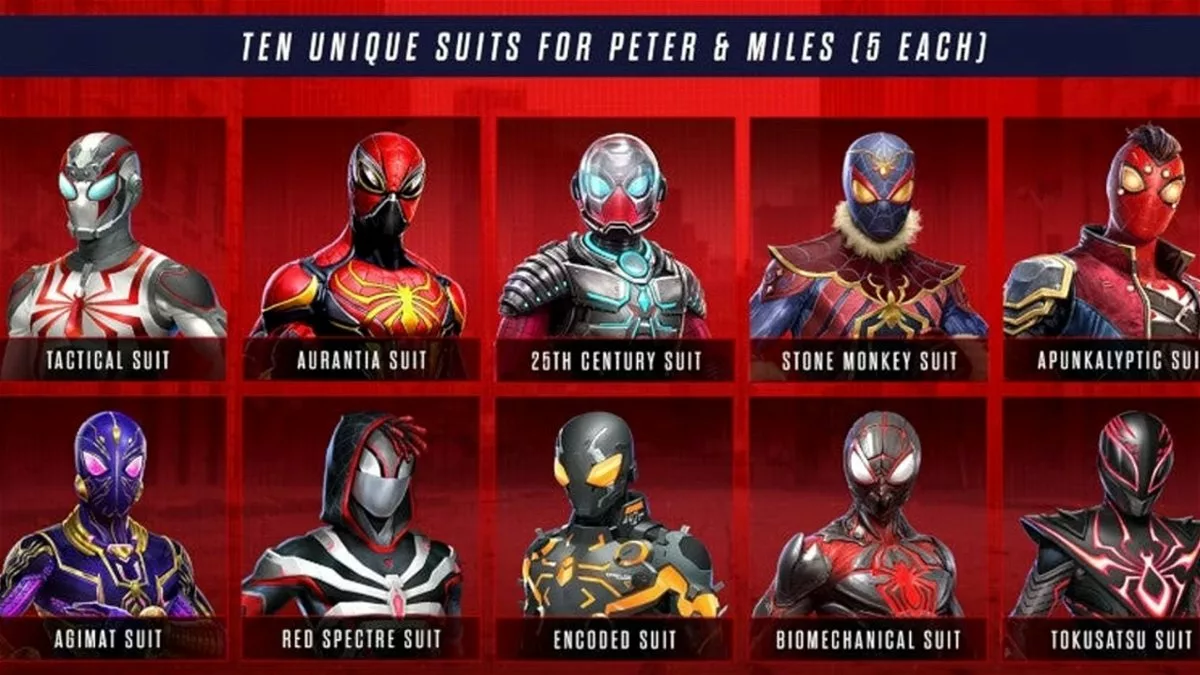 The standard edition of Marvel's Spider-Man 2 will include two suits inspired by Spider-Man's Arachknight persona. On the other hand, the Digital Deluxe Edition will offer a total of ten suits, five for each of the game's playable characters. Let's take a closer look at the costumes available for Peter Parker:
Aurantia Suit: This suit draws inspiration from Iron Spider while staying true to the classic comic book aesthetic.
Tactical Suit: Based on the Threats and Menaces comics, where Peter becomes a popular streamer.
25th Century Suit: This spacesuit bears resemblances to the enigmatic Mysterio.
Stone Monkey Suit: Inspired by the iconic character Sun Wukong from the Chinese novel Journey to the West, known for his stone origins.
Apunkalptic Suit: An original design that combines cyberpunk and post-apocalyptic aesthetics, potentially influenced by the original Captain Marvel.
For Miles Morales, the following suits await:
Tokusatsu Suit: Paying homage to the Power Rangers, this suit features vibrant colors and a distinct superhero style.
Red Specter Suit: Inspired by the design of Spider-Gwen/Ghost Spider, this suit combines sleekness with striking visuals.
Agimat Suit: Currently, the origin of this suit remains unknown, leaving fans curious to discover its significance.
Encoded and Biomechanical Suits: These futuristic, robotic suits likely represent original designs by Insomniac Games.
Save the Date
Marvel's Spider-Man 2 will be exclusively available on the PS5 starting October 20th. As fans eagerly anticipate the game's release, the wide selection of suits promises a thrilling and visually captivating experience for players to immerse themselves in the world of Spider-Man once again.