Brother tells the poignant story of two brothers, Francis and Michael, as they come of age in the Scarborough neighborhood of Toronto. Adapted from David Chariandy's novel, the film navigates complex themes of family, masculinity, and the immigrant experience through an unconventional nonlinear structure.
We are introduced to the charismatic Francis and his more reserved younger brother Michael, sons of a hard-working single mother who emigrated from the Caribbean. The two brothers have a close yet complicated bond, as the boisterous Francis tries to toughen up the meek Michael to face the harsh realities of their community. Scarborough in the 1990s is an environment plagued by poverty, gang influences, and systemic racism that threatens to fracture their family.
Director Clement Virgo adapts Chariandy's novel in an ingenious three-pronged timeline, weaving together the brothers' childhood, adolescent, and early adult years. This nonlinear approach mirrors the ebb and flow of memory and emotion, piecing together the pivotal events that shape Francis and Michael's trajectory. As the story skips back and forth, we get a profound glimpse into the struggles and small joys that define their brotherhood. With its unconventional structure and empathetic lens, Brother promises to be a timely yet timeless portrait of family, identity, and perseverance in the face of hardship.
An Intricate Brotherhood
At the heart of Brother lies the complicated bond between Francis and Michael, brought vividly to life through the performances of Aaron Pierre and Lamar Johnson. On the surface, the brothers are portrayed as opposites – Francis oozes charismatic confidence while the younger Michael is far more reserved and insecure. Yet their differences mask a deep, unbreakable connection.
We first meet the brothers as teens, with the fearless Francis leading Michael on a daring climb up electrical towers overlooking Scarborough. "The buzz gets louder the higher you get," Francis says, a line that proves symbolic of the dangers they'll encounter growing up as young Black men. But Francis urges Michael to push forward, promising euphoric views if he just follows in his footsteps. This early sequence encapsulates their core dynamic – Francis as mentor, always coaxing his hesitant brother out of his comfort zone.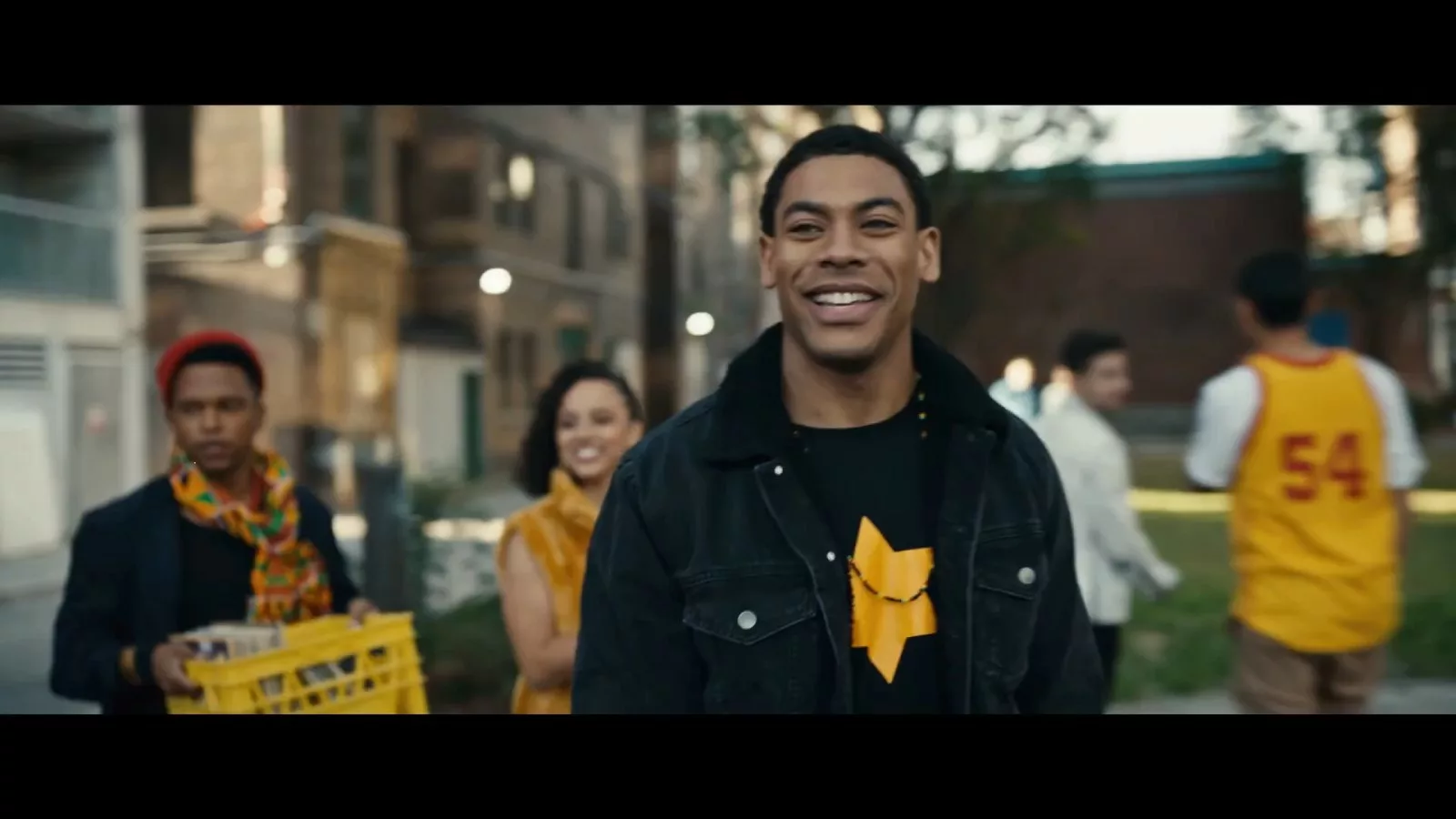 As we zigzag through time, a nuanced portrait emerges of how the brothers both lean on and learn from each other. Stoic and athletic Francis seems invincible, fending off bullies and calming Michael's nerves. But over the years, the hostile world outside begins to chip away at Francis' resolve. Michael meanwhile starts to gain confidence, encouraged by a girlfriend and his passion for music.
Some of the most tender moments come as the brothers let their guards down. Francis sheds touching tears when Michael performs an original rap song. Later, a rare glimpse of Francis' vulnerability compels Michael to embrace his distraught brother in a parking lot. Pierre and Johnson share an easy chemistry that makes their brotherhood feel lived-in. We sense a silent understanding passing between them in lingering glances and subtle gestures.
Of course, no bond between brothers comes without friction. Francis chides Michael for being too soft, while Michael tires of living in his brother's shadow. As Francis gets involved with a dangerous crowd, rifts grow that may prove irreparable. Yet through it all, an unspoken loyalty persists. When violence later besieges their community, the brothers wordlessly return to their childhood ritual of climbing towers to find solace.
In navigating both the joys and pains of brotherhood, Pierre and Johnson deliver beautifully nuanced performances. We see Francis' arrogance undercut by vulnerability, and Michael's gentleness giving way to maturity. Brother reminds us that even the closest of siblings can remain mysteries to one another, their relationship constantly shifting and evolving right up until the bitter end.
A Fragmented Portrait of Brotherhood
Director Clement Virgo employs an ingeniously fragmented structure in Brother, skipping through time to piece together a mosaic-like portrait of Francis and Michael's bond. The story unfolds across three interwoven timelines – the brothers' childhood, high school years, and young adulthood.
This nonlinear approach often cuts abruptly between time periods, conveying the slippery nature of memory. Brief episodic scenes capture tender and painful snapshots that linger in Michael's mind. We get impressionistic flashes of the boys' carefree summer days, their fearful first encounters with racist police, their awkward attempts at romance.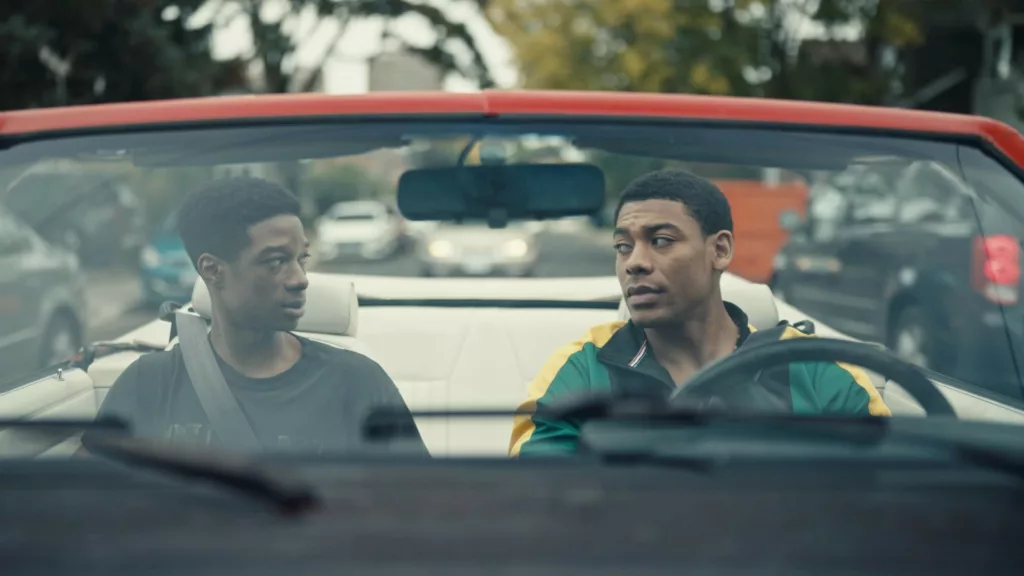 Virgo reveals key moments out of order and context, mimicking how emotions can override chronology in our recollections. After a tense run-in with officers, we suddenly glimpse the brothers as innocent kids reading comic books in bed, underscoring lost youth. Later, a heartbreaking scene of Michael crying in a stairwell cuts to him laughing with his brother years earlier, juxtaposing grief and joy.
These temporal jumps also draw evocative connections across the years, highlighting recurring visual motifs. The electrical towers loom over Michael's memories, representing the perils of maturation. As the adult Michael returns to the towers alone, we feel Francis' absence. Slow-motion shots of Francis running echo throughout, symbolizing fleeting freedom.
Virgo also wields the scrambled timeline to heighten mystery and foreshadowing around Francis' fate. Ominous details accumulate implying a tragedy – Francis' growing distance from family, involvement with dangerous friends, and confrontation with violent police. When a teenage Michael states he feels invisible outside his housing complex, we shudder knowing Francis will soon vanish from his life entirely.
Brother's nonlinear architecture masterfully evokes the fragmented nature of remembering, revealing how our biased minds reorder and imbue meaning into the past. Through its kaleidoscopic time jumps, the film poignantly etches an incomplete yet profoundly affecting portrait of a singular brotherhood irrevocably shaped by its surroundings.
Navigating Identity, Family, and Systemic Oppression
At its core, Brother is a timely exploration of family, identity, and masculinity for young Black men facing the realities of systemic racism and poverty. Both Francis and Michael grapple with external pressures that test their character and relationships.
Growing up in rough Scarborough high-rises, the brothers try to walk a tightrope, striving for more while facing constant scrutiny and danger. Casual racism confronts them everywhere – leering looks from police, racial slurs from classmates, teachers dismissing their potential. Francis projects steely confidence but avoids places where he feels invisible.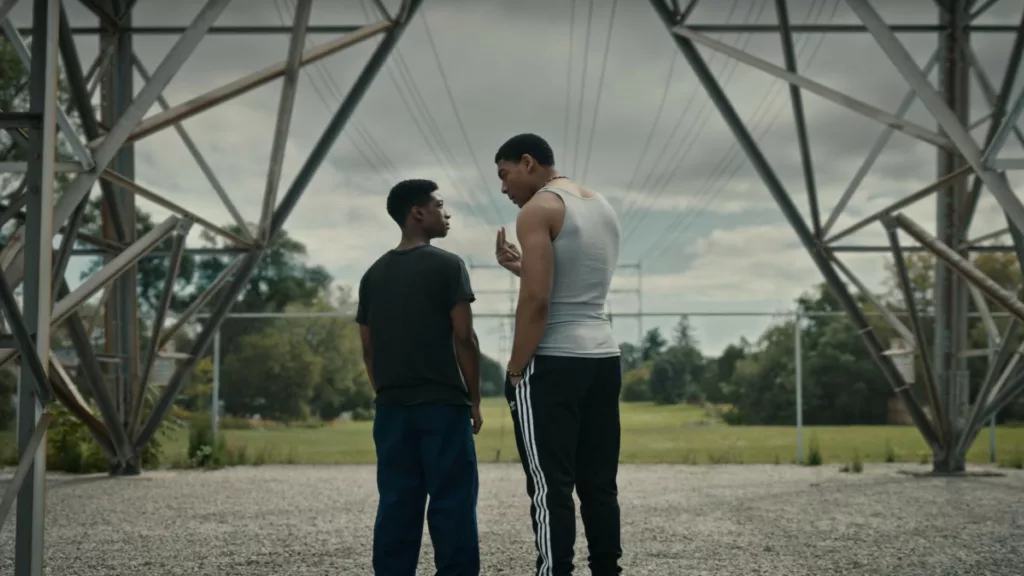 Director Virgo examines how systemic oppression can shape personal choices and ideals of manhood. Francis chides Michael for being too timid, trying to toughen him up as protection. But his own hardened exterior and quick temper increasingly become a shield against a hostile world. As Francis gets embroiled with local gang members, his stoic masculinity turns reckless, endangering his devoted brother.
At home, their strict but loving mother Ruth tries to nurture her sons amidst harsh realities. A nurse struggling to provide for her family, Ruth gave up dreams of higher education in Jamaica to move to Canada. She represents the daily sacrifices immigrant parents make, which the young men struggle to recognize. When Michael is beat up at school, Ruth coldly insists he fight back next time, revealing her hidden fears.
Ruth's relationship with each son evolves poignantly as they come of age. She clashes with the rebellious Francis, who is reluctant to share his personal struggles. With the more sensitive Michael, she later finds companionship, yet strains to adjust as he gains independence. Virgo highlights intergenerational conflicts within the immigrant experience.
Despite surrounding hostility, Brother movingly explores the strength of kinship. After a traumatizing police encounter, the brothers rediscover childlike joy playing video games together, their bond overcoming external hatred. And when Michael performs a song honoring his absent father, Francis sheds tears, finally exposing his vulnerability. Though tested by a system designed against them, their family prevails as a lifeline.
Through Francis and Michael's journey, Virgo insightfully examines the complex web of social and cultural pressures shaping young marginalized lives. Brother gives dimension to its characters as they navigate identity, family, and manhood – on their own terms.
A Visual and Auditory Feast
Beyond its powerful themes, Brother immerses us through stellar direction, camerawork, music, and acting. Director Clement Virgo displays a keen visual eye, using intimate framing and deliberate color palettes to draw out emotion.
Virgo often lingers on characters' faces in tight close-ups, honing in on subtle expressions that reveal pages of unspoken meaning. During a tense police encounter, we study Michael's eyes flickering with silent panic. When Francis describes his dreams of escape, Virgo cuts to his determined face against a poetic blur of passing trains. Camera movement also flows elegantly with the nonlinear structure, with smooth pans and tracking shots gliding between time periods.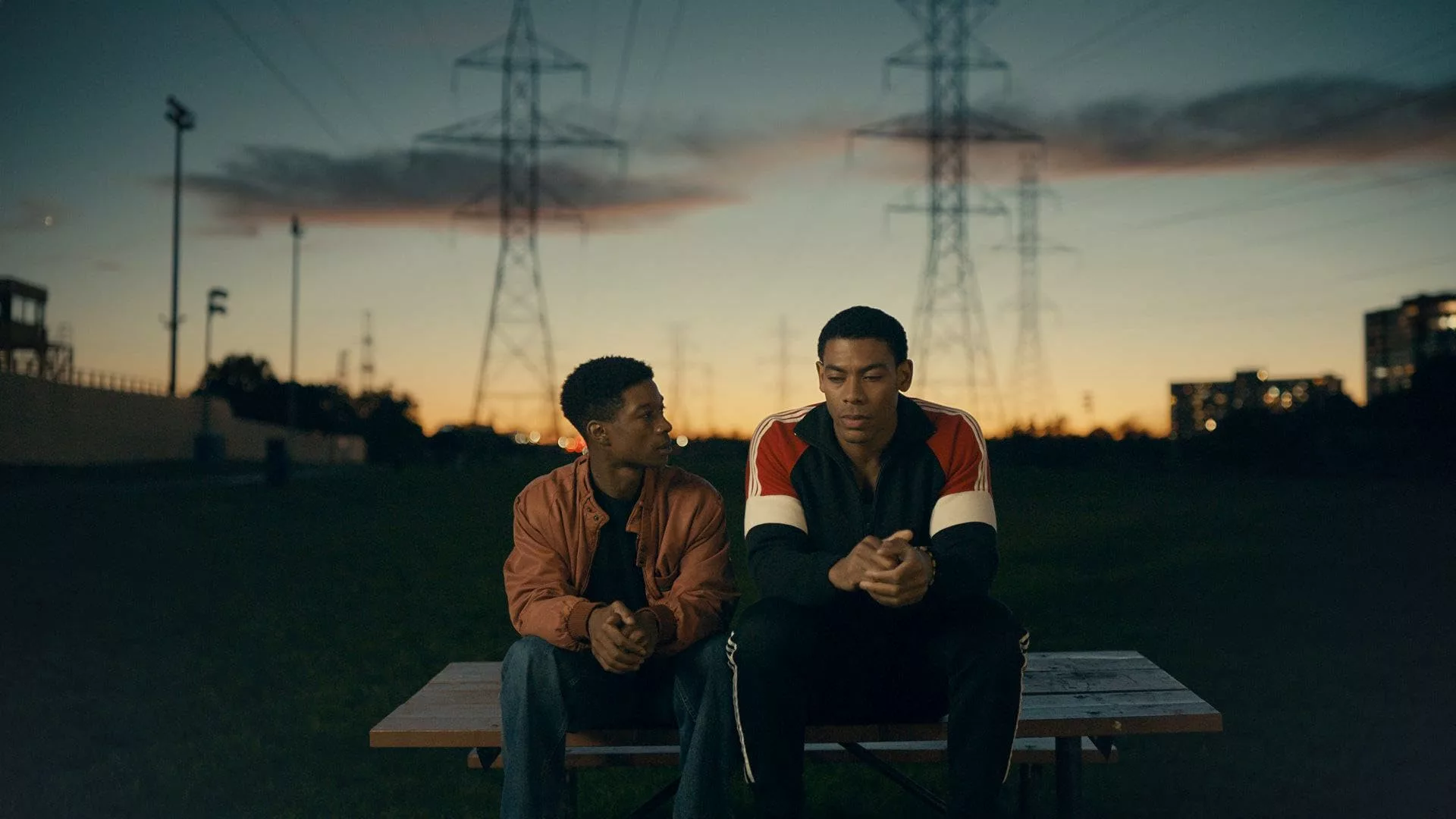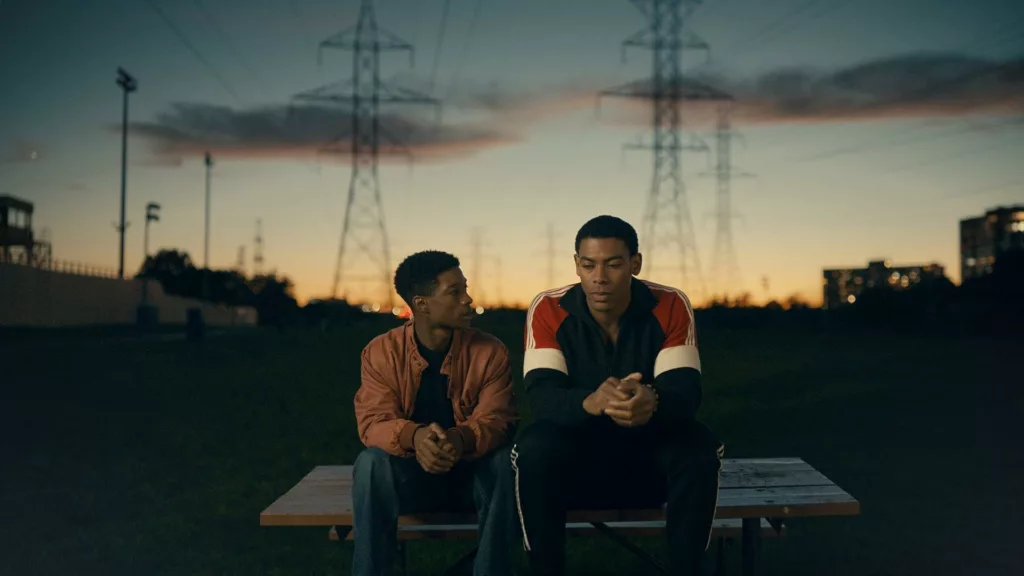 Color is also used expressively, frequently juxtaposing vibrant, warm hues with cold tones. In a heartbreaking scene, Michael sits bereft in a lonely blue-bathed stairwell after losing Francis, contrasting memories tinted in nostalgic gold. Dark shadowy visuals accompany a traumatic run-in with police, while bright natural light illuminates the brothers' carefree tower climbs.
The adept cinematography is complemented by Todor Kobakov's evocative musical score. Drawing on moody electronica and soulful orchestral swells, the music conjures a haunting atmosphere. The compositions also seamlessly match the fragmented editing, aiding those disorienting leaps in time.
Of course, technical mastery would only go so far without the magnetic performances by the cast. As the troubled but charismatic Francis, Pierre navigates an incredible emotional spectrum, exuding both machismo and vulnerability. Meanwhile, Johnson's sensitive portrayal of Michael serves as the conscience of the film. And as their determined mother Ruth, Blake strikes a powerful balance between toughness and tenderness.
Brother announces Clement Virgo as a director in command of the cinematic tools to unpack weighty themes through an intimately personal lens. The end result is a visually and sonically transporting window into one profoundly moving brotherhood.
A Poignant Immigrant Story Anchored in Brotherhood
At its core, Brother tells a timely yet universal story of family, love, and resilience. While the film frankly confronts issues of systemic racism, poverty, and violence, it also emphasizes the perseverance and humanity of its characters. Virgo steers away from portraying Francis and Michael simply as victims, granting them agency and depth. We see their playfulness, loyalty, anger, and pain in full dimensions.
The story's emotional impact stems from watching these brothers grapple with the unpredictability of life and maturity. The nonlinear structure mirrors the ebbs and flows of any family journey—the joys and frustrations, the misunderstandings and reconciliation. We ache seeing the brothers grow estranged from forces beyond their control. But there is solace in the unbreakable bond Virgo so masterfully crystallizes—a bond that persists through memory, loss, and understanding.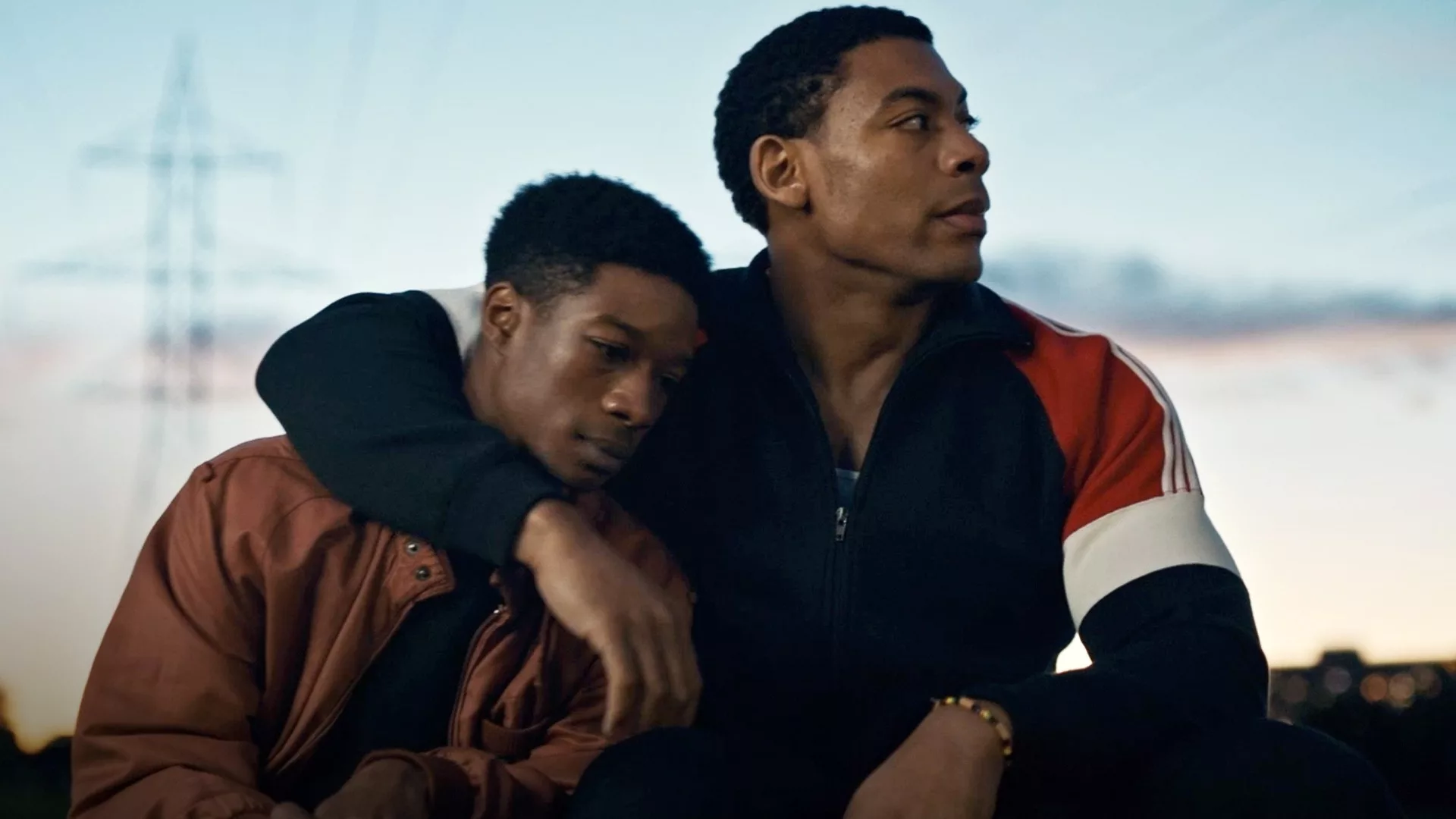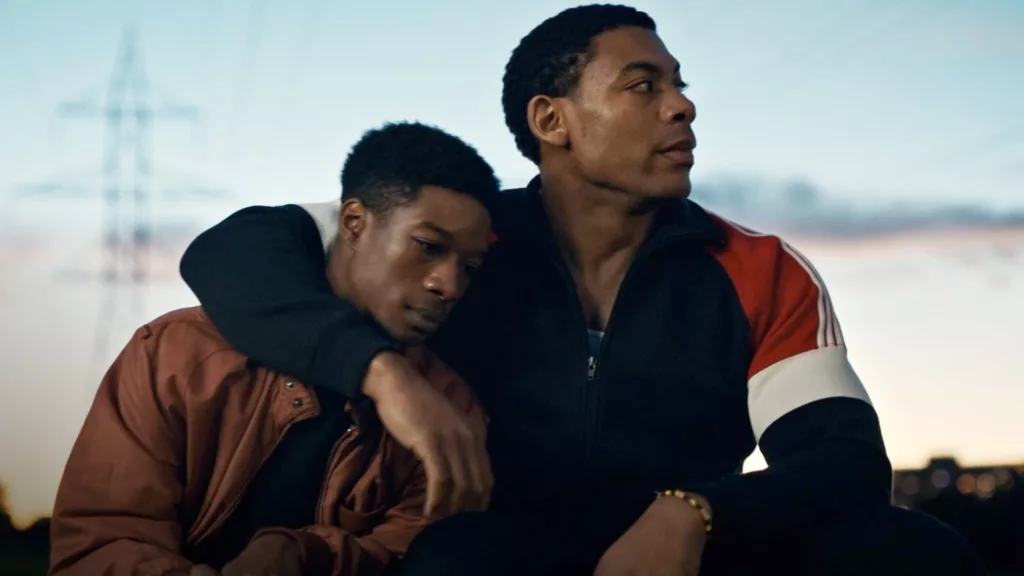 The film is not without flaws—some characters like Ruth feel underserved, the dialogue stilted in places. But as an adaptation and directorial showcase, Brother remains a poignant accomplishment. It expands a slim novel into a rich tapestry, sharpening a portrait of brotherhood into something both sweeping and intimate.
Through the specificity of Francis and Michael's struggles, Virgo has shaped an immigrant narrative that resonates across cultures. Brother movingly pays tribute to the arduous journey so many families make in search of identity, purpose, and home. Most of all, it captures a truly one-of-a-kind brotherly love using the universal language of cinema.
The Review
Brother
Brother proves a poignant and perceptive coming-of-age drama that explores the immigrant experience through the lens of brotherhood. Director Clement Virgo translates David Chariandy's novel into a visual feast, employing an unconventional nonlinear structure mirrored in elegant camerawork and music. The film tackles timely themes of systemic oppression, yet retains its humanity through richly-drawn characters and profound performances. While not without flaws, Brother emerges as an empathetic portrait of family resilience, loss, and love. Virgo adeptly expands the source material into a thematically wider, cinematically captivating triumph.
PROS
Strong central performances by Pierre and Johnson as the brothers
Nonlinear structure creates an immersive, emotional viewing experience
Evocative visual style and cinematography by director Virgo
Moving themes related to family, identity, and overcoming adversity
CONS
Secondary characters like the mother feel underdeveloped
Some stilted dialogue scenes slow the pacing
Heavy subject matter won't appeal to all viewers
Ending could be ambiguous for some audiences