Blasphemous 2 is the highly anticipated sequel to the dark and challenging 2019 indie hit Blasphemous. Bringing players back to the gothic pixelated world of religious horrors, Blasphemous 2 blends challenging hack-and-slash action with deep exploration in the style of a "Metroidvania" game. Like its predecessor, Blasphemous 2 combines the demanding combat of a "Soulslike" game with lush pixel art environments and a cryptic story drawing on religious themes.
Fans of the first Blasphemous will feel right at home with the sequel. You once again play as The Penitent One, revived after the events of the first game to embark on a new pilgrimage. While the story continues, Blasphemous 2 works well even for those new to the series thanks to its cryptic and fragmented storytelling. The world drips with dread and despair, accentuated by the stunning gothic pixel art.
Blasphemous 2 refines and expands every element of the original to offer an even deeper and more rewarding experience. Critics and fans alike have praised the sequel for improving traversal, adding weapons and abilities, expanding the creature designs, and implementing challenging but captivating boss encounters. If you enjoyed overcoming the first game's ruthless challenges, Blasphemous 2 offers more of the rich, melancholy world to explore and darker horrors to confront. For fans of uncompromising action games, Blasphemous 2 is a must-play.
Punishing yet Rewarding Combat
Blasphemous 2 demands mastery of its challenging combat system. Enemies hit brutally hard and can easily combo you to death if you're not careful. Boss fights especially require learning attack patterns and tells in order to prevail. While frustrating at first, overcoming the demanding battles provides an immense feeling of satisfaction.
Success comes from finding the right openings to attack, dodging or parrying blows, and managing your healing. Button mashing won't get you far in Blasphemous 2; you need focus and precision. The game punishes greed and recklessness, but rewards patience, skill and pattern recognition.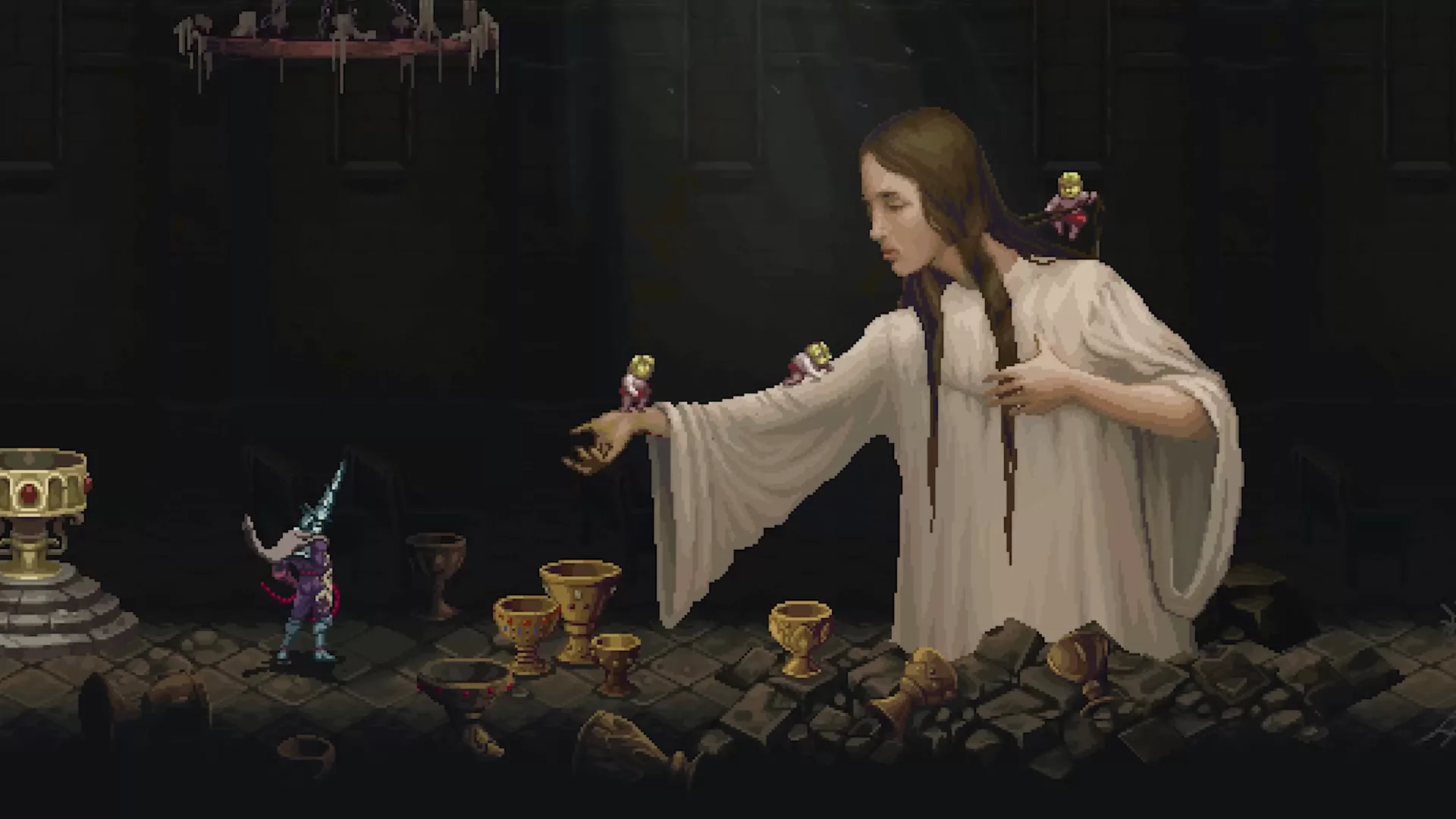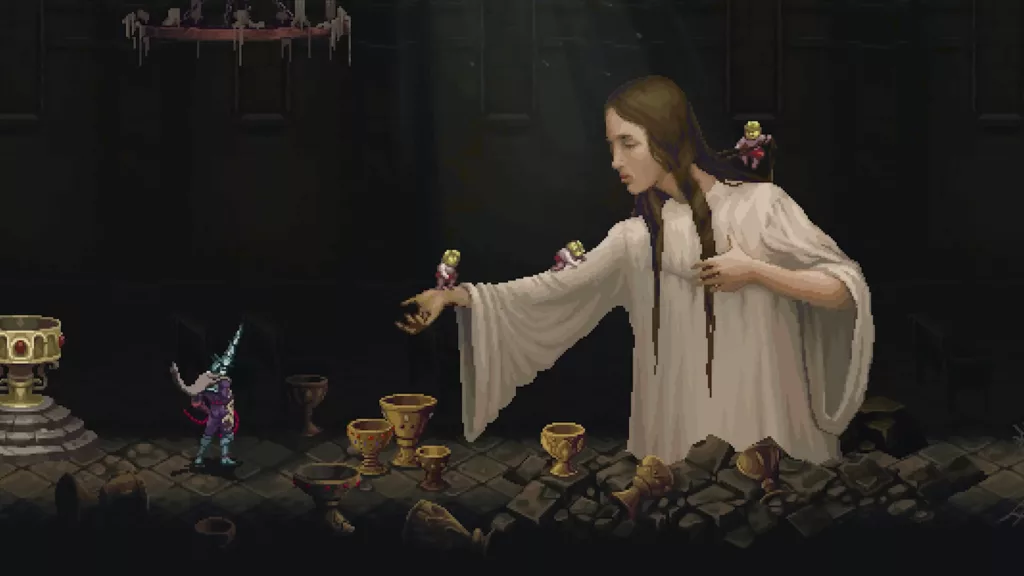 Expanded Melee Arsenal
Blasphemous 2 adds more variety to combat with three main melee weapons. In addition to the basic sword, you can now equip and switch between heavy twin blades or a long mace. Each weapon has its own moveset, strengths and weaknesses to cater to different playstyles.
The weapons also have extensive upgrade trees to unlock new combos and abilities. You'll need to collect upgrade materials from enemies and bosses to boost your arsenal. Different weapons help explore the world too – the mace can break barriers, while the blades let you teleport. Choosing your starting weapon impacts the early areas you can access.
Metroidvania Map and Mobility
Like any great Metroidvania, new movement abilities open up more of the interconnected 2D map. A dash move lets you cross gaps, while a plunging attack opens up new downward paths. Some areas are inaccessible until you gain certain powers, encouraging re-exploration.
Backtracking never feels like a chore though, because the world is lavishly detailed and rewards thorough scouring. There are ample hidden chests, breakable walls, and dangerous optional areas off the critical path. Blasphemous 2 is a dream for completionists.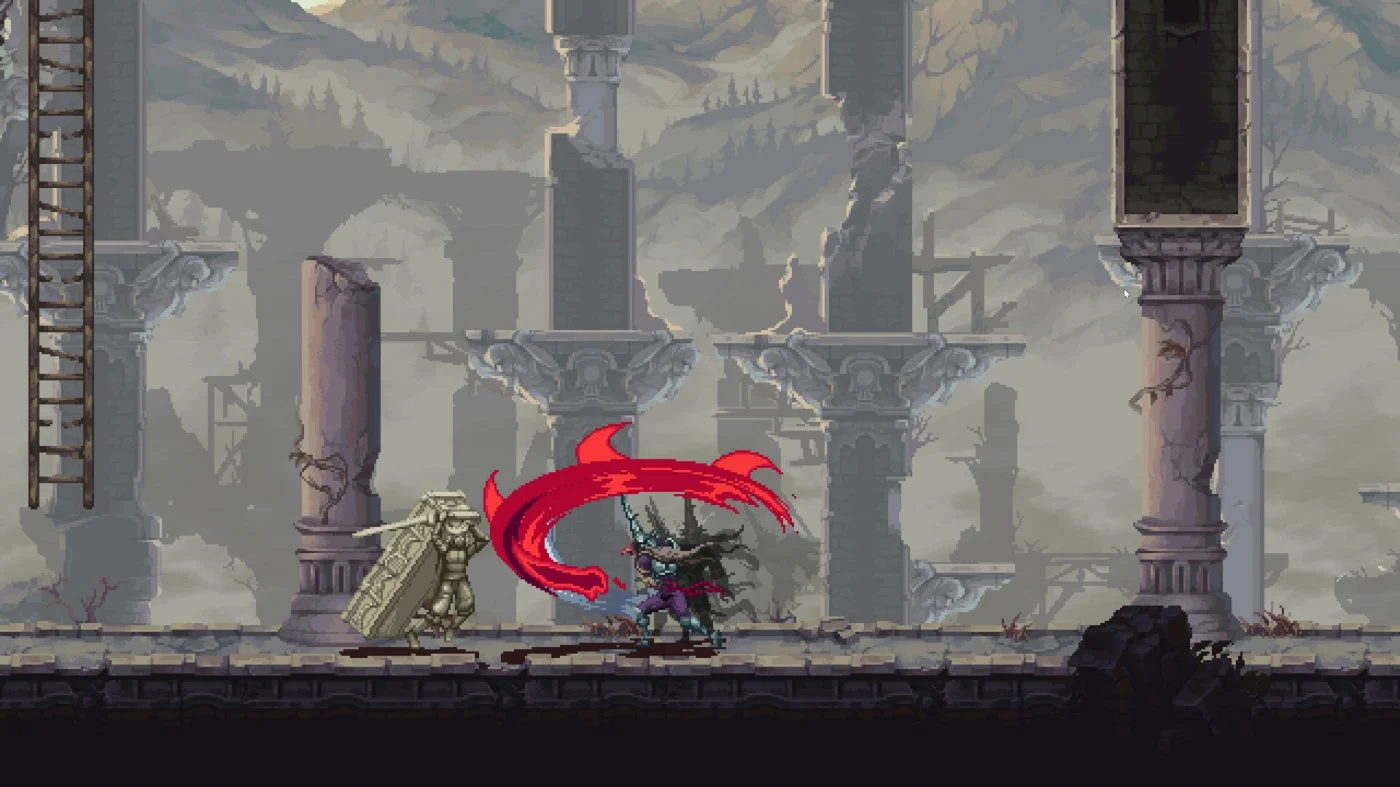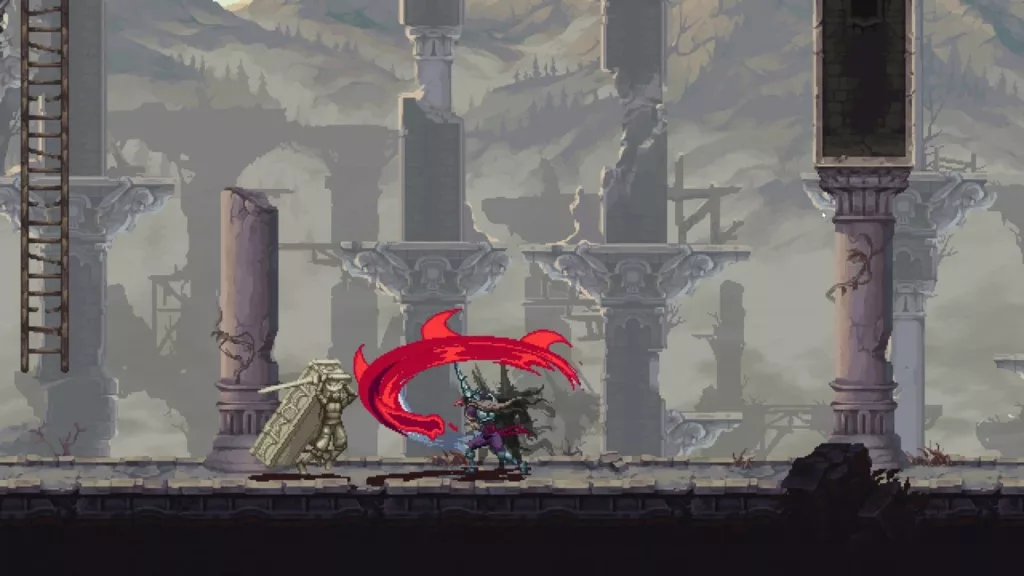 Epic Bosses with Surprises
Towering boss battles put your skills to the test. Most bosses have multiple health bars and phases, introducing new attacks and patterns as you whittle them down. Some even combine previous phases in an ultimate endurance match after you think you've won. These twists force you to master every part of a boss moveset.
The monstrous designs make every encounter memorable. You'll fight giant corrupted clergy members, warped religious icons come to life, and grotesque abominations. Victory is sweeter when you finally triumph after so many failed attempts.
Cycles of Death and Improvement
Like any Souls-like, you will die a lot in Blasphemous 2. Each death sends you back to the last checkpoint to try again. Your frustration builds after repeated failures, but this cycle of death and incremental improvement is part of the genre's appeal.
There is a sense of revelations when you finally "get" a certain boss mechanic or ninja past traps that killed you before. Your skill and coordination improve from the trial and error. Dying loses its sting, becoming an integral part of progress.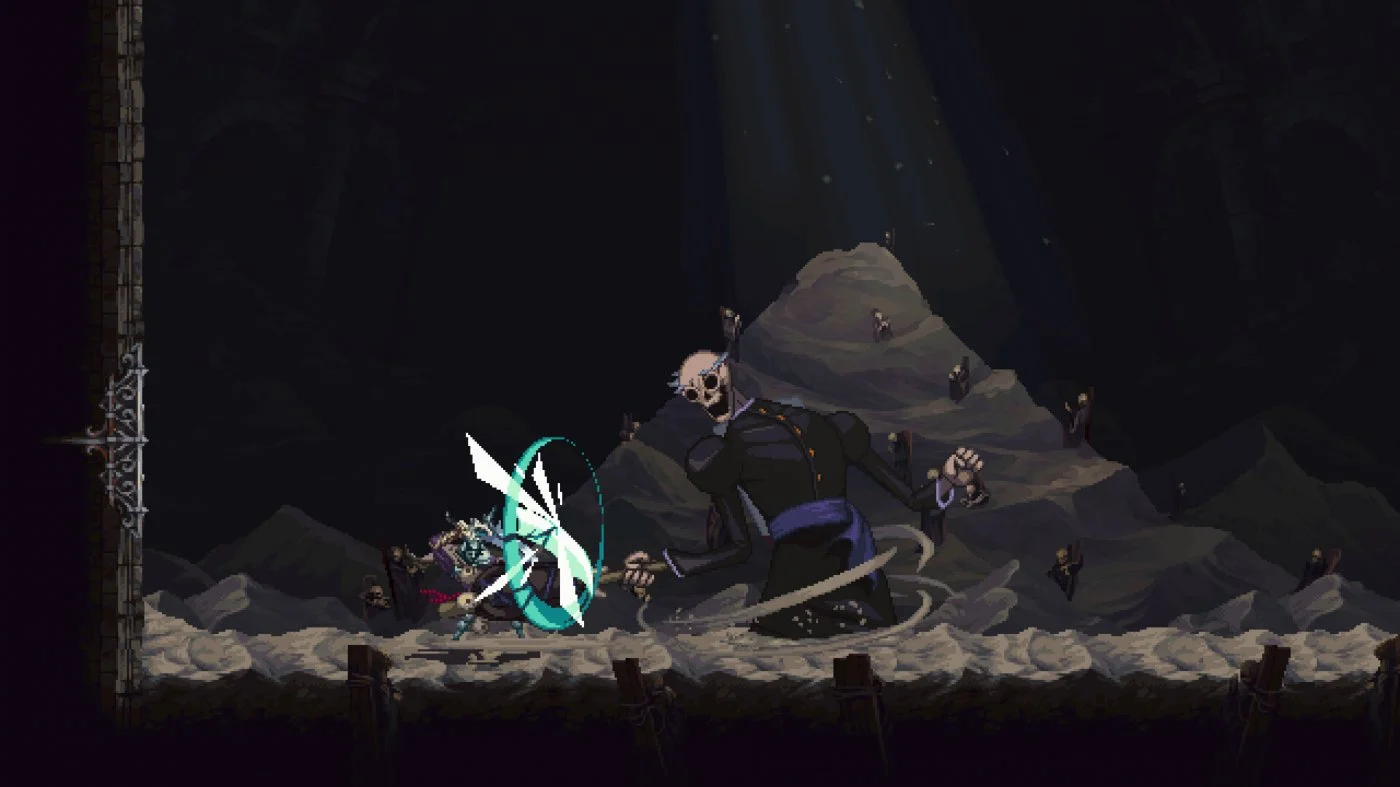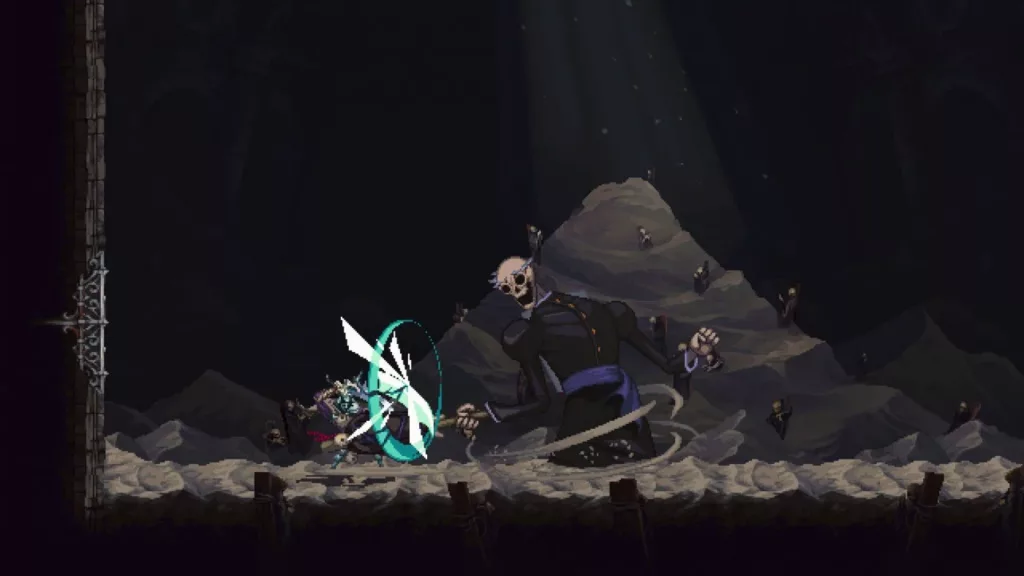 New Spells and Buffs
On top of new weapons and platforming moves, Blasphemous 2 also adds fresh combat spells. Quick spells unleash rapid bursts of magic, while longer incantations cast powerful screen-filling attacks at the cost of your magic points.
You can also collect Rosary Beads to confer passive buffs like bonus damage or defense. Wearing certain relics on your back provides other effects, like lifesteal or shorter spell cooldowns. Mixing and matching spells, buffs and bonuses allows you to tailor your build.
A Dark World Rich with Lore
Blasphemous 2's world is a gloomy fantasy landscape dripping with religious iconography and occult mysteries. You'll explore fallen cathedrals, twisted forests, and labyrinthian catacombs brought to life beautifully in pixel art. The setting mixes real-world Catholic influences with heavy doses of dark fantasy and cosmic horror.
While much of the lore is intentionally vague, item descriptions and snippets of dialogue gradually unravel the history of the land and its inhabitants. NPCs speak in cryptic allegories and pious characters have been hideously corrupted. Uncovering the secrets of this cursed realm provides motivation to keep pushing forward.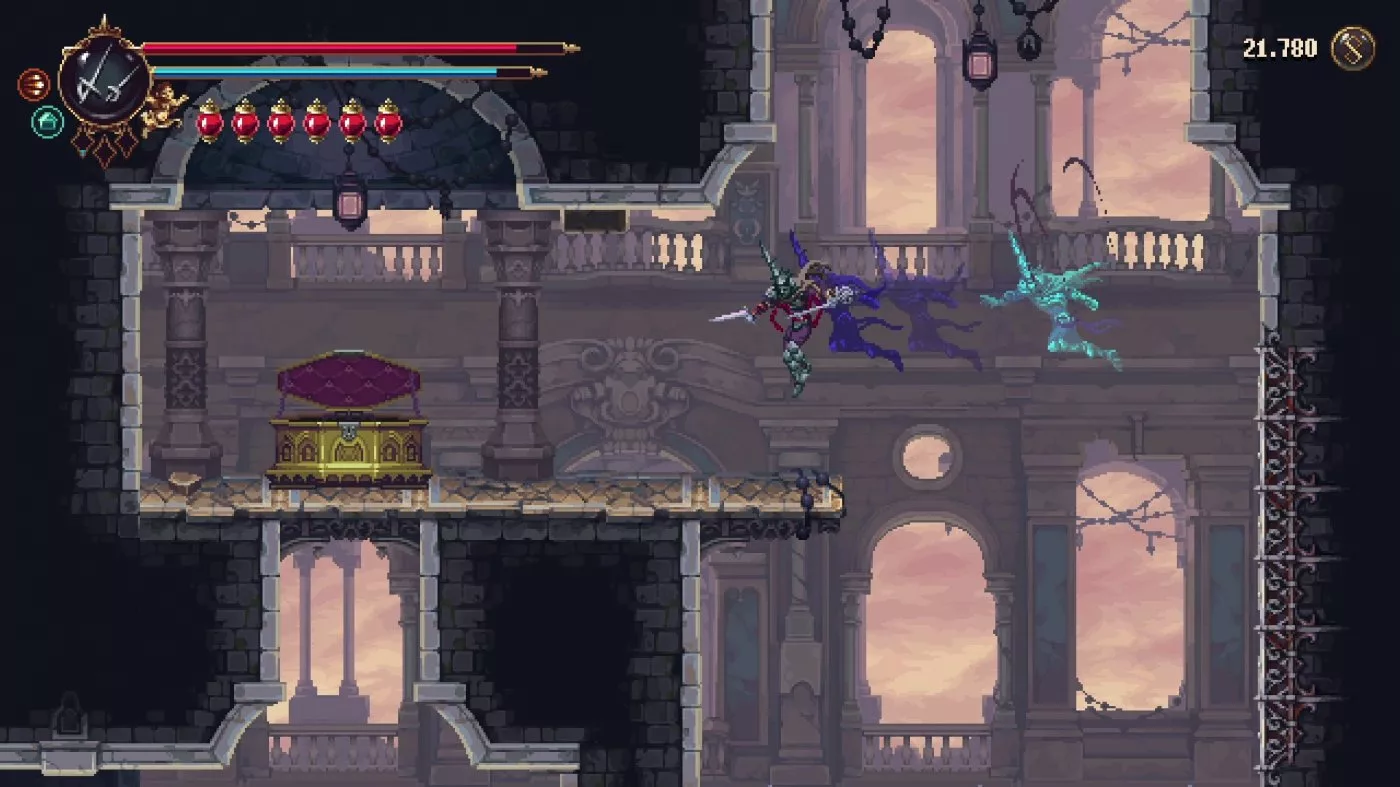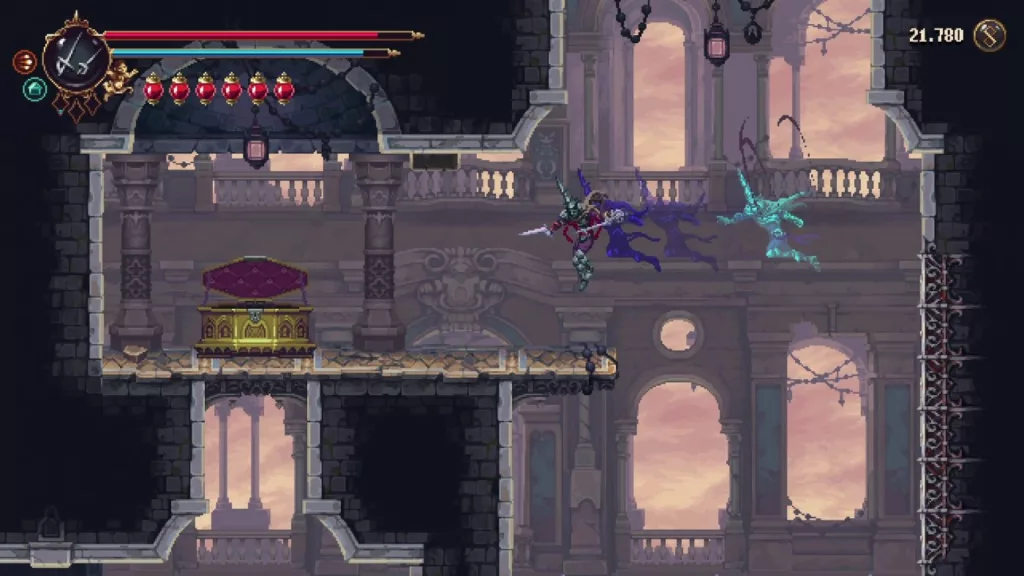 Fragmented Storytelling
Like the Souls games that inspired it, Blasphemous 2 tells its story through subtle environmental details and vague discussions rather than cutscenes or dialogue. You are simply thrown into the world and left to draw your own conclusions about what is happening. The narrative fragments must be pieced together slowly.
This opaque approach to storytelling won't be for everyone, but it fits the game's ominous tone. You take on the role of a Penitent One seeking absolution for past sins, guided only by visions of a mysterious red-haired nun. There is just enough thread of a plot to drive you forward without clearly explaining the world.
Stopping the Apocalypse
From what can be gathered, your ultimate goal is stopping the rebirth of the "Weeping Miracle" – a being of immense power with the ability to bend reality. Its return would mean untold suffering and eternal purgatory.
Reference is made to your previous quest in the first Blasphemous, but the sequel mostly stands alone. You set out to hunt down the sources of the Miracle's re-emergence across the lands. The scope of your task is unclear, but it will apparently require slaying horrific monsters and atoning for past misdeeds.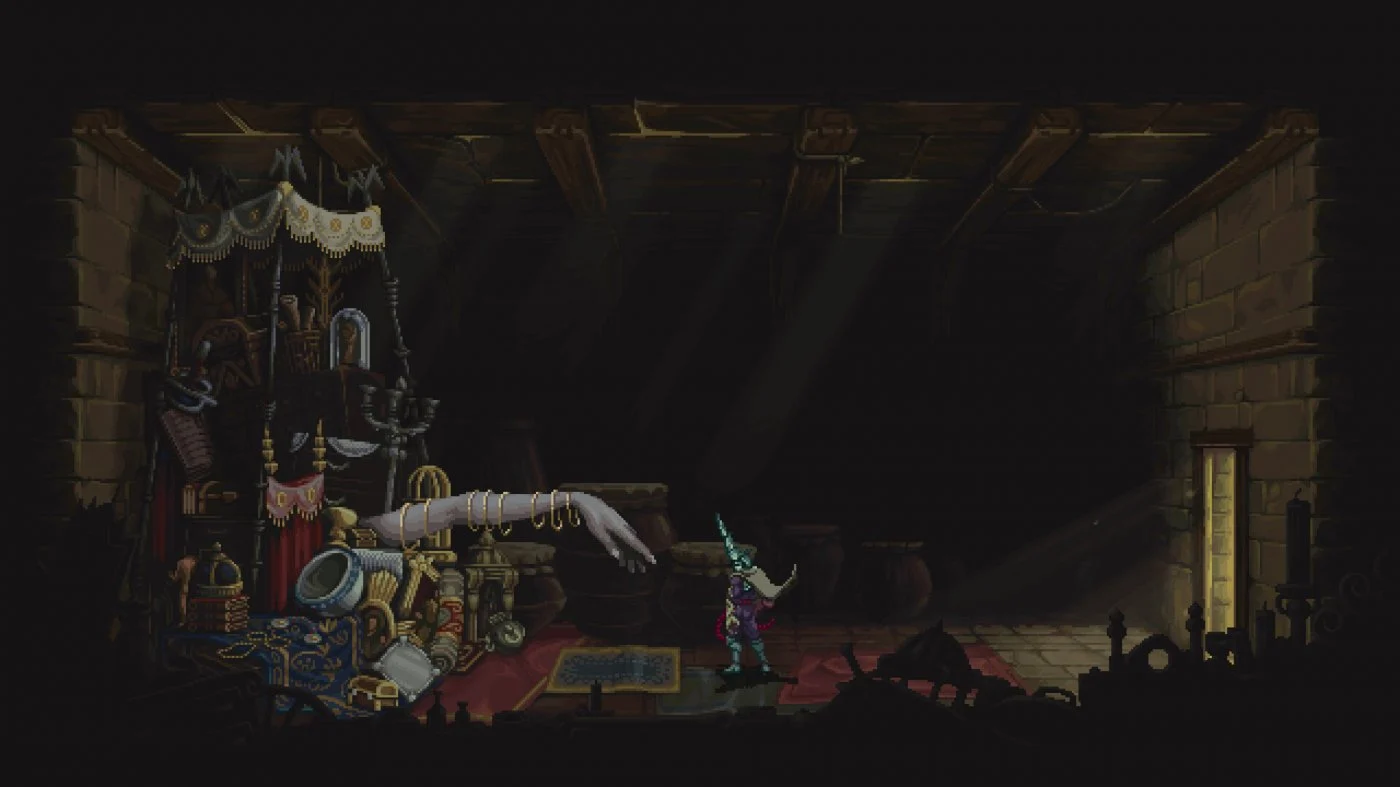 Rewarding to Veterans and Newcomers
Blasphemous 2 expertly balances rewarding fans of the first game while remaining accessible for newcomers. The visual style, oppressive atmosphere, and challenging gameplay will feel familiar to veterans. But the sequel isn't dependent on plot points or lore from the previous game.
Fans will catch references and connections, but you can jump into Blasphemous 2 with no prior experience. The cryptic storytelling and fragmented lore means that players both old and new are left to interpret the dark secrets of this world.
Visual Splendor in Pixel Art
Blasphemous 2's gothic pixel art is simply breathtaking. Intricately detailed backgrounds contrast with fluid combat animations and grotesque monsters. You'll fight in cathedrals with stained glass windows, moody forests, and intricately carved caverns. This lost world comes alive through the vivid pixel art.
Many of the bosses tower over the screen with intimidating designs. One fight takes place on the cobweb-covered corpse of a huge anglerfish deity. Another has you facing off against a gnarled tree spirit within an abandoned monastery. The art reinforces the twisted religious themes.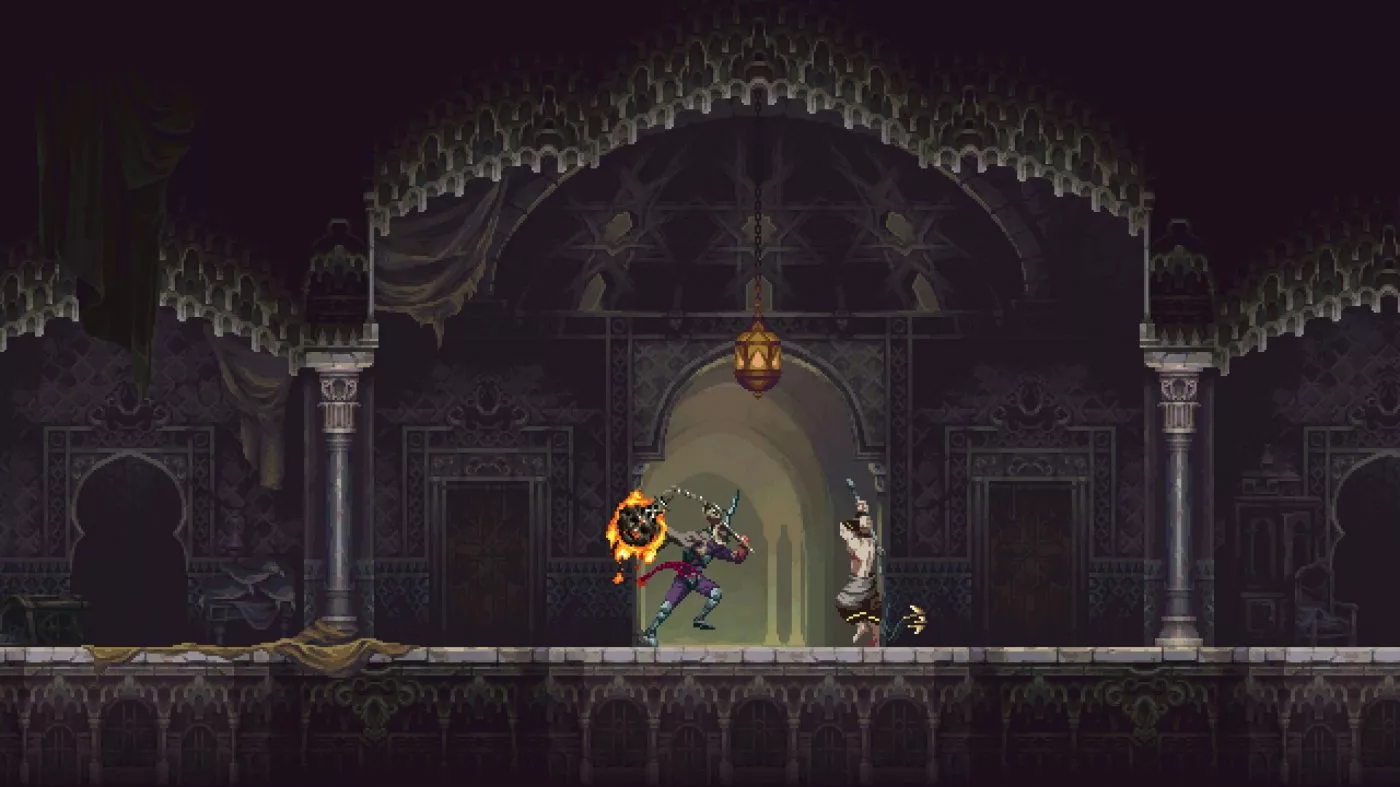 Smooth and Visceral Combat
Combat animations are silky smooth, making each sword slash and spell cast impactful. When you finally take down enemies, they crumple and collapse with satisfying physics. Fighting flows naturally thanks to the meticulous animations.
Details like cloth physics on your cloak or particle effects from magical attacks heighten the visceral feel. The art makes each encounter, environment and ability deeply engaging. Pixel art may be retro, but Blasphemous 2 uses it to craft visual splendor.
Music of Melancholy and Dread
The soundtrack combines mournful orchestral melodies with ominous ambient tones to underscore the gloomy, tense atmosphere. More intense, driving riffs with choral vocals kick in during fights. But even at its most frenetic, the music maintains a melancholic, desperate tone.
Subtle ambient sounds like echoing drips in caves or howling winds in the forest heighten the immersion. The minimalist score and effects work synergistically to pull you into the distressed world. Audio is used sparingly to maximize impact.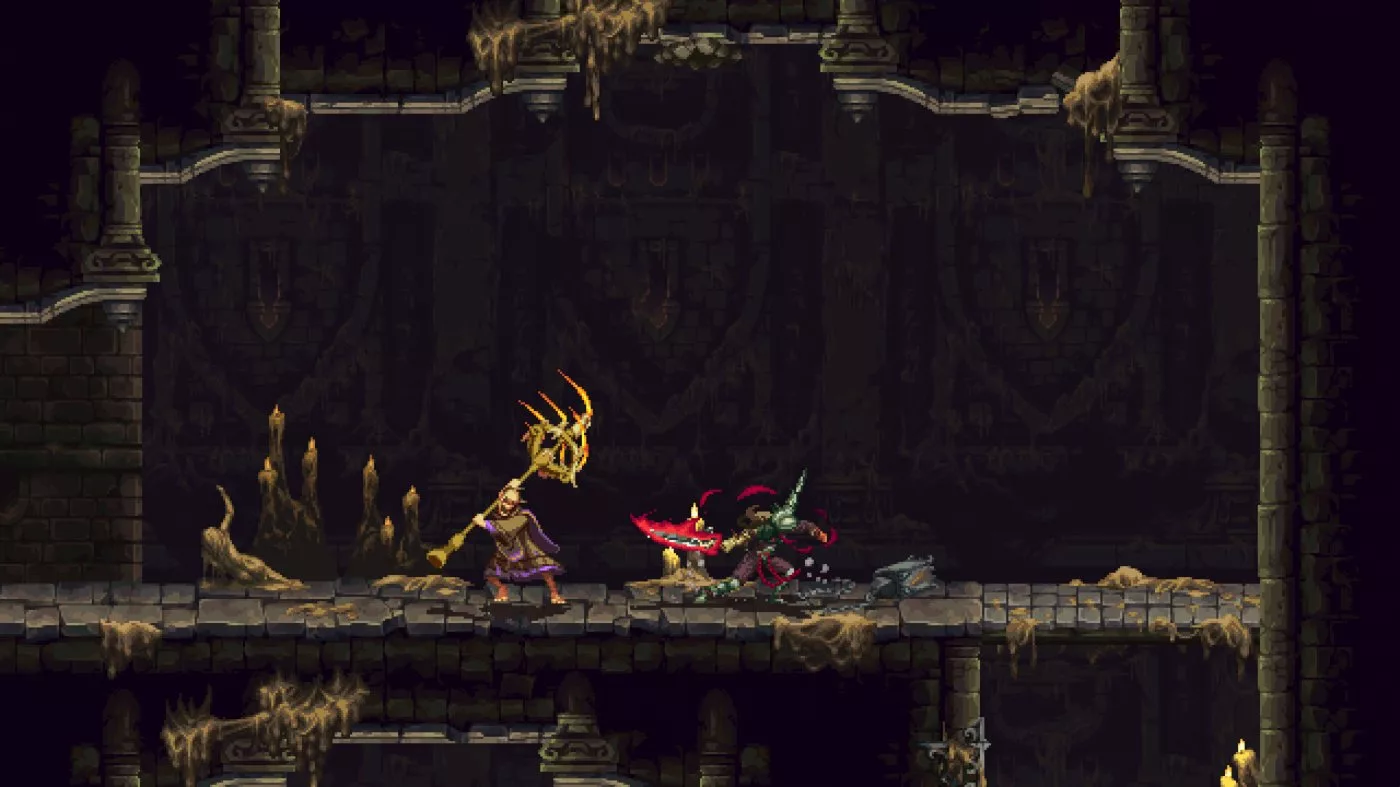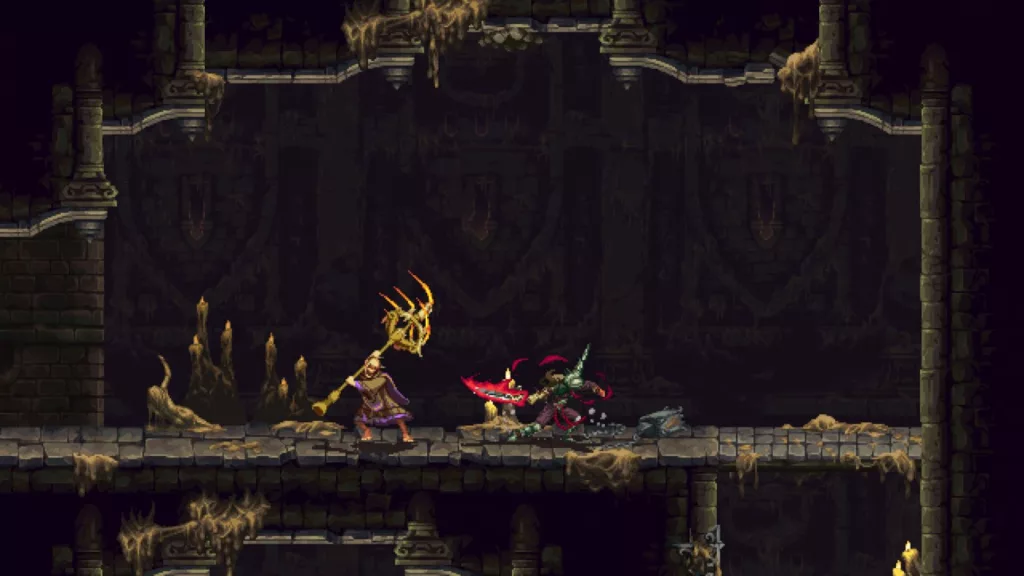 Building on a Strong Foundation
Blasphemous 2 takes the solid fundamentals of the first game and expands them in every direction. Nearly every system has been reworked and fleshed out for an even deeper experience. The sequel takes the strengths of the original and improves on any weaker aspects.
The most notable addition is the new selection of three melee weapons, each with unique abilities to aid exploration. Blasphemous 2 also introduces many new platforming moves like a plunging attack and charged dash to open up more traversal options.
New spells and buffs give you more ways to tailor your combat style. Between the spells, weapon skills and religious relics, you have far more build variety than before.
Expanded Upgrade and Crafting
Weapons now have their own upgrade trees to unlock new combos and powers. You can find materials in the world to further augment weapons and gain permanent buffs from NPCs. There are more crafting components that reward searching every corner of the map.
The upgrade and crafting systems add more tangible rewards for revisiting areas. You constantly grow stronger through the expanded progression.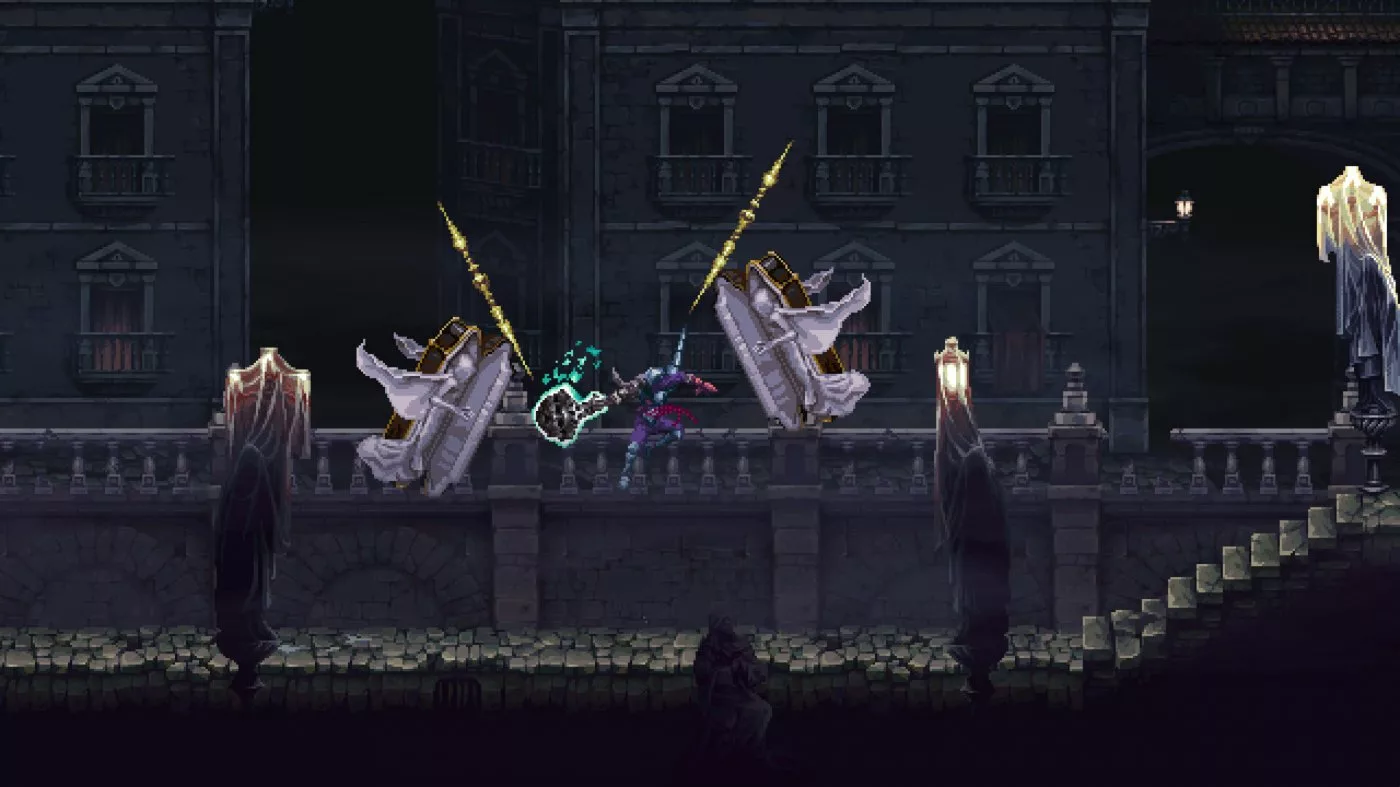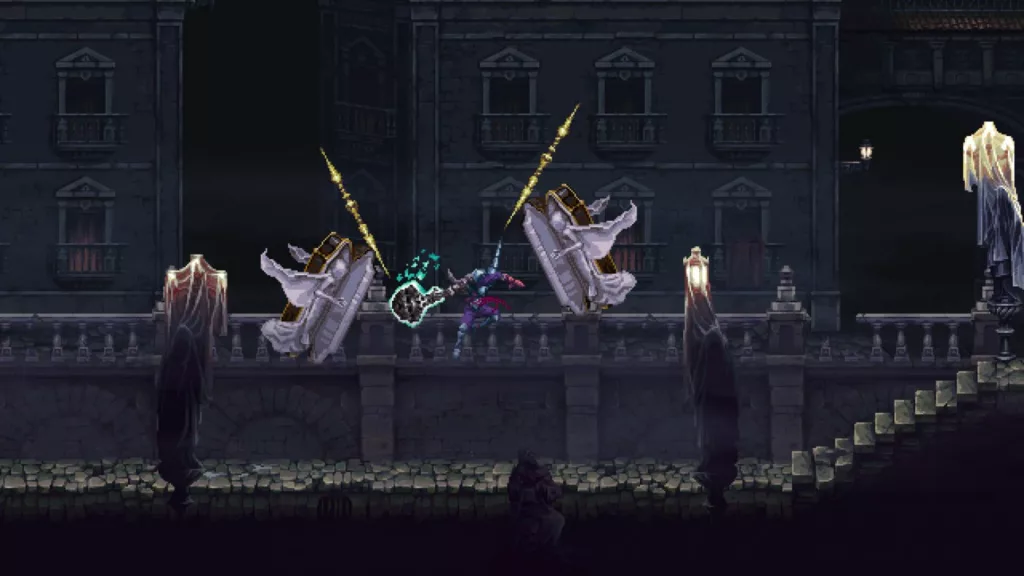 Improved World Design
Blasphemous 2's world features shortcut unlocks and closed loops that reduce frustrating backtracking. New abilities steadily open more shortcuts and build connections across the map. The intricate, doubling back level design retains the challenge while respecting players' time.
Beyond just size, there are now more incentives to fully explore the world. Optional side quests from odd NPCs encourage revisiting areas. There are loads of secrets and bonuses for combing through each zone. Blasphemous 2 gives you reasons to keep pushing at its boundaries.
From visuals to combat balance and technical performance, Blasphemous 2 is a clear step up from the original. The developers leveraged player feedback to smooth out complaints and build on what worked. This is one sequel that learns from the past while refining the formula.
Room to Improve Accessibility
One area where Blasphemous 2 unfortunately comes up short is in accessibility options. For a game focused on demanding combat and platforming challenges, it provides very few ways to tweak or change the experience for players with disabilities.
There are no difficulty adjustment options to tone down the unrelenting battles or make traversal less punishing. Unlike many modern games, there are no gameplay assists for things like invincibility or infinite stamina.
The game also does not include any audio or visual accessibility features. There are no settings to alter fonts, icon sizes, or add text-to-speech options. The lack of flexibility is disappointing.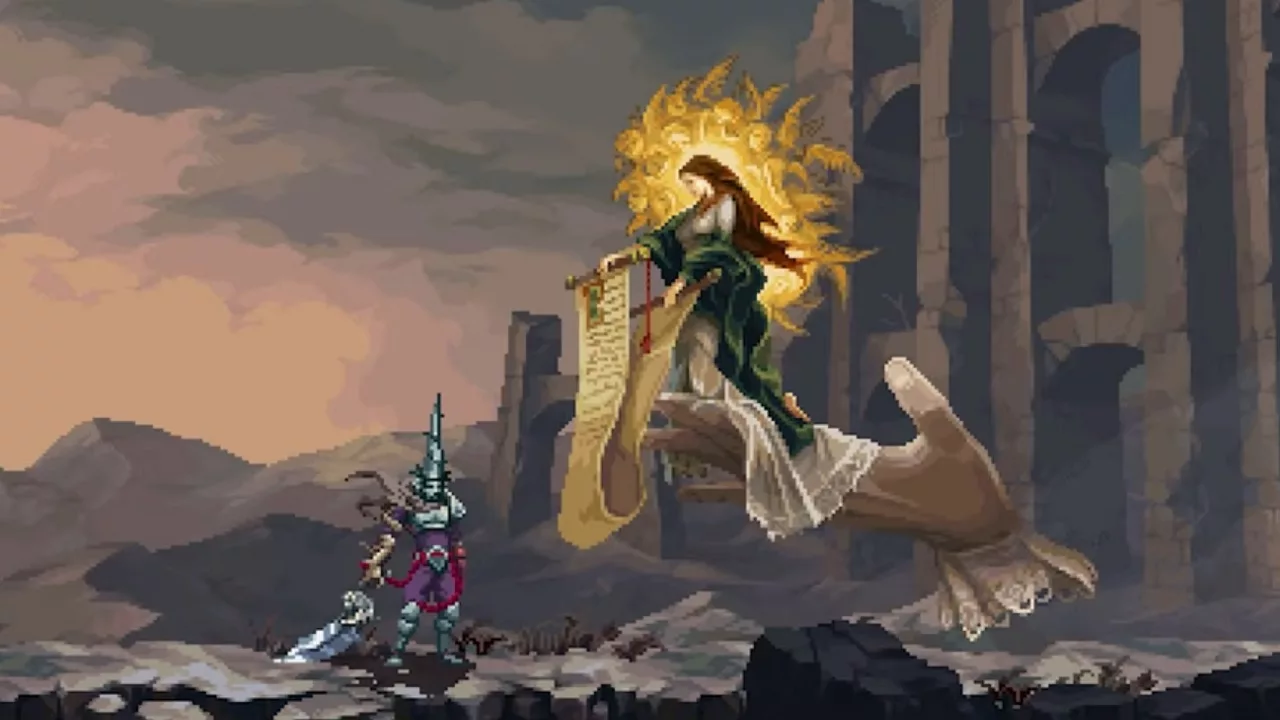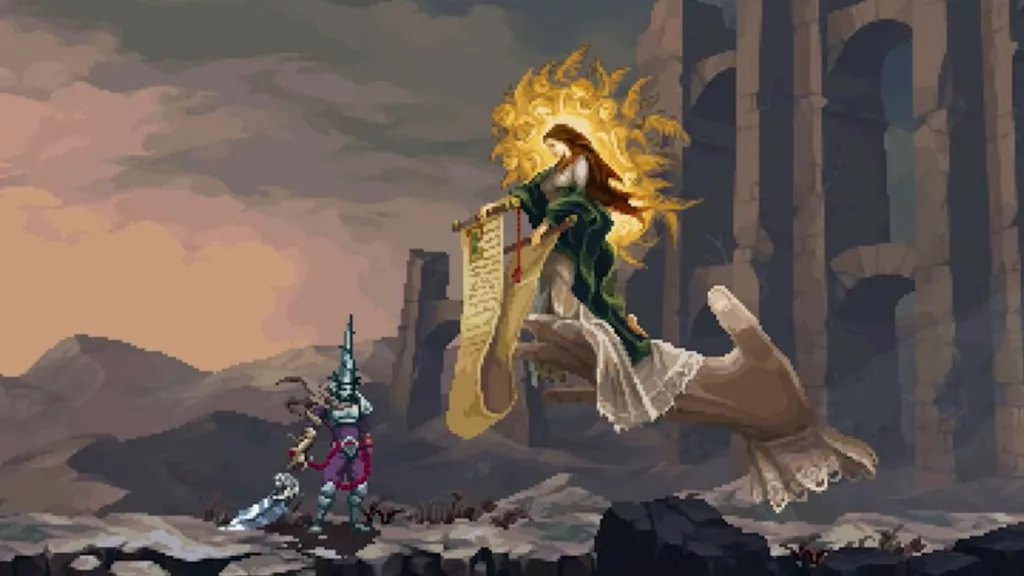 While the hardcore challenge is part of Blasphemous 2's intent, more assist modifiers could open the experience to players unwilling or unable to surmount the high barriers. Even small additions like remappable buttons would be welcome.
Hopefully the developers expand accessibility options in future patches or a sequel. The striking world of Blasphemous shows promise in catering to different play styles with some modification. But as of now, there are unfortunately very limited ways to enjoy the game without high reflexes and pattern recognition skills.
A Triumphant Sequel for Fans
Blasphemous 2 takes the dark, enigmatic world of the original and enriches it with expanded lore, breathtaking new vistas, and refined gameplay. This is a sequel done right in almost every regard. Fans of the first game owe it to themselves to continue the journey.
The punishing but addictive combat requires patience and skill to overcome, made even deeper through new weapons and customization options. Though initially frustrating, the feeling of finally toppling colossal bosses is immense.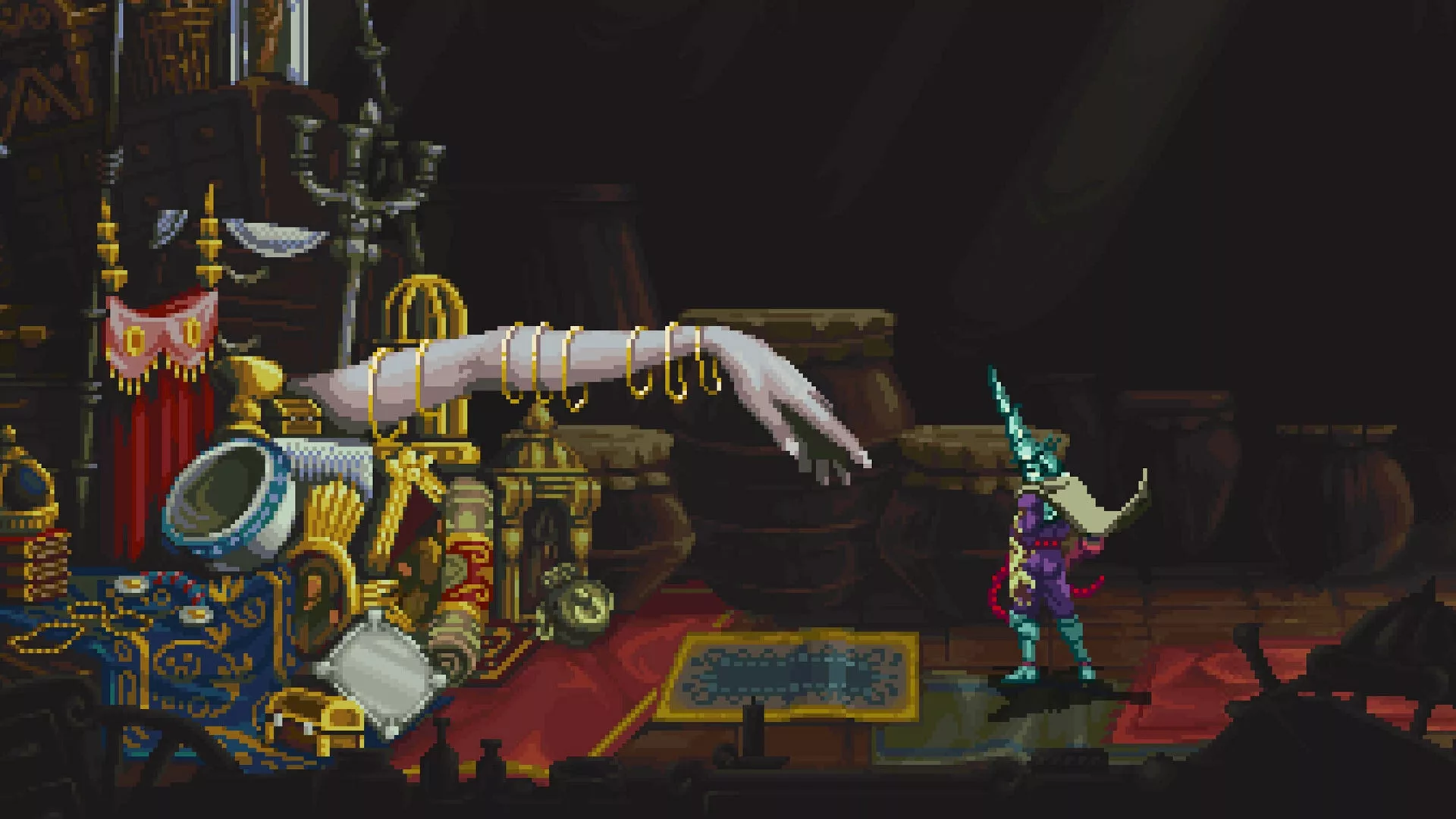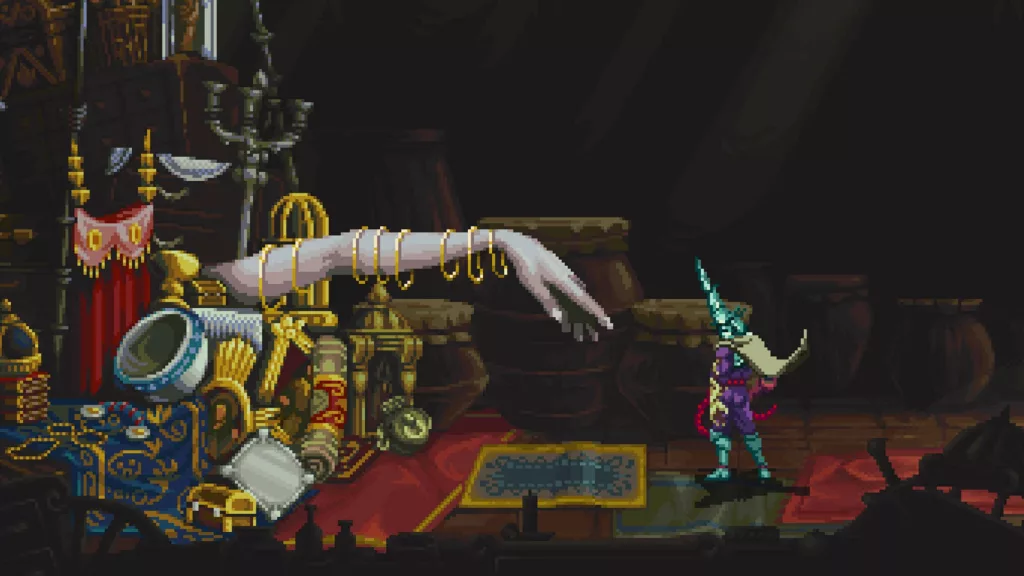 Jaw-dropping gothic scenery oozes from every pixel, accentuated by subtle ambient sound design. Blasphemous 2 absolutely nails its tone of eerie desolation. Those who wish to be immersed in the world will find ample rewards.
Some players may bounce off the fragmented storytelling or lack of gameplay accessibility options. But if you crave a stern combat challenge within melancholic worlds full of dangers and eccentric characters, Blasphemous 2 won't disappoint.
For an uncompromising yet captivating experience, Blasphemous 2 is easily recommendable. It delivers everything fans loved about the first game while expanding scope and depth across the board. This pilgrimage is one worth taking for players seeking punishing adventures that stick with you long after the credits.
The Review
Blasphemous 2
Blasphemous 2 is a triumphant sequel that takes the dark, enigmatic world and demanding gameplay of the original and enrichs them with more lore, breathtaking new locales, and refined combat. This is a must-play for fans of the first game seeking another brutal yet captivating challenge. While its intentionally fragmented storytelling and lack of accessibility options may frustrate some, Blasphemous 2 absolutely delivers where it counts. The intricate world dripping with religious iconography immerses you in melancholy and dread. Challenging, nuanced combat rewards patience and mastery. Each new ability unveils more of the enticing Metroidvania map to explore. And towering, imaginative boss battles test your skills without feeling unfair. Blasphemous 2 is an uncompromising and meticulously crafted sequel. If you crave stern, high-stakes battles against nightmarish foes set in a fantastical, gothic pixel art realm, this is a pilgrimage well worth taking. Blasphemous 2 doesn't reinvent the formula, but provides an excellent refinement that stands as a hallmark of the genres it embodies.
PROS
Extremely challenging but rewarding combat that demands skill
Three unique melee weapons with extensive upgrade trees
Interconnected Metroidvania map with hidden secrets and incentives to explore
Breathtaking gothic pixel art visuals and environments
Epic boss battles with multiple phases and surprises
Great progression from new abilities and character builds
Expanded lore and world-building through cryptic NPC quests
CONS
Very limited accessibility options and difficulty settings
Fragmented storytelling requires piecing together vague lore
Can be inaccessible for players desiring more gameplay assists
Backtracking and dying repeatedly may test patience of some
Final boss difficulty spikes compared to rest of game
Combat can feel clunky at times due to input lag