Microsoft has taken a creative stride by unveiling a captivating range of console wraps for the Xbox Series X. Drawing inspiration from Sony's PlayStation 5 console covers, these wraps offer players a fresh way to transform the outward appearance of their consoles without the need for an entirely new purchase.
Unlike the sliding covers on the PS5, Xbox's approach involves wrapping the aesthetic alteration around the console's body, hence the apt name "wraps." The debut lineup includes three eye-catching designs, notably featuring a special Starfield-themed edition.
Starfield Edition:
Unveiling the Cosmos on Your Console
Stepping into the forefront is the enchanting Starfield-inspired console wrap, which presents your gaming companion as an on-board avionics module, ready to propel you through thrilling adventures.
This wrap showcases the console's internal components through outlined access panels, coupled with game-inspired graphics. Technical elements receive an in-game twist, resulting in a harmonious blend of form and function.
According to an Xbox blog post, the Starfield wrap boasts a soft, smooth white high-tech texture adorned with tactile graphics. Beneath the wrap, a fabric with a soft precision sheen houses a silicone gravity wave print for adherence and stability. Gaming enthusiasts in the U.S., Canada, and Europe can embrace this cosmic design starting October 18, with a price tag of $49.99.
Unveiling the Camo Collection:
Arctic and Mineral Designs: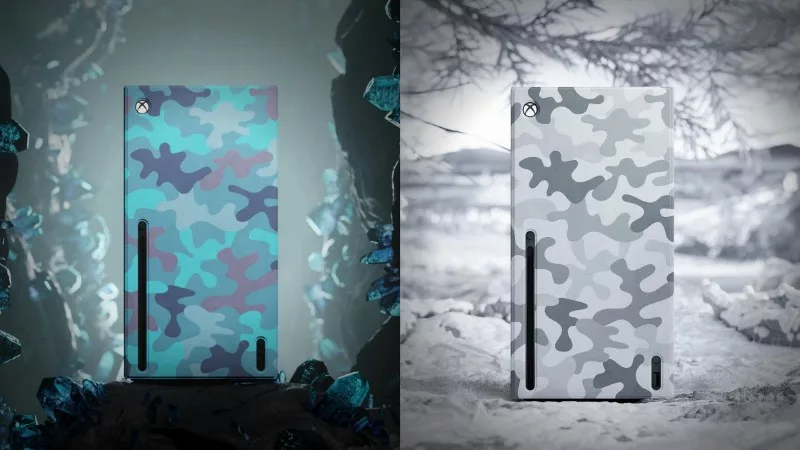 For those seeking alternative styles, Microsoft has introduced two more wraps: Arctic Camo and Mineral Camo. The Arctic Camo design combines shades of white, dark gray, and lighter gray, exuding a neutral, icy vibe.
On the other hand, Mineral Camo infuses blues, purples, and teals, crafting a dynamic visual palette. Just like the Starfield wrap, the interior of these wraps boasts a soft fabric finish.
In terms of availability, both the Arctic and Mineral Camo wraps are set to launch in the U.S. and Canada on November 10. However, only the Mineral Camo edition will make its debut in Europe on the same day. Gamers interested in these designs can expect to invest $44.99 for each wrap.
While the concept of the wrap enveloping the console is evident from promotional materials, the precise mechanism remains somewhat mysterious. It appears that the wrap snugly encircles the console's exterior, seemingly without the use of screws or any form of adhesive.
Embrace Personalized Style: Microsoft's introduction of console wraps ushers in a new level of personalization and creativity for gamers. Transforming the outward look of your Xbox Series X to match your mood or preferred aesthetics becomes a simple yet impactful endeavor, adding an extra layer of connection to your gaming experience.
Defining the Future of Gaming: As the console wars intensify, making an informed choice is essential. Explore our point-by-point comparison of Xbox Series X versus PS5 and understand the nuanced advantages that set Xbox Series X apart in the next-gen race.