In a remarkable turn of events, the entertainment world bore witness to a historic moment as Beyoncé made a surprise appearance at the premiere of Taylor Swift's highly-anticipated concert film, Eras Tour. The event unfolded on October 11th at The Grove in Los Angeles, and the impact was nothing short of seismic.
Dressed in a flowing Oscar de la Renta gown, Taylor Swift graced the red carpet, setting the stage for an unforgettable evening. However, it was what happened later that truly "broke the internet," as ecstatic fans described it.
On Instagram, Swift paid a heartfelt tribute to the iconic Beyoncé, sharing a short clip of the two megastars playfully sharing popcorn at the event. In her caption, Swift expressed, "I'm so glad I'll never know what my life would've been like without @beyonce's influence."
She continued by acknowledging the profound impact Queen Bey has had on her and artists worldwide, teaching them to break rules and defy industry norms. Swift lauded Beyoncé's generosity of spirit, resilience, and versatility, referring to her as a guiding light throughout her career.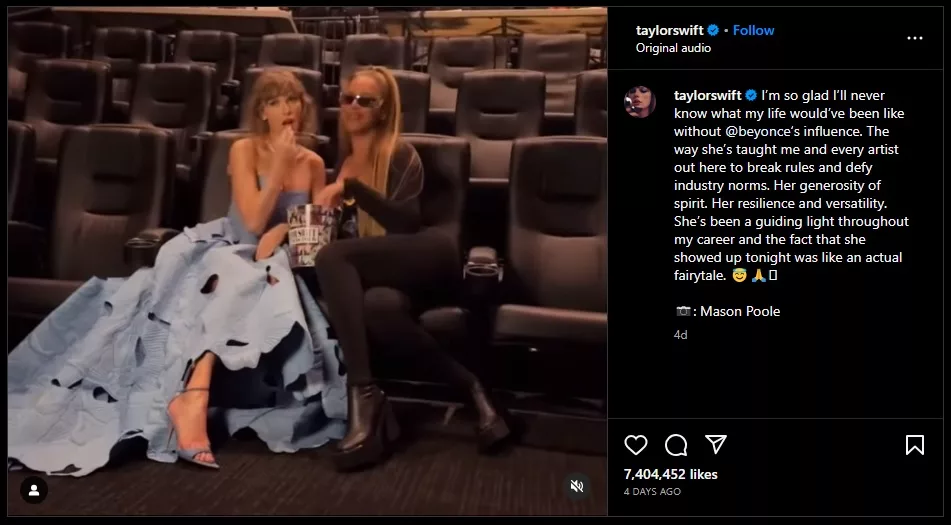 The online reaction was nothing short of electric. Swifties and members of the Beyhive joined forces in celebrating this momentous exchange. Fans declared that Beyoncé and Swift had "maximized their joint slay," illustrating the shared admiration and camaraderie between these musical powerhouses.
On platforms like Twitter, fans marveled at the video, declaring that it had "stopped the world" and effectively ended any "fan wars" between their two passionate fandoms.
Yet, the star-studded premiere had more to offer. A constellation of celebrities graced the event, with the likes of Adam Sandler, Julia Garner, Maren Morris, Flava Flav, Karamo Brown, Hayley Kiyoko, Becca Tilley, Simu Liu, Molly Sims, Jennifer Meyer, and Mariska Hargitay in attendance. Taylor Swift expressed her deep appreciation for these attendees, recognizing them for their unwavering support of the tour.
To add a cherry on top of this exhilarating evening, Swift made a special announcement that sent fans into a frenzy. Due to "unprecedented demand," the Eras Tour film, initially scheduled for a Friday, October 13th release, will now debut a day earlier, promising a cinematic experience like no other.
The surprise appearances, heartfelt exchanges, and an early movie release underscored the unity and fervor of the artist's fan base, leaving the entertainment world captivated by this extraordinary evening.