NetherRealm Studios has recently unveiled a new update for their iconic fighting game, Mortal Kombat 1, ushering in a wave of substantial gameplay alterations.
Although the comprehensive patch notes are still pending, the gaming community has been quick to dissect the update, identifying several key changes that are poised to reshape the gaming experience.
One of the most notable changes in this patch is the nerf applied to Cyrax's Horizontal Kopter Chopper Kameo assist. This move had previously dominated the game's meta, but with the new update, it now requires a full bar to execute.
This adjustment is significant as it directly impacts the frequency at which players can utilize this powerful move, bringing a new level of balance to the game.
Enhancements and Adjustments: Tagging Moves and Character Changes
2/? Cyrax Horizontal Kopter Chopper costs a full bar. pic.twitter.com/UzpexUWIZv

— Mitsuownes (@Mitsuownes) October 23, 2023
The update also introduces improvements to the tagging moves feature, streamlining the training process, or "labbing," as it is commonly referred to in the fighting game community. This enhancement is expected to provide players with a more intuitive and efficient way to hone their skills and master their characters.
In addition to these improvements, the character Baraka has undergone a substantial nerf, particularly in terms of damage output. One of his basic but crucial moves now inflicts approximately 10% less damage than before, a change that is sure to impact strategies and gameplay for Baraka users.
Adding a festive touch to the game, the update introduces a Halloween theme to Johnny Cage's mansion stage, immersing players in the spooky season. This aesthetic addition is a delightful touch, bringing a fresh and seasonal vibe to the game.
Technical Enhancements and Monetization Debates
4/? Baraka has received a damage nerf. One of his bnbs does about 10% less damage. #MK1

— Mitsuownes (@Mitsuownes) October 23, 2023
The patch, now available on console platforms, is a hefty 8.5GB download on the PlayStation 5, showcasing the scale of the changes and enhancements made. The in-game patch notes, labeled as version 0.134, highlight additional features such as the ability to pin moves to the HUD, an in-game ping/connection indicator, and options to mute voice chat and microphone during online matches. These technical enhancements aim to provide a smoother and more customizable gaming experience.
However, the update has also reignited discussions surrounding Mortal Kombat 1's monetization practices, particularly with the mention of a Fatality being available for sale in the game.
This aspect of the update has already sparked intense debates within the gaming community, as players express their opinions on the game's monetization strategies.
A Note on the Nintendo Switch Version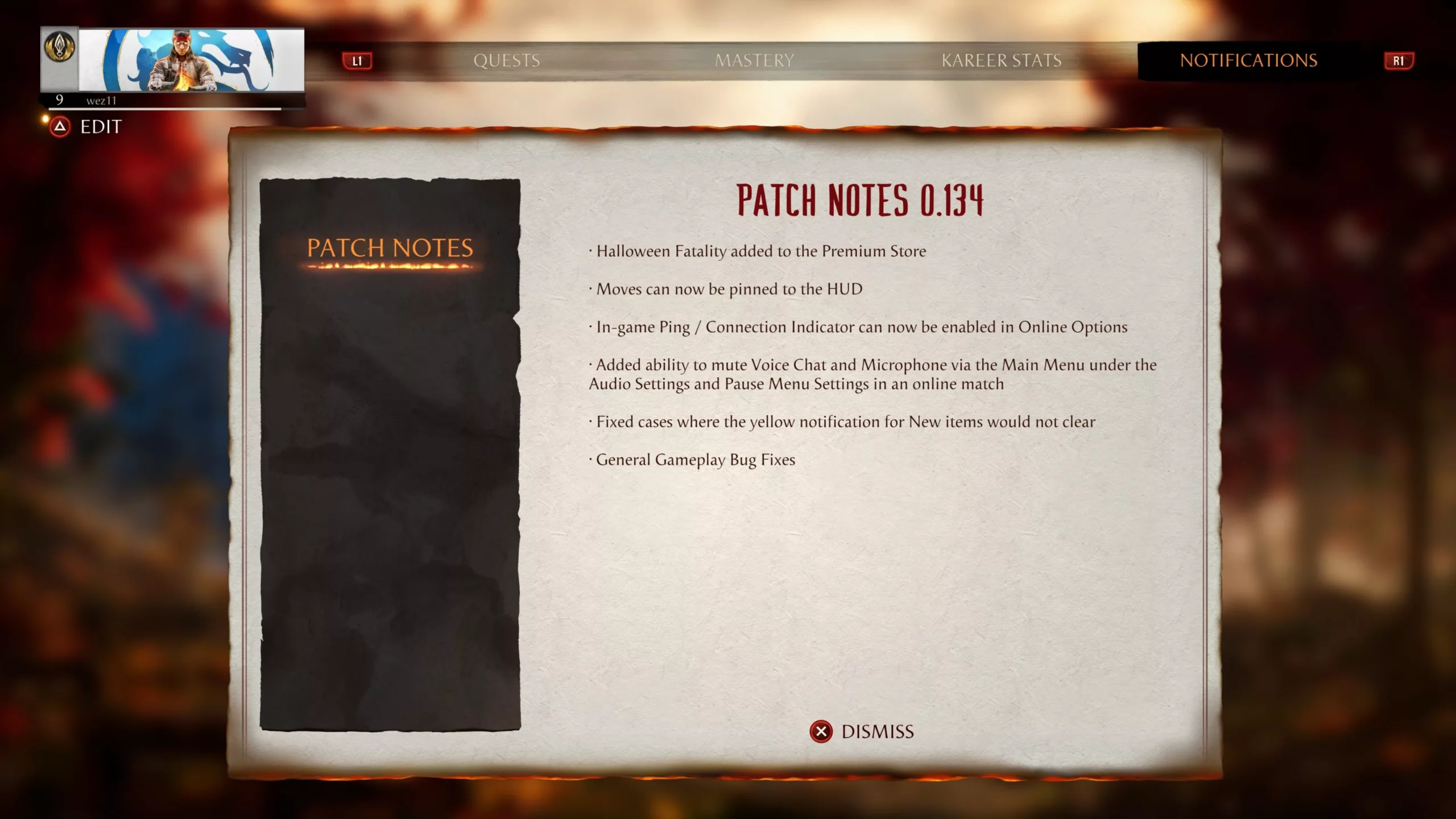 It is important to note that there has been no mention of a corresponding update for the Nintendo Switch version of Mortal Kombat 1. This version has previously faced criticism for its performance issues and subpar visuals, and it remains to be seen whether these concerns will be addressed in future updates.
In summary, the latest patch for Mortal Kombat 1 by NetherRealm Studios brings a plethora of gameplay changes, character adjustments, and technical enhancements, all aimed at providing a more balanced and enjoyable gaming experience.
As players continue to explore and adapt to these changes, the gaming community is abuzz with discussions, analyses, and anticipation for what's to come in the world of Mortal Kombat.