After over three decades of platforming adventures, you'd think there would be little new ground for the Super Mario series to cover. Yet Nintendo has managed to gift us Super Mario Bros. Wonder, a game that recaptures the unpredictable creativity that defined Mario's origins. At its core, Wonder is a traditional side-scrolling 2D Mario affair. You guide Mario, Luigi, Peach and other familiar faces from left to right through vividly colored environments, stomping Goombas, snagging power-ups, and leaping over pits on your way to each stage's flagpole finish.
What sets Wonder apart is the aptly named Wonder mechanic. Scattered throughout stages are Wonder Flowers which, when activated, trigger wild transformations both in the level and in Mario himself. Suddenly the gameplay might shift to a top-down perspective, or Mario may morph into a bouncy balloon form. It keeps each stage feeling fresh, with you never knowing what the next Wonder Flower might bring.
In this review, we'll look at how Wonder modernizes and energizes the 2D Mario formula after years of more formulaic sequels. We'll see how the vibrant HD graphics and animation bring Mario's world to life like never before. We'll discuss the smart additions like collectible Badges that allow you to customize Mario's abilities. And we'll find out if the clever Wonder effects are enough to carry this platformer into classic status. Does Super Mario Bros. Wonder stand tall next to Mario's 2D heyday on the SNES? Or does it stumble? Read on to find out.
A Vibrant, Animated Wonderland
It's clear from the moment you boot up Super Mario Bros. Wonder that presentation is one area where this latest 2D outing shines. The graphics pop with vibrant colors and polished visuals that truly bring the whimsical Flower Kingdom to life. Reds, greens, blues, and yellows fill the screen with an oversaturated dazzle, making even familiar elements like brick blocks and question mark clouds feel fresh. The textures have a crispness we haven't seen in the New Super Mario Bros. series, getting us as close to high definition 2D Mario as we've seen yet.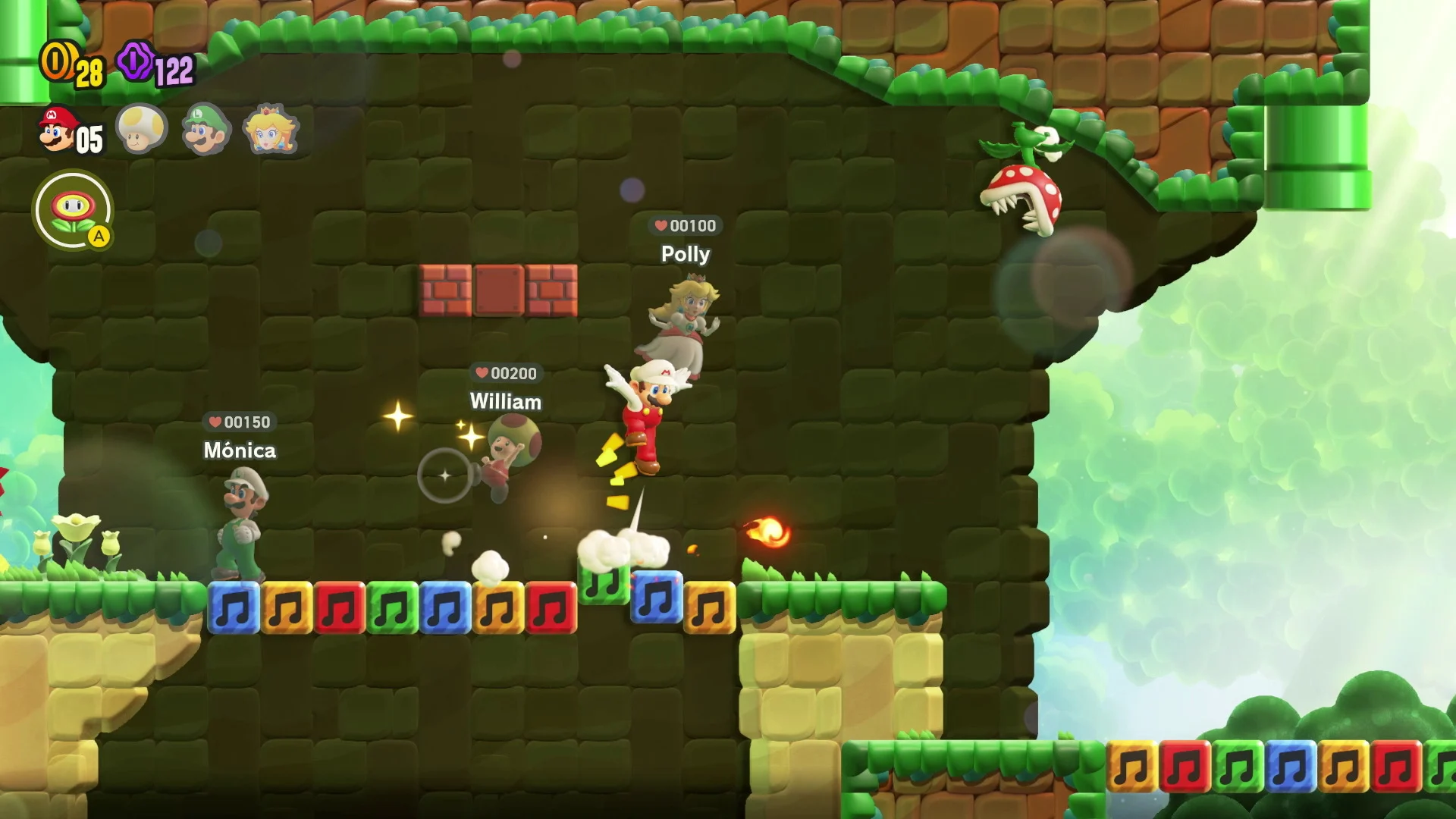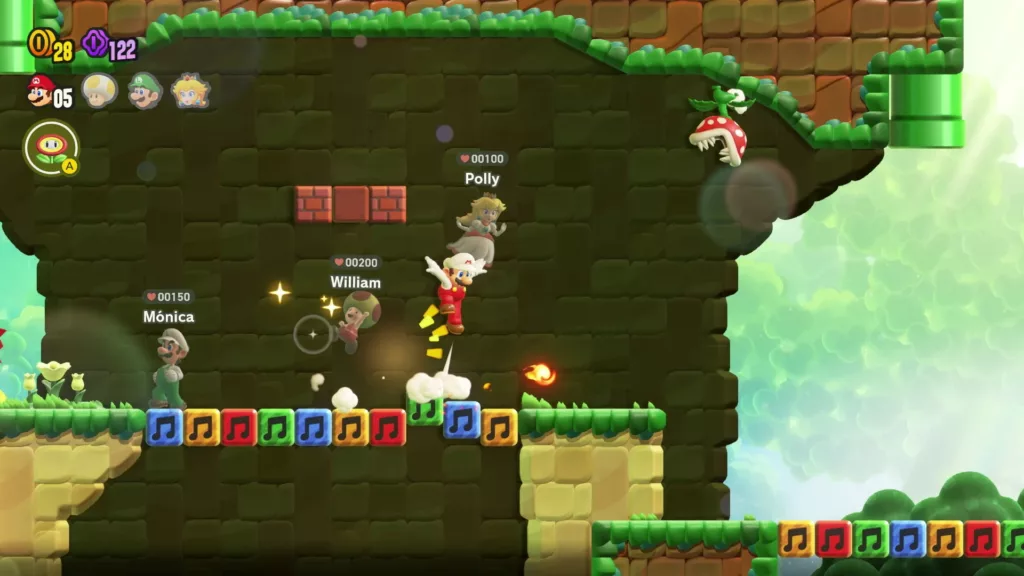 But it's the animation that takes center stage. Nintendo put love and care into the smallest of details, making the characters spring to life through their motions and expressions. When Mario runs fast enough, he comically reaches back to grab his hat as it flies off. Goombas nap on the ground with tiny snot bubbles in their nostrils. Mumsies unravel as you yank off their wrappings. It's hard not to smile watching Mario squeeze his bulbous Elephant body into a warp pipe or seeing the Flower folk's faces light up when you water them.
These little touches go a long way toward making the kingdom feel inhabited rather than just a pretty backdrop. And when the Wonder effects trigger, the animations become even more important. Mario's silhouette gracefully mirroring your moves during the shadow stages is a stunning visual delight. The 10-second rhythm-based dance parties are brief but get you tapping your toe. Even minor touches like petals fluttering when you water plants draw your gaze exactly where the designers want. It's clear no detail was too small for the animation team.
There are standout moments where the visuals astonish, like the snowball level where the giant mass bursts through the ceiling as it careens wildly forward. Or the submarine level where you peer through the periscope to spot enemies and obstacles in your path. It goes to show that even confined to a 2D plane, there are plenty of tricks up the developers' sleeves to catch your eye.
30 years in, the Mario series has rarely looked or moved better than this. The gorgeous graphics and polished animations of Super Mario Bros. Wonder prove that 2D gaming is far from antiquated. Nintendo continues to breathe new life into Mario's world and inhabitants, creating an animated wonderland that looks every bit as magical in motion as its colorful name implies.
Jumping and Stomping With a Sense of Wonder
At its core, the moment-to-moment gameplay of Super Mario Bros. Wonder sticks to what makes a 2D Mario game so satisfying. You run, jump, bounce, and stomp through environments packed with platforms, enemies, and secrets. The controls are tight and responsive as you would expect. Long jumps, triple jumps, wall jumps and other acrobatics are at your disposal. This gives a reassuring sense of familiarity upon entering each new stage.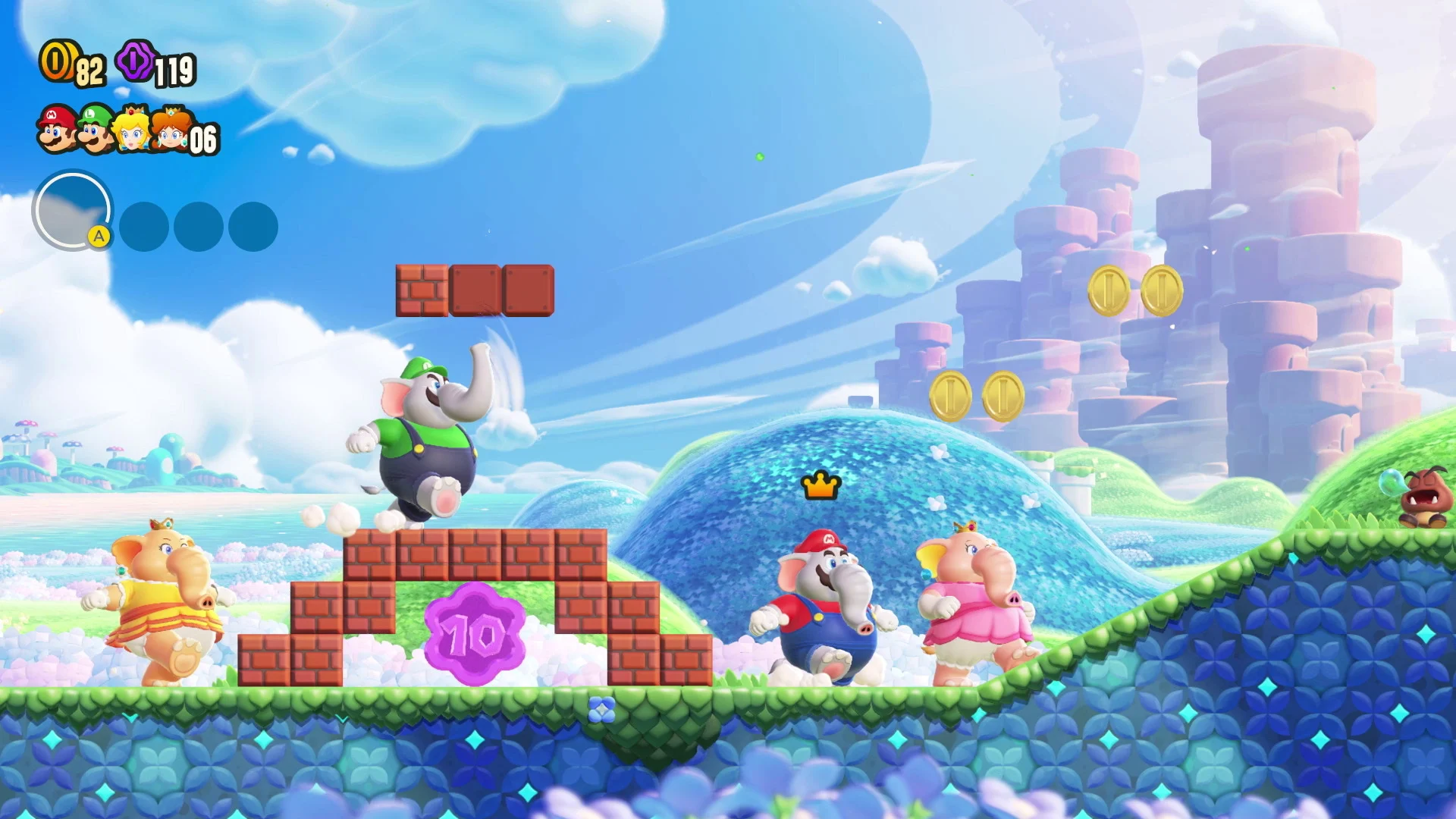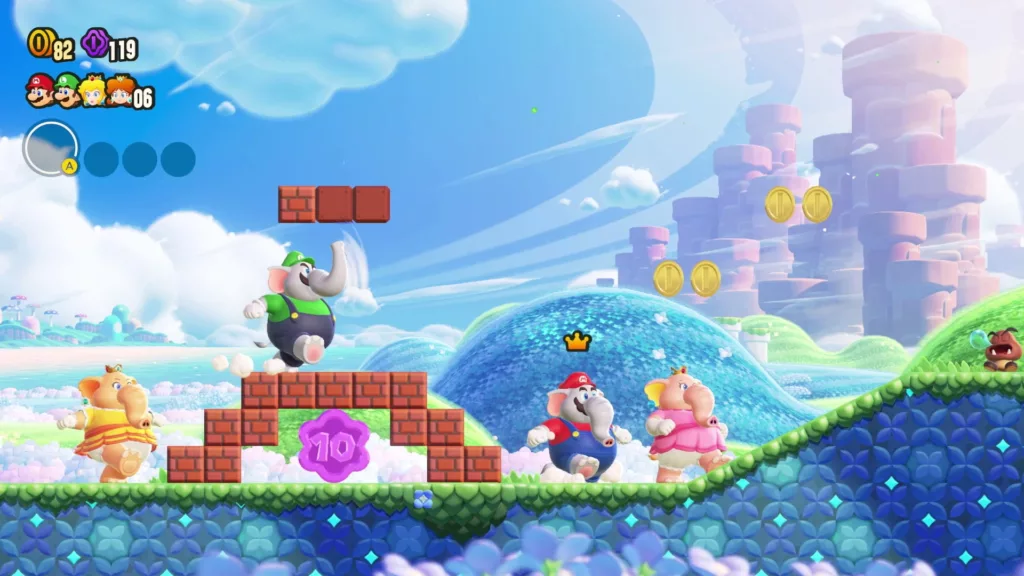 But it's the addition of Wonder Flowers that shakes up the formula. These glowing plant buds are hidden somewhere in most levels. When Mario touches one, the world transforms in wild and unexpected ways. Maybe the camera shifts to an overhead view, turning the platforming into a top-down maze. Perhaps gravity starts flipping sporadically, sending you bouncing between the floor and ceiling. Or you suddenly take control of a new character like a Goomba, changing your moveset.
The variety keeps things fresh and forces you to rapidly adapt. One minute you're twisting pipes as a wrench-capped Mario, the next you're flipping switches to guide a train through an ever-shifting rail network. Some Wonder Flower changes are brief palate cleansers, while others significantly alter the objectives for extended periods. Each one brings a delightful sense of surprise.
Importantly, the level design remains impeccable even without utilizing the Wonder Flowers. Alternate routes, hidden blocks and pipes, tricky jumps – all the ingredients of great Mario courses are here. This means those wanting a more traditional experience can enjoy Super Mario Bros. Wonder with minimal disruption. But it's hard to resist the pull of the Wonder Flowers and the fun possibilities they unlock.
The overworld hub provides the freedom to explore, with branching paths leading to levels you can tackle in different orders. And the stages themselves vary, from standard platforming affairs to clever new types like KO Arenas where you defeat enemies against the clock and Search Party missions where you track down hidden items. Badge trials give you a safe space to practice a new ability.
No matter the level type, they're crafted to gradually ramp up difficulty and complexity. Early stages ease you in gently, while later ones put your skills to the test with fiendishly placed platforms and traps. There's satisfaction in conquering the trickier dungeons that rely more on Wonder effects to disorient you.
In the end, the tried and true Mario gameplay we know and love is enhanced, not hindered, by the unpredictable nature of the Wonder Flowers. And the first-rate level design ensures that neither the traditionalists nor the experimentalists should feel short-changed. Super Mario Bros. Wonder hits that sweet spot between comfortingly familiar and thrillingly fresh.
New Power-Ups Expand Mario's Abilities
The Super Mario series has gradually accumulated a trove of iconic power-ups over the years, from the classic Fire Flower to fan favorites like the Tanooki Suit. Super Mario Bros. Wonder adds three excellent new entries to Mario's wardrobe that provide fresh combat and traversal options.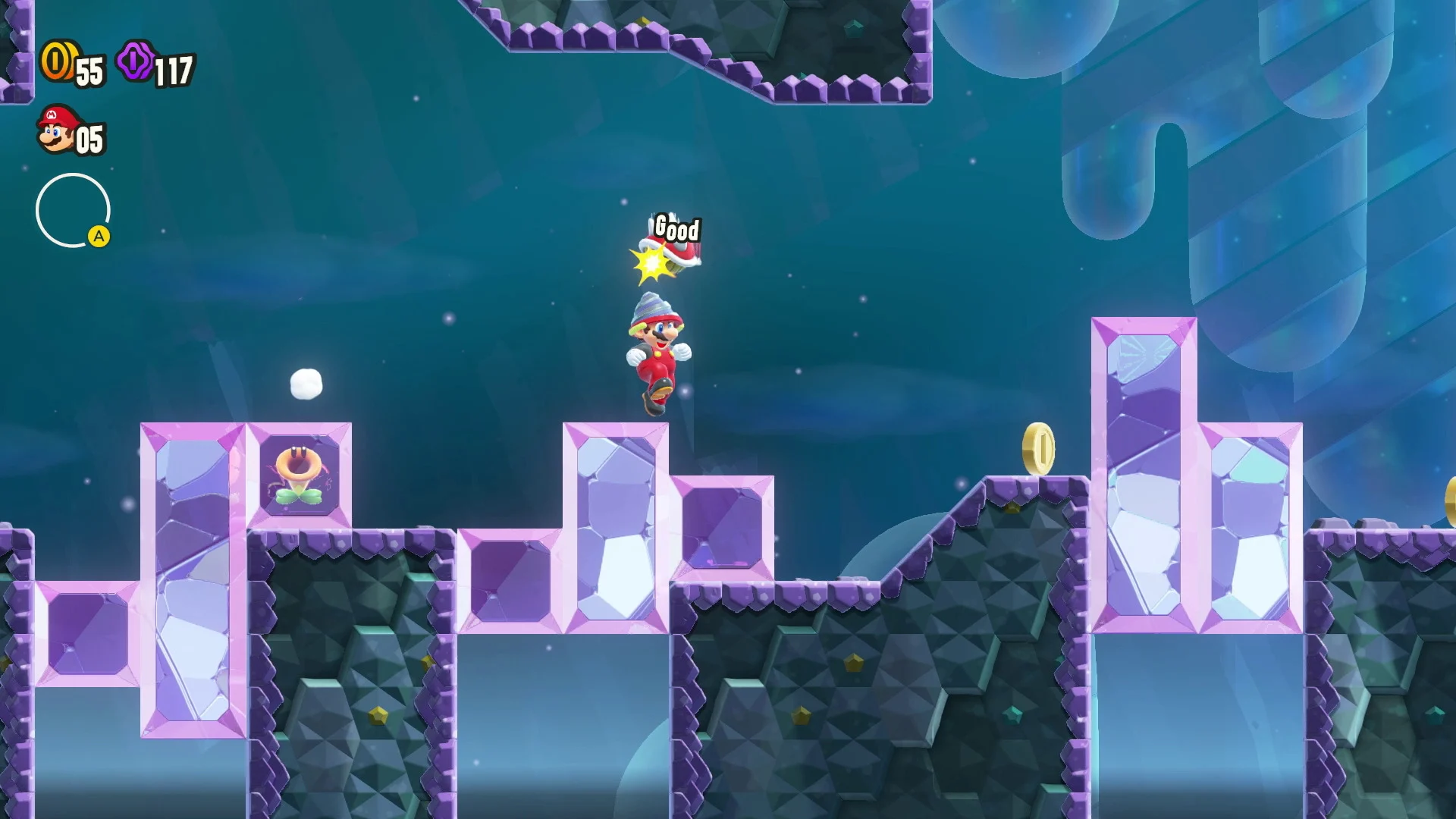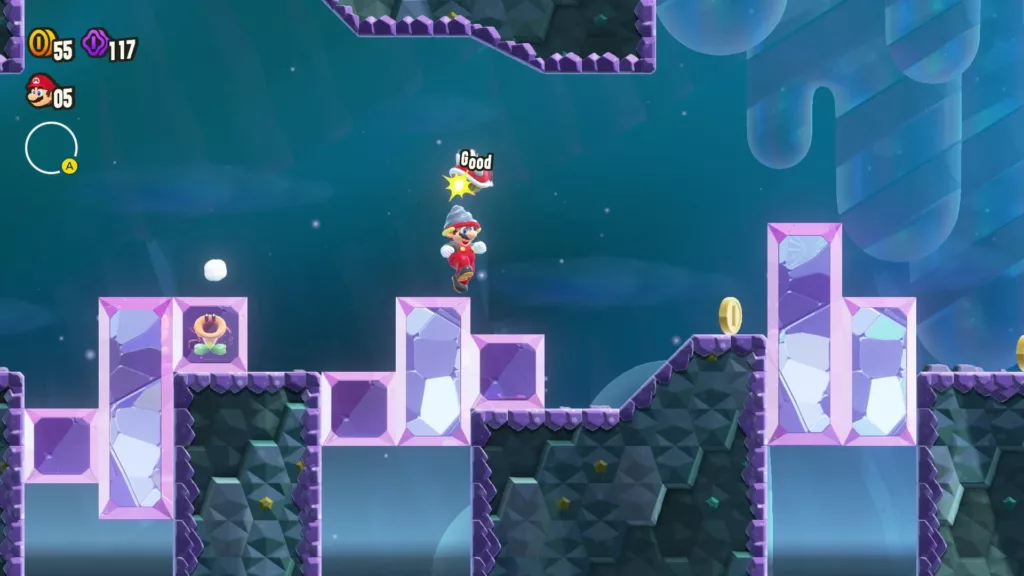 The Elephant Fruit transforms Mario into a rotund jumbo version of himself. With this newfound strength, he can smash through blocks and enemies with powerful trunk swipes. Elephant Mario can also store water in his trunk to spray at objects and access new areas. Watching his chunky body squeeze into pipes is endlessly amusing.
The Bubble Flower lets Mario blow bouncing bubbles that can envelop enemies like a spherical prison. The bubbles can also be jumped on, providing aerial platforms to reach new heights. It's a multipurpose power-up that excels at both offense and exploration.
Finally, the Drill Mushroom outfits Mario with a drill bit on his cap. This allows burrowing into the ground or descending from the ceiling to access hidden cavern routes. The drill is useful both for avoiding enemies and for launching surprise attacks from below.
Each power-up brings something distinct, making them feel like more than just a damage boost. The Elephant Fruit came in handy when needing to access high areas or break through cracked blocks. The homing bubbles from the Bubble Flower were great for clearing out crowded rooms. And the Drill Mushroom came to the rescue on multiple occasions where I'd trapped myself in a corner but could drill an escape route.
It's hard to crown one as objectively the best, as their usefulness depends on the situation and player preference. But if I had to choose a favorite, the Elephant Fruit's abilities led to the most joyful moments. Seeing Mario trumpet around with his trunk just never got old. The animations are delightful, and being able to power through levels raining destruction felt incredibly satisfying.
That said, the Bubble Flower was probably the most versatile and applicable across multiple levels and scenarios. The drill could occasionally feel situational in its utility, whereas the bubbles provided a reliable method of attack and traversal at any time.
No matter which power-up you lean on, it's clear Nintendo put care into making each feel distinct rather than just being a fresh visual wrapper. The new abilities consistently open up your options in battle and exploration. And most importantly, they contribute to the infectious fun and sense of wonder that makes Super Mario Bros. Wonder such an addictive platforming treat.
Customizing With Interchangeable Badges
Super Mario Bros. Wonder introduces a new badge system that allows you to customize Mario's abilities before entering a stage. These badges are special power-ups that must be collected or purchased during your adventure. Each provides a unique effect that tweaks how you can traverse levels.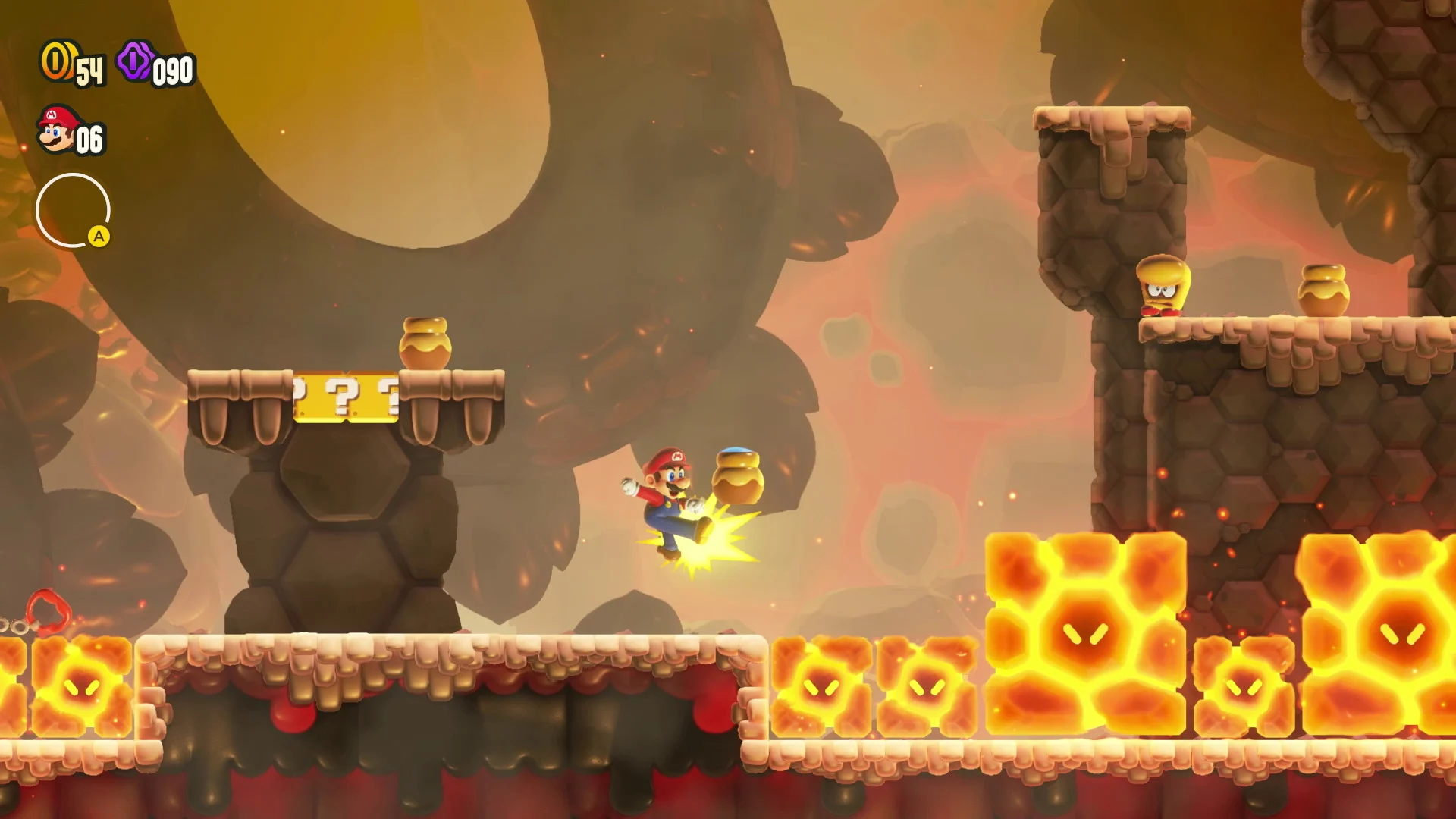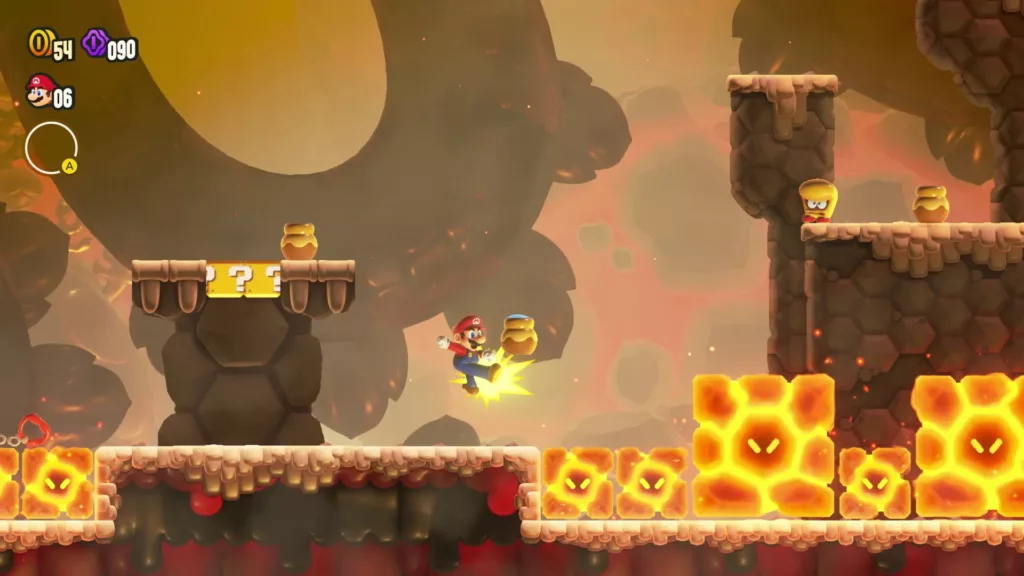 The Action Badges provide active abilities for navigation and combat. Examples are the Propeller Box for additional midair lift, the Floating Jump for extended airtime, and the Grappling Vine that lets you latch onto certain surfaces. The Power Squash badge even grants an earth-shaking ground pound ability straight from Super Mario Bros. 2.
Boost Badges give you passive benefits. Coin Reward dishes out coins for every enemy defeated, while Safety Bounce saves you once from falling into a pit. Magnetism pulls coins toward you automatically, and Sensor beeps more frequently when you're near a hidden item.
Finally, Expert Badges have more significant impacts for advanced players. Balloon Mario turns you into a floating bubble boy. Giant Mario makes you huge, able to smash through obstacles. Uberchomp gives you a toothy plant head that devours enemies.
You can equip one badge at a time before entering a level. This customization lets you tailor Mario's skills to your playstyle. However, during local co-op only the host player's badge is active. Online this limitation is lifted, allowing each player to pick their own badge.
Giving Mario's Friends a Chance to Shine
A huge roster of Mario characters are playable in Super Mario Bros. Wonder. Alongside the classic plumber himself, you can choose favorites like Luigi, Peach, Daisy, Toad, and Toadette. Even more obscure picks like Nabbit and the various colored Yoshis are available.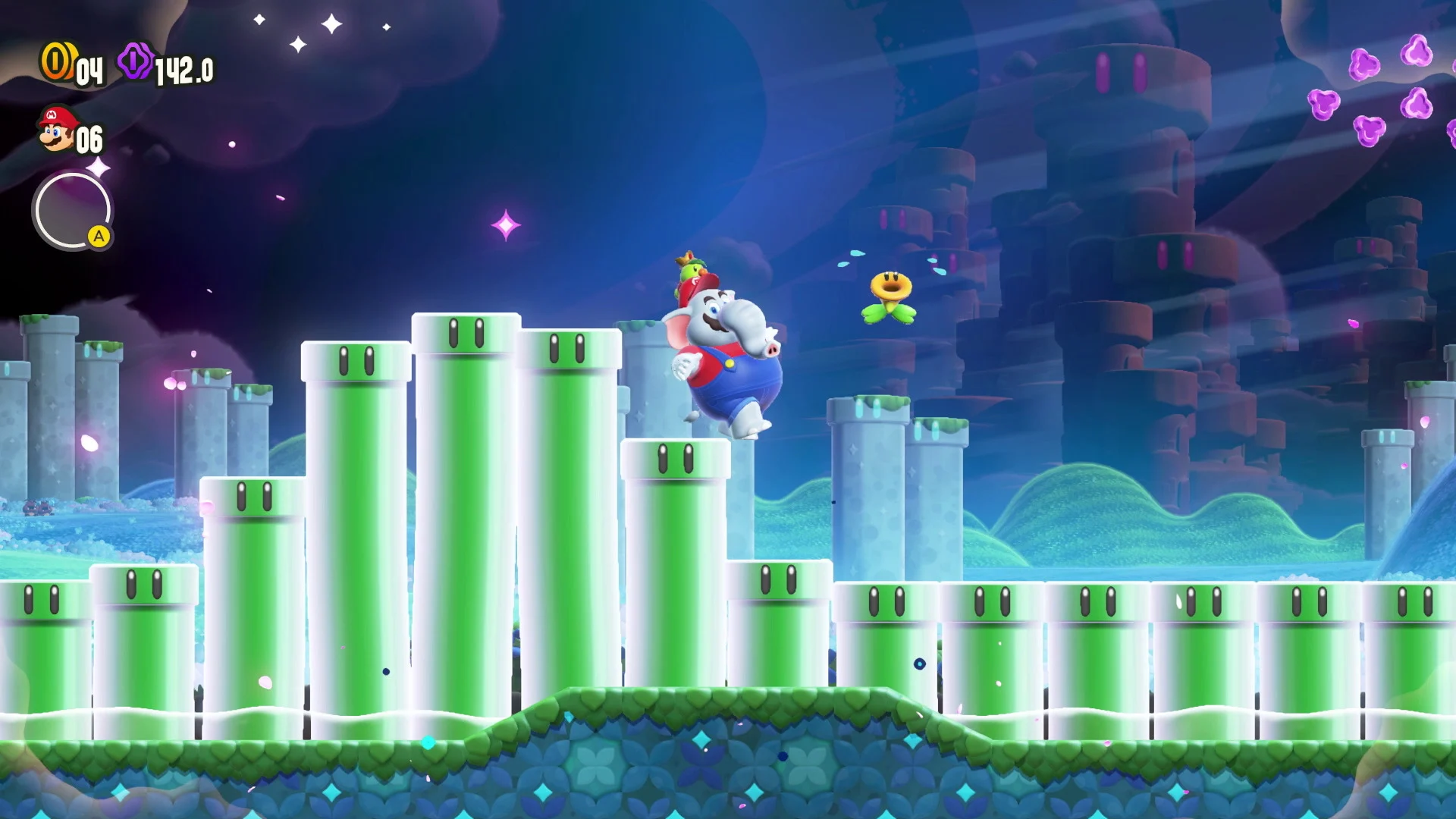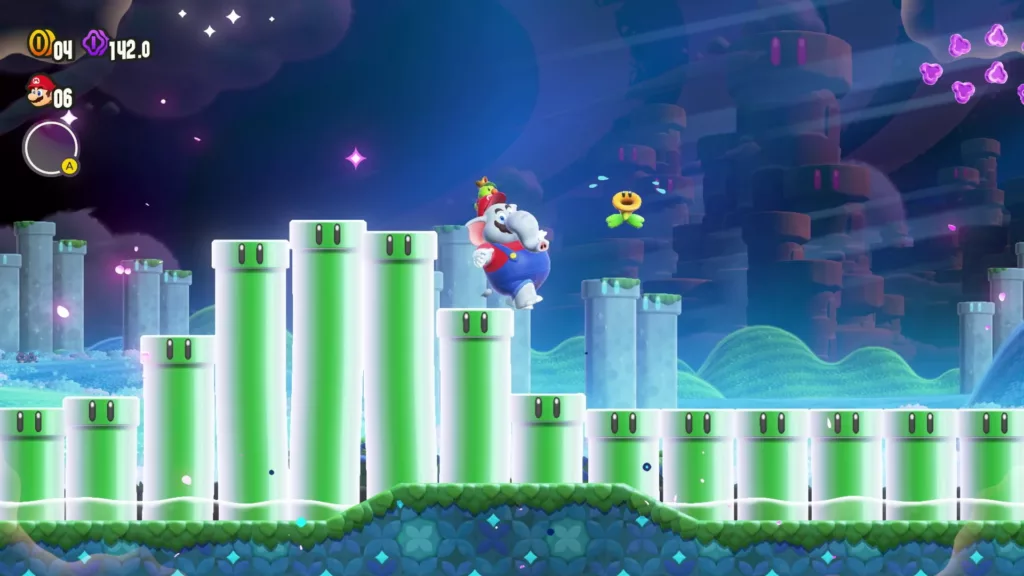 Unfortunately, unlike in Super Mario Bros. 2, each character controls identically once selected. Luigi is bereft of his fluttery jump, and Peach no longer can float. It's a missed opportunity to make the cast distinguishable beyond aesthetics.
The sole difference is that Yoshis and Nabbit cannot take damage from enemies or hazards. This makes them ideal starter characters for younger or less experienced gamers who want to freely explore without fear of dying. It's a considerate inclusion that opens up the Mushroom Kingdom for players of all ages and skills.
But overall, the large roster will please fans who want to see their favorite Mario character in the spotlight for a change. Just don't expect them to handle any differently once selected. The abilities all come from the equipped badges instead.
Playing Together in Person or Online
Super Mario Bros. Wonder delivers on the multiplayer fun whether you're on the couch or online. Up to four players can team up locally for classic Mario co-op platforming. Run, jump, and stomp through levels together, picking each other up when someone falls behind. It's the same satisfying experience the New Super Mario Bros. games have offered locally.
The online implementation is where Wonder truly shines. A lobby system lets you easily match up with friends or others online. You can then choose to either work cooperatively through a stage or race competitively to reach the flagpole first. It feels like a modern upgrade to finally bring multiplayer Mario properly into the online space.
Even playing solo, the online connectivity brings helpful features. Other players' standees appear that you can revive yourself on if you die. Ghost shadows help tip you off to secrets you may have missed. And Search Party missions become lively puzzle-solving affairs thanks to the asynchronous contributions of the community.
It's clear that great care was taken to meaningfully incorporate multiplayer into the core experience rather than tacking it on as an afterthought. Whether on the couch or online, Wonder delivers one of the most seamless and enjoyable multiplayer offerings we've seen in a 2D Mario game yet.
A Cheerful Soundtrack and Charming Chatterboxes
The music of Super Mario Bros. Wonder is upbeat and pleasing, if not overly memorable. The bouncy instrumentals fit the cheerfulness of Mario's world but few individual tracks stick with you after turning off the game. They complement the gameplay without distracting.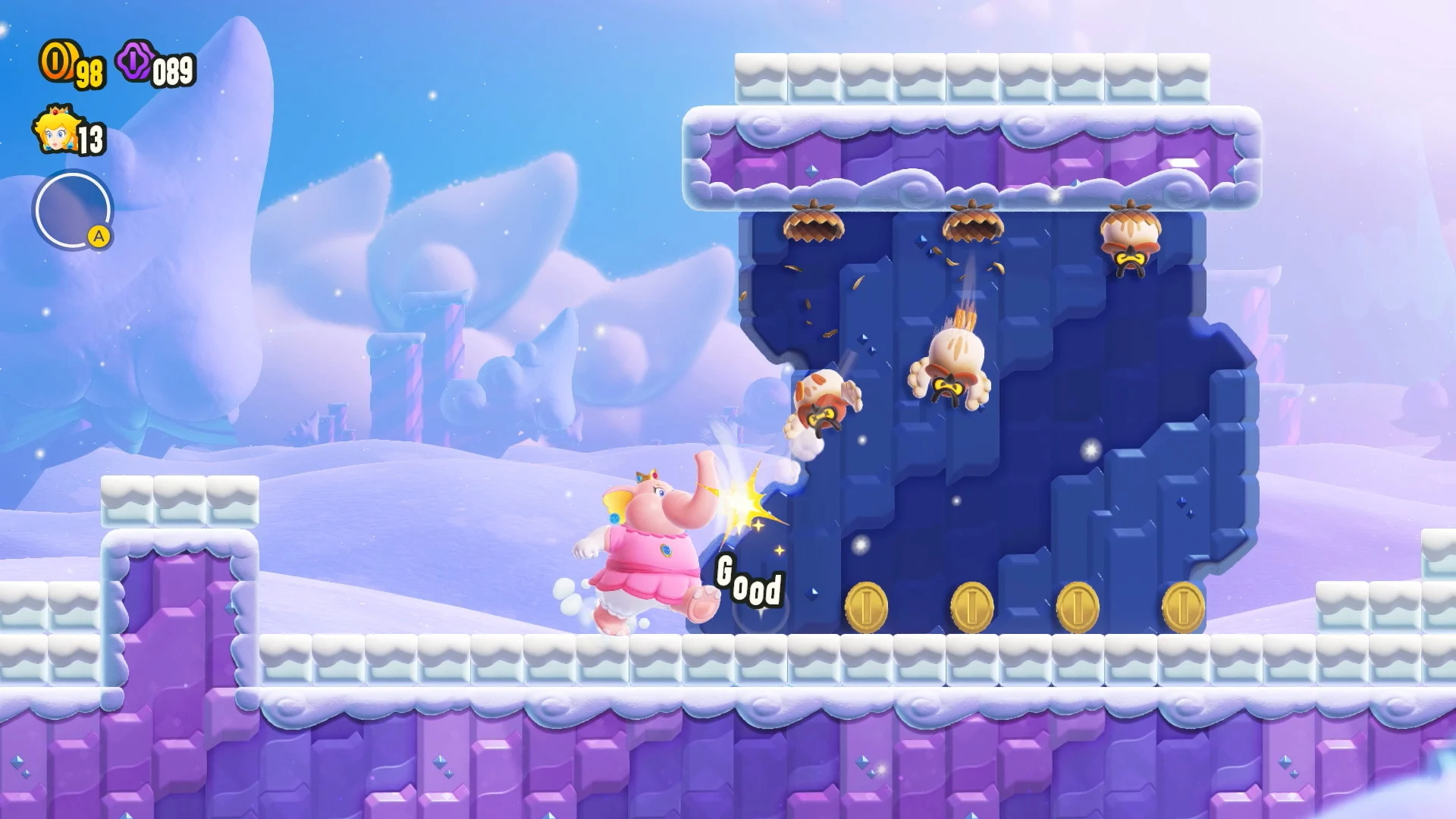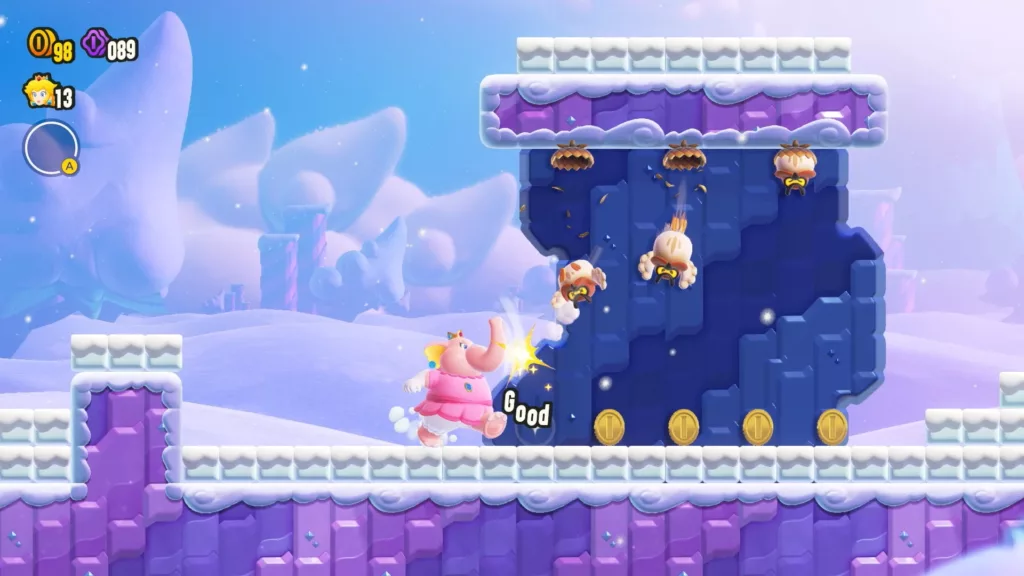 More endearing is the voice acting from the chatterbox sunflowers that populate the landscape. These wisecracking florals will chime in with advice, encouragement, or just amusing observations about whatever outrageous situation the Wonder effects have put you in. Their periodic banter never becomes grating and instead elicits chuckles.
So while the soundtrack itself is not likely to receive any awards, the charming vocal performances give the audio presentation personality. When combined with the immersive sound effects as you drill, stomp, and bubble your way through the Flower Kingdom, it creates an audio backdrop that feels distinctly Mario.
Accessible Yet Still Posing a Test for Veterans
Super Mario Bros. Wonder aims to be accessible for a wide spectrum of players while still offering gameplay tests for more seasoned platforming veterans. Several design choices open the Mushroom Kingdom up to casual gamers and young kids. There are no time limits, extra lives are cheap from Toad Houses, and abilities like the Floaty Jump badge provide an easier time traversing tricky sections.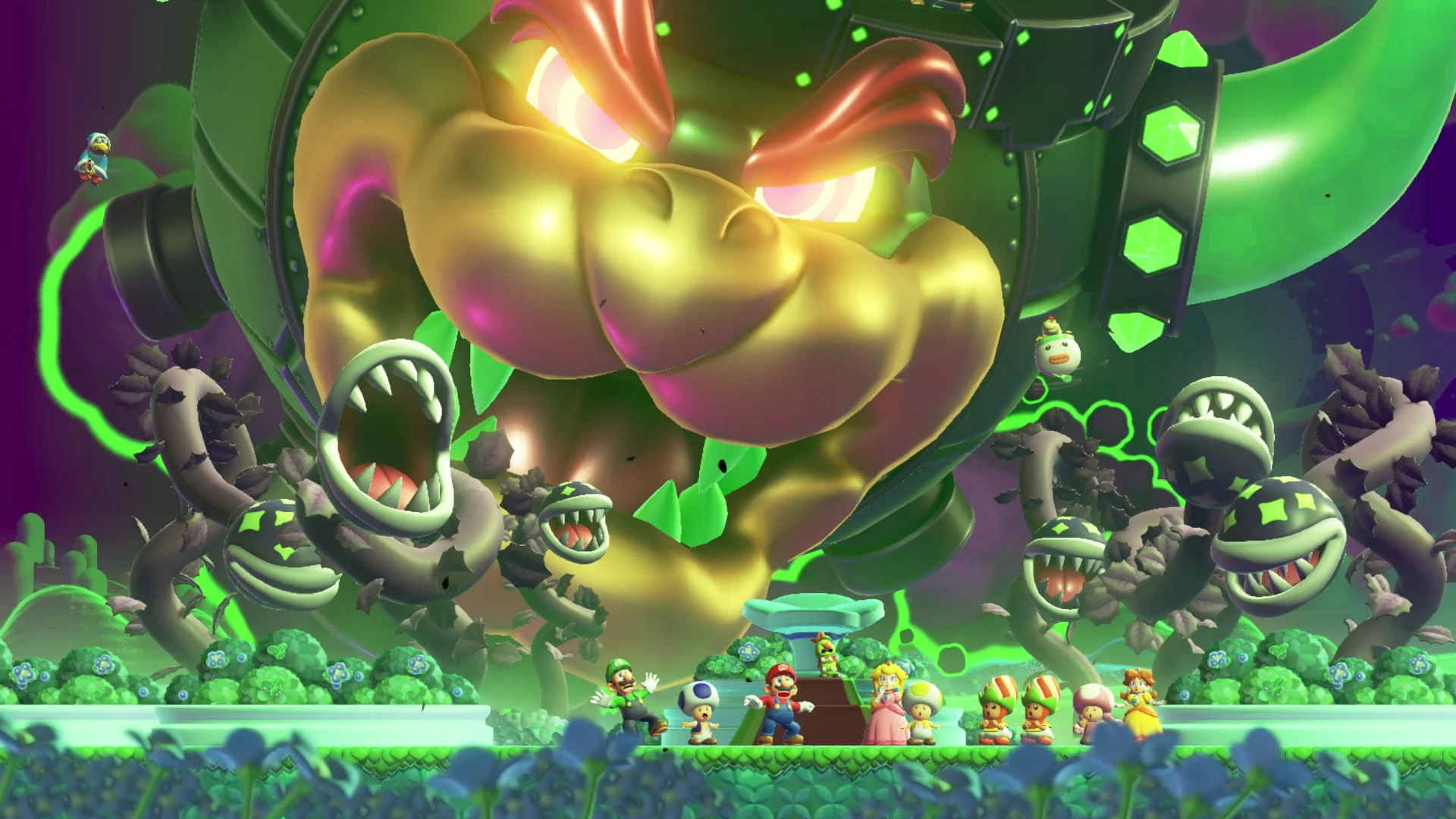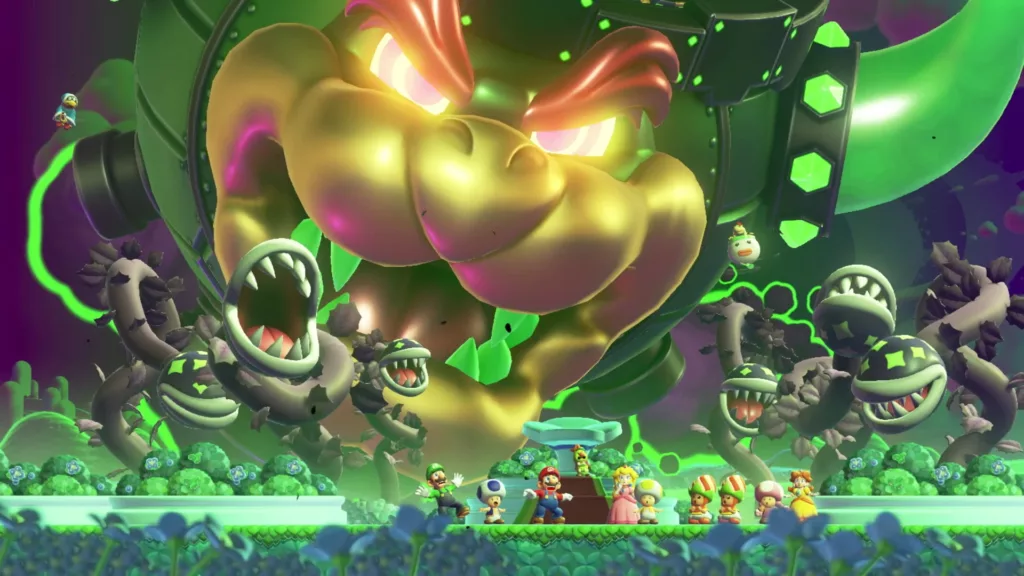 The roster of characters without health concerns like Nabbit and the Yoshis also enable stress-free exploration for newbies. And the Wonder effects, while unpredictable, often provide enjoyable spectacle rather than punishing difficulty. The joy comes more from seeing surprises unfold than white-knuckle platforming challenge.
Yet at the same time, Nintendo has packed Wonder with moments that will push veteran Mario connoisseurs. The late-game levels introduce fiendish stage elements that require perfect timing and dexterity, especially when combined with chaotic Wonder effects. Certain secret levels unlocked by collecting enough coins are particularly tough gauntlets.
The Search Party missions also get increasingly difficult, tasking you with tracking down sneaky hidden objects. And badges like the Timer slowdown impose limitations that add tension. There's even a Super Expert mode that remixes levels for the ultimate test.
So while Wonder eases up on some of the less welcoming vintage Mario traditions, it still offers plenty for those seeking tough-as-nails 2D action. Players of all skill levels will find the right balance tailored for them. The steadily increasing challenges keep gameplay fresh while rarely becoming discouraging. And if you do feel truly stuck, there's always the option to activate Super Guide and have Luigi show you how it's done.
In the end, Super Mario Bros. Wonder succeds at being both accessible and demanding when necessary. Nintendo shows its expertise at guiding players young and old, novice and expert, into enjoying everything this colorful platforming adventure has to offer.
A New 2D Mario Classic With Bags of Wonder
After dozens of adventures over 35+ years, you'd think there would be little new ground for Mario to break in his trademark 2D platforming romps. Yet Super Mario Bros. Wonder proves that the mustachioed mascot still has delightful surprises up his sleeve. The game's namesake Wonder mechanic alone provides a brilliant spark of creativity that constantly keeps you wondering (pun intended) what each stage will throw at you next.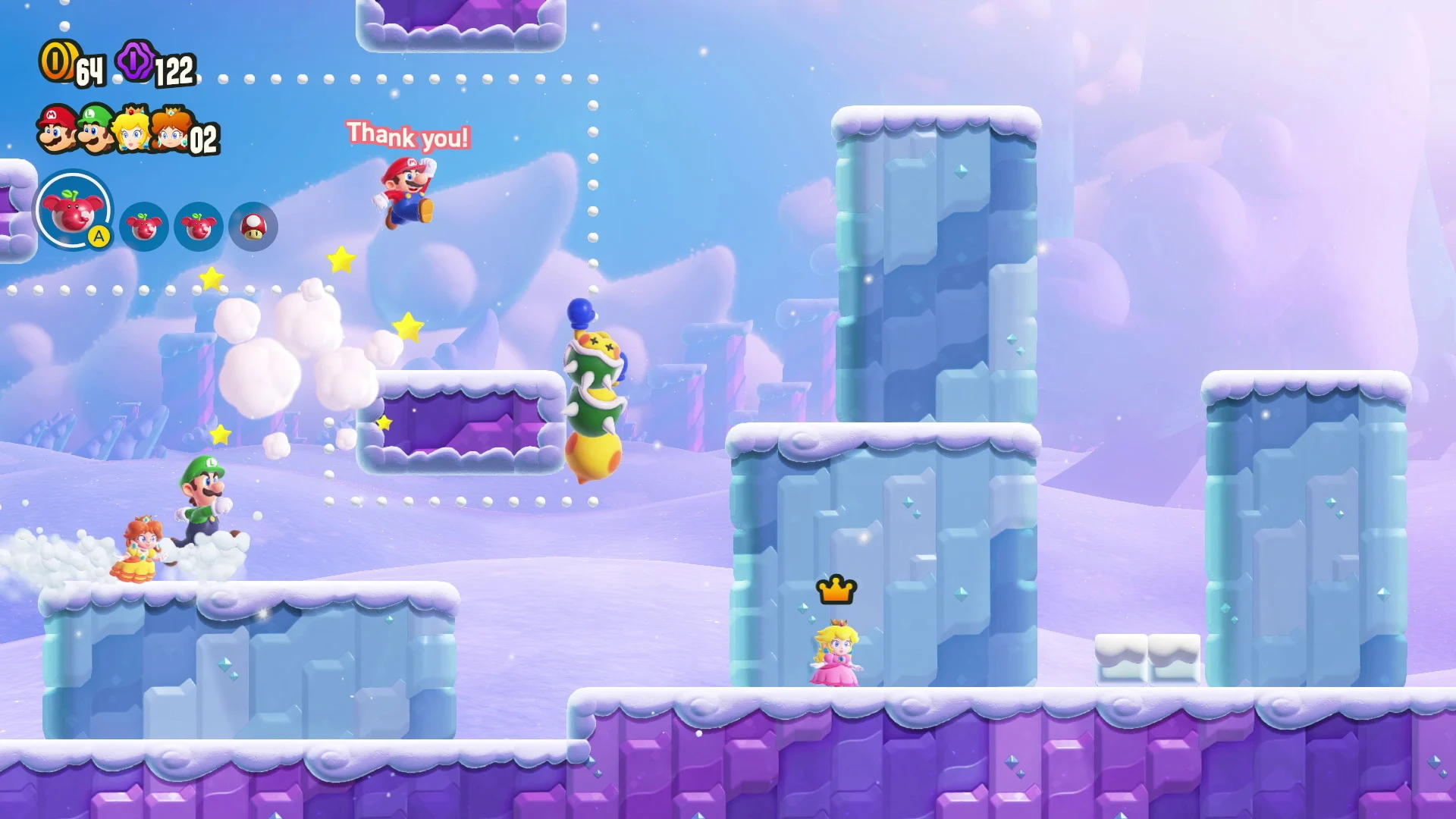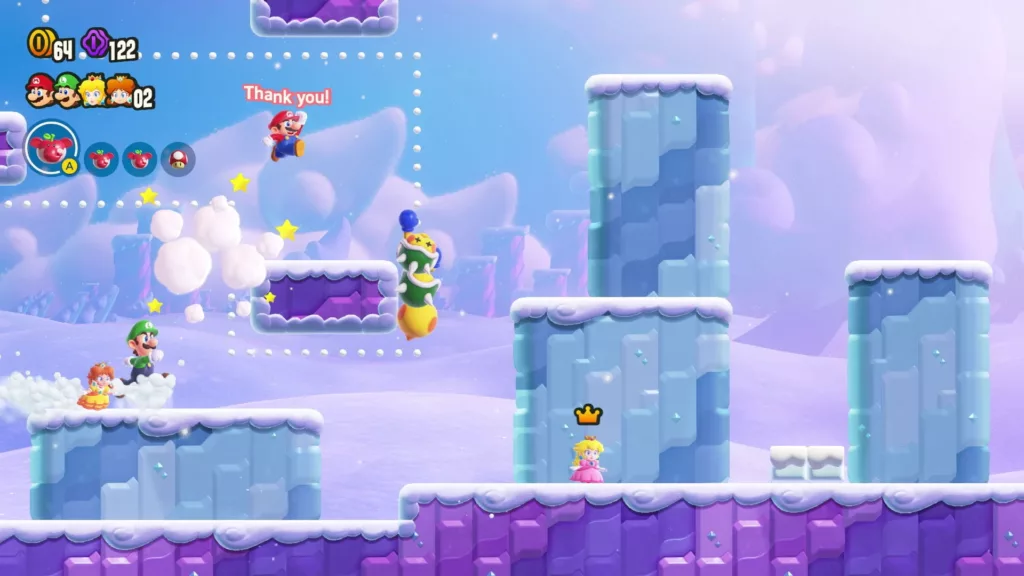 The Wonder Flowers transform both the levels and Mario himself in wild ways, subverting expectations and forcing you to rapidly adapt. One minute you're a silhouette gracefully mirroring your own moves, the next you're a Magic Bullet plunging through colored rings. It keeps the 2D action fresh in a way Mario has seldom felt since his Super Nintendo days.
Yet Wonder's genius is that its playful new ideas complement, not override, the rock-solid platforming gameplay the series is known for. The controls are tight, the level design is superb, and discovering hidden routes and items always satisfies. Familiar abilities like wall jumps and triple jumps are there for experts to flex their skills. This ensures a baseline of quality even for purists who ignore the Wonder effects entirely.
On top of that, excellent new power-ups like the Elephant Fruit and Bubble Flower add to Mario's repertoire. A cornucopia of playable characters from the Mushroom Kingdom let you play as favorites like Toad, Peach, and more. Lovely HD graphics bring both characters and environments to life like never before. And catchy music alongside clever vocal performances complete the cheery package.
It all adds up to a game that isn't just a great 2D Mario entry, but a phenomenal platformer in general. Super Mario Bros. Wonder delivers that childlike glee of experiencing something unexpected and magical that defined Mario's early adventures. It feels every bit like the successor to the beloved Super Mario World that fans have waited decades for.
For those seeking inventive, joyful gameplay on par with the Mario series' peaks, Wonder is an easy recommendation. This represents the classic 2D formula at its very best thanks to a generous sprinkling of… well, wonder. Don't be surprised if you find yourself grinning with every bump, bubble, and bounce through the Flower Kingdom. Super Mario Bros. Wonder is platforming bliss.
The Review
Super Mario Bros. Wonder
With its whimsical Wonder effects reinvigorating Mario's 2D adventures, Super Mario Bros. Wonder delivers an abundance of joyful surprises and first-rate platforming. This long-awaited successor to the Super Mario World glory days is a new classic.
PROS
Innovative Wonder mechanic adds variety and excitement to gameplay.
Stunning, vibrant graphics and meticulous animations bring the Mushroom Kingdom to life.
Diverse and distinct power-ups expand Mario's abilities and offer new gameplay experiences.
Well-implemented multiplayer options, both local and online, enhance the gaming experience.
Balanced level design caters to both casual and experienced players.
Customizable badges allow for personalized gameplay styles.
Extensive character roster adds variety to gameplay.
CONS
Limited differentiation in controls and abilities among playable characters.
Some may find the soundtrack less memorable.
Story is not a major focus in the game, as is common in the Mario series.