EA Sports FC 24's Ultimate Team Season 2, dubbed "Triangles," has launched, bringing a fresh set of challenges and rewards for players to earn. Season 2 Act 1 has introduced a total of 20 levels of rewards, requiring players to accumulate 19,850 XP to unlock them all. The rewards range from special kits and stadium themes to a variety of player packs and picks that can significantly boost a player's lineup.
At the first level, players can unlock the Movember Home Kit, and as they progress, they can earn items like the Movember Stadium Theme and Tifos. Player packs are a significant part of the rewards, with options such as the 81+ Attackers Players Pack, 82+ Rare Gold Players Pack, and the 83+ Rare Gold Players Pack available at various levels.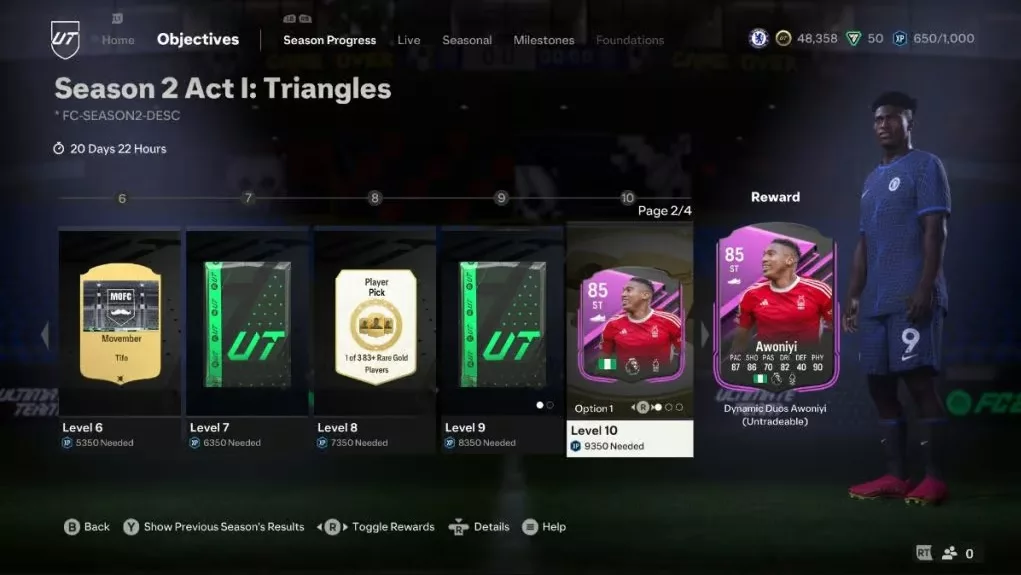 One of the highlights of the season is the Dynamic Duo Picks at levels 10 and 15, where players can choose from special cards like Awoniyi (85 OVR) or Van der Heyden (85 OVR) and Onyeka (86 OVR) or Ramazani (86 OVR), respectively. The ultimate reward at level 20 offers a choice between an 86+ x3 Rare Gold Players Pack or an 87+ x2 Rare Gold Players Pack.
The Storyline Pick at level 19 is another standout, giving players the option to select from Iwobi (87 OVR), Witsel (87 OVR), or Karsdorp (87 OVR). These rewards are designed to keep the Ultimate Team experience fresh and engaging, encouraging players to continue their grind in the game.